There are a lot of digital publishing platforms nowadays that authors can choose when deciding to publish an ebook. New services keep appearing to help publishers and self-publishers distribute their ebooks globally. Now let's see what options you have if you're thinking of publishing an ebook.
In the last couple of years, ebooks have emerged with significant force in markets with English as a primary language, especially in the US. Let's see why ebook publishing is probably the best option for self-publishers.
First, the cost of publishing an ebook is just a fragment of publishing the print version of it. Second, less cost means less risk for self-publishers, so they're willing to take a chance on them. If the book is not going to be a hit, you don't have to worry about throwing a ton of money out of the window for nothing. The author can sell as many copies as he wants although all he gets is his cut of the take. The question you might have right now is: do self-publishers make money from ebooks?

Well, if you are willing to put effort into it, researching the different publishing platforms, set the price right and know your reader base you'll probably draw some attention.
Another reason, which stands behind ebooks, is that the digital book market is experiencing a huge growth in the industry.
In the US, for example, close to as many people read physical books as ebooks by now. However, in other parts of the world ebooks still have a long way to go but looking at the latest trends they do have a future. By 2018, ebooks set to surpass print in the US which is an incredible shift compared to other developed countries. [1]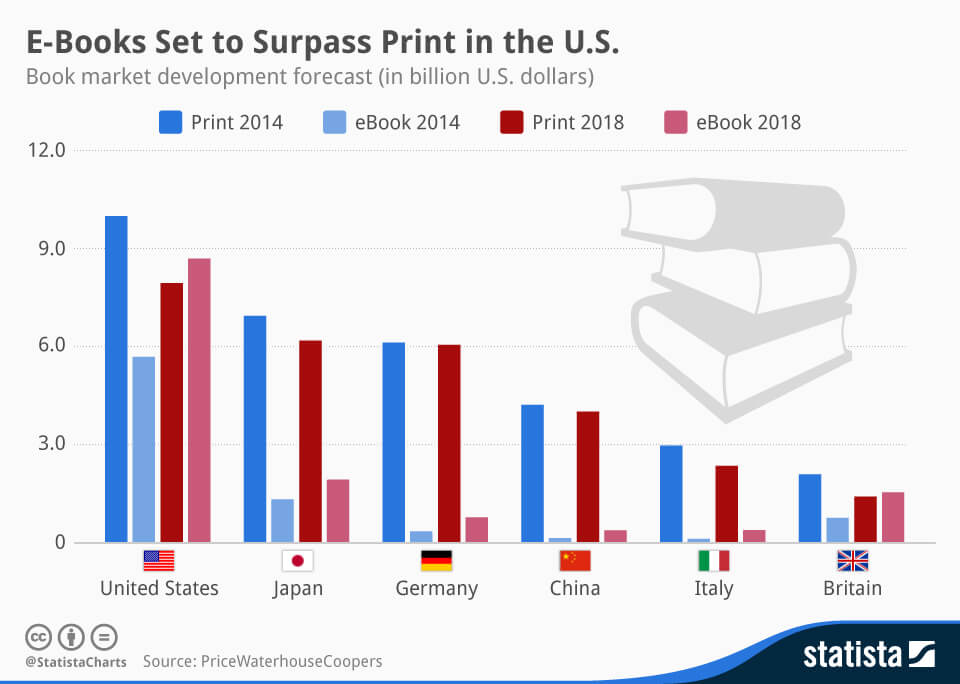 What to consider when choosing the right platform for your book:
Royalty: if you decide to publish your ebook to a platform you probably know already that the service will take a cut of the take. It can vary depending on who you choose. More information on some of the platforms in the table below.
Pricing: some services have limits on how to price your book. For instance, Amazon doesn't allow new authors to offer their books for free or may not give you control over the pricing at all. This may not be a bad thing, but you might want to avoid to get stuck in a situation where you don't like the price and can do nothing about it. Finding the right price for your ebook is not easy, and of course, you want to sell it at a high price so before you commit, make sure you have the price set for your book that you're happy with.
File format: There are platforms out there that offer ebook formatting as one of their services, however you might prefer doing it by yourself. But if you do so, be careful, properly formatting of an ebook is difficult, and there is a wealth of software specializing in formatting such

as

Sigil

or

Vellum

.

Exclusivity: some services may demand exclusivity such as Amazon's KDP. As for self-publishers who only have a handful of books, there is a possibility to leave some titles available through open publishing while having a couple of books exclusive to Amazon.
Ebook retailers: the five largest retailers on the market are: Amazon, Apple iBooks, Nook Press, Google Play, and Kobo. Most of them sell throughout the world, either directly from their own websites (Amazon, Apple, Google), or both directly as well as indirectly through affiliates (Kobo). Other than the big players there are many more platforms on the market you can choose to publish your books with.
Ebook publishing platforms
In the following, you can find useful information about some platforms you can choose to go with your ebooks.
| | | | | | |
| --- | --- | --- | --- | --- | --- |
| | KDP | Smashwords | CreateSpace | PublishDrive | Draft2Digital |
| Royalty | 35% or 70% | around 85% minus transaction fee | 35% – 70% | 10% cut | 10% cut |
| File Formats | ePub, mobi, HTML, doc, docx | ePub, doc | PDF | ePub | ePub, doc, docx, RTF |
| Exclusivity | Exclusive (for KU) | Non-exclusive | Non-exclusive | Non-exclusive | Non-exclusive |
| Payments | monthly | monthly | monthly | monthly | monthly |
| Reports | daily | monthly | monthly | daily | daily |
| Retail Outlets | Amazon | Smashwords, iBooks, Amazon, B&N, Kobo | 2 distribution packages: Standard or Expanded | Amazon, iBooks, B&N, Kobo, GooglePlay, OverDrive (400+ stores and 240k libraries) | iBooks, B&N, Kobo, Scribd, 24symbols, Tolino, Inktera. |
How to publish your books effectively to more stores and gain global distribution?
There are certain platforms on the ebook market who identify themselves as ebook aggregators. An aggregator stands between the author and the retailer such as Amazon. As Brookes describes: "ebook aggregators are companies that take a file from the user, convert it into multiple formats and make it available through multiple distribution channels (platforms, stores, libraries)."
Most of the aggregators offer various services other than ebook distribution and aggregation such as ebook conversion, cover design, editing and some even have print-on-demand services. They can also provide help with ISBN acquisition, copyrighting and tracking user payments. However, their primary focus is on distributing content to more than just one store. An aggregator helps authors and publishers reach the stores globally with their ebooks. As an ebook aggregator, PublishDrive delivers ebooks to iBooks, GooglePlay, Kindle, Scribd, OverDrive and 400+ stores and 240k libraries in US, China, India, Europe and over 100 countries. Besides ebook distribution, PublishDrive offers ebook conversion as one of its services. To learn more about PublishDrive, click here.
[1] https://www.statista.com/chart/2823/book-market-development-forecast/
Please follow and like us: