Distribute to Amazon with PublishDrive
Amazon is a giant book retailer that captures more than half of the book market. Selling books on Amazon is a great way to tap into a big audience. With PublishDrive, you can distribute ebooks, audiobooks, and print-on-demand books to Amazon.
GET STARTED
Extend Your Reach to Amazon and Beyond Publish in Over 400 Stores and 200K+ Libraries

Why Publish with PublishDrive?
PublishDrive simplifies the publishing & distribution process by offering a friendly interface and all the tools you need to reach global audiences and maximize your sales.
Distribute ebooks, audiobooks, and paperback formats to all major online and regional channels.
Widest worldwide distribution network

One-click distribution to all stores 

Built-in analytics and sales reports

Royalty management 

Marketing and promotional tools

Easy management of a large inventory of books

Bulk import

Distribution to hard-to-reach markets like China, India, etc.

Global reach with print-on-demand books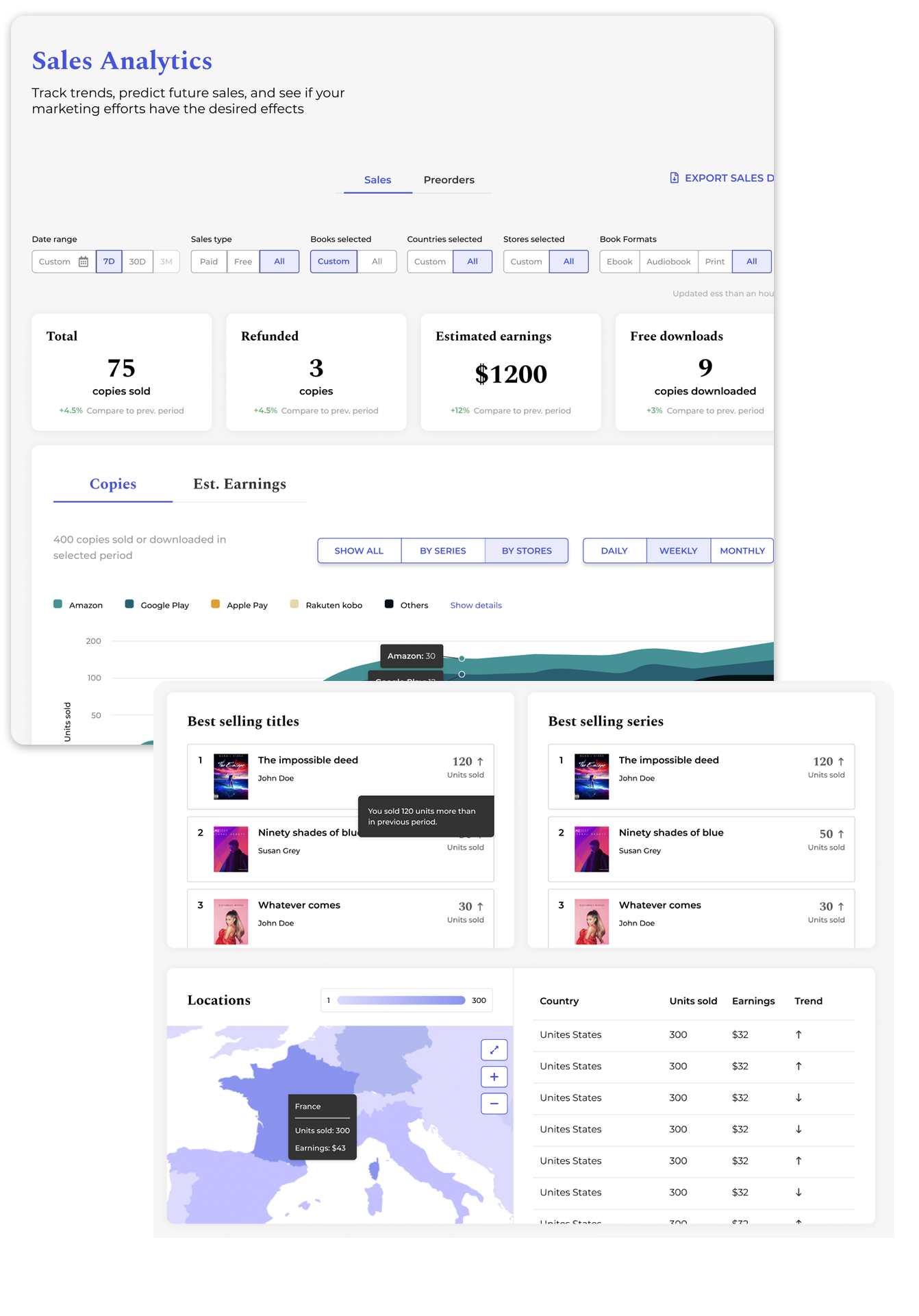 Bulk Title Import 
Use PublishDrive to bulk import and organize book titles – a feature made to simplify distribution and tracking.
Publish Globally 
Handle global book publishing and book distribution using one single platform and its built-in tools.
API Integration
PublishDrive's API system improves your connectivity to enjoy a publishing process without interruption.
Royalty Management
Manage author royalties and keep track of all your income using a simple royalty-management feature.
Simplified Store Submission
Automate the way you upload books to stores. PublishDrive handles everything from BISAC codes to metadata.
Financial Reports
Use our sales analytics to generate easy-to-understand financial reports, track sales, and never miss a payment.
Book Marketing Services
Help your titles gain traction and sell more books using our built-in marketing tools and in-store promotional opportunities.
Ebooks and Audiobooks
Get a wider reach for your ebooks and audiobooks by distributing them to multiple digital stores and libraries at once.
Print-on-Demand 
Get access to an easy publishing and distribution process for print-on-demand books and reach global audiences.
Amazon Advertising: PublishDrive's Built-in Marketing Feature
After you publish on Amazon, you need to make your books more noticeable and tap into Amazon book selling at its finest.
PublishDrive has a built-in tool where users can manage Amazon's Sponsored Products ads. The Amazon Advertising tool also integrates Savant, our exclusive AI technology, to help identify the most relevant products to target for optimal campaign performance.
If you don't know how to advertise a book on Amazon, use PublishDrive's tool and access:
Automatic targeting
Manual keyword targeting
Product targeting
Negative keywords
Analytics board

that showcases your ad performance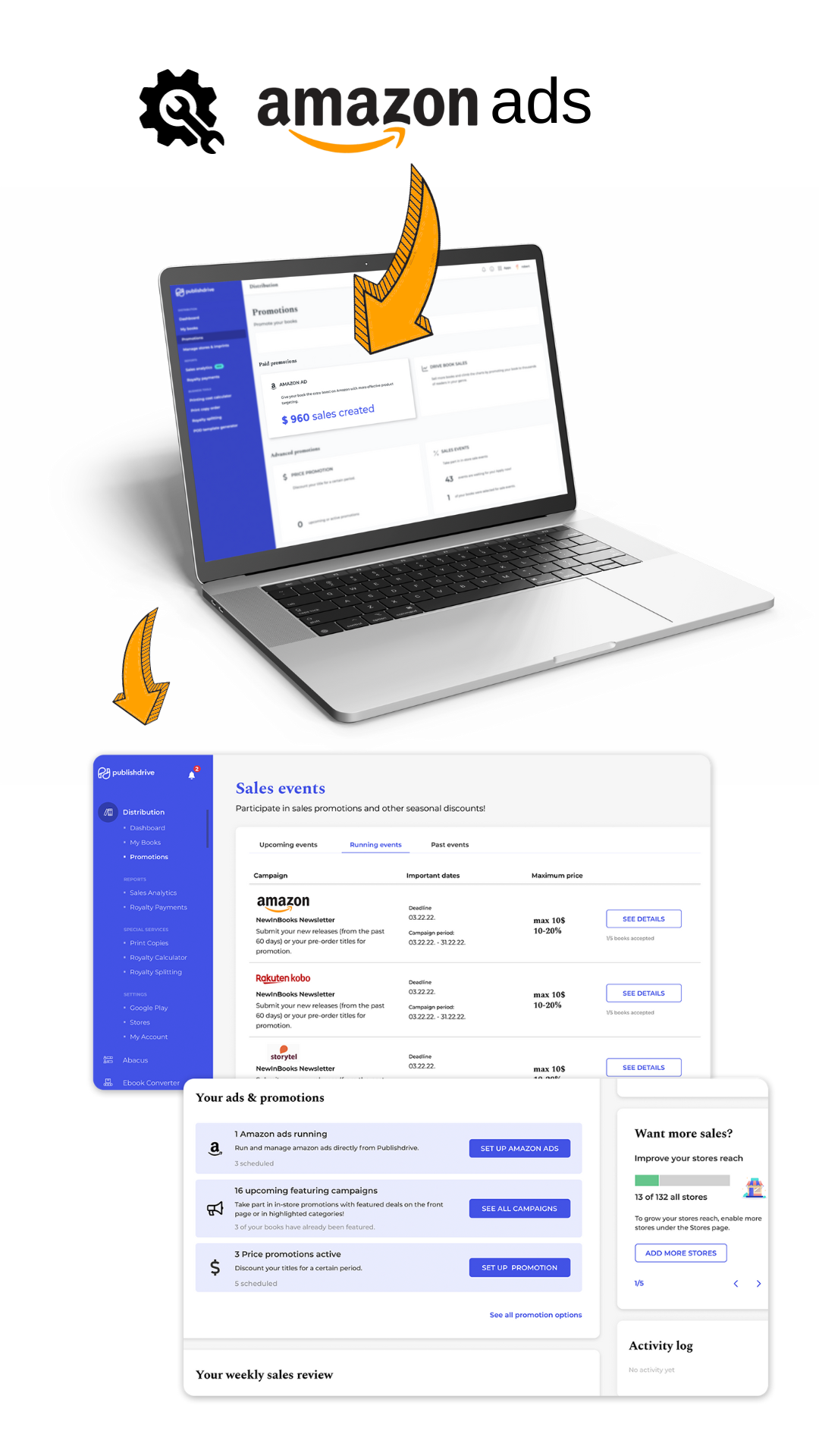 Why Amazon?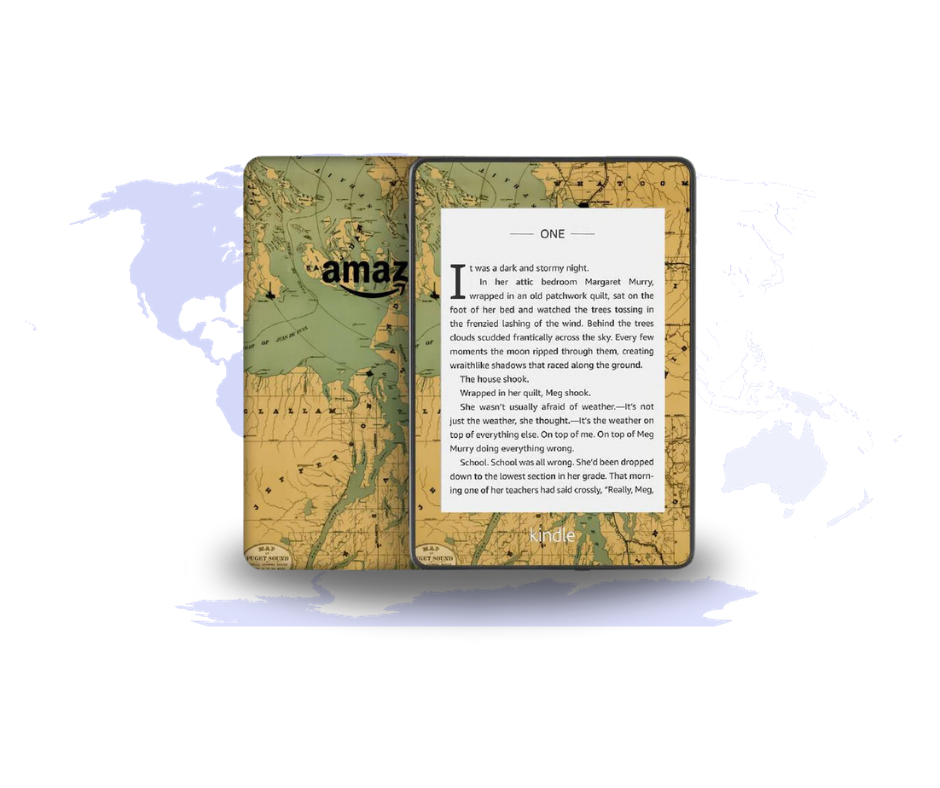 Amazon is the biggest purveyor of ebooks in the US, controlling most of the ebook market. This means your book will be available to a large number of potential readers. Selling books online on Amazon can turn very profitable.
If you want to publish on Amazon and tap into their broad distribution, PublishDrive is here to help.
Reach a Worldwide Audience Using Amazon for Distribution
Millions of people can easily access your books by using Amazon for distribution. This platform not only sells your books but also provides a space for readers to leave reviews, helping to increase your book's visibility. 
Publish with Amazon and PublishDrive and connect with readers from around the world.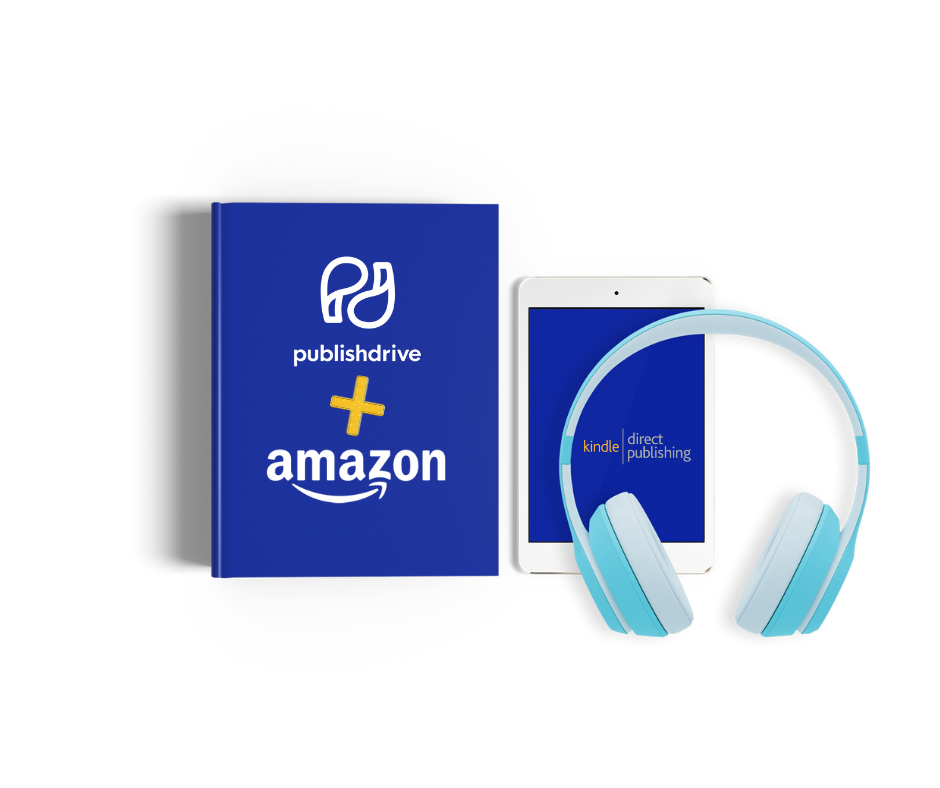 Get Your Books on Amazon with PublishDrive

How to sell books on Amazon? Easy. Use PublishDrive's friendly interface for publishing, distributing, and promoting books on Amazon. Head to our blog resources and learn how to publish a book on Amazon as an author. As a publisher, you can bulk import and sell books on Amazon using our platform.
PublishDrive Is a Trusted Partner in the Indie Community
"Thank you so much everyone at PublishDrive. Words are too simple to express my gratitude to you all. If I could fill your day with ice cream, I would..."
"Thank you! You guys are the best support, by far, I have come across. You are kind, understanding and go the extra mile. I can even ask stupid questions and know I'll get an answer. I'll be recommending PublishDrive to all authors I know."
How to Get Started with PublishDrive and Amazon
Ask for a product demo
Fill out and submit the contact form to request a custom plan tailored to your specific needs.
After submitting this form, we will contact you as soon as possible.