Writing
AI Writing Software. How To Employ AI Content Generation To Enhance The Writing Process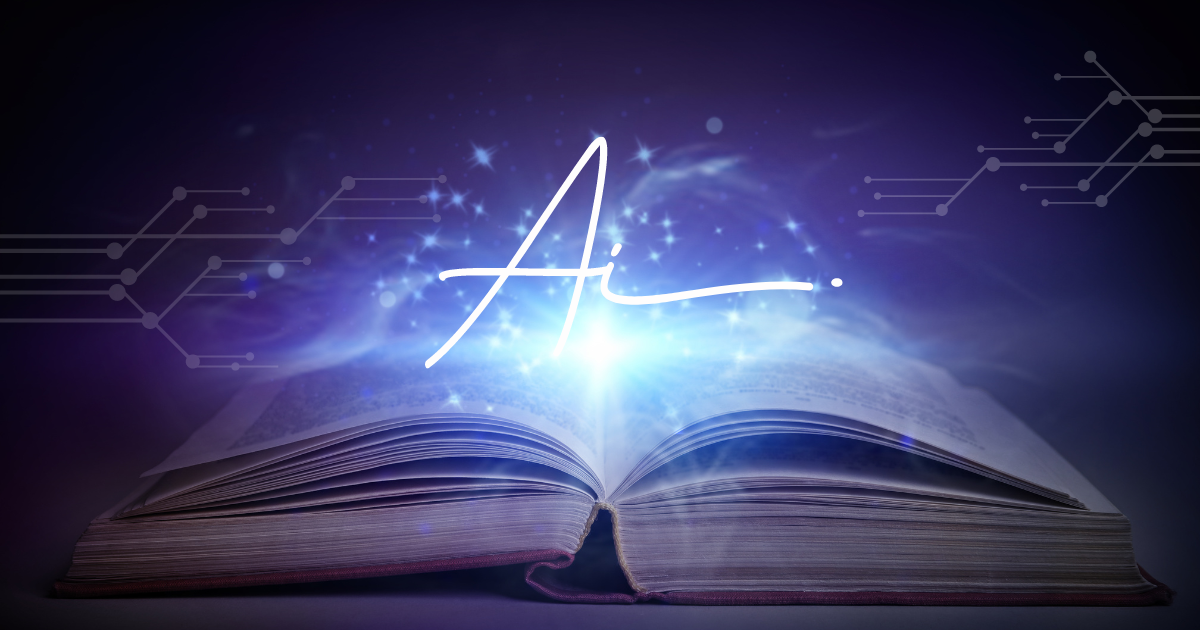 In the evolving landscape of content creation, artificial intelligence writing software is rapidly becoming a game-changer. 
AI writing tools are not just among the best AI software for writing to date, but they also redefine the very essence of the writing process. 
By streamlining keyword research, adapting to various writing styles, and optimizing the content creation process, writing AI software promises to revolutionize how we pen our thoughts. 
For writers and businesses alike, these AI tools for writing are more than just a trend—they offer a way to save time without compromising on quality.
So, what are the best AI writing programs? Browse below.
11 AI Content Writing Tools
AI software for writing is revolutionizing the way authors approach their craft, offering tools that can significantly advance their writing and elevate their business profile. 
This isn't just about software that writes for you; it's about employing a powerful AI writing editor that can take your content to the next level. 
Whether you're drafting blog posts, creating long-form content, or seeking to optimize existing work, an AI writer seamlessly integrates into the process. 
By harnessing the capabilities of such powerful AI, which generates content, authors can ensure their pieces are high quality and tailored to resonate with their target audience. 
Here are the best AI writing tools available:
1. Sudowrite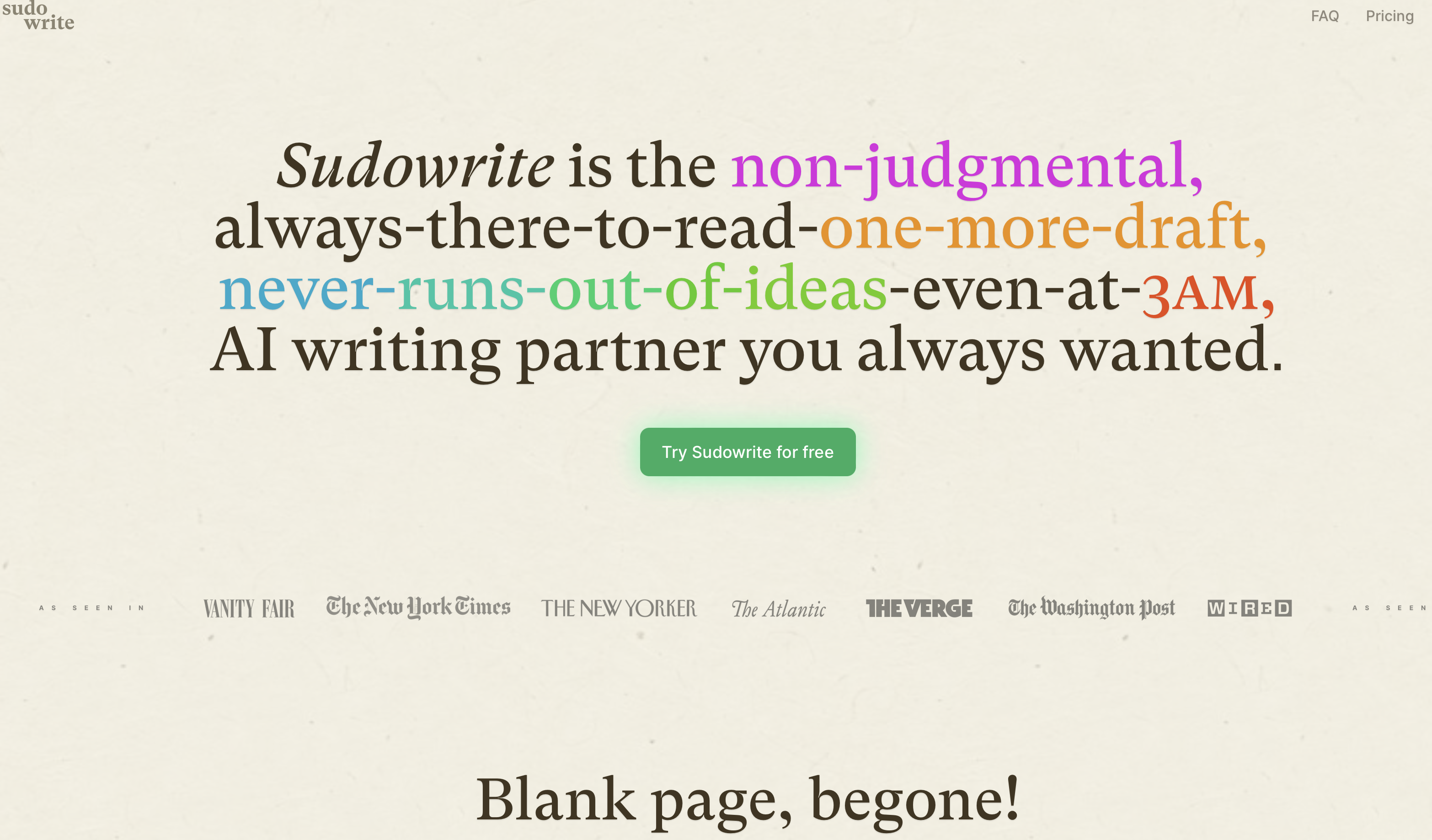 Sudowrite is one of the best AI writing tools tailored for novelists. This AI writing program harnesses the power of natural language processing coupled with machine learning. It offers invaluable suggestions ranging from keywords to synonyms, streamlining the creative writing process. This AI writer software ensures precise writing support by using variants of the CHAT GPT-3 algorithm (GPT.3; GPT3.5; GPT.4) and its unique narrative processors.
What makes Sudowrite unique is its ability to provide authors with insights into potential reader feedback, enabling a deeper understanding of their audience. The software's interface is user-friendly, ensuring rapid story development. 
Sudowrite has a vast library of resources, ensuring authors have all the necessary tools. This AI novel writer supports multiple languages, adapting to the user's input language.
Sudowrite also works as a Chrome Extension. If you want to add it, look for Sudowrite: AI Fiction Writer for Google Docs.
It also has a YouTube page where you can follow their class replays and more. Such as this one:
Sudowrite offers a free trial for those considering a trial, giving potential users a taste of what's on offer. For more dedicated writers, their Professional package, priced at $25/month, allows generating up to 90,000 words. At its core, this is an investment in refining and enhancing one's writing journey.
2. Jasper
Jasper is among the best AI writer tools available in the market far beyond its competitors. This AI content software offers various features for writers.
Jasper's main strength lies in its advanced neural network and natural language processing capabilities. Not only does it generate imaginative text, but it continually learns to enhance its idea-generation process. Jasper is the creative writing AI companion for authors battling writer's block or seeking innovative plot twists.
Its editor is similar to Google Docs, so it's easy to use. It is perfect for writing blog posts or other forms of writing while keeping writer's block away. 
Jasper offers "project recipes," guiding authors to craft narratives fitting popular structures.
Three-tiered paid plans exist for individual creators, teams, and larger enterprises. The Creator Plan, priced at $39/month, offers unlimited words for a single user. 
3. Rytr
Rytr stands out among AI tools for content writing as one of the most comprehensive AI-driven platforms in the publishing industry. This tool is a must-have for marketers, providing many copywriting frameworks, blog templates, and strategies for crafting compelling product descriptions. 
Besides being a program that writes for you, Rytr uses advanced AI to swiftly produce top-notch marketing copies tailored for diverse sectors, including marketing and eCommerce. The platform's intuitive interface, with features like Rytr Chat, empowers seasoned and novice writers to produce content efficiently. 
It generates content in over 30 languages, offers an array of templates eliminating the need for intricate prompts, and a convenient Chrome extension integrating AI capabilities into popular apps such as WordPress. Its integration with Semrush offers precise keyword suggestions, enhancing content quality. 
If you're yet to leverage AI in the publishing industry, Rytr's free plan is an excellent starting point. Paid plans start at just $9/monthly. 
4. Sassbook

AI for writing has come a long way, and Sassbook stands out as a premier AI book writer tool. This software presents a dynamic range of genres for those looking to use AI to write a book. Sassbook can churn out fresh ideas, ensuring authors get the perfect fit for their narrative.
Sassbook features are proof that AI tools for writing are not to be ignored since
It offers a structured system where authors can lay out events, characters, and locations, maintaining plot coherence and ensuring a seamless storytelling journey.

It keeps you focused by reminding authors of their objectives and ensuring they align with their writing goals.

It enhances the joy of the writing process. Its user-friendly interface, coupled with innovative features, not only simplifies writing but also brings the thrill of witnessing one's work ready for the reading world.
A free plan is available; pricing is $32.5 monthly (billed yearly) for Standard and $49.16 monthly (billed yearly) for Premium.
5. AI Dungeon
AI writing apps are transforming the landscape of creative writing. AI Dungeon is nothing less.
This AI text editor is not just an ordinary writing tool; it's a game-changer for anyone embarking on a novel or screenplay journey. 
Here's what makes it stand out:
It empowers writers to weave intricate narratives, enabling user-driven character developments and plot trajectories, essential for novels rich in twists. 

It serves as an

AI book writer,

capable of endlessly generating content from preset selections or custom user inputs, ensuring that writers' wells of inspiration never run dry. 
AI Dungeon proves exceptionally beneficial for those delving into genre fiction, such as science fiction, fantasy, or thrillers, laying the groundwork for captivating tales.
Pricing starts at $9.99/ monthly and can go up to $29.99/ monthly.
6. WriterZen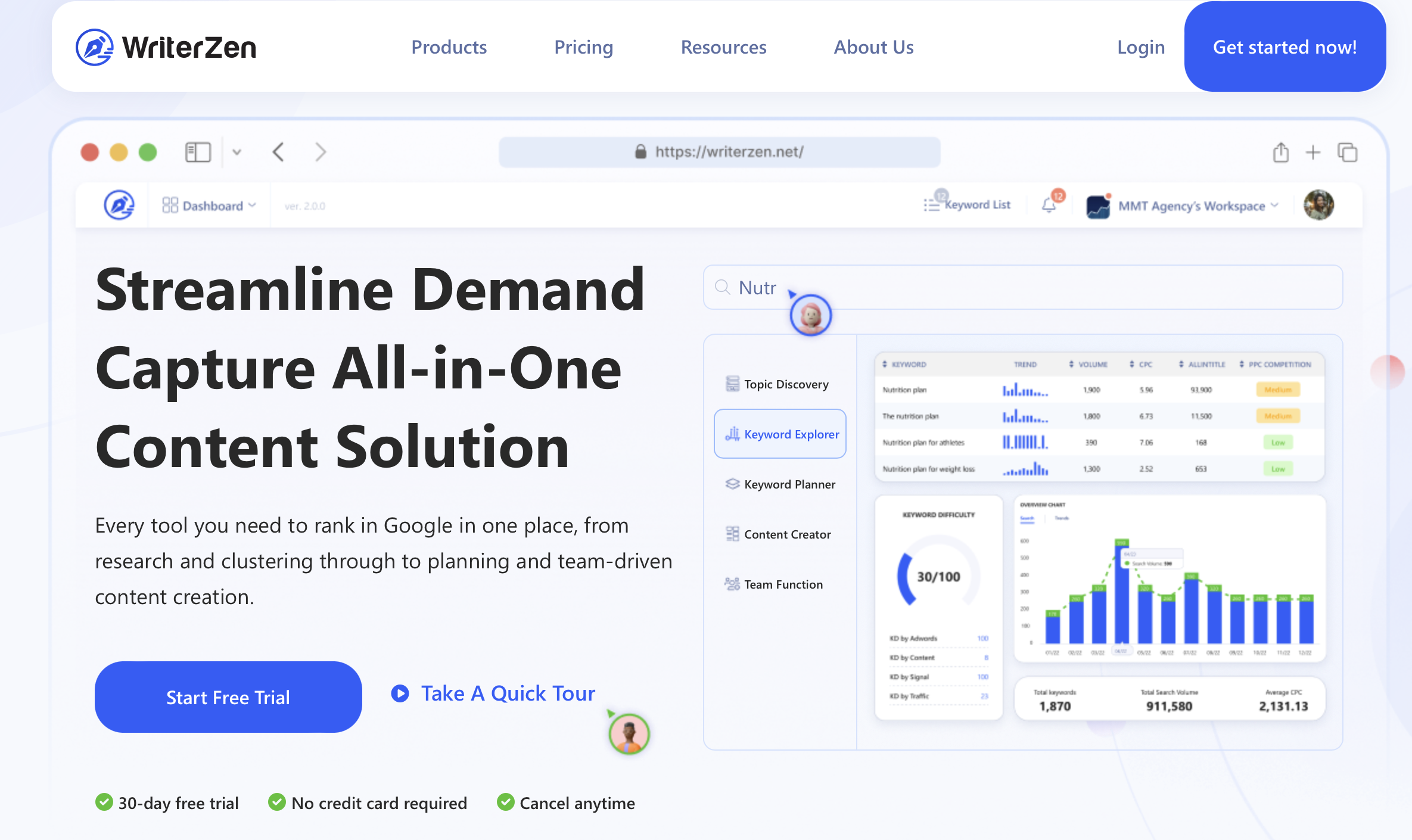 WriterZen stands out as one of the best AI for writing, particularly for SEO-focused content. 
Its strength lies in its data-driven methodology, making it an invaluable tool for those crafting content for websites, blogs, and landing pages. 
WriterZen introduces a unique Keyword Golden Score metric that optimizes the balance between keyword competition, traffic, and ranking difficulty.
This AI book writer simplifies SEO content creation, ensuring your content attracts significant organic traffic. It helps you pinpoint high-traffic yet low-competition keywords and crafts content outlines using advanced NPL analysis by referencing top search results. 
It discovers relevant keyword clusters from the Google Keyword data and Google Suggest Database. Its plagiarism and originality detection features guarantee the uniqueness of your content, ensuring it stands out on your sites.
Pricing starts at $19/ monthly and goes up to $359/ monthly for medium teams. 
7. Chat GPT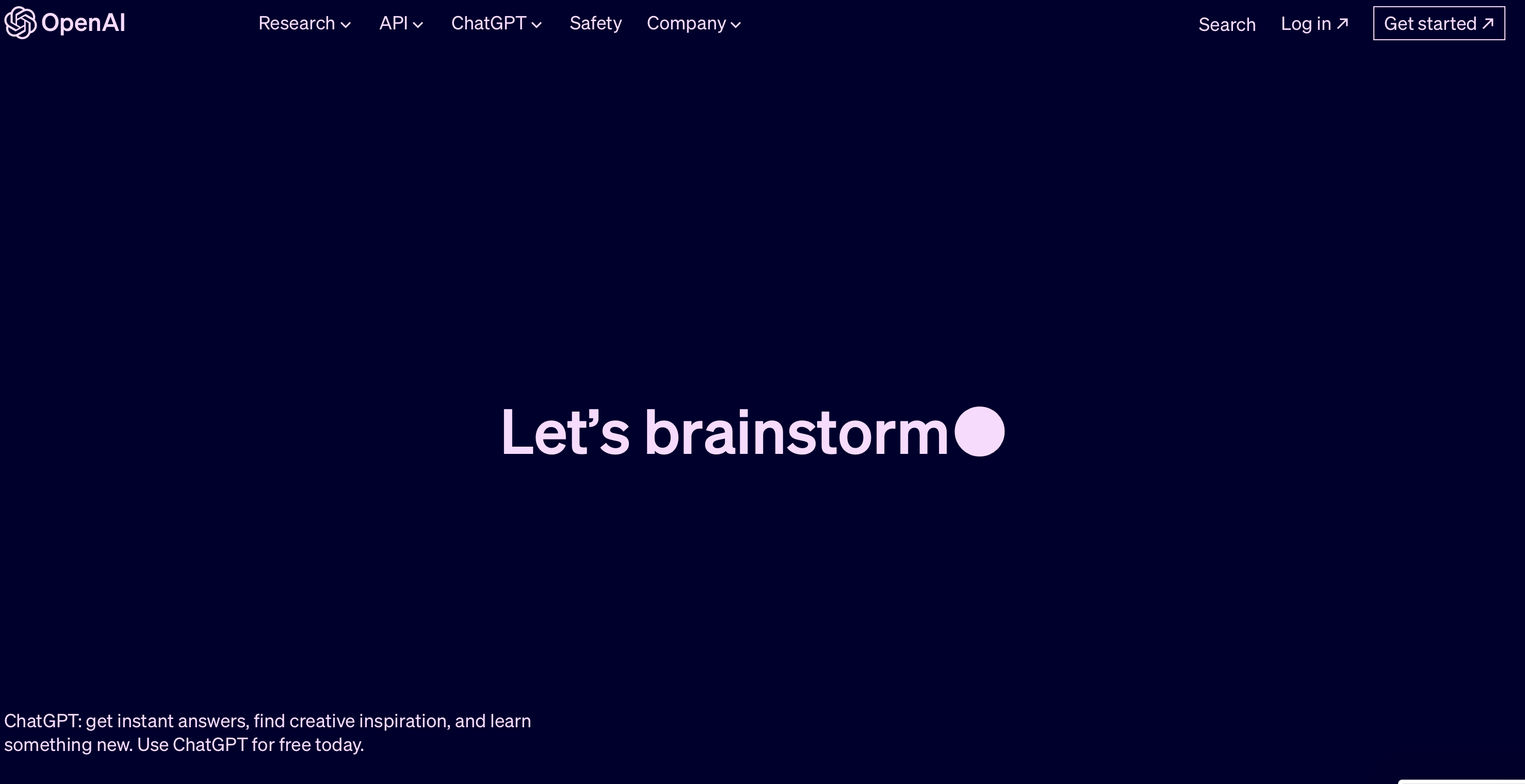 Chat GPT, one of the most popular AI writing tools, can assist authors in novel writing. 
It is an asset in brainstorming and generating character, plot, and setting ideas to fit any writer's interests. 
Chat GPT can help outline the novel, delineating character arcs, major plot points, and underlying themes. This makes chatgpt integration a valuable asset for authors looking to enhance their writing process with AI.
When faced with the dreaded writer's block, the best AI writer can provide invigorating writing prompts to spark creativity. Beyond initial drafting, it can also serve as an adept editor, giving feedback on grammar, structure, and the overall flow of the narrative. While the editing and feedback can provide initial insights, they can't substitute the expertise of a seasoned editor.
Authors can further benefit from its research capabilities, whether delving into historical contexts, geographical locales, or varied cultures. However, proceed with caution since ChatGPT isn't a real-time search engine. It's based on data from a specific period and may not have up-to-date information or guarantee the accuracy of the content it references.
Chat GPT Plus requires a $20/ monthly subscription. 
8. Shortly AI
Owned by the same team behind Jasper AI, Shortly AI stands out as one of the best AI software for writing. Both tools enhance writers' efficiency, streamlining the creative process and trimming down the time required to produce high-quality content.
Shortly AI serves as a powerful creative writing AI, aiding in brainstorming and generating novel ideas, an exceptional tool for authors during the ideation phase.
The platform is designed to help authors maintain organization throughout their narrative, ensuring that critical details are not overlooked.
Diving into the intricacies of novel creation, Shortly AI ensures story cohesion by adeptly managing characters, plot developments, and other elements, acting as a virtual assistant.
Pricing is $65/ monthly with an annual plan or $79/ monthly with a monthly plan.
9. Grammarly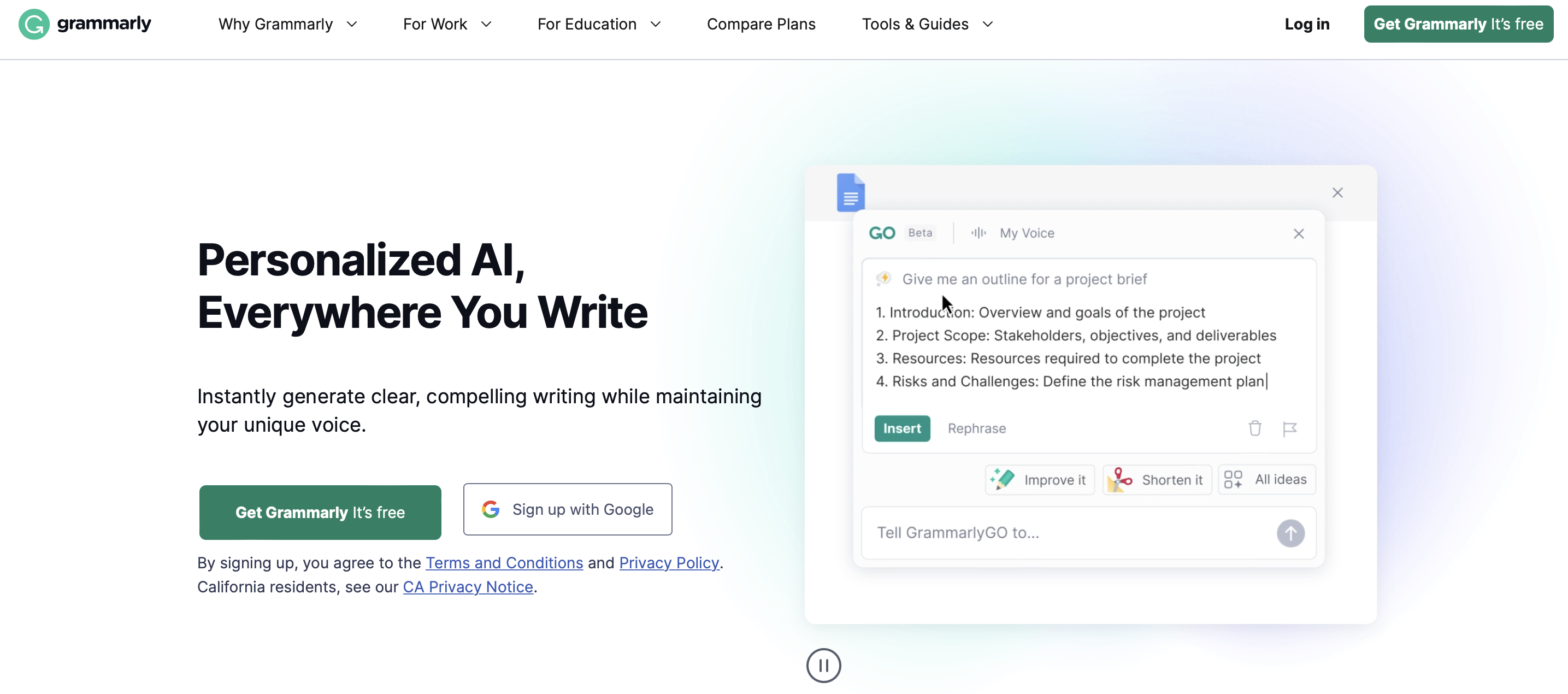 One of the best writing AI tools, Grammarly, is an outstanding AI text editor designed to improve grammar. While it might not enhance the creative side of writing, it excels in ensuring that sentences are grammatically impeccable by detecting spelling and grammar errors.
Grammarly uses AI technology to aid authors in constructing flawless sentences for their novels. It can spot discrepancies that might escape a writer's notice, particularly typos, which often go undetected when authors are engrossed in broader narrative details. Early error identification can trim down subsequent revision hours significantly.
It assists in refining a writer's style, leading to top-notch content. Highlighting mistakes and recommending adjustments fosters a more refined and consistent writing technique.
A writer AI like Grammarly could be a game-changer for novel writing or drafting a book report.
Grammarly comes with a free plan for individual users. For companies, the pricing starts at $15/ monthly [billed annually] depending on the number of members using it. 
10. INK
INK is an AI tool designed to produce content swiftly. With any of its paid plans, users can access unlimited word and image generation, positioning itself as a comprehensive solution platform. 
INK's Content Shield is a book report writer AI that safeguards content from pitfalls. It meticulously scans content for plagiarism and verifies whether algorithms might tag it as AI-generated. This ensures content creators can confidently publish their work, knowing it maintains its integrity.
Ink is an AI-driven image generation based on text prompts, providing high-quality visuals at a cost lower than typical stock images. 
It offers a keyword research tool that searches volume and trends, enabling the creation of data-backed content clusters. Thus, it is an ideal tool for marketing copies, long-form content, and blog posts.
Pricing plans start at $39/ month [paid yearly] or $49/ month on a monthly plan.
11. Apple Books Digital Narration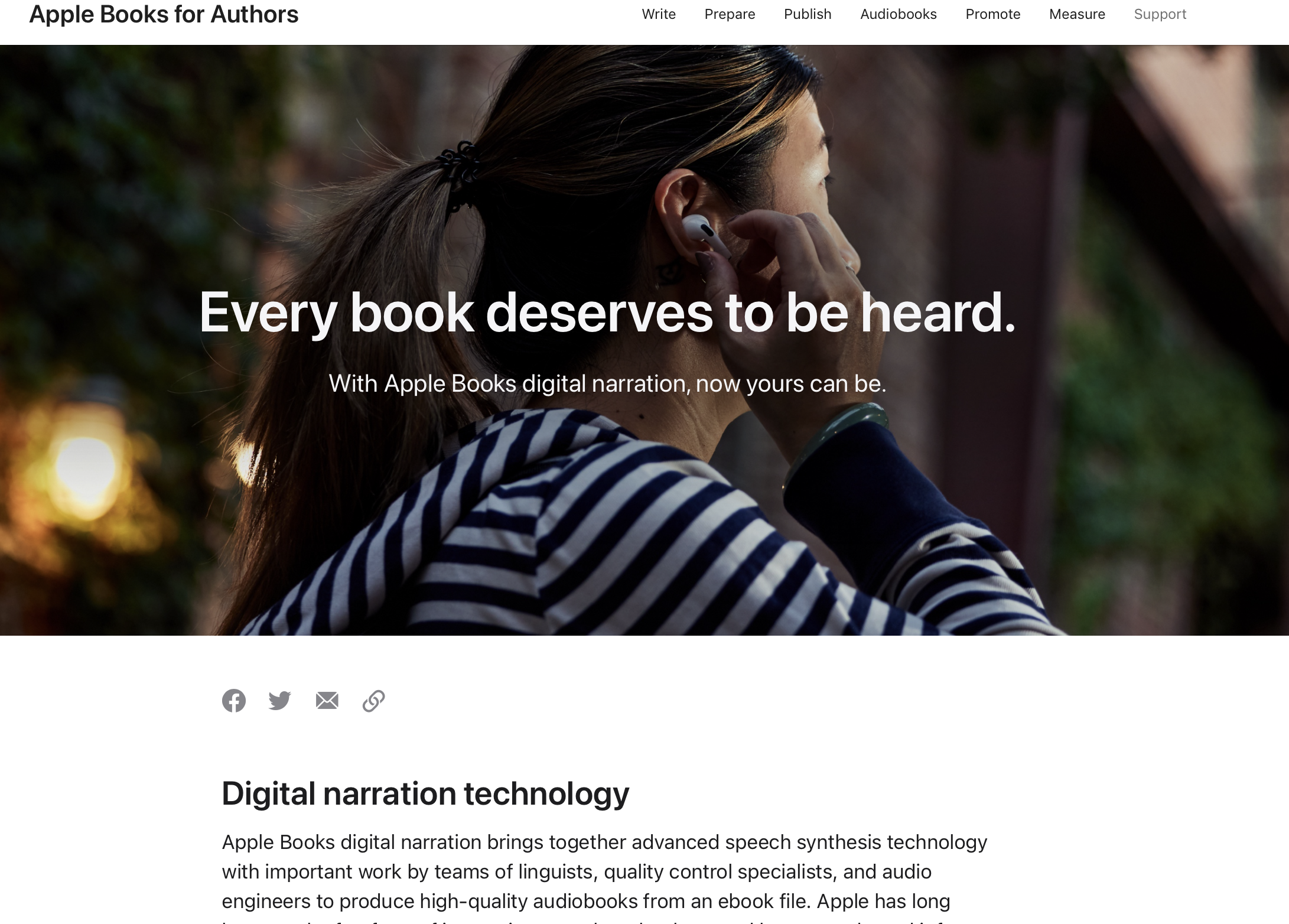 This new Apple feature enables authors to transform their ebooks into audiobooks using advanced text-to-speech technology. These AI-generated voices are modeled on human narrators, offering a natural listening experience. The rise in popularity of audiobooks shows an increasing demand for this format. 
Apple has laid out specific requirements: 
Title Selection

: The ebook should be in English, available on Apple Books, and be reflowable. It should neither be in the public domain nor have a fixed layout. Fiction and romance are the preferred genres, with erotica being excluded.

Interactive books

are not ideal candidates.

Voice Selection

: Apple presents authors with two voice options for their audiobook narration. The optimal voice is chosen based on the content and the author's preference and cannot be changed once selected.

Cover Art

: Authors can submit cover art that adheres to Apple's guidelines. Alternatively, Apple can adapt the existing ebook cover, adding a background that complements the cover art's colors.

Release Date:

Apple requires one to two months to process and perform quality assessments on the audiobook after submission. The audiobook is released upon completion if the set release date doesn't accommodate the production timeline. Currently,

pre-orders

are not supported.
This new feature by Apple democratizes the audiobook creation process, making it both affordable and accessible for authors eager to reach a broader audience. 
To use this feature, you have to distribute your ebook to Apple Books. 
How To Decide What Is The Best AI Writing Tool
AI writing tools can refine your writing style, enhance grammar, and even expedite your writing process, especially for novels. When creativity stalls, these tools can reignite inspiration, offering suggestions to propel your thought process.
For writers delving into novel-writing, exploring the best AI writing software tools can be invaluable. While they aren't replacements for a writer's touch, they significantly aid in plot crafting, character development, and overcoming writer's block.
Instead of viewing AI as a job threat, authors should see it as a collaborative tool for brainstorming and accelerating the publishing process. It's more than a program that writes for you since heavy editing is required in the long run. It is a tool that takes the content creation process to the next level by helping authors keep their focus and not lose track of their planned storyline.
The mechanics behind AI novel writer software involve machine learning techniques and natural language processing. The AI identifies word patterns and develops distinct writing styles. It prioritizes contextually appropriate vocabulary while minimizing redundancy.
Choosing the right AI software depends on individual needs. The key is simply using them for what they are AI tools for writing that help authors make the most of their creative process.
Choose PublishDrive and Reach Hard-to-access Markets
As you approach publishing, consider the advantages of using a subscription-based aggregator like PublishDrive. 
This option simplifies your process and helps you reach a wider audience. 
Prep for publication
Here is how to join the PublishDrive book network. All authors need to do is create an account and follow the steps below:
Head to

My Books

in the dashboard, choose to upload a new title, select the format, and fill in the relevant information.

Upload your book's files.

Fill out the creators' names.

Fill out the

metadata

to connect the book to prospective readers. There are tips for writing

descriptions

that excite your reader; you should consider them before writing the text.

Set the

book's price

.

Define your

rights

and set a publication date. Here, you can set pre-orders.

Select your stores. Click Enable for each store you want to distribute your book.

You are now ready to click the Publish button. 
Note: After publishing, once authors earn royalties, they will start seeing those payouts after two months (although it could be longer, depending on the reporting and payment cycles of the different stores.) 
Promote your books
When you choose to self-publish, you also become a full-time marketer. Your books need visibility, so you must tap into a few marketing tactics.
No worries. PublishDrive has built-in tools to elevate your book's visibility in the market. Head to the Promotions tab from the dashboard and choose the ones you want.
Here's what to look for:
1. Amazon advertising. Ensure your book gets noticed by shoppers on Amazon, targeting those actively searching or browsing products.
2. Book promotion via Written Word Media
Freebooksy

: Ideal for books that are permanently free or available for a limited-time offer.

Bargain Booksy

: Targeted for books priced below $4.99.

Red Feather Romance

: Perfect for romance novels that are free or regularly priced.

NewInBooks

: For titles released within the past 60 days.
3. Price promotion. Adjust the pricing for your book in the stores you've opted for during the publishing process.
4. Review copies. PublishDrive provides promotional review ebooks in leading stores like Apple Books and Google Play Books. These review copies are protected, ensuring they are available for 28 days and cannot be shared or copied beyond the designated recipient.
5. Sales events. Apply for various sales events via the platform.
6. Book featuring: Include your book in an ebook retailer's curated selection.
Understand your fanbase and sell more books
With the Sales Analytics feature from PublishDrive, you can understand the market and your ebooks' performance. 
You can filter various aspects of your data, whether by date, sales type (free or paid), specific books or series, countries, or stores. This extends even to formats, allowing you to analyze sales and preorders. 
You can examine your earnings, filtering them by stores or series and displaying the results daily, weekly, or monthly. You can also gain insights into the countries where you are achieving sales, connecting with your readers in more targeted ways.
Befriend The AI
Embracing AI writing software is a game-changer for authors seeking to refine their craft and maximize their self-publishing potential. 
The best AI writing software is a sophisticated AI writing editor, ensuring content is polished and engaging. By utilizing the best AI writing tools available, authors can elevate their content quality, streamline their writing process, and solidify their position in the competitive world of self-publishing. Then, just let the revenue find you.