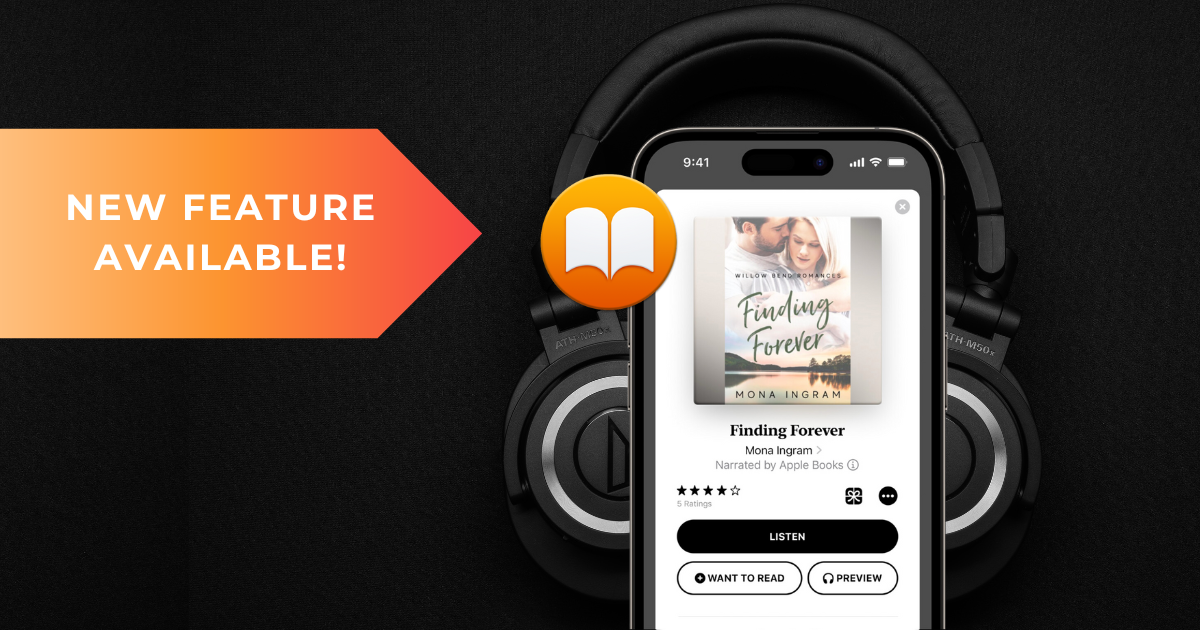 Apple is a great place for self-published authors to distribute their books. It offers a high royalty percentage, favors book promotions, has affiliate programs, and stands out as one of the few ebook retailers (alongside Google Play Books) that indexes book descriptions in its search, offering authors significant control over their book's search visibility.
Those who self-publish on Apple Books and use its features can get impressive results.
We offer a seamless publishing experience if you wish to distribute your books to this platform and many other stores for a global reach. We also offer featuring opportunities on Apple Books and have sales events to which authors can apply directly from the Promotions tab > Sales Events.
What Is Apple Books Digital Narration?
Apple Books digital narration is a new feature Apple has launched on its Books app. It allows authors to create audiobooks from their existing ebooks using natural-sounding text-to-speech technology with voices that are based on human narrators. 
The feature makes the creation of audiobooks more accessible and affordable.
💡Disclaimer: If you use Apple Books digital narration, you agree that Apple owns all rights, titles, and interests in and to the audiobooks created with Apple Books digital narration, including all worldwide copyrights and other intellectual property rights. This exclusive disclaimer only applies to audiobooks created with Apple's digital narration feature, not applicable to other audio files created by a human or another software. The rights to those products will remain with the author of the original content.
How to Use Apple Digital Narration via PublishDrive
The process is simple. You can turn your ebook into an audiobook with just a few clicks. 
Here's what you need to know:
1. If you're on PublishDrive
If you distribute your ebook via PublishDrive to Apple Books, you can enable Apple digital narration as an additional store from our list. The store won't be automatically enabled as others from our list.
You'll find it in the ebook stores section.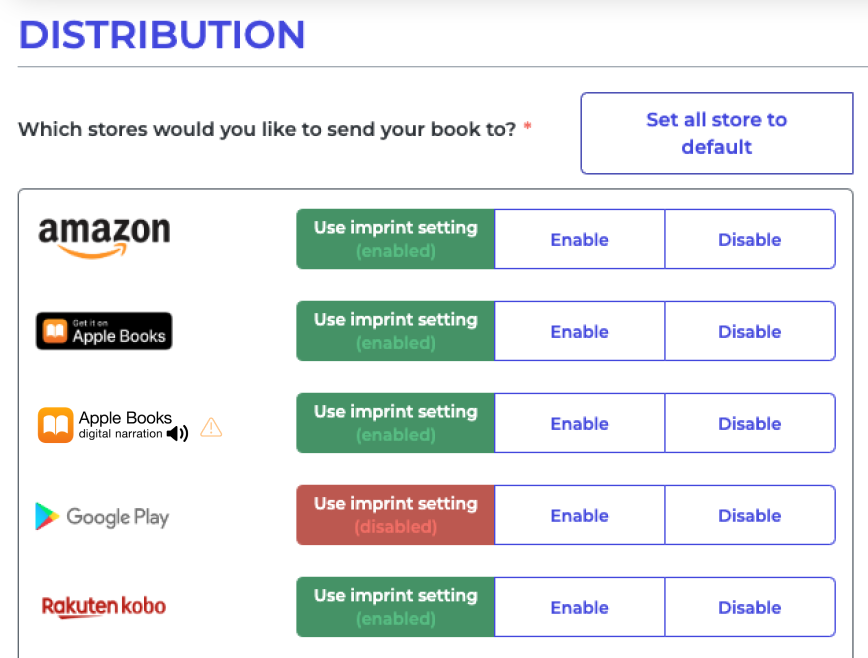 After you enable the store, your ebook will be sent to Apple to turn it into an audiobook and make it available for sale.
It takes approximately two months for Apple to process your request and make the audiobook (more details below).
2. If you're not on PublishDrive
In case you haven't distributed your ebook with PublishDrive yet, you can follow a few easy steps:
Upload your ebook files

Set up book metadata

Select the distribution stores, including Apple Books

Click on publish
Once your ebook is distributed to Apple Books, you can enable the Apple Books digital narration.
💡See this guide on how to self-publish your books with PublishDrive.
Why You Should Use Apple Books Digital Narration
Audiobook is a booming market. More and more people are drawn to this format.
Apple offers content multiplication in a different format that brings authors more revenue without spending thousands of dollars on audiobook production. 
So, probably the biggest benefit here is having your book in multiple formats without investing too much time and money into the creation process but getting money out of it.
If you want to turn your ebook into an audiobook, here are Apple's requirements.
Apple Books Digital Narration Requirements
According to Apple, here are the things you need to pay attention to:
1. Title selection
If you want to apply with your ebook for this text-to-speech technology:
You must have audio rights for the ebook, and the title must not be in the public domain.

It must be in English.

The ebook must be available on Apple Books.

The ebook must be reflowable (not fixed layout or Multi-Touch).

Ideal genres for this feature are fiction and romance. Erotica is not accepted.

Avoid submitting an ebook with complex elements, images, illustrations, or tables. 
2. Voice selection
Apple offers two types of voices, and you can choose which one will narrate your audiobook.
Apple will select the best voice based on this designation and the content. 
Note: You cannot change the voice selection once you submit your request.
3. Cover art
You can submit a cover art that meets Apple's requirements or let Apple generate a cover using your ebook and a customized background inspired by the artwork's colors.
4. Description
Your audiobook needs a proper description to help people know what it is about. It also helps with discoverability. One request coming from Apple: your audiobook description must begin with the following copy: "This is an Apple Books audiobook narrated by a digital voice based on a human narrator."
5. Release date
Creating a digitally narrated audiobook typically requires around one to two months from the moment the request is sent to Apple through a selected partner. If the desired release date does not provide ample room for production, your audiobook will be published as soon as the production process is finished.
Note: Pre-orders are not supported for digitally narrated audiobooks.
6. Review
Your content will undergo a digital narration review to meet Apple's Audiobook standards. If they are not at their best quality, the content will not be published, and Apple's partners will be notified.
Conclusion
You can have audiobooks on Apple Books without spending time and money on their creation. All you need to do is use PublishDrive to distribute your ebook to Apple and enable their text-to-speech feature, and you'll have your audiobook.