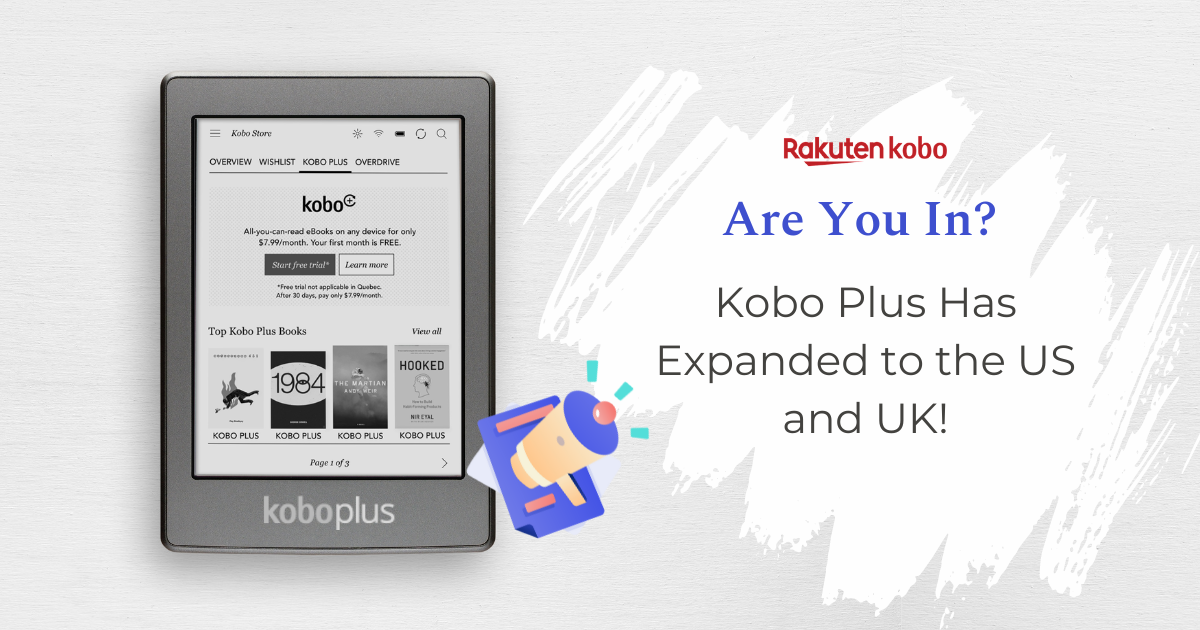 Subscription models can be a great option for readers and authors, but many authors choose to stay out of some of the most well-known ones because of exclusivity and time requirements, which leave out readers who either are in countries without certain retailers or readers who prefer buying books to read and keep on their e-reader (hopefully, to read again and again!)
Last week, Kobo changed the subscription model game by bringing their Kobo Plus subscription model to the US and UK, in addition to other countries like Belgium, the Netherlands, Australia, New Zealand, Portugal, and Canada. Readers in all of these countries now have unlimited access to thousands of ebook and audio titles for a monthly subscription fee. 
Yes, Kobo Plus includes audio too! Readers can choose an ebook plan, an audiobook plan, or a plan which includes both ebooks and audiobooks.
Authors and publishers are paid based on a revenue-share model that is based on time readers spend reading your book. Read more about that on Kobo's website.
If you already publish to Kobo through PublishDrive, we thought you might be interested in putting your ebooks and audiobooks in Kobo Plus.
First, the good news. If you have already opted in to Kobo Plus through PublishDrive, your enrollment has now been automatically extended to the US and UK. (If for some reason you don't want to be a part of these new territories, simply log into your dashboard and opt out of any territories in which you do not want to sell.)
If you're selling on Kobo, but you haven't opted in to Kobo Plus yet, it's easy. Simply log into your dashboard and turn on Kobo Plus as a distribution channel. Remember, there is no exclusivity requirement for your books or audiobooks to be a part of Kobo Plus–you can still sell them everywhere–and there's no time limit that you're required to have them in the program. You choose which titles you want to be in the program and available for Kobo Plus readers. (If there are any Kobo Plus territories in which you don't want to sell, simply opt out of those.) 
Once you're in Kobo Plus, as Kobo adds more territories to the program, we'll automatically distribute your books there too. It's that simple.
And then don't forget to apply for our marketing and promotional opportunities through Kobo as they come available. There's no better way to get your books in front of the Kobo Plus audience than through an in-house Kobo promo. Look for emails from our PublishDrive merchandiser, Fruzina Sugar, in your inbox.
If you have any questions about getting your ebooks and audiobooks into Kobo Plus, feel free to reach out to our support team here, or email us at support@publishdrive.com.