Why Publishing Conferences Are Always a Good Idea?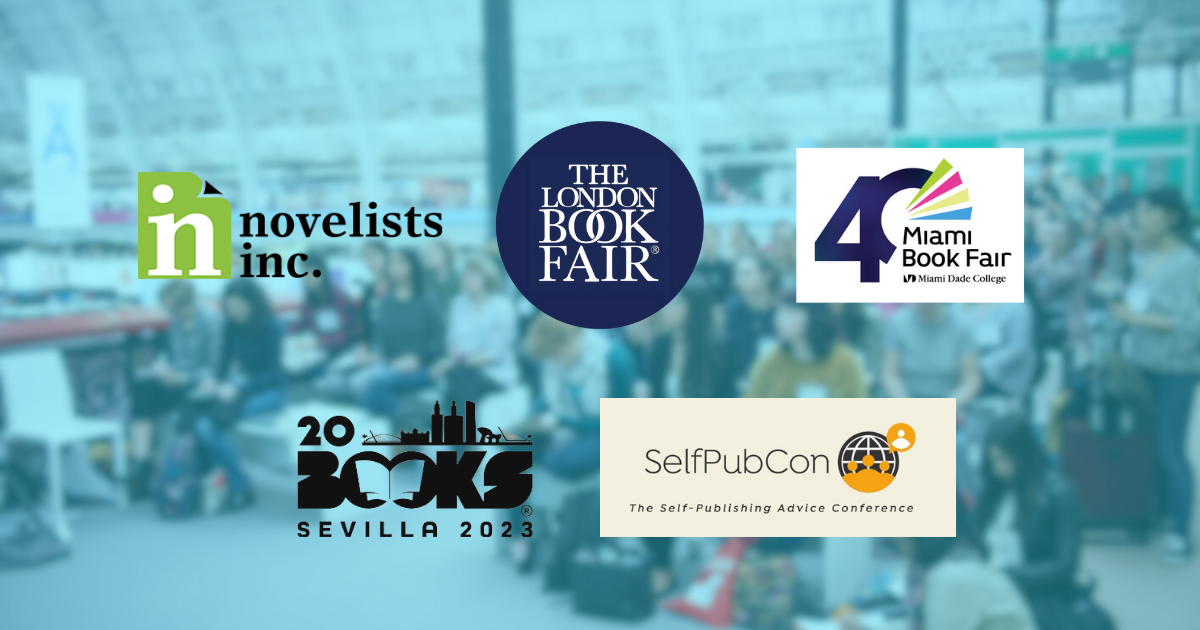 Author conferences are a goldmine of opportunities for writers at all stages of their careers.
Whether you're an aspiring novelist or an established author, these events offer a unique platform for networking, learning, and inspiration. With engaging workshops, panel discussions, and chances to meet industry experts, there's no shortage of valuable experiences.
As the year progresses, you may wonder which conferences should be on your radar. In this article, we'll not only delve into the importance of attending these gatherings but also provide a curated listicle of must-attend conferences that could be game-changers for your writing journey. 
Kinga Jentetics, PublishDrive's CEO, says it best: 'I personally love going to conferences; it allows me to meet face-to-face with inspiring people and build meaningful partnerships. However, time is the most expensive resource we all have: whether you are a writer, an authorpreneur, or a business owner, you must plan your time carefully.'
8 Reasons to Attend Conferences as an Author
Here are some compelling reasons why you should consider marking a few conferences on your calendar:
1. Networking and building relationships
Conferences offer an excellent opportunity for networking. You'll meet people who share your interests, from aspiring writers and established authors to agents, publishers, and other industry professionals. These connections can prove invaluable whether you're seeking a book deal, a collaborator, or someone to exchange critiques with.
2. Skill development
Conferences are educational goldmines. You can gain practical skills and knowledge through workshops, seminars, and presentations that can drastically improve your writing. Whether mastering the nuances of plot development, understanding how to market your book, or learning to navigate the complexities of publishing, the range of topics can be broad.
3. Staying updated with industry trends
The publishing industry is always evolving. New trends, technologies, and marketing strategies emerge every year. Being up-to-date with these changes is crucial for long-term success, and conferences often serve as the epicenter for such information presented by experts in the field.
4. Manuscript feedback
Many conferences offer manuscript critiques or pitch sessions with agents as part of their programming. This is a rare opportunity to receive professional feedback on your work and perhaps even pique an agent's interest in representation. It's a step closer to seeing your work published and in the hands of readers.
5. Boosting visibility and credibility
Being active at a conference—whether by asking insightful questions, engaging in discussions, or even presenting your work—can significantly boost your visibility and credibility within the writing community. Often, these are platforms where industry scouts are looking for the next big thing in literature.
6. Personal motivation and inspiration
Working alone makes it easy to feel isolated or stuck. Being around like-minded individuals can give you a much-needed morale boost. Hearing success stories or conversing about the craft can refill your creativity and inspire you to approach your writing with renewed vigor.
7. Investment in your career
Attending a conference can be costly when you account for registration fees, travel expenses, and accommodation. However, it's an investment in your career. The benefits—learning from experts, networking with key people, getting feedback, and more—often outweigh the costs.
Here is Kinga's advice: Personal connections at conferences also increase readership since most writers are avid readers. And word-of-mouth marketing is especially invaluable for new authors.
8. Exploring new opportunities
Conferences often feature book fairs, readings, and other special events where you can showcase your work, discover new authors, and even meet potential readers. Some conferences also run competitions for short stories or novel excerpts, providing a platform for you to gain recognition.
Maximize Your Conference Experience with the Right Preparation
Preparation is key to getting the most out of any author conference. Here are some strategies from our CEO, Kinga, to ensure you make the most of your time.
1. Review the agenda early
Go through the conference schedule beforehand to identify the sessions that will be most beneficial for you, especially those that align with your self-publishing goals.
2. Identify your challenges
Prepare a list of obstacles you're currently facing in your writing journey. This list will provide relevant questions to ask speakers, helping you quickly establish meaningful connections and find solutions.
3. Pre-arrange meetings
Setting up meetings in advance is a good idea if you're looking to maximize networking opportunities. Reach out to speakers or other attendees online before the conference to avoid the hassle of trying to locate them during the event.
4. Embrace social opportunities
Keep your evenings free for casual conversations with other authors. This informal networking often leads to some of the most valuable connections.
5. Keep the connection
Don't forget to follow up with the people you meet. Immediate follow-up emails or connection requests can turn these new acquaintances into lasting relationships, whether they become mentors, friends, or collaborators.
11 Author Conferences to Check in 2024
1. Digital Book World | January 2024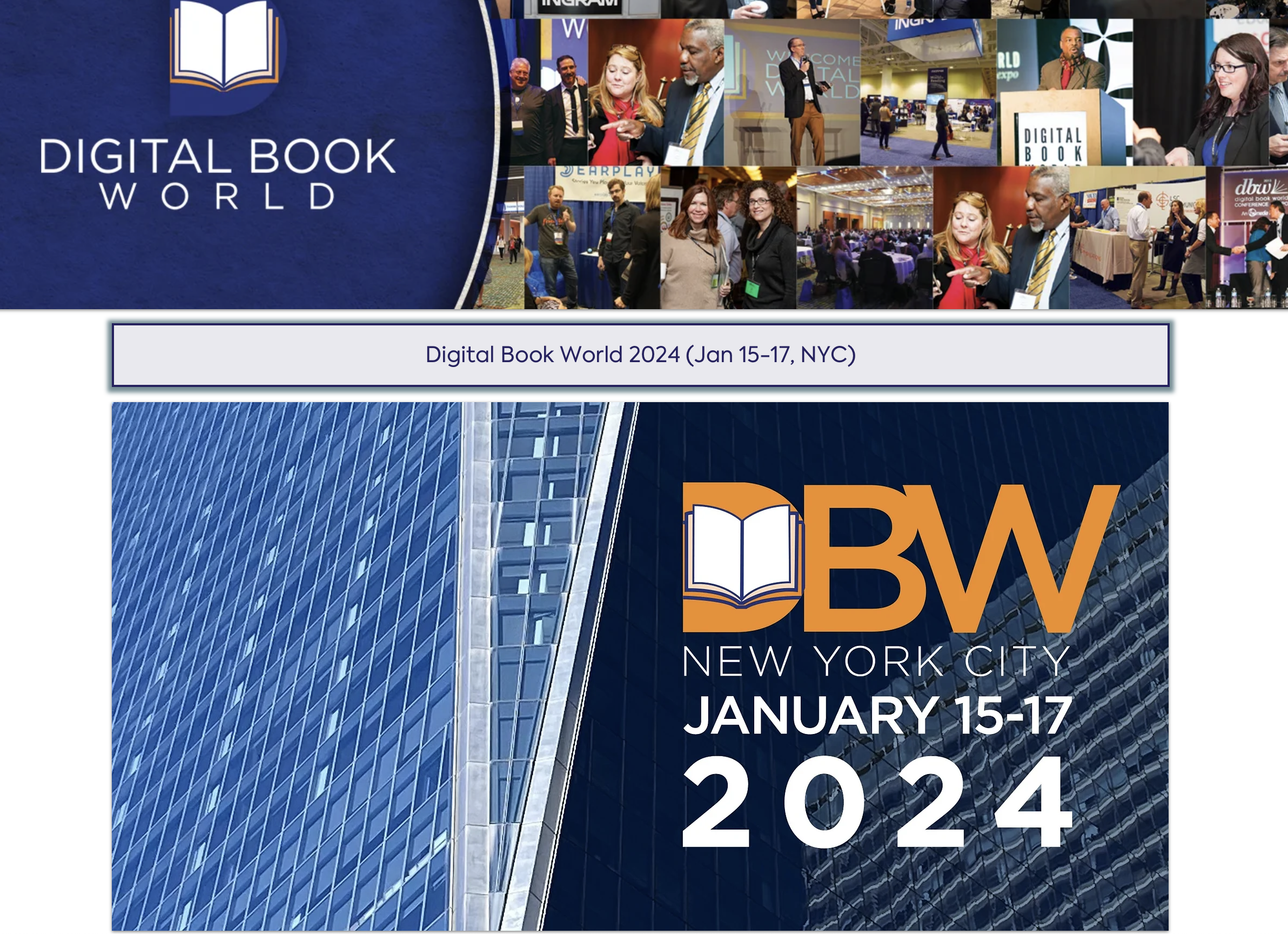 Digital Book World 2024 marks the continuation of the conference's successful return to New York City, serving as a hub for publishing leaders and experts to explore the ongoing digital transformation in the industry. 
With a history of over a decade, this publisher conference has become an indispensable fixture on the publishing industry's annual calendar. Last year's event attracted unprecedented media attention, tripling its usual coverage. The conference featured insights and perspectives from various prominent figures within the sector, further solidifying its importance and relevance.
2. San Francisco Writers Conference | February 2024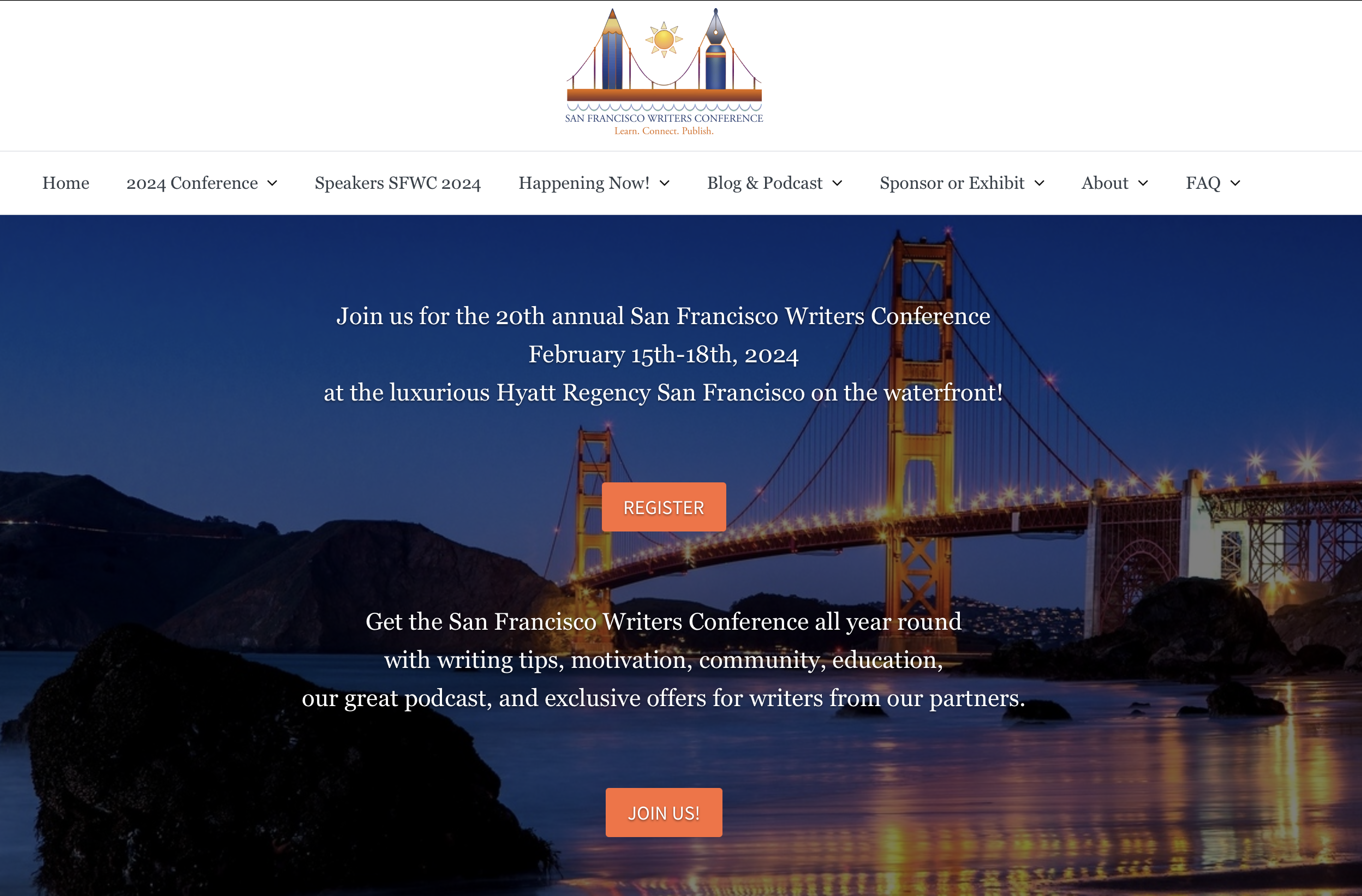 SFWC is a yearly writer conference held in February celebrating craft, commerce, and community of writers and the publishing industry since 2014. Laurie McLean, Barbara Santos, and Carla King put enormous effort into organizing the conference – which draws over 600 attendees – to help writers find the best journey for their books.
Here's Kinga's take: I loved the fact that there were a lot of traditional authors, editors, designers, and agents who attended the conference and who we all could learn from. I think anyone involved in self-publishing can learn from the traditional industry. And the reverse is true: I can see that more and more traditional publishing professionals want to learn from indie publishing. Indies can react to market trends faster; their fast production time, co-authoring strategies, and relationship with readers amaze everyone in the traditional industry. Newbie authors, do not miss it!
3. The London Book Fair | March 2024 

The book community comes together at The London Book Fair for three days of business, networking, and learning. This includes publishers, dealmakers, copyright experts, commissioners, global licensers, and professionals involved in rights negotiation.
Here's Kinga's take: If you are a prolific writer with a wide backlist or even a publisher who represents other authors, you can easily have more than 20 books published. Your main goal is to figure out the next big tweak, action, or partnership to increase your overall business, so your eyes and ears are always open for new and exciting ventures. London Book Fair was a great conference for those with more experience looking to level up.
4. Imaginarium Convention | July 2024 

Now in its 11th year, the Imaginarium Convention is one of the best writers' conferences. Offering a multi-faceted experience for creative professionals across various fields, it gathers writers, filmmakers, game developers, artists, musicians, poets, and fans. 
The three-day publishing conference is packed with various activities, including in-depth panels and workshops, an expo, a film festival, live entertainment, and even cosplay and literary and film awards. 
With a lineup of over 200 industry professionals—from authors and editors to publishers, filmmakers, and game designers—the event offers opportunities for networking and professional development.
5. RWA Conference | July 2024 

The Romance Writers of America® (RWA) is a nonprofit trade association that primarily focuses on fostering the professional growth and business interests of romance writers. RWA seeks to elevate public awareness of the romance genre while providing its members the tools to sustain full-time or supplemental incomes from romance writing.
The RWA Conference is a pivotal romance writers' conference where around 2,000 romance writers and industry experts converge. The event is instrumental in facilitating enduring professional connections and furthering careers in the romance writing field. The sense of community at this gathering is unmistakable, creating an environment that is not only educational but also inspiring.
6. Bread Loaf Writers | August 2024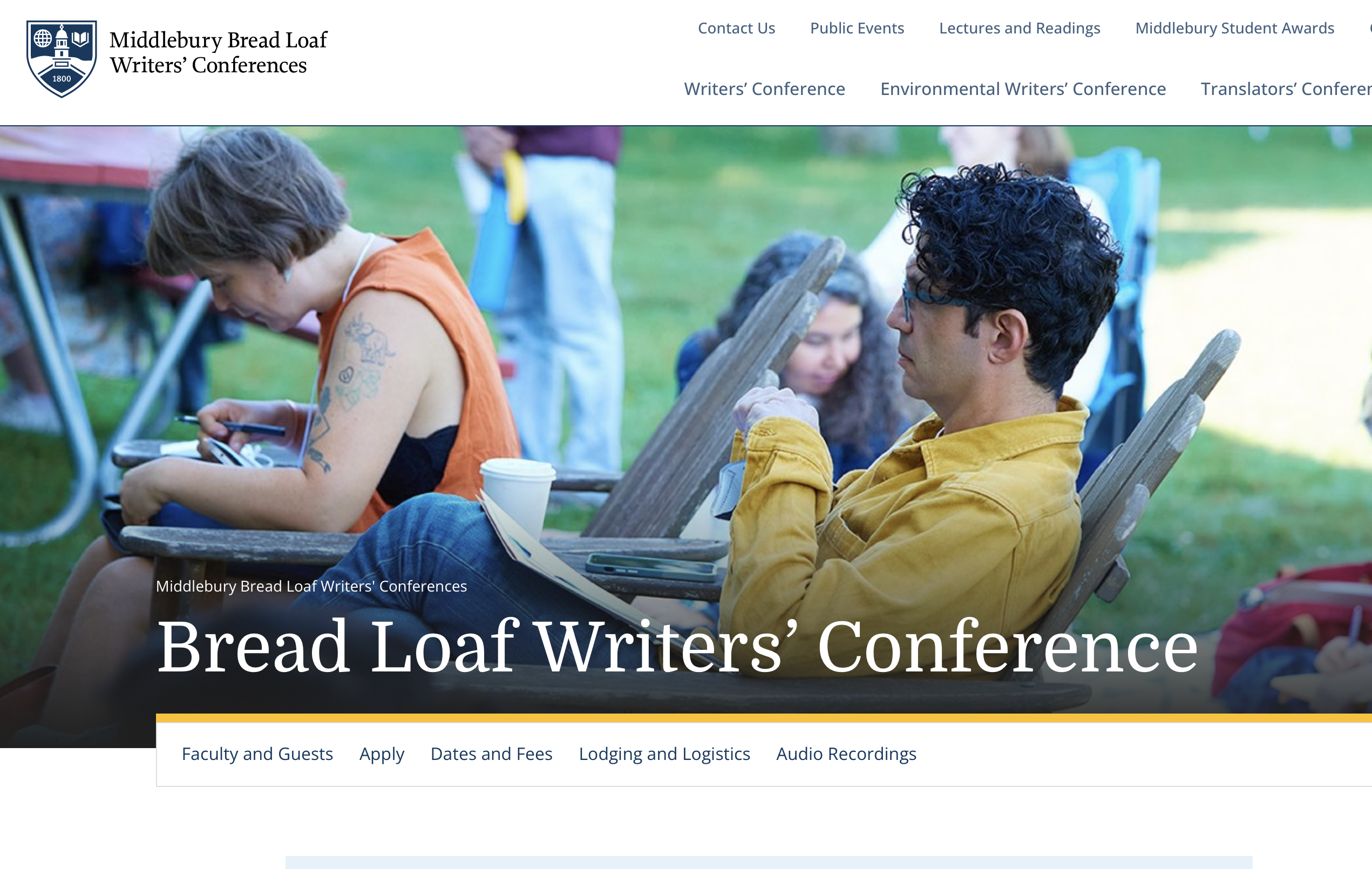 Celebrating its 98th annual event, the Bread Loaf Writers' Conference is a notable gathering in the world of writing conferences, rooted in a rich literary and intellectual legacy.
Emerging writers can engage closely with an accomplished faculty for ten days in August, including MacArthur Fellows, U.S. poets laureate, and winners of prestigious awards such as the Pulitzer Prize and the National Book Award. Set against the idyllic backdrop of the Green Mountains on Middlebury's Bread Loaf campus, the conference offers an unparalleled setting for manuscript discussions, insightful conversations, and networking with agents, editors, and the upcoming generation of influential writers.
7. NINC | September 2024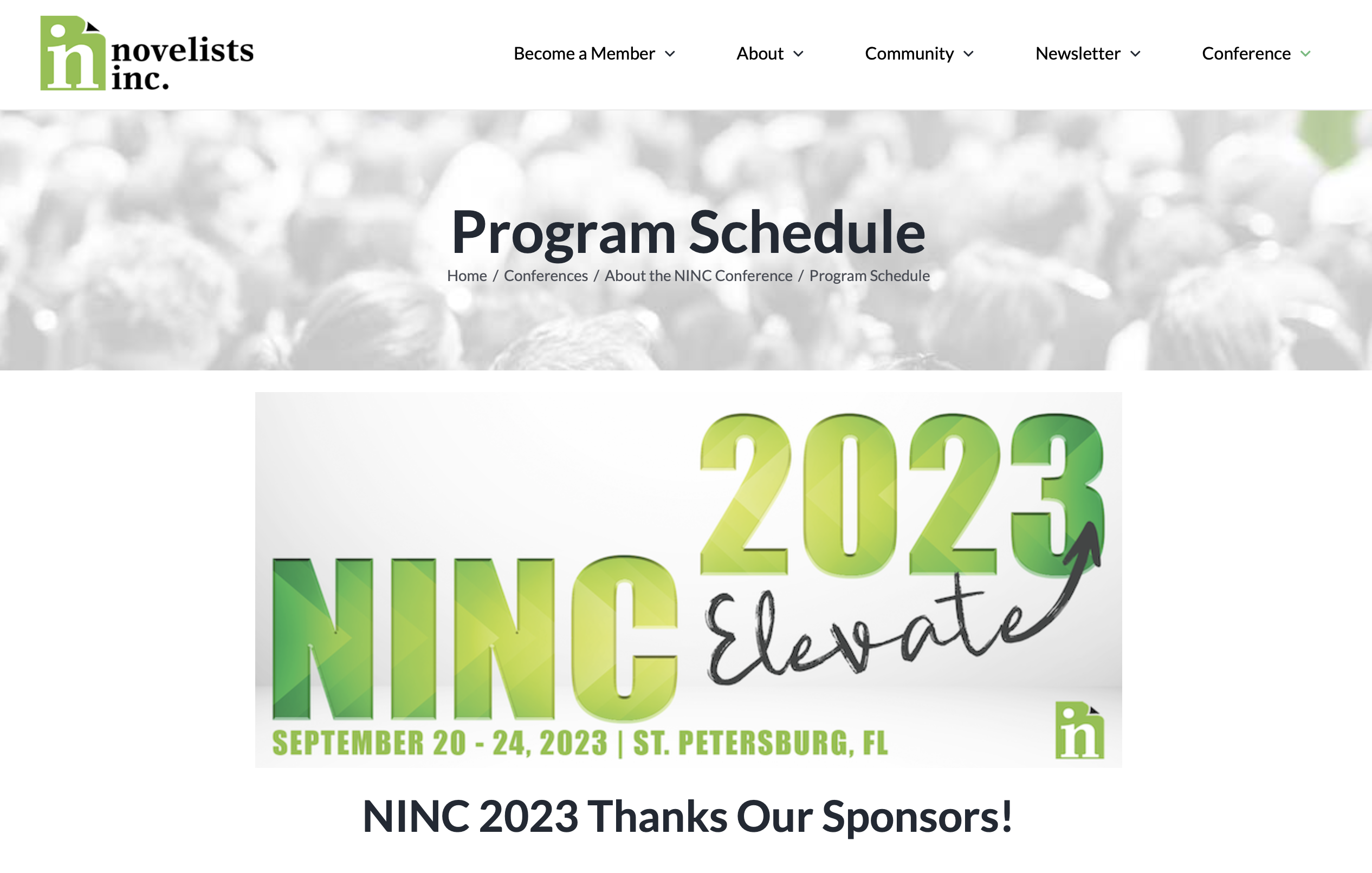 Novelists, Inc. (NINC) is a professional network specifically designed for career novelists. Since its inception, the organization has grown significantly and now boasts a thriving membership of more than 1,000 multi-published writers.
By becoming NINC members, writers gain access to a global community of authors who are deeply committed to the business aspects of writing. They also engage in conversations that fuel innovation and clarify the intricacies of the publishing industry, thereby becoming an essential part of a knowledge-sharing ecosystem.
PublishDrive is a proud sponsor of the NINC 2023 Conference. 
8. SelfPubCon | October 2024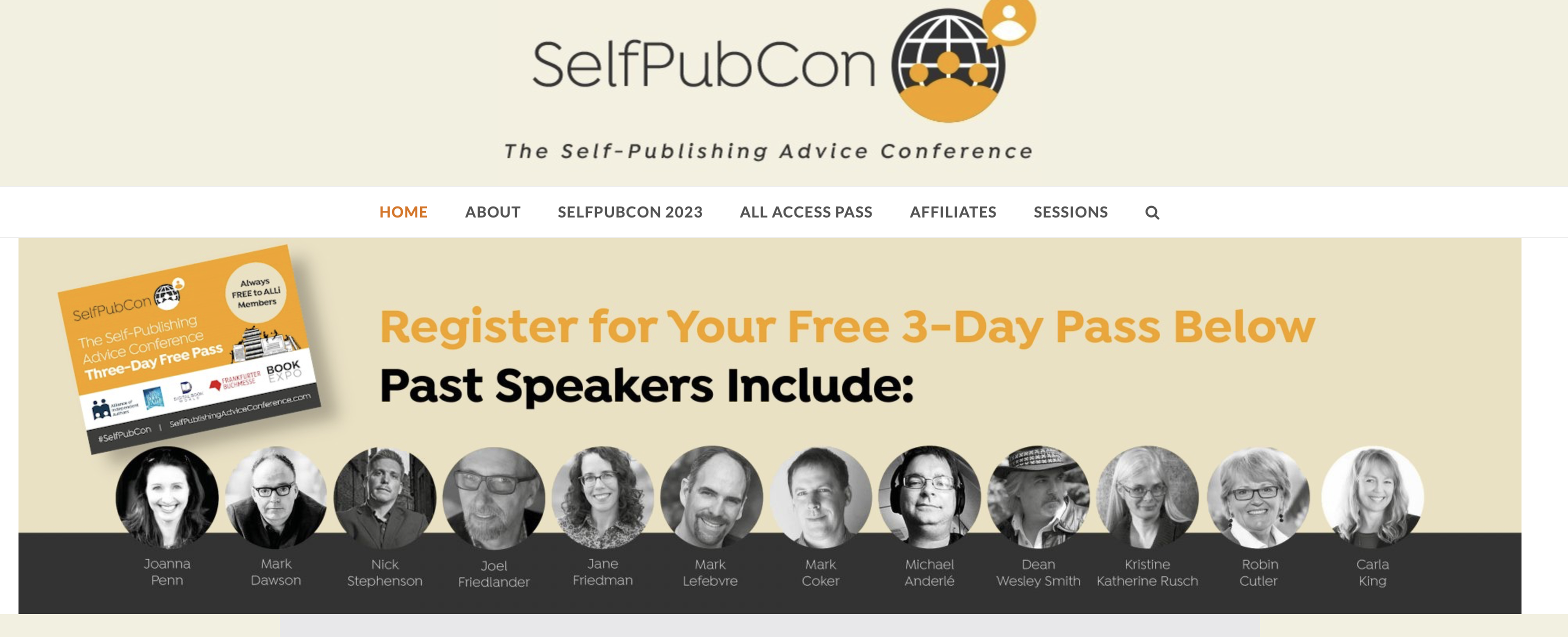 Every October, SelfPubCon hosts a 24-hour self-publishing conference featuring a round-the-clock lineup of presentations and panels to accommodate its global audience. 
While the event is live, attendees aren't expected to sacrifice sleep; the conference content remains freely accessible to the indie author community for three additional days. 
Besides attracting leading voices in self-publishing as speakers and sponsors, the event also offers various interactive elements. These include competitions, giveaways, interviews, debates, and round-table discussions. Complementing the activities are live-tweeting sessions and a wealth of free resources and workbooks, adding an extra layer of engagement and value to indie author events.
9. 20 Books Vegas | November 2024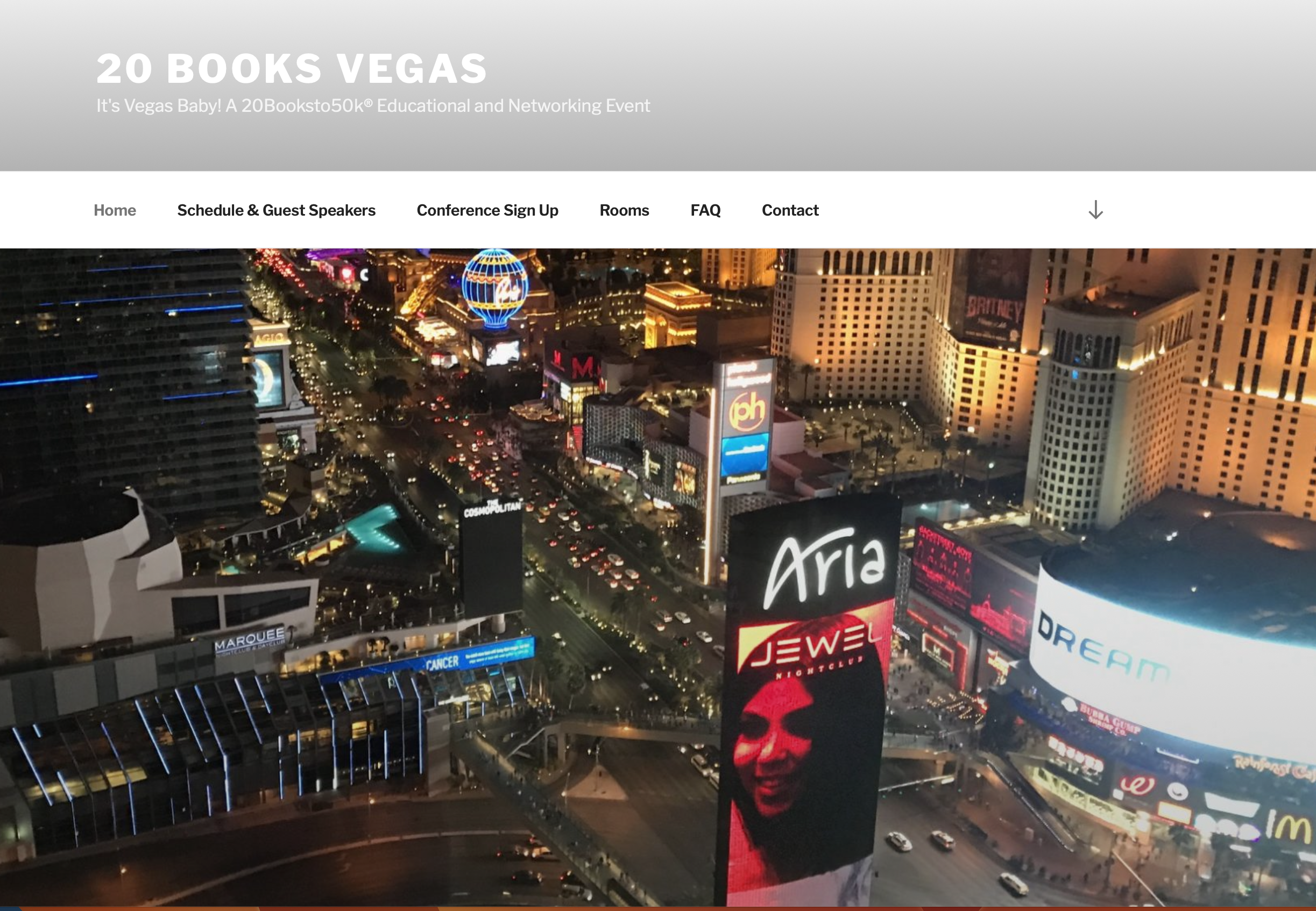 20Books Vegas is an annual self-publishing conference to drive indie authors toward success. It started from a Facebook group called 20booksto50k, where authors and publishers gather online and share their knowledge about how to run a successful indie author business.
Here's KInga's take: Sharing knowledge is extremely important if you are starting out or if you want to reach the next level in your publishing career. Another huge benefit of attending 20Books Vegas is that you can get together with like-minded people, network, and have fun: whether it's chatting over breakfast, having dinner, singing karaoke, zip-lining, or any other fun experience - this is how some of the most important networking happens.
10. Miami Book Fair | November 2024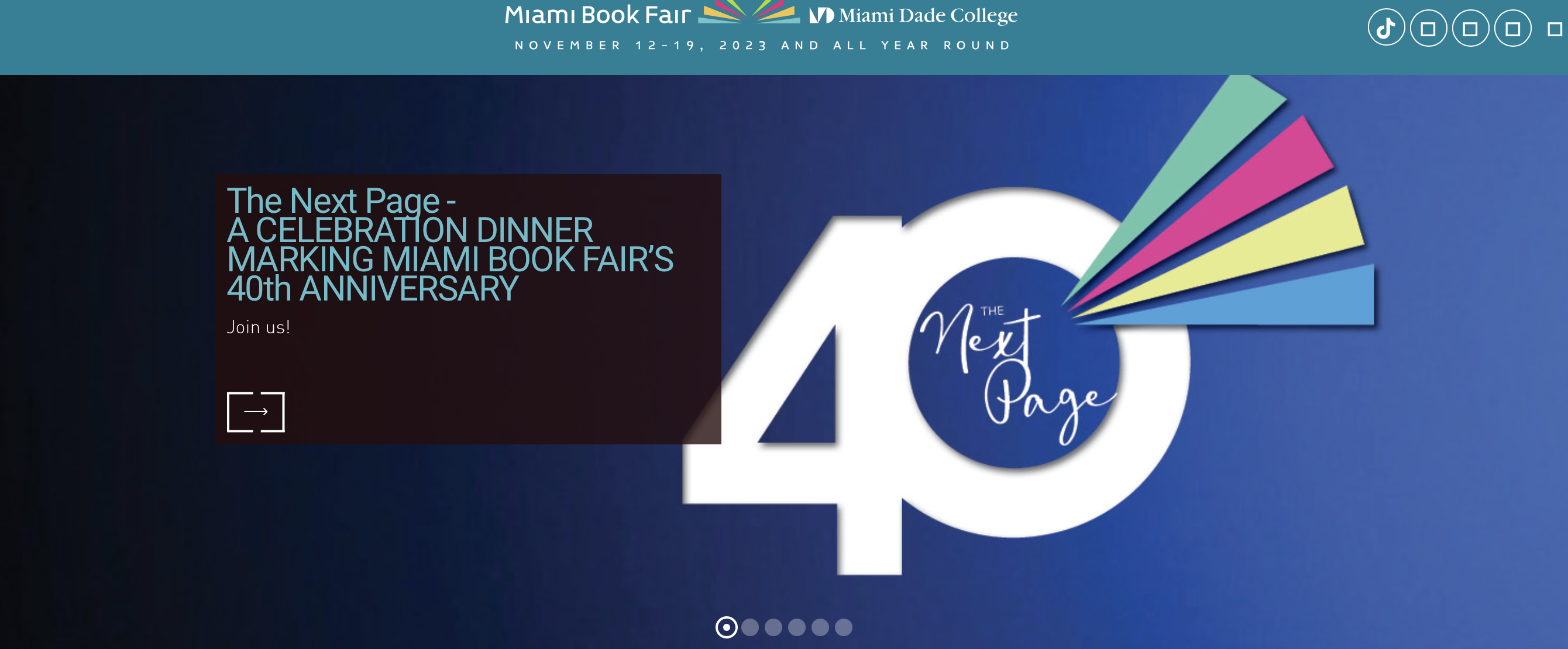 In November, the Miami Book Fair transforms downtown Miami into a haven for literature enthusiasts, serving as a leading publishing conference that gathers hundreds of esteemed authors. This eight-day event features discussions on various topics, from politics and pop culture to insightful prose. 
Known for its diverse programming and international scope, the Miami Book Fair offers an unparalleled platform for writers, publishers, and readers to engage in meaningful dialogue, fostering a vibrant literary community.
11. YALLFest | November 2024 

Held annually in Charleston, South Carolina, YALLFest is a public two-day festival dedicated to young adult literature. It stands as the largest event of its kind in the Southern United States. The event was initiated in 2011 by Jonathan Sanchez, who owns the Charleston-based Blue Bicycle Books, collaborating with authors Kami Garcia and Margaret Stohl. 
Set Your Agenda
Attending a book publishing conference or a publisher conference can be a game-changing experience for both writers and publishers. These gatherings are fertile grounds for professional growth, networking, and skill enhancement. 
For writers, they offer the invaluable opportunity to connect directly with industry experts, peers, and even potential readers. The insights gained can steer a writer's career in the right direction, providing them with strategies and tools they may not have found otherwise. 
For publishers, these conferences are an unmatched opportunity to discover new talent, grasp emerging trends, and establish meaningful relationships within the industry. The sense of community and shared learning at these events can open doors that can be transformative for all attendees. 
Participation in such conferences should not be considered optional but a necessary investment in one's career and business success.