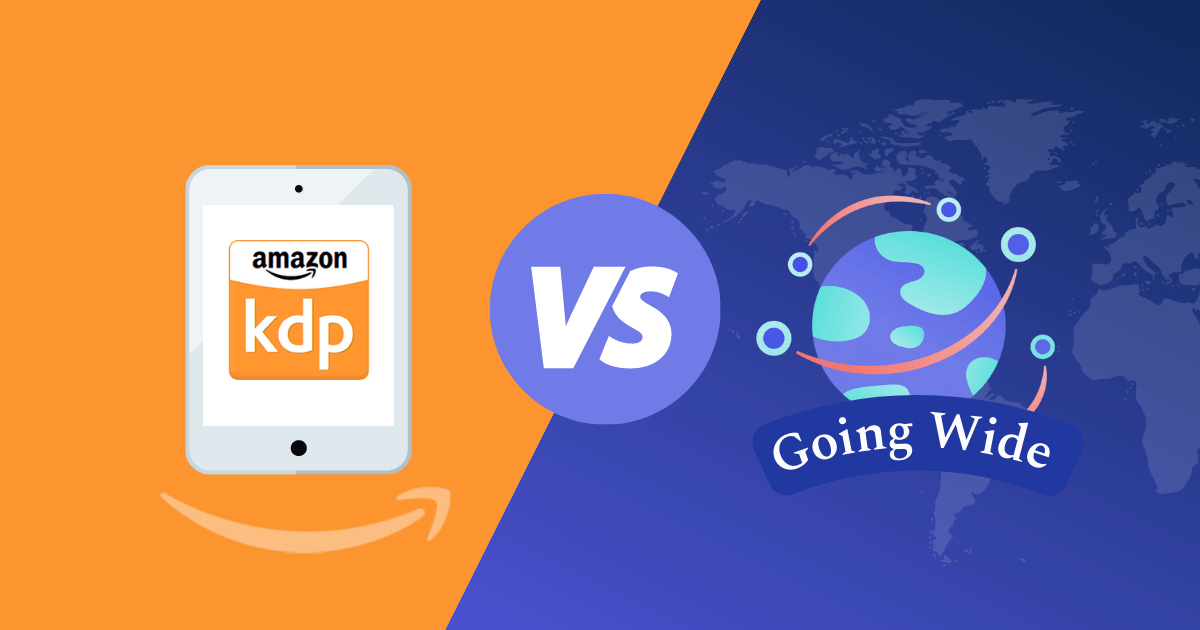 When self-publishing, authors face a critical crossroad; to publish exclusively with Amazon or publish wide with other retailers. To determine what's best for you, let's go over what to know about Amazon's Kindle Unlimited publishing vs. publishing wide.
What's the deal? Before diving in, here's what you need to know: Amazon is the largest retailer of self-published books. However, publishing on Kindle Unlimited requires exclusivity. This means you can't sell your book anywhere else outside of KU for the first 90 days. The alternative is to publish wide on all other retailers like Apple Books, Kobo, Barnes & Noble, and more.

Either side can argue that one is the better choice. If you're on any author forums, you've probably seen this conversation play out. There is no one-size-fits-all answer. It comes down to your goals, preferences, the genre you write in, and more.
What Is Kindle Unlimited Publishing?
Kindle Unlimited is "the Netflix of books," where readers subscribe to a library of ebooks and borrow up to 10 titles at a time. There are more than 150 million subscribers who have access to more than 1 million titles. 
How Does Kindle Unlimited Work for Authors?
From the publishing side, authors can publish to KU for free, using the platform Kindle Direct Publishing. Once your book is uploaded, you choose enrollment in the KDP Select program (the real name for KU in Amazon's publishing platform.) Opting in gives Amazon exclusive rights to sell your book for the each 90 day term you're enrolled. This means you can't list your book anywhere else, including other stores, blogs, websites, and beyond – not even if you have your own direct sales site.
How Do Authors Get Paid on Kindle Unlimited?
KDP Select uses a payout system called KENPC or Kindle Edition Normalized Page Count. In Kindle, your book's pages are based on the word count. A 50,000-word ebook will have a KENPC of about 250 pages. The KENPC pay rate changes every month depending on the KDP Select Global Fund and the number of enrolled books. But it's usually around $.004 to $.005 per page. So, a fully read 250-page book will earn you about $1.25.
Self-Publishing on Amazon via KDP Select: Pros and Cons

Pro #1: KENPC Payout System
As mentioned above, Amazon uses a unique payout system called KENPC. There are some benefits to this versus the typical royalty rates used by other retailers.
Author Media shares: "When a reader borrows your book and puts it on their KU bookshelf, whether they read it or not, it counts as a borrow. This is a major benefit because when Amazon calculates the sales ranking of a book, a borrow counts the same as a sale. The Amazon rank number is determined by how many people purchase your book, but it also takes into account how many people borrow your book."
Pro #2: Largest Retailer
Amazon is the largest online retailer in the world, with 'Books' being a bestselling category. More than 150 million subscribers have access to KU's library of books. And we know just how popular Amazon's Kindle reading device is. It's no surprise that Amazon has been a hot spot for self-publishing indies.
Pro #3: Exclusive Marketing Features
Another perk of enrolling in KDP Select is the exclusive marketing features. You can boost discoverability by allowing potential customers to read for free for a total of five days per 90-day enrollment period. You can also use the Kindle Countdown Deals feature for discounted price promotions.
How about the cons?
Con #1: KENPC Payout System
Amazon's KENPC payout system can be a con for some authors.
An expert from Author Media shares: "I price my novellas at $2.99, and if a reader purchased the book on Amazon (rather than borrowing it from KU), my royalty would be $2.09. The royalty for a purchase is much higher than if a reader finished the entire book in Kindle Unlimited. On a purchase, it does not matter if the reader reads it or not. Obviously, I want my readers to read my books because I want them to enjoy them and buy the next one. But as far as royalty payments are concerned, it doesn't matter if or when they read it. I get paid the same amount whether they read it or not."
Con #2: Exclusivity
Amazon's exclusivity policy is very strict. While enrolled in KDP Select, you cannot distribute copies of the book in any digital format. This includes free copies and samples. If you violate these terms, Amazon may keep your royalties (or even block your account).
If you offer a free sample of the book anywhere, such as a lead magnet for building your ARC team, the sample can be up to 10% of the book's content. Be sure to take down free samples before enrolling in KDP Select or ensure that the sample you continue to distribute is no more than 10% of the book.
Con #3: One Income Source
Thanks to KU's exclusivity model, some authors have managed to become full-timers while remaining exclusive. But putting all your eggs into one basket carries some risks. You have to be okay with the fact that KU may end someday or that Amazon may significantly change how the program works.
About the uncertainty of KU: Amazon will phase out its print textbook rental program along with its print and digital magazine and newspaper subscriptions in 2023. What are the impacts on self-published authors? Nothing right now. But this could give us an indication of where Amazon may be headed with other book rental programs. Here's a thorough breakdown of the situation.
Con #4: Limited Reach
There's no doubt that Amazon's market share of ebook sales is significant, especially in the U.S. But remaining exclusive to Amazon prevents you from reaching rapidly growing markets. And the beauty of self-publishing as opposed to traditional publishing is that you can explore new book markets.
Exclusivity also means that you are missing out on many potential readers not using Kindle devices. For example, there are many other readers on Google Play Books on Android devices or Apple Books on Apple devices. This represents literally billions of readers. Also, there is not an Amazon store for every country in the world..
Let's dive into the alternative, publishing wide.
What Is Publishing Wide? 
Publishing wide involves going beyond Amazon. This strategy is about maximizing and diversifying your reach by publishing in all stores, countries, and book formats possible. This requires more administrative work when it comes to managing different stores and royalty reports. However, you can use an online self-publishing platform like PublishDrive that takes care of the work for you.
PublishDrive helps you publish wide with literally thousands of book channels, including Amazon. Not only that, you get the tools to promote your book to readers, as well as manage your royalties.
Publishing Wide Pros and Cons
Pro #1: Discoverability
If you're interested in building a long-term, sustainable career as a self-published author, discoverability is key. If you remain exclusive to Amazon, you're closing yourself off from so many sales channels and avenues for discoverability. There are plenty of reading subscription services besides KU that do not require exclusivity – including Scribd and Kobo Plus – where readers can binge on your books while you earn.
Year after year, these stores have brought a ton of success and book sales growth for indie authors. Check out PublishDrive's bestselling bookstores in 2022:
Plus, remember what we said above? Amazon is large, but it isn't everywhere. In fact, Amazon reaches only 13 countries. Now is the time to self-publish internationally in every country possible. In 2022, PublishDrive indies saw 56% of their sales come from international markets. 
Pro #2: Less Risk
As already mentioned, relying solely on KU to support yourself can be risky. By publishing wide, you get different income streams. Having your books available in multiple formats also makes readers happy. Some readers are loyal to their Nook (Barnes & Noble device), while others prefer Kobo e-readers or other devices.
Now, the cons.
Con #1: Time
Gaining traction while publishing wide may take some time. Amazon's intuitive platform does a fantastic job of getting readers' eyes on your books. Other platforms, not so much. This is another reason why the lure of KU is so strong. But since you're not restricted by exclusivity while publishing wide, go ahead and take advantage of marketing tactics like distributing review copies and applying for retailer-specific promos to generate buzz.
Con #2: Investment
Investing in marketing services and tactics is crucial. KDP Select does a lot of the marketing work for you. So when you go wide, you'll have to take care of this yourself. (Do check out companies like PublishDrive that help with book promotions. For example, you can get featured in many of PublishDrive's stores or retailer newsletters.)
Final Take?
KDP Select is an excellent choice for newbie authors. It's a great way to learn the ropes of self-publishing and ebook marketing. But if you're looking to reach more readers in more markets in more book formats, consider publishing wide. Remember, diversify and maximize your publishing strategy to reach everyone you can.
And don't forget about the current state of Amazon publishing. Expert Kristine Kathryn Rusch shares:
"I'm not saying it's time to leave Amazon. I'm saying it's time to go wide. To make Amazon part of your publishing portfolio, not all of your publishing portfolio. As writer businesspeople, you need to ask yourself how you would do if your Amazon revenue vanished. What kind of changes would you have to make? This is no longer theoretical for many magazine publishers. It might not be theoretical for book publishers in the future either. Be prepared. In 2023, go wide. Expand your revenue base."
Publishing Wide Has Never Been Easier With PublishDrive
Now you know all about KDP Select pros and cons. Are you ready to reach KDP alternatives in no time? Here's PublishDrive in action:
Save time:

Going direct while publishing wide means you have to upload your books separately to each platform. With PublishDrive, you can manage distribution to 400+ online stores (including Amazon) and over 240,000 digital libraries with a single dashboard.

Keep 100% royalties:

PublishDrive has a unique flat-fee model. One transparent fee covers all of your global distribution costs instead of charging you an additional royalty percentage of every sale. You get 100% of the royalties you earn with stores as if you're publishing directly with them.

Marketing benefits:

Access built-in marketing tools to boost sales and increase discoverability. These include both free book promotions and paid placements.