Book Marketing
What Is Bookstagram and How Authors Can Use It for Self-Promotion [Bookstagram Hashtags Included]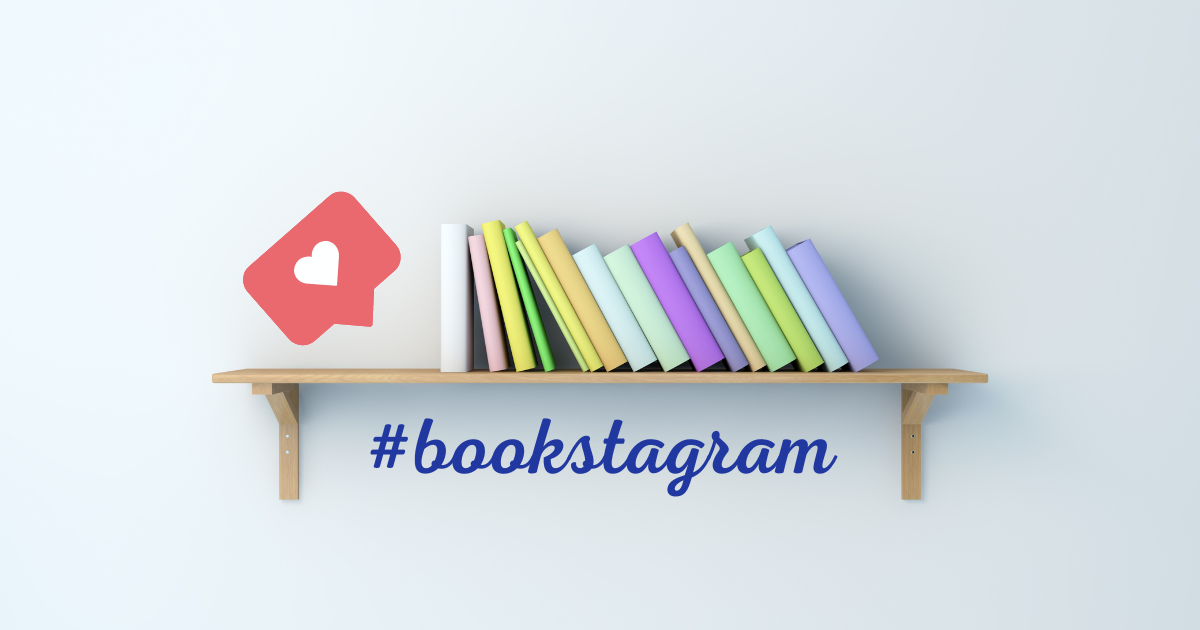 Social media is a great place where you can self-promote your books. But are you also tapping into another type of gold mine called Bookstagram?
Bookstagrammers have become a big part of the bookish community. 
Want to be there too?
In this article, I go over 11 tips on how authors can use Bookstagram to their advantage.
What Is Bookstagram?
Bookstagram started as an Instagram hashtag for book-related photos, helping those searching for the next perfect book. Now, it's a term used for accounts that want to bring books into the spotlight using book-related posts with Bookstagram hashtags.
If you want to share your books and other titles that inspire you, a Bookstagram account might be the perfect place to start.
You can keep using the Bookstagram hashtag on your already existing account or create a new Bookstagram account as an addition to your author profiles.
Why Start a Bookstagram?
Bookstagram is another form of marketing, but an aesthetically pleasing one. And book lovers dig that.
Since authors can do more than write, here are a few reasons why you should start a Bookstagram account:
You want to share the books you love with others.

You want to find your community of readers and writers.

As a

self-published author

, you want to use Instagram for publicity.

You may even get a commission from companies that look for representation on your Bookstagram.

You can get

reviews

from readers and generate interest and exposure for newly published books.
Before getting started with Bookstagram
Ask yourself if your audience is on Instagram. If you know that most of your readers are on the platform, you can start a Bookstagram account.
To do this, search for Bookstagram-related hashtags (e.g., #womensfiction, #yafiction) and see how many people use them. 
How to Find Bookstagram Accounts
Since it all started with a hashtag, this is also how you'll find your next favorite accounts.
Look on Instagram for the #bookstagram hashtag. You'll find many posts and profiles for all things bookish. Search through them for those that fit the genre you write in. Follow them.
How to Start a Bookstagram
Since you're here, it means you want to be a Bookstagrammer. 
Let's go over a few tips on how to start a Bookstagram.
1. Choose a handle
"What's in a name?" would Shakespeare ask. Well, in this case, a lot. 
Everything starts with your account name. If you already have a book-related presence in another place (such as BookTok), you should use it for your Bookstagram. Or at least a close version of it. This is important for consistency.
If you're just starting your social media presence as an author, use your name, pseudonym, or some form of it. You want people to make a connection between you and your books.
When you choose your handle, be sure:
It represents you.

It's easy to type. This may sound like a no-brainer, but using a simple and memorable name rather than complicated characters is important.

To check other places where you plan to use the same name in the near future, such as a website, blog, or other social media accounts (if you haven't already picked and used one, as I mentioned before).
In the bio section, put your name, a short bio, and a link to your website. For the link, you'll have to use LinkTree and create a page where you can add your links. If you don't have a website just yet, you should consider making one. This will strengthen your author brand and help you generate new leads.
2. Pick your Bookstagram's Aesthetics
Do you know those pretty Instagram profiles that keep you engaged and you can't stop scrolling? They usually rely on a theme you'll find in all photos.
This is easy to do. Think about your books: they all have something similar because the same author writes them. You should embrace this theory for your Instagram profile too. 
The genre you write in and your audience are great starting points.
If it's horror, go for darker colors. If it's romance, you can go for colorful posts. 
You get the idea.
The bottom line: choose a theme and stick to it. 
Or use a simple hack Instagram made for us and apply the same filter on all photos.
3. Find a Unique Selling Point (USP)
To have success, you need to come up with something catchy. Even if the story has already been told, you can tell it differently.
Use your knowledge and experience (as an author, you sure know a lot about books and have a creative side) and give an exciting spin to your posts. 
Here's a Bookstagram profile to see what I'm talking about.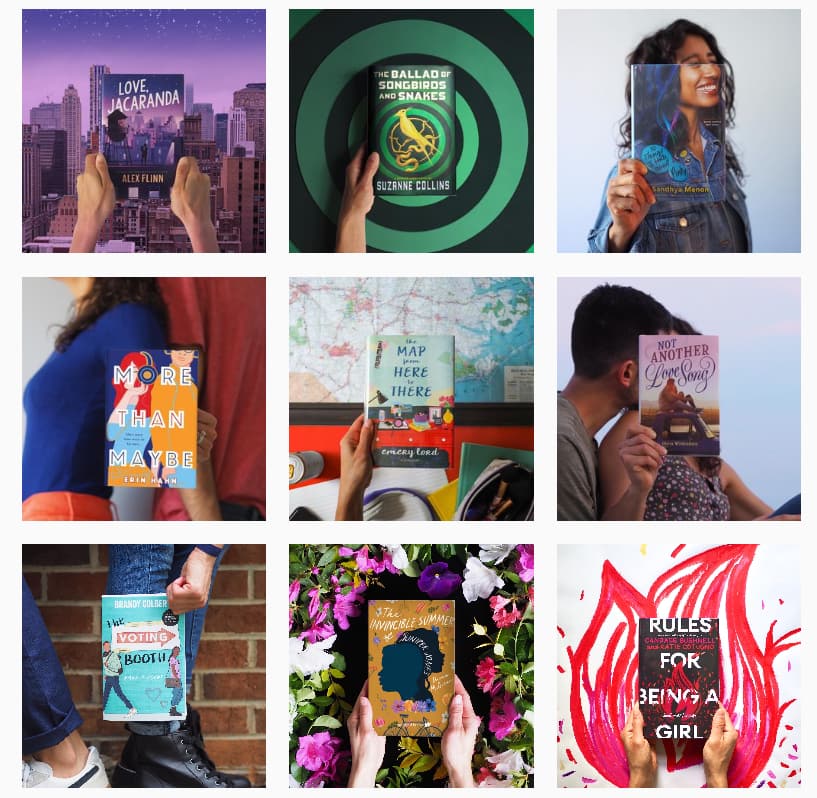 The account @fromlibrarywithlove ticks two boxes: 
It's aesthetically pleasing.

Each post focuses on a book, and the book itself inspires the background of that post.
4. Use quality photos
High-quality photos speak of professionalism and quality. You don't need expensive gear to take nice, sharp images. Luckily, our smartphones are great that way. 
What you can do is learn a few photography tricks from people willing to share them for free on Instagram.
With those camera tricks and your creativity, amazing things can happen.
Plus, high-quality photos come in handy if you request other Bookstagramers to feature your posts.
5. Be consistent
Like any other blog or social account, a successful Bookstagram requires time and dedication. 
Posting consistently and frequently is essential to growing your following.
Think about it. Sharing one photo a year will not be enough. People can't really engage with your posts that way, and if they don't, your profile will remain in the shadows.
If you post frequently, engagement increases naturally, and more people will find out about you.
6. Schedule your posts
Did the frequency thing scare you? It doesn't have to. As an author, you clearly won't spend all your time on social media.
You can spend only a few hours/per week creating a few posts in advance and schedule them using apps like Hootsuite or Later.
7. Use hashtags
As a golden rule, post other authors' books too on your Bookstagram. A lot of self-promotion can be tiring for your audience. Whenever you do that, use hashtags such as:
The book title

The author's name

The genre

The subgenre
These will help your post reach the right people.
There are many book-related hashtags you can experiment with. If you want to narrow them down, check what other Bookstagrammers use. This will give you Bookstagram post ideas for your account. 
Example of popular Bookstagram hashtags:
#bookstagram
#books 
#booklover 
#book
#bookworm 
#bookstagrammer 
#reading
#bookish 
#bookaddict
#booknerd
#quotes
#writersofinstagram
#writer
#romance
#libros
#literature
#bookaholic
#bookphotography
#booksofinstagram
#booklove
#bookshelf
#igreads
#reader
#bookblogger
#bookstagramfeature
Among the popular Bookstagram hashtags you'll find combinations of a book-related hashtag and the country the Bookstagrammer is from. 
If you look for Bookstagram hashtags to use in 2023, you'll see example such as:
#bookstagramindia
#bookstagramitalia
#bookstagramindonesia
#bookstagrammexico
#bookstagramargentina
8. Engage with your followers
Like and comment on other Bookstagrammers' posts. Reply to other comments on your photos. Stay in the loop, and let people know you're invested in your profile and love what you do.
This will help your profile's visibility and might even bring you valuable connections and collaborations.
9. Insert promotional posts
The main objective of a Bookstagram is to promote your books. But you have to do this without overwhelming your audience. Do you know the 80/20 rule? 80% of your post should be about other educational, engaging, or new stuff, and 20% about you.
Also, use tactics that keep your book a secret. 
Here are a few ideas: 
Share teasers from your book. Even the book cover can work as a teaser.

Post your

book trailer

.

Post timely content. You can use the holidays to create festive settings around your books.
10. Use props & backdrops
You don't need to spend a lot on props and different backdrops to make your Bookstagram pop. For this, too, there are a few tricks.
Place the books on colored paper.

Place the books near seasonal plants: tulips in spring, sunflowers in the summer, colored leaves in the autumn, and pine cones during winter.
When you have a prop and a background you like, play around with a few lights (such as lamps) and emphasize your book some more.
11. Host giveaways
The purpose of a giveaway is to increase your book sales. A Bookstagram profile is perfect for it.
And it's also easy to set up. You only need an app to gather the comments and pick a winner.
Then:
Create a post with your book cover and the word giveaway in it.

Add the book giveaway rules in the description.
To get more people to see the post, mention that one of the rules is to share your giveaway in their stories. 
How to Get Your Book Featured on Another Bookstagram Account
You can have your book featured on other bookstagram accounts to get more exposure. 
How?
It's all about interacting with other people and building connections.
That's why it's important to continuously engage with your followers and comment on other people's posts. Reach out to Bookstagrammers you want to feature your book. If they see you're an active Bookstagrammer, too, they will receive this request more easily. 
Examples of Bookstagram Accounts
Need some inspiration for your bookstagram post ideas? Or some Bookstagram bio ideas?
Here are a few of the best Bookstagram accounts you can follow.
I mentioned them together because they're a Bookstagram duo with separate accounts. They're also the founders of another Bookstagram: @mybookfeatures.
These accounts are an absolute delight to watch. They create scenes with angel wings and cool dominos using books.
Check out these two profiles if you need ideas and are willing to play with Photoshop a bit.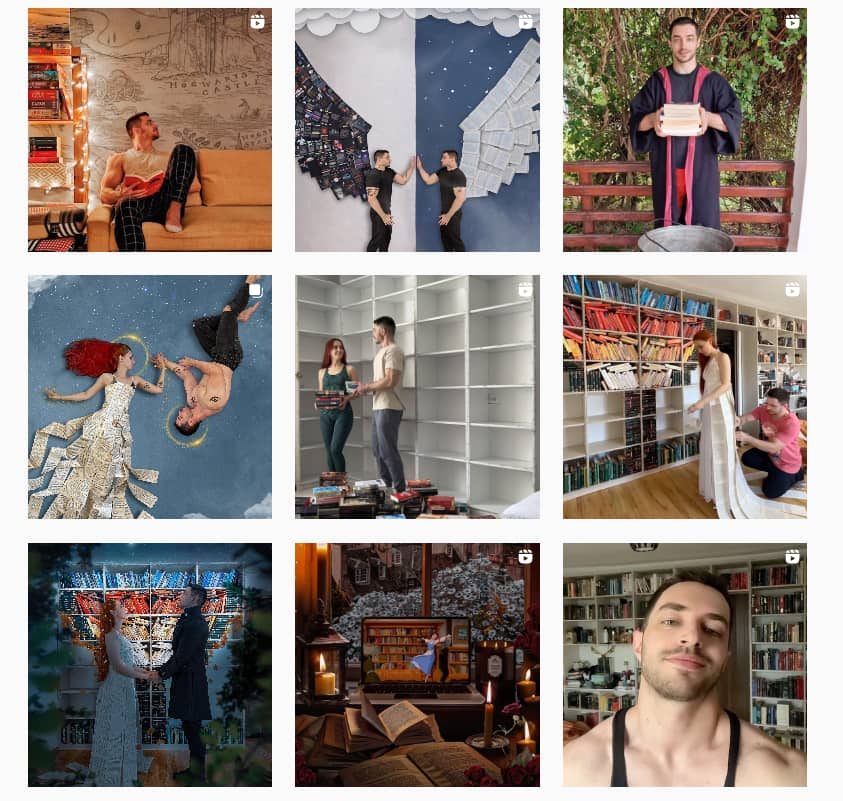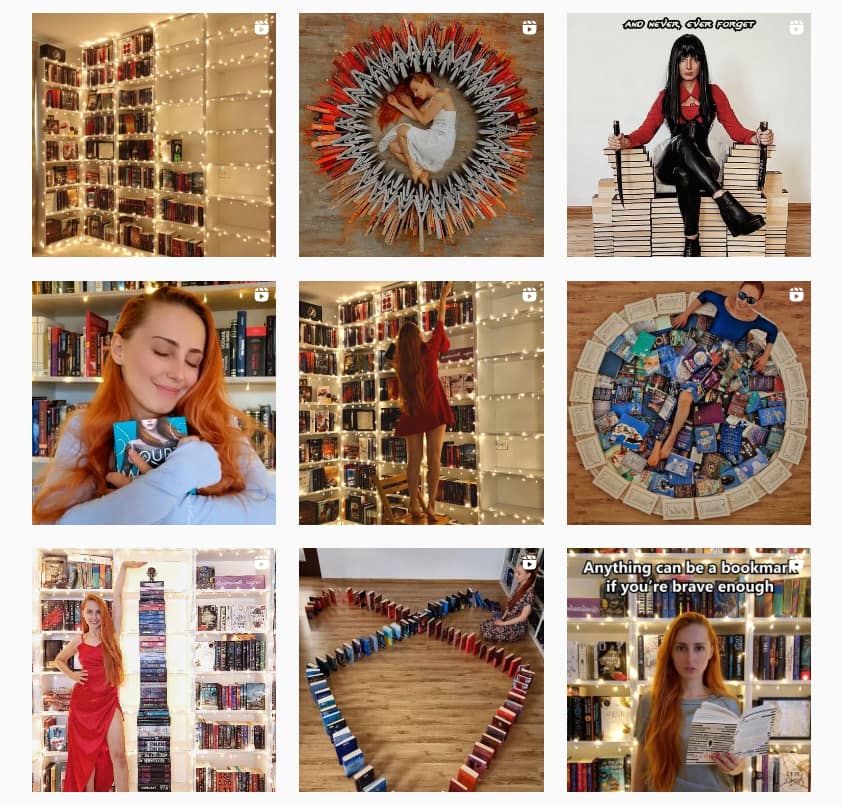 Among the best Bookstagram accounts out there, you'll want to follow this one too.
I fell in love with the warm colors of this Bookstagram account. Laura combines books with travel, and the result is pretty awesome. 
If you need a few nice Bookstagram post ideas, and examples of the best Bookstagram hashtags you can use, check out her profile.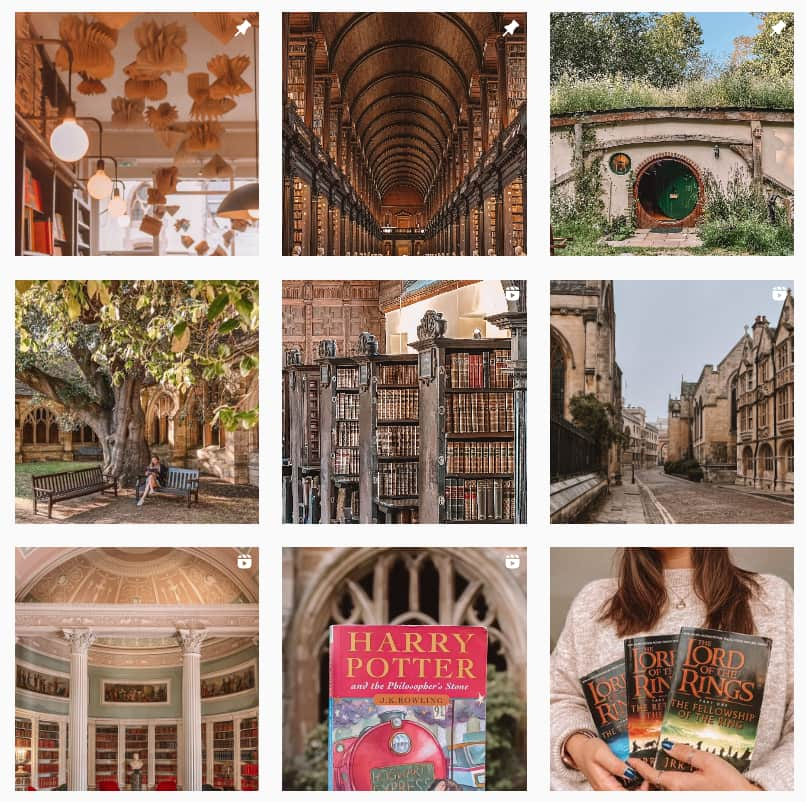 Elena Armas is the NYT bestselling author of The Spanish Love Deception & American Roommate Experiment. Her Bookstagram account features her titles, accomplishments, book signing events, and other books as well.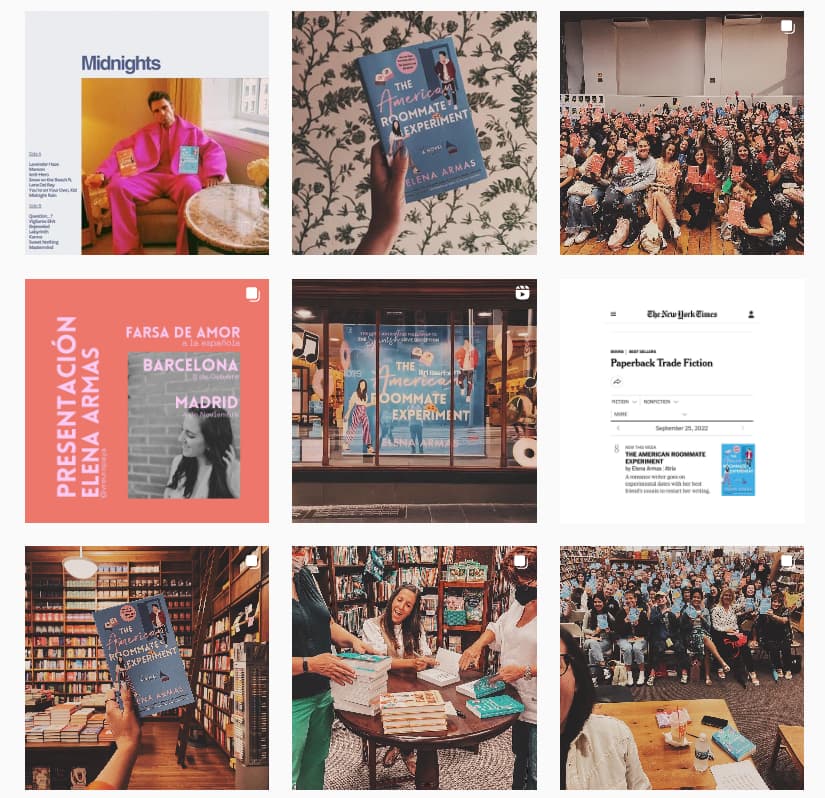 Kimberly Glyder is a designer who creates beautiful book covers. If you go to her Bookstagram, you'll see that the posts have simple backgrounds because the book covers fill in the space so nicely!
She also makes good use of Bookstagram hashtags.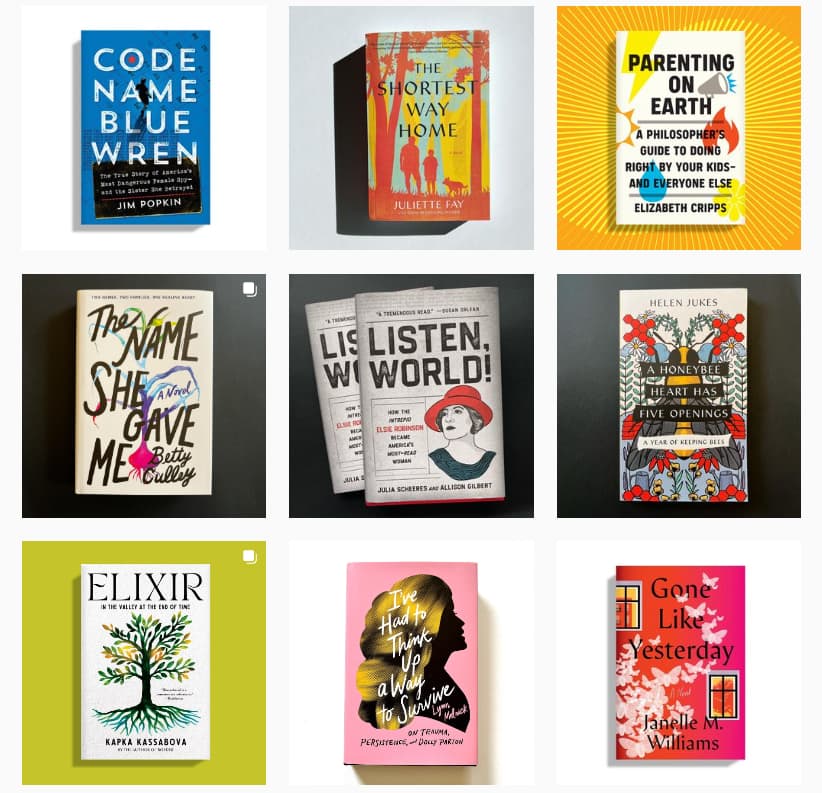 Do you enjoy warm, cozy vibes? Check out this Bookstagram account and get ready to be delighted. Also, check out the way she uses Bookstagram hashtags to get even more inspired.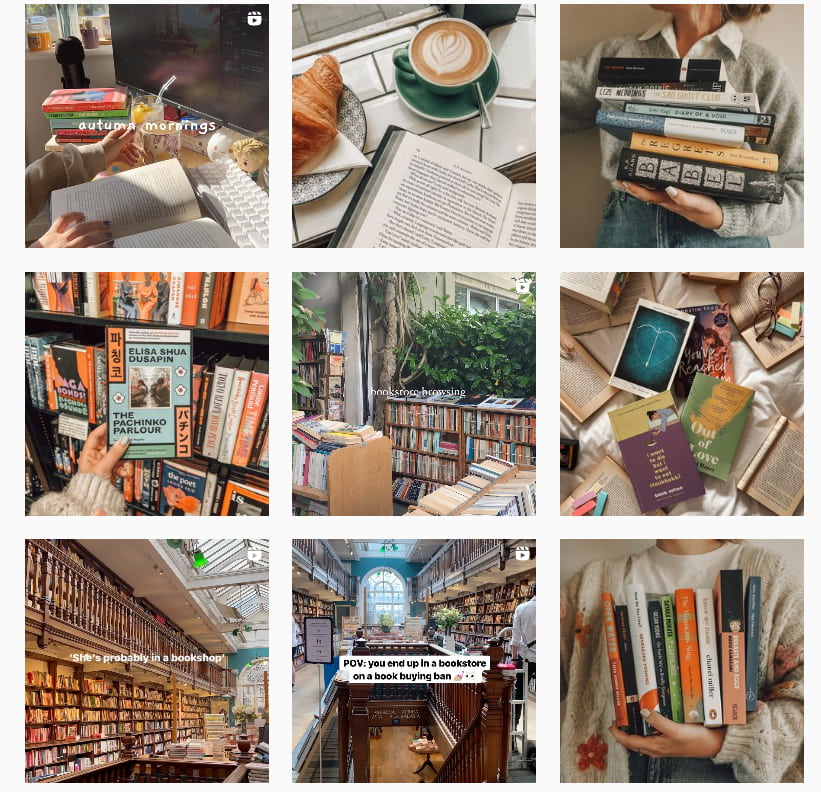 Conclusion
As an author, you surely read many books and have lots of ideas worth sharing with others. Why not use them in a Bookstagram and grow a following as a result?
These tips can give you a nice headstart.