With nearly 2.5 billion monthly users, Facebook is still the largest social media platform in the world. It's a popular choice for authors looking to build their brand and promote their work. Whatever your goal is – whether running Facebook ads for Amazon books or a special campaign – here's your guide on how to sell Facebook ads for authors.
First things first: the basics
Before getting started, make sure you've got the basics to ensure your best Facebook ads for books.
Set up your Facebook page
Simply:
Create a Facebook account (if you don't have one)
Click the menu with dots at the top right of your Facebook account
Select "page" underneath "create"
Remember to choose "author" when setting up your page
It's important to maintain at least one social media channel, like Facebook. Think of it as a prerequisite in the world of online advertising.
"You need some kind of online hub or home base for people to find and connect with you...start a dedicated social media account to update your people on new releases and general life things. This is about establishing your author brand."
Read: how do you advertise a book?
Land a handful of reviews
Don't spend any money on ads before acquiring at least five solid reviews. Here's the rule of e-commerce: people won't buy with zero reviews. Don't waste your budget. Instead, maximize your conversion by taking some time to collect book reviews. Ask your network. Reach out to bloggers, YouTubers, and podcasters.
P.S. PublishDrive is a self-publishing platform that helps with every aspect of your gig, like sending book review requests with a click of a button.
Have an outstanding cover design and book description
Book ads eventually direct people to the book cover and description. As one of the first things people see, your cover design should look not only pretty but professional. Most stores online display your cover with the book description (or blurb). Add the strongest hooks in the first two sentences of your book description. You want to entice people to click buy.
Check these 10 book description hacks: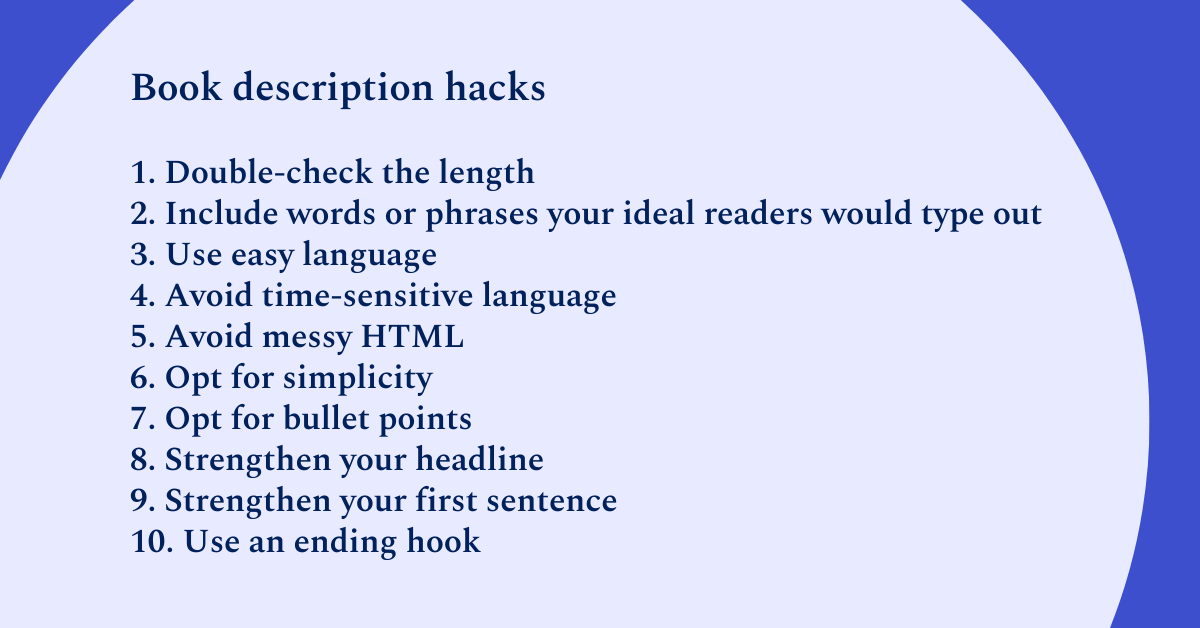 Set a budget
Lastly, think about how much you want to spend. The lovely thing about Facebook ads is you can set your budget for as low as $1 per day, which is great for testing. Let's get into exactly how.
How to use Facebook ads for authors
Running successful ads on Facebook comes down to a few things: 1) getting your targeting right and 2) crafting your ads just right. Let's go over what targeting is.
About targeting
Targeting means choosing the type of audience you want to target with your ad. You may already have an idea of who you want to reach. For example: female, aged between 25-40, does yoga, and lives in the U.S. territory.
Expert Matt Holmes shared: "Targeting is a big topic and what works for one author won't necessarily work for another. However, myself and many other authors have seen the best results by targeting: author names, book/series titles, TV shows, movies, and genres (e.g. romantic fantasy)…
As long as your targeting is relevant to the book you're advertising, it's worth testing…the more relevant you can be, the higher the chance of your Facebook ads converting into sales and therefore providing you with a positive Return on Ad Spend (ROAS); in other words, profit."
So, targeting best practices:
Use targeting options: author names, book/series titles, TV shows, movies, and genres.
Choose a demographic that fits your ideal audience: interests, location, job titles, etc.
If you already have a list of existing customers or followers (such as from a mailing list), you can upsell to this list by submitting your audience.
Try lookalike audiences, a way to target people similar to your set custom audience.
Read: Facebook ad targeting tips
About crafting your ad
Facebook ads have three levels:
Campaigns: This is where you set your campaign objective. What would you like your ad to do? There are 11 objectives to choose from, but experts like Matt recommend using "traffic". This objective sends people who click on your ad to a desired place, such as your Amazon book page.
Ad sets: This is where you set your targeting based on the elements I mentioned above, like age, gender, and favorite genres. You also choose where you want your ads to appear. Use "automatic" (where you let Facebook do its thing) or "open" targeting (where you provide a specific location like the U.S.)
Ads: This is where you get to craft and build your ads. You can test with different variations, up to 50 individual ads within a single ad set. But experts say to keep it simple with just three to four per ad set (especially if you're a newbie).
Now, a single Facebook ad has these key components:
Media: Image or video that expresses the vibe of your book. Plus, does it resonate with your audience?
Primary text: Where you want to include the most powerful hooks and impressive reviews or awards in just 1-3 sentences. Treat this like a teaser that should convince your audience to click to learn more.
Headline: Bolded line of text. Matt's best practices include using a review quote or a comparison to another book. Try time-sensitive language like "for limited time" and highlight perks like "FREE with Kindle".
Description: Optional small line of text. You can include other messages that didn't make it into the primary or headline texts.
Call-to-action button: Choose from preset buttons like "Shop Now" or opt out of using one altogether.
Matt gave a helpful visual on this:
He also shared this approach on using Facebook ads for ebooks, audiobooks, prints, and beyond:
"When you're testing different ads and audiences, you are buying data. You are investing in understanding what works and what doesn't work. This is invaluable! If you know what audiences and ads work for your books and which ones don't, you know not to use those ads and audiences again. This is the mindset you need to approach advertising with."
About data
Don't forget to measure your success. Here are the basic terms that'll help you do that (dive deeper here):
Impressions

: the number of times your ad gets displayed.

Clicks:

the number of times someone clicked on your ad.

Click-through-rate (CTR):

the number of clicks divided by impressions, to gauge how well your ad converted from viewing to clicking. The higher your CTR, the better.

Advertising cost of sales (ACOS):

how much you spend for every dollar you make, calculated via total spend divided by total sales. The lower your ACOS, the better.
Final tips
I'll close with a few more best practices:
"Set up your author Facebook page. Now set up an ad (or two or three) with the goal of getting people to like your page/follow you on Facebook. You'll need to experiment with your targeting so you start to get the right audience…Then let your ad run. You can literally set your budget for this ad for $1/day. Starting from zero, spending only $1/day, I've built followings for brands of 3,000-5,000 good Facebook followers in a year or less. That's 3-5K real people interested in the brand for $365-ish over the course of a year."
And this:
"Learn about Facebook contests. There are specific rules, but you can easily add quite a lot of followers with a good contest and a couple of good prizes. As you do this, you must provide good, relevant content…Share memes. Share other authors' work. Blog. And be regular."
Read more about using social media to book launch.
Now you know how to sell your book on Facebook…
PublishDrive helps with your marketing AND other self-publishing needs.