Are you interested in attending a book fair as indie author? Should you attend book fairs as an independent author at the first place, or is this just a waste of money? This question is driving most authors nuts: on one hand, book fairs seem like the heart of publishing industry, where experts from all fields meet, network, make deals and give amazingly interesting lectures. On the other hand, book fairs are all about signing deals and making new contracts: what can an indie author make out of it?
As a relative newbie in the publishing industry, this was the first year I ever attended book fairs: early summer I went to London (this was kind of home territory), then this October I participated in Frankfurt Book Fair: I thought it will be similar to the London one, but I was mistaken.
At this point, most big book fairs have an area dedicated to indie publishing. However, this area always is a tad detached from the rest of the fair: in London, Author HQ was right behind children's books, at the far end of the fair; and in Frankfurt, author services were at the back of Hall 3.0, Amazon present with only a tiny stand in a whole separate building dedicated for German publishing. Definitely very far away from the rest of the fair that was happening mostly in Halls 4 and 6, with the agents' lounge and the business tables all situated in at least 10 minutes of walk; and surrounded with German teens queuing up for signings.
Authorpreneur event at Frankfurt Book Fair 2017
Despite the hostile environment, though, the organizers of the International Independent Author Program (Porter Anderson and the Publishing Perspectives) did everything in their power to make the program interesting and engaging.
Starting with IngramSpark's Andrew Bromley (who was the only one using the great chance to give away free books); continuing with ALLi's Orna Rossgiving an inspiring pep talk on how the indies should use every opportunity to give away free samples of their writing (by blogging for example) in order to attract much needed audience; and finishing with our very own CEO Kinga talking about smart tools indie publishers can use to increase their ebook sales, the program has something in it for authorpreneurs at all levels. Last but not least, there was a discussion involving all speakers and the audience.
I'm sure that all attendees have enjoyed it.
However, it isn't necessary to have been present in Frankfurt in order to access all these talks and much more: ALLi organized an Indie Author Fringeto coincide with the Fair, collected great speakers on their own and published recordings of the Frankfurt speeches as well. All for free. Lecturers include Porter Anderson on whether Frankfurt Book Fair is indie author friendly, Joanna Penn and Sukhi Jutla on how to become an author-enterpreneur and Tim Lewis on using a podcast to deepen follower engagement.
Book Fairs as an independent author
But there are other things to do at a book fair than going to lectures! Finding an agent, networking, staying up-to-date with industry development can all be reasons why someone would attend an event like this. The Frankfurter Buchmesse has their own guide to help authorpreneurs decide if the Fair is right for them. They pose the following questions: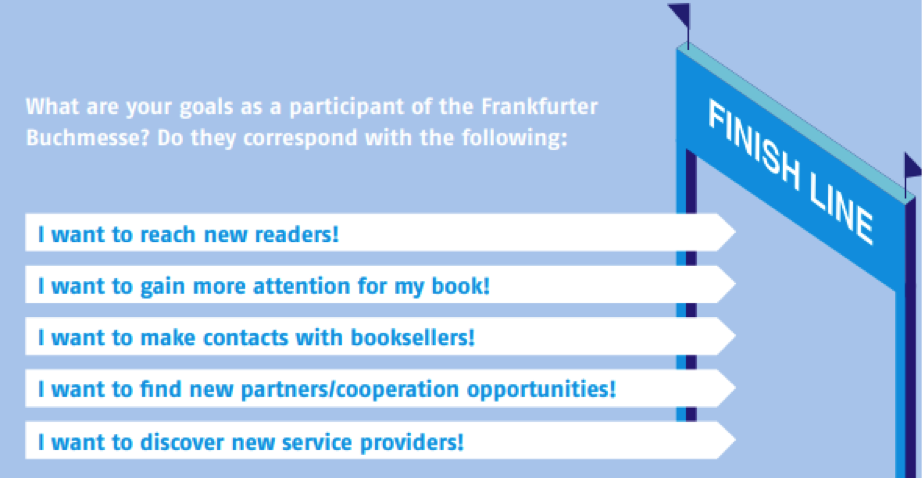 (Source: buchmesse.de)
Can attending a book fair (as an exhibitor) bring you closer to any of these goals? The answer is: it might. But you can't just go there and expect a miracle!
1. Reaching new readers
This one is a big no: attending a fair, especially in a faraway country won'tbring you new readers. This is an industry event – and publishing people have already plenty to read! Even though there are public days, it is likely to be attended by locals or people not living too far away. Unless you are targeting specifically German readers, attending Frankfurt Book Fair will not bring you anything in this regard.
2. Gaining more attention
Your book will be one of 300 000! While you can have your own stand as an indie author, there is a lot to do to make it stand out of the crowd. Your stand will have to be unique and provide something extra to attract people.
3. Making contacts with booksellers
You can make contacts with booksellers: but only if you book your appointment in advance! You'll have to reach out to them and find the ones that can be of interest. Just wandering around and trying to get a deal won't work.
4. Finding new partners
The same as before: you'll have to browse among the fair attendees in advance to contact the people you are most interested to meet. Do not hope that you will mysteriously bump into somebody who'll be there for you with your next great project. Or, well, who knows? Frankfurt is huge and bonding can be done over bad coffee and great beer.
5. Discovering new service providers
This is something the fair is great for: but you won't need a stand to do that! You can go on a visitor's day, walk around and ask the questions you always deemed too stupid to send an email about. The advantage of this approach is – other than not having to pay for a stand – that publishing people are usually fully booked during the industry days.
And here we arrived to the last part of this article: how to make the most out of a fair if you eventually decide to go! Most of this advice is fairly general and can be used both as a visitor and as an exhibitor.
How to survive your first book fair? A guide
1. Wear comfy shoes and bring a water bottle. And some snacks.
Don't want to be overly patronizing, but this is the only advice I ever got and I wish I had paid more attention. Fairs are huge. You'll be walking around a lot. While the dress code is definitely smart, ditch the heels: nobody will expect them.
Staying on the practicalities, with all the meetings you are likely to organize, the last thing you will want to do is be dehydrated – you'll get a headache and bad breath. Brrr. Frankfurt was great in the sense that you could fill up your water bottle anywhere, if you had one: but if you forgot about bringing one, you could only buy water in little paper cans! While eventually you'll have to queue up for coffee, try bringing a bar of chocolate or a banana with you just to keep your blood sugar at level while you run from point A to point B. And, last but not least: take a box of mints with you. Really.
2. Use the app
You'll have to send emails to tons of people in order to be able to schedule enough meetings (unless, of course, you work for the Big 5). While you could use the website of London Book Fair to contact publishers and participants directly, Frankfurt's was clearly useless: a pdf catalogue with brick-and-mortar addresses. Thank you.
Luckily enough, most fairs do pay attention to their apps. While a working map would have been a plus, we can't really complain: the app of Frankfurt Book Fair let you login with your LinkedIn profile and displayed everyone who signed up. You can network not only with exhibitors but with other visitors, otherwise not displayed in the catalogue. Just make sure to send them a message through LinkedIn instead of using the app's own messaging service  – nobody is checking that.
3. Organize meetings in advance (and book them at the same place)
Decide which talks would you really like to see, then fill the rest of your time with meetings. While most exhibitors are open to people just showing up at their stands, unless you are there to buy something, they likely won't follow up. Publishers don't go to book fairs to pick up new manuscripts. But you can meet agents who are usually happy to see new clients.
4. Be open
Leave some time just to wander around. Be open, go and talk to people. Check your competition: be aware of who they are and what they do! A fair is a great opportunity to get a closer look at them. While it is fairly unlikely that you'll sell the rights of your own book to a publisher at a fair, attending one can still be worth it: helps you realize the mere size of the competition.
5. Follow up
Last but not least: send at least two follow ups, one still the same week, straight after you got home, and one a week later. Send personalized follow ups to the people you met, even if you felt uneasy after the meeting and don't think it'll work out. Start with a reminder of who you are and what you do, highlight the main points of your meeting and specifically ask about the next steps.
What do you think? Are book fairs worth the money? Or are they just a waste of your time and resources?