As the Canadian company Rakuten Kobo finally offers audio content worldwide, they now appear as a long-awaited competitor for Amazon's Audible. Just like vinyl records, audiobooks are becoming a hot topic once again, living their revival. But how do audiobooks work and where can we find the best audiobook service?
(If you already know how audiobooks work and want to skip to the best kind of service, go here. With PublishDrive, easily distribute audio, print, and ebook formats to 400+ online stores and 120K digital libraries.)
Although they have been around for a while now, audiobooks became popular during the last couple of years. With almost everyone in the world having access to some kind of mobile device, listening to podcasts and audiobooks became increasingly popular. We're also seeing an increasing number of audio websites, apps, and membership plans like monthly subscription fee models.
CC-BY-SA
Audiobooks are able to bring the reading experience into situations where you couldn't normally read, like when you're driving or taking a walk. Let's have a deeper look at how audiobooks work and why you should add them to your publishing strategy.
1. Streaming or downloading: how do audiobooks work?
While some people like to listen to audiobooks before going to bed, a lot of people choose them to lighten up their daily commute. Unless you have unlimited access to mobile data, streaming audio files can show up on your phone bill: streaming means to download something on the go, as you are listening.
The great advantage of streaming an audiobook is that it doesn't require space on your phone or tablet: if you constantly have to delete apps and photos just to win a couple of extra bites, streaming is your way. You can stream Audible audiobooks on your computer or by using Audiobooks.com.
On the other hand, streaming is only good if you have reliable 4G coverage: audiobooks tend to be fairly large, even 500 MB. Therefore most people prefer to download them over WiFi to keep for on-the-go listen. While downloaded books don't go easy on your phone's memory, you don't have to keep them there forever: audiobooks providers give you a 'cloud library' to easily access your books – just like for ebooks.
2. Listening or reading
Those who prefer reading over listening argue that they can't really focus on listening to audiobooks if they have something else to do (like the dishes). Others have problems with the speed or style of reading: if it is too fast, difficult to follow, if too slow, boring. And while professional audiobooks are done by actors and voice actors, there are limits to how many different characters can you act out.
Thankfully, this is not a one-way street: reading and listening to a book can be parallel experiences, even across devices.
lambda_X | listen | 2008 | CC-BY-ND
3. MP3 or M4B (file formats)
Most people have access to audiobooks through a subscription service. It's important to know whether you can open your books with the app of another provider and if there are important differences between file formats.
There are two popular formats in audiobook distribution: MP3 and M4B. The main difference is in the amount of information they code: MP3 is a great way to store good quality audio in a small file across platforms. M4B is Apple's special file format for audiobooks: it is 'smart' and can remember where you left off, and can also handle chapter markers and bookmark.
This doesn't mean that when you listen to an MP3 audiobook you have to look for the place you were last at. That information is not coded in the file but in the app itself.
4. Buying or renting
There are no pros and cons for this because it depends on your preference. I'm a hamster when it comes to collecting books in any (print, digital and audio) form, so an audiobook rental service feels like a sacrilege. (If your local library has a contract with OverDrive, Hoopla or, borrowing definitely has the advantage of being free.)
5. Abridged or unabridged
Not all audiobooks are created equal. Abridged audiobooks are shortened and modified for better listening experience. Unabridged audiobooks, however, are being read as they have been written, word by word. While most stores offer both abridged and unabridged audiobooks, some pride themselves in offering only unabridged.
6. Popular apps for getting and listening to audiobooks
Most distributors have their own apps for buying or renting audiobooks and for listening. In the following, we list our favourites so that everyone can find what's best for them.
a) Free services
Libraries
A great way to get free English language audiobooks is to check out your local library. If you expect them to have only old, public domain titles, you are wrong; most of them have a contract with a big content provider: OverDrive, Hoopla or RecordedBooks. While you can't sign up for these services without a library card, once you have, you can enjoy free audiobooks straight on your phone or tablet. Check out your library's website to learn how audiobooks work and how to get them.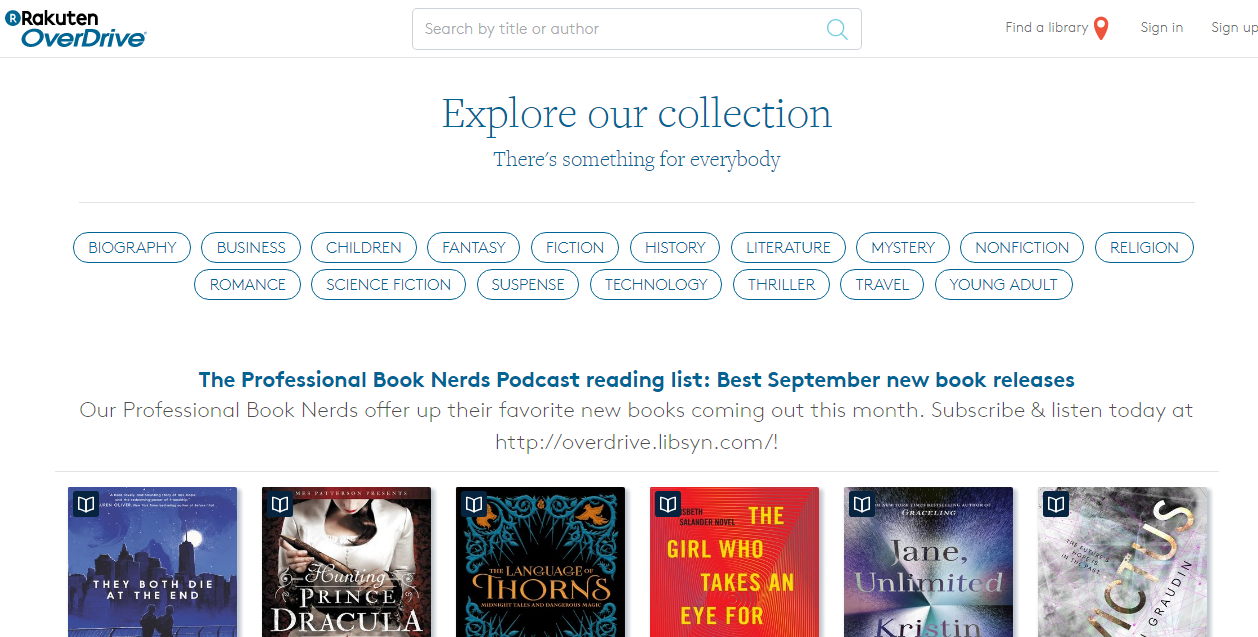 LibriVox
If you are looking for the classics, head to LibriVox: they offer free audiobooks recorded by volunteers in 36 languages – and a great app to access them from. It comes with a sleep timer, an option to get the corresponding ebook from the Project Gutenberg app and you can choose between streaming and downloading books.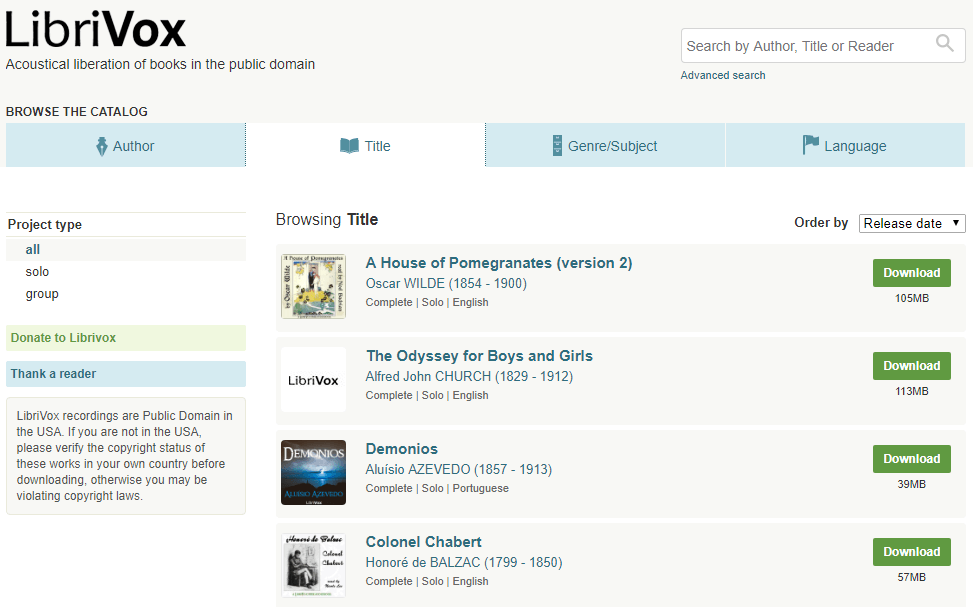 b) Subscription services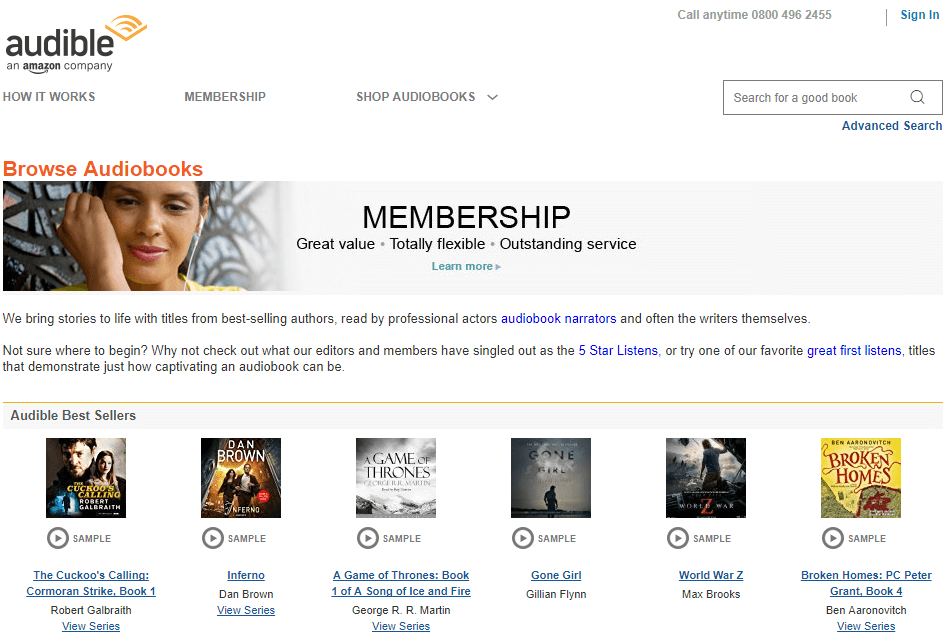 Audible
If it comes to audiobooks, Audible is the most well-known player in the market (along with the Audible app). With over 200.000 audiobooks in their library, there is plenty to choose from. Amazon was always known about providing a great cross-platform experience: you can listen anywhere, anytime, switch between reading and listening (if you own the book) without thinking twice about where you left off.
The Audible membership subscription gives you one free book per month and 70% off every additional book. If you don't like it, exchange it – no questions asked.
Price: £7.99 / month (free 30-day trial)
Size: 200.000 books
Platform: all
Publish your first audiobook in 5 easy steps!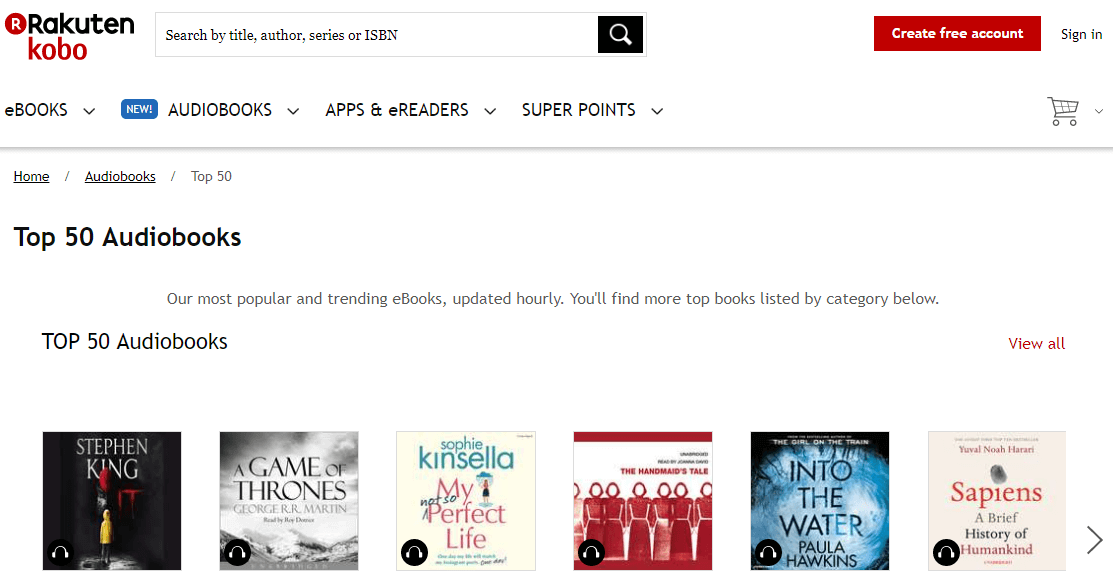 Kobo
With a great move, Kobo has launched their audiobook service for less than Audible. They also offer one credit (one free book) per month, but there is no talk about a discount on all other titles. While they hint of other subscription options in the FAQ, the page is not found.
At least the selection is much bigger: with Rakuten owning OverDrive, Kobo users can pick their daily listening from 1.5 million titles.
Price: £6.99 / month (1st month free)
Size: 1.5 million books
Platform: all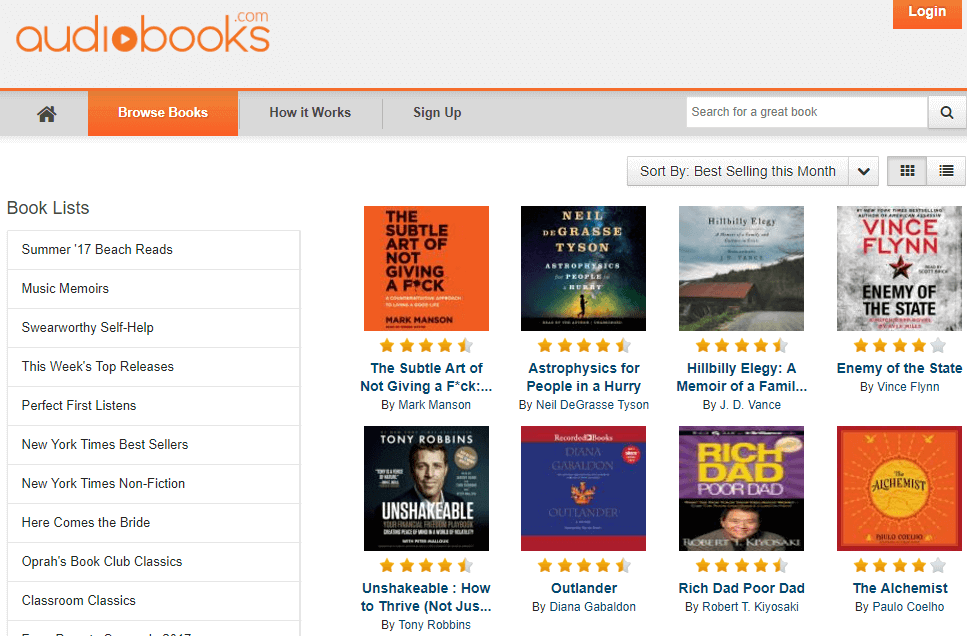 Audiobooks.com
Audiobooks.com is also using a credit system: you get one credit for free every month and you get to purchase as many additional credits, as you want to. While the library is a bit smaller, the app is very intuitive. Plus points for letting everyone easily browse their library.
Price: £7.99 / month (1st month free)
Size: 100.000 books
Platform: all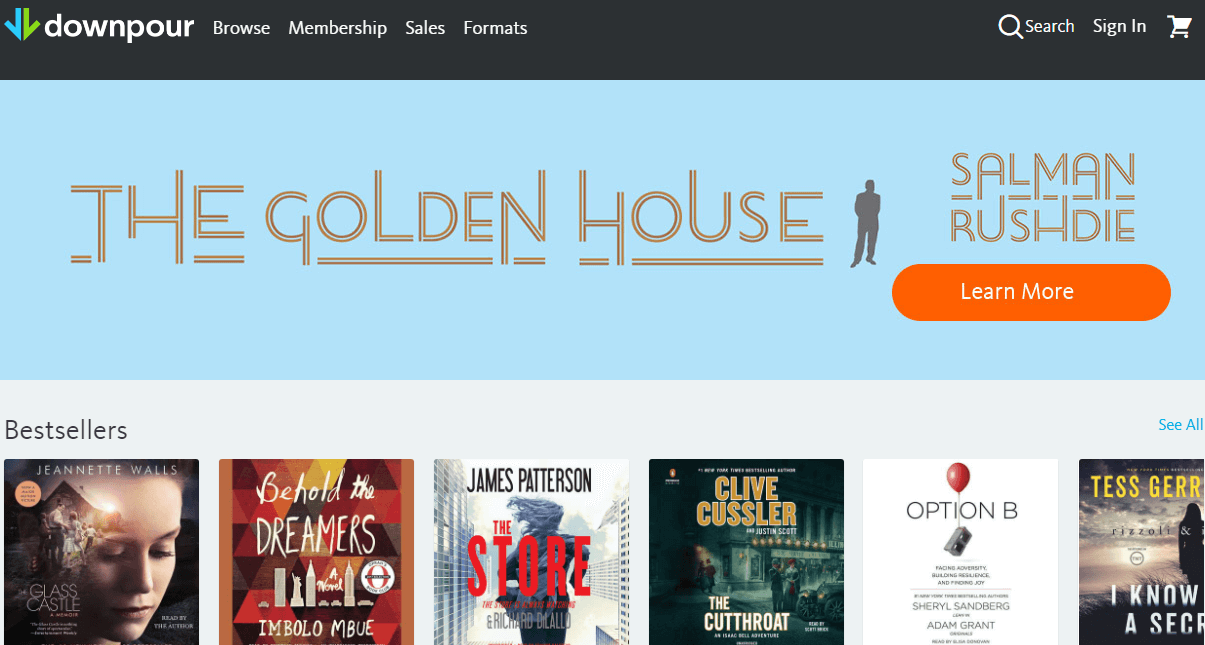 Downpour
Mostly targeting US customers, Downpour offers both a credit based subscription service and a rental program: you purchase the audiobook at a discounted price and return in within 30 or 60 days. Since their library is hugely different from the other big audiobook services, it is worth a look.
Price: $12.99 / month
Size: thousands of books
Platform: all
Scribd
When thinking of audiobooks, Scribd is not the first that comes to mind, although the subscription giant has a great selection. The membership gives you access to 3 books and one audiobook each month. Any additional audiobooks cost $12.99 each. Additionally, Scribd has a rotating library of free audiobooks for their users – usually around 5000 titles.
Price: $8.99 / month
Size: 100.000
Platform: all
Before you go, want to try distributing audio and other books to reach more readers? I'm talking books like ebook and printed book formats.