Book Marketing
Upcoming Free Webinar: Sell More Books with Public Speaking!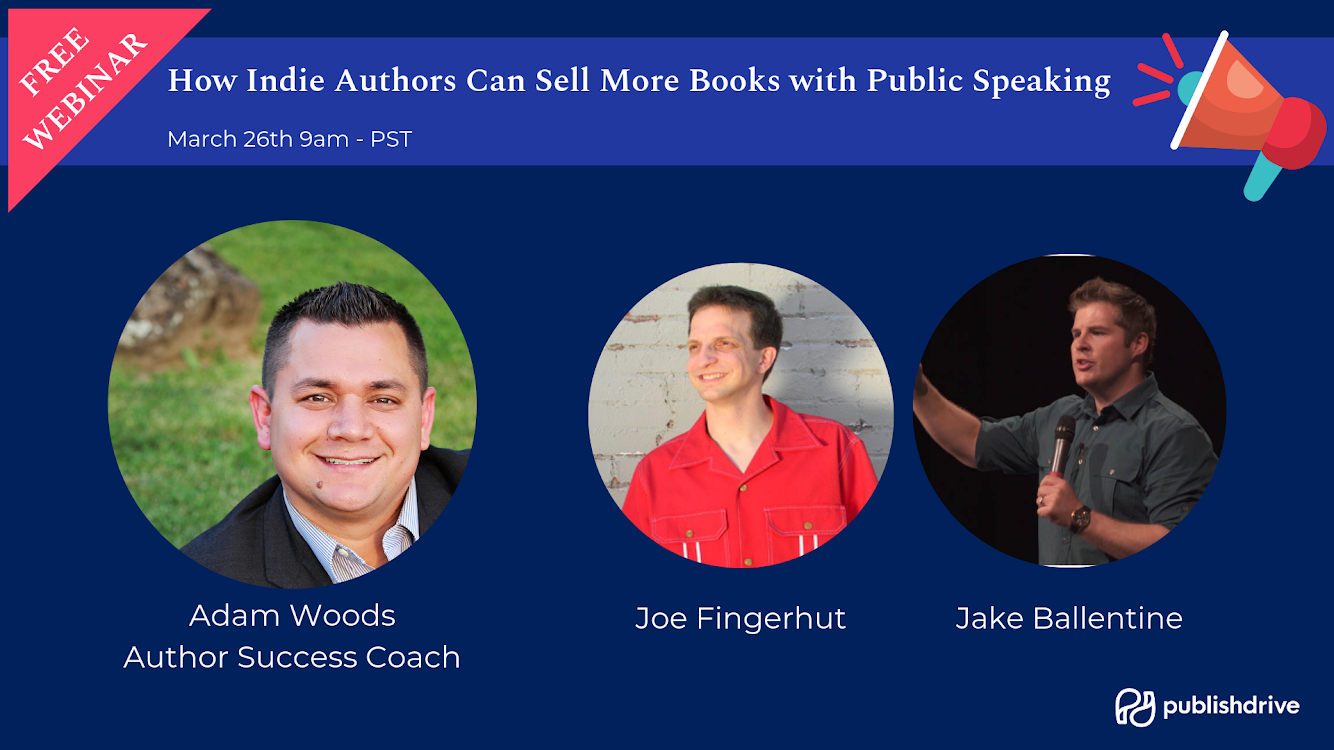 For many authors, public speaking is a source of anxiety. But effective communication skills are crucial, whether you're networking with a small group, meeting readers at a book signing, or speaking onstage to a crowd of hundreds.
Through effective public speaking, indie authors can influence others, control their branding, and most importantly – sell more books!
In our upcoming FREE webinar, Adam Woods will be joined by two highly sought-after inspirational speakers for a Q&A panel discussion about how to sell more books through public speaking. This webinar is designed for authors of any level who want to improve their public speaking skills and boost sales. Sign up today and you'll also receive a free guide: "3 Secrets on How to Become a Speaker."
When: Tuesday, March 26, 2019
12:00 p.m. EST  / 9:00 a.m. PST
Public Speaking for Authors
Here is a preview of some of the topics Adam and his guests will be covering in the public speaking webinar:
Crafting the Perfect Elevator Pitch
Every indie author needs an elevator pitch; even newbies can benefit from having one. When someone asks you what your book is about, can you describe it within 30-60 seconds while leaving an impactful or meaningful impression? If not, no worries – we can help! After perfecting your elevator pitch, you'd be surprised at how much more confident you'll feel when headed to writing conferences, book fairs, and similar events.
We've spoken previously about the importance of elevator pitches, and in our upcoming webinar, you'll learn more about how to create one that's consistent with your branding and gets people excited about your books.
Becoming a Public Speaker and Booking Gigs
While public speaking doesn't come naturally to all authors, some excel at it. For those of you who are naturally comfortable with public speaking (or are eager to improve), you can leverage this to sell more books.
Public speaking for authors is a fantastic way to build your brand, motivate people to believe in your work, and ultimately boost sales. During the webinar, Adam and his guests will share all the tips and tricks they've learned for booking gigs and captivating an audience.
Preparing for Book Readings and Signings
If you've attended a book reading or signing as an author, congrats! It takes courage to get in front of a crowd and share your work. Book readings are great for getting to know your readers and giving your brand a personal touch, but these events can be intimidating.
What are you supposed to say? How do you know which excerpts to read? Should you begin with a presentation? After our webinar, you'll learn the essential skills that any author can master for a successful book reading.
Reserve Your Spot Today!
To learn how to sell more books with public speaking, sign up for our FREE webinar today! If you can't attend the live session, register anyway and we'll send you a recording afterwards.
See you there!