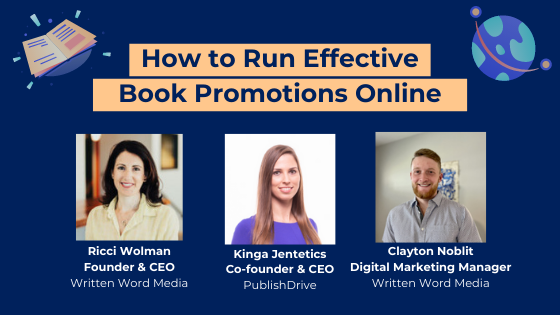 This year, indies increased digital book sales by 69% via PublishDrive. Running online book promotions is a huge reason for that. As people shift to digital, meet them online by promoting online.
PublishDrive hosted a Zoom call with book marketing experts from Written Word Media. The discussion went over current trends and various promotion tactics. Watch the recording until the end for Q&A with the indie community:
If you'd rather get the insights by texts, keep reading for the full recap below.
The current digital book market & trends
It's a positive time for the digital book market. While PublishDrive has seen a 69% increase in sales, Written Word Media has also seen a lift with more sales and engagement with readers.
Ricci Wolman (CEO @ Written Word Media): "As people have been in lockdowns, they have been reading more. Authors and publishers are seeing improved sales across different channels. As with many things because of COVID-19, the adoption of technology like ebooks has accelerated. We anticipate the growth will stay at these levels . . .
When it comes to marketing trends, published authors are seeing success with traditional marketing efforts like getting their books in newsletters with Written Word Media, BookBub, and other huge promotion sites. Paid advertising like Amazon, Facebook, and BookBub ads is another area."
Clayton Noblit (Digital Marketing Manager @ Written Word Media): "We're also seeing more competition with author businesses, from retailers like Apple and Google. Google just upped their royalty rates and introduced a promo code system. Apple re-did their author portal. This is good to sell your book in more places and reach more readers."
---
CLICK TO GRAB FREE WHITE PAPER ON GLOBAL BOOK TRENDS
---
Online book marketing tips & tricks
Multi-format strategy
All digital formats including not only ebook but audiobook and print-on-demand are experiencing immense growth. On PublishDrive, the most successful indies are offering all three formats to reach different audiences.
Kinga Jentetics (CEO @ PublishDrive): "It's a great idea to grow your business with one book and offer it in different formats. Even if you do Amazon ads, it links different versions of your book which instantly saves you on advertising dollars."
Ricci: "I echo Kinga's sentiments. Audiobook is a growing format which authors are investing in. . . Unfortunately, many bookstores will not make it through. So print-on-demand capabilities with consumers purchasing books online will continue post-COVID."
(On PublishDrive, easily publish all formats in thousands of stores worldwide. ↓)
Promo stacking
Clayton: "Promo stacking is when you do a bunch of marketing tactics in a short period of time. When you get a bunch of downloads and reviews on your book, then your book climbs the charts on retailers like Amazon or Apple. You get this halo effect where two plus two equals five. The result is greater than the sum of the parts because people are seeing your book climb the charts and more people are downloading it.
For example, someone might run a promo with Written Word Media on Monday, run Facebook ads on Tuesday, do a newsletter swap with another author on Wednesday, and see more sales than they would if they did each of those tactics spread out over several weeks."
Read about email basics by Clayton.
Book reviews
Kinga: "Pay-per-click advertising is bringing success. But I've also talked with authors who are not willing to spend the money. I think it's a good idea to build an audience with newsletters and reviews which do not cost too much money.
When you get more reviews and rankings, in Amazon or other stores, then you can feed store algorithms and get into higher positions. We looked at Amazon ads to see which books performed best, and one of the success factors is to have enough reviews."
Read about book reviews by Kinga.
Build organic relationships
Ricci: "I think the key here is understanding who your target audience is. Once that equation is matching, it can amplify out. If that's broken from the get-go, it's constantly going to be a struggle from your base."
Kinga: "It's also important to build relationships with power readers. So those who run book clubs or write blog posts. There are powerful readers you can get in contact with and if you can capture their attention with your book, they can help you reach their own audience."
Publish more books
Ricci: "The number one indicator of success is how many books are published. Although this is not technically a marketing term, writing more books and writing into a series will help you increase the revenue you make. It costs a lot to get that initial reader to discover you. If you only have one book, and it costs $10 to get that reader to discover and buy your books, then you lose them with nothing else to sell them . . .
Setting your first book in series or flagship novels to free is one of the most impactful marketing tactics you can deploy. It helps you get thousands of readers to come in and read your book. It drives a lot of reviews to that title and to other books in your catalog. Focus on that one title and expect to see sales across the rest of your titles."
Kinga: "Work with other authors and co-write books or series. You can also cross-promote, a tactic working for many authors."
Read about co-authoring a book.
Preorder strategy
Clayton: "Preorders count sales on the first day of release. So this is a great strategy to be thinking about. If you're going to release a book, use preorders to get as many sales and shoot your book up the charts on the first day."
Kinga: "What we saw working best is having the book on preorder up to three months. Send newsletters about your preorder, or even one free chapter. On PublishDrive, you can set one up without having the final cover or content yet."
Cover design
Ricci: "Readers have a model in their head on what a cozy mystery or psychological thriller looks like. Go to Amazon, find your genre, and look at the top 100 books. See what those book covers have in common. Make sure your book cover actually reflects the genre you're writing into."
About WWM promotion sites
Written Word Media helps authors get their books in front of the right audience, with over 1 million readers across multiple promotion sites -- easily accessible on PublishDrive's platform.
Ricci: "We have different promotion sites for different types of books. If your book is free, you want to promote it on Freebooksy. For different genres, the cost to promote is different. We base those on the different results you will see. If there is a smaller audience, the price will be cheaper.
Don't focus on the price too much because you will get value back. If you run a cozy mystery book at $90, you're probably going to get six to 10,000 downloads. That will be dollars well spent. We are very thoughtful about charging authors a price that gives maximum value."
About PublishDrive tools
Kinga: "We have an Amazon ad tool that's AI integrated. There's also a price promotion tool where you can schedule price promotions. Select your start and end date, then everything else is scheduled by PublishDrive. Some BookBub or Written Word Media campaigns require price promos, so this is an easy tool for that.
There's also a featuring tool where we collect all campaigns running with stores. You can submit your title and our editorial team will decide if your book is good to send. In 90% of the cases, stores accept the books we submit to them. This can result in 5x more sales for indies, being a great option to get more visibility and sales. Lastly, we give shout outs about your author story on our social media profiles."
If you liked the book marketing ideas shared in this post, try using PublishDrive's promo tools for non-paid tactics like sending review copies and paid tactics like accessing Written Word Media's 1M+ readers. It's free to create an account. ↓