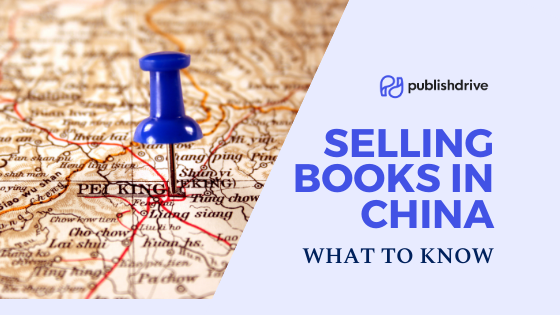 China is the largest market in the world, with 60% of the population regularly reading books. That's around 812 million people! If you're an author or publisher looking for ways to expand your income, this market is it. Plus, selling books in China has never been easier.
Despite the ongoing pandemic, digital publishing is faring well. Indies publishing in China sold 201% more digital copies in 2020 via self-publishing platform PublishDrive. This performance is part of a global trend. Across 100+ countries, indies made 85% more sales via PublishDrive.
Digital is hot right now. Experts suspect we will stay at these levels post-covid. Let's take a look at why China should be your next digital venture and how to get started.


Selling ebooks in China
(digital overtakes print)
Source: OpenBook Beijing
In the last decade, digital formats like ebooks have gone up while prints have declined. Online retailers captured 70% of sales of the Chinese book market in 2019. In 2020, physical bookstore sales dropped by nearly 50% due to the pandemic, being the hardest hit segment in the Chinese publishing industry. Fortunately, digital has filled the vacuum.
Online bookstores saw a positive 3% bump despite the outbreak. Sales recovered by the end of the first quarter and returned to normality since March, unlike print book manufacturers in China. Sales were actually higher between March and April compared to the same period in 2019.
Self-publishing veterans from PublishDrive and Written Word Media discussed current digital book trends. The observations are similar. As PublishDrive saw huge gains in digital sales, Written Word Media saw better sales and engagement with online readers.
Written Word Media CEO Ricci Wolman shared: "As people have been in lockdowns, they have been reading more. Authors and publishers are seeing improved sales across different channels. As with many things because of COVID-19, the adoption of technology like ebooks has accelerated. We anticipate the growth will stay at these levels."
Western content is more than welcome
China is a gigantic market. But is your foreign book wanted? China's sociological landscape includes economic and urban growth, resulting in a more educated middle class eager for international books. For a deeper look, check out Foreword Reviews or The Creative Penn.
The market share of foreign titles has been climbing, achieving 26% of sales in Q1 2020. While 33% of imported books in China were from Taiwan, the rest came from many Western countries. The UK captured 17% of the pie; Canada captured 10%.
China is especially great for children's books
If you're writing English-language books for children, your content is definitely wanted. Among British authors, children's books accounted for 52% of copies sold in 2019. More stats:
The market share of children's books increased in Q1 2020.

Children's cartoon, comic, and illustration books were the best-performing categories in online stores.

Children's books maintain positive growth, with higher profitability than other genres in the market.
China's post-80s and 90s generation grew through the reformation period. As now parents, the demographic is attentive to their children's educational needs. The liberalization of birth restrictions has also resulted in an explosion of this target audience.
Book publishing companies in China
So which Chinese bookstores should we look at? Dangdang, JD, and CNPIEC are three major retailers you can easily get started in. (PublishDrive can get you in all three. ↓)
Chinese stores to distribute in
Dangdang, JD, and CNPIEC are three major online channels you can easily get started in. (PublishDrive can get you in all three. ↓)
Dangdang
Dangdang is the biggest ebook seller in China. With 30 million monthly visitors, the platform competes with Amazon China. Out of all Chinese book publishers AND thousands of other international channels PublishDrive distributes to, Dangdang achieved the highest growth by 2,700% in Q3 2020:
JD
JD is another giant e-retailer, responsible for 30% of the Chinese market. During the outbreak of COVID-19, online distributors under JD saw their book sales shoot up – Zhongshan Children's Books increased by 282%. JD is one of PublishDrive's latest partnerships, helping more indies break into China.
CNPIEC
CNPeReading is China's national library supplier. The network is made up of thousands of institutional and public libraries. Here's the thing about digital libraries:
That's right, digital libraries nearly tripled in growth by 275%. It's the fastest-growing store type. Along with getting into markets such as China, diversifying where you offer your book – like libraries – is a fantastic way to boost your discoverability.
Hong Kong book publishers
Aside from major book publishers in China, a special pointer about self-publishing Hong Kong books. You can reach Hong Kong readers by distributing through Apple Books and Google Play Books. If you haven't considered Apple or Google yet, you should:
Apple Books

is the second largest ebook store after Amazon. With its book app pre-installed on every Apple device, that's billions of potential readers.

Google Play Books

is pre-installed on every Android device, another enormous audience to tap into. Google has stricter guidelines, but PublishDrive helps speed up the publishing process.
Self-publishing in China through PublishDrive
PublishDrive is one of the first self-publishing platforms to partner with Chinese channels like Dangdang, JD, and CNPeReading since 2017. Remember, indies sold 201% more digital copies in China (amid the pandemic).
PublishDrive makes China possible with its all-in-one platform.


On a single dashboard, manage ebook conversion, distribution, sales reporting, and promotions for Chinese bookstores and beyond:
Automate book import

Publish multiple book formats: ebook, audiobook, print-on-demand

Set up pre order strategy

Get featuring options

Run price promotions

Track real-time sales and download reports

Etc. – the list goes on!
(Note about publishing times: China has strict publishing international guidelines. It can take up to six months to get your books up and running. Also, sales reports are generated on a quarterly basis.)
With PublishDrive, you get self-publishing in China with stores like Dangdang AS WELL AS with thousands of other stores in 100+ countries. In this golden time for digital books, go global. ↓