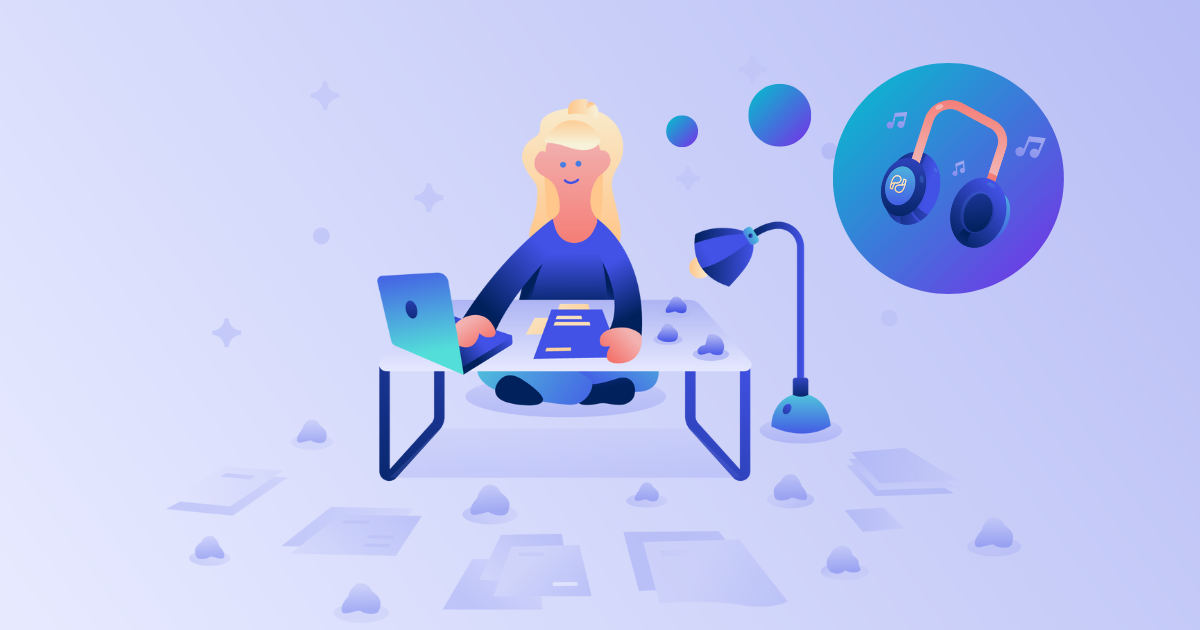 You listen to audiobooks quite a lot, and now you want to publish one. This couldn't have come at a better time. 
In the US alone, 1 in 5 people listens to them. And I do, too. Everybody around me does that in traffic, while doing chores, or jogging. They are perfect for life on the go.
A. How the Numbers Look
The audiobook market is expected to grow by 26.4% a year between 2022-2030, with an increase in nonfiction. 
Parents are embracing this trend as this reduces screen time for children, which will be spent more educationally. 
With the advancement in technology, digital transformation, and IoT devices, it has become increasingly easy to create and distribute audiobooks and tap into these resources via the smart household, where the smartphone has become ubiquitous.
As a self-published author, you wonder if your book could also be listened to. Is it challenging to self-publish an audiobook? You may be unsure but still curious to learn how to make an audiobook. Walk with me as I clarify how you can ace audiobook publishing.
B. Audiobook Production
An audiobook is a recording of a book or magazine being read aloud. Its most amazing feature is that it can be listened to by anyone who can understand the spoken word. It's a beautiful opportunity for children who do not read yet or for adults looking to relax or, better so, multitask.
How do you hit "publish audiobook" mindful of budget and personal schedule? The most accessible version would be for you to handle the audio material's recording, production, and editing. However, if you are not comfortable dealing with the whole process yourself, it is easier and more financially efficient to hire a professional to do all these. 
1. What it means in hours
Time will be your most valuable resource invested in this process. Take Audible; it uses an estimate of 9400 words per hour. This means that for a novel of around 70.000 words, you would need to record for about 7.5 hours. But if you choose to do your calculations, check out this article.
If you are doing the recording yourself—which is a great option for nonfiction work, where the author makes the most compelling reading—you need to review the recorded material. 
Check and record again those bits that are interrupted, not clear enough, or where you may have had a minor disruption in your reading. Expect this to take three to four times more than your recording time.
With works of fiction, the recording would benefit from character impersonation, background noises, or any other tricks that would render the atmosphere of your writing in the most authentic manner possible. You may not be able to do this in-house, so let us speak about costs. 
2. What the fees usually are
If you are doing the process yourself, with the increased accessibility of recording and editing technology, the basic tools and software would most likely be less than $200. 
If technology is not your strongest suit, you may hire a studio and book an engineer to master the whole process. The studio can cost around $1000-1500.
Post-production is a lengthy process, so you need to budget at least 30-40 hours for this alone. You will need to find an editor with expertise in the field at this stage. Music editing is altogether a different thing. 
Hiring narrators is expected when it comes to fiction. Your characters have different ages, genders, and personalities; they all sound different, which your listeners need to hear. Professional narrators have hourly fees. Around $250 per hour would be the norm, yet prices may vary according to their experience. Studios have their own contacts; you can audition them or at least hear previous recordings. 
We highly encourage hiring a professional, such as a voice actor, for narrator jobs. It doesn't just give audiobook listeners a high-quality experience; if the professional narrator is a well-known actor, it can draw some attention to your book.
One trick I would use would be to find acting students that would use the gig for the experience. It would also be much more affordable.
If you are opting for a studio package that comes with all the required services, expect around $500-750 per hour and at least 5-7 hours for the whole process. 
You can browse more on costs if you still need clarification about how this audiobook initiative fits your budget.  
C. How to Create an Audiobook: Step-by-Step Guide
Here are the steps on how to create an audiobook.
1. Recording & editing
Without getting into specifics, make sure you invest in professional gear and devices like:
a computer or iPad;

recording software like Garageband (which comes with a Mac);

an audio software like

Audacity

if you are working on a PC;

a microphone;

a quiet space for your audio work;
As an extra tip, buy a pop filter to create equalized sounds. You can re-use these devices for podcasting or online interviews. 
Here are the tech specs you need to understand to make an audiobook for commercial purposes:
Export to 192 kbps or higher.

Mono audio is recommended.

Include opening and closing credits that match the title's cover art. They should be separate files.

Each chapter should be a separate titled file (e.g.,

Chapter 1

). Read the part/chapter loudly at the beginning of all individual files.

Keep 1-2 seconds of room at the beginning and 3-5 seconds at the end of all files.

Avoid files longer than 118 minutes. The ideal would be around 78 minutes per chapter, which helps you get your audiobook into stores. At the moment I am writing this, Audible has a 119-minute file limit, and Overdrive a 78-minute/per file.

Avoid background noise.

Create a sample audio file between 1 to 5 minutes (for

Supplemental Marketing Material,

as we'll see later on). 
This is just the tip of the iceberg; audiobook production is hard work. But as with everything in life, the next one will become easier if you have already successfully recorded an audiobook. And remember, this is a market you want to master for the coming decade. 
2. Reviewing
Regardless of how you deal with recording and editing, review the material carefully before you hit publish and distribute your audiobook. It is challenging to listen to the whole amount in a go, so divide it into chunks. 
Here is what to look for:
The background noise;

The difference in sound volume;

The necessity of editing certain areas;

Pronunciation.
Once this is all following your expectations, you can move on. 
3. Metadata
In terms of structure, an audiobook consists of metadata and content. Metadata can be any information that is tied to the book itself, including (but not limited to): 
contributors–typically the author(s) and narrator(s);

title;

subtitle; 

series name;

series number; 

languages;

description; 

category; 

keywords; 

price;

territory rights;

publication date.
Narrators count as additional contributors to books. They can be anyone who performs the recording of the spoken word. 
D. How to Publish an Audiobook
This is a moment to rejoice because what follows is the more accessible part. And the part with royalties, too! If you have the files, you can start distributing them. 
Every author's aim is to get to as many readers and listeners worldwide as possible. 
Let me show you how to make an audiobook for Amazon or publish on Audible, iTunes, and other big names with PublishDrive's easy-to-use platform.
1. Upload audiobook files
To get started, sign up or log in to PublishDrive and go to My Books > Upload a New Book > choose the Audio format. 

Next, you have to upload the files.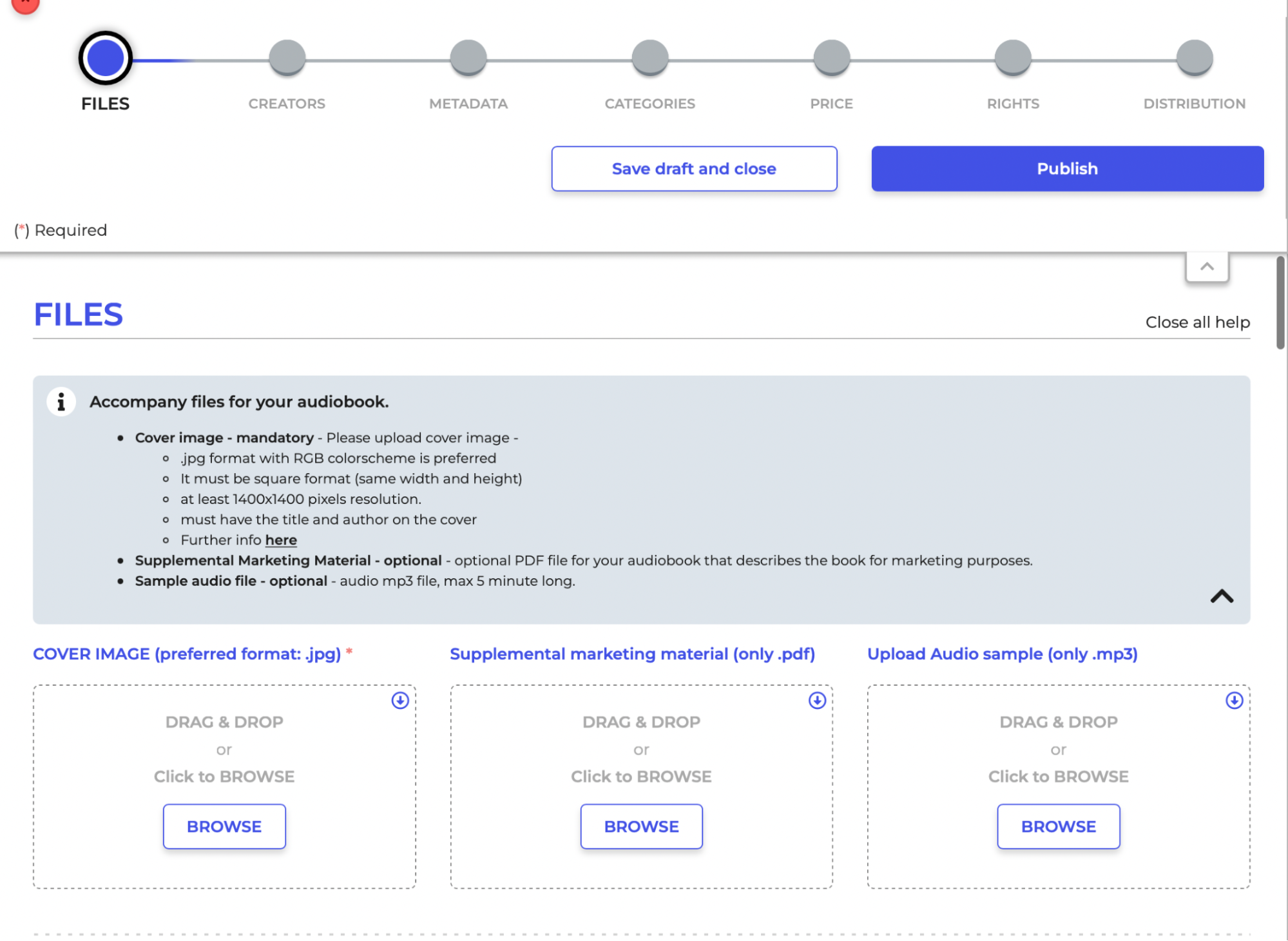 You need to ensure your files meet the criteria required by the platform. 
The

Cover image

is mandatory
- JPG format with RGB color scheme is preferred
- at least 1400×1400 pixels resolution.
Supplemental Marketing Material

is optional, as is the

sample audio file

. If you choose to upload, it must be an audio mp3 file, max 5 minutes long.
As you upload your content, make sure it fits the criteria below.
valid mp3 file;

192 kbps or higher;

high quality, no background noise;

complete the chapter(s);

chapter number/title read loudly at the beginning of all files;

leading and ending silence added around 3-5 seconds;

up to 78 minutes each.

After uploading all your files, set the chapters for each one to ensure they are ordered correctly. You can change the order by dragging the files in the list.
See our support article with all the technical requirements.
2. Set the metadata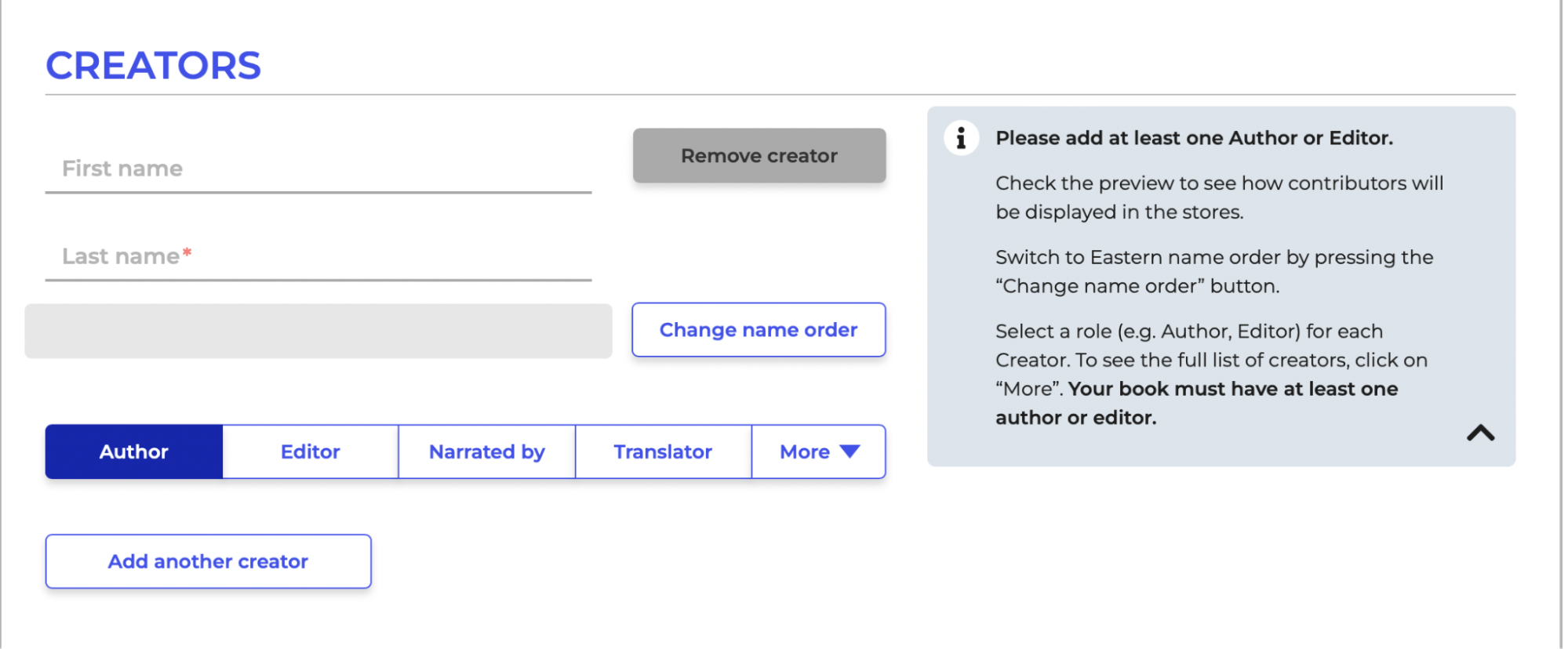 In this step, you need to include the author, editor, translator, and at least one narrator.
Then, add the corresponding information into respective fields. Make sure that your spelling is correct and adequately filled in (for instance, your book subtitle only appears in the subtitle line).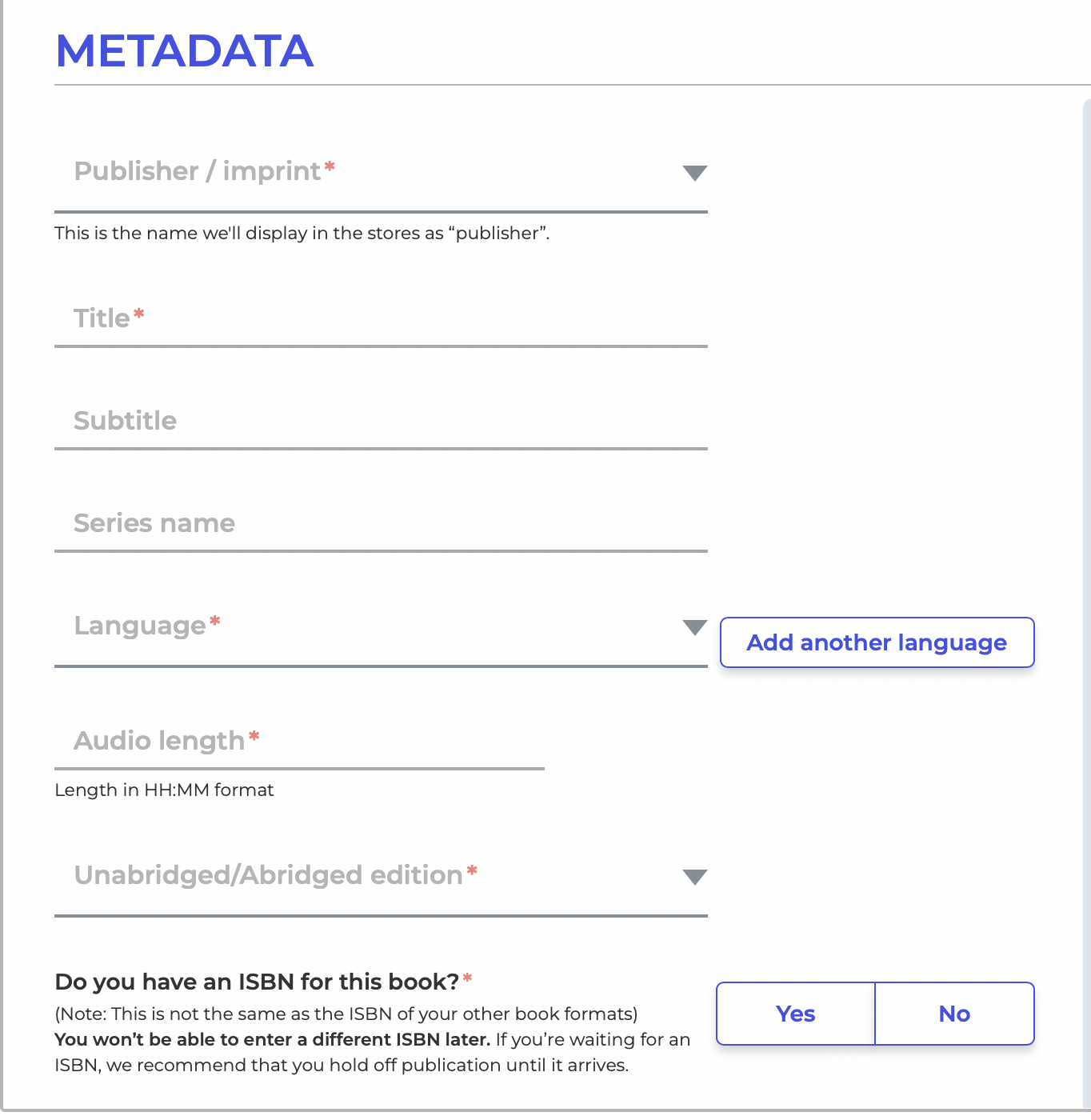 Choose a category for your book and take advantage of narrowing it down to its best fit and company. 
There's little left to address from now on. You have to set the price and clarify the copyright. 
Also, you must decide on the date of publication, which is helpful if you wish to hit some preorders along the way. They may just get you on bestselling lists.
3. Choose the stores for distribution
You are finally ready to click Enable on the retailers' lists and send your audiobook to the world. Finding your audience is easy when multiple channels are available.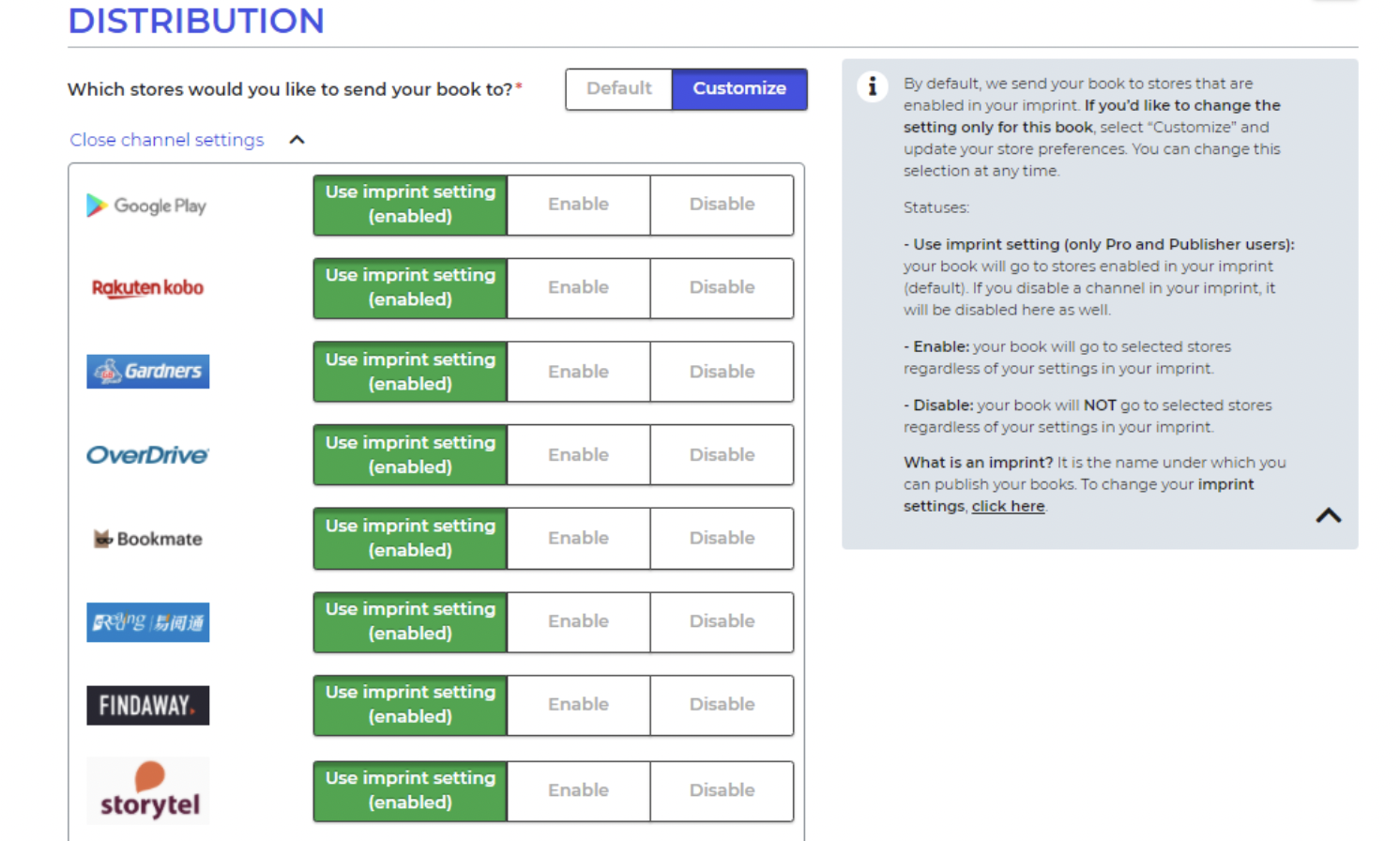 Forget Googling how to publish on Audible and start taking advantage of millions of readers and listeners that stand a few clicks away. If you are searching for something, consider looking more into whether you can self-publish an audiobook and ace it. 
Game On
Tapping into the audiobook market is something authors should look into as the market is booming and expected to continue to do so in this future decade. Investing in the technology and continuing to use it once you become increasingly familiar with the process is key to success. 
As our lives are increasingly digitalized, listening to audiobooks may prove key to having offscreen time. It can be driving time, jogging time, or kids' time. Audiobooks are not replacing books, but in the age of the smart household, they are consolidating an old habit on new premises. And they are not going away anytime soon.