Book Marketing
20 Talented Authors to Follow on Twitter to See How They Engage with Their Followers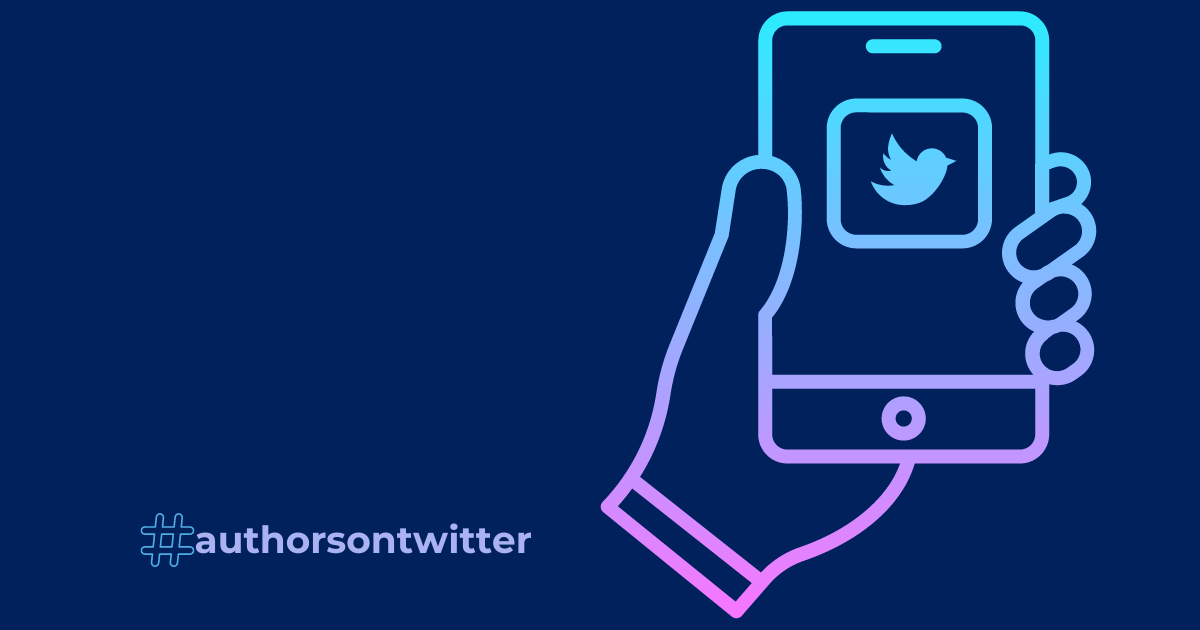 You probably know the importance of author's pages on Facebook. Twitter is another social media platform to get on as an author. It's been a popular choice among both experienced and newbie writers in their careers.
Authors create Twitter profiles to keep in touch with their fans and build a community. With the help of their social media accounts, many have been able to boost their popularity.
You can create a Twitter profile to build a strong fanbase or tap into several book promotion services.
Twitter is also a great space to share compelling facts about writing, the publishing industry, the peculiarities of an author's life, and other helpful information. It's a source of inspiration for many.
In this article, we share 20 creators to follow on Twitter, in alphabetical order.
1. Anne Rice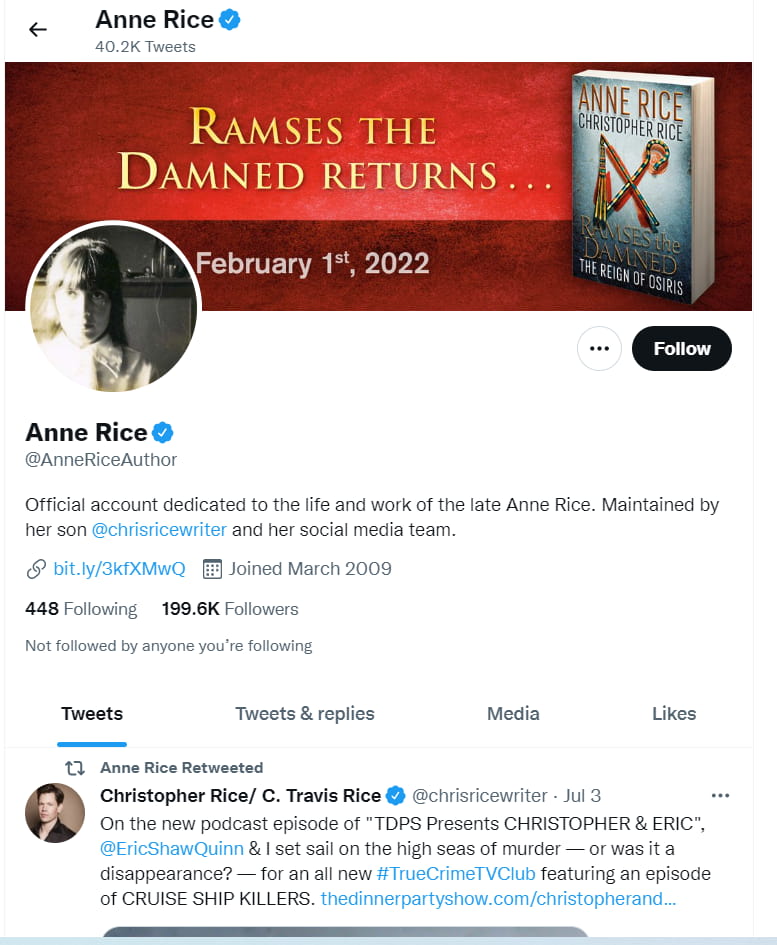 The series Mayfair Witches and the famous Vampire Chronicles brought Anne Rice worldwide fame. 
Her son handles her writer's Twitter page. He regularly posts messages that are most relevant and in demand by fans. You'll also find tweets about their life and family, which brought her closer to her followers.
This account has 200,000 followers, an impressive number that shows that the account is worthy of attention.
2. Becky Cooper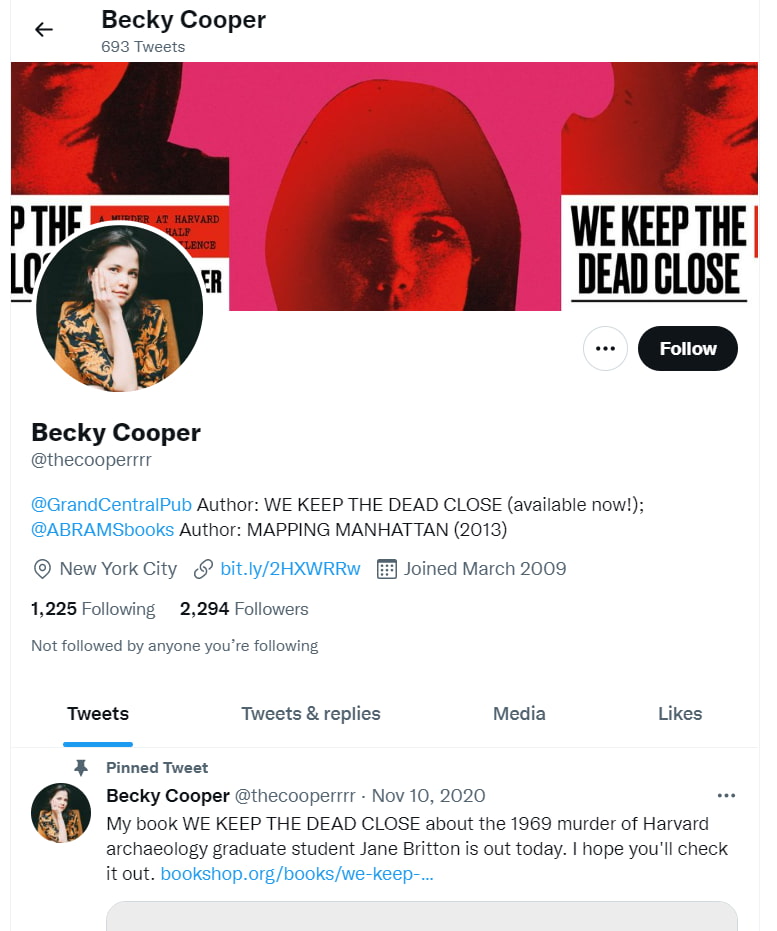 Becky Cooper's gripping non-fiction book, We Keep the Dead Close, is about finding the killer of a Harvard graduate student. 
Another influential book by the American author was Mapping Manhattan, published in 2013. 
Becky is active on her Twitter page, posting information about her books and retweeting interesting posts from other users. 
She's definitely among the worthy authors to follow on Twitter. She does a fantastic job of engaging with her readers.
3. Brad Meltzer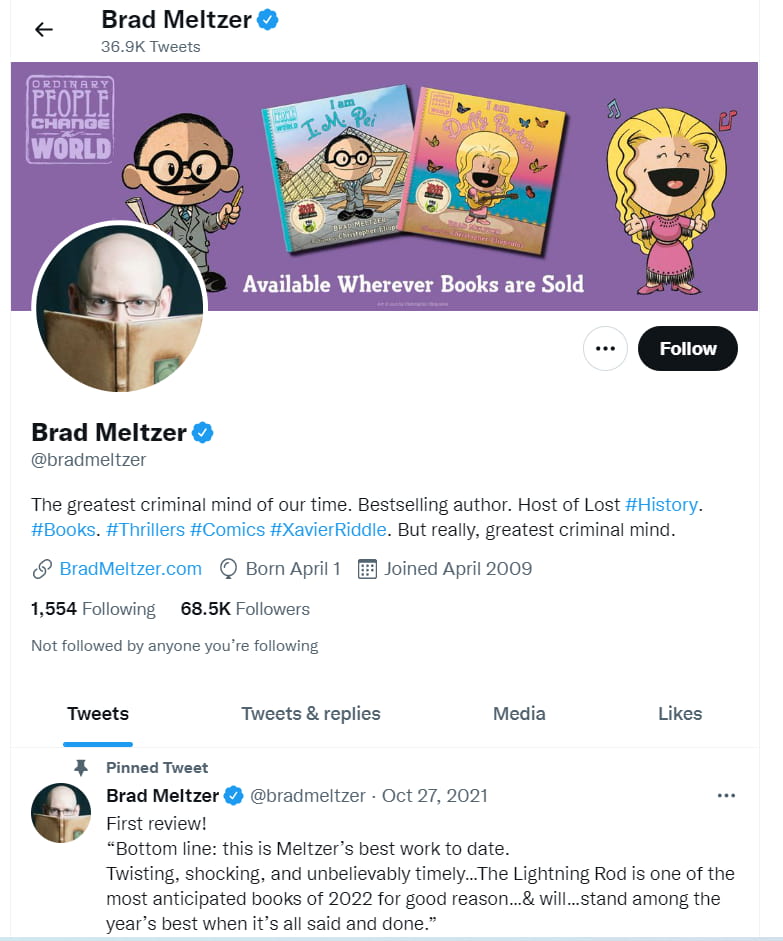 If you're into non-fiction, thrillers, and political conspiracies, then the name Brad Meltzer should be familiar to you. 
The famous American author of many bestselling books is best known for writing crime books.
What can you find on his page?
Brad Meltzer tweets almost every day on a variety of topics, such as short messages related to his books, current news, promotional offers, quotes, and more.
The content is quite diverse, which allows his followers to find something interesting for themselves.
4. Chuck Palahniuk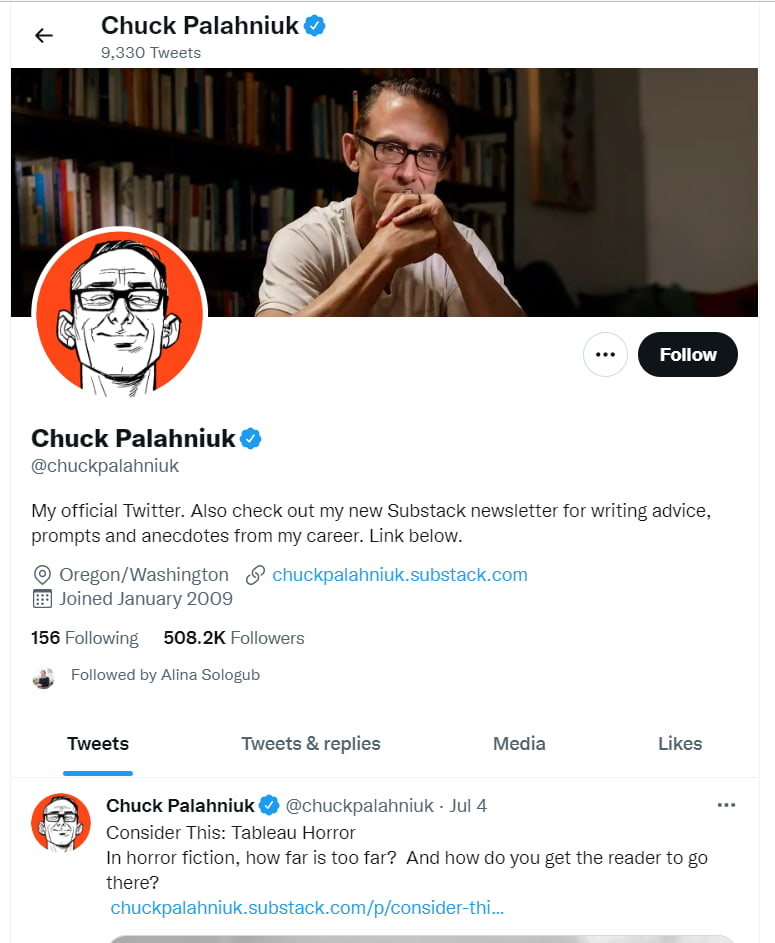 The author of the world bestseller Fight Club is known to almost everyone. On his Twitter page, the writer regularly shares the events from his life, writing, and branded goods.
Chuck Palahniuk provides helpful writing tips and possible solutions to common writing problems. He also tweets about literature and his book tours. This is a great promotion idea to boost book sales.
He's definitely an author on Twitter to follow. His content is a godsend, especially if you are new to writing.
5. Gary Thomas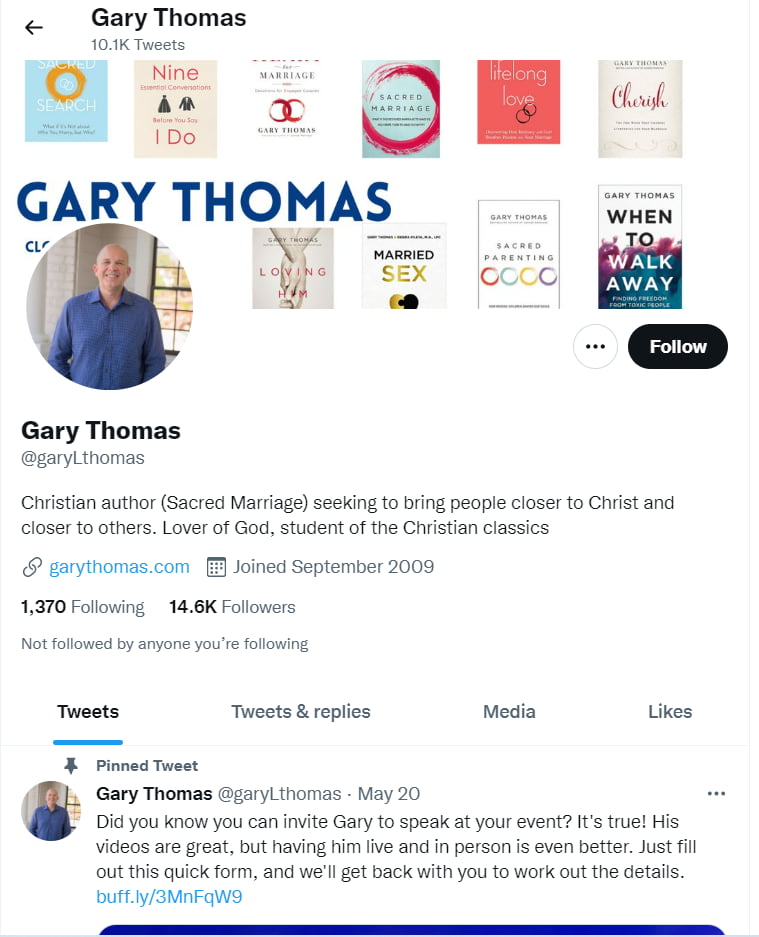 The popular American writer became famous in the genre of Christian literature. Gary L. Thomas is originally known as an evangelical minister. Now he often speaks at a range of events. 
The author shares quotes on his page and actively communicates with his fans.
6. Harlan Coben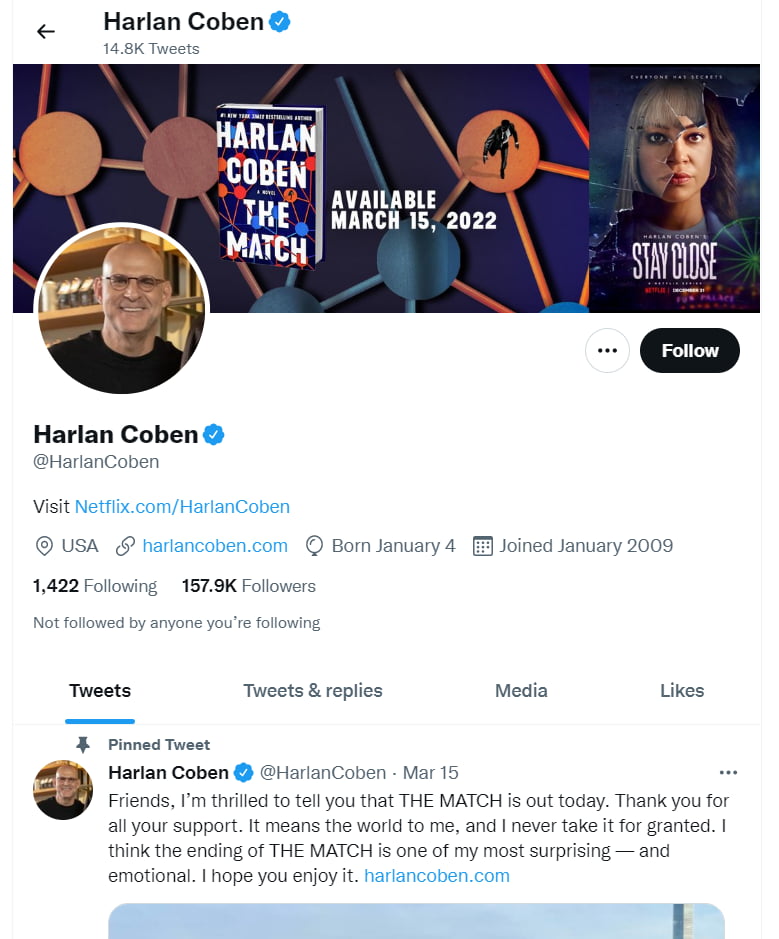 If you are interested in thrillers and want to follow authors on Twitter to get inspired, follow Harlan Coben. 
He posts about his books but also about other authors' works, which helps you discover new writers. 
Harlan talks about the most notable events from his life and from the literary world as well.
Oh, and in case you didn't know, Coben is the author of the book Stay Close, which was adapted into a British mystery drama miniseries of the same name.
7. James Patterson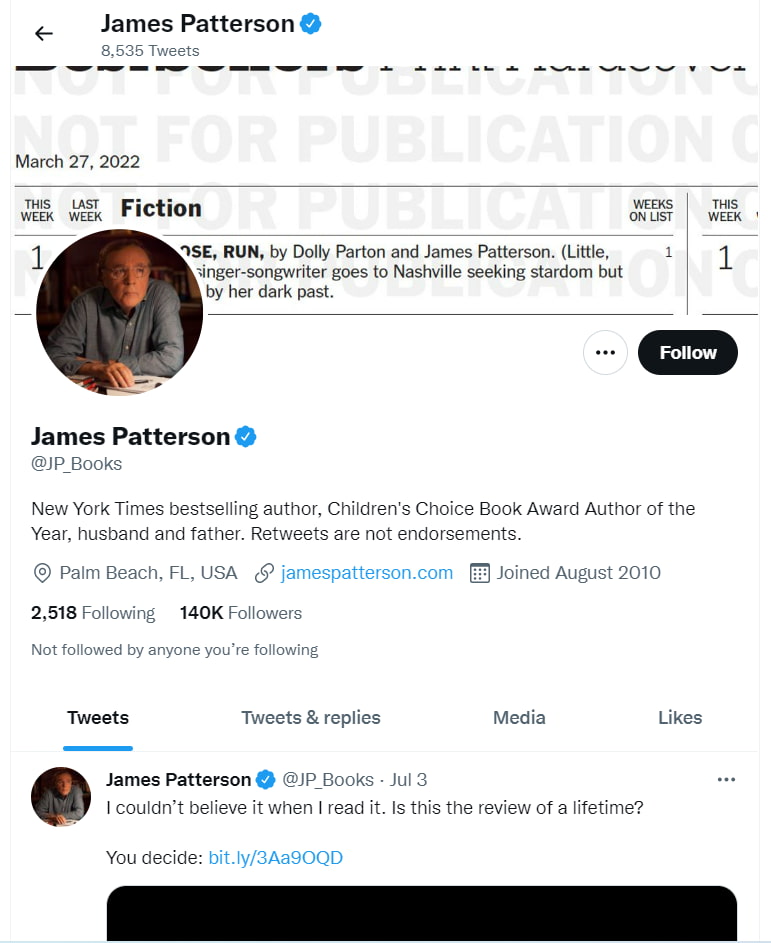 Is there any need to introduce James Patterson to you? I guess not, as you most probably already know him.
The novel Women's Homicide Investigation Club and the crime, mystery, and thriller novel series Alex Cross brought fame to the American writer James B. Patterson.
The author does not tweet that often, but when he does, his tweets are unique. He shares book reviews, informs fans about his book sales, and shares about his hobbies and pastime.
The tweets attract a lot of attention; they are often commented on and retweeted. We can safely say that Patterson managed to create a considerable fanbase, as his page is often trending with 140k followers.
If you wish to create a list of authors to follow on Twitter, be sure to include him.
8. Jodi Picoult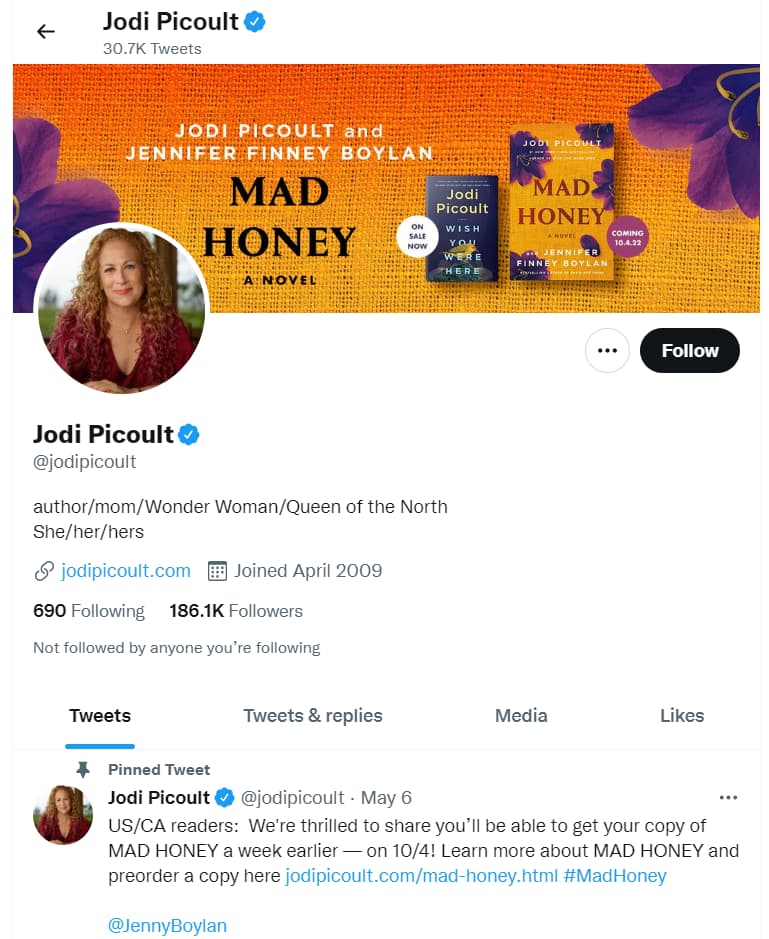 For many, "Wonder Woman" is associated with the name of the American writer Jodi Picoult. 
She has published over 25 novels, most of them in the fantasy genre. Her books touch on various issues, from moral problems to racial and religious differences. 
She has won the Fiction Prize, and her books are published worldwide and translated into over 30 languages.
You know, 186K followers on the Twitter page is pretty impressive. And this is not surprising because her content is engaging! You can find inspirational tweets, helpful retweets from other platform users, and the writer's thoughts.
9. Julie Isaac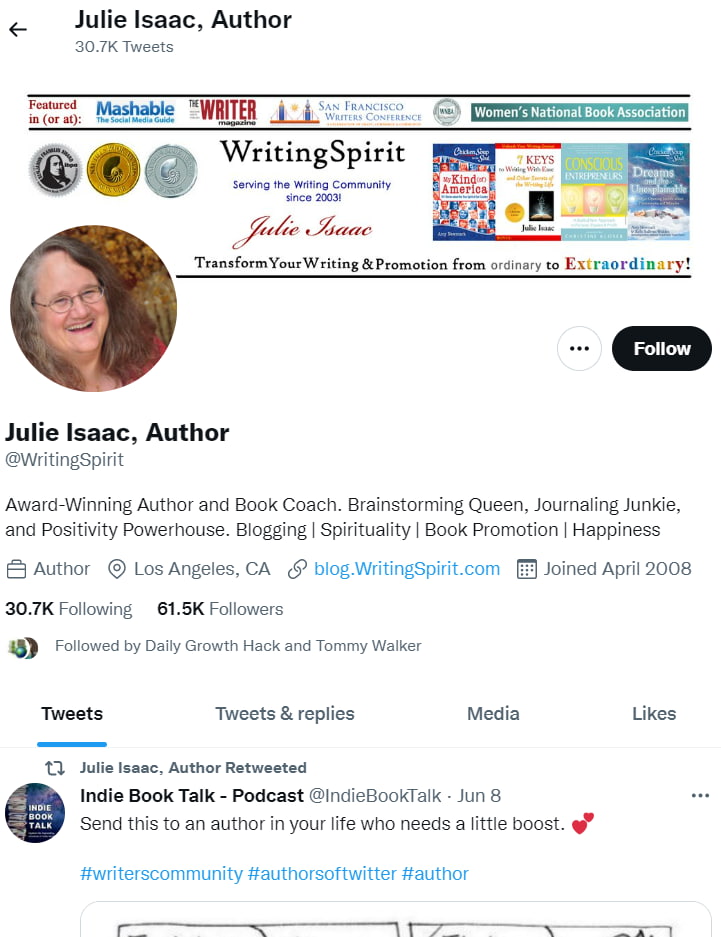 Julie Isaac became famous for her books dealing with writing procrastination, shyness, perfectionism, and lack of inspiration. 
Since the early 2000s, Julie Isaac has been helping writers get comfortable in the writing world, providing support and guidance.
Now she is active as a book coach.
Her page's primary focus is communicating with her audience, providing followers with valuable information, and motivating her readers in various ways. 
If you're looking for support, positive vibes, and exciting insights, Julie's account is the one to follow.
10. Lori Ruff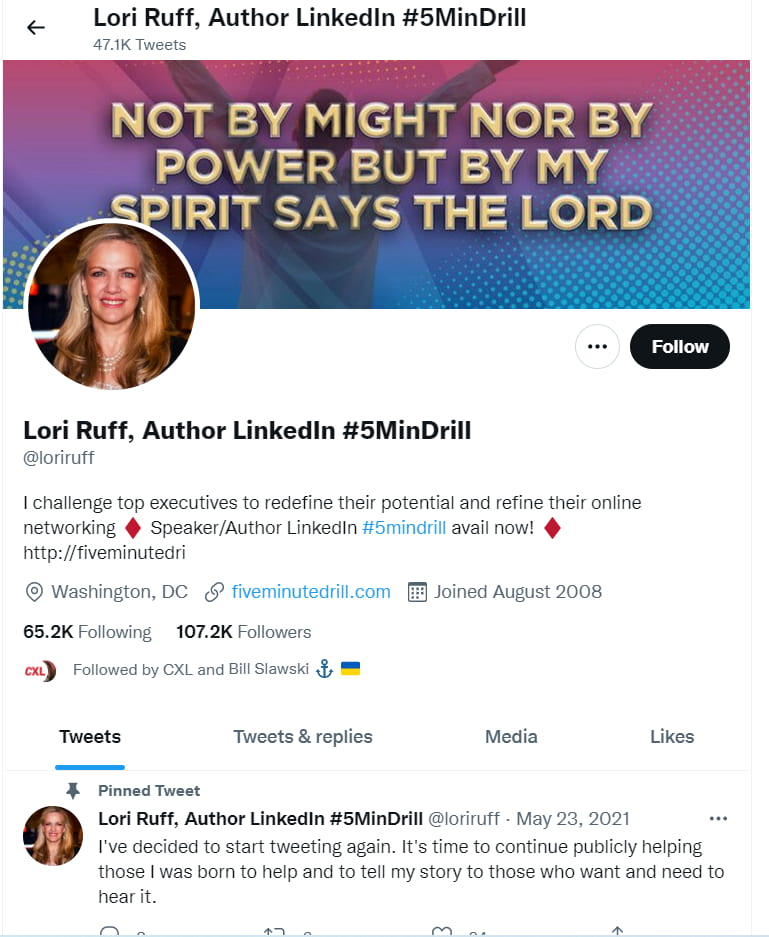 Lori Ruff became the clearest example of how you can become famous through LinkedIn. "Prima Donna LinkedIn"—that's what she has been called in the literary world for many years. 
She also became well-known as a speaker and consultant in entrepreneurship. 
And she makes sure people know her story by tweeting on Twitter.
Lori helps people get comfortable on this platform, where the most advanced entrepreneurs and company owners are. Her training sessions with Joe Frankie guide newcomers to online strategy, service delivery, and effective promotion. 
Undoubtedly, in these modern times, an online image is vital. It's tough to count on success without it.
And although she rarely tweets, there is valuable content to discover. Surely you can learn something for yourself here, which can help you in everyday life and build your writer's career.
11. Margaret E. Atwood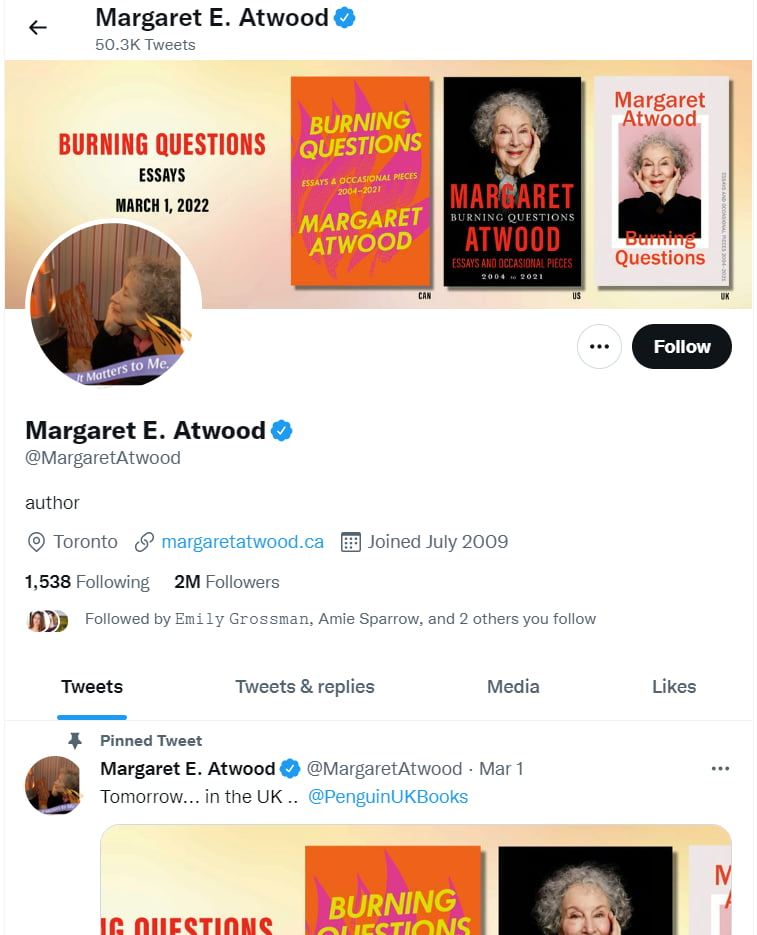 Margaret Atwood should absolutely be one of the authors you follow on Twitter.
The Canadian writer was awarded her first significant prize in 1987 for the well-known The Handmaid's Tale. 
She also has two Booker Prizes and became a finalist for this award four times. And this is not the whole list. Although she began her writing career in the 80s, she still writes and remains one of the most famous writers of our time.
Margaret's Twitter page has 2 million followers. This is not surprising because her entire feed consists of fascinating and engaging posts on different topics. 
But most importantly, they are filled with energy and inspiration. Indeed, a page to follow.
12. Maureen Johnson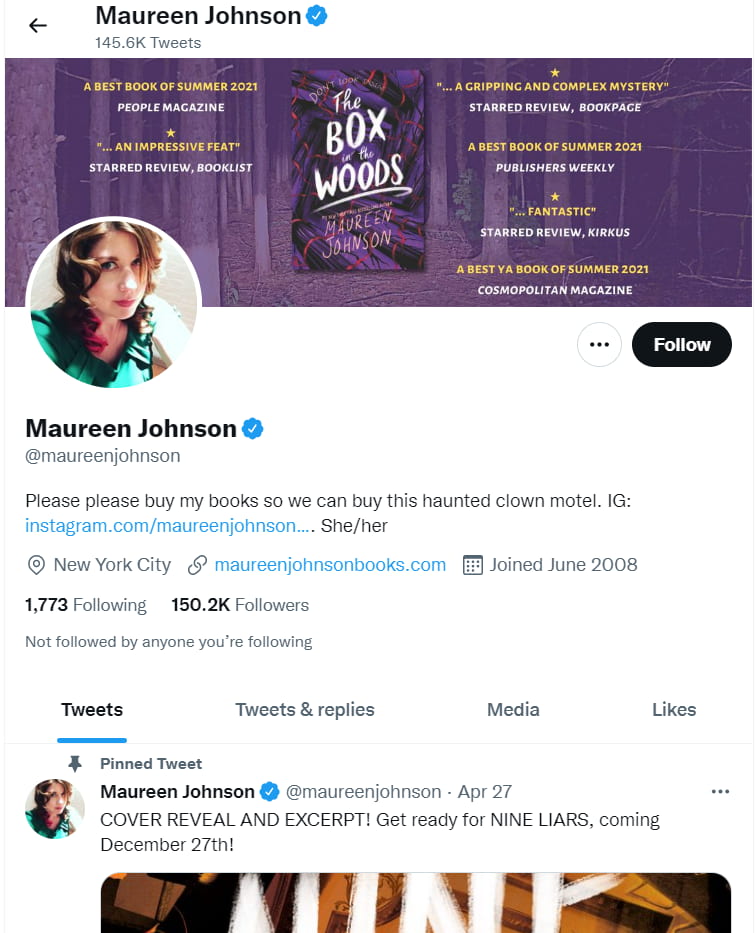 Maureen Johnson is a bestselling American author of youth literature. Her novels attract with their uniqueness, gripping plots, and intertwined stories. If you have read her books, you will surely agree that her books are outstanding.
Maureen Johnson is a prime example of how often and actively you should tweet. She writes about literally everything: how her day went and what she wants to know from her followers. She also shares entertaining content and thrilling information.
She's an author to follow on Twitter if you need an excellent example of how writers engage with their readers.
13. Meg Cabot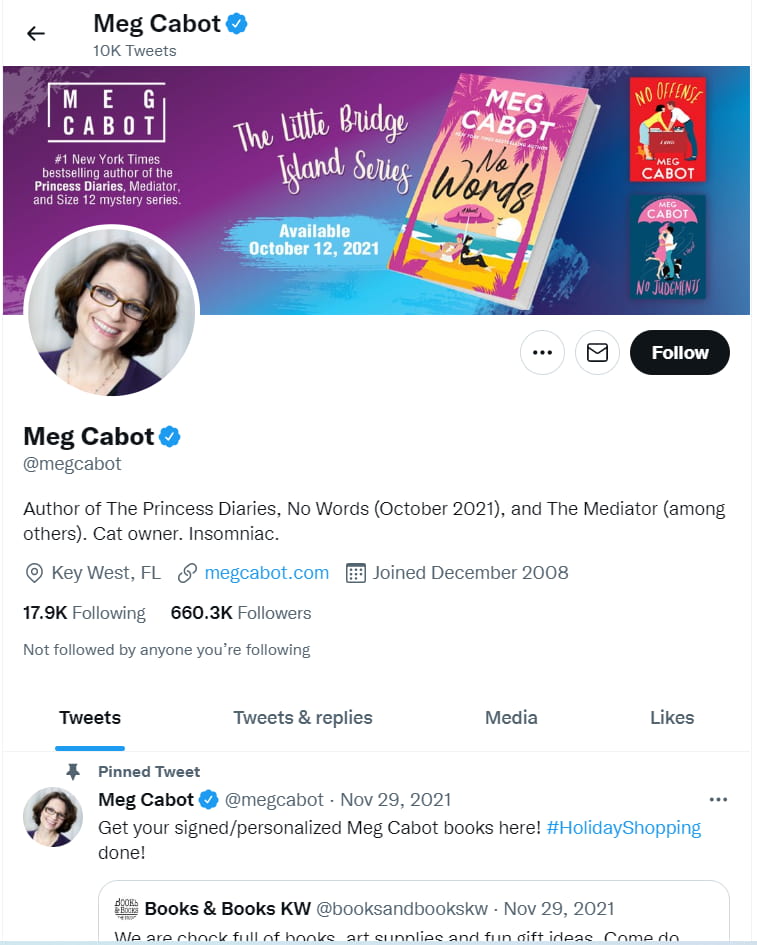 Meg Cabot is an author of children's fiction from the United States, popular for her talent in creating literature for young adults.
Meg Cabot is the author of The Princess Diaries, which was later adapted by Walt Disney Pictures into two feature films.
Meg actively tweets about her books, sales, and releases. Check out her account for great examples of how to promote your novels.
14. Misha Carver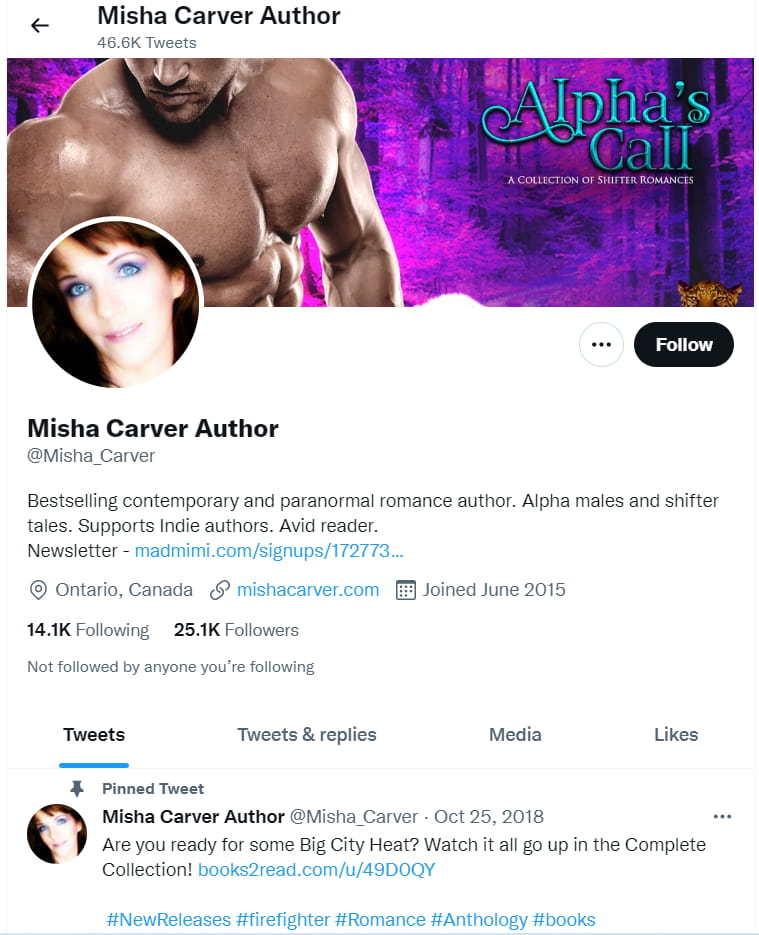 Fans of the paranormal most likely come across Misha Carver's novels as she specializes in writing books in this genre. 
Quotes, events from the writer's life, motivational speeches, and information about her books—this is what you will find on Misha's page. She also often asks engaging questions to her readers.
15. Neil Gaiman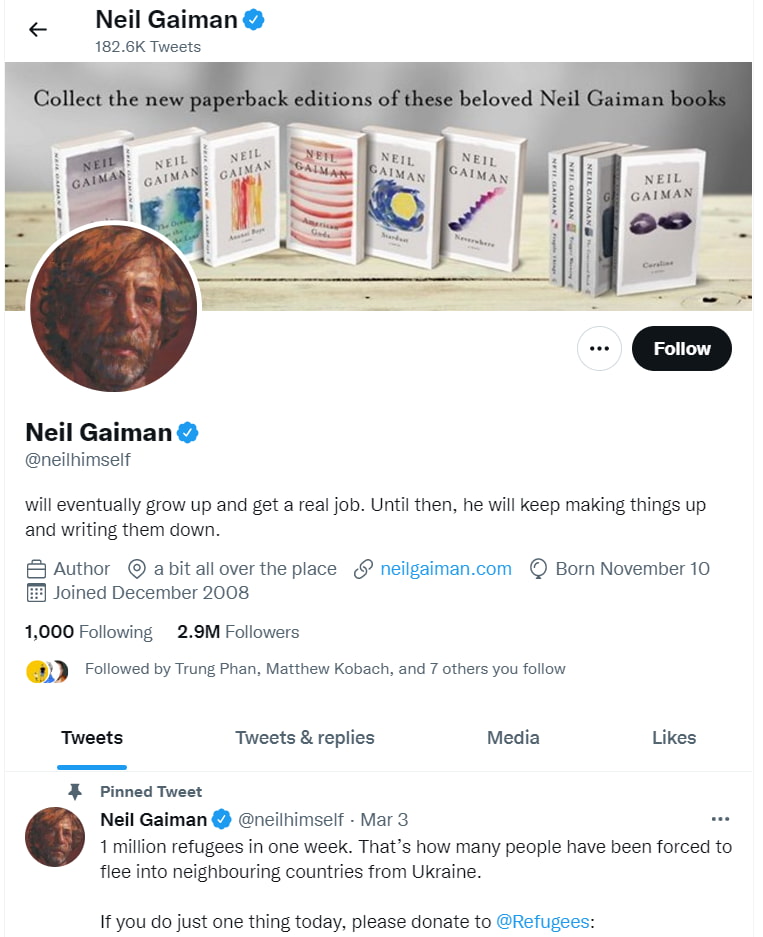 Fantasy, sci-fi, horror, and even comedy—Neil Gaiman specializes in them all. And he does it very successfully, as his high sales and many awards tell us. 
He has almost 3 million followers on his Twitter page. The author maintains his account successfully, almost like writing his books. 
His page boasts retweets of posts by popular platform users, coverage of world-class events, and feedback from fans. 
If you're a fan of The Sandman, be sure to include Neil Gaiman on your authors to follow on Twitter list.
16. Paulo Coelho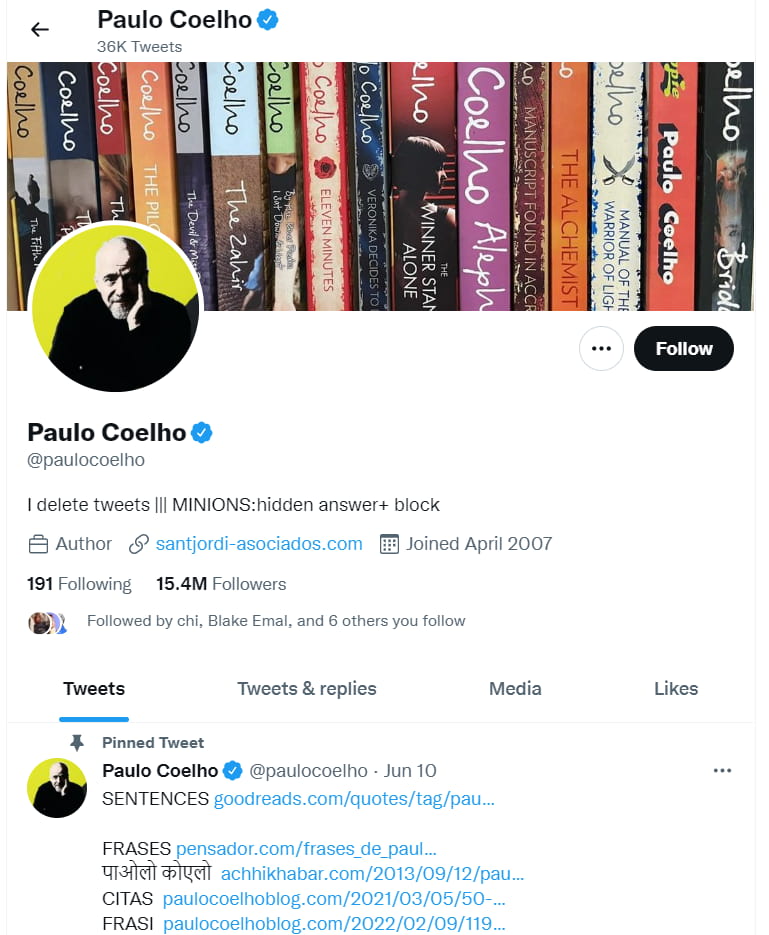 Paulo Coelho is a renowned poet and prose writer, author of The Alchemist. His book was placed in numerous editions worldwide. He uses Twitter to keep his readers up to date with his activities.
Unfortunately for his fans, he does not tweet very often. Still, he's an exceptional author to follow on Twitter.
The key direction of his tweets is to publish information related to his work and quotes. If you wish to catch a glimpse of the way he engages with his readers and followers (almost 15.5 million), you should check out his page.
17. Rick Riordan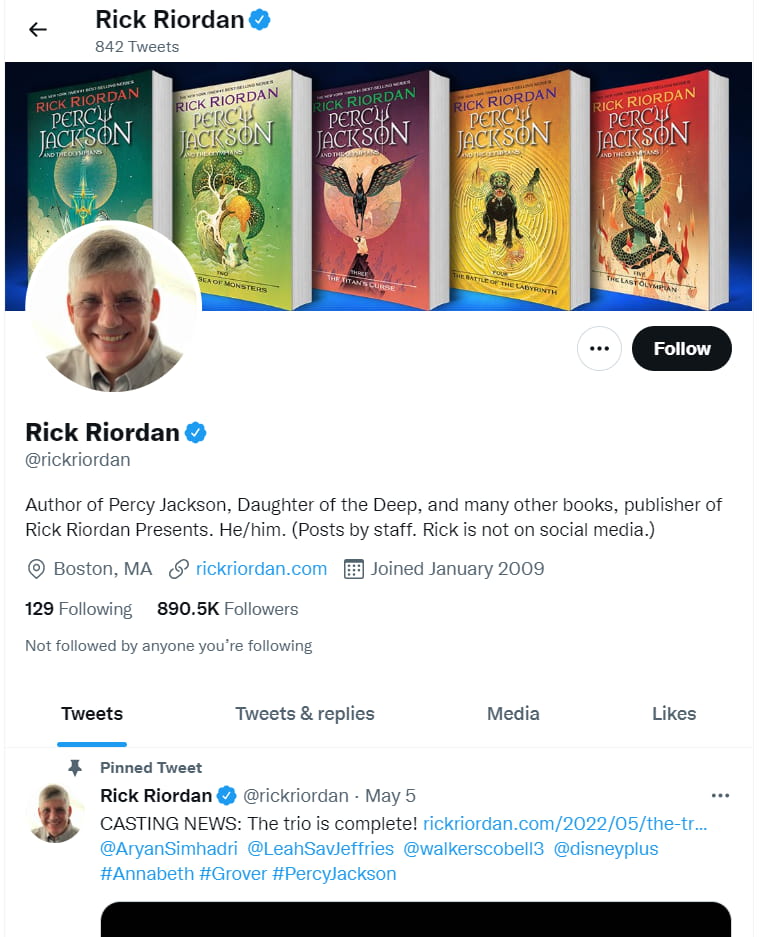 Have you heard of the Percy Jackson series? The authorship of these works belongs to Rick Riordan, a New York Times bestselling author. 
Now, more than 20 novels from his pen continue to fly off the shelves.
What awaits you on his Twitter page? First of all, up-to-date information about the sales of his books. 
He also periodically retweets posts from fans who comment on his novels and tweets mentioning his nickname. This is a classic example of an author's page that aims to promote the writer's novels.
18. Rob Bell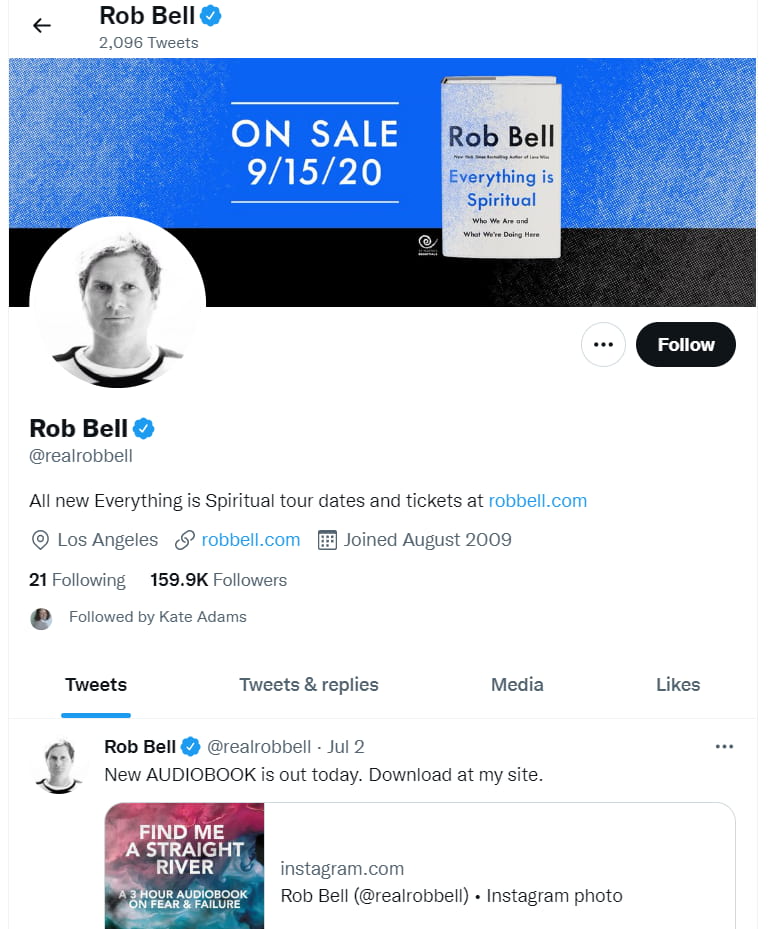 Formerly an eminent pastor, Robert Bell is now a well-known speaker and writer. 
He became famous thanks to his work, Love Wins, which brought him readers' appreciation. 
Bell was included in Time magazine's list of the most influential people in the world. And now, he is working on creating and promoting his podcast, The Robcast. 
There's even a film called Heretic that was dedicated to his life and work.
Besides the author's website, Rob maintains his own Twitter page. He shares links to publications and information related to his secondary work, which is the release of a book in audio format. 
Rob's tweets provide up-to-date info about the author's life and work.
19. Sarah Dessen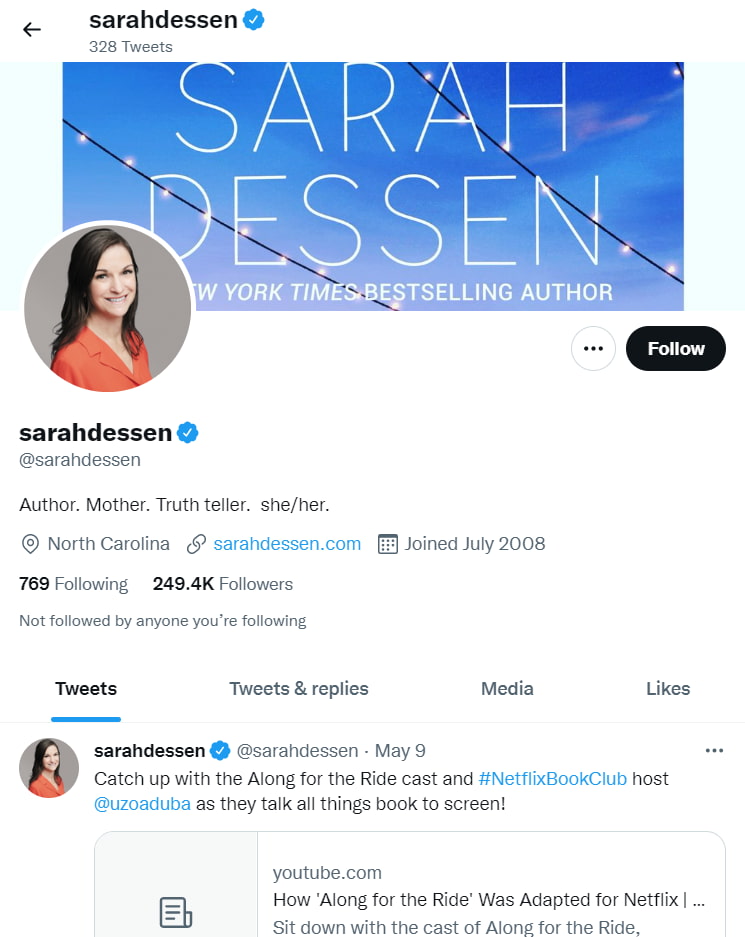 Sarah Dessen is a talented author to follow on Twitter. She has dozens of novels and short stories actively read in all corners of the world.
On Twitter, Sarah briefly informs her fans about her new book's releases and their film adaptation. For example, her book Along for the Ride recently became a Netflix movie.
Sarah uses Twitter as a way to connect with her readers.
20. Scott Westerfeld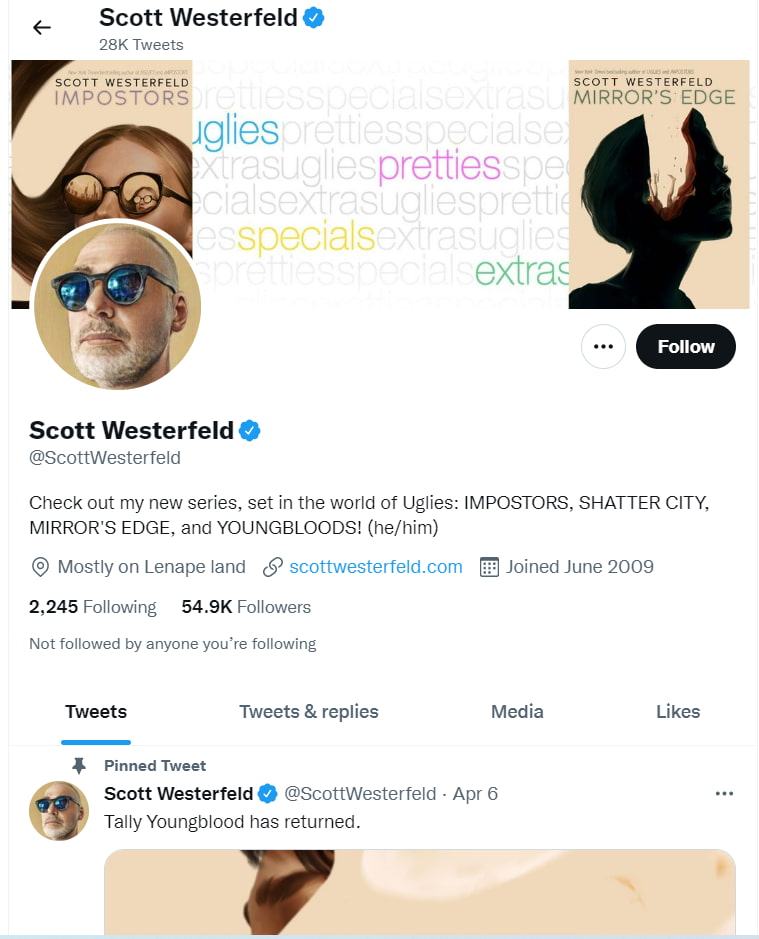 The cycles of works Leviathan, Rebellious, Sequence, and many other series of books in the genre of dystopia and science fiction glorified the American-Australian writer Scott Westerfeld. 
The author shares the links to his books, tweets quotes, and retweets compelling posts from other Twitter users on his profile. 
Clear, informative, and interesting. Check it out.
Wrapping Up
Sometimes it can be challenging to find the strength and motivation to develop a unique Twitter page. So feel free to use this list as a source of inspiration for creating your profile. 
And if you're just interested in literature and want to keep up to date with the latest developments, follow authors on Twitter to have the best source of information about writers and their work. Maybe you'll connect with new authors and discover something exciting!