Book Marketing
How to Create a Facebook Author Page to Maximize Exposure on Social Media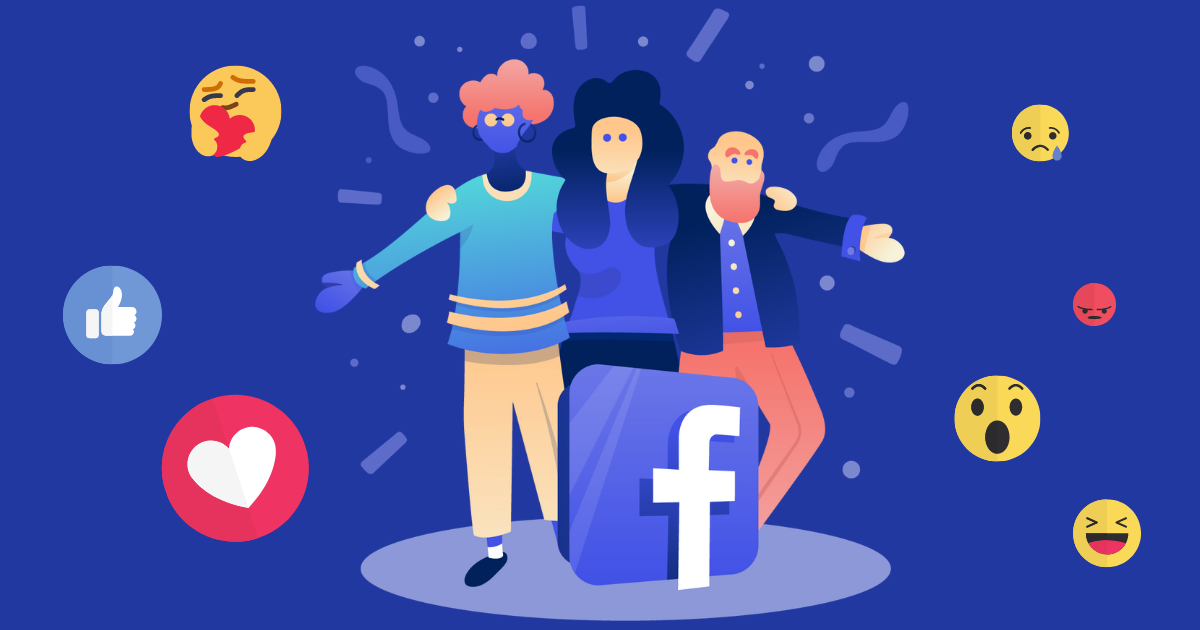 Social media exposure is a must for every author.
It can help you when you're just getting started, and you need readers to discover you, but it also helps in continuously communicating with them once they follow you on social media platforms.
Since Facebook currently has more than 2.89 billion monthly active users, being present and active on this platform can bring you many followers. 
But first, you need to set up an author page on Facebook.
In this article, you'll read about how to create an author page on Facebook, how Facebook pages for authors can be a powerful tool for personal brand development, and a few examples of author pages to inspire you.
Let's get started.
A. How to Create an Author Page on Facebook: Step-by-Step Instructions
Here's a simple guide on how to create a Facebook page as an author to help you sell more books:
Step 1. Sign up
Of course, you probably already have a personal Facebook account. If not, here is the first step:
Go to Facebook

Set up your account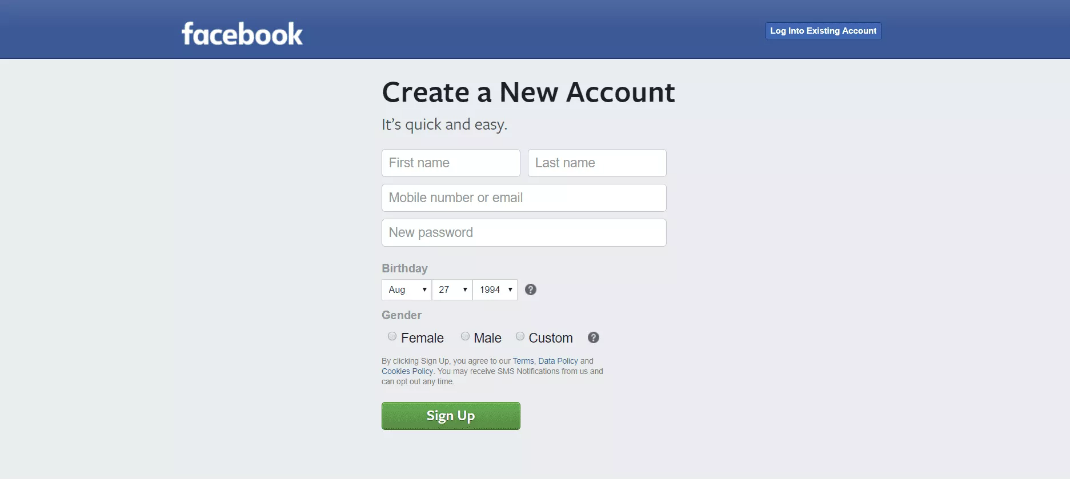 Step 2. Create your author page 
So, if you're wondering how you become an author on Facebook, here's how.
Once you have logged into your account, you can create your author page.
Click on the button with those six dots next to your profile picture on the right-hand side of the page, then go to the Create section and click on Page.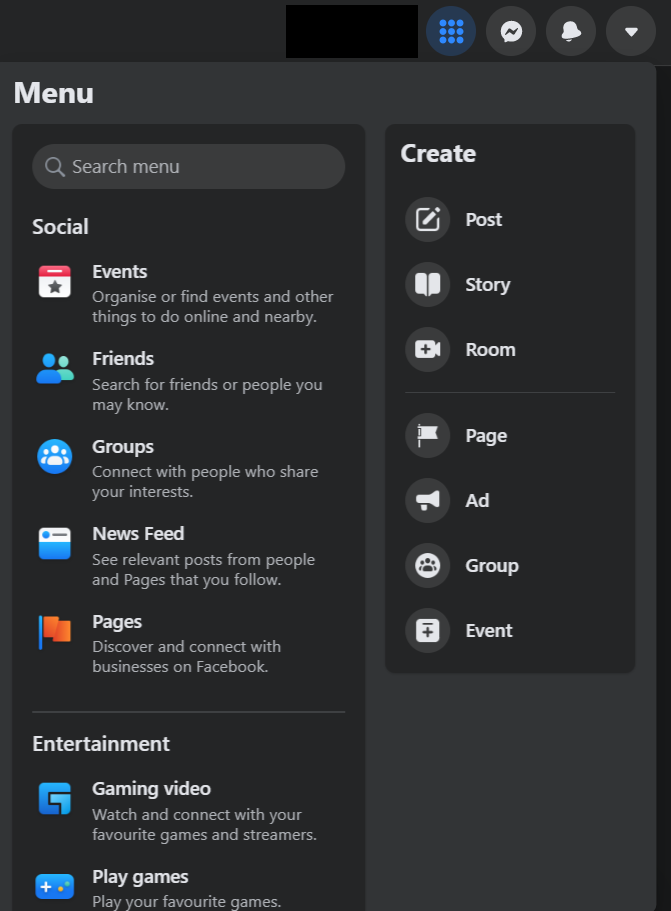 Step 3. Set up your page
Next, you will see the following page:
In the Page Name section, specify the title of your page. 
Then, choose a category.
Since you are creating an author page, you should: 
Write your name or the pseudonym for the

page's title

;

Choose

Author

in the

Category

section.

This will make it easier for your fans and potential followers to find you.
Make sure to add a compelling description that will shortly introduce you to the world. Add a few words about you and about what you write. The character limit is 255.
Then, click on Create Page.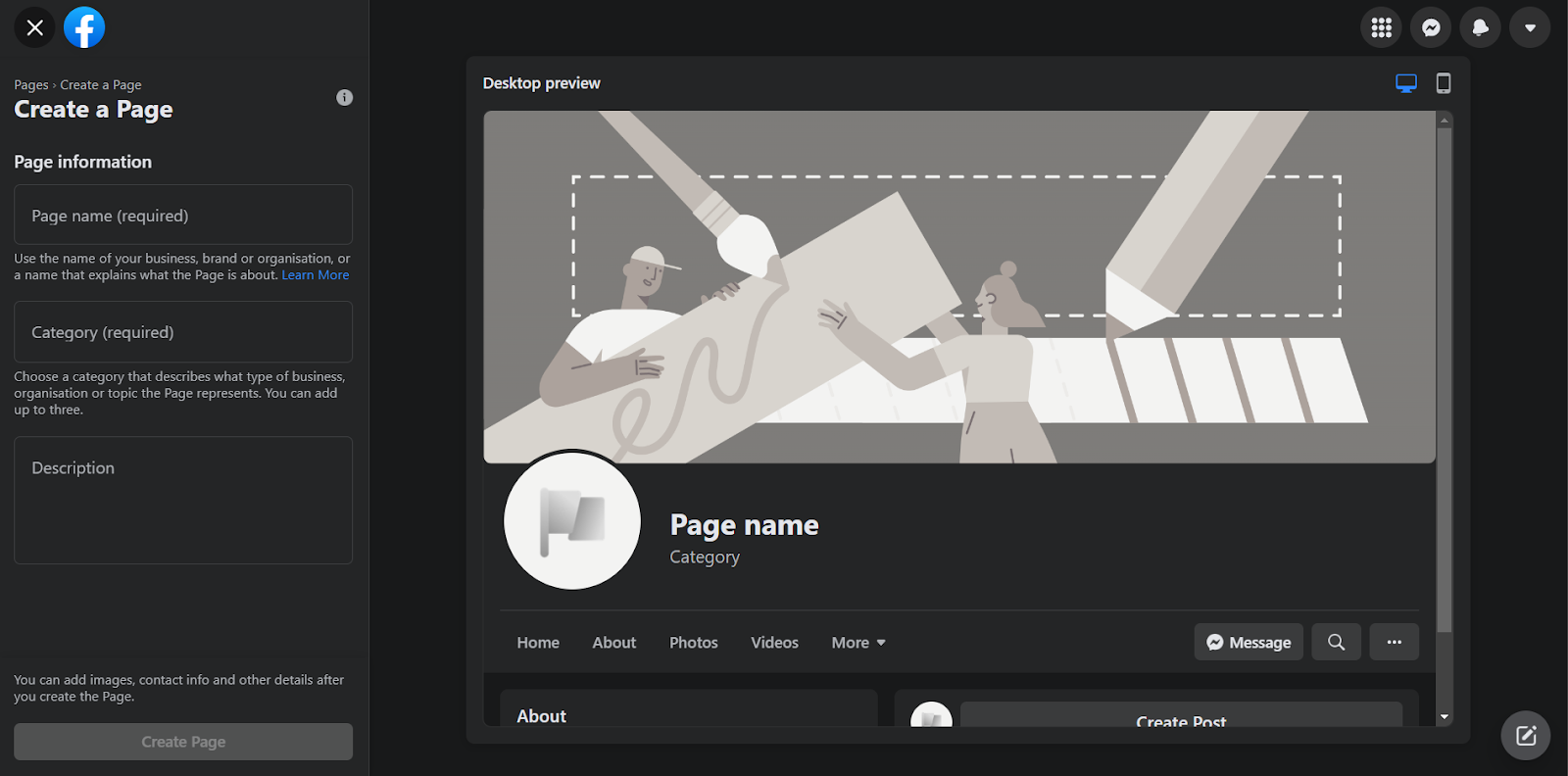 Step 4. Upload a profile picture and cover photo
Now, you can customize your Facebook author page.
We recommend you set a high-quality profile picture so readers can recognize you. Plus, it's a great chance to make the right first impression.
As for the cover, you can use your imagination and creativity. You can add a cover photo that showcases your book(s). The main thing is that it matches what you write about.
Click on Save.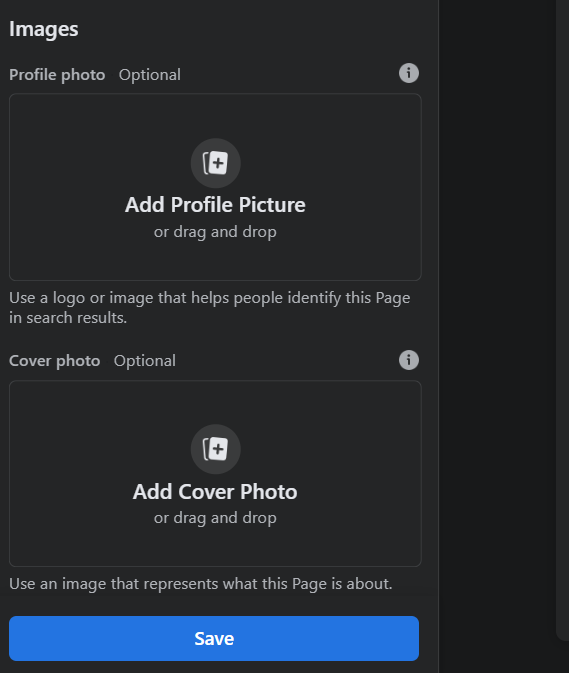 Step 5. Add more information about you
To make your page more informative and valuable, you can add the basic information on the About page so that people will find out more about you. 
You can enter your location, business hours, links to other resources, and more.

B. Benefits of Creating a Facebook Author Page
Creating an author page on Facebook comes with certain perks. It's not like you're setting it up, and then nothing happens. 
Let's take a look at all the benefits.
1. You can increase your audience 
Keeping in touch with your readers is essential to a marketing campaign, among other book promotion services. That is why you should create an author page on Facebook. Since the popularity of this social network is pretty high, Facebook is an excellent platform for attracting new fans. 
The platform makes it accessible for users to subscribe to your page and invite their friends too. 
Besides, you probably attend various thematic conferences. You can always recommend them to your followers.
This is a fast way to spread the news. It's part of digitalized word-of-mouth because when you invite a person, that person can invite ten other people.
Facebook will come in handy even if you already have an author website. For some people, this is a more accessible way to be in touch with the world. Plus, you can add the link to your website on your Facebook author page.
2. It's a multifunctional communication channel
An author's Facebook page can be an indispensable tool for building connections.
This is because besides having a fan base that can see your activity, you can interact with them in various ways.
For example, you can create events related to your books, such as book launches or even a book club, and invite your followers to attend. 
Another way you can use the platform to interact with people is by getting feedback on important issues. You can publish a post or poll and ask people about them. 
Communicating with readers through messages or comments brings a remarkable effect. Such a personalized approach allows you to attract new subscribers and establish stronger relationships with existing ones. 
3. You can share everything with your readers
How do you usually notify your audience about a new book release? Or how do you plan to do it? Today, it's easier than ever—you can do it online.
Let's say you had an interesting interview with a publishing house or have a personal blog where you share your thoughts, feelings, and different takes on the writing industry. 
You can create Facebook posts with a short description and the link to such resources, which your audience can access anytime.
If you want to market your first book or any other book and let everyone know it's on sale, you can just post it on Facebook and let the platform do its magic. 
4. You can run ads
With so much information, marketing campaigns are also a must these days. 
So, if you want to spread the word faster and don't count solely on organic growth, Facebook ads are a great alternative. 
Launching a Facebook ad campaign needs a bit of investment, but it's something that will benefit you as it will serve as an effective tool for presenting and promoting your book to new audiences.
You are in charge of how much you'll spend on Facebook ads because after creating an ad, you can submit it to the platform's ad auction.
Ad Targeting Settings
Facebook offers you the settings you need to define your target audience accurately. Apart from selecting your target audience by location, gender, or age, you can also filter them by their interests. 
Let's say you've written a book about the development of modern marketing. You can use your ads to target people who like pages on that topic. 
Post Promotion
In addition to creating ads on your page, it's worth backing up your advertising strategy by promoting your posts. This tactic will allow you to turn your already existing posts into ads, which will not be disruptive.
Similar to ad targeting, you can customize the audience that will see your promoted posts.
Which Ad Format to Choose?
Facebook offers many ad formats for you to choose from. Thus, you are free to create and design ad content based on your goals and preferences. 
The main thing is to make ads that resonate with your audience, so you can convince them to stop scrolling and pay attention to your offer.
In terms of ad formats, you can choose among the following:
Image ads:

This is a simple and easy-to-do format consisting of an image.

Video ads:

You can create video ads to promote your book(s) with a bit of movement to attract attention.

Carousel ads:

With carousel ads, you can display up to ten images or videos in a single ad, each with its own link.

Instant Experience ads:

They take over the entire screen once a user taps on your ad on a mobile device. 

Collection ads:

With collection ads, you can feature more than one book in an Instant Experience format.
5. Allows you to tap into user insights
Fan pages contain information about your audience and their activities. Regular study and analysis of this data will allow you to identify several essential aspects:
Demographic profile of your followers.

The type of content that gets the most responses and interactions.

A perfect time of day for posting.
Thus, you can customize the content to subscribers' needs, improving communication quality.
6. Pinned posts work as a powerful tool
One way to make your page more attractive is to have a pinned post at the top of the page for everyone to see. Remember that you can change this pinned post whenever you want.
For example, if you have a giveaway for a book, pin a post with the contest's rules. If there are no competitions, you can pin a post in which you talk about yourself, your books, or anything that will benefit your followers. 
7. You can communicate with your audience through live broadcasts
Facebook's live feature allows you to organize live broadcasts wherever you are. And the broadcast schedule is entirely up to you. 
To make sure people will tune in, you can promote ads about the upcoming live broadcast on your page. This will draw attention to it, and your community will keep on growing at a faster pace.
People love communicating, and the real-time opportunity to discuss and exchange ideas with the writer is very popular today. 
Be sure to leave a record of live broadcasts on your page so that everyone can see them at any time.
C. How to Maintain a Facebook Author Page
Running a Facebook fan page is more than just posting content, especially since the platform offers many more features to take advantage of. Thus, we would like to give some recommendations to help you with this.
1.
Schedule your posts
If you have the opportunity to post every day, be sure to do so. If not, make a schedule so that new posts appear on the page regularly. For example, every Sunday, Wednesday, and Friday, since consistency is crucial in this case.
Users like to keep track of active pages and often unfollow the pages where posts appear rarely. Or, they can simply forget about their existence.
Compiling a content calendar and planning publications in advance will help. On Facebook, you can schedule posts for a week or a month in advance, which is very convenient when you have to manage many posts. 
This calendar also allows you to reschedule content in case you need to publish something else that you did not plan without losing track of what you postponed.
2. Find a balance between self-promotion and valuable content
Although you will create your author page to promote your books, it should not contain only self-promotion. Such content can easily become annoying to your followers. 
In this case, the 80/20 rule would be very appropriate, where 80% falls on entertaining and educational posts and 20% on promotion.
3. Communicate with your followers
Internet users love when fan pages are alive and willingly communicate with their audience. Prompt responses to comments and messages, organizing polls where you ask for your followers' opinions, and conducting live broadcasts help strengthen relationships with the audience.
Also, join other pages with similar topics to attract more users to your page. There you can find many people who might be interested in your content.
D. Examples of Facebook Author Pages
If you still haven't decided how to style your future page, here are a few of the best Facebook author pages. 
May Sage

I think May Sage's page is among the best author Facebook pages.
By now, the author has already gathered a great fan base on Facebook. 
Subscribers actively interact with her posts and comment on them. And May Sage makes sure to answer everyone. 
In one of her interviews, May said that she has loved to write since childhood. And those who have read her books at least once certainly feel this love in every line. 
The same can be said about her author's page. She regularly publishes entertaining information about her books and shares stunning book covers. And, of course, she notifies her subscribers about the upcoming release of books.
This is an excellent example of how commitment to what you love is reflected even on a Facebook page.
Deborah Cooke

For many, she is known as Claire Delacroix. This author deserves not only attention but also huge respect.
Many of her books have become New York Times bestsellers. And she has worked on over 60 titles.
This is truly amazing. 
Especially because they are mainly fantasy novels, paranormal romance, medieval events, and historical stories.
When you first visit her page, you can immediately see that her audience is fascinated by medieval themes.
She keeps up with the Facebook formula: regular posts about release dates, book giveaways, and other thematic meetings that impact reader awareness. 
Undoubtedly, this is a fantastic example of a classic Facebook author page.
David B Lyons

Some of you may know David B Lyons as a famous journalist. Indeed, he excelled in this field, and he has received many awards. 
But, today, many know him as a best-selling author who has become famous worldwide.
His main specialization is psychological thrillers, and his first book, Noon, reached the highest standard. 
His Facebook page is an excellent example of how well he handles not only the writing part but also the marketing part.
For example, he has a unique map with marked countries where his books are sold.
You will also find a giveaway of the book with his signature in exchange for a review on Amazon. 
Also, he often publishes posts and polls where he communicates with his audience. This helps to establish close and trusting relationships with readers.
Simple and ingenious.
Vi Keeland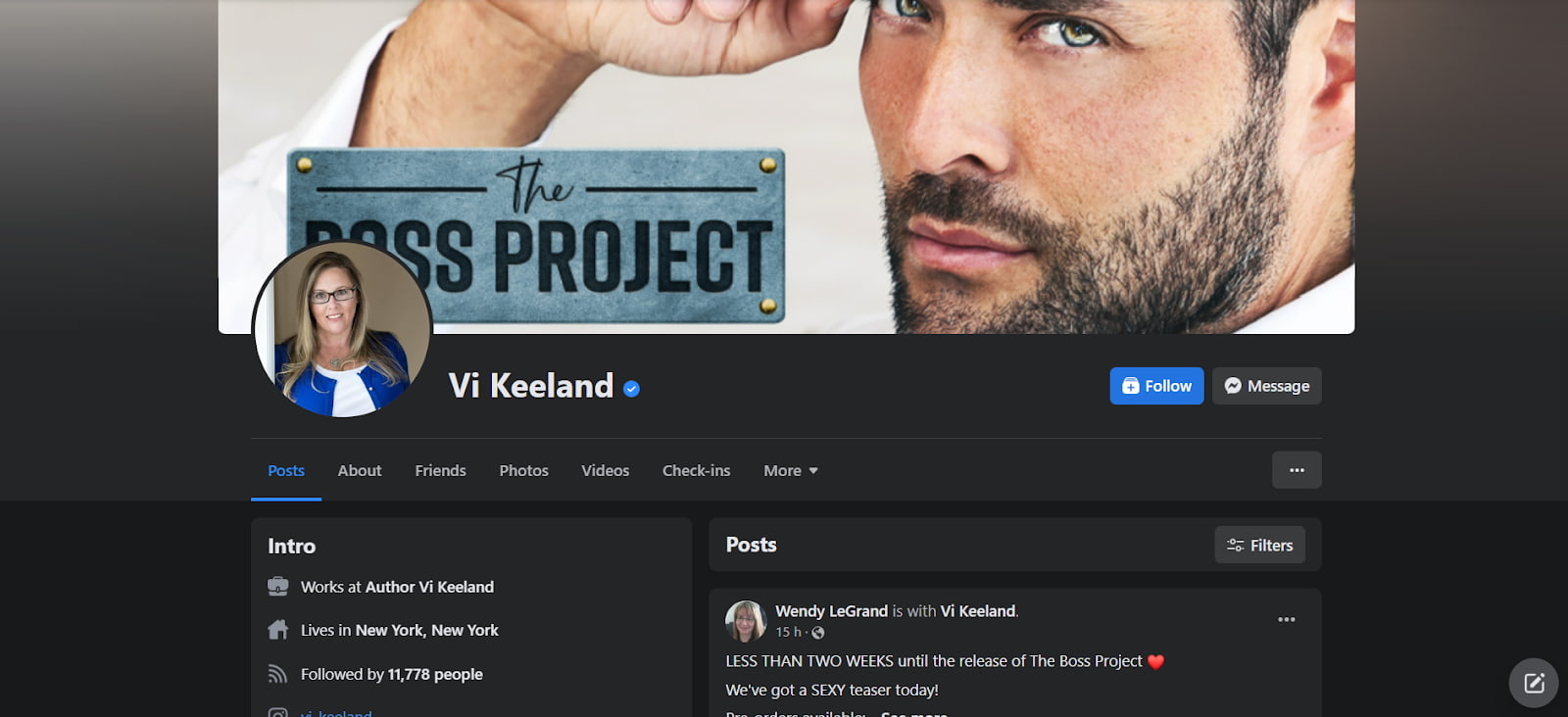 Quite remarkable is the author's page of the American writer Vi Keeland.
She's a world-famous American writer whose books have been translated into many languages. 
Vi's novels have become USA Today and New York Times bestsellers. And some of her stories, such as The Merry Mistake and Dry Spell, were turned into movies.
Vi is now focused on promoting her new book, The Boss Project. This is showcased through her many posts on her Facebook page. 
Also, she actively shares links to her books and notifies about sales on Amazon. 
This is an excellent tactic when you wish to get your book noticed on Amazon.
If you're wondering how to promote your novel through the author's Facebook page, check out Vi Keeland's page.
Mark Dawson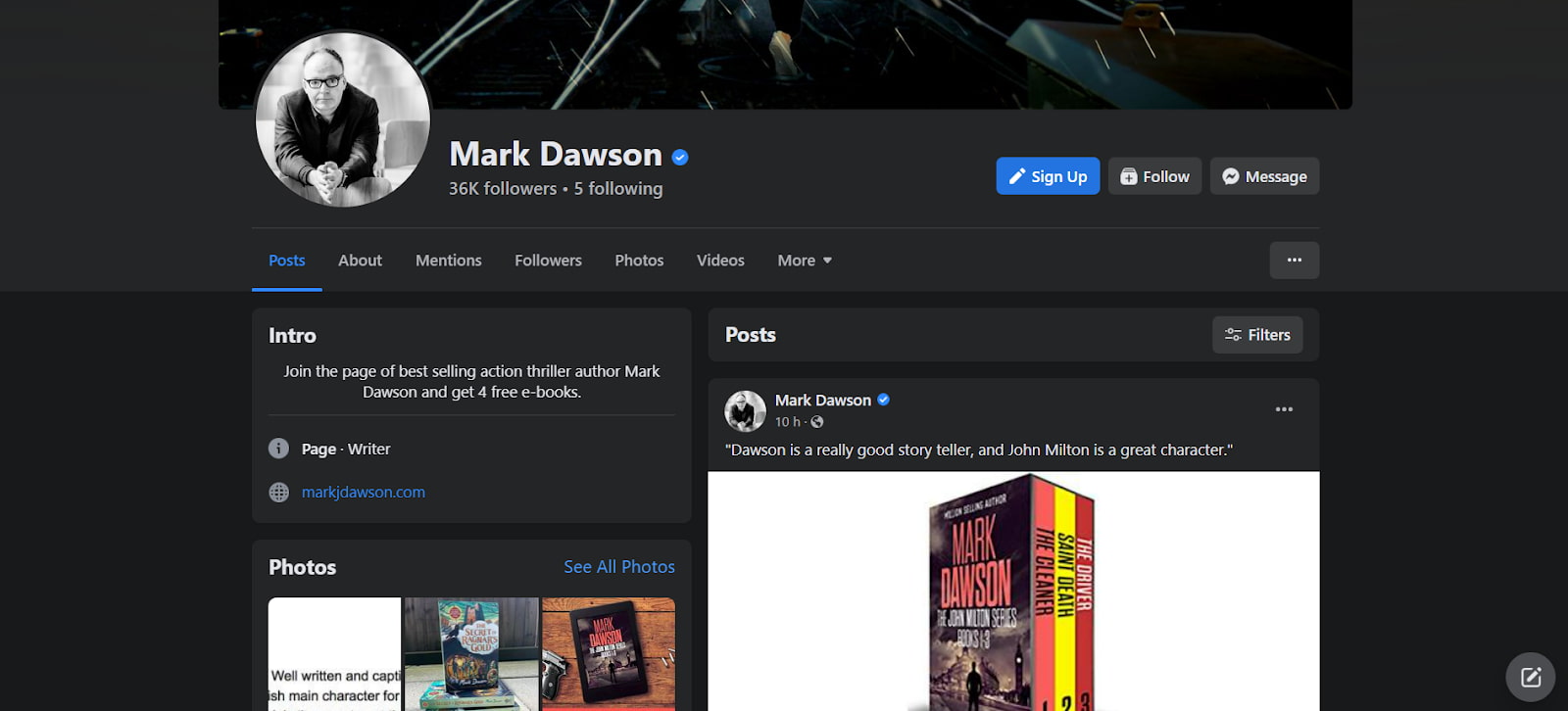 Mark Dawson is a well-known English author.
In the past, he was a lawyer. But later, he chose a career as a writer. And now Mark is self-publishing. 
He won tremendous popularity due to a series of sparkling thrillers, John Milton, which he often mentions on his Facebook author page,
Mark regularly publishes news about his books' release and shares links to resources, such as Amazon or his website. 
In addition, he often posts various little quotes from famous authors: Hemingway, Nabokov, Shakespeare, and others. 
Plus, the author shares the feedback from his readers with his Facebook fan base.
To make everything even more valuable, he hosts a podcast called the Self-publishing Formula. So, if you're interested in self-publishing, make sure to check it out.
Wrapping Up
While Facebook has always been an excellent social media platform for sharing content, it can be used as a powerful marketing tool. 
Creating an author page is a great way to build your brand and help position yourself as an expert self-published author. 
I hope this article was helpful, and you're going to create that author page on Facebook to share your process and success story with us.