New Features and Upgrades to Better Manage Your Author Business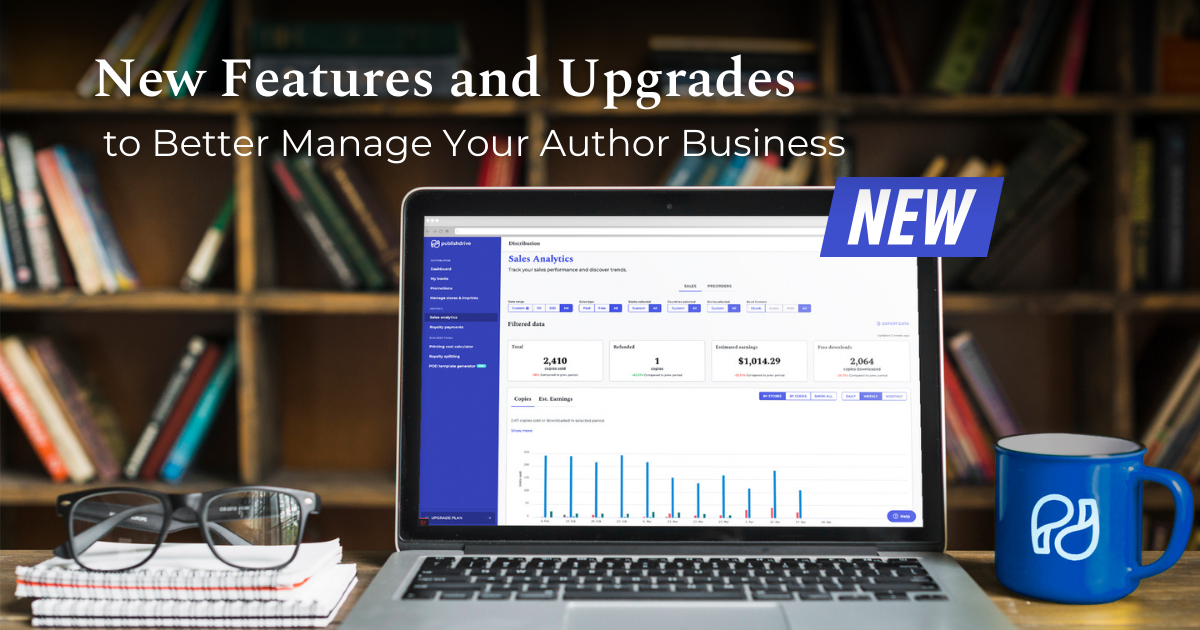 At PublishDrive, we're on a mission to make the business side of your author career as simple and effective as possible. Today, we're happy to announce some new upgrades and features on our platform that are aimed to do just that.
We've upgraded our menu and integrated a tutorial to help you navigate the platform better and to get the most out of our features. Your sales analytics and reports are now easier to read than ever. And, additionally, we've enhanced our Help Center so that you see the articles you need the most.
And because your role as an authorpreneur isn't finished as soon as you publish a book, we've created the Sales Events feature inside of our platform to assist you in booking marketing promotions with many of our vendors where your books are sold.
Let's start with the new Sales Events feature.
Sales Events
Currently, there are several different ways to use PublishDrive features to market your book:
Featuring

– Our merchandiser, Fruzina Sugar, works with the retailers to submit books for their in-house promotions. You should receive emails for these opportunities if you have eligible titles.

Price Promotions

– Set your own price drops to run a sale or to coordinate with other types of advertising, like a BookBub Featured Deal. Look under the "Advanced Promotions" header on the Promotions tab.

Written Word Media Partnership

– Book an ad at FreeBooksy, Bargain Booksy, or other list-based email advertisements through our partnership with Written Word Media. Click on "Drive Book Sales" under the Promotions tab in your dashboard.

Social Media

– Send us a note through this section on the Promotions tab about your new releases and sales. We pick titles to feature on our social media channels as time and space allow.

Amazon AMS Ads

– Run AI-enabled Amazon ads if you publish to Amazon through PublishDrive. Look under "Paid Promotions" on the Promotions tab.
And beginning today, we have Sales Events available in the Promotions tab.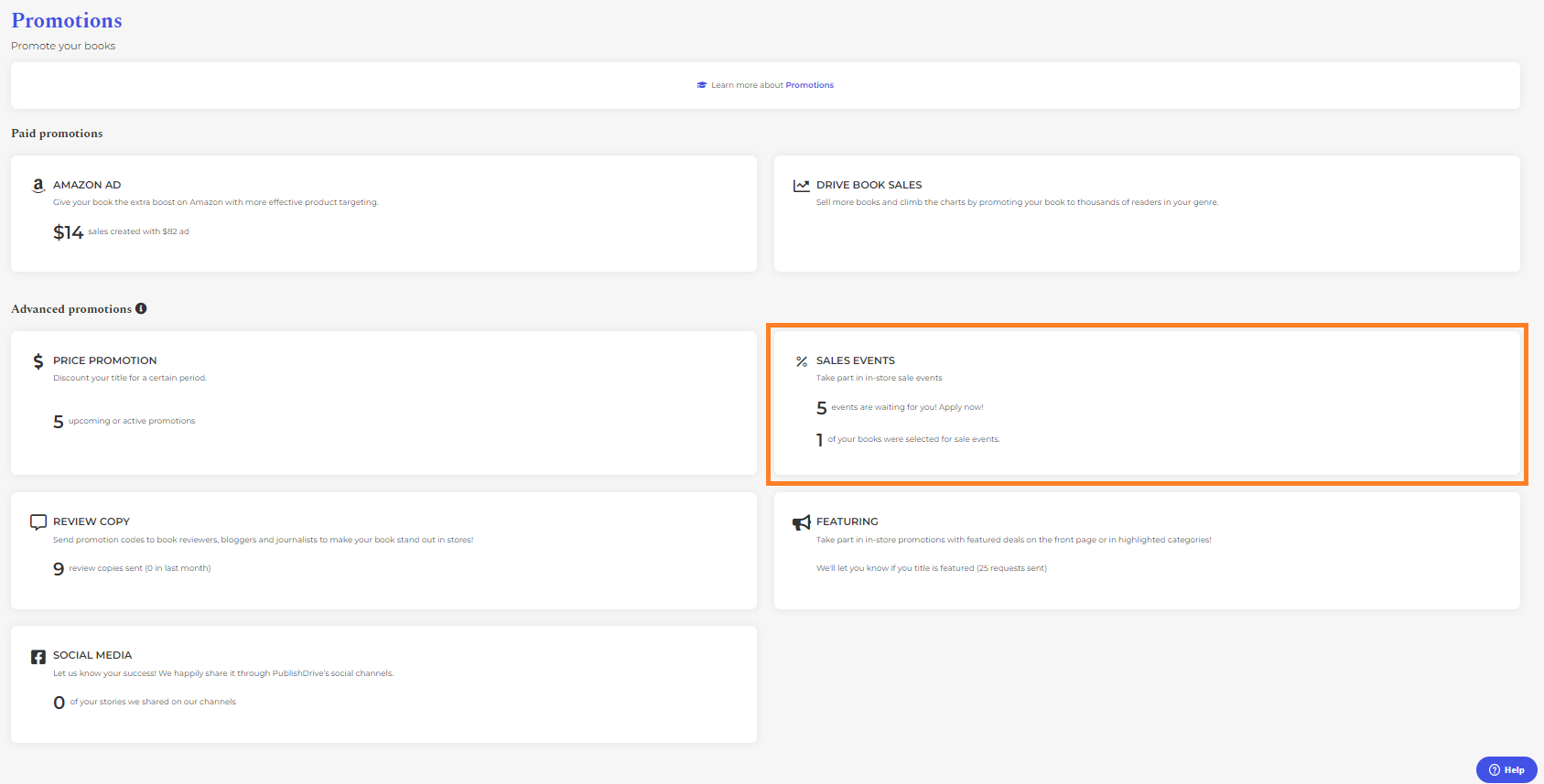 Sales Events will allow you to see the various in-house promotions which are available at many of our retailers.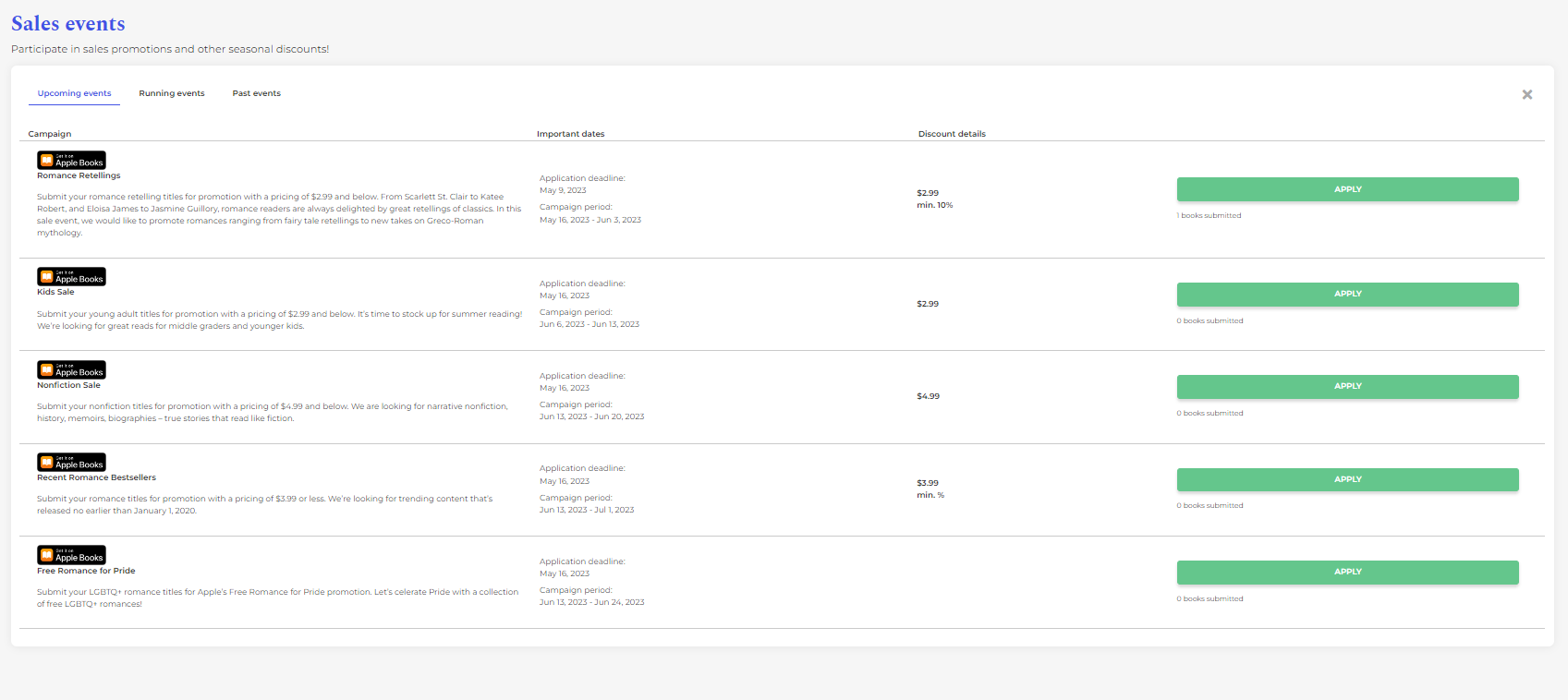 Here are some differences for Sales Events from the other types of marketing already available through PublishDrive:
Featuring promotions don't necessarily have a price change associated with them. 

Sales Events are a promotion based around putting titles on sale, so a discount or price change is required throughout the duration of the promotion.
When you log in to the Sales Events feature, you will see the following:
The logo of the store where the event is happening

Event title and description

Application period

Campaign period (campaigns will always start after the application is closed, most begin to run about a month later)

Discount details - maximum price allowed and minimum discount required is displayed.

Books eligible for a Sales Event will be noted with a green icon. Books ineligible for a particular Sales Event will also be noted, this time with a red icon. Keyword or category mis-matches will be the most common reasons for ineligibility. Many of these promos will be for certain types of titles or have another relevant theme.
If your book is eligible, simply follow the steps within the dashboard to apply.
Authors will be notified of their acceptance in a Sales Event via email. They will receive another email when the promotion goes live.
Sales Analytics
There's nothing more fun as an authorpreneur than watching the sales reports add up. That's why PublishDrive has given our Sales Analytics dashboard a new look. We want to make it easier for you to find the data you need to run your business.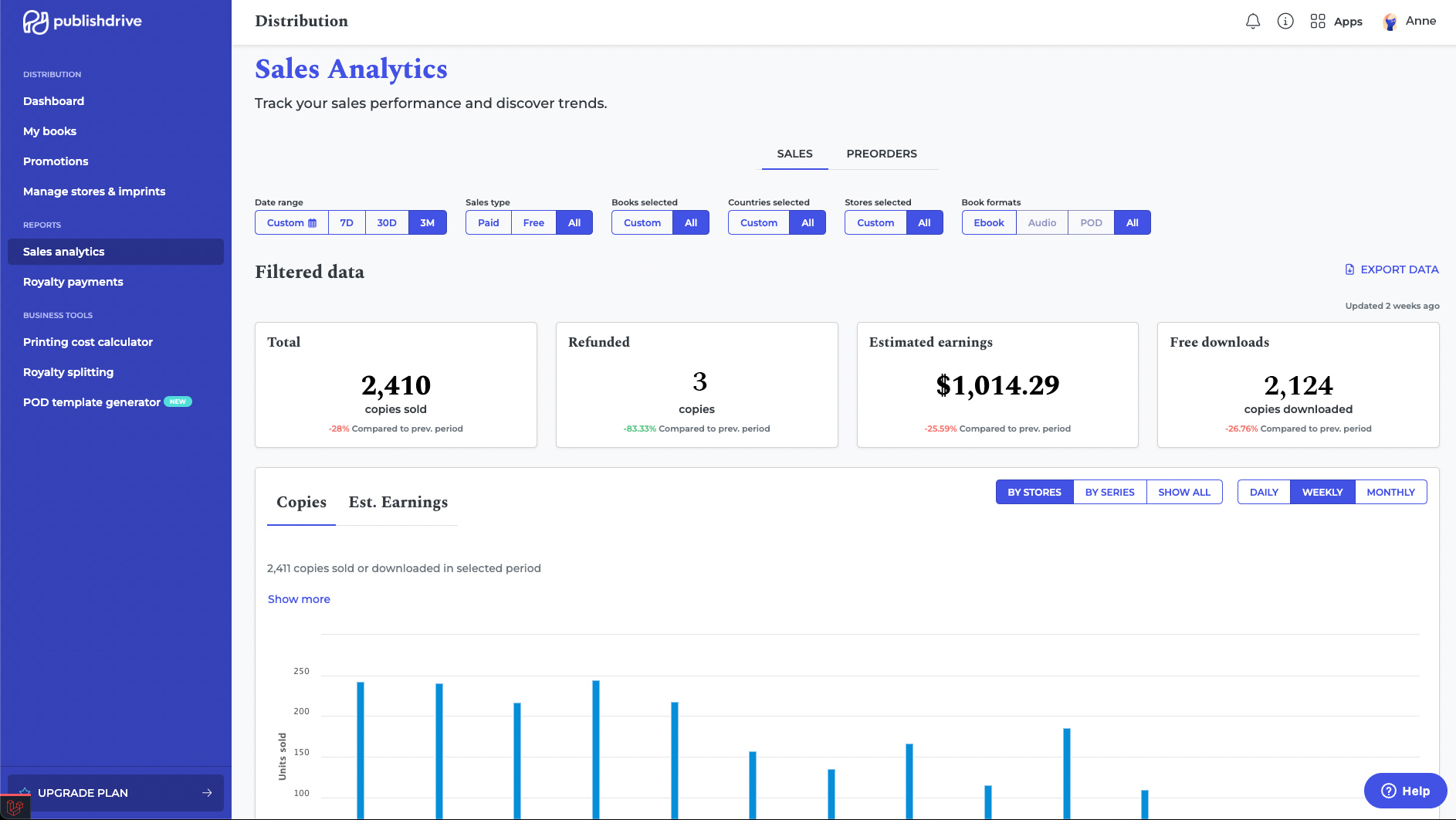 You can now filter by date, sales type (free or paid), book, series, countries, stores, and formats. Additionally, you can see data for both sales and preorders.
You can filter earnings by stores or by series and display those results daily, weekly, or monthly. You can even look at your best-selling titles and series and see the countries where you're making sales and connecting with readers.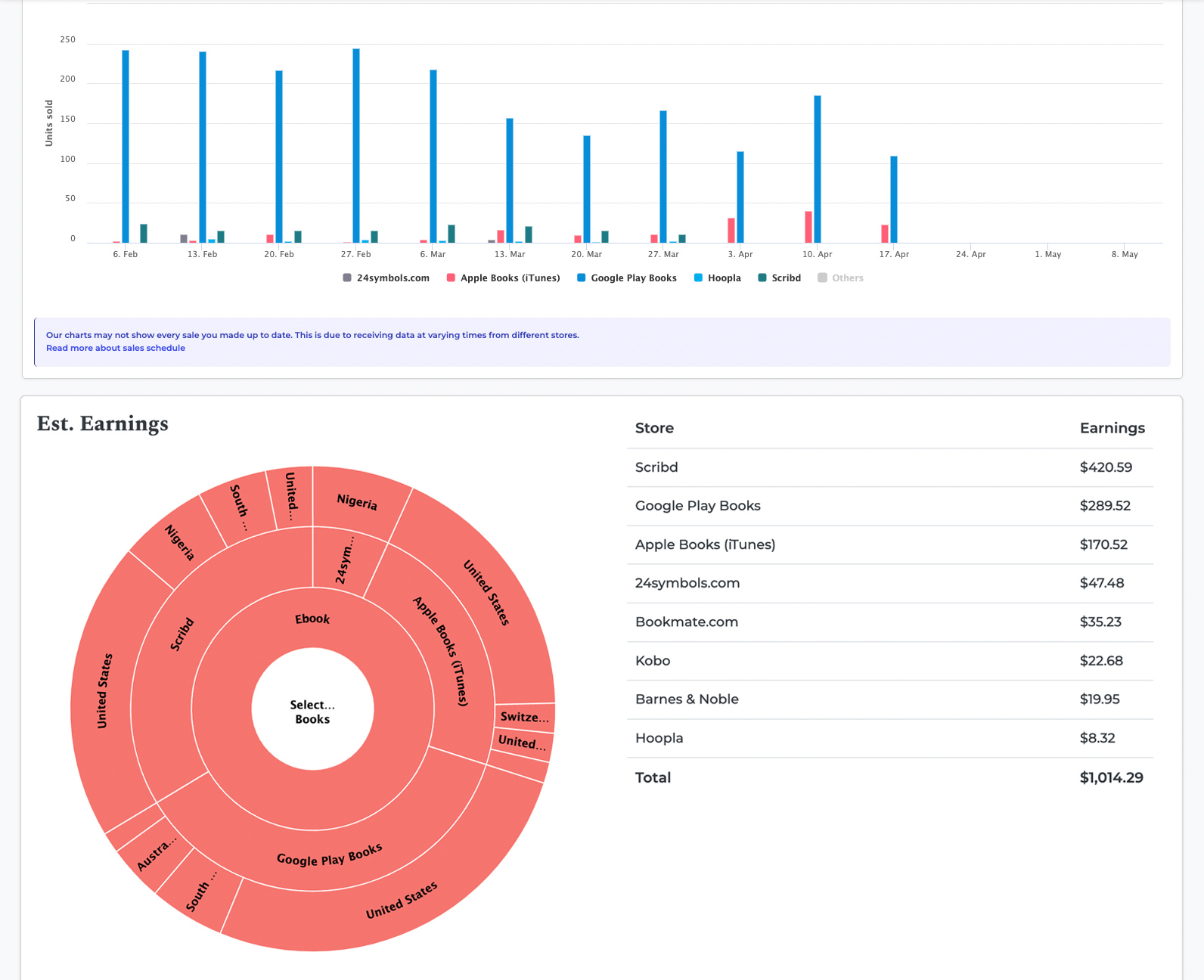 Note: Our charts may not show every sale you made up to date. This is due to receiving data at varying times from different stores. You can check the payment frequency of each store if you go to Sales Analytics and click on Read more about sales schedule under the Copies and Est. Earnings chart.
And when you're ready to download reports, you can get an Excel file at the click of a button. You'll be able to keep track of the following categories:
Sale date

ISBN

Author

Title

Series

Transaction type

Quantity

Unit price

Unit price currency

Royalty unit price

Royalty unit price own currency name

Royalty unit price in own currency

Royalty unit price currency

Customer rate

Store

Country of sale

Book format

Adult content

Royalty unit price USD

Royalty all USD

Royalty all currency

Printing cost USD
New Menu and Tutorials
We've been studying where our PublishDrive authors go on our website, what they're looking at, and what tools they're using the most. We've taken all those observations and re-imagined our Menu once you log into your account so that we can make your PublishDrive experience simple. As your publishing partner, we know how important it is to get you the tools and information you need to run your author business.
For those of you who also have an Abacus account with us to handle royalty splitting with partners and co-authors, you'll now be able to toggle between two separate menus–this will keep the screens separate and cleaner within either the PublishDrive Distribution or Abacus product experience.
We've updated the help menu and made it easier to find, so you can always get the right information or contacts you need to answer your questions.
Plus, we've created a straightforward six-step tutorial to help you best use the site. We have created a web-based version and a mobile-optimized version of these aides, so you can work from wherever you are with whichever tools you have available.

Our team has been hard at work to make your PublishDrive experience even better. Thank you for choosing us as your publishing partner.