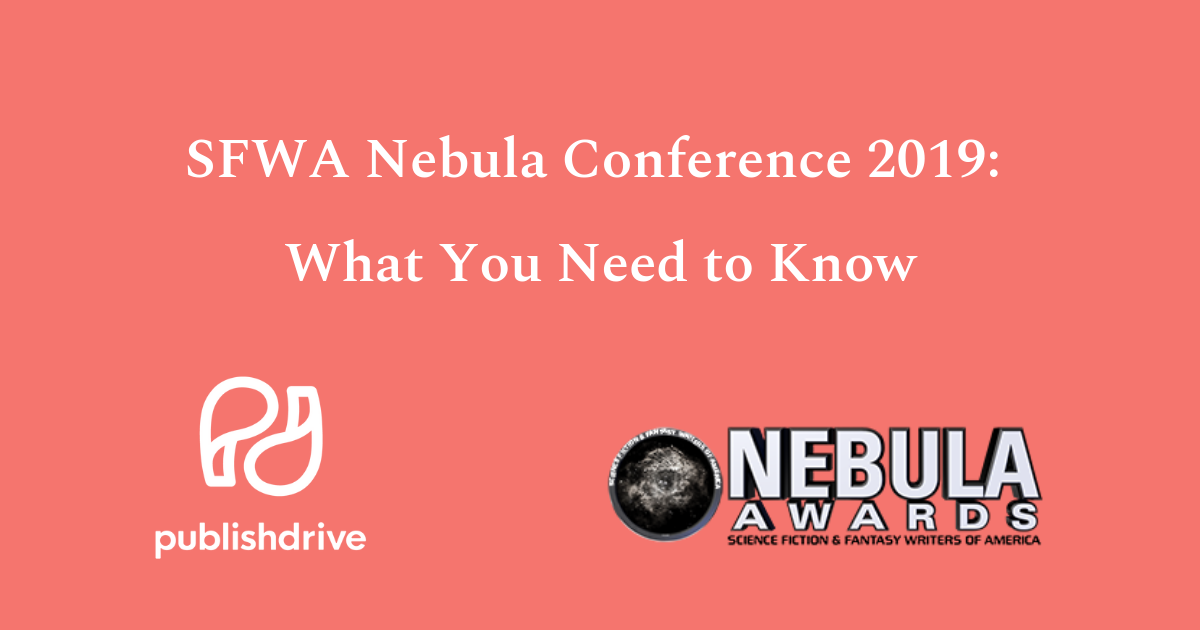 The Science Fiction and Fantasy Writers of America's 54th annual conference and Nebula Awards ceremony is just around the corner — and it's SOLD OUT!
If you've got your ticket, great! If not, it might not be too late. According to the conference site, you can reach out to the SFWA Events Team at events@sfwa.org to be notified when additional tickets are released. Visit herefor more info.
For authors who are new to speculative fiction writing and have not yet joined a writing group or a formal writing organization, now is a good time to consider SFWA. SFWA is a non-profit membership organization that has been around since 1965, "empowering authors" and supporting and spreading the news about the genre "in the United States and elsewhere".
If you're headed to the SFWA Nebula Conference in 2019, check out our quick overview of the highlights and what we're looking forward to this year.
What is the SFWA Nebula Conference?
SFWA's year-long efforts on behalf of the speculative writing community culminate in a yearly, 4-day conference open to all. The event offers opportunities for aspiring and debut authors to pair up with established authors for help and guidance. There is also a full schedule of educational panels and presentations on nearly every aspect of the writing life:
Can You Quit Your Day Job? (PublishDrive's CEO Kinga Jentetics speaks on this panel and otherhttps://admin.publishdrive.com/registers!)
Worldbuilding in KidLit
Now What? Emerging Writers Discuss Life After Their Debut
and so much more
What We're Excited About This Year
We're looking forward to these educational panels and presentations featuring the leading voices of the genre:
Ever-popular, bestselling author John Scalzi will teach you something while making you laugh out loud in: Genre Snackdown!, a panel about writing and snacks.
Hugo Award-nominated Tor editor Diana M. Pho (see her manuscript wishlist) will moderate: Navigating as "Gatekeepers" of Publishing: Agents and Acquisitions Editors Discuss the Dangers of Being in a Position of Power.
Rule-breaking publisher Tor.com sends senior editor Lee Harris to school you in his presentation: Catalog Copy Dos and Don'ts: Copy Is Not A Blurb, Learn Your D*mn Terms!
Publishing partner PublishDrive will open your eyes to the world of self-publishing and how to reach a global audience.
Get some one-on-one time during Office Hours. High-profile authors, editors, agents, and others share their expertise in intimate meetings about contract law, brainstorming sticky plot points, world-building dilemmas, how to set up book tours, and more.
These are just a few of the MANY essential and career-enhancing topics being discussed at this year's event.
The Nebulas!
Another significant part of the SFWA conference is the famed Nebula Awards, given each year by the organization for the very best work in the genre. The categories include Best Novel, Best Novella, Best Novelette, and more.
The Nebula Award has been referred to as the "Academy Award" of the genre, and winning one can dramatically change the course of a writer's career.  In addition to increased sales, authors who win this award have more opportunities to sell the rights to their work for film, TV, and audio.
The nomination, voting, and final award processes are an impressive effort by the org's members and they work hard all year on what, in my opinion, is a herculean task – considering all of the great work being published.
Find Your Peeps
"A long time ago, in a galaxy far, far away", when writers of various genres realized that the mainstream media was not going to cover their work in any significant way, a few intrepid writers, editors and genre enthusiasts figured out that if the work they love was ever going to get treated seriously and thrive, they were going to have to do something about it.
In SF/F's case, this conference, these awards, and this group of supportive and incredibly talented people have created an environment in which to "live long and prosper" and help each other to keep doing what they love.
So find your peeps, join a writers group, join a genre org, and get the support you need to keep writing.
Meet the PD Team at the 2019 SFWA Nebula Conference
The PublishDrive team is attending this year's SFWA Nebula Conference, and we'd love to meet!
Who is Attending?
Kinga Jentetics (CEO), Adam Woods (VP of Business Development & Author Coach), and Phyllis Azar (Relationship Director) will all be present throughout the conference.
PublishDrive will also host a lunch on Saturday, May 18 from 12:30 p.m. – 1:30 p.m., so be sure to stop by!
Presentations by PD
Kinga Jentetics will be giving a presentation about PublishDrive on Sunday, May 19 at 10:00 a.m., and she will be speaking on two panels:
"Can You Quit Your Job?" – Friday, May 17 at 5:00 p.m.
"Shifting to Hybrid from Trad" – Saturday, May 18 at 10:00 a.m.
If you're attending the 2019 SFWA Nebula Conference as a new author, definitely reach out and chat with us. We'll show you how to publish and distribute your ebook to hundreds of online stores worldwide, including major retailers like Amazon, Barnes & Noble, Apple Books, Google Play, and Kobo. We also have a free ebook converter to make the process simple and accessible to all indie authors.
Want to get started today? Sign up for free and we'll help you take the next step to becoming a published author.