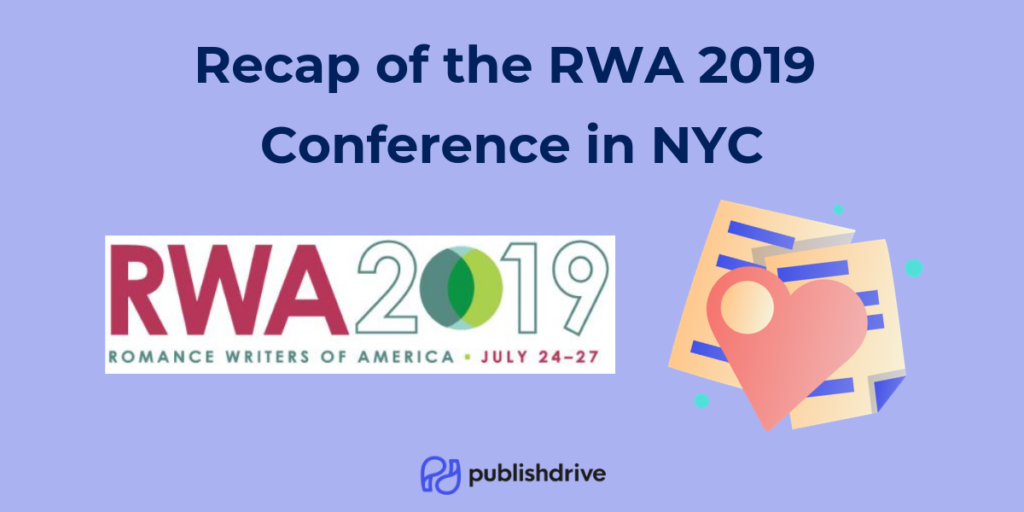 The PublishDrive team just wrapped up a week at the Romance Writers of America conference, which was held in NYC from July 24 – 27, 2019.
Every year, the Romance Writers of America holds a conference for career-minded romance authors. It draws a diverse crowd, from high-profile traditionally published authors to newbies just finishing up their manuscript.
For romance writers, it's one of the best conferences in the industry. You can expect:
Networking opportunities
Educational panels and tools for professional development
Interaction with industry professionals, such as editors, agents, vendors, and more.
If you missed RWA 2019, we've got you covered. Our recap will cover the highlights of the conference and share our insights gained from meeting dozens of authors.
Publish Globally With PublishDrive
P.S. PublishDrive gets you into thousands of bookstores. It's free to sign up and try it out:
What is RWA?
Before we dive in, you might be wondering what RWA is, especially if you're new to the genre. Romance Writers of America is a non-profit trade association whose mission is to "…advance the professional and common business interests of career-focused romance writers through networking and advocacy and by increasing public awareness of the romance genre."
RWA is a fantastic organization to join if you want to get serious about earning a living from publishing romance novels. There are more than 100 chapters across the United States and a handful of international chapters. (There are even online chapters!)
RWA chapters typically hold meetups once a month. Members can listen to guest speakers, network with others, get involved with events, and chat about the ups and downs of publishing romance. Find a chapter near you!
RWA 2019 Recap
Workshops and Panels
Attending conferences like RWA is a great way to get direct insight from industry pros, and stay up to date with trends in romance publishing. As many authors know, the self-publishing landscape changes rapidly. Tactics that worked last year might no longer be effective, which is why conferences like RWA are so important for helping authors stay abreast of these changes.
RWA 2019 had a host of workshops and panels, such as Anatomy of a Best-Selling Book Launch with Skye Warren, Anatomy of a Scene with Lisa Cron, Building Your Author Brand with Laura Kaye, and much more.
Speakers covered nearly every topic of the publishing process, from polishing up your manuscript to working with the media.
Industry Trade Show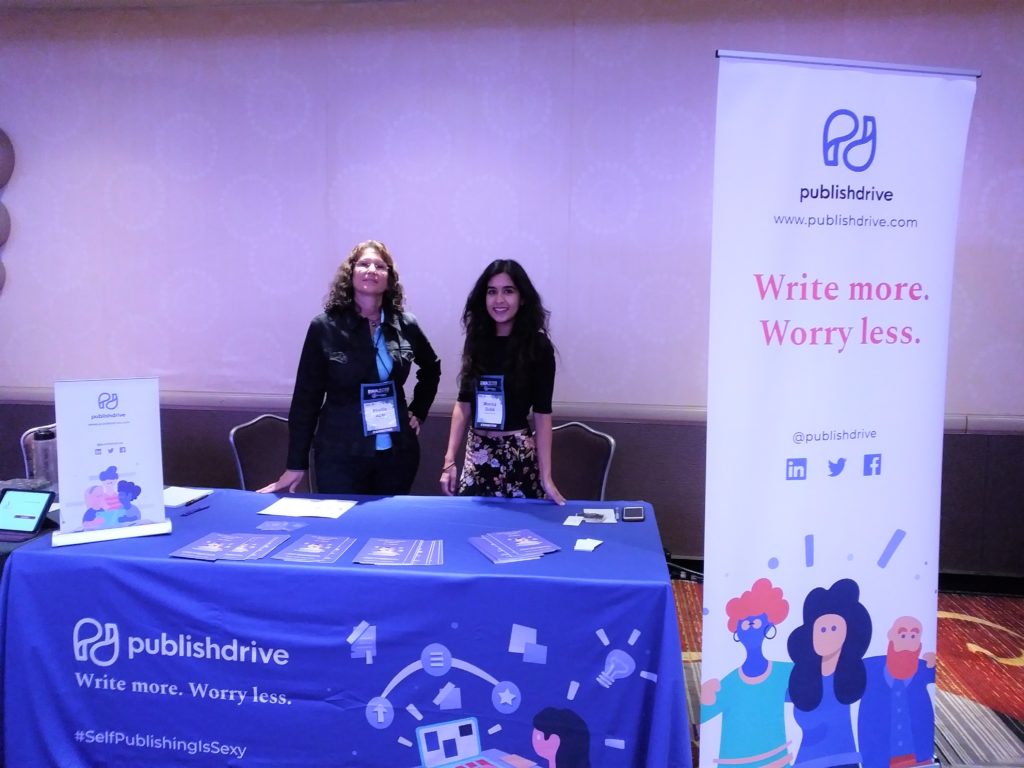 Phyllis Azar, relationship director (left), and Monica Dubé, writer and communications manager (right).
RWA also held a trade show, where authors could connect with industry professionals, self-publishing services, editors, beta reader resources, and more. At the trade show, our team had the pleasure of meeting romance authors from all walks of life.
After speaking to authors during the trade show and meeting with them individually in between sessions, I gained more insight into their pain points:
Marketing and Connecting with Readers
Marketing is a struggle for many authors, whether they're traditionally published or self-published. Most of the authors I spoke to practically recoiled at the mere mention of the word "marketing." And as a self-published author, I totally get it.
I spoke to Tere Michaels, author and marketing director of BookLoversCon, and she perfectly summarized why today's authors have trouble with marketing:
"Since physical bookstores have closed, the market is more fragmented. The 'Super Readers' still have the money to spend, but they don't know where to spend it. Before, they could chat with their local bookstore clerk who knew exactly where to point them. Now, they have to sift through endless websites and apps, and they still might not find what they're looking for."
This becomes even more apparent for those who write in niche subgenres. At PublishDrive, we've been working hard to bridge this gap between authors and readers.
Our built-in Amazon advertising tool gives authors a user-friendly way to boost discoverability in a crowded market. Our free marketing options also give authors the opportunity to secure in-store featured positions at top retailers to reach new readers.
Learning How to "Go Wide" After Being Exclusive to Amazon
Several authors I spoke to were either in the process of going wide, or at least seriously considering it. (Learn more about the pros and cons of going wide vs. being exclusive to Amazon).
After authors leave KDP Select/Kindle Unlimited, they're confronted with the fact that their wide audience is a completely different readership. As a result, this requires a different publishing and marketing strategy.
I pointed many authors to Susan Kaye Quinn's very effective strategy, (which is included in our list of self-publishing resources), for taking a series wide. She essentially treated it as a brand new book launch, with new covers, stacked promotions, and ads.
The results? It only took a few months for her to gain serious traction. And her overall income from the series went up by a whopping 700%.
RITA Awards!
One of the most exciting nights of the annual RWA conference is the RITA awards ceremony. The RITA is the highest award of distinction in the genre, so winning one can drastically influence an author's career.
Here are this year's RITA winners:
Contemporary Romance Long: Long Shot by Kennedy Ryan
Paranormal Romance: Dearest Ivie by J. R. Ward
Young Adult Romance: My So-Called Bollywood Life by Nisha Sharma
Historical Romance Long: A Wicked Kind of Husband by Mia Vincy
Romantic Suspense: Fearless by Elizabeth Dyer
Erotic Romance: Three-Way Split by Elia Winters
Mainstream Fiction with a Central Romance: How to Keep a Secret by Sarah Morgan
Best First Book: Lady in Waiting by Marie Tremayne
Romance Novella: Bad Blood by M. Malone
Contemporary Romance Mid-length: Advanced Physical Chemistry by Susannah Nix
Historical Romance Short: A Duke in the Night by Kelly Bowen
Romance with Religious or Spiritual Elements: The Saturday Night Supper Club by Carla Laureano
Contemporary Romance Short: The Bachelor's Baby Surprise by Teri Wilson
Of the winners, five were self-published authors! Congrats to all.
We're looking forward to next year's RWA conference and hope to see some of you there!
Publish Your Romance Novel Today!
If you attended RWA 2019 and it motivated you to finally publish your romance novel, consider PublishDrive! We can distribute your title to over 400 online stores, including major retailers like Amazon, Barnes & Noble, Apple Books, and more. And our built-in tools for marketing and co-author royalty splitting make the entire process a breeze.
Handle Everything Under On Dashboard
Streamline your publishing gig and boost sales in no time: