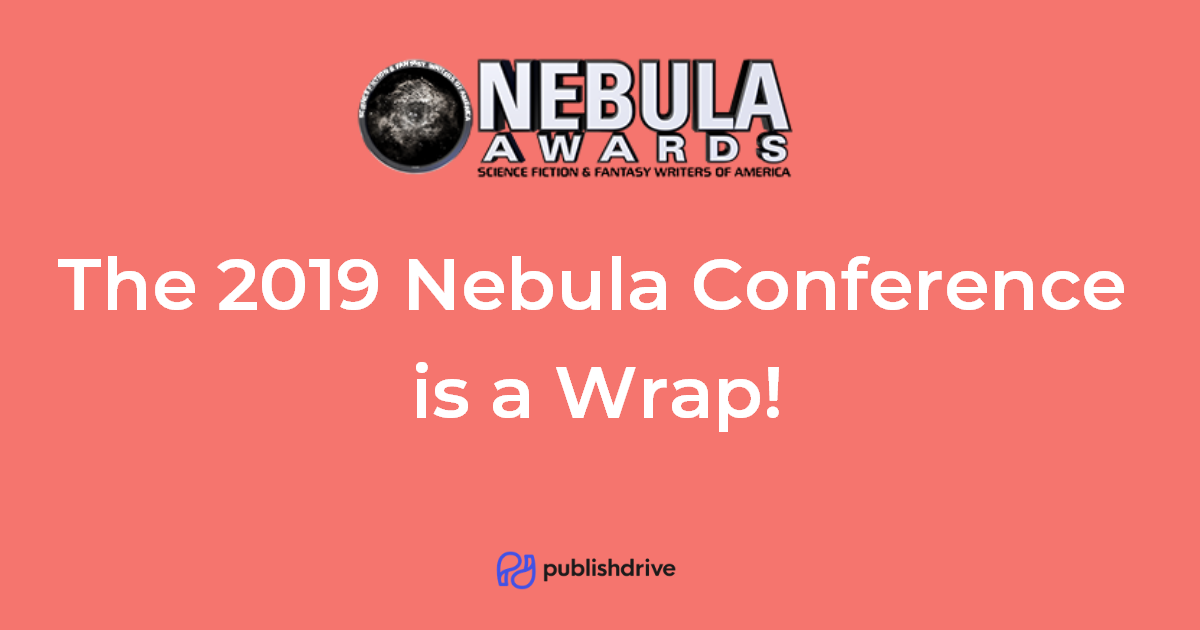 The PublishDrive team spent an amazing 4 days (May 16-19) at the Science Fiction and Fantasy Writers of America's 54th Annual Conference and Nebula Awards ceremony in Woodland Hills, California.
If you're new to SFWA, it's a non-profit membership organization that has been around since 1965. The organization is devoted to empowering authors and supporting and spreading news about the genre.
Annual conference attendance is open to authors and fans alike, and author membership in the organization is based on eligibility requirements.
If you missed the 2019 Nebula Conference, check out our recap below to see what the PublishDrive team was up to.
2019 Nebula Conference Recap
We met so many smart, friendly, and fun people. The consistent spirit of inclusiveness and openness made it easy for us to meet with indie/trad authors at all levels of their journey, from unpublished, to debut, to multi-published.
This is one of the main reasons that PublishDrive attends writer conferences — to keep up with the ever-changing landscape of the industry. Each author we talked to shared their writing journeys with us and their pain points on running their author business. The biggest pain point? Marketing.
This comes as no surprise, and that's why PublishDrive is constantly expanding our service with tools and resources to help authors write more and worry less.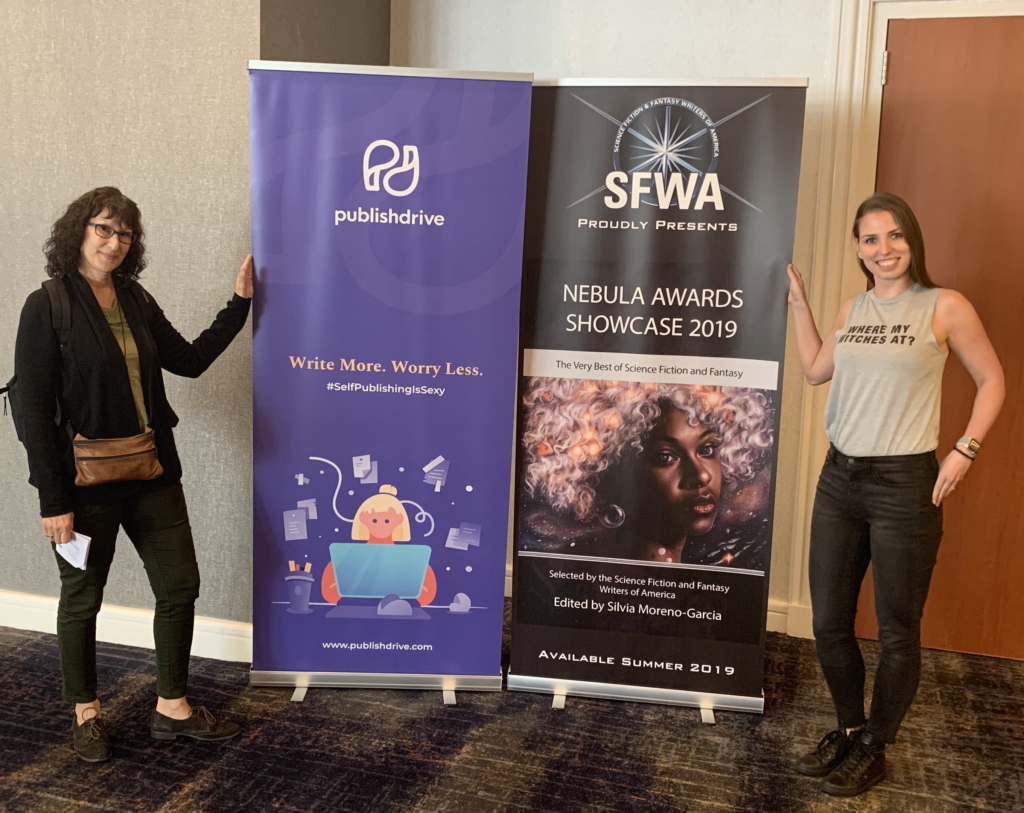 Authors Helping Authors
One of the great opportunities offered at the conference was a program called Office Hours. Aspiring authors reserved a one-on-one session with a more seasoned author to pick their brains about everything from agent query letters to plot structuring to world-building.
The sessions were held on the hotel patio in the lovely California spring weather. The authors we talked to were loving it and had signed up for as many sessions as possible during the 4 days.
Celebrity Author Sightings
Although this conference is largely attended by authors and publishers, there were a few hard core SF/F fans in the crowd as well. Imagine their glee for the opportunity to rub elbows with author celebs Connie Willis, John Scalzi, Cory Doctorow, William Gibson, and more! My personal "glee" moments were meeting Sam J. Miller, the author of The Art of Starving and discovering the talented cartoonist, Liz Argall and her new book "Things Without: Hello World," at the mass autographing event, where no less than 150 authors were there to sign books.
The Nebulas!
What a night it was!
Film has The Oscars, Broadway has The Tonys, and SF & Fantasy has The Nebulas. The Nebula awards are given out each year by SFWA.org for the very best work in speculative fiction. The categories include Best Novel, Best Novella, Best Novelette, and more.
Winning one can dramatically change the course of a writer's career. Along with increased sales, winners sometimes go on to sell various rights such as film, TV, and audio.
SFWA hosted a lovely banquet to honor the 2019 nominees and winners. The ceremony was also streamed live on YouTube for members around the world.
And the winners are:
Best Novel: "The Calculating Stars" by Mary Robinette Kowal, published by Tor
Best Novella: "The Tea Master and the Detective" by Aliette de Bodard, published by Subterranean Press
Best Novelette: "The Only Harmless Great Thing" by Brooke Bolander, published by Tor.com
Best Short Story: "The Secret Lives of the Nine Negro Teeth of George Washington" by P. Djèlí Clark, published by Fireside Magazine
Ray Bradbury Award for Outstanding Dramatic Presentation: "Spider-Man: Into the Spider-Verse," written by Phil Lord and Rodney Rothman
Andre Norton Award for Young Adult Science Fiction and Fantasy: "Children of Blood and Bone" by Tomi Adeyemi, published by Henry Holt and Macmillan UK
Best Game Writing: "Black Mirror: Bandersnatch by Charlie Brooker," published by House of Tomorrow and Netflix
You can watch the ceremony here:
Inspiration, Networking, Socializing, and More
The conference was filled with informative panels and presentations on a broad range of topics to instruct, inspire, and motivate authors to kickstart or ramp-up their writing game. A good example was "Can You Quit Your Day Job," which was led by a panel of authors who did just that, and included PublishDrive's CEO Kinga Jentetics.
Here are some of the takeaways from the panel:
Build a financial cushion: about a year's worth
Decide early on the route your writing will take and build your team: editor, designer, marketing expertise, etc.
Do a trial run by spending a vacation week or two writing full time to see how it feels
Try going part-time first and slowly ease into full-time writing
When writing full time, it's important to set deadlines for yourself to stay focused
You might find you're not writing 8 hours a day
Give yourself time to get used to the writer's life
When not writing, there's always promotional/marketing work to be done
Celebrate milestones, however small
There was so much more at the convention to explore, lots of opportunities to socialize and make new friends and connections…and even do yoga!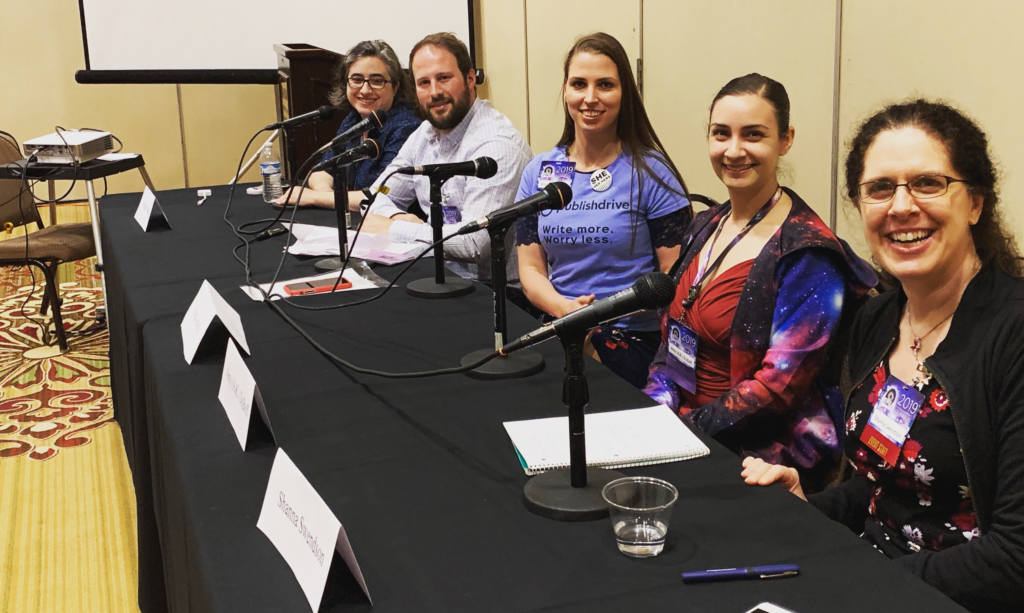 We're Looking Forward to Next Year's Nebula Conference
Next year the convention will be held around the same time, and it will be at the same location in Woodland Hills, California. Get your tickets early, as it can sell out quickly. Maybe we'll see you there!
If you attended the 2019 Nebula Conference and it gave you the inspiration to finally self-publish that sci-fi novel you've been writing, consider PublishDrive! We can distribute your title to over 400 online stores, including major retailers like Amazon, Barnes & Noble, Apple Books, and more. Sign up today to take the next step!