Book Marketing
8 Christmas Book Promotion Ideas and Strategies To Boost Your Sales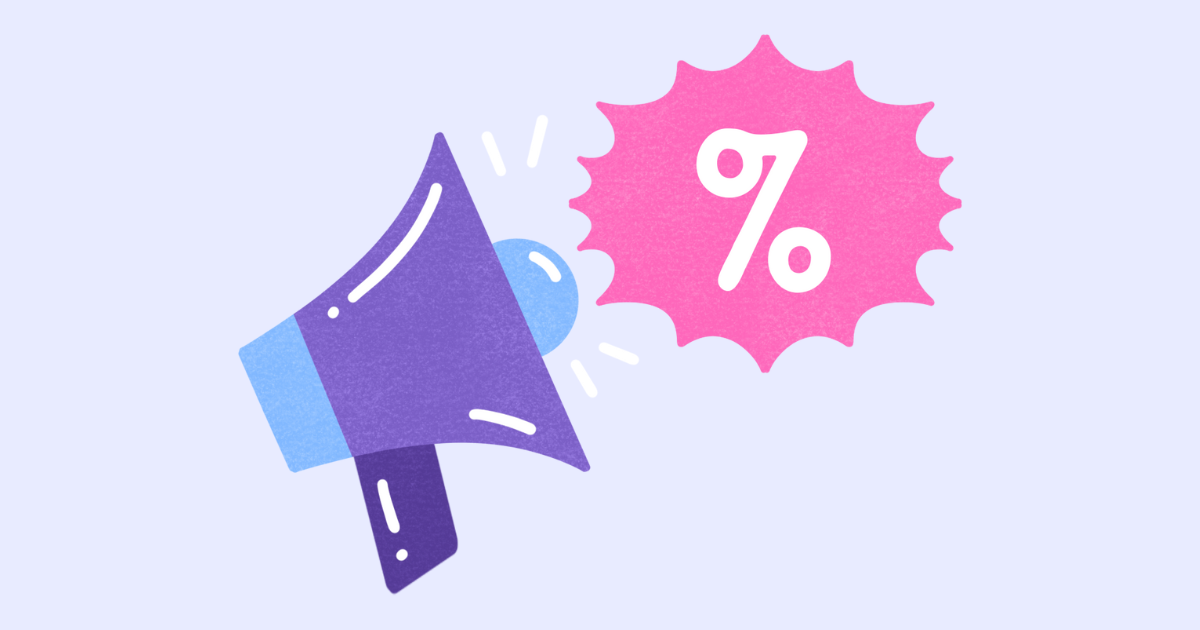 The holiday season is upon us. I know, I know, there are still 95 days until Christmas, but when it comes to book promotion, you have to get your strategy up and running way before December.
Historically, book sales increase in November, which means you have to begin your book promotional campaigns in October or even late September. 
Ready for some book sales strategies? 
A. Book Promotion Ideas and Strategies for This Holiday Season
1. Establish a book sales plan
Besides starting to plan your book promotion tactics as early as October, you need to choose the promotion types you wish to include in your Christmas strategy.
Do you want to run ads on social media or Amazon? Are you planning a special promo for a book or a bundle of books? These are all things you need to consider before starting your book promotion strategies.
Get everything ready to launch a book promotion plan that lasts from early November to early January. This will help you organize all the creatives, promotional emails, social media posts, etc., that you wish to include in your marketing campaign.
Keep in mind a few important other events before Christmas, when people look for good prices. 
Black Friday.  On this day, you can run price promotions for selected titles and send emails to let people know about them.
Cyber Monday. Same here—run price promotions and send emails that include this info.
December 20-22nd (last-minute promotions for last-minute shoppers). An excellent time to sell ebooks—the perfect gift that requires no shipping. ✨ 
2. Focus on Amazon 
Amazon was the dominant online retailer during the holidays in 2021, so you should focus your efforts on it. 
Run price promotions here, and make sure you let people know well in advance about them.
This means that before the promotion, you can:
Update your website with holiday offers and place the link to send people to Amazon.

Start warming up your followers on social media.

Send teaser emails to let everyone know there's a price promotion coming up.
3. Get in the holiday spirit and update your book descriptions 
The easiest way to let people know your book is a perfect gift that happens to be on sale is to update your book description accordingly. 
Go to Amazon and your author website and mention that your book is a Perfect gift for [and here, you should address your target audience, i.e., youngsters, parents, etc.].
4. Add visual touches 
When you launch your holiday campaign, you can also update your book covers. Take your already designed book cover and add a holiday wrap to it. Or a simple bow. 
This will visually suggest that your book is a perfect gift for anyone.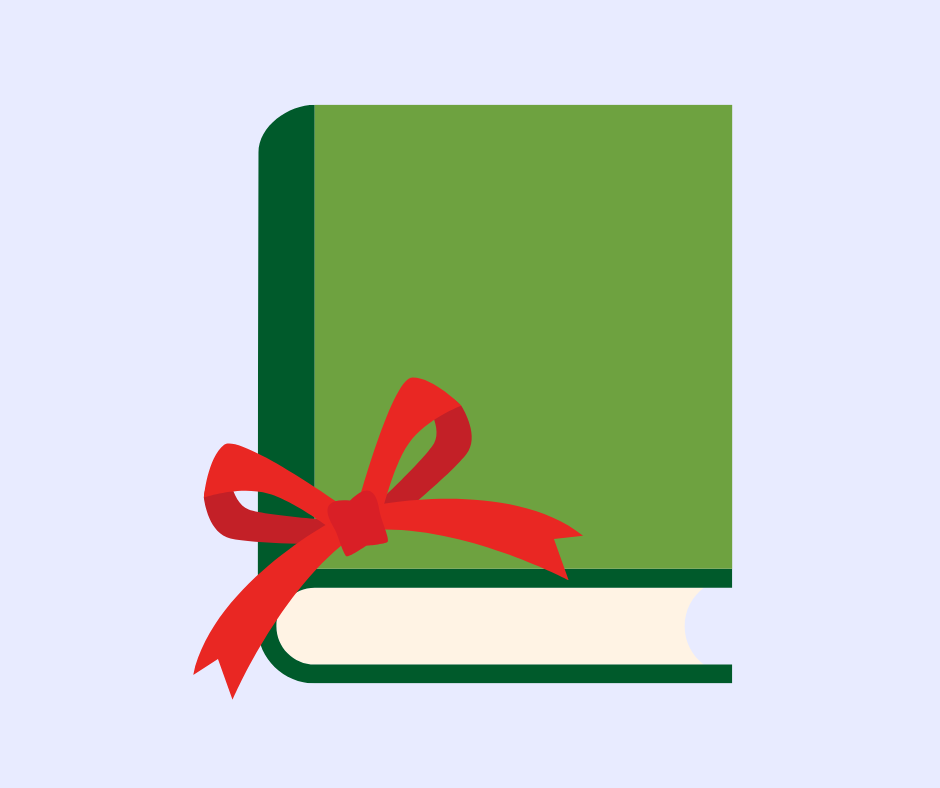 5. Send emails
A mailing list is a part of your author brand, and you can always compile it using your website or blog.
Whenever the holiday promotions start, you should use your mailing list and let people know your books are on sale. 
But if you don't send newsletters regularly and people are not used to them, you can increase the frequency of the emails—maybe one per week during the promotion period. 
6. Plan your social media posts 
Social media platforms can help your Christmas book campaign and any other type of campaign. You can tap into all the features they offer to grow your audience organically.
I know there are many things to do around this time of the year: blog posts, emails, and social media posts. And these are just the ones for promoting your books. You surely have many other things on your plate.
But the thing is, you don't have to be 24/7 on social media platforms. You can create a few visuals in advance and schedule them to get posted one at a time using a tool like Hootsuite, for example.  
When you're writing your social media post descriptions, be sure to include relevant hashtags that will boost your discoverability on platforms like Instagram or Twitter.
Besides this, make sure:
Your visuals are eye-catching enough

Your visuals are descriptive but not cluttered

Your posts have clear CTAs

Your posts have links to the store where your book is on sale
If you wish to know more about social media platforms for self-published authors, read our extensive guide on the topic.
7. Target gift buyers organically
You can mix organic content with paid advertising and target those who seek books as Christmas gifts. 
For example, if you wish to go for organic approaches, you can write blog posts on Christmas gift ideas and include your books with links from where people can buy them.
Search on Google for gift books for Christmas, books as Christmas gifts, etc., and get inspired by a few articles from the top results.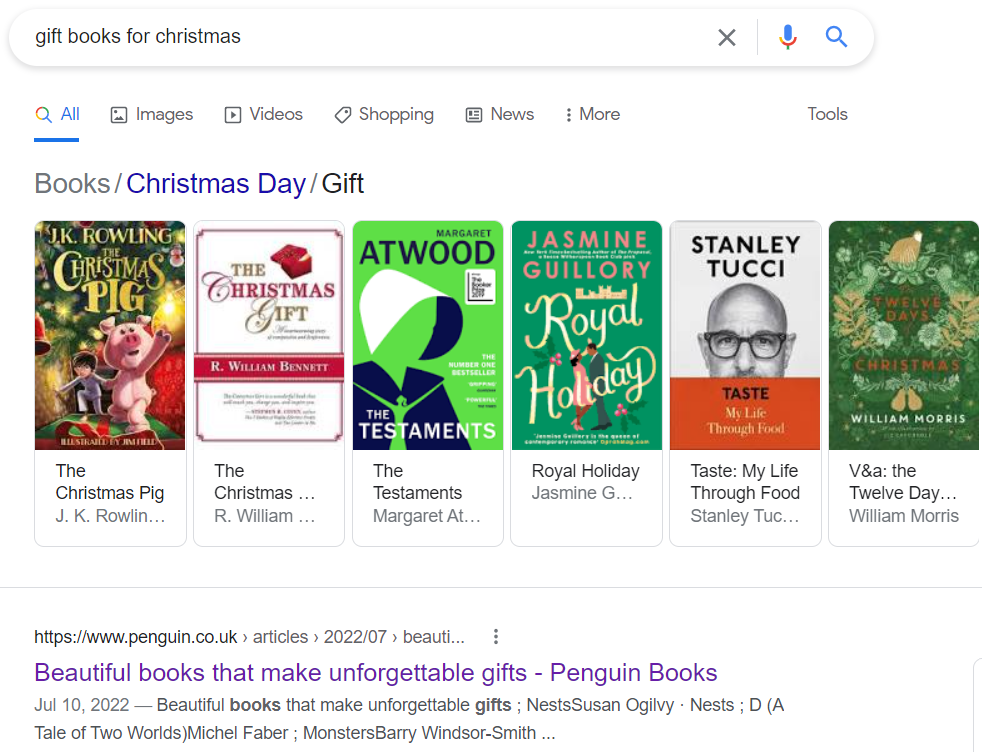 If you wish to extract a few keywords from those articles, you can use a tool like Semrush.
But if you don't have similar paid tools for keyword research, you can use free tools like Keywords Everywhere, which is a Chrome or Firefox extension.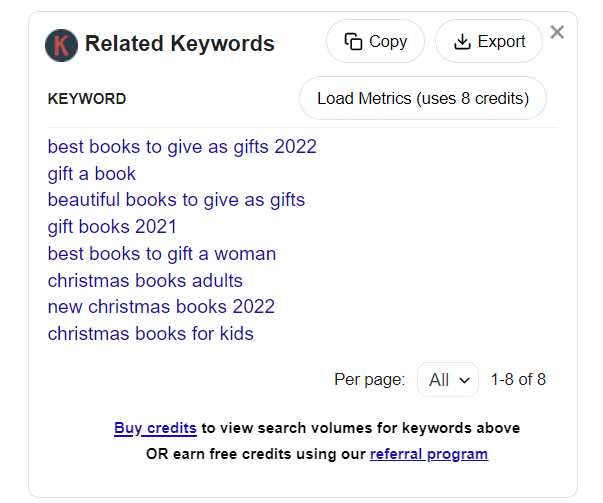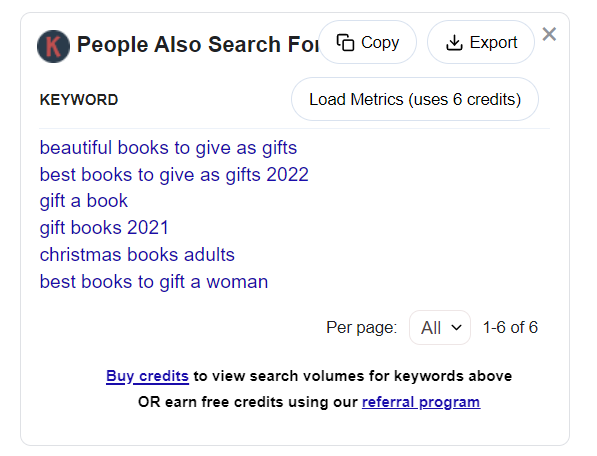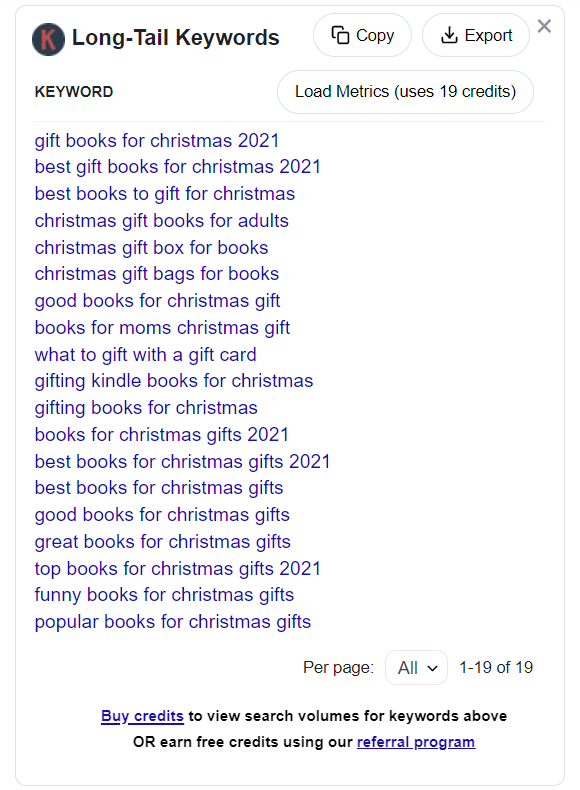 Or, after you perform one search, you can go to the bottom of the page and see the Related Searches section. Those, too, are keywords you could use.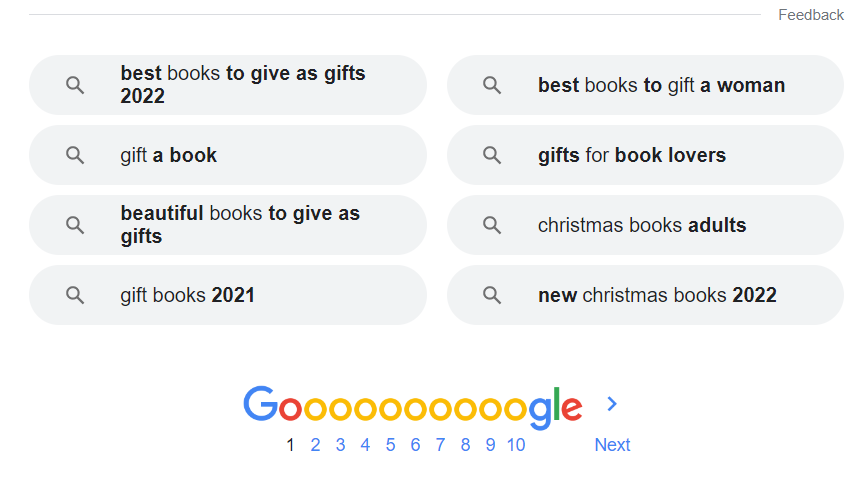 You can try a few more search variations and see the Related Searches section for even more keywords.
8. Use paid advertising
If you want to top off your organic posts with paid advertising, you can always launch display ads, social media ads, or Amazon ads and help your book get noticed faster.
The thing with ads is you can target 
fans, subscribers, followers, past buyers

but you can also target those who don't know you but might be interested in your books.
This is possible thanks to the targeting options such as demographics, location, behavior, and others, which help you address a specific audience without wasting time and money. 
Each social media platform has its ad creatives. You'll just have to see which one works best for you. 
And the good thing about paid advertising is that you control the daily ad spent. You can increase or decrease it according to your ad's performance.
B. Before You Start Your Holiday Book Promotion
So yes, getting your book promotion ready for the busiest season of the year is essential if you want them to get better exposure. But as their author, you also need to pay attention to details about yourself and your author brand.
1. Update the information on your website
Your website should always be up-to-date with whatever is happening around your books or yourself as the author.
So, if your titles are on sale, make sure you write that information on your website together with the links where your visitors can purchase them (e.g., Amazon, Apple Books, etc.). This helps you spread the word and also establish credibility for your author brand by keeping the information on your website fresh.
2. Check your reviews
Shoppers nowadays don't purchase anymore without reading a few reviews first. I bet yourself included. 
Because of this, you should make sure you have enough reviews to keep the sales going. If not, send review copies to a few readers and ask for their feedback.
To ensure they will leave a review, you can offer an extra incentive, such as a sale coupon for your next book.
C. A Few Tools to Ease Your Work
For social media
For email
For ads
Schedule and set up campaigns in your platform(s) of choice: Facebook, Amazon, Google

Or plan and schedule with a platform such as Social Pilot
For designing your ad/ post creatives 
Free keyword research
Google Trends

Keywords Everywhere
Final Thoughts
If you're a self-published author who also takes care of your book marketing, you need to think about promotion strategies that will work for your audience.
Christmas is a perfect time to celebrate, but for some, it's an ideal time to read and find moments of silence and peace. 
This means your books have even more chances to be noticed and purchased as a gift for oneself or someone else.