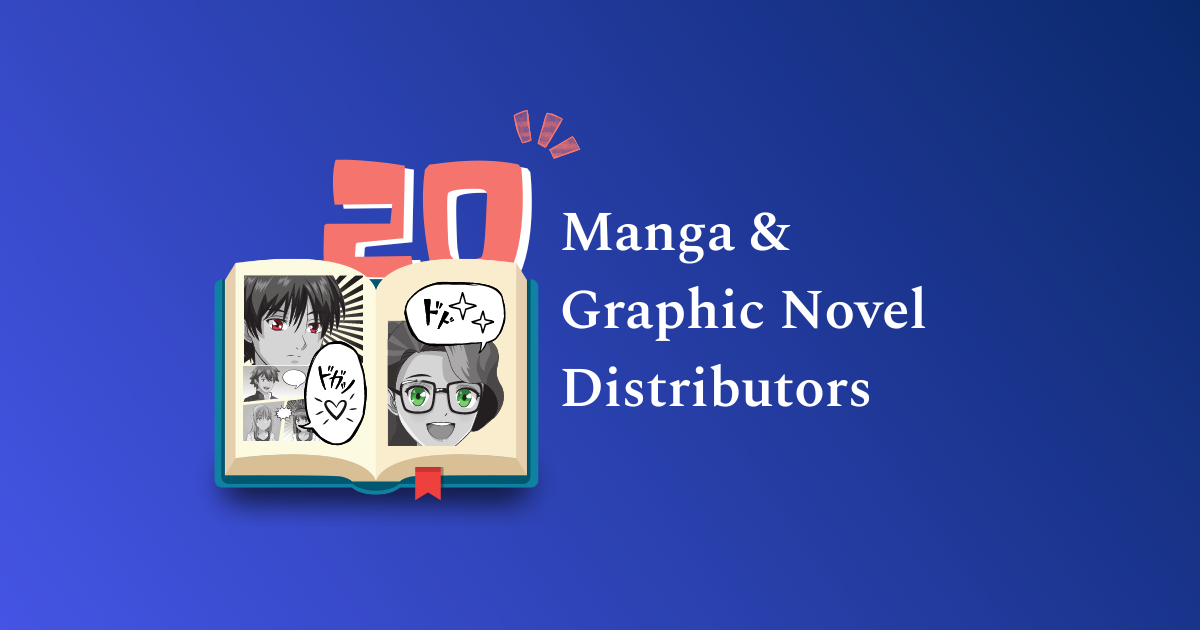 Today, people read manga comic books worldwide but the content originated in Japan.
Manga is an umbrella term that refers to cartoons and comics published in Japan, but now, you'll find manga publishing companies and manga distributors in various other countries as well.
These comics started to become so popular that in 2010, manga outsold American comics in America, according to ICV2 research.
In 2021, its popularity reached the point where manga comics began to account for more than 76% of the comic book market in the US. This is thanks to the opportunity to read manga in digital format and the anime influence on streaming platforms.
Publishing manga is part of a flourishing industry. We go over a list of the best manga publishers worth paying attention to.
Also, if you're wondering how to publish manga in America, you'll see that this list has many manga companies based in the US.
Wondering where to publish your manga?
PublishDrive offers a wide range of manga publishers accepting submissions from indie authors. Sign-up with us and distribute your graphic novel to manga publishing companies around the world.
Top 20 Manga Book Publishers
If you are passionate about comics and decide to create your manga comics, check out this selection of manga publishers below.
Read on to discover your perfect comic book publisher.
1. NBM Graphic Novels
The name of this publishing house has a direct connection to Terry Nantier. This American manga publisher became famous for his work in creating graphic novels. In the mid-70s, he desired to establish his project. 
In the beginning, there was no significant success. The series Corto Maltese and The Mercenary changed the situation by bringing the company to the American comic book market leader. 
High-quality classic reissues contributed to the achievement.
This manga distributor may be of note to you as it has an open filing policy. NBM Graphic Novels can be what you are looking for to publish your Manga comics.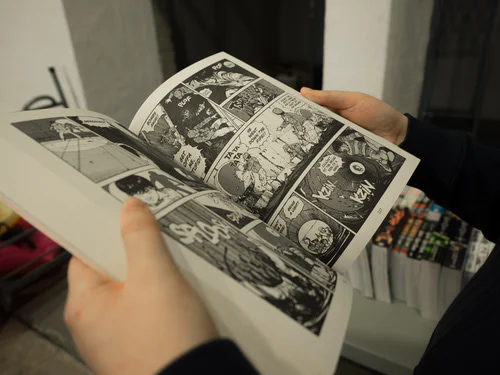 2. Yen Press
Among the American manga publishers, you'll find the young American company Yen Press, which was founded in 2006. It publishes graphic novels, light novels, manga, manhwa, and the works of its writers. 
The publishing house managed to release several hundred manga series, many of which brought huge success, such as Romeo × Juliet, Higurashi no Naku Koro ni, Akame ga Kill!, etc.
The Yen Press publishes the Yen Plus anthology magazine every month.
3. Drawn & Quarterly
This platform appeared in the late 80s in Montreal. It started as a one-issue magazine, but the efforts of publisher Chris Oliveros led Drawn & Quarterly to become one of the best manga distributors. 
For years, the publishing house distinguished itself by cooperating with Astrid Lingren, Tom Gold, Tove Jansson, and many others.
Today, it is a powerful publishing platform continuously searching for prolific manga writers. 
If this publishing house interests you, then their doors are open for ambitious authors of manga comics.
4. Dark Horse Manga
This company is a subsidiary of the large publishing house Dark Horse Comics, which received many awards for its successful activities. 
Books like The American, The Traveller, and others have contributed to its success.
Dark Horse Manga has become one of the best American manga publishers. The company has no strict genre or style requirements, so feel free to send them your comics. 
So, if you're wondering how to publish a manga in America, you can check them out.
5. Shogakukan
In 2022, the company celebrates its 100th anniversary. And over its long history, Shogakukan has contributed to the development of Japanese publishing. 
They are headquartered in Tokyo, focused on publicizing various DVDs, Japanese magazines, literary and informational products, and, of course, manga. 
The company has hundreds of successful manga, including Law of Ueki, Kiteretsu Daihyakka, Detective Conan, Mobile Police Patlabor, and others.
6. Shueisha
Shueisha Corporation's history started almost 100 years ago. It appeared in the mid-30s as a branch of the Japanese company Shogakukan. 
In the late 60s, the publishing house created Weekly Shonen Jump, becoming the most popular manga magazine in Japan and worldwide.
Today, Shueisha is looking to expand its influence beyond Japan's borders with the co-ownership of publishing house Viz Media and the previously mentioned Shogakukan.
It publishes books in both electronic and printed formats, genres like fiction, manga, comics & graphic novels, and more.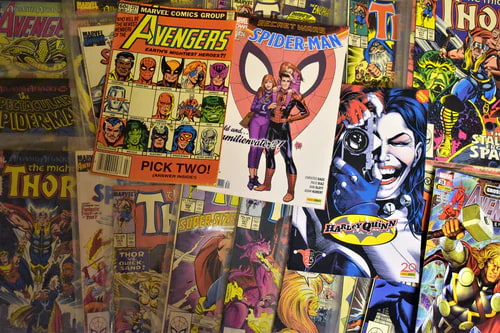 7. VIZ
In 1986, the Japanese publishing houses Shueisha and Shogakukan collaborated to create the VIZ project, which got to be one of the most popular manga companies in the US. The reason for this decision was due to the surge in popularity of manga in North America. The corporate headquarters is located in San Francisco.
The company's name is quite interesting. It inherits the word "visual," which alludes to the visual content of the books in advance.
VIZ is quite successful today, as shown by the publishing house of the author's magazine Shojo Beat with a circulation of over 30,000 copies. 
Besides, English-language versions of Japanese manga and anime review magazines often become their bestsellers.
8. Hakusensha
In 1973, graphic novel publisher Shueisha created the Hakusensha division, which spun off and became independent. 
The company has been in the Top 3 of the largest Japanese publishing houses for many years.
Its major success came from the publication of manga and shoujo manga. Success abroad was thanks to the Young Animal magazine. 
The most popular manga published by Hakusensha is Fruits Basket and Berserk.
9. One Peace Books
This English-language platform is relatively young, founded in the early 2000s. 
Its core business is marketing, publishing, and translating titles from Japan. Also, the company is making Japanese language adaptations for North Americans. 
Thanks to many years of hard work, One Peace Books has won the attention of a large interconnected audience. Today, this manga publishing company considers unsolicited works in the genre of manga, momics & graphic novels, and fiction.  
10. Tuttle Publishing
This manga publishing house is a part of the larger company named Periplus Publishing Group and was founded in the late 40s. 
They are headquartered in Woodstock, with its primary audience consisting of readers from England, Canada, and the USA. 
Tuttle Publishing specializes in publishing innovative books on tourism, art, culinary arts, and martial arts, with a focus on Asian countries. 
This is a noteworthy manga company if you're looking to publish your comics, as Tuttle Publishing accepts book proposals.
11. Digital Manga 
California-based Digital Manga is one of the most well-known manga publishers in America that publishes Japanese manga comics in English. They also produce and license other related products, such as anime.
The publisher owns the eManga site for the digital publishing of graphic novels and manga.
This project has enjoyed considerable success in recent years, thanks to the implementation of various tech.
12. IDW Publishing
The American manga company IDW Publishing appeared in 1999. Its purpose was to publish comics such as manga, fiction books, and graphic novels. 
The publishing house has achieved unprecedented success. Its name stands next to well-known brands like Dark Horse, DC, and Marvel.
IDW Publishing has gained a significant share of its success by creating licensed adaptations of video games, television shows, series, cartoons, and comics.
13. Vertical, Inc.
This American manga publisher, part of the Kodansha Comics Corporation, publishes books in the fiction, nonfiction, and visual media genre. 
It is worth mentioning that they release books in ebook and paperback formats and audio versions. 
The most famous manga from Vertical, Inc. is Andromeda Stories, Flying Witch, and She and Her Cat.
14. Tokyopop
Known as Mixx Entertainment, the company had a rebranding and is now known as Tokyopop. 
It specializes in the manga genre and other materials of Western authors in a similar style. Tokyopop is now considered one of the largest English Manga publishing companies.
The graphic novel publisher's headquarter is in Los Angeles. They also have a branch in Hamburg, where they translate manga books from English and Japanese into German. 
Tokyopop's parent company has offices in Tokyo. All this testifies to the rather extensive coverage of the global manga publishing market.
15. Kodansha USA Publishing
Kodansha is a sizable Japanese publishing company that founded a significant subsidiary headquartered in New York in the late 2000s under the name of Kodansha USA Publishing.
The main direction of the company's work is publishing manga and other books on the culture and history of Japan.
Kodansha Comics was created with the purpose of publishing only manga.
When Tokyopop's series ran out of licenсe, Kodansha Comics purchased them for reproduction.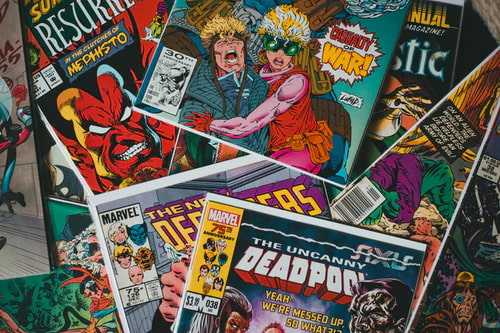 16. Titan Books
This manga publishing house is part of the Titan Publishing Group, headquartered in London. 
It appeared in 1981 and worked only for English-speaking audiences in the US and England. 
Titan Books publishes books in print and electronic formats and specializes in a wide range of genres, including fiction, nonfiction, fantasy, horror, science fiction, crime, thriller, comics & graphic novels, manga, short stories, and more. 
The company is open to receiving submissions of manga and other books. Be sure to format your ebook and contact them by going to their website.
17. Seven Seas Entertainment
An American company based in Los Angeles is a book publisher of the OEL-manga. In the mid-2000s, Seven Seas Entertainment made a splash by offering a digital version of the manga available for download on the Sony PSP. 
More than 10,000 users took up this offer on the first day. In the same year, the corporation began to work on translating the original manga from Japanese into English. 
Later, it began translating light novels and publishing webcomics.
18. SelfMade Hero
The specificity of this publishing house is the release of original short novels, usually humorous or even satirical. 
SelfMade Hero is headquartered in London, but it distributes books to the US, Canada, Germany, Austria, and Switzerland.
If this resonates with you, do not hesitate to contact them.
19. Image Comics
The founders of this American manga publishing company were a trio of talented illustrators. More than 20 years ago, D. Valentino, R. Liefeld, and E. Larsen decided to create the Image Comics project. Today, the company enjoys unprecedented success. 
They started with a strategy to keep profits because of publisher property. They began to flourish and expand, making the company one of the leaders in the comic book market.
The series Witchblade and Youngblood brought national love to the publishing house. Image Comics focuses on supporting emerging writers, accepting manga works from young and aspiring authors. 
20. Antarctic Press
Antarctic Press' primary style is best described with Amerimanga. The corporation's mission is to publish the best comics on the planet.
The company has been the pioneer of successful authors like Alex Robinson and Ben Dunn. The American manga publisher Antarctic Press has more than 800 published projects, with over 5 million copies.
Additionally, the publisher creates comics that explain how to make comics in an attractive format.
Publish Your Manga Book or Graphic Novel with PublishDrive
You can choose to self-publish your manga to get it out there faster. But to do so, you need to format your ebook in a fixed format. 
There are two types of ebook formats: 
Reflowable

. This is the standard for most ebooks. That's because it's highly customizable for the reader. Readers can change the font size, update the line breaks, and align the rest of the text accordingly.

Fixed

. Refers to an epub format. It's set up in a way that resembles a print version. It's a lot like a PDF as well, where everything is fixed into place.
The ebook format is non-negociable. Fixed format is required. The reason is that a reflowable format (and all its customization options) can potentially ruin the reading experience and its meaning.
Here's an article on reflowable vs. fixed ebooks so you can see all the differences between them.
After you format your ebook, upload it to PublishDrive to get it distributed to the following stores that accept comic books, graphic novels, and manga:
Distribute to all manga publishing companies
Join PublishDrive today and publish your manga books or graphic novels on all 16 top publishing platforms listed below.
Publishing companies we work with.

Amazon is one of the largest online bookstores in the world, where you can distribute books, ebooks, and audiobooks.

Apple Books is a leading online bookstore preinstalled on all Apple devices, reaching millions of readers in over 50 countries.

Scribd is one of the world's most extensive reading-focused subscription services. It has books, audiobooks, magazines, and more.

Baker & Taylor is one of the largest global distributors of books, with the broadest network of libraries, schools, major book labels, etc.

OverDrive is one of the largest library providers representing 43,000 libraries in 75 countries on four continents.

Hoopla is the digital media lending service of Midwest Tape, which is a trusted library provider. They have around 5,000,000 registered users.
JD.com is one of the two biggest e-commerce platforms in China. It's also a member of the Fortune Global 500.

The DangDang store is the other massive online retailer in China (besides JD.com), with an estimated 30 million monthly visitors.
CNPeReading
CNPeReading is a Chinese ebook store that integrates enormous digital resources in foreign languages through collaboration with international publishers and integrators.

Bibliotecha provides content to more than 30,000 libraries in more than 70 countries. Books are available for institutions like public libraries, schools, and universities.

Gardners is a significant book retailer with a strong presence in the UK and German markets. It got to be a wholesaler of books, eBooks, music, and film to retailers worldwide.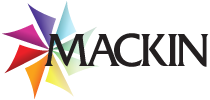 They have books for elementary and middle school audiences. It provides content to over 50,000 institutions in the US—public libraries, schools, and universities.

E-sentral is
South Asia's biggest ebook store, with 400,000 active users in Malaysia, Indonesia, and Singapore.

Empik is Poland's biggest book retailer. Empik has its subscription platform called Empik Go for ebooks and audiobooks.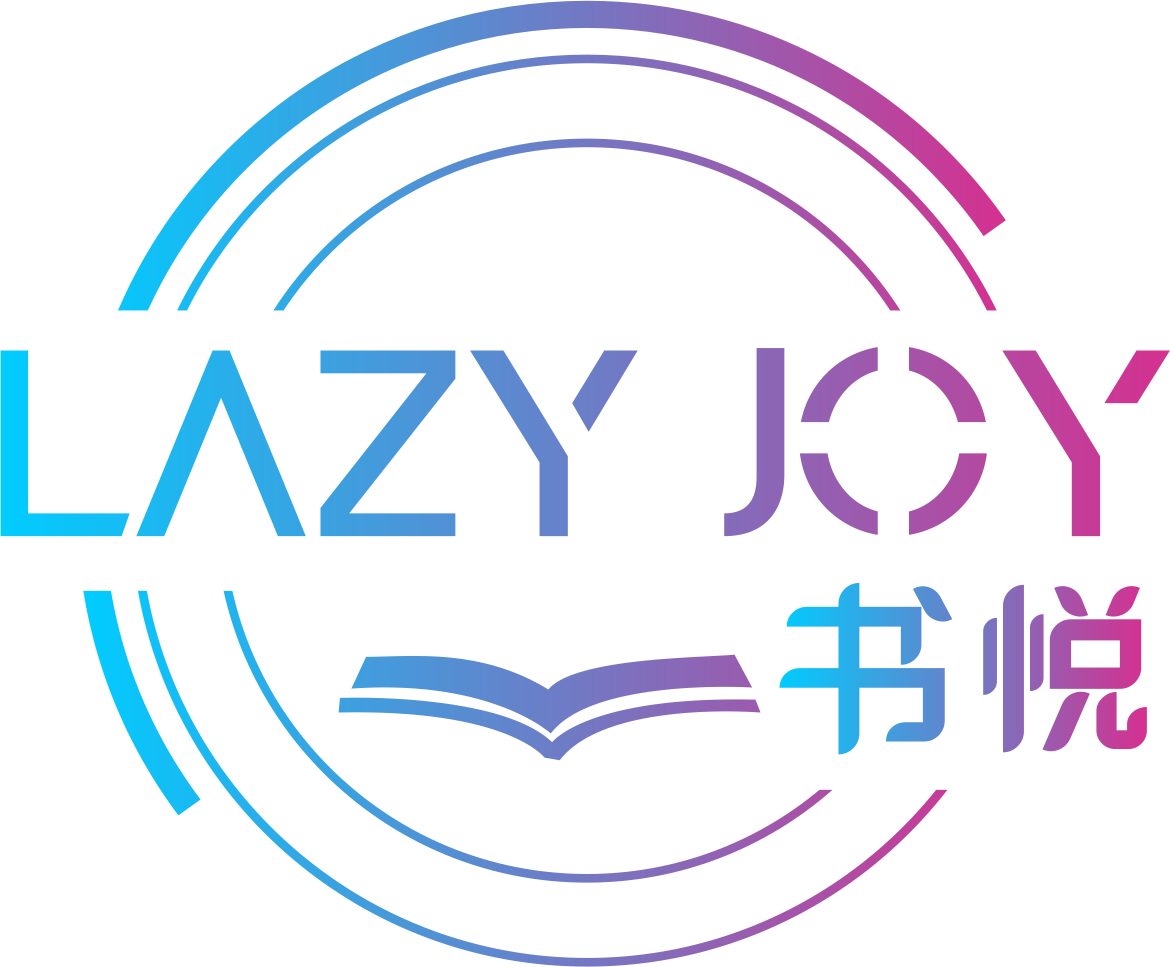 LazyJoy is an ebook store from China that collaborates
with large smartphone and internet companies, and other global Content Providers.
(only books in Hungarian) Ekönyv.hu provides content to the Hungarian and Eastern European ebook market.
Conclusion
Manga's popularity is quite obvious these days. There are many different graphic novel distributors and manga companies that continue to grow.
The ever-growing demand among audiences of different ages, interests, and nationalities make manga popular. Since authors create manga on various topics, everyone can find something for themselves.
Many publishers, which I mentioned in this article, accept submissions that support novice authors.
Or you can choose to self-publish.
If you are one of the manga creators, we hope our list of manga publishers will help you build your future career. If you love to read manga for fun, our selection will be a godsend for finding new comic sources.