This holiday season is going to be a busy one for authors. 40% of book sales happen around the winter holidays, starting from early December until the end of January. To not only survive but thrive during this period, writers in all areas from short fiction to children's books will need to sharpen their digital marketing strategies.
Especially with social distancing, I know that many of us will stay put at home (some of us not able to be with family and friends). Whatever happens, I want you to prepare food and drinks to enjoy. Then, get ready to boost your online activities. I share my tips below:
Set your release date for December
Launch your pre-order campaign as early as possible
Know how stores operate in December
Automate your marketing tactics
Run price promotions and submit for features
Measure results
Set your expectations for Christmas book publishing
Before getting into my tips, take a minute to think about your expectations. If you're in the middle of writing your book (whether short fiction or a trilogy) you will probably need more time. You don't want to rush the prepping and packaging of your book. This includes preparing your manuscript for the right digital format, having a marketing plan, and more (even for short story writers).
But hey, if you were to publish by early 2021, that's still fine. Since the pandemic, online has taken over the scene – indies made 69% more digital book sales via PublishDrive. It's a good time to self-publish your digital book.
(When ready, try distributing to thousands of stores worldwide with PublishDrive free for 14 days. ↓)
1. Set your release date for December
If your book is ready to launch, you may wonder what's the best time of the year to publish it. Traditional publishers release a tsunami of new books in the autumn season to reach the Christmas market. September and October are busy months for indie book publishers as traditional publishers take up all the spots at retailers.
I always liked November and December because those months give indie publishers more room to shine after all the activity from larger publishing houses. Setting your release date for December can help you run a more visible marketing campaign too. By December, events like Black Friday and Cyber Monday are over. Your marketing dollars are spent more wisely in a less crowded market. And, you still make it in time to reach the holiday shopping season.
2. Launch your pre-order campaign as early as possible
I strongly suggest setting up your book for pre-order ASAP. This is a smart strategy to test the market and start building on your discoverability. Here's the best part: pre-order sales officially happen on the same as your release. This can help boost your ranking and possibly get you in a bestseller list.
Set up a pre-order strategy with PublishDrive, up to one year. You don't even need to have your final book cover or content ready to launch a pre-order. All you need are placeholder files for both, which you can change two weeks before the official release.
3. Know how stores operate in December
With publishing in December, expect longer publishing times as most stores run into limited resources. For instance, Apple does not guarantee your book being published for Christmas Eve after Dec 7th. Make sure you understand the holiday operations for the stores you want to distribute in.
4. Automate your marketing tactics
Automating your marketing activities optimizes not only your publishing gig, but it also frees up your schedule. Enjoy the holiday season. :-)
First, pre-schedule email newsletters to your email list. You can advertise your new book with snippets from your story or reviews, share personal achievements, and more. Readers love to know more about their author! Run a contest that gives away a free copy of your book. Or do a promotion swap with another author. To automate your emails, check out tools like Mailerlite, Mailchimp, or Sendgrid.
Second, set up your social media posts ahead of time. Check out tools like Buffer or Hootsuite. With social media, it's challenging to be completely offline, as readers may send you direct messages or comment on your posts. If you'd like, you can hire a virtual assistant to handle those for you during the holidays. Or schedule 20 minutes every day to take care of social media requests.
Third, schedule Facebook and Amazon ads. Both platforms allow you to set your budget, timeframe, creatives, and targeting beforehand. Set up your Amazon ads with PublishDrive for any book selling on Amazon. My team built this tool for easy-handling, supported by AI to improve your ad performance.
With ads, it's a good idea to check in for earlier results of your different campaigns. You can reallocate your budget among better performing ads, or simply turn off the ads that aren't delivering.
5. Run price promotions and submit for features
Christmas Eve can be an effective day to run a special price promotion for your book. Use paid ads with notable newsletters like Bookbub or Bargain Booksy. Schedule multiple price promotions on PublishDrive across stores.
Go ahead and submit for editorial features from PublishDrive's dashboard. There are plenty of stores running campaigns for Christmas and New Year's that want to showcase great short stories and books (including discounted and free) on the front pages of their websites or in newsletters.
6. Measure your results after the holidays
Don't be like me: I have a habit of checking results every minute. This can lead to taking unnecessary actions based on limited information. Instead, wait for at least one to two weeks before analyzing your campaign results. Believe me, it will help you make better decisions. Also, this timeframe is long enough to leave your laptop out of dinners during the winter break. I hope you have a safe one with family members and special people.
By the way, the team is feeling excited for Christmas releases via PublishDrive, like these: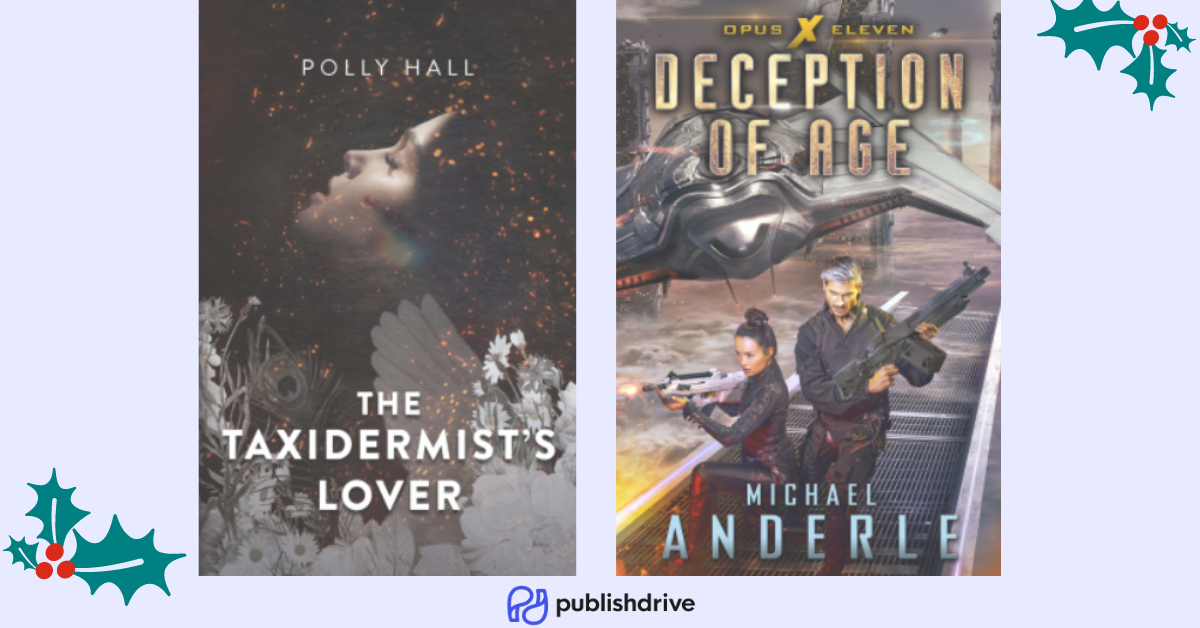 It's free to get started with PublishDrive, the all-in-one platform for easily distributing and promoting your book to thousands of stores of globally. ↓