Writing
Top 8 Most Useful Ebook Software for Writers
Nowadays, ebooks can be as beautiful as physical books. All you need is the right ebook writing software and proper formatting. 
Our selection reviews the best editing, writing, dictation, and converting tools beyond Microsoft Word, Google Docs, or Pages (for Mac users). Of course, those are top choices too, but you already know them.
PublishDrive has a free ebook conversion tool. 
 If you need a converter to epub formats, PublishDrive can do it for you. Save your manuscript as a .docx file, and drag & drop it to the Content file field.
Let's see other ebook writing platforms that help you write, publish, and even promote your ebook.
Ebook Writing Software
1. Reedsy Book Editor
Pricing

: free

Platform:

cloud

Output formats:

epub, mobi, PDF
If you're a writer in need of a WYSIWYG ebook editor that converts into a valid epub, Reedsy's editor might just be the one for you. It's also an online marketplace where writers and publishing professionals can find each other.
This free ebook writing software aims to create an online collaboration editor where multiple writers or publishing professionals can work together at the same time.
Besides the collaboration, you'll find features like versioning, themes for beautiful ebooks or print, and distribution-ready manuscripts. 
2. Scrivener
Pricing

: free 30-day trial, €69.99 for macOS & Windows, €23.99 for iOS //  €59.49 Educational Licence on MacOs and Windows; 

Platforms:

macOS, Windows, iOS

Output formats:

PDF, EPUB, and MOBI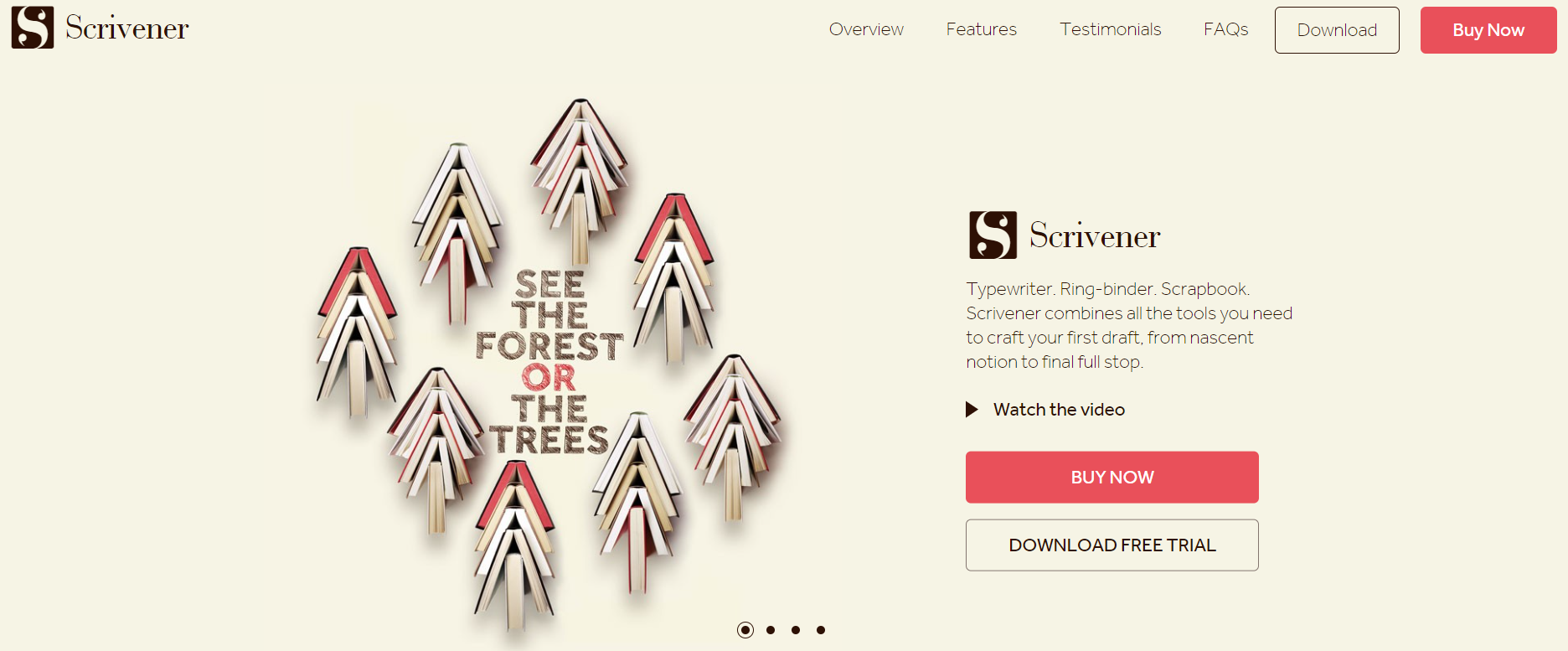 Scrivener is a premium ebook writing platform. It has many features that'll make writing and editing easy like formatting presets or importing other files into your Scrivener projects.
Scrivener is an outlier in this list, being not a conversion software but one of the best ebook writing editors ever made. 
Since it's kinda complicated to write long and complex texts in a Word document, Scrivener made this easy.
It was created for compiling complex projects: books, research articles, or screenplays. It's great for working with footnotes and endnotes or thousands of references.
3. Vellum
Pricing

: free to download, $199.99 to export to ebooks

Platform

: macOS

Output formats

: mobi, epub, PDF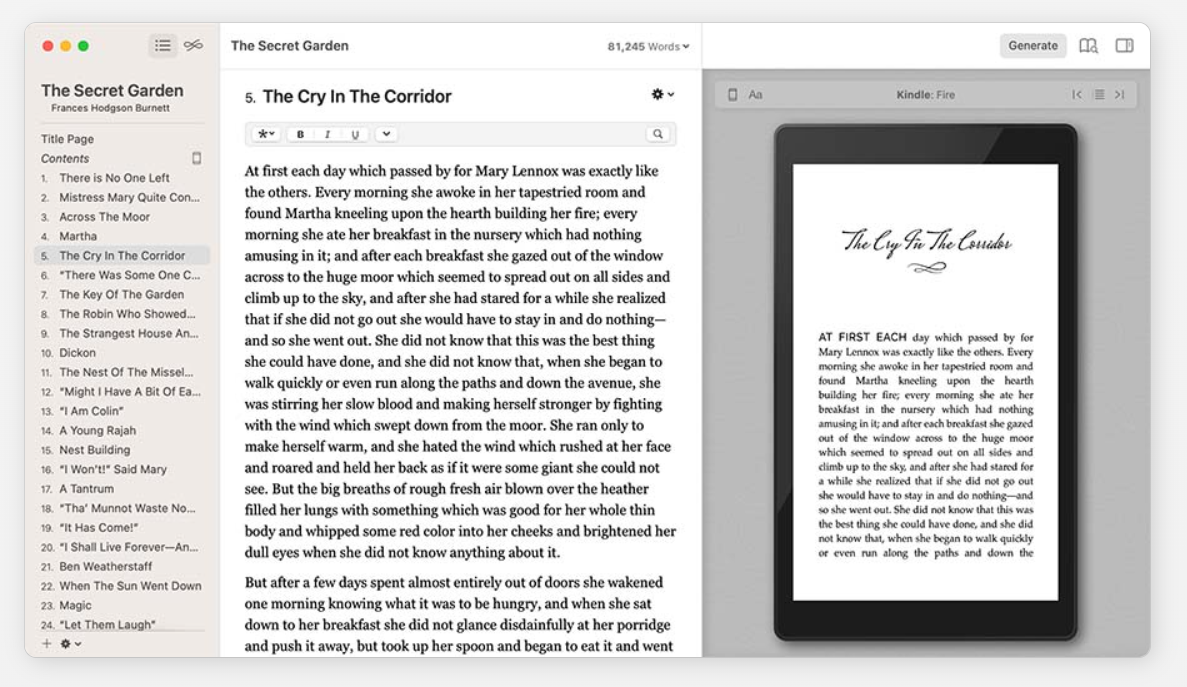 Created with usability and elegance in mind, Vellum is a fantastic Mac-exclusive ebook writing software for creating Apple-, Kobo- and Amazon-approved ebooks and POD books. 
While there are other, much cheaper ebook writing platforms to do this for you, some of them even listed in this guide, Vellum is unique. It creates not only professional but beautiful text-centric ebooks. If your goal is to create a book as elegant as a Penguin edition, Vellum can be your choice.
The creators took care of everything. It's simple to use and efficiently imports from Word and exports in EPUB. It also automatically formats your PDF for print books.
4. Ulysses
Pricing

: $5.99/mo, or $39.99/ year (US price)

Platforms

: macOS

Output formats

: PDF, EPUB, .docx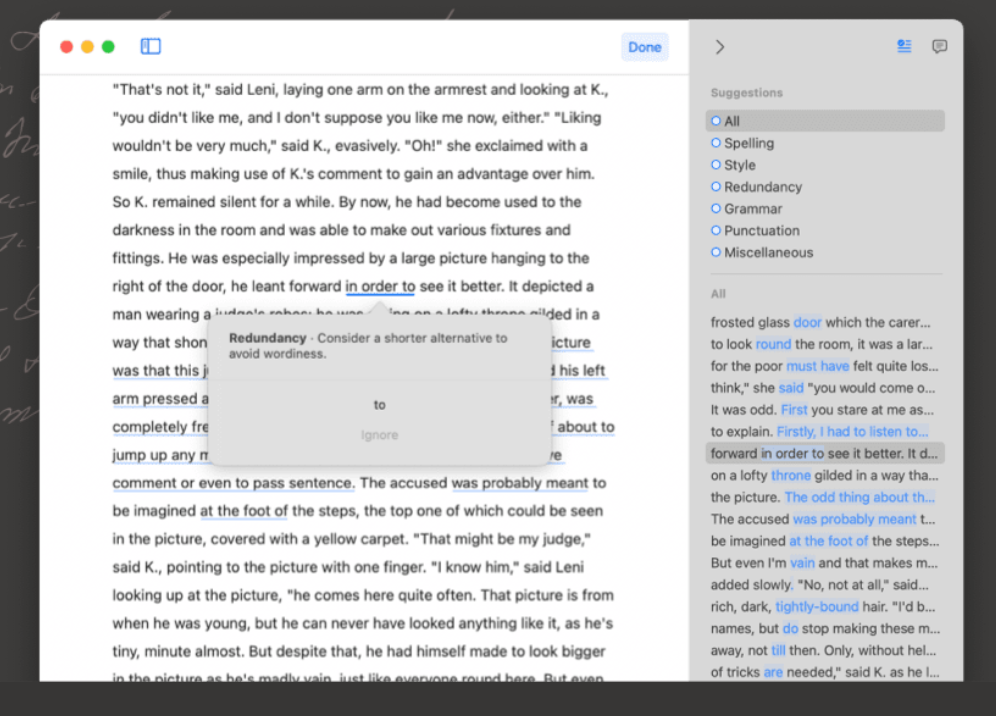 Ulysses is another premium Mac-exclusive ebook writing platform.
This ebook writing app is made with a distraction-free interface for people who love to write and write a lot. It's also easy to use, with a minimalist interface and built-in proofreader and editing assistant.
5. Atticus
Pricing

: $147 for a lifetime license

Platforms

: cloud

Output formats

: PDF, .docx, or EPUB.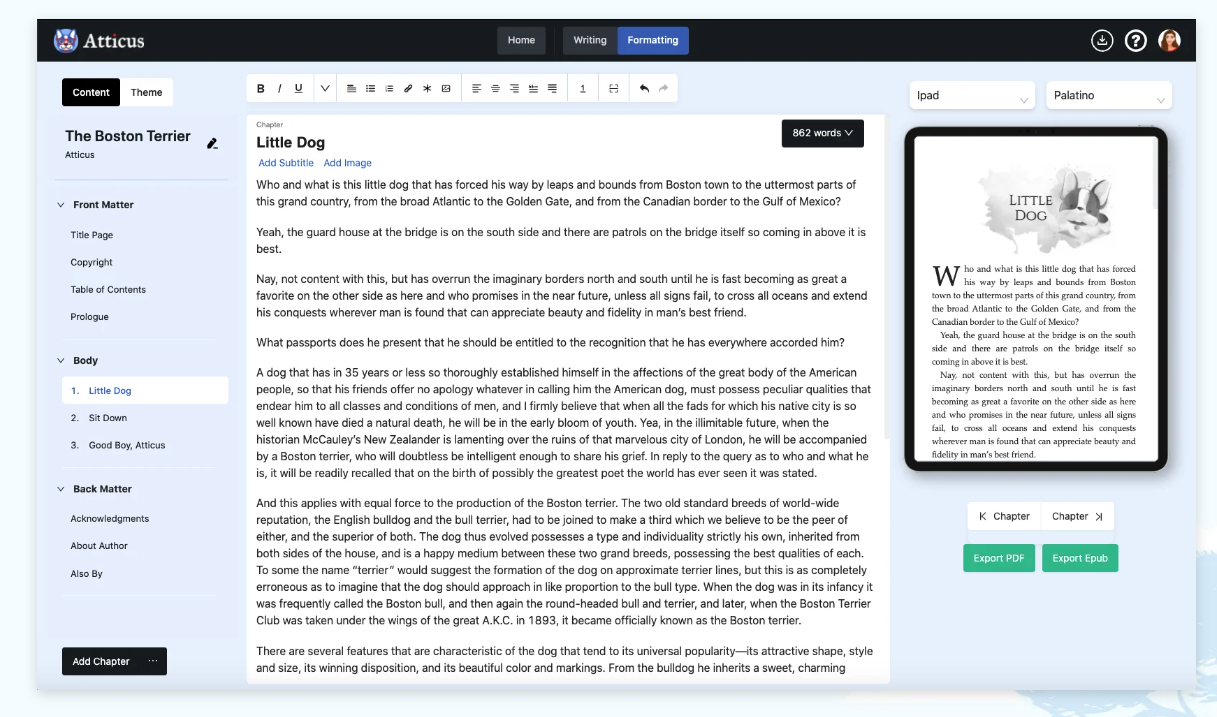 Atticus has both writing and formatting capabilities. It has many formatting template options and other features to keep you engaged and productive, such as Book Goal tracking or drag-and-drop chapters.
6. Calibre
Pricing

: free and open source

Platform

: Windows, macOS, Linux, portable

Output formats

: PDF, epub, mobi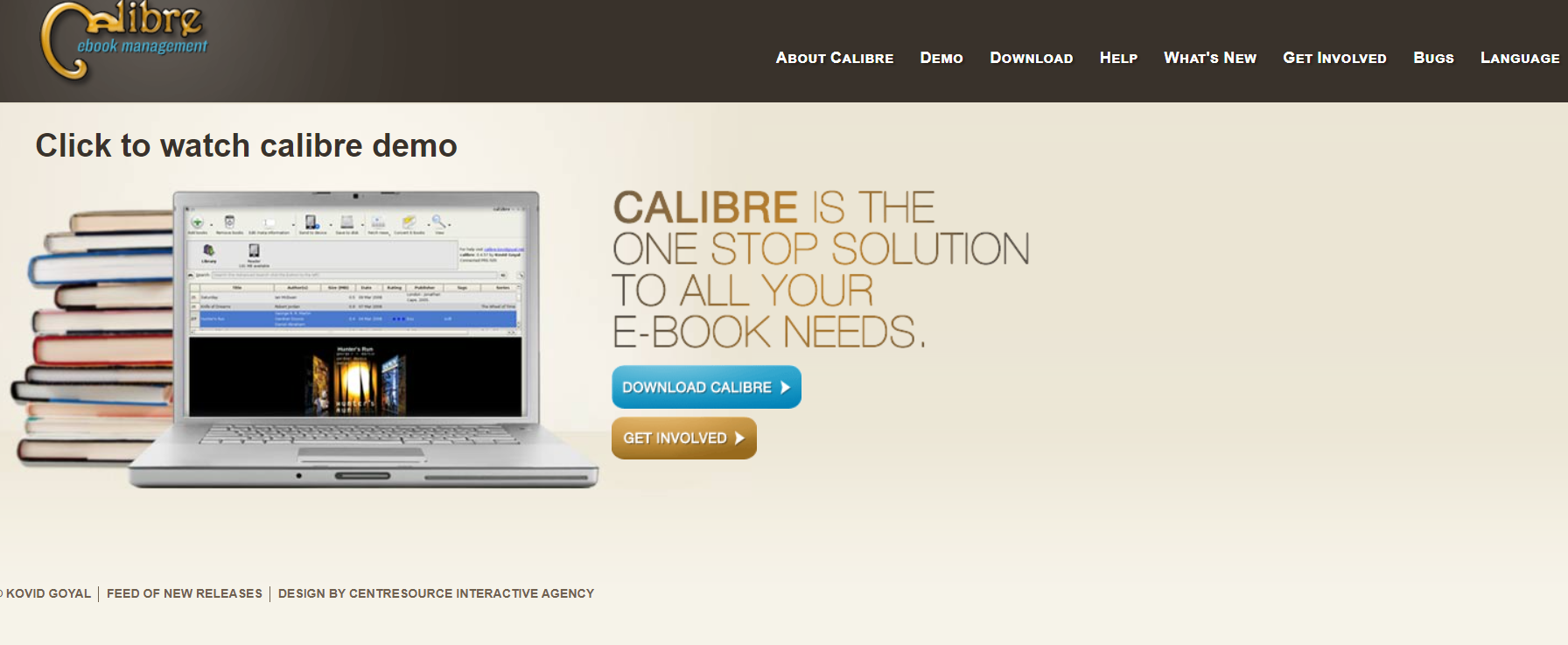 Calibre is a free software, and it is mainly an ebook management system. Although the interface seems a bit outdated, what's great about this ebook writer is that it can convert from Microsoft Word to PDF, EPUB, and MOBI. 
Calibre lets you easily edit metadata and is great for listing your books according to specific information. 
A minus to this one is that the codes it creates are cluttered, and stores (like Amazon) dislike it. Ebooks created with Calibre often fail the validation. If you are using Calibre, check our manuscript preparation guide to avoid getting cluttered code.
7. Jutoh
Pricing

: free limited trial, $45 (basic), $90 (plus)

Platform

: Windows, macOS, Linux, Raspberry Pi

Output formats

: PDF, epub, mobi, HTML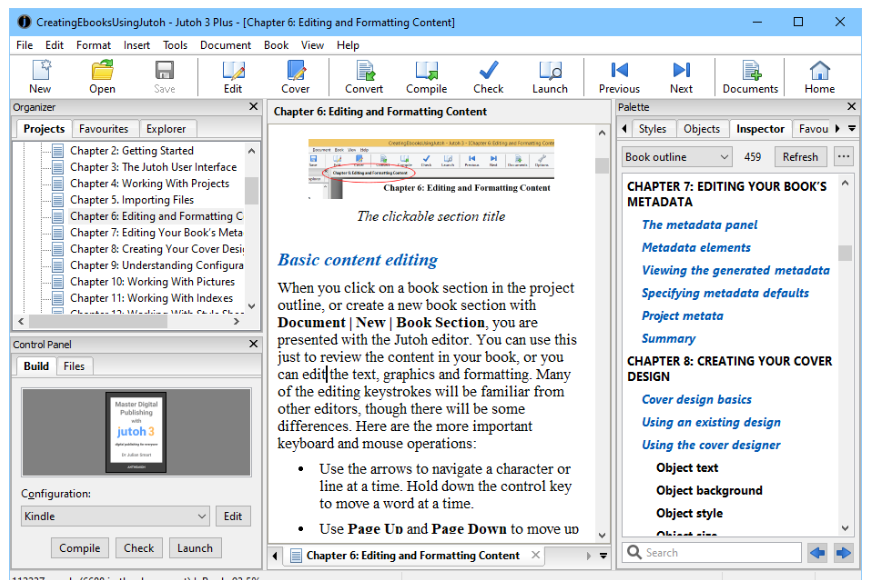 Although the user interface seems a bit off-putting, I have quickly fallen in love with Jutoh: it seems to be creating amazingly clean epub and mobi files. The 'Document Cleanup' function is a must-have: it offers one-click removal of all rubbish coming from the text editors (tabs, line breaks, etc.) It doesn't even let you convert your book until everything is in order.
8. Adobe InDesign
Pricing

:

$20.99/mo

Platform

: Windows, macOS

Output formats

: PDF, epub, indd
In desktop publishing, InDesign sets the standards. No need can arise that cannot be solved using InDesign. The software today is used not only to typeset beautiful books but is here for all your publishing needs. You can create presentations, forms, and websites using InDesign.
InDesign is by no means an intuitive, easy-to-use software. It takes some time and effort to explore and master it. As an ebook writing app, InDesign is amazing for creating print-ready, press-friendly PDFs. On the downside, however, exporting your beautiful book into an epub might turn out differently than expected. Sometimes, starting it over from scratch and ditching the extensive formatting is easier.
Are You More of a Dictation Type of Person?
Some professional writers decide to dictate their books.  
Dictating your novel can be a great way to speed up the writing process and let your thoughts go freely.  
What is the best dictation software to use?
Google Docs Voice Typing
To use Google Docs voice input, you have to open Google Docs with a Chrome browser, click Tools, and select Voice typing (Or use the shortcut cmd+shift+f on Mac / ctrl+shift+s on Windows.) You'll have to allow the browser to use your microphone.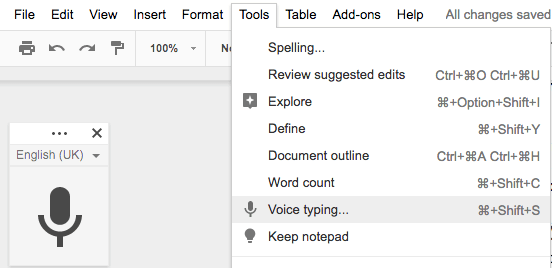 There are also around 100 commands you can give the app. Check out this help center for a comprehensive list. 
Dictation works in around 80 languages and regional accents. Voice commands, however, only work in English and only if both the account's language and the document are in English.
You can also use voice typing on any Android or iOS device with the GBoard (Google's very own keyboard): I have never used GBoard to dictate anything longer than a note or text message, but it works just fine.
Dictation on iPhone, iPad, and Mac
To turn on dictation on your iPhone, just open Settings. Depending on your iOS version, look for Keyboard or Language and input to find Dictation and switch it on. Once it is on, you will see the little microphone next to the keyboard. Just tap it to start dictating.
The transcription of your voice is done on a remote server, so you're better off if you dictate in 30-second long segments. This is something I'll probably need to get used to. Use a good mic (such as an iPhone's noise-canceling mic you use for calls). If your Apple gadget doesn't understand you, keep trying. With time, it gets better at recognizing your accent.
You can also use Apple's dictation on a Mac computer. Go to System Preferences and turn on Dictation and Speech. Depending on your iOS version, it could also be under Keyboard. If you enable enhanced dictation, your iOS will download a language package of around 400 MB, but it speeds up the recognition time and enhances accuracy.
Wrapping Up
Once you're done writing your manuscript, it's a good time to start thinking about ebook distribution and promotion.
PublishDrive can help you with free ebook conversion, built-in promo tools, and distribution to 400+ online stores.