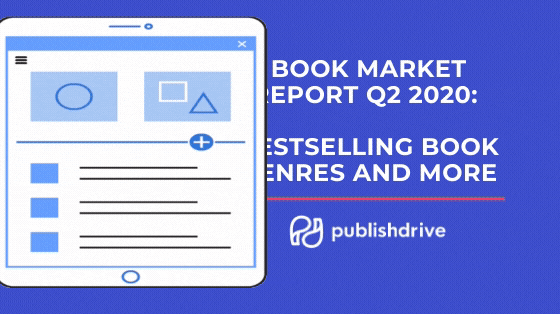 Since the pandemic and numerous shutdowns worldwide, we are paying close attention to the book market. Although there are lots to worry about these days, we want you to know that digital books are in demand. Especially for those in traditional publishing, transitioning to digital formats has never been more lucrative.
We've been reporting the trends and data publicly on our blog since March 2020. We shared how those selling digital books via PublishDrive saw growth by at least 20% across markets and stores. In April 2020, we reported another 23% growth. In May 2020, we reported how sales have increased by 60% in one year. Demand is high right now.
---
CLICK TO GRAB FREE WHITE PAPER ON GLOBAL BOOK TRENDS IN 2020
---
In June 2020's report below, we give an overview of international digital book sales plus bestselling book genres, book categories, and more. Be sure to come back to our blog as we continue to update this study every 20th of the month.
By the way! If you're interested in learning more about what's currently happening in independent publishing, check out the free Publisher Nation podcast on YouTube organized by our friends at Digital Book World and Score Publishing. (You can also listen to it via Apple or Stitcher.)
We hope you find our newest developments insightful and make the best-informed decisions in your book publishing endeavors.
It's free to publish your book to thousands of stores worldwide for 14 days. 👇
Digital book sales continued to rise.
This year, people are seeking more at-home entertainment, prioritizing digital means to get them. Movie-streaming services, video games, and of course books are seeing significant booms. This trend was dominant in March and April, and in June the trend continues.
Since the outbreak, we've experienced a 20% growth rate in March and 23% in April. With the world opening back up, that rate has slightly flattened in May and June. However, when looking at June 2020 book sales compared to June of last year, there has been a 66% increase via PublishDrive. Also, we've compared quarterly data from Q1 to Q2 in 2020 and found growth by at least 34%.
Usually, we find that the first quarter of a year performs stronger than the second as people receive reading devices or gift cards from the previous holiday season. So it's interesting to see that this year, the data proves different from the usual trends.
These growing sales numbers are beneficial for PublishDrive users who keep 100% royalties. Since we don't take any commission, indies get the same royalties as selling directly to stores. All this growth is 100% theirs.
As the COVID-19 curve flattens in more places and as more countries open up from lockdown, we will continue to pay attention to trends for the rest of this year. Based on our mid-month report, so far, sales are still looking strong for July. We estimate 20-25% growth compared to the previous year.
Non-fiction, fantasy, science-fiction, and thriller genres are doing great.
In June, summer book trends have been obvious. Romance became and even more popular genre than before. Other popular book genres included fiction, especially fantasy books, as well as sci fi and crime. Nonfiction self-help titles maintained solid performance, especially regarding study aids and social sciences. Compared to last June, the biggest growth came from fantasy, thriller, education, business, family & relationships, health & fitness, history, music, social science, and self-help.
When it comes to quarterly data, the strongest performance came from non-fiction, particularly in family & relationships. During this social distancing time period, we can see how people are turning to books on managing healthy relationships with their loved ones. Compared to last year's second quarter, we found that business, fantasy, foreign language study, and thriller saw the most growth in sales.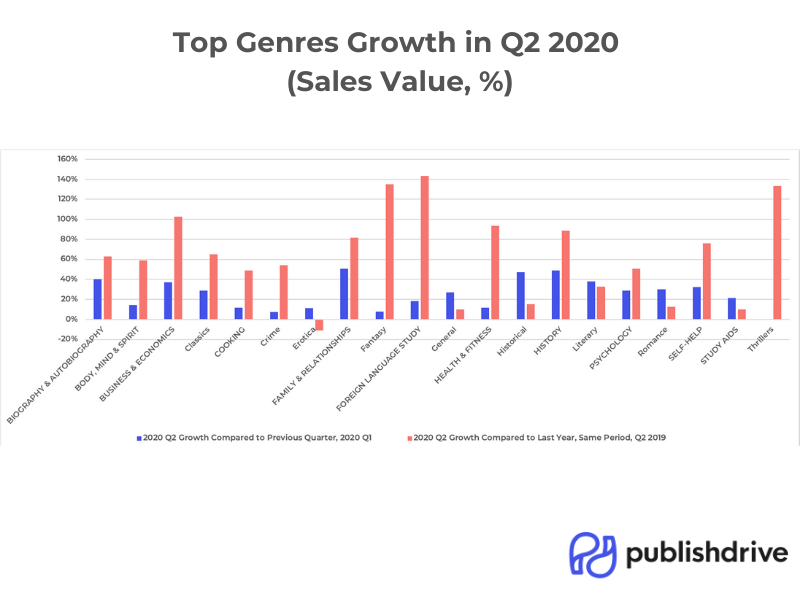 We also looked at PublishDrive's bestseller lists of book genres and countries with the highest growth rates. We saw a very impressive 3,800% boost in study aids and 1,800% boost young adult non-fiction via Amazon. See below for more details by stores and genres:
Growth in the US market & exponential growth internationally.
The US market is definitely seeing growth. US sales grew by 11% in April, then another 4% in May. It has stagnated a bit in June 2020, but when we look at its ratio from the overall sales, it stayed consistent around 32%.
Internationally, markets have been growing exponentially. Right now, English-language books are in global demand. See the chart below for the top 20 bestselling countries and their growth rates in June 2020 compared to June 2019.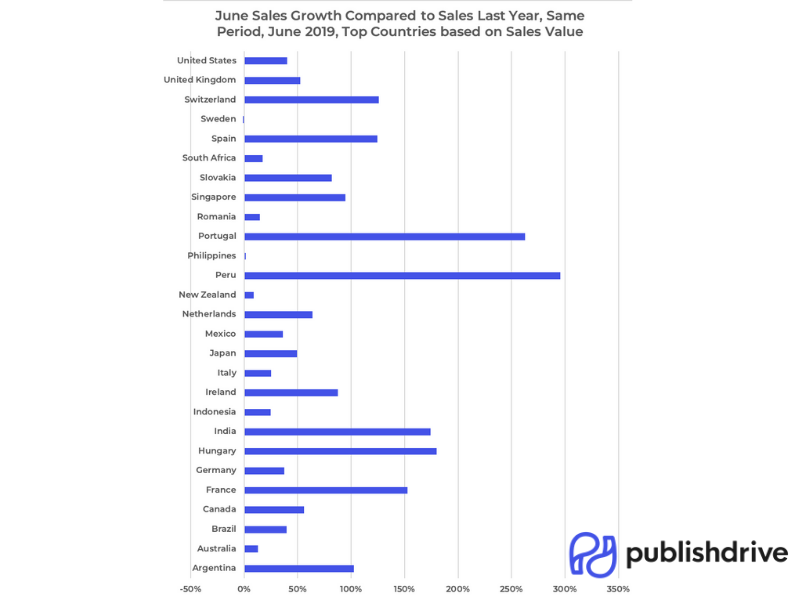 The US and the UK were the top-performing countries based on sales value, increasing month by month. Other countries also stood out, especially in Latin America like Argentina, Brazil, Peru, and Mexico. European countries included Portugal, Switzerland, Spain, Netherlands, and France. Asian countries included India and Singapore.
As countries react to COVID-19 with varying government measurements, we've seen new markets for English-language content pop up. If you are interested in a more detailed analysis by countries, download the free report here based on April 2020's book sales data.
Device-related retailers saw spikes in sales.
Book royalties come from different sources today, not just from selling one copy to a consumer. Typically, these sources can be categorized as the following:
Retail: Major outlets that reach global readers with the usual one copy purchase business model. E.g. Amazon, Apple Books, Barnes & Noble, Google Play Books, and Kobo.
Subscription services: Usually applications or stores that provide unlimited access to books in exchange for a monthly subscription fee. E.g. Scribd, Bookmate, and Dreame.
Digital library providers: Book borrowing for not just individuals, but institutions like public libraries, schools, universities, or corporate libraries. E.g. OverDrive, Bibliotheca, Mackin, and Odilo.
Regional stores: Outlets that cover a specific region that serves the local community. E.g. Tolion, Chinese stores, Hungarian outlets, and German network.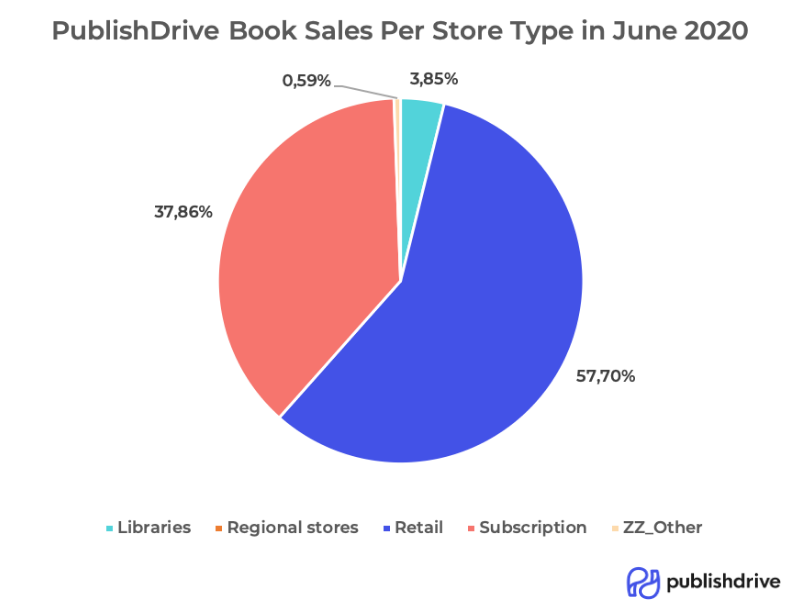 With book sales, many think of selling ONLY on Amazon. Although Amazon is great, there's an entire mass of readers you can find elsewhere with other stores and business models.
57.7% of PublishDrive's book sales came from retail (Amazon included) in June. The other 42.3% came from subscription business models (37.86%), libraries (3.85%), and regional stores (0.6%). Reader experience has shifted in the last couple of years.
Since March 2020, more people are actively using subscription services. With the recent flattening period, retail sales started to dominate more than subscription or library services (which makes sense).
We've also seen trends in growth ratios by different business models: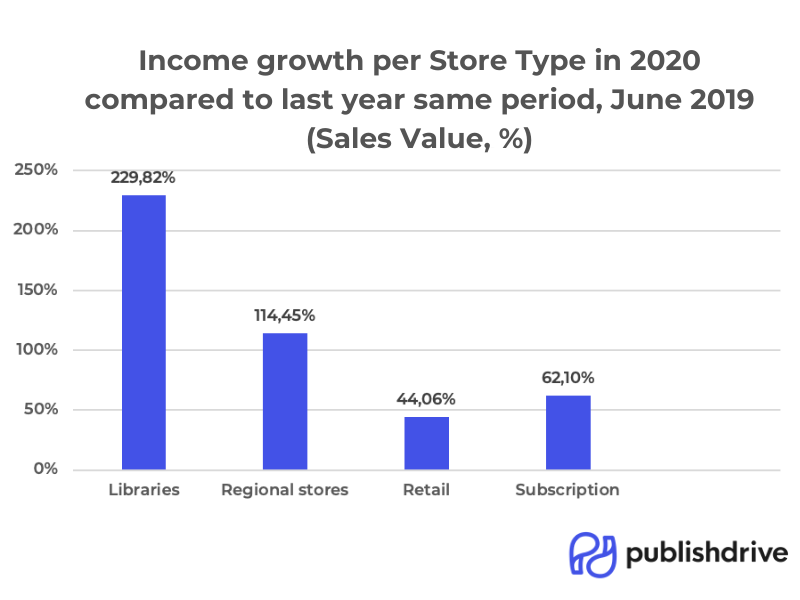 Library sales more than doubled in June 2020 compared to June 2020. Much of this growth came from Canada, New Zealand, Peru, the Philippines, Spain, South Africa, the UK, and the US.
Subscription models also increased by 63%. Many of them cover different products like books, audiobooks, music, or even movies.
Subscription services seem to be catching up the most in these countries: Argentina, Australia, Brazil, Canada, France, India, Ireland, Peru, Portugal, Slovakia, Spain, Switzerland, and the US. For example, Scribd ran a promotional campaign where they extended its free trial period allowing more readers to join without any financial restrictions.
Retailers grew by 5% in June compared to May this year. When looking at a year's time, that's a 45% growth. The best-performing countries for retail were: Argentina, Belgium, Brazil, Canada, France, Germany, India, Indonesia, Ireland, Italy, Netherlands, Peru, Portugal, Romania, Spain, and the UK.
When comparing Q2 to Q1 in 2020, see the chart below on how sales increased for various stores. Dreame and Hoopla had the best performance. Other stores with notable growth include OverDrive, Odilo, Google, Bibliotheca, Bookmate, Apple, and Scribd.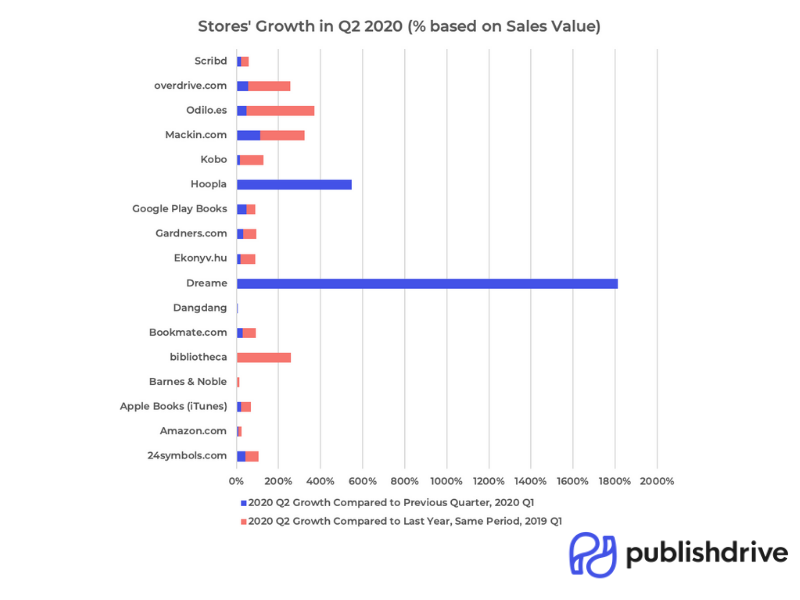 So how's the book market doing? Very well when it comes to digital.
Like we mentioned, this is a golden time to sell more digital books amid the ongoing pandemic. If you're not selling online yet, we highly encourage you to do so. Remember to come back to PublishDrive's blog section on a monthly basis to see what's happening in the book market.
Also, don't forget to listen to Publisher Nation's free podcast organized by Digital Book World on YouTube, Apple, or Stitcher. We discussed the current state of the indie publishing industry with representatives from Amazon, IPG, and Kobo -- which you don't want to miss.
If you'd like to go more in-depth on country highlights from our April 2020 report, go here.
Are you signed up with PublishDrive yet? It's free to start an account and distribute digital books globally and easily during this lucrative time: