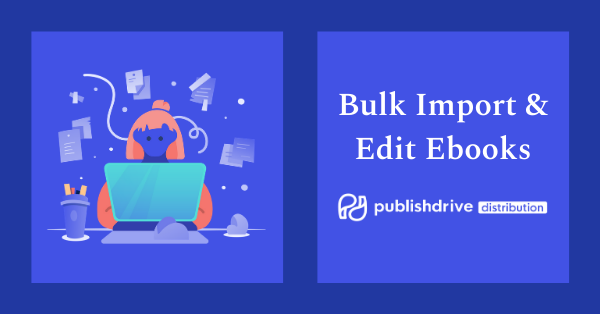 The Bulk Import feature in PublishDrive allows book publishers and authors to upload ebooks for digital publishing all at once. Independent publishers can easily drag and drop a single Excel or ONIX file to the online platform. In typical PublishDrive fashion, it's built to save indies loads of time. Forget uploading your backlist of titles manually. Import hundreds or even thousands of titles with Book Import.
We've made some significant updates to the feature. Not only can you upload ebooks in bulk, but you can make changes to existing titles in PublishDrive too. This is great for running campaigns like price promotions for your entire catalog, super smoothly. Plus, there are tons of other improvements such as more options to add important metadata. Let's get into it below.
If you're ready to check out PublishDrive's revamped Bulk Import to distribute books, log in here. Or create an account for free and look around:
New Excel template, easy to use
First things first, download the newest Excel sheet template (v3.3) under the Bulk Import page from the PublishDrive dashboard. Why? Important changes include:
Updated, fixed field validations
Updated help sheet with support links
Updated BISAC sheet
New sheet and column for adult content types
Latin transcripts accepted
MOBI files and EPUB sample files accepted
The older Excel version is still accepted when uploading books in bulk, but we strongly recommend the newest template. When applicable, you should expand on your book's metadata. Metadata is a crucial part of your publishing business because it helps your book with accurate categorization and better discoverability. Our updated Excel template gives more options to add relevant metadata and increase those book sales.
About adult content types: Especially for those publishing adult content, we've added much-needed fields to include various subtypes. If you write a book related to adult content, being on top of trends like subtypes is vital in the book industry.
About Latin transcripts: If a book contains non-Latin characters like Cyril, Chinese, or Arabic in the title, subtitle, or contributor data, we suggest adding Latin transcripts. Why? Some stores like Barnes & Noble can only process Latin transcripts for that specific metadata.
Edit ebooks in bulk, save time
You can also use Bulk Import to edit metadata to existing books in PublishDrive. The process is the same as uploading new books: simply drop the new Excel or ONIX file. Just remember:
Include ISBNs to identify existing titles in PublishDrive.
Fill out the fields in the Excel sheet (with ISBN identifiers) you want to update.
Leave other fields empty to keep them as they are.
Great, right? In this way, you get to work on one file for uploading and editing books in one take.
Why Bulk Import?
We've already mentioned how you save more time when using PublishDrive's Bulk Import feature. Here are a few more benefits to know:
We send validation results in a single email - If you need to make further changes to your books' file and metadata, we'll let you know in one handy email with helpful instructions.
Send to stores immediately - You decide what happens next to your books. Import them as drafts for final checks, or use our distribution services to send them to stores right away.
Multiple prices are used - If your ONIX metadata contains multiple prices in different currencies, we import and use those as well.
To see how easy it is to take care of multiple books in one go, see our detailed Help Center article or watch our video about the full service:
For now, you can use Bulk Import for ebooks only. Print books and audiobooks are on their way.
PublishDrive is a trusted digital book publishing company, disrupting traditional publishing houses. Our widest network involves over 400 stores (like Kindle Direct Publishing, KDP Select), 240K digital libraries, and plenty of special partnerships (like Ingram book distribution). It's free to create an account and try our publishing services. ⇩