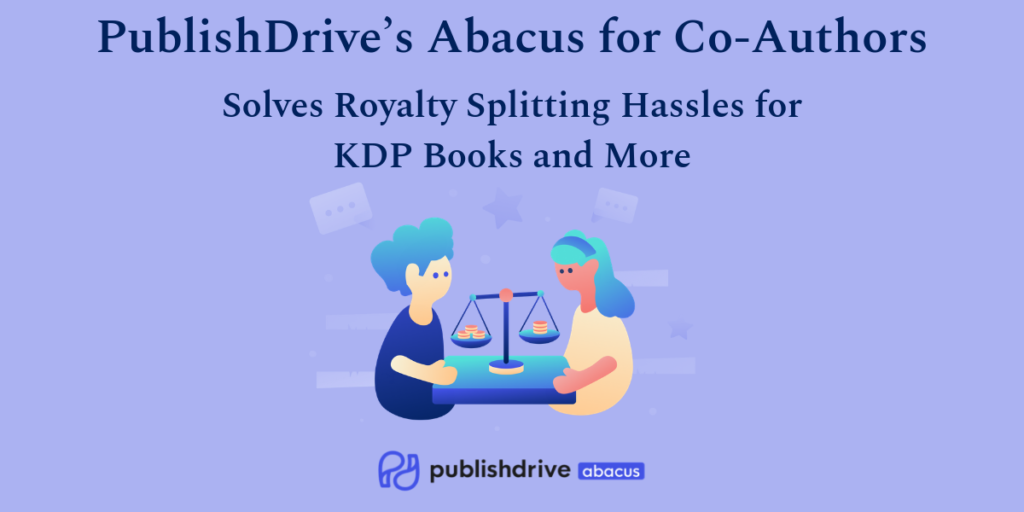 After releasing our Team Royalties feature a few months ago, we received some very valuable feedback: authors who distribute directly to retailers still lack a convenient way of managing co-author royalties.
The PublishDrive team has developed a solution that finally eliminates these hassles for you: Abacus for Co-Authors.
PD Abacus is a robust royalty splitting service for authors who distribute directly to Amazon and other retailers, including Kindle Unlimited authors. This means that anyone can use it; distribution through PublishDrive is not required.  
Many of PD Abacus' features were developed using input from Michael Anderle and LMBPN Publishing, allowing us to pinpoint exactly what authors need.
PD Abacus has been updated! Scroll to the bottom of this post to see what's new.
(Note: Until August 12, 2019, you can use the service for FREE while in beta).
What Does PD Abacus Do?
PD Abacus allows indie authors and publishers to:
Directly import KDP data, so no changes to authors' books or KDP accounts are required.

Calculate co-author royalties for books directly published via Amazon KDP (including Kindle Unlimited Books) and more. 

Generate detailed royalty reports to share with co-authors and contributors.

And more!
Who Can Use PD Abacus?
PD Abacus is designed for any self-published author or independent publisher seeking a royalty splitting solution and a way to streamline co-author royalty management. 
Since PD Abacus is a standalone service, you do not have to distribute through PublishDrive to use it. This means that even authors enrolled in KDP Select/Kindle Unlimited can use the service.
PD Abacus is great for:
Any author team (big or small) that collaborates on co-authored books. You can also split royalties between non-author contributors, like illustrators and editors. 

Independent publishers that need to streamline co-author royalties across large-scale collaborations, such as multi-author anthologies. 
What's the Difference Between Team Royalties and PD Abacus?
While Team Royalties and PD Abacus both streamline the financial side of co-authoring, there are some key differences:
Team Royalties

, which requires distribution through PublishDrive, is a feature that

sends out separate royalty payments

to your entire team of co-authors every month.

PD Abacus

calculates co-author royalties

for books published directly at retailers, generates royalty reports for your team, and more. The service is available to anyone.
How Does PD Abacus Work?
To get started, create your free PublishDrive account here. Then log in to your account and navigate to PD Abacus on the dashboard.
Simply drag and drop your KDP sales report into the import wizard. (Note: your KDP sales report can be found in your KDP account under the "Reports" tab. Then scroll down and click "Generate Report").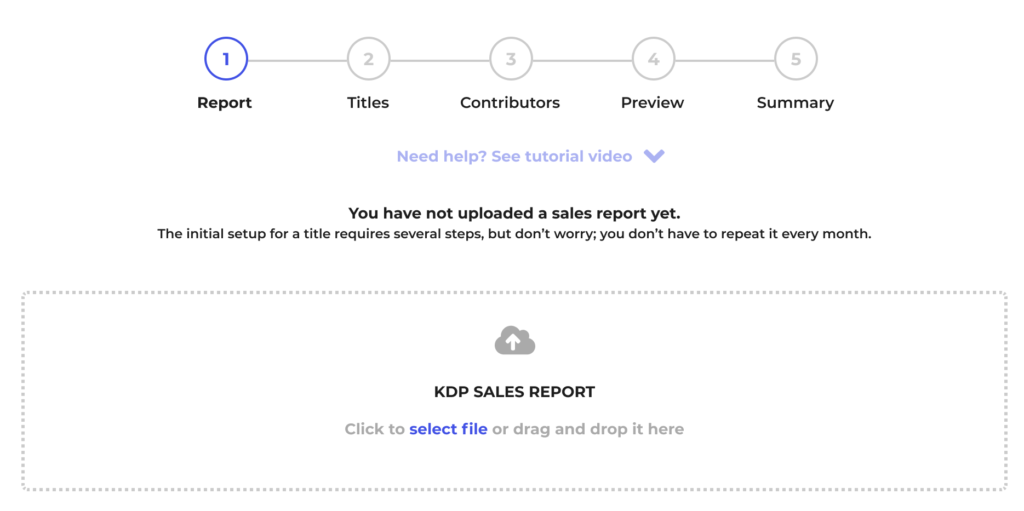 PD Abacus will automatically separate your books according to their ASIN or ISBN. After importing all of your sales data, you can: 
Select the titles and months you want to include in the co-author royalty report.

Invite contributors so they can view royalty reports.
(Note: for a detailed, step-by-step guide on how to use Abacus, view our Help Center article).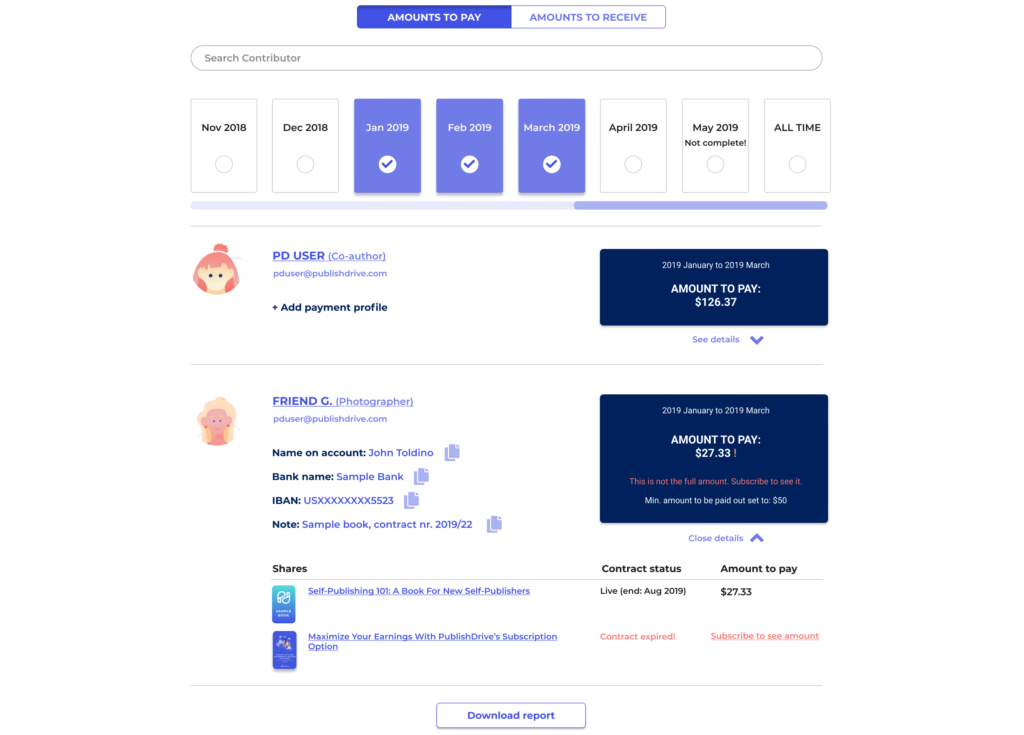 Updates as of July 22, 2019
We recently updated PD Abacus, so now you have even more options for tracking your co-author finances:
ACX Audiobook Sales:

Want to add audiobook income to your co-author royalty reports? We've got you covered. Just import your ACX royalty report, and our import wizard will automatically identify the data for easy tracking and royalty splitting.

Add Costs and Other Revenue Streams:

Add extra financial items, like costs and other revenue streams, for full financial tracking.

Downloadable Reports

: You and your contributors can download royalty reports and payment reports anytime.

Edit/Add Contributors

: Easily add or edit contributors anytime, even after you've completed the initial import process. You can also change their royalty percentage.
Updates as of July 29, 2019
Payment Tracking: No more messy spreadsheets! Keep track of co-author payments in PD Abacus with the click of a button.
Customizable Team Contracts: Add end dates to your team contracts for more customization.
Built-In Message Board: Need to chat with your team? Use the built-in message board for easy communication about costs, payments, etc.
Enjoy Hassle-Free Royalty Splitting for Co-Authors Today!
The full version of PD Abacus is FREE while in beta until August 12, 2019. After the beta period ends, the price will be $2.99 a month per title. 
Try it out today!