Publishing-Industry
We're Back from the 20Booksto50k Conference, and We Can't Wait to Tell You About It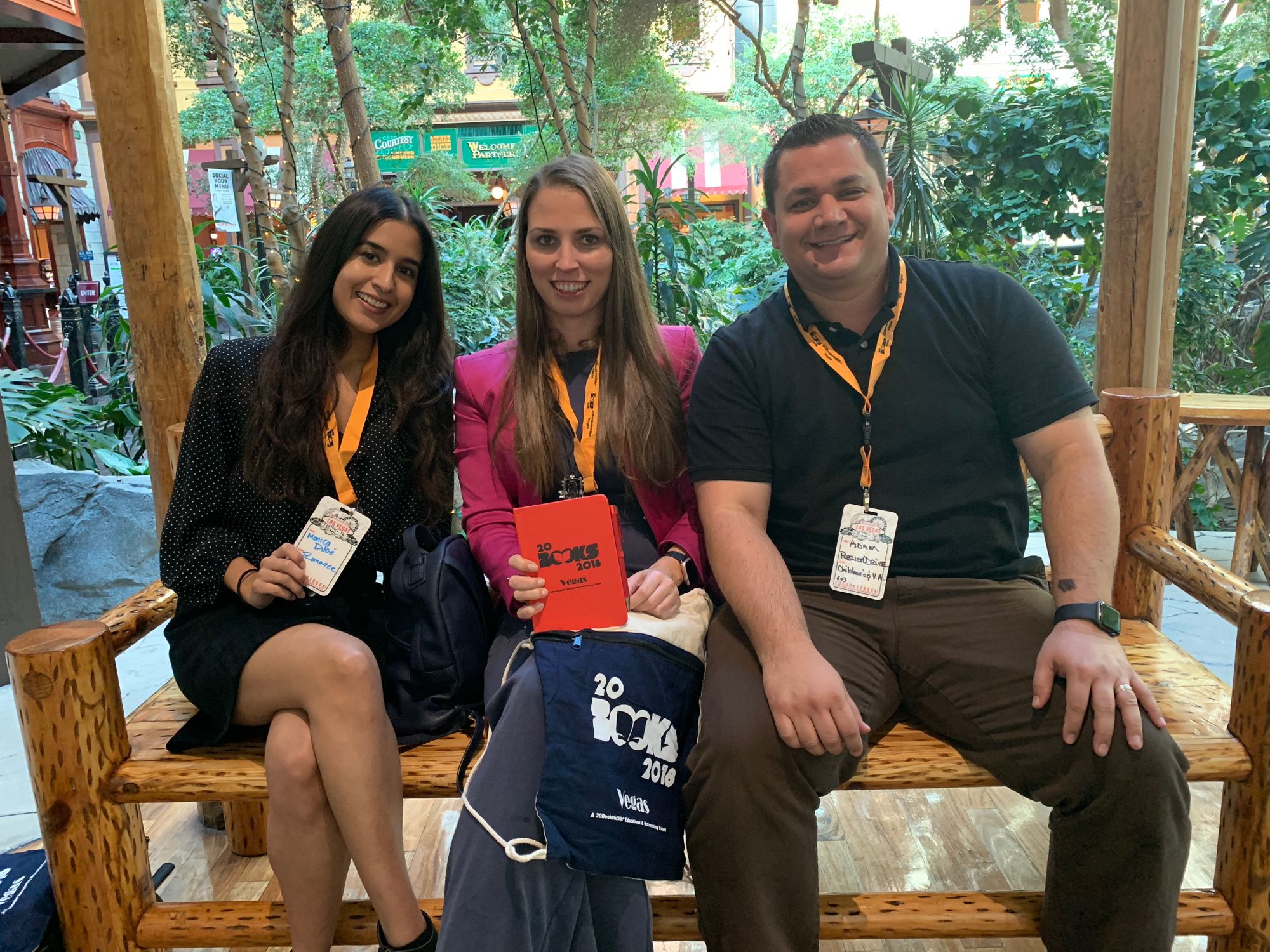 The PublishDrive team just wrapped up an incredible three days at the recent 20Booksto50k conference, which was held in Las Vegas from November 6 – 8, 2018.
Frankly, we did so much and spoke to so many amazing authors that it's impossible to fit into a single blog post. But, we wanted to share a recap for those of you who couldn't make it this year. Here's what we were up to and learn why attending conferences is crucial for any indie author.
What is the 20Booksto50k Conference?
Before we dig in, you might be wondering: "What is 20Booksto50k?"
20Booksto50k is a Facebook group that was started by self-published author, Michael Anderle, back in 2015. At the time, he realized he could make a sustainable income of about $50,000 a year by publishing 20 books that sold at least a few copies per day. After his first $12,000 month, he knew that his strategy could help other authors succeed and wanted to share his insight.
Since then, the 20Booksto50k Facebook group has amassed a following of over 26,000 members who've come together to share tips about self-publishing and make connections. Members include best-selling indie authors and those who are just starting out.
20Booksto50k held their first conference in 2017, which was a huge success. This year's event was likewise a hit, drawing hundreds of attendees from all over the world.
Day One
"There's More Than One Way to Climb a Mountain"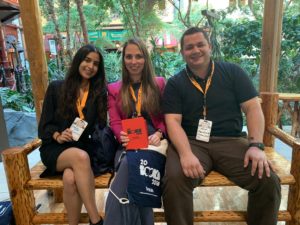 Michael Anderle and co-organizer/self-published author, Craig Martelle, kicked things off with a fantastic talk about the motivation to keep writing. A common line repeated by Anderle and other speakers was, "There's more than one way to climb a mountain."
As many best-selling authors shared their publishing journeys throughout the first day, this became very apparent. Speakers included authors who are wide, Amazon-exclusive, and hybrid (traditional and self-published) – and every single one found a path to success that worked for them.
The self-publishing landscape is very different than it was even a few years ago; the strategies that worked in 2014 may no longer be effective. Despite this, we heard from so many authors who are continuing to find success, even as genres become more saturated and the market becomes more competitive. We saw prime examples of this in the High-Powered Authors Panel, which included Izzy Shows, Jasmine Walt, Michelle Madow, Lindsay Buroker, and Martha Carr.
In response to the surge of new self-published authors, the competition has upped everyone's game. These authors and others have really elevated the world of self-publishing. While the "gold rush" days may be over, self-publishing is still a very viable way of making a living. And frankly, raising the standards has benefited both readers and writers alike. With professional covers, beautiful formatting, and thorough editing, many of today's self-published books provide readers with the same level of quality they can expect from traditionally published books.
Day Two
"No One Climbs the Mountain Alone"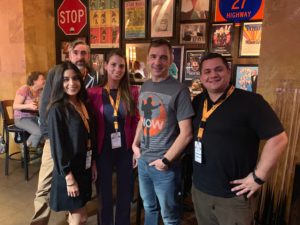 Michael La Ronn set an inspiring tone for the second day with his talk on "How to Be a Part-Time Author and Get Full-Time Results." He shared how he juggles a full-time day job, a successful podcast, his responsibilities as a father, and law school classes – and stillmanages to publish about five books per year. He attributes this to focusing on efficient and effective writing sessions, rather than simply setting word-count goals for the day.
We were also treated to fascinating talks about the technical side of book marketing. On both the first and second day of the conference, Brian Meeks helped us dig into the data of AMS ads. These and similar talks illuminated how data truly empowers authors. At PublishDrive, we've always recognized the importance of data, which is why our developers have worked hard to provide authors with detailed analytics. With access to filterable data, authors can refine their marketing and improve their overall strategy.
Another point that Brian touched on was the idea that, "No one climbs the mountain alone." Most successful self-published authors have scaled up through the power of relationships. Networking gives authors access to collaboration opportunities, newsletter swaps, invaluable tips, and most importantly, a supportive network of friends. Networking might begin with a simple email or Facebook message, but conferences like 20Booksto50k take it to the next level.
In between panels we spoke to New York Times best-selling author, Melissa Stevens, who echoed these thoughts. "I'd discovered the [20Booksto50k] group last winter and have learned a lot just from the online group," she said. "I knew the conference would be even better."
Melissa said that the most valuable aspect was, "The networking. Hands down. The talks and sessions were amazing, but being able to meet people face to face, to sit down and talk with them, was even better. You get things from these conferences that you can't get online. You get to meet people and form connections that you might not ever find without the conference."
Day Three
Day three of the conference began with a talk by Carlyn Robertson of BookBub. Carlyn showed an eager crowd how to increase the chances of being selected for their coveted Featured Deal promotion. We also heard from Nicholas Sansbury Smith, who shared his incredible journey of becoming a seven figure-earning author. He even landed a movie option for one of his book series.
Later, James Blatch from the Self Publishing Formula showed how easy it is to use video marketing to attract fans. From novel-writing livestreams to live Q&A sessions, we saw examples of authors using video in innovative ways to create personal connections with readers. And the best part? There's no special equipment required. All you need is a basic smartphone and internet connection to start building your readership through video marketing.
The Importance of "Going Wide"
One of the last presentations featured our very own Kinga Jentetics, who joined a roundtable discussion about the value of "going wide," i.e., not remaining exclusive to Amazon. The discussion also included Christine Munroe from Kobo, Damon Courtney from BookFunnel, and Dan Wood from Draft2Digital.
As Kinga explained, going wide opens the doors to increased readership that just can't be accessed for Amazon-exclusive authors. We've seen many authors distribute wide through PublishDrive and achieve good numbers. This is especially true in the genres of romance, fantasy, and sci-fi.
And it's not just the stateside retailers that position authors for success. Kinga shared about the advantages of expanding to different territories as well. "Don't forget," she said, "that there are 500 million English-speaking people worldwide who can buy your books." China and India, for instance, are great territories to tap into for authors interested in expanding their reach.
"It's About Helping People"
As the conference wrapped up, Craig Martelle reminded everyone about what makes 20Booksto50k so special: "It's about helping people."
While we chatted with authors in between panels and had lunch with them, this was absolutely the case. From presentations to break-out sessions, authors were more than happy to share the strategies that work for them.
Craig later told us that 20Booksto50k is "the gold standard of indie publishing," and after traveling to countless conferences around the world, we couldn't agree more.
We're already looking forward to next year's conference, and we hope to see some of you there! In the meantime, be sure to follow our Instagram, Facebook, and Twitter accounts to see when we're headed to a conference near you. You can also check out our Meetups Page for any upcoming events.
Publish Globally With PublishDrive
P.S. PublishDrive gets you into thousands of bookstores. It's free to sign up and try it out: