Book Marketing
Amazon Ads Tool from PublishDrive: How to Use It to Increase Your Sales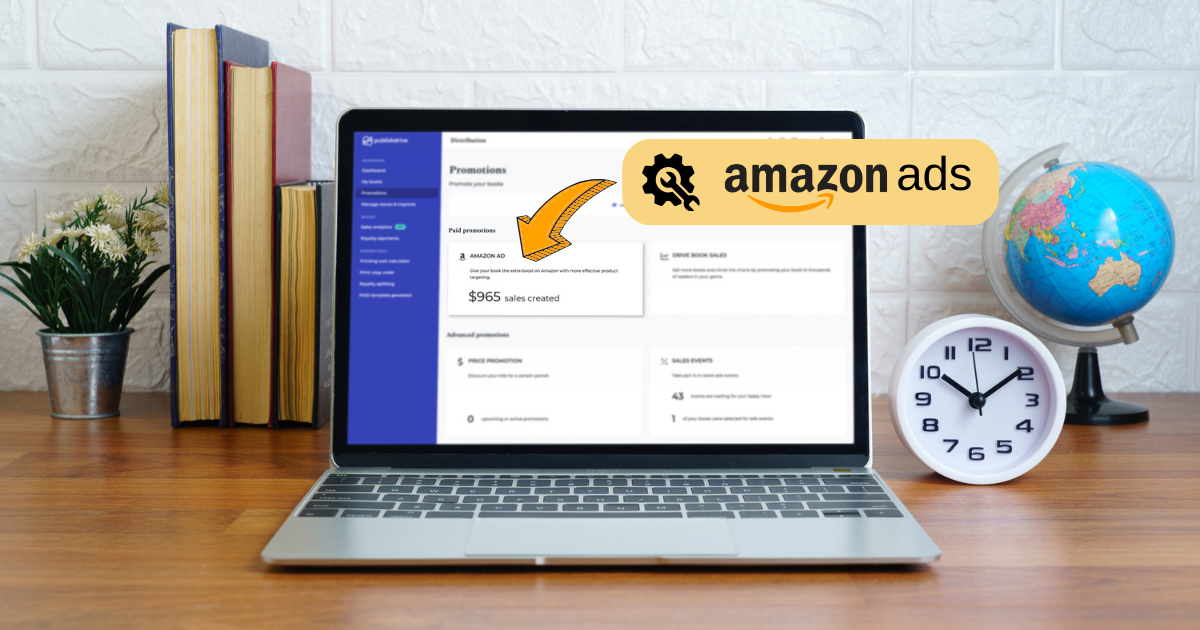 You're selling books on Amazon but want to sell more? Well, using Amazon ads can help. They show your books to people already browsing on Amazon.
You can advertise on Amazon directly through their platform, or you can use PublishDrive's Amazon ads tool. Today, we'll focus on the latter.
How to Advertise on Amazon with PublishDrive
With our built-in marketing feature, users can manage Amazon's Sponsored Products ads directly through our platform.
Amazon's Sponsored Products are cost-per-click ads for individual product listings that appear on product pages and search results throughout Amazon's website. 
Amazon's Sponsored Products Ads available on PublishDrive
From the Amazon ad dashboard in PublishDrive, you can set:
Automatic targeting

. With this option, Amazon

automatically

matches the ad with relevant keywords and products similar to your book.

Manual keyword targeting

. This is a more advanced option with which you can choose the keywords you want to target. 

Product targeting

. This option, too, is a bit more advanced. You can manually set a target for specific products to refine your campaign.

Negative keywords

. Tell Amazon which keywords you want to exclude from your campaign to prevent irrelevant traffic that will drive up costs.
How to set your Amazon ads
First, make sure you distribute your book to Amazon (with PublishDrive or not). Then:
1. Select a book 
The very first step is to head to the promotion section from your PublishDrive dashboard, then go to Amazon advertising and select the title for the campaign.
The book you want to create a campaign for can be distributed through PublishDrive or directly through Amazon.

If the book is on PublishDrive, you'll be able to select it from a dropdown menu: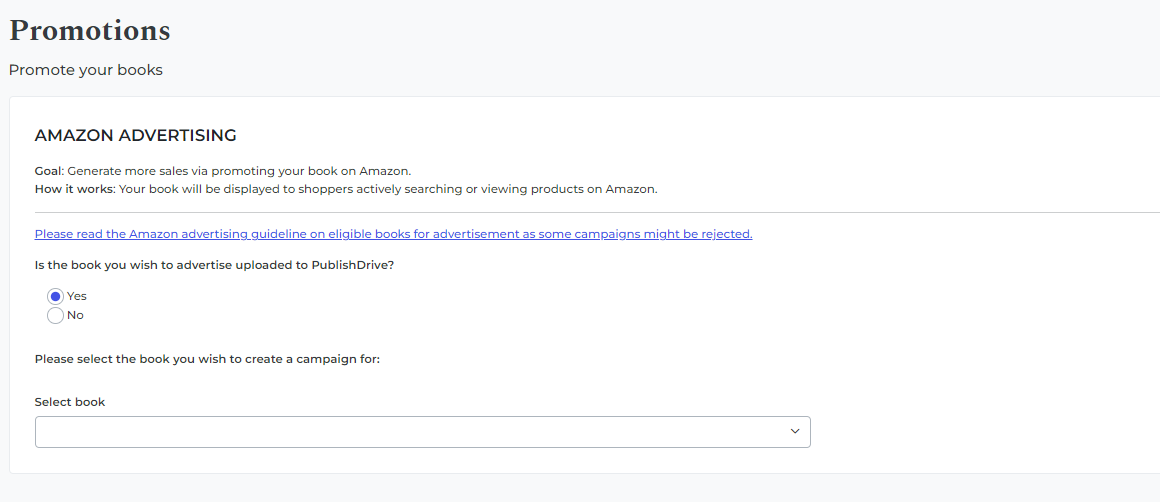 If not, you're required to provide a few details about the book: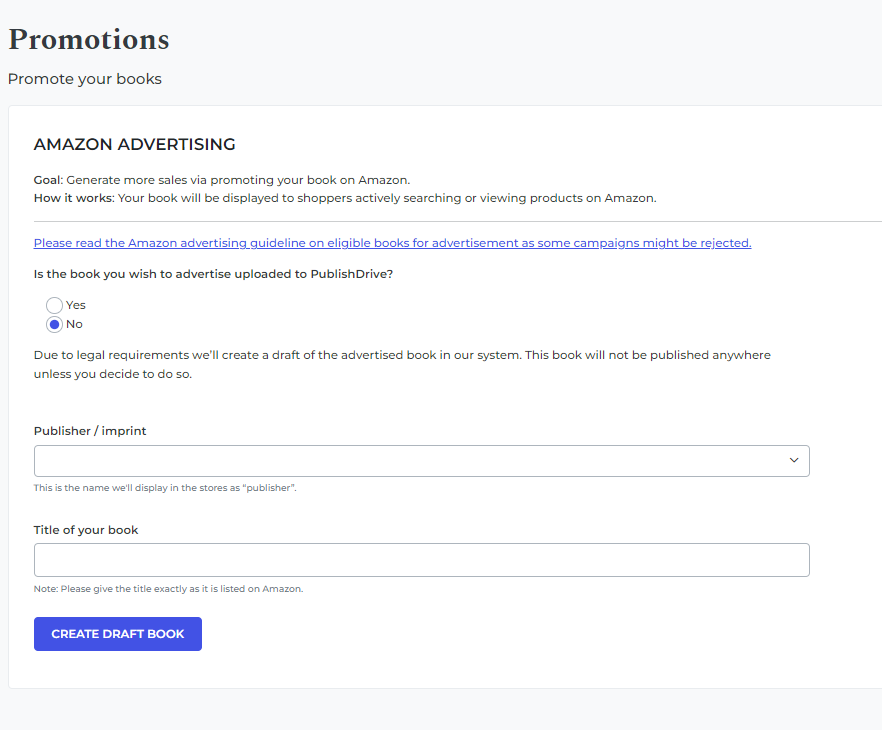 Let's say your book is on PublishDrive, so we can go on with setting up the ebook ads.
Once you select the book from the Amazon ads dashboard, you need to provide its ASIN, which you can find on the item's product information page at Amazon.com. 
2. Enter campaign details
Once you find your book, set a campaign name, a start and end date, a daily budget, and your bid.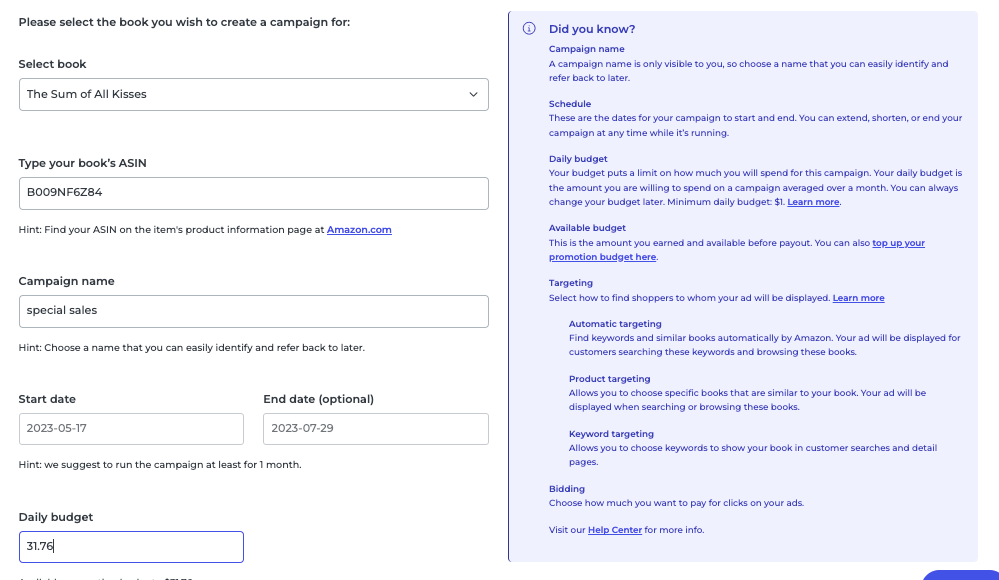 3. Launch campaign
Hit the Launch button, and PublishDrive handles your ebook ads. You can edit your campaign details anytime.
Plus, you'll have access to downloadable sales data to analyze your campaign's performance and see if you need to adjust the bidding and the budget.  
The live analytics includes different types of performance indicators: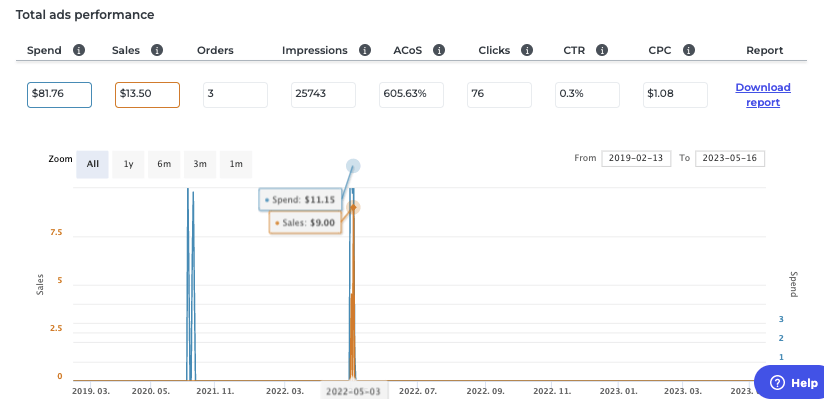 Why Choose the Amazon Advertising Tool via PublishDrive?
Our integrated Amazon marketing tool is very easy to use, it shows you details about your campaign so you can make informed decisions, and it integrates Savant, an Amazon advertising AI.
What is Savant?
Savant is an exclusive AI technology that helps identify the most relevant products to target for optimal campaign performance. This is what makes it one of the best Amazon advertising tools.
It also helps you find the best categories for your book. 
The great thing about Savant is that it helps you not only with online book marketing at Amazon but also during your self-publishing process, optimizing your metadata during book upload and distribution.
Learn more about PublishDrive's AI.
Note: Savant can only be used by those who uploaded and distributed to Amazon through PublishDrive.
What Else You Can Do with the Amazon Ads Tool from PublishDrive
1. Manage your marketing budget
You can add funds to your marketing budget with a credit card, Venmo, Google Pay, Apple Pay, or PayPal.
2. Download keyword reports
The detailed keyword reports give you insight into how your keywords are performing. The reports display a summary and daily view of each keyword's performance, including impressions, clicks, cost-per-click, and more. 
To download the report, go to PublishDrive > Promotions > Amazon advertising, and click Download Full Report for the campaign you want to view.
Conclusion
If you want to start with an ebook advertisement on Amazon, you can use PublishDrive – the platform that has you covered in terms of Amazon advertising tools, and not only that.
You'll also be able to:
Tap into multi-format publishing and distribution

Distribute your books wide to

many stores and digital libraries

Tap into other marketing tools, such as a partnership with Written Word Media, featuring opportunities in popular storefronts, participating in book sales, etc.

Use our straightforward royalty management system

Track sales with sales analytics