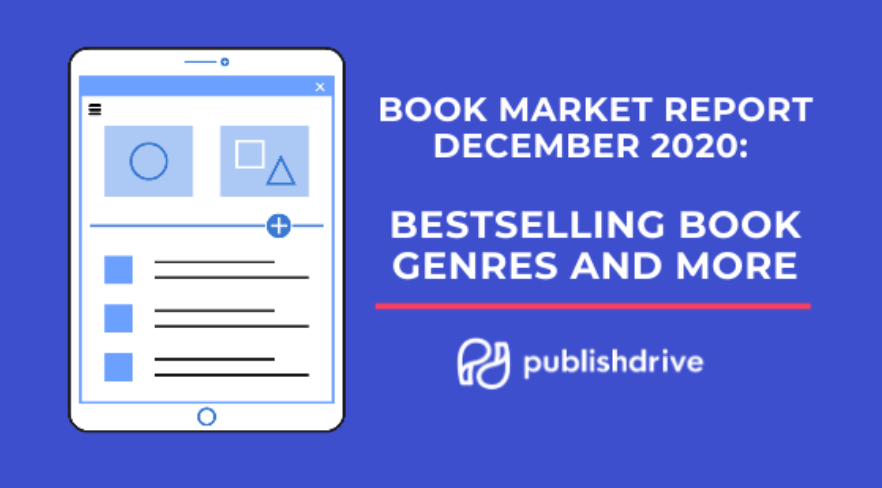 Everything has changed. What hasn't changed is our mission to help authors make more royalties.
Digital book sales have been doing hot since March 2020, and the rates haven't slowed down. In December 2020 compared to 2019, there was an 85% increase in sales via PublishDrive. This is our highest growth rate to date! We break down what happened below, including international sales, bestselling genres, markets, and more.
(P.S. Watch the latest podcast episode about author innovationion with Self-Publishing Formula.)
Self Publishing Indies Have Achieved More Book Sales
Physical book sales have slumped in 2020, while digital substitutes like ebooks have peaked. In places like China (the largest market in the world), online bookstores saw promising bumps in sales. And independent publishers harnessing digital solutions are winning against big traditional publishers selling 10% less than before.
With the kind of digital publishing tools and solutions available, it's never been easier to meet readers online. All last year, the positive trends we've seen have come from all corners of the world.
Book Pricing Differs Per Genre
Many authors and publishers ask us about how to price their books. We looked at our data back in November for the average pricing per category: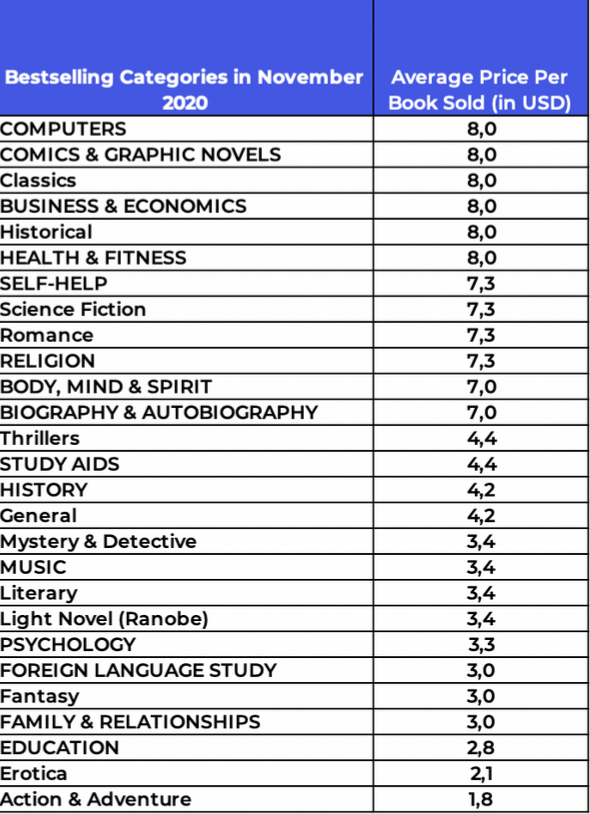 Nonfiction books are among the most expensive books. With fiction genres, historical, sci-fi, and romance were the top three categories priced at around $7. This breaks the myth about self-published books being priced at $2.99 or below. Instead, we see a trend in pricing books higher.
If you've kept up with our monthly reports, please give us feedback 🙏
We Spent Hours Researching and Compiling Global Book Market Trends for 2020.  
We're giving it all away for free! Just enter your details, and we'll email you our findings.
Digital Books Ruled
Along with more people seeking books for entertainment, the shift to digital accelerated as schools and educational institutions adapted to remote learning in 2020. Since March 2020, sales grew by 20%. In April, by 23%. Now in December, we hit our highest 85% increase in a one-year period.

This upward trajectory is beneficial for PublishDrive indies who keep 100% royalties. Since we don't take any commission, indies get the same royalties as selling directly to stores.
You can try PublishDrive free for 14 days to sell across hundreds of countries and stores 👇
Various genres from YA to Business performed well
Both fiction and nonfiction books performed well in December. Book category Light Novel (Ranobe) had an impressive growth hike by 10,056%! Comics & Graphic Novels also saw an 893% increase. The popular Fantasy genre hit a 424% increase.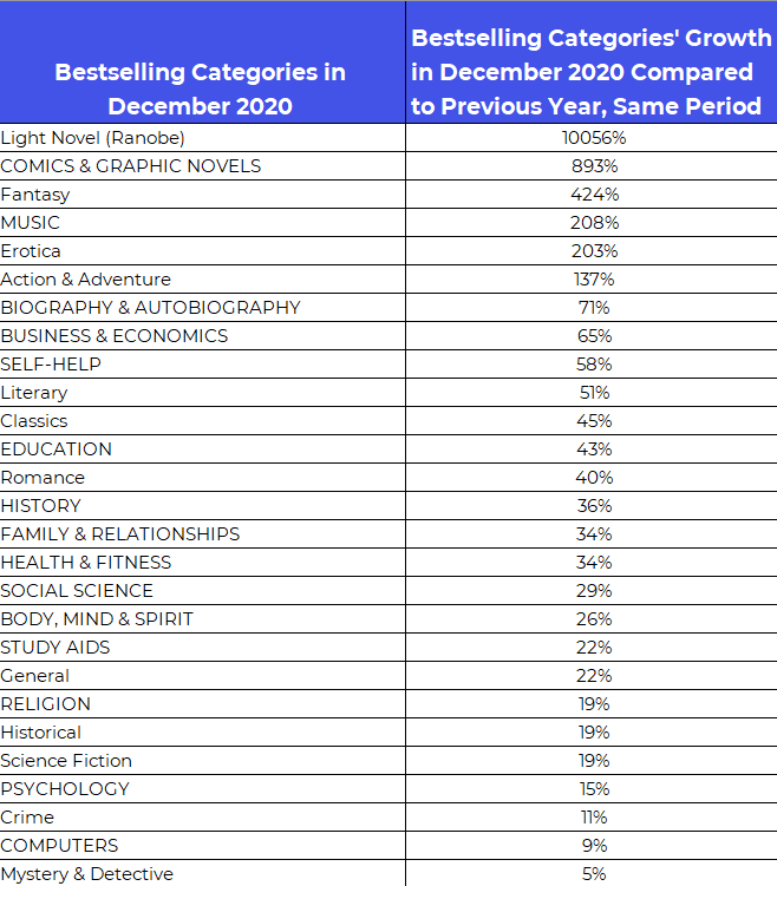 The top 30 categories in December contributed to 93% of the growth compared to 2019 during the same period. Pretty much, our indies doubled their performance. Usually, 20% of PublishDrive's book genres would contribute to 80% of the sales. But in 2020, we see that the diversity of books published have expanded.
We also saw some cool growth rates with subcategories. Under Fantasy, Contemporary performed the best along with Dragons & Mythical Creatures, and Romantic & Urban Fantasy. Under Romance, Action & Adventure, African American, Historical-Regency, New Adult, Paranormal Shifters, and Paranormal Vampires performed well. Under Erotica, Science Fiction, Fantasy, and Horror. Under Thriller, Crime, Espionage, and Psychological. Under Mystery, Women Sleuths. Under Young Adult fiction, Light Novel (Ranobe), and Paranormal.
Non-fiction like Religious, Military, PoliticalAstrology, Body, Mind & Spirit, and Art-related type of books performed well. Business books gained more popularity especially in Investments & Securities, and Corporate Finance. Genres including Medical, Musical instruments-related, and Self-help have also performed well throughout the pandemic.
There's Growth Across Markets
Overall, the US book market has maintained stability throughout 2020. Particularly in December, there was a jump in US sales which captured 41% of PublishDrive's book sales (compared to 30% in November). Meanwhile, international markets were responsible for 59% of the sales. Take a look at our bestselling countries: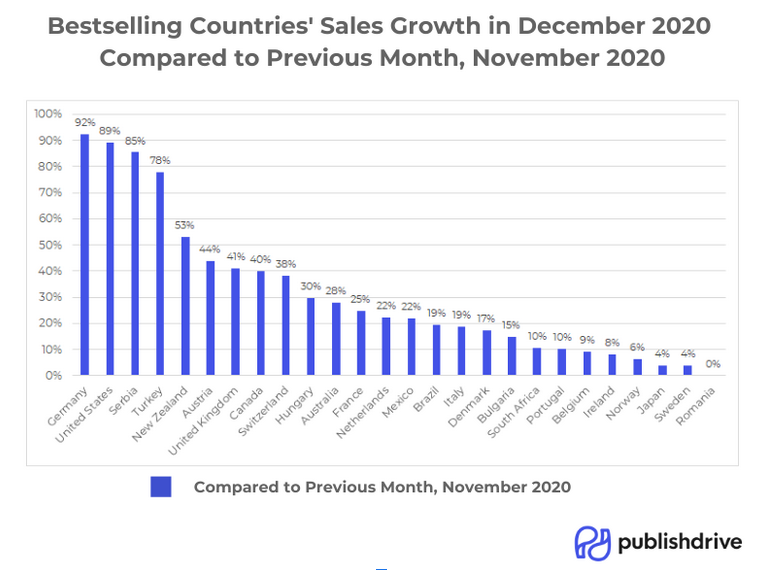 Compared to 2019, the UK saw growth by 57%, the US by 30%, Canada by 17%, Australia by 5%, and New Zealand by 1%. Singapore stood out by nearly 500%. Bulgaria jumped by 600%. Other countries like Austria, Belgium, France, Italy, Norway, Poland, Romania, Spain, and Sweden have had the most spikes.
Online stores funneled the most sales
Book royalties come from different sources today. For published authors enrolled in KDP Select having to sell only in Amazon, they miss out on 60% of the market. In PublishDrive, we generate sales from four store types:
Retail:

Major outlets reaching global readers. E.g. Amazon, Apple Books, Barnes & Noble, Google Play Books, and Kobo.

Subscription services:

Applications or stores that provide unlimited access to books for a monthly subscription fee. E.g. Scribd, Bookmate, and Dreame.

Digital library providers:

Book borrowing for not just individuals, but institutions like  public libraries, schools, universities, or corporate libraries. E.g. OverDrive, Bibliotheca, Mackin, and Odilo.

Regional stores:

Outlets that cover specific regions serving local communities. E.g. Tolino and Chinese stores.
As reader experience shifted heavily this year, people are using online platforms like subscription services and digital libraries: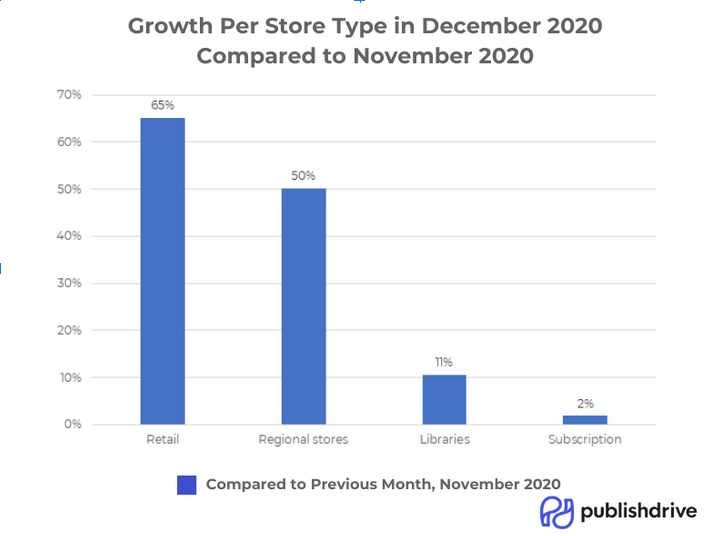 Here's the growth in a one year time period: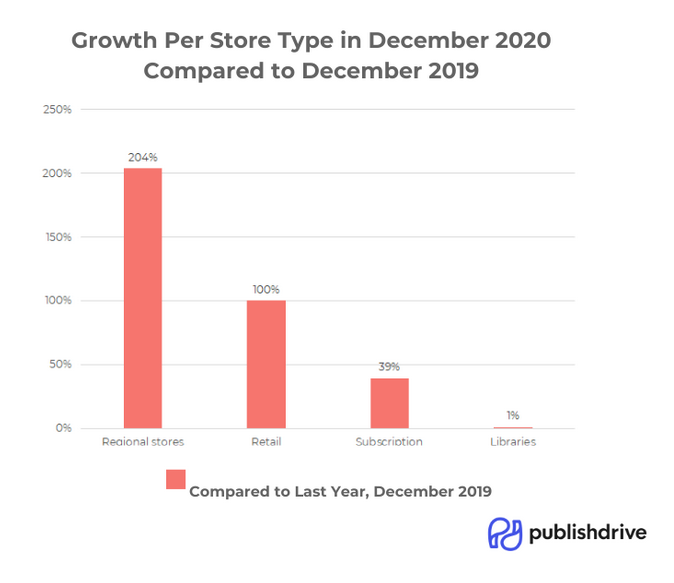 In one year, Regional stores grew by 204%. Libraries saw the most growth from Australia, Canada, Colombia, Denmark, Germany, Ireland, Israel, Malaysia, New Zealand, Portugal, Singapore, Sweden, the UK, and the US. Library sales are heavily concentrated in December as many libraries spend their remaining budget in the last month of the financial year. (Do check here for why you should distribute to libraries).
Subscription models grew by 39% across markets: Australia, Brazil, Bulgaria, Canada, Denmark, France, Germany, Hungary, India, Mexico, Romania, Serbia, Singapore, South Africa, Spain, Sweden, the UK, and the US.
Online retailers grew by 100% across markets: Australia, Austria, Belgium, Brazil, Canada, France, Germany, Hungary, Ireland, Italy, Japan, Mexico, Netherlands, New Zealand, Romania, Spain, Switzerland, the UK, and the US.
Among hundreds of book channels our indies distribute in, we had the most growth from these stores: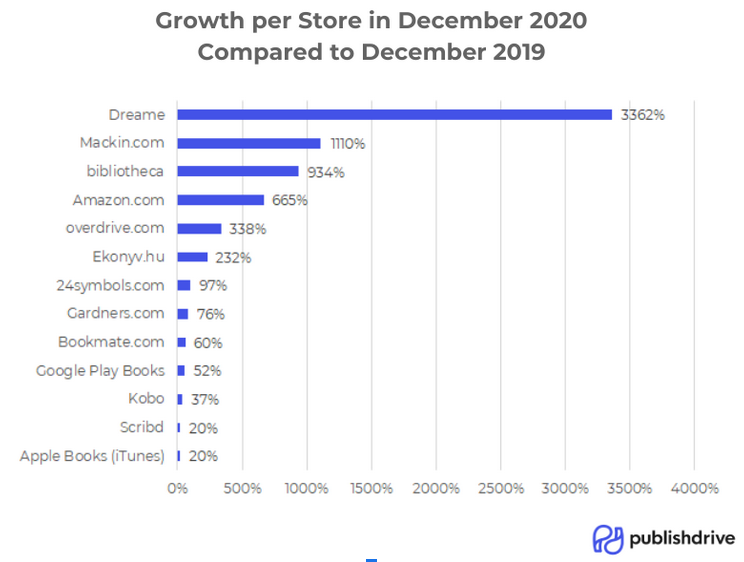 Now is the Time to Sell Digital Books
Amid the pandemic, 2020 was a golden time to sell digital books. We don't see this trend slowing down in 2021. Be sure to tune in at the end of Q1 this year for our quarterly report on global book title sales and trends.
Are you signed up with PublishDrive, the only publishing platform you need?
Start a free 14-day trial to sell your book in thousands of stores worldwide: