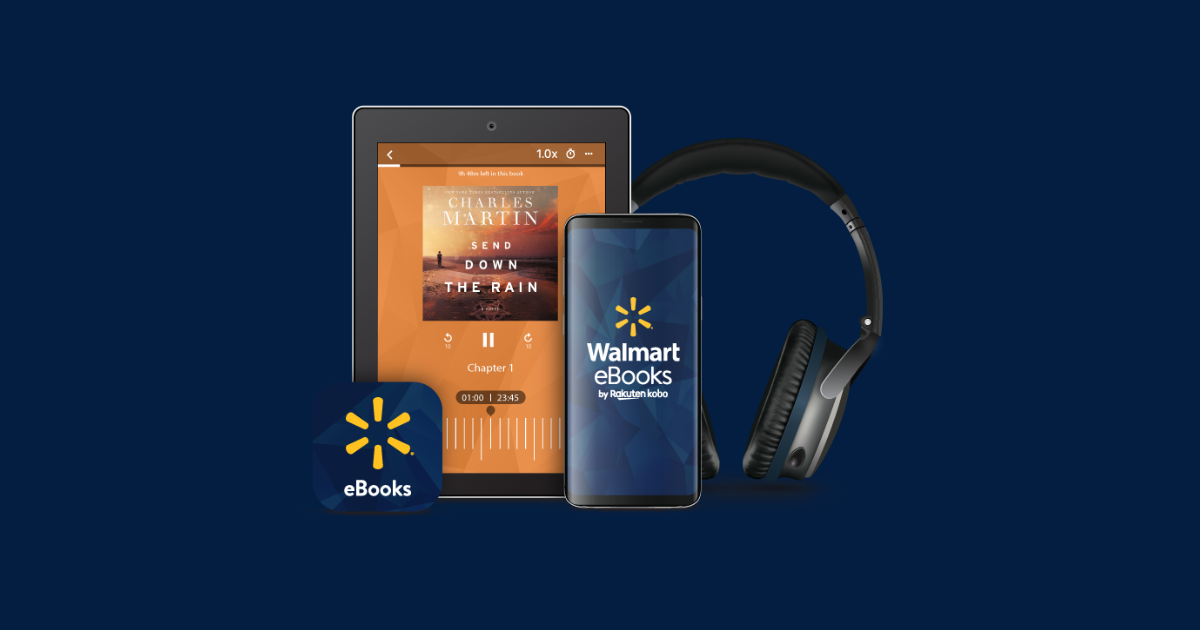 Walmart is a multinational retailer in the United States that has expanded into the ebook market. With such a huge consumer base, selling your self-published ebooks at Walmart can boost discoverability.
If you're not distributing to Walmart, you're missing out on potentially millions of readers.
We will show you how to get your book in Walmart stores.
Walmart Ebooks by Rakuten Kobo

On August 22, 2018, Walmart launched its ebook sales platform in partnership with Rakuten Kobo. Walmart has sold the Kobo eReader for quite some time before that. Now, Kobo reading devices and ebooks sold at Walmart automatically link to Kobo's fast-growing inventory of over 6 million titles.
The Walmart Ebooks app allows users to purchase titles on their smartphone or tablet for $12/ monthly or $120/ yearly. 
At Walmart.com, books are looked for daily. This retailer offers a wide pool of potential new readers for self-published authors.
Walmart Publishing: Why Sell on Walmart?
When publishing and selling books, most authors instinctively think of Amazon. However, diversifying distribution channels is crucial in today's digital landscape, and Walmart's book publishing offers a compelling alternative. 
Here are four main advantages of selling ebooks at Walmart. 
1. Wider audience reach
Selling your ebook on Walmart's platform allows you to tap into a new and broad customer base. Given that millions of people browse through Walmart's online platform, the visibility your book gains is invaluable. This is especially true since Walmart's algorithms and ads further boost exposure.
2. Additional revenue stream
Going wide across multiple platforms like Walmart mitigates risks associated with depending solely on Amazon. Walmart also uses the EPUB format, similar to Amazon, meaning that you don't need to do extra work to list your book there.
3. Access unique reviewers
Walmart has its own set of dedicated reviewers. Their reviews can be shared on social media and other platforms like Goodreads to generate additional buzz.
4. Cross-product exposure
Walmart's algorithm goes beyond books and often suggests items across categories. Let's say you are writing a cookbook. This is a great discovery when looking for the perfect kitchen appliance or researching seasonal cooking.
How to Get My Book in Walmart?
Since there isn't a Walmart self-publishing platform, you can't upload your ebook directly to Walmart. 
So, here's how to get your titles listed there.
First, you'll need to convert your manuscript into EPUB format. This is the standard ebook format used by most major retailers.
If you don't know how to convert your manuscript, no worries. Our free ebook converter can turn your Microsoft Word DOCX file into a high-quality EPUB file. You just have to make sure you've formatted your manuscript correctly.
Once you've converted your manuscript, you have two main options for selling your ebook at Walmart: distribute through Kobo and distribute through an aggregator.
1. Distribute to Walmart Ebooks Through an Aggregator
Consider the advantages of going with a subscription-based aggregator like PublishDrive. It simplifies your publishing process and helps you reach hard-to-get audiences.
Here is how to join the PublishDrive book network. All authors need to do is create an account and follow the steps below:
Head to

My Books

in the dashboard, choose to upload a new title, select the format, and fill in the relevant information.

Upload your book's files.

Fill out the creators' names.

Fill out the

metadata

to connect the book to prospective readers. There are tips for writing

descriptions

that excite your reader; you should consider them before writing the text.

Set the

book's price

.

Define your

rights

and set a publication date. Here, you can set

pre-orders

.

Select your stores. Click Enable for each store you want to distribute your book.
You are now ready to click the Publish button. 
Note: After publishing, once authors earn royalties, they will start seeing those payouts after two months (although it could be longer, depending on the reporting and payment cycles of the different stores.) 
Why PublishDrive?
Besides the seamless process of publishing PublishDrive offers, you'll benefit from:
Book distribution to 20+ channels, 400+ stores, and thousands of digital libraries worldwide

Built-in marketing and promotional tools to help with your books' visibility

In-store featuring at Kobo and other retailers: with PublishDrive's featuring option, you can submit your books for a chance to be featured in Kobo's app store and other top retailers, like Apple Books and more

Services like

royalty splitting

and the

POD cover template

generator

Multi-format distribution
Speaking of multi-format distribution, PublishDrive can also help you get your print books to Walmart. We offer print-on-demand distribution through Ingram, which sells books in over 40,000 online stores, including Amazon, Barnes & Noble, Baker & Taylor, Walmart, Costco, and other independent bookstores, chain stores, libraries, and universities.
Distribute your books to Walmart stores in a single click by taking advantage of PublishDrive's partnership with Ingram Spark (and never worry about where KDP books are printed again.)
Read more about print-on-demand on our blog:
⚡How Print-on-Demand Works
⚡Understand Print-On-Demand Book Pricing
⚡Ingram: Sell Online Print-On-Demand Books
2. Distribute to Walmart Ebooks Directly Through Kobo
You can choose to distribute your titles to Walmart Ebooks directly by publishing through Kobo Writing Life.
For ebooks and print formats, the royalty payout stands at 70% for books priced over $2.99, 45% for those under $2.99, and 20% for public domain books. 
Kobo reaches over 190 countries, especially targeting markets in Canada and India, and has over 275 million monthly visits on Walmart.com. 
Their e-reading subscription service supports 187 languages. Subscribers can enjoy unlimited access to both ebooks and audiobooks each month. For ebook and audiobook formats, the royalty payout is 60%.
Take the Next Step 
Navigating the landscape of book distribution can be complex and time-consuming for self-publishing authors. While many focus solely on platforms like Amazon KDP, a more comprehensive strategy can yield greater rewards. 
Utilizing an aggregator service becomes an invaluable asset, as it not only facilitates the distribution to Walmart's broad audience but also allows authors to go wide by getting their works into multiple platforms and international markets. 
This strategy is particularly beneficial for independent authors who aim to maximize their reach and diversify their income streams. Therefore, if you're pondering how to sell on Walmart but also how to make the most of your sales, an aggregator like PublishDrive may just be your best route for efficient and effective distribution.