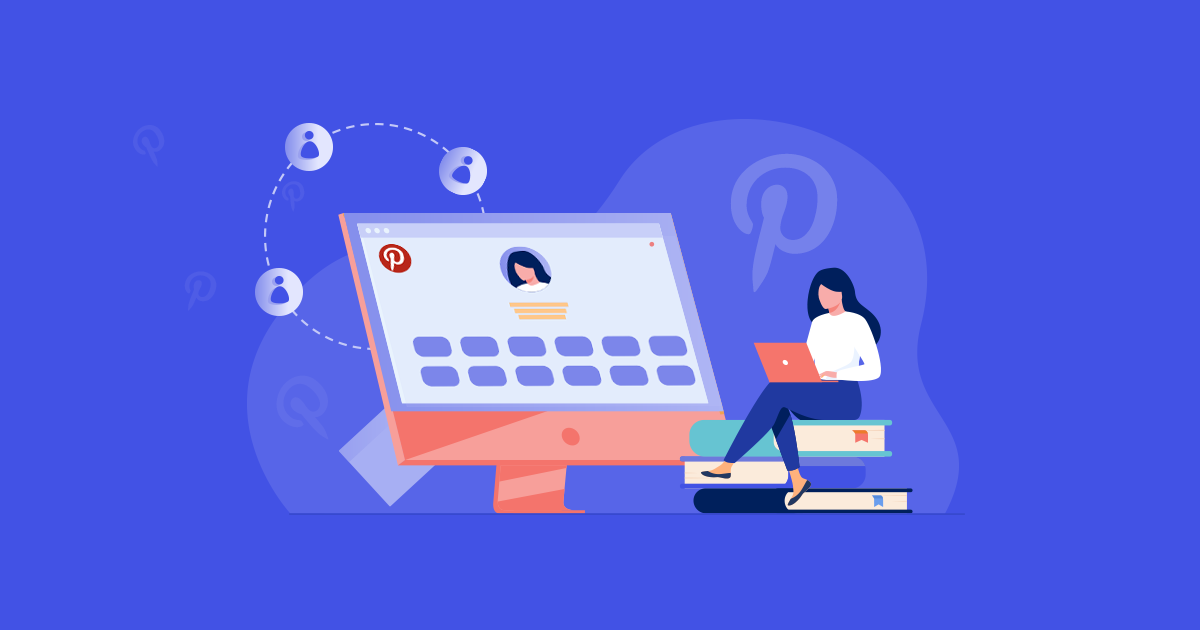 You may use Pinterest for recipes or fashion ideas, but did you know that it's just as valuable for growing your brand as an author?
Pinterest has over 433 million monthly active users. Imagine how many readers you could reach by creating and using an account the same way you use, let's say, Instagram for books or any other social media platform. 
When used effectively, Pinterest can help improve your brand, boost discoverability, and allow you to interact with the reading community within your genre.
This quick guide explores the essentials of Pinterest for authors, so you can get your account up and running and start reaching more readers.
A. What is Pinterest for Authors?
Pinterest can be described as a "social bookmarking site" with a show, don't tell approach. It's a platform where authors, brands, or any other user can share photos that link to articles, websites, or products. Then, the users can collect these images by "pinning" them to separate boards based on themes, such as recipes, home decor inspiration, wedding ideas, books to read, etc.
It differs from other social media platforms for authors because the focus is more on engagement and sharing inspiration and ideas with a like-minded community rather than on likes.
"Content on Pinterest never expires," meaning it never goes out of fashion because it doesn't necessarily relate to trends. 
And this is why it's great for authors. People use the platform as a search engine. They might search for phrases like: how do I start a blog, how to write a fantasy novel, sci-fi romance books to read, book quotes, etc.
This is your chance to step in.
Think about what people search for in indie writing, your genre, or book inspiration. Answer those questions visually on Pinterest.
B. Why is Pinterest Important for Self-Published Authors?
Your goal as a self-published writer is to reach as many readers as possible. You can achieve this through creative marketing strategies or platforms such as Pinterest. 
Let's look at Pinterest's essential features and ways you can use them:
Get early publicity by sharing covers of your upcoming books. Create that buzz.

Share quotes from your books placed on eye-catching visuals.

Attach a Follow button

to the visuals you post on your website and other accounts. Users can pin them to their boards on Pinterest.

Create boards that allow readers to get to know you: your interests, favorite books, preferred genres, and writing tips you've picked up along the way. Separate topics into different boards.

Interact with group boards (with other authors and readers) that can keep you in relevant conversation about your work and interests. To do this, search on Pinterest for a topic that interests you. On the right side, locate

All Pins

and select

Boards.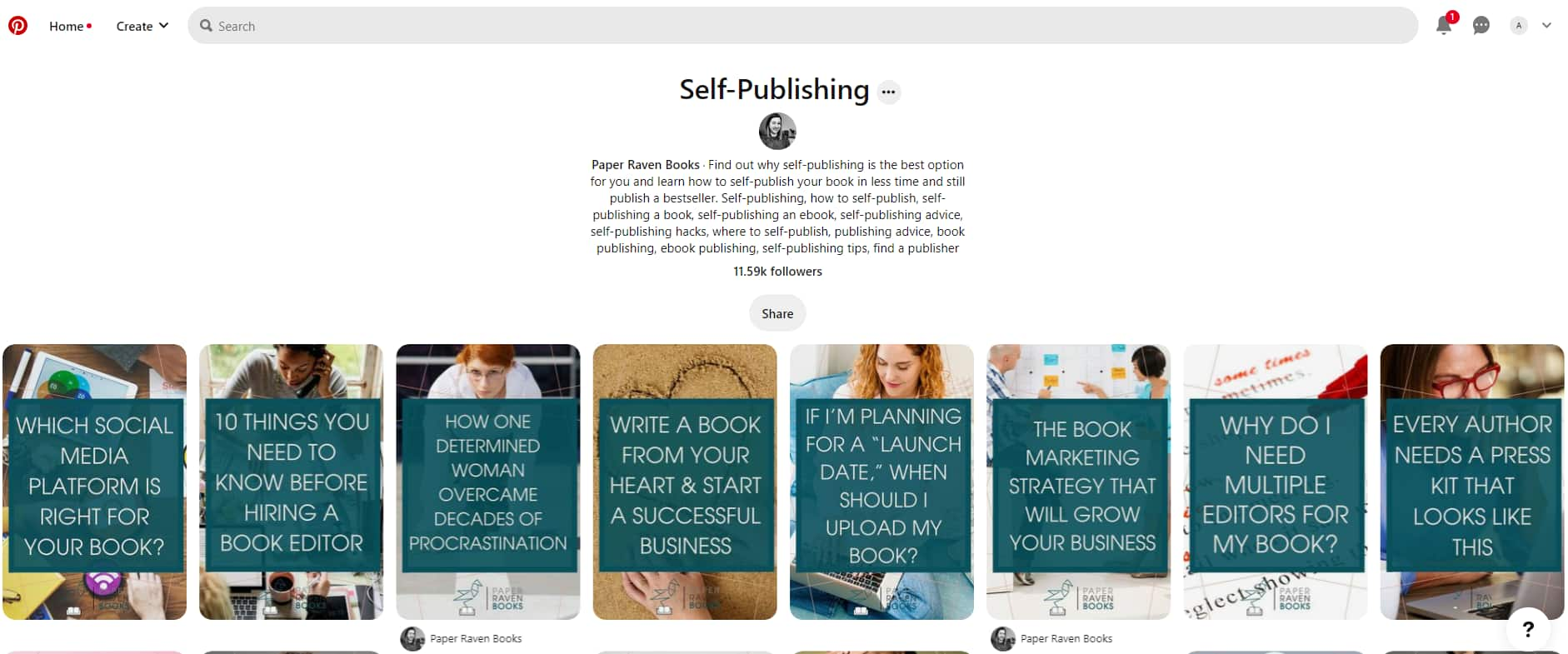 Interact with other Pinterest users and build a community.

Funnel readers from your active profile to your author website, blog, and other social media platforms.

Grow your mailing list.

Create a board with photos of the most comfortable and atmospheric places to read: cafes, libraries, restaurants, and others.
Pinterest is more than a source of inspiration. It's a user's path to purchase. Here are a few ways to ensure your profile's visibility. 
C. Pinterest for Authors: Key Tips for Success
Pinterest is quite amazing. As simple as that.
You should create a Pinterest account because you do not need to spend as much time maintaining it as you would on LinkedIn, Facebook, or any other social media platform. Your success on Pinterest doesn't rely on you constantly engaging with your followers. You can answer their comments, but it's not a must.
You only need to devote 10-15 minutes daily to make some cool reposts from other social media platforms or post new content. It's a terrific solution for writers who don't want to spend much time creating visuals. 
Focus on the following methods and strategies to make your efforts more effective.
1. Business means business
Create a business account just like you would for Instagram, Twitter, or Facebook. It will allow you to access analytics, including: 
How many people have re-pinned your pin

Where your pin has been shared

The number of times your pin has appeared in homepage feeds.
This way, you can plan future content and create effective marketing campaigns because you'll understand the content your target audience resonates with. You'll also have access to information like your audience's location, age, and interests. 
All necessary data are at your fingertips. You can improve your current marketing strategy and develop new campaigns.
✨ Once you create a page on Pinterest, let people know about it. Add the Follow button on your website.  This way, your followers can engage with what you share.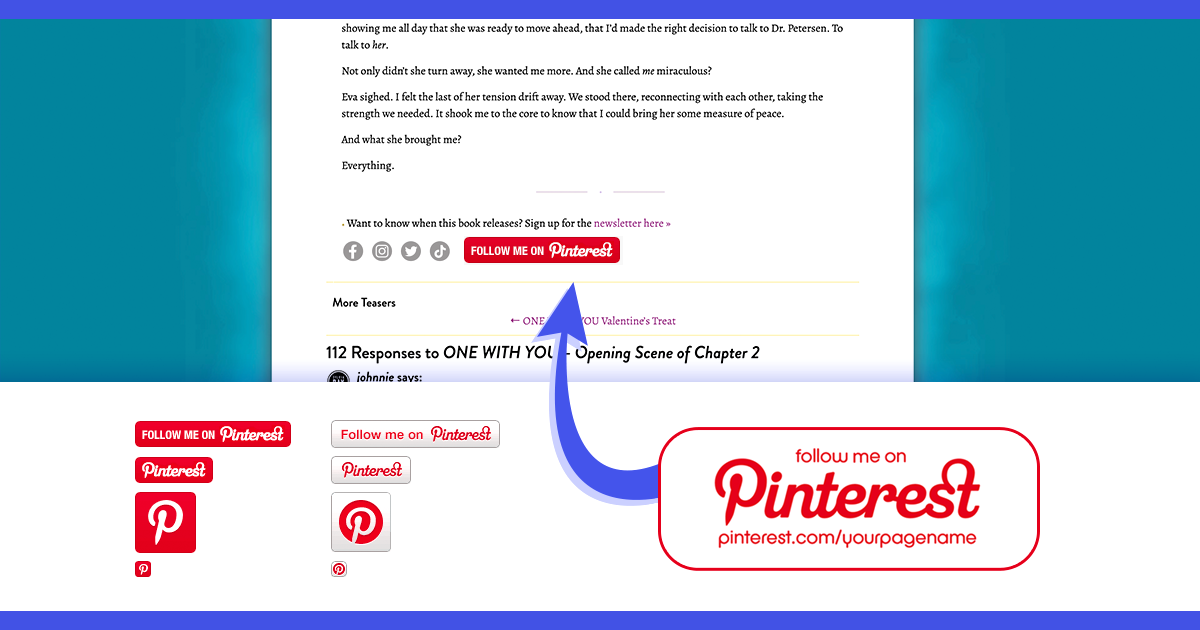 2. Think like a reader
For many, Pinterest is a search engine for information and inspiration. To boost your discoverability and get noticed not only by your readers but by other authors, too, use keywords relevant to your writing in your profile description. 
For instance, make it clear that you're an author of YA romance fiction. The more specific you are, the more you find accounts similar to yours and increase your discoverability.
Think like a book lover who has stumbled upon your Pinterest page for the first time. What would they want to know?
Who you are;

The genre you're writing in;

What you're interested in;

Books you're currently working on;

Characters you're currently developing.
You can show all this to Pinterest users through boards. When everything is ready, look at the result from the reader's point of view. Ask yourself: "Would I be interested in getting to know this author better?"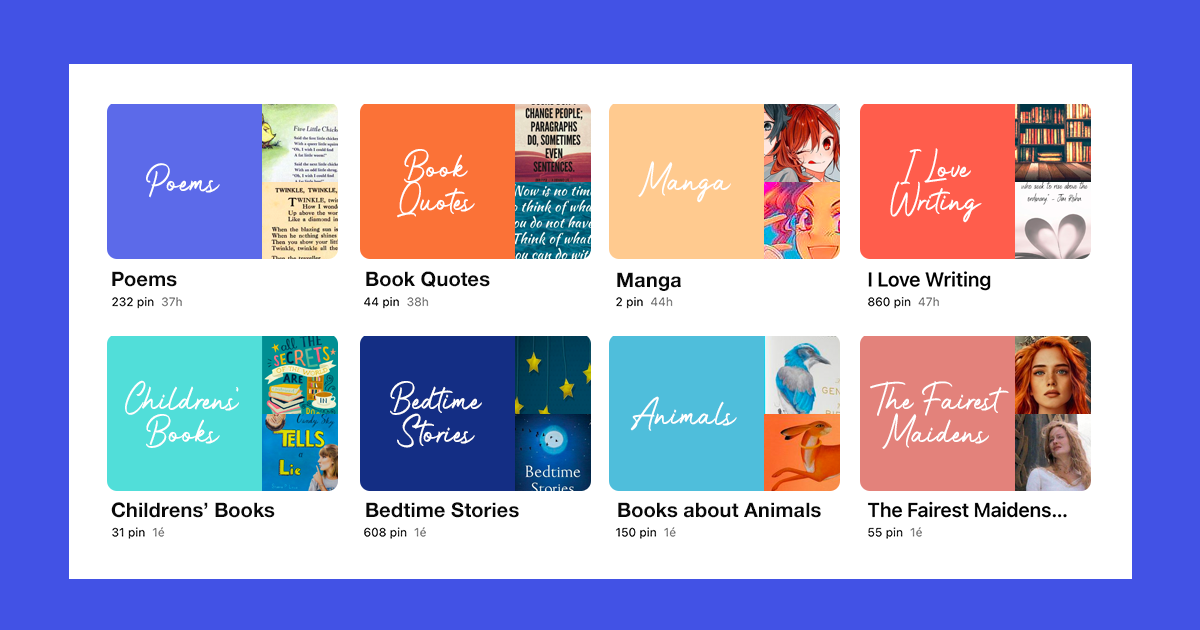 3. Create engaging content for your followers
With a large variety of profiles, users choose one where they can receive new and relevant content regularly. Following the example of how famous writers maintain their Pinterest profiles, go for creating boards such as the ones I mentioned earlier.
Also, keep in mind that Pinterest is all about aesthetically pleasing posts. Give your audience what they want.
The easiest way to make catchy images is with a platform like Canva. It provides all the tools you need to design modern visual content, so take advantage of this resource.
4. Join and stay active in groups
Once you have your account ready, it's time to move on to promoting it on the platform.
Here's what you can do:
Join groups so that people can see that you're actively pinning.

Respond to group members and participate in discussions. This helps grow your following without having to build everything from scratch.

Engage in the community and support other independent authors and readers who enjoy your genre.
All this will help you show yourself, increase the visibility of your profile, and attract new followers. Pinterest can very well be a valuable addition to your overall marketing strategy. 
D. Examples of Authors on Pinterest
Now that you know what authors do on Pinterest let's move on to practical examples of how other authors maintain their Pinterest profiles. I've gathered a few profiles that can help you find inspiration to create your unique page. Here they are:
Jody Hedlund
You'll find everything on Jody's Pinterest profile: pins on her inspiration, editing and writing tips, things she loves, and more. She has separate boards for her books, with descriptions and pictures for each. Also, the author talks about herself in the profile description to peak users' interest.


Alexandra Bracken
If you'd like to create a profile to share share pictures from your stories and various sources of inspiration, check out Alexandra Bracken's profile. It's an excellent example of an author profile on Pinterest.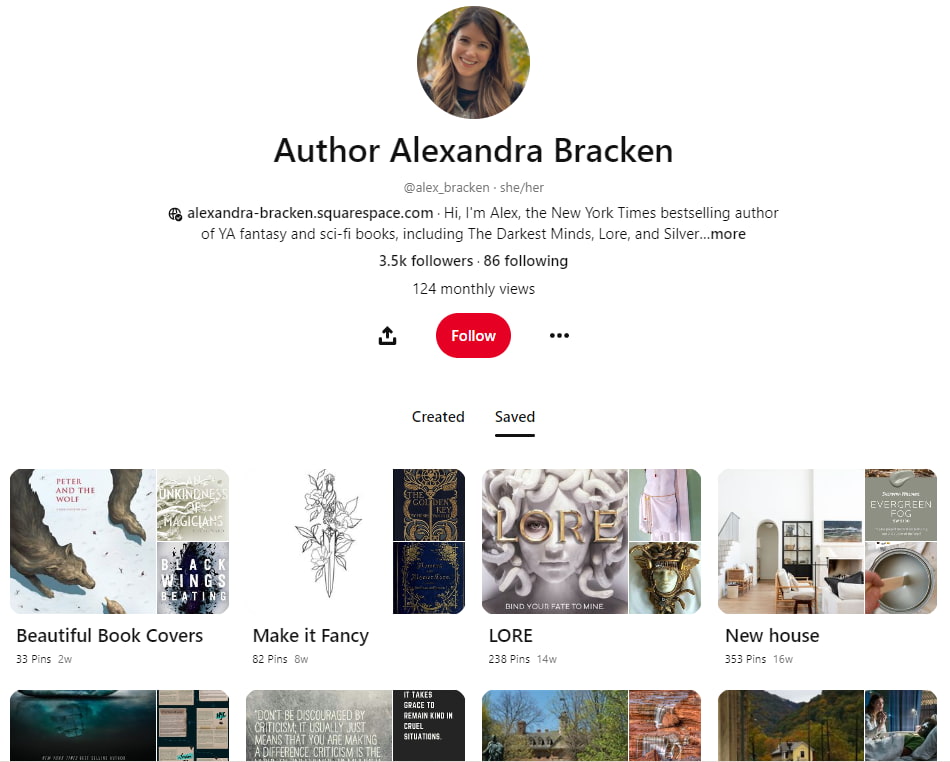 Sylvia Day
Sylvia Day has a board for each of her books, and each board has pins with quotes and pictures of her book covers. Then she's got her boards on her personal life and inspiration.

K.M. Weiland
The famous K.M. Weiland loves to share valuable materials with her audience. In her "Writing Resources" board, you can find fascinating facts about writing, tips on developing characters, and more.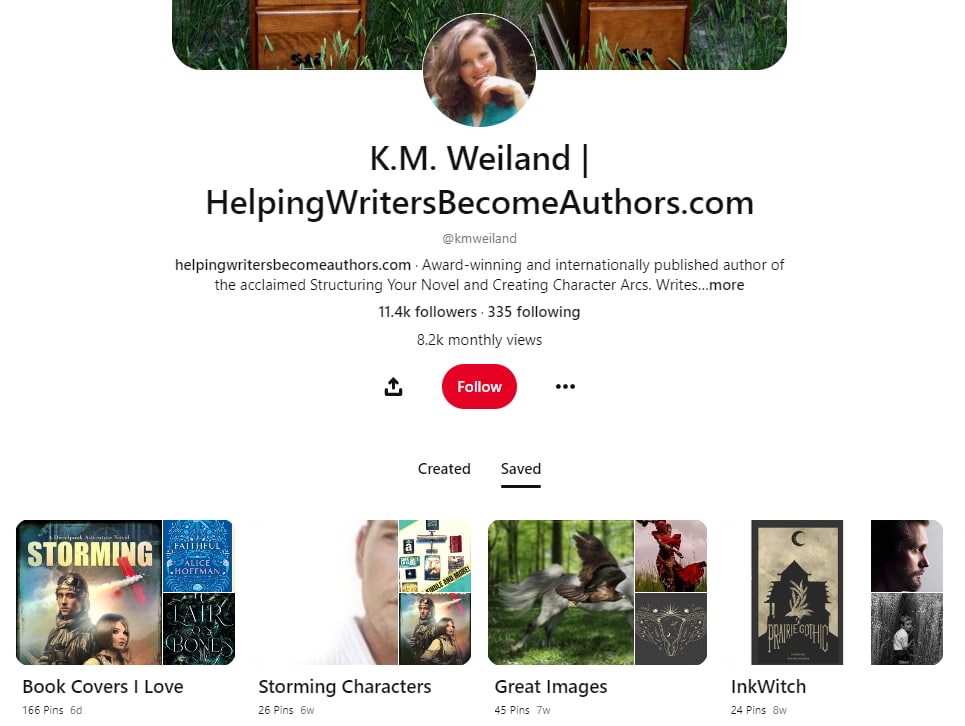 Conclusion
To become a competitive player in the writing industry, know the game's rules and use all available tools to the fullest.
By including Pinterest in your promotion strategy, you can improve your book distribution and sales. 
Hopefully, these Pinterest tips help with your self-publishing promotions and get your books to as many readers as possible.