If you're here, you know that every successful comic book follows a formula:
Exciting plot to keep the readers entertained

Awesome graphics

Interesting characters

Eye-catching comic book or manga fonts
So, today, we're going to focus on comic book and manga fonts and their unique designs. 
If you're searching for a typeface for your next comic book or manga (or you just need a decorative font for a different project), I've put together a list of 20 of the most awesome free comic book fonts for you. 
You'll see that finding your ideal option will not be difficult. 
Note: Keep in mind that before using any of the following fonts, you should study the licensing terms to use them correctly. They may be free for personal use, self-publishing, and commercial use, but some of them must be purchased for commercial use. They usually come with a Read me file that specifies the designer's requests.
Let's get started.
The 23 Best Comic Fonts and Manga Fonts
1. Hey Comic
This one's a cheerful and bold typeface, great for creating colorful children's books and comics. 
Also, Hey Comic is a perfect choice if you plan to design a cool logo, party invitation, flyer, or poster. 
Hey Comic has uppercase and lowercase fonts. 
If you are not afraid to experiment, feel free to choose it.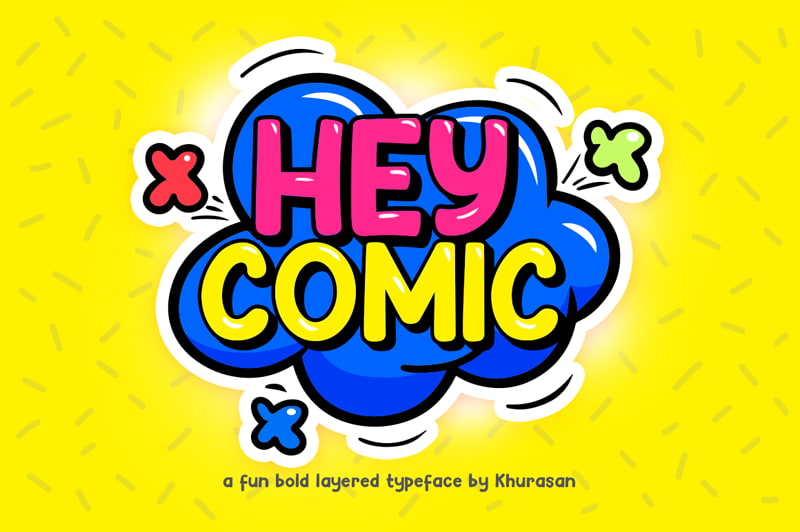 2. Nikopol Typeface
Vintage style has fans all around the world, and comic book creators are no exception. 
So, if you want your comic book to have an eerie yet super catchy design, using the Nikopol font is an excellent choice.
Also, with this font, you can achieve a remarkable effect and create a luxurious storytelling atmosphere.
There are numbers, punctuation marks, and uppercase letters compatible with various languages. Also, there are three style options: regular, halftone, and rough.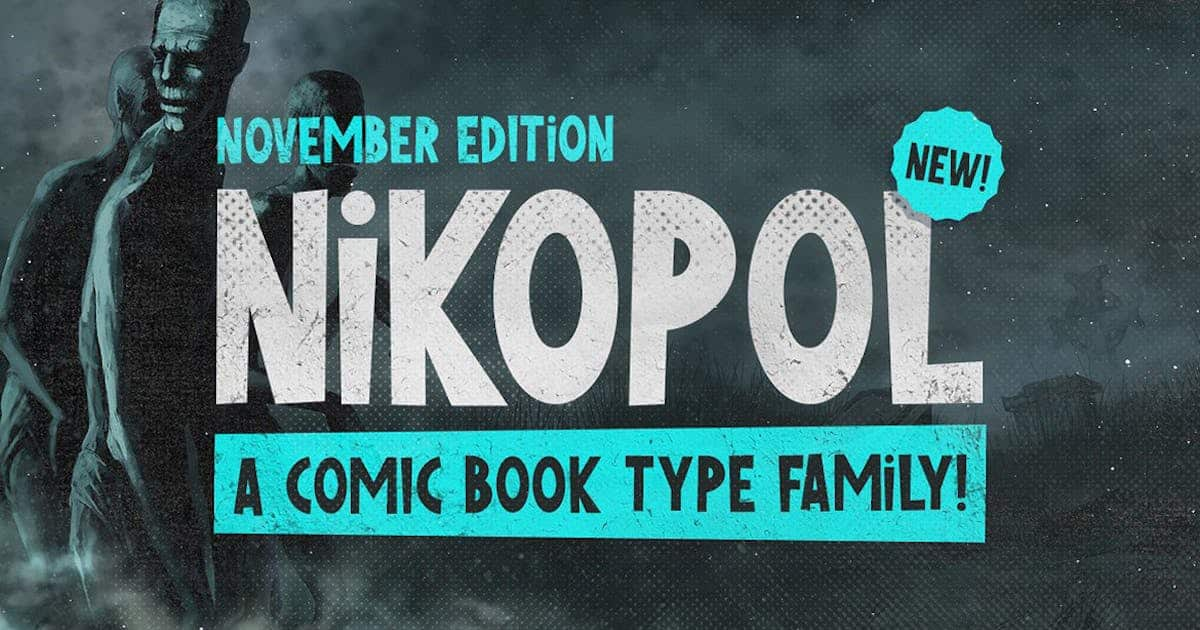 3. Adam Warren Pro Font Family
The designers of this font gave users several design options. Thus, you can choose between regular, bold italic, and regular bold. 
A font with such well-designed comic letters will attract attention thanks to its texture and style.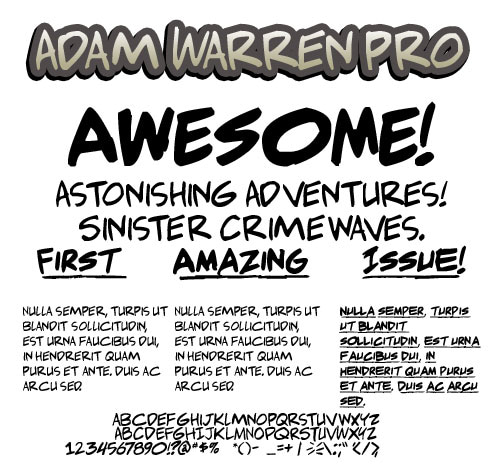 4. Billy font
Because of the attractive roundness of its shapes, the Billy font will become the main feature of your design projects and comics of any content.
It adds color and authenticity, immersing readers in the story's atmosphere.
There are lowercase and uppercase letters, popular symbols, and numbers, allowing you to be as creative as you wish.
Feel free to use the font for personal purposes, and if you want to use it for commercial projects, do not forget to take care of purchasing a license.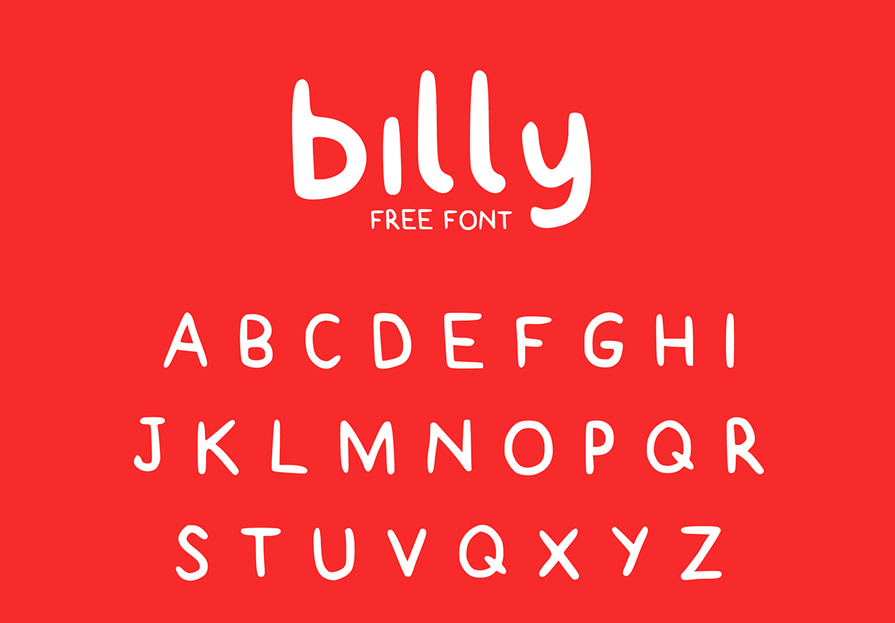 5. Best Friends Comic Font
If you are fond of bold, display fonts and wish to create a comic book with attitude, you will like the Best Friends font. 
With this font, your posters and comics will become better and more colorful. And it will help you show your creativity.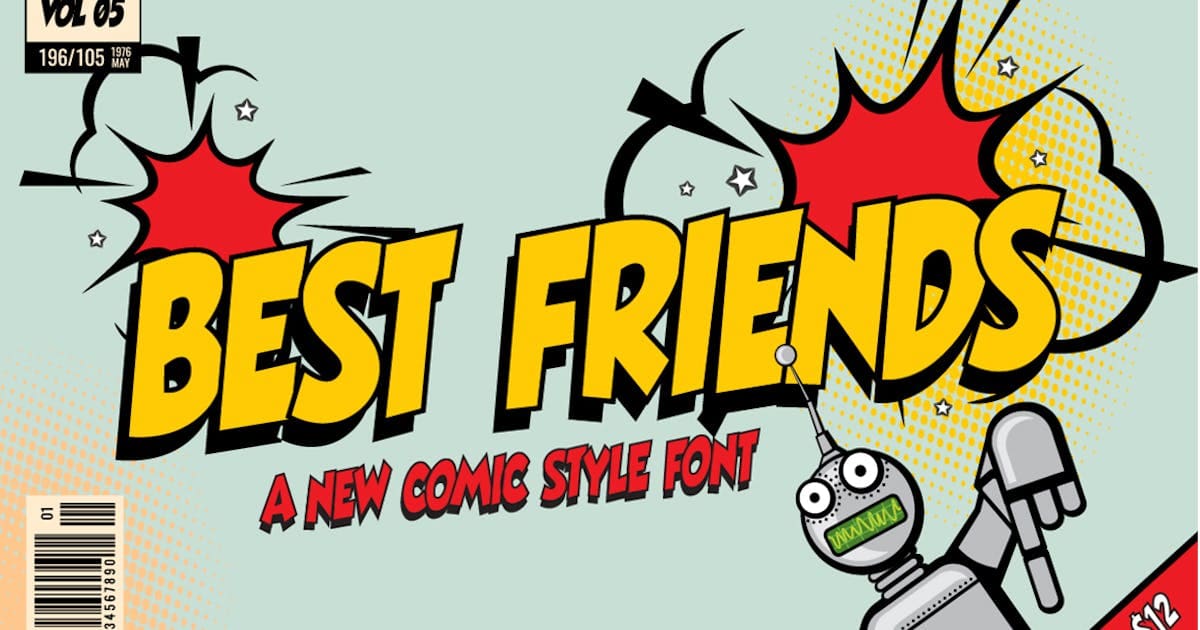 6. Creative Block Comic Font
If you're on the hunt for a great comic book font, look no further than Creative Block Comic Font. It's bold and catchy enough to make comic book lettering and newspaper headlines look amazing.
It comes in regular and bold styles, and it's available for indie comics and any non-commercial use.
However, it's limited to European characters.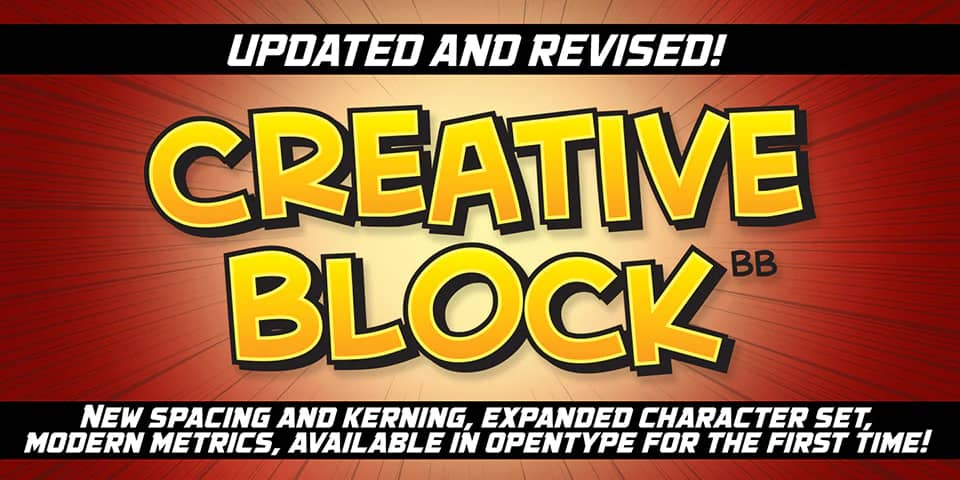 7. Badaboom Comic Font
This is the world-famous cartoon comic font people often use for TV and print projects. You can download and use Badaboom for free if you need it for non-commercial purposes. 
It's also an excellent free pop art font for indie comics.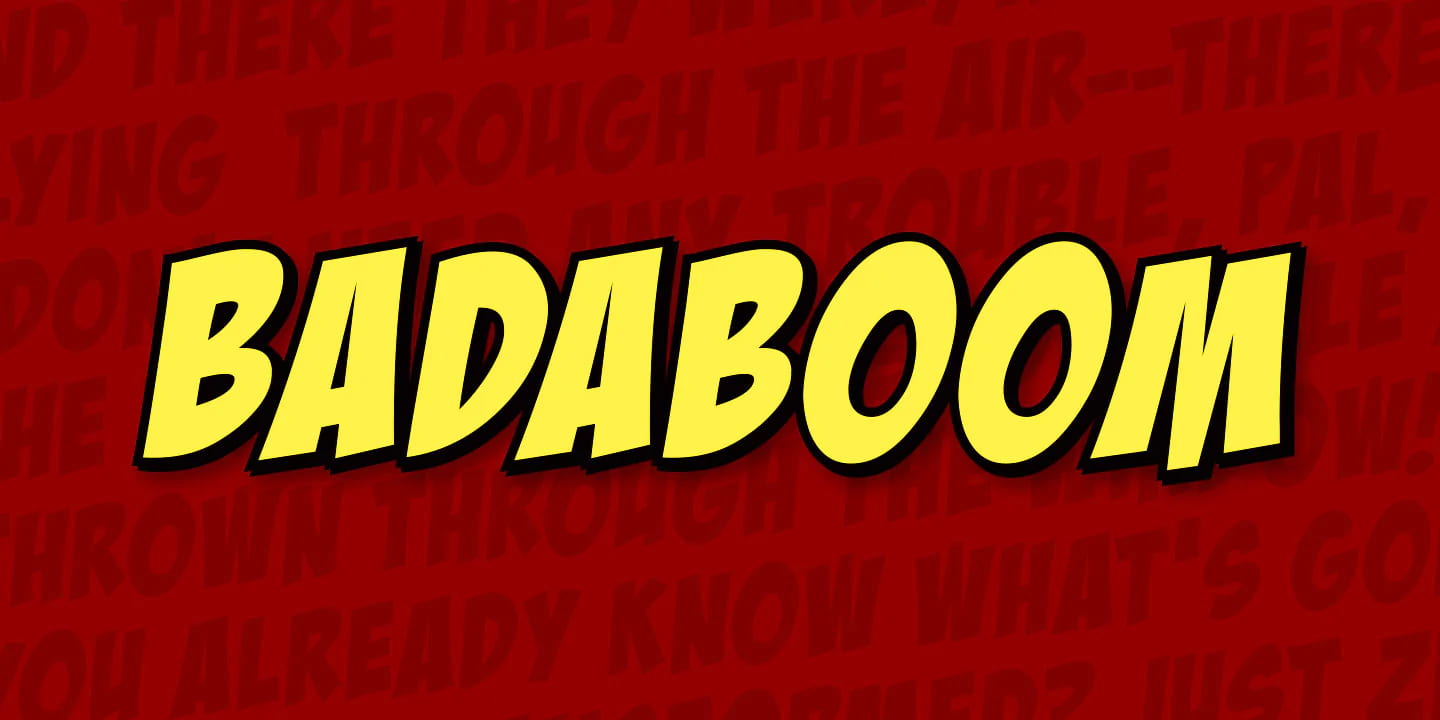 8. Crime Fighter Font
This is a typical example of an authentic superhero font for comics that deal with crime fiction. You can use it as a mood setter for the fans of this genre. 
The font has two weight variants (bold and standard). It comes with a complete character set, numbers, and letters with slight roundness and relaxed shapes. They will definitely help you develop unique dialogues for your characters.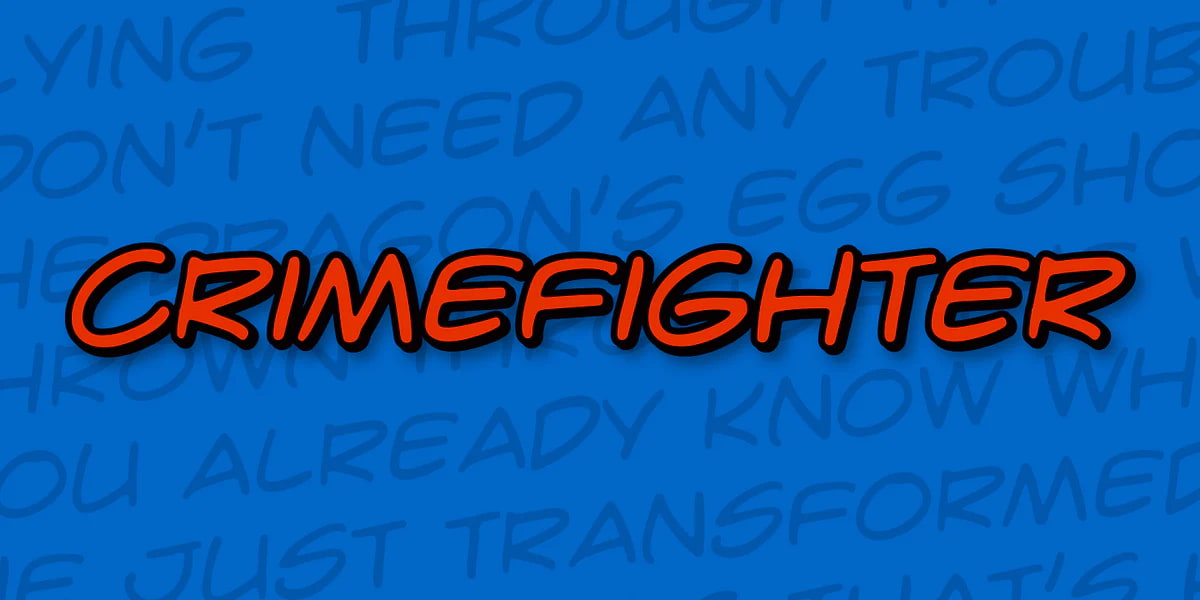 9. Woodchuck Font
This is a modern typeface perfect for the development of comics on any subject. 
Woodchuck sans-serif font supports most Latin languages, and it has lowercase and uppercase letters and glyphs. It is suitable for graphic design and projects related to it.
The font is free for personal and commercial purposes.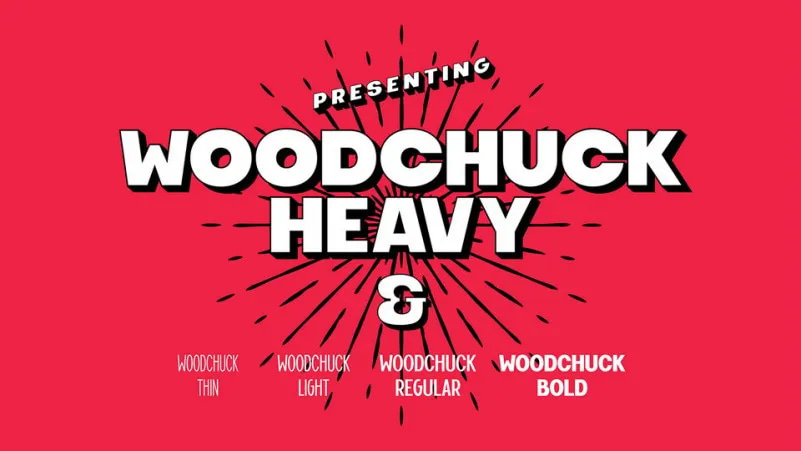 10. Komoda
If the goal is to highlight specific graphic areas or the title, designers and creators often use block font styles. Keep in mind that this style should not be used throughout the text, as it will become burdensome to read and difficult to understand. 
Komoda falls into this category and thus, it's ideal to use when you wish your readers to focus on a specific text. A characteristic feature of the font is a significant height, which can be well complemented by a short regular or a subtle, bold font.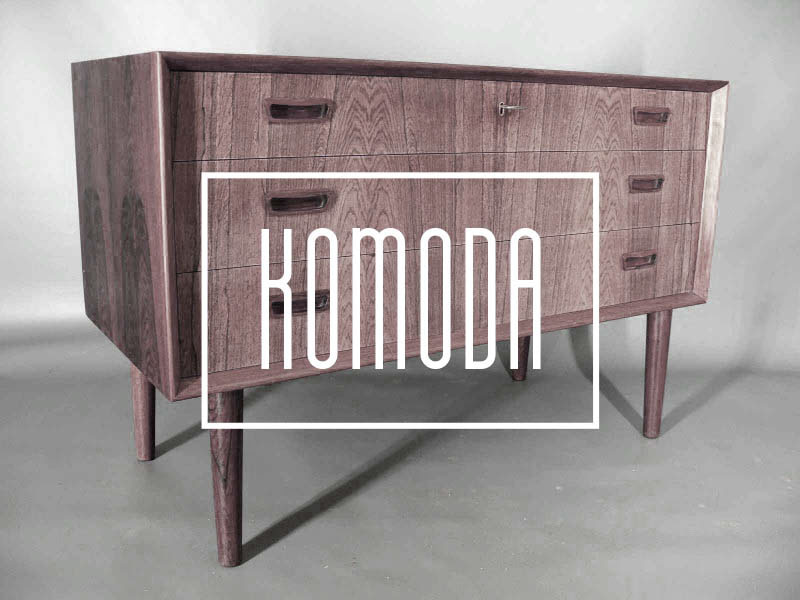 11. Gabo
Another excellent block font style perfect for titles and highlighting an idea is Gabo. 
Since it looks like a cinema font, you may also associate it with movie posters. The letters in the Gabo font have a slight slope, and the lowercase letters have received smooth cuts and curves.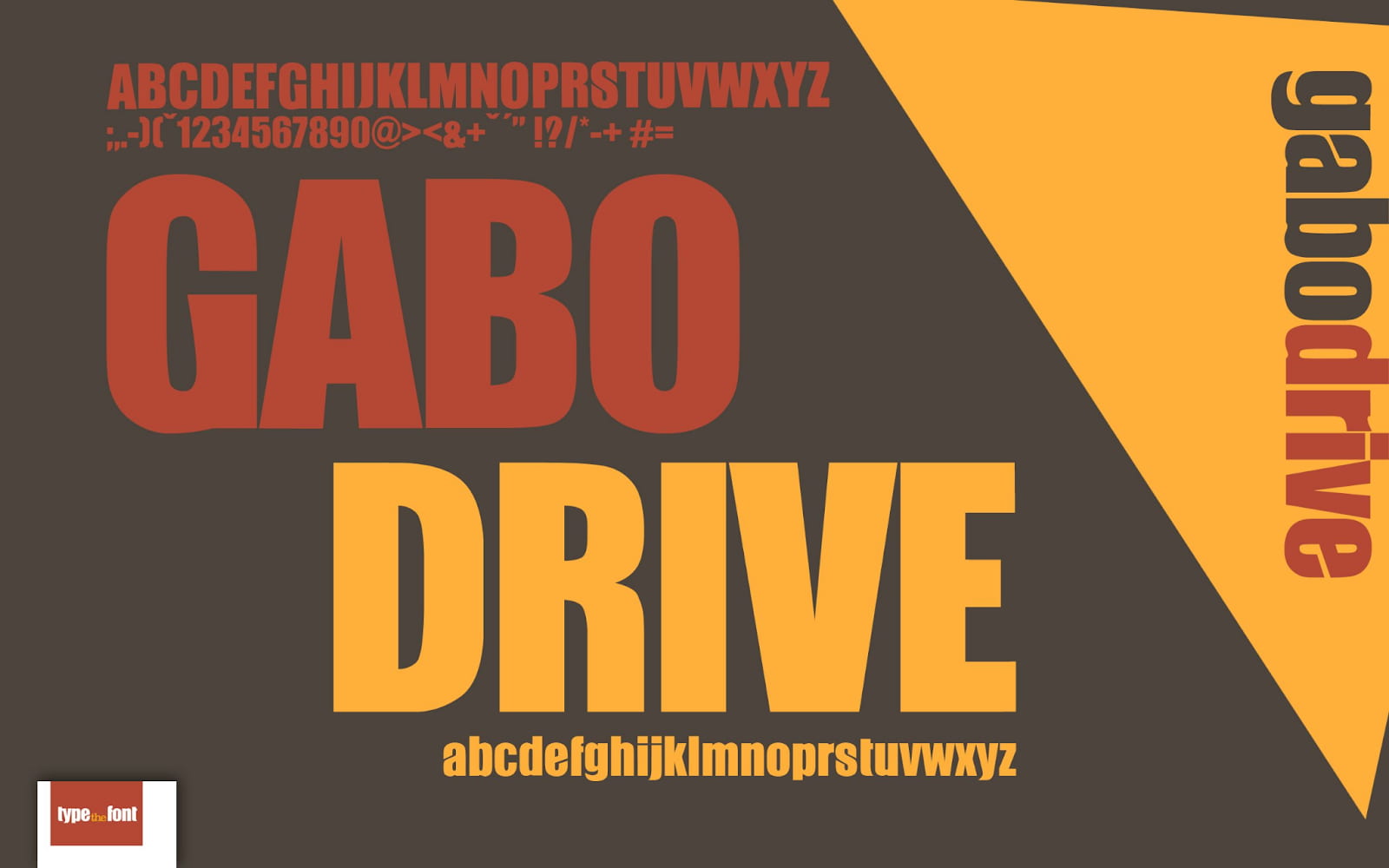 12. Reality Check Font
This typeface comes with uppercase letters and their italic version. They work excellently both alone and together.
If you want to give your text a little pizzazz, you can use the non-standard version of the letter "s."
This awesome comic book font is perfect for titles and short text.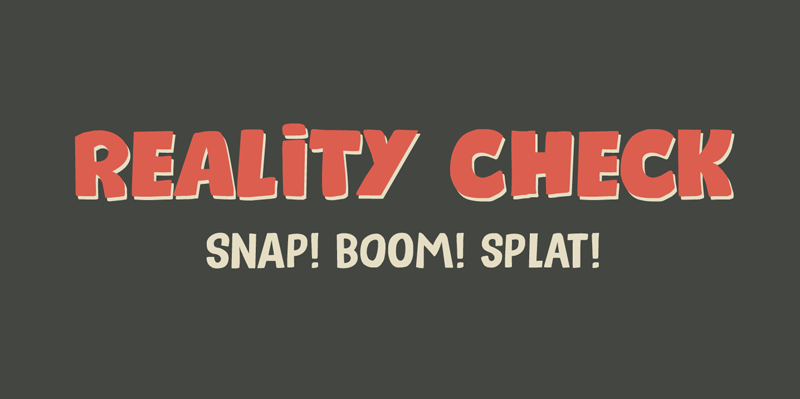 13. Street Fighter Font
Street Fighter Font has its roots in the famous 90s game series with the same name; hence the font itself is pretty energetic and vibrant, with elements of quick strokes and sharp details. 
And thanks to these traits, it is popular among designers and web designers, computer game developers, logo creators, and comics.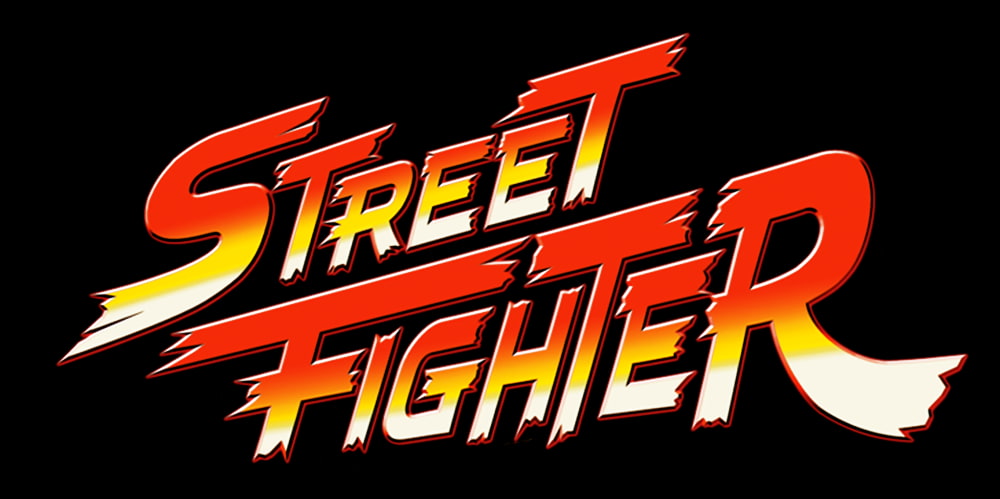 14. Horsemen font
Modern superhero fonts can transform any design, making it more creative and engaging. 
And this is also true for Horsemen, a font that combines horror and retro styles. Characteristics that make this typeface awesome for comic book characters include the variety of symbols and brushstrokes.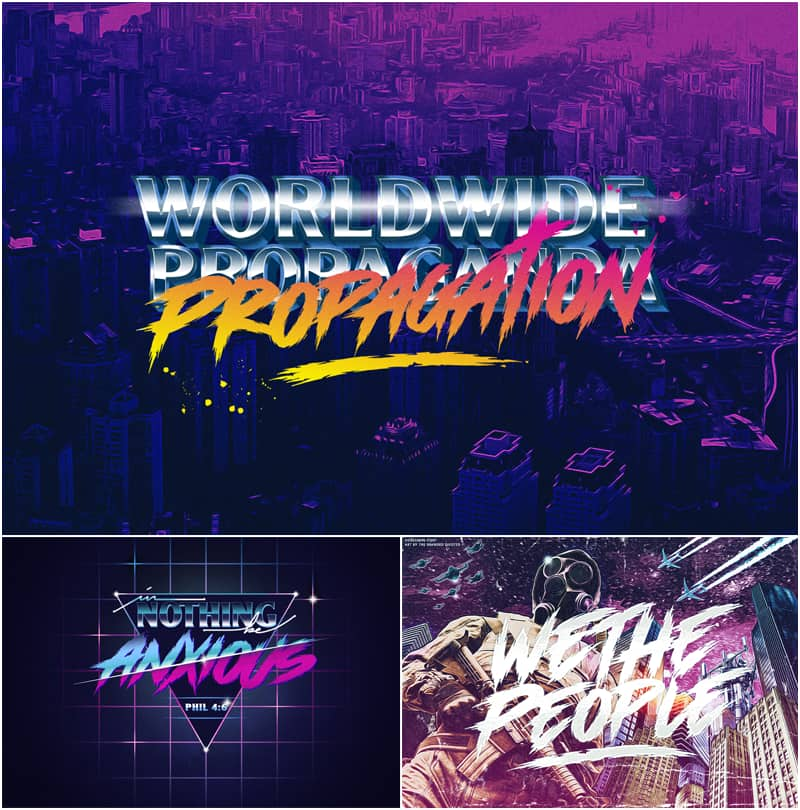 15. Boldly Missy Font
This comic font looks like the designer's handwriting. It resembles a typical comic book dialogue typeface, which makes it perfect for longer text as it's easy to read and follow. You can use this font for manga books as well.
And the best part of this manga font is that it is free for personal and commercial use.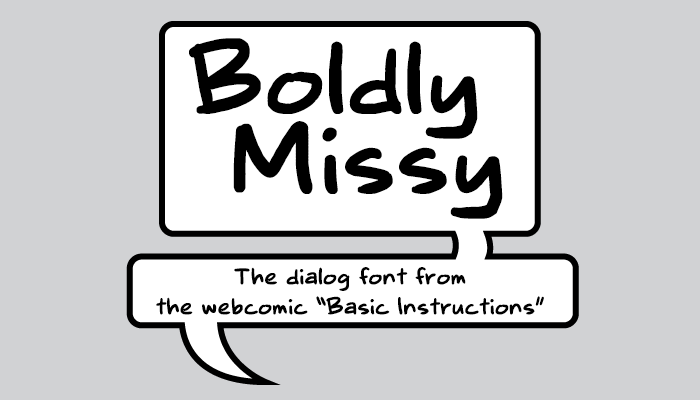 16. The Simpsons Font
I think there's no need to say how popular the Simpsons sitcom truly is, and it seems that the font with the same name follows the sitcom's steps.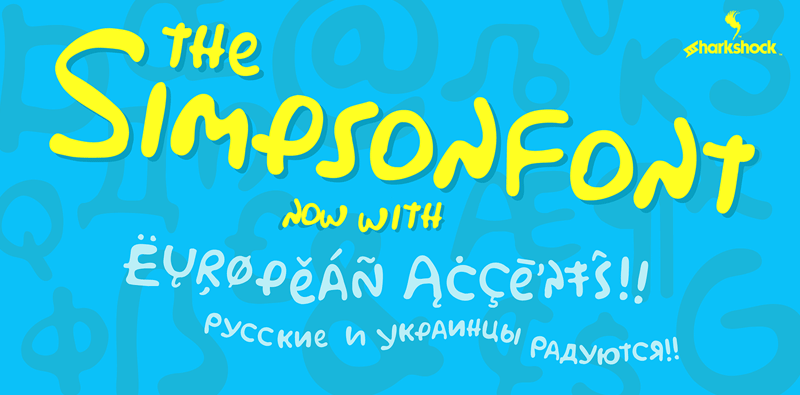 17. Chubby Dotty Font
Children's book writers and creators of comics for young audiences strive to immerse the readers in their works. And the Chubby Dotty font is suitable for this purpose. 
The letters here are voluminous and extensive, making an attention-grabbing text.
This playful font with dots offers capital letters and mini versions of capital letters.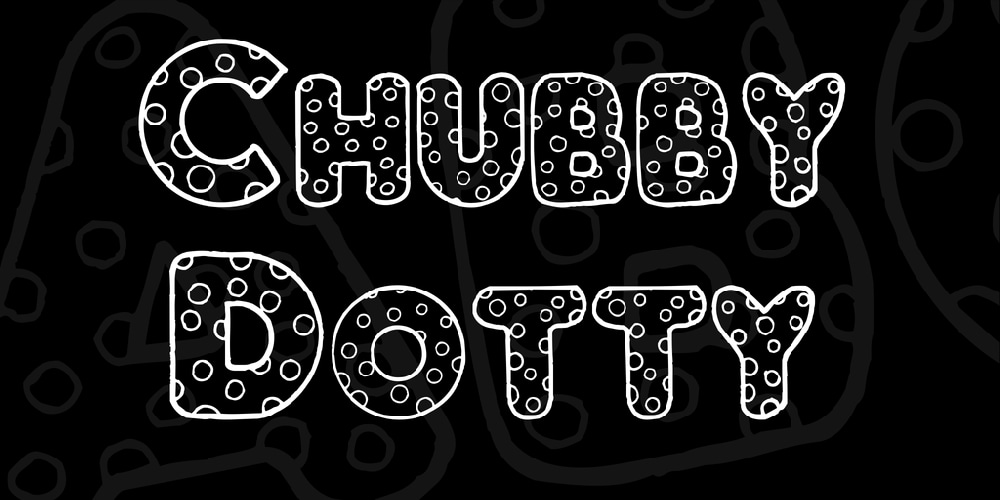 18. Komika Font Family
This typeface is in demand among creators and creative personalities for two reasons. 
First, these fonts are free, even for commercial projects. Second, you will find not one but 50 variants of various fonts with punctuation marks, numbers, and letters.
As for style, Komika is decorative-vintage. The feature of this comic font is a realistic imitation of handwriting. And this is very popular when creating comics because this style can easily attract readers' attention.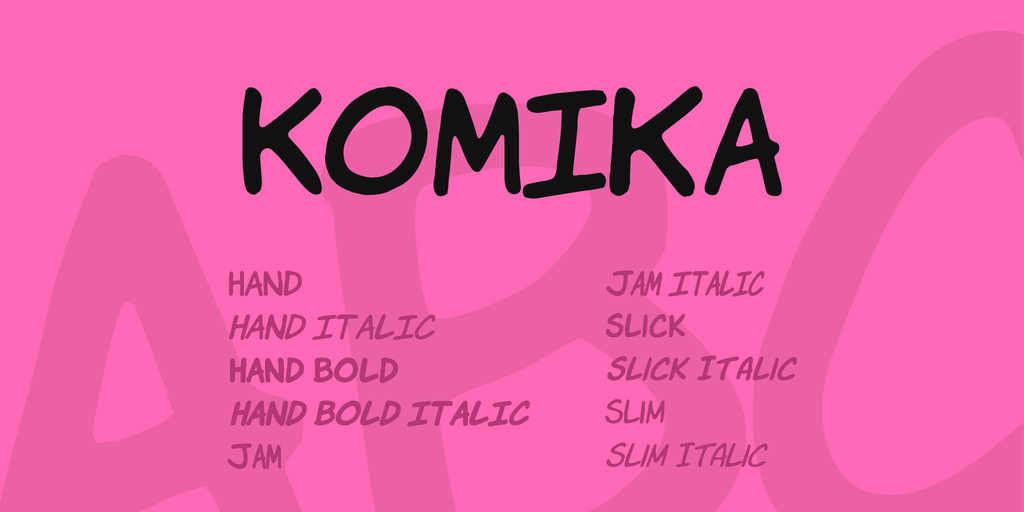 19. Back Issues Comic Font
This is yet another modern print that echoes the street graffiti style, which will give even more color to your comic book.
There are bold, italic, and regular fonts to let you get creative with your characters' dialogue.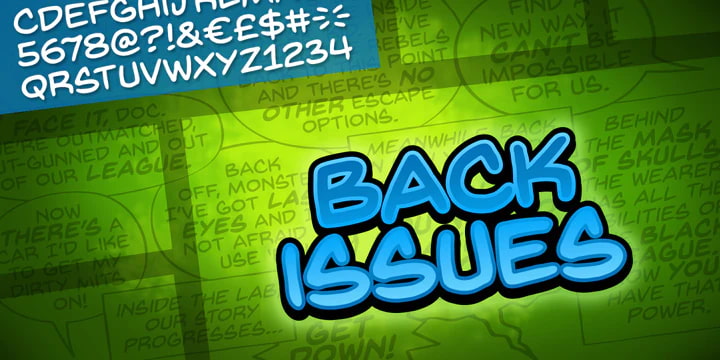 20. Manga Master Font
This font is a versatile option for all types of comics. But it was initially designed to create a unique manga style that lacks the cliché of brush calligraphy. Manga Master has letters from almost all European languages, and the font has different variants: bold, bold italic, regular, and italic. There are also auto ligatures used to replace identical adjacent letters.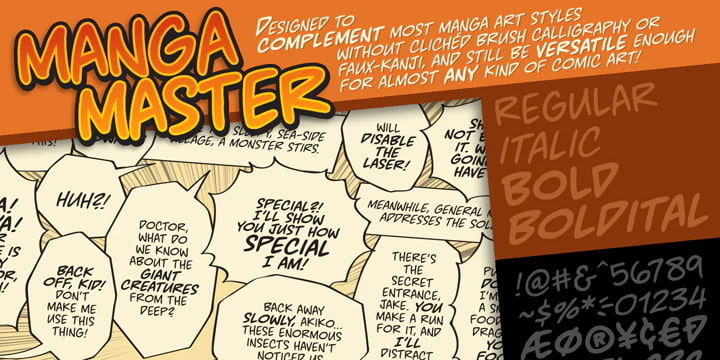 21. Spinner Rack Pro
Spinner Rack Pro is the classic typeface you can see in comic book dialogue boxes. It appeared in 2016 as an experimental sample. The goal was to make the letters as small as possible to convey text in dialogue boxes while still legible.
This is also a perfect manga font you can use for your graphic novel. It will surely make it look amazing.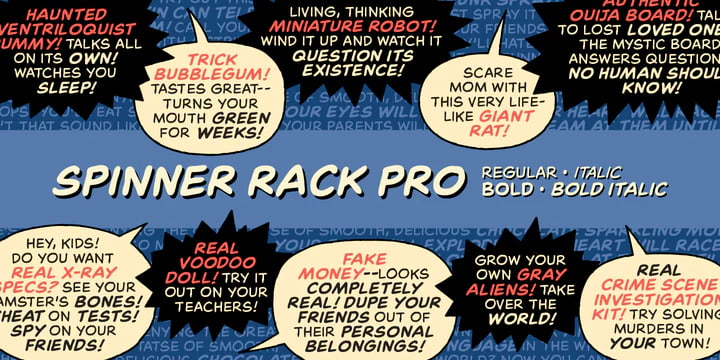 22. American Kestrel Font
This one's an awesome superhero font that will make comics more engaging. American Kestrel has all English alphabet letters, numbers, and symbols. This typeface has 17 font family styles, and its main feature is a characteristic wing pattern on the left side.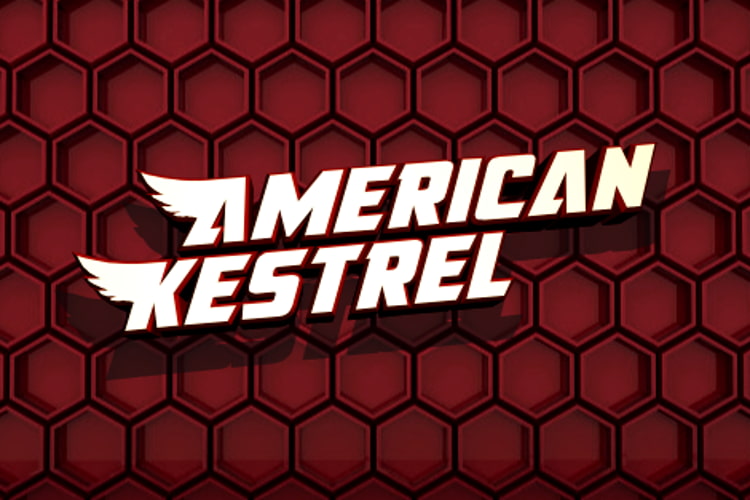 23. Start Guard Font
The designers of this font have focused on making it catchy while keeping the font readable. You can use Start Guard Font in different variants: italic, bold, regular, gradient, halftone, and others. This is an excellent option if you are looking for a superhero font for your comics that will make them stand out even more.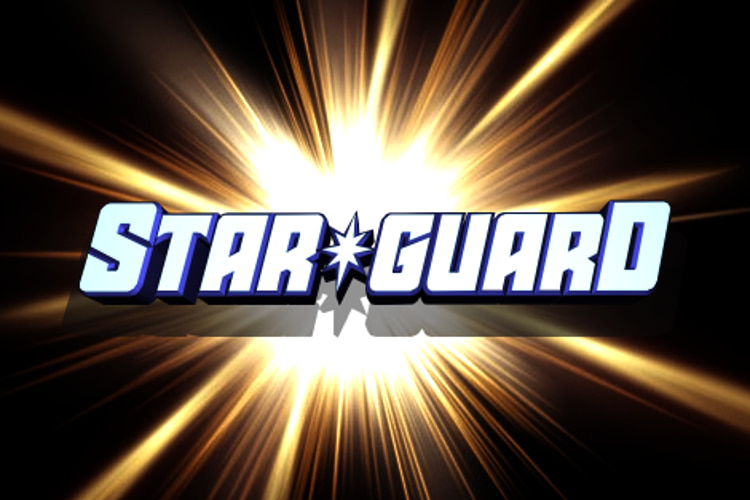 Conclusion
Visual content is in high demand nowadays. Comic books and manga readers are looking for great designs and interesting characters.
Comic fonts can bring invaluable help in your creative process as a comic book writer, and they can turn any book into something more interesting and exciting. But they will also add uniqueness to any design project.
With a modern variety of fonts, each book or design work can become unique. 
And if you need help with publishing your book, keep in mind that PublishDrive is here to help you turn your idea into reality.