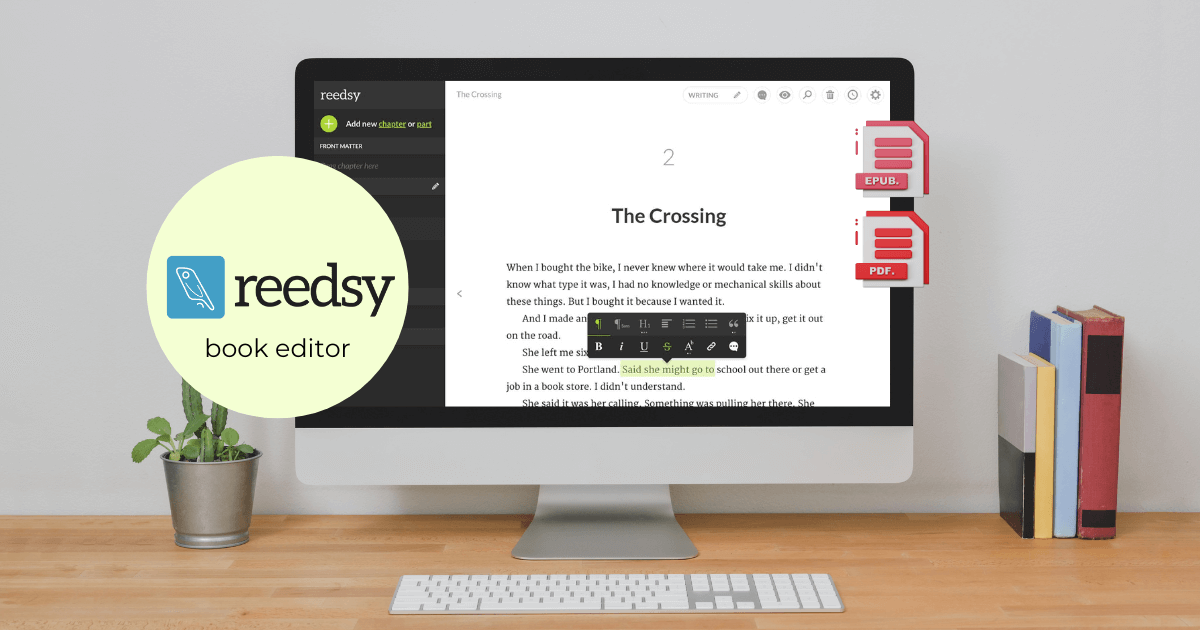 There are a handful of preparations to make before self-publishing your book. These actions include proofreading your content, creating a cover design, and ensuring your manuscript is formatted and exported into the right book file. A free book editing software like Reedsy.com can help. Let's go over how to use Reedsy Book Editor below.
What Is Reedsy Book Editor?
The Reedsy Book Editor is a free manuscript editing software that helps you easily edit and format your completed manuscript. Although you can use the interface to draft a book from scratch, its main purpose is to help finalize your work into a polished book format ready for market.
Main features include:
Solid interface to edit and format your book's structure, such as splitting chapters
Collaborative editing functions to share your document with your editor
Copyright insertion so you can protect your content
(If you've already done the formatting and simply need to convert your manuscript into an epub or mobi file, use this free ebook converter.)
How to Use Reedsy Editor
Among free book editing apps, it's super easy to get started with Reedsy. Go to reedsy.com and sign up for a free account with your email address, Google account, or Facebook account. I used my Google account for a quick sign-up. Once you're in, click on Books at the top panel. Then, hit Create book or Import document.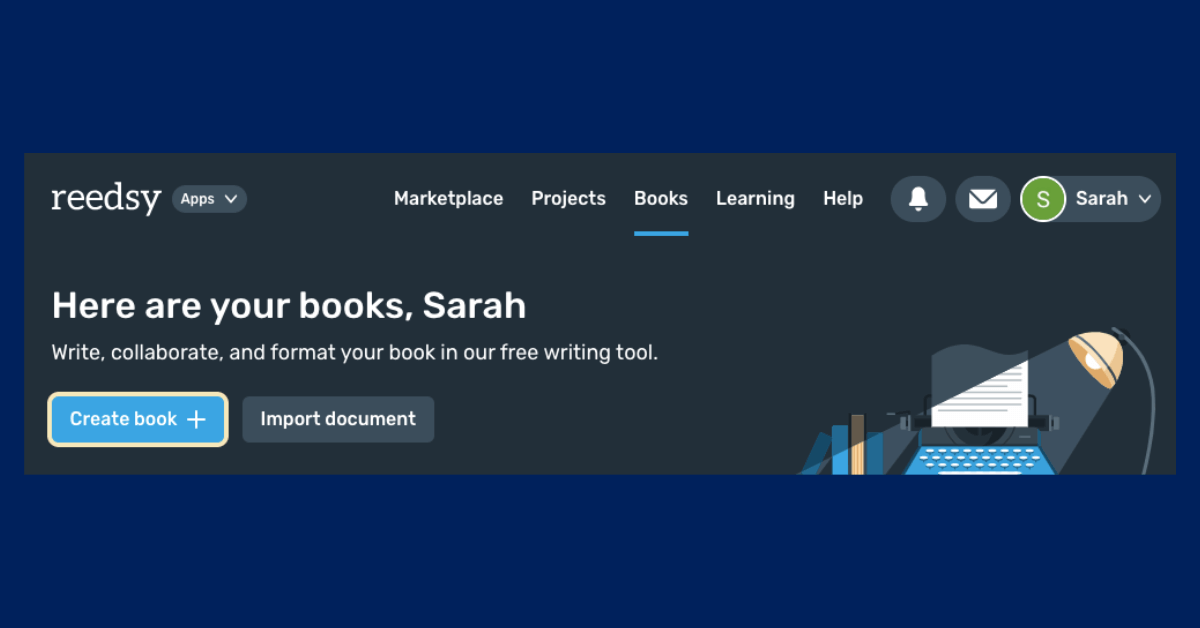 You can select Create book if you'd like to write your draft from scratch or copy and paste your content within the free book editor. Or, you can select Import document and drag and drop your whole manuscript there.
Once your book is in, you can see how the Reedsy editor automatically splits your manuscript into the front matter, body, back matter, and individual chapters (if you used headings in your document). If you didn't use headings in your original document, you can split chapters within the editor yourself.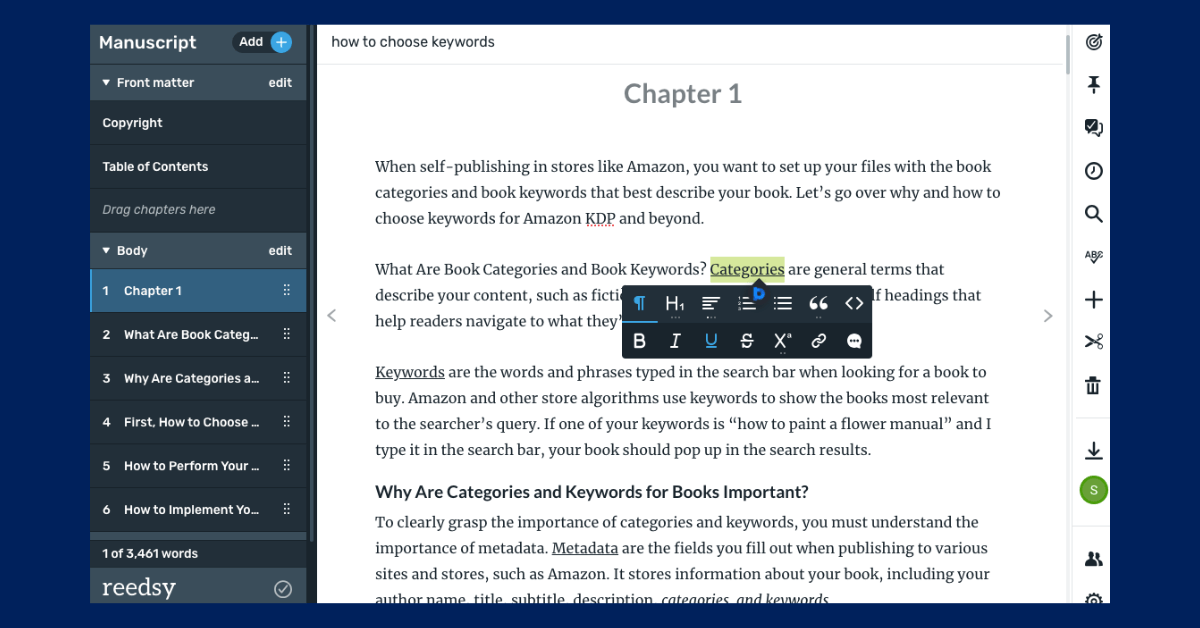 Your chapters and any subheadings (usually applicable for non-fiction writers) will generate the table of contents of your book, which you can view from the left panel.
What else:
Set writing goals and keep track of your writing timeline to look back at.
Split, delete, and insert chapters within the editor or by grabbing sections from your other document.
Use the toolbar to add images, citations, and scene breaks. Point your cursor to an area of your book and click on one of the item options to add.
Use spell check, located on the right panel.
Share your file with collaborators, located on the right panel.
Autosave any changes you make.
You'll see that Reedsy also has a marketplace where you can find professional proofreaders, designers, and more. Is Reedsy free to use when it comes to the marketplace? It's free to browse, but you'll have to pay if you decide you want outsourced help.
Reedsy is great for fiction novels as well as nonfiction or short story picture books. When handling notes, you enter the note at the top of the page, which then goes to a "notes" section. You can decide between having your notes at the end of the book or at the end of the chapter upon exporting.
To insert your info in the front matter, go to the export/download page and select Book settings. You can enter the title, subtitle, author's name, edition, description, and different kinds of ISBNs, upload your cover, and credit your contributors. All the information you give here will be included in the automatically generated copyright page.
Formatting your book
Overall, your formatting options with Reedsy editing are limited, but this keeps things simple. You can choose a standard "normal" style paragraph, three levels of headings, quotes, lists, and some basic character formatting. The layout you get is professional and meets industry standards.
Make sure to double-check this list of formatting to-dos to ensure your book is 100% ready for conversion into an epub or mobi file:
There's no break between numbered items
Automatic lists are signaled with dashes
Page numbers are removed from the footer and header
Table of Contents is generated with an automatic table
Unnecessary forced line breaks are removed
Double spaces are removed
Double paragraph breaks are removed
New chapters start on new pages
Tabs are not used for aligning paragraphs
Image wrapping is off
Footnotes are converted to endnotes
By default, the body is styled as "Normal"
All headings are marked (e.g. "Heading 1")
For a deeper dive into formatting, see here.
Exporting your book
When you're ready to export, go to the left panel and confirm your front matter, cover design, and back matter. Pick a template (fiction, non-fiction, or romance) and select the type of file you need (epub or pdf).
Some additional functions include choosing the level of Table of Contents you require, dropping caps, or hiding chapter numbers. You can also select the positioning of end notes after you have selected the file format.
At the very end, hit Export. Reedsy will email your file within minutes. (Reedsy doesn't export to a mobi file, so if you need that, check out this free ebook converter.)
How to Go Straight to Publication
With your final book file in hand, all that's left is self-publishing it to a store! Many authors choose to do so on Amazon since it's the #1 store for digital book sales. But don't forget about the other major stores like Google Books plus digital libraries like Bibliotheca.
Here's what to know as an indie author: You can maximize your reach by listing your book in every store and market possible, around the globe. This is a self-publishing best practice called publishing wide, which you definitely want to harness.
You have two main options to get this done: 1) directly upload your book to different stores or 2) choose a single publishing platform to reach them all (aka book aggregators.) I recommend the 2nd option because it'll save you the most time and get you selling in markets you can't reach directly.
Here's a quick overview of the top book aggregators compared: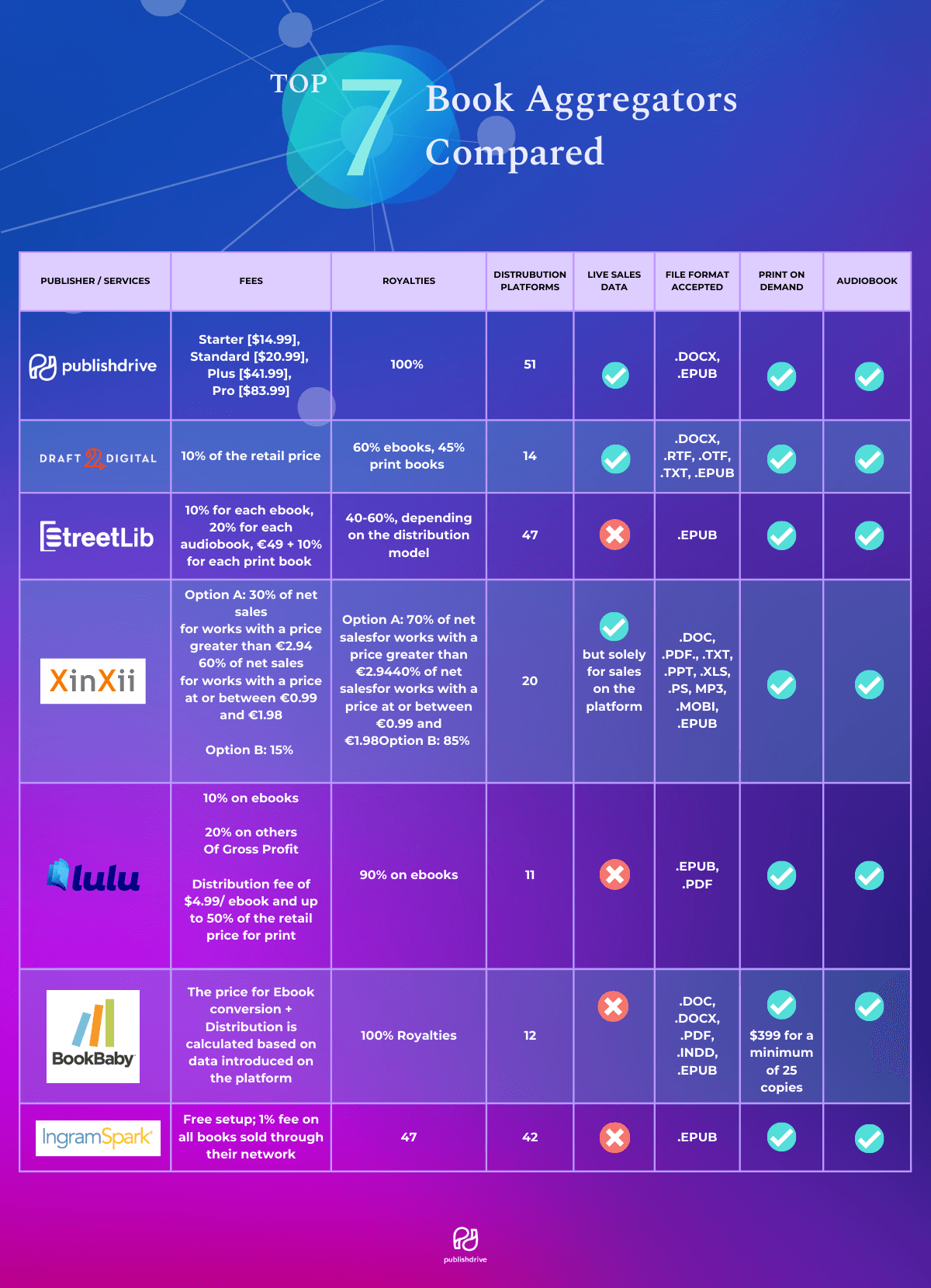 PublishDrive is a fantastic choice for indies because of its one-of-a-kind pricing model. Instead of giving up more of your royalties (which most platforms ask for), you pay a fixed monthly fee for publishing services. Learn how authors earn more with subscription-based aggregation.
How to self-publish with PublishDrive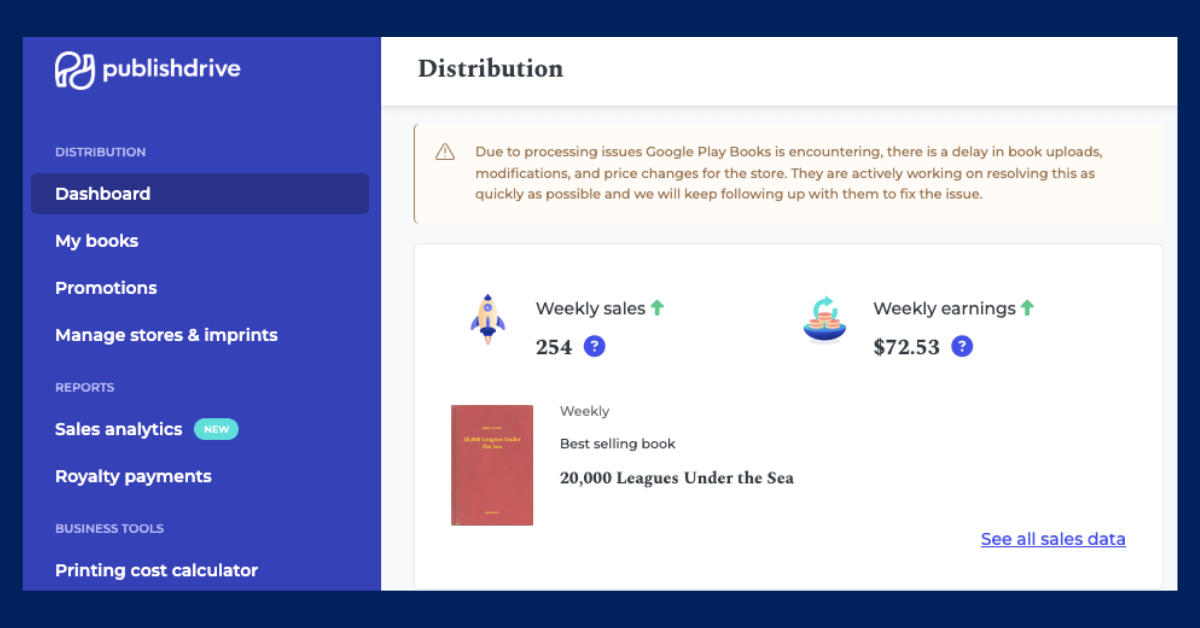 It takes just four steps:
Sign up for a PublishDrive account and select the distribution plan. It's free to explore for 14 days.
Go to My books, upload your book files, and fill out your information.
Switch on all the channels you'd like to sell in. See PublishDrive's complete list of stores.
Hit submit for a review by industry experts. You'll start selling within a week.
What else with PublishDrive:
Manage your entire publishing gig for print, ebook, and audiobook formats on a single dashboard.
Get automated royalty reports, real-time sales data, and easy-to-understand analytics.
Boost your sales with a handful of book promotion services for Amazon ads, book reviews, sales campaigns, featuring opportunities, and more.
Have a team of industry experts ready to support you.
Hope this was helpful. Good luck!
Now You Know What to Do With Your Reedsy Download…
What next? Explore what PublishDrive has to offer:
✅ Publish audiobook, ebook, and print books.
✅ Distribute in hundreds of stores and libraries.
✅ Keep 100% of the net royalties you earn.