Book Marketing
Your Guide to Author Business Cards. Design Successful Cards in 4 Quick Steps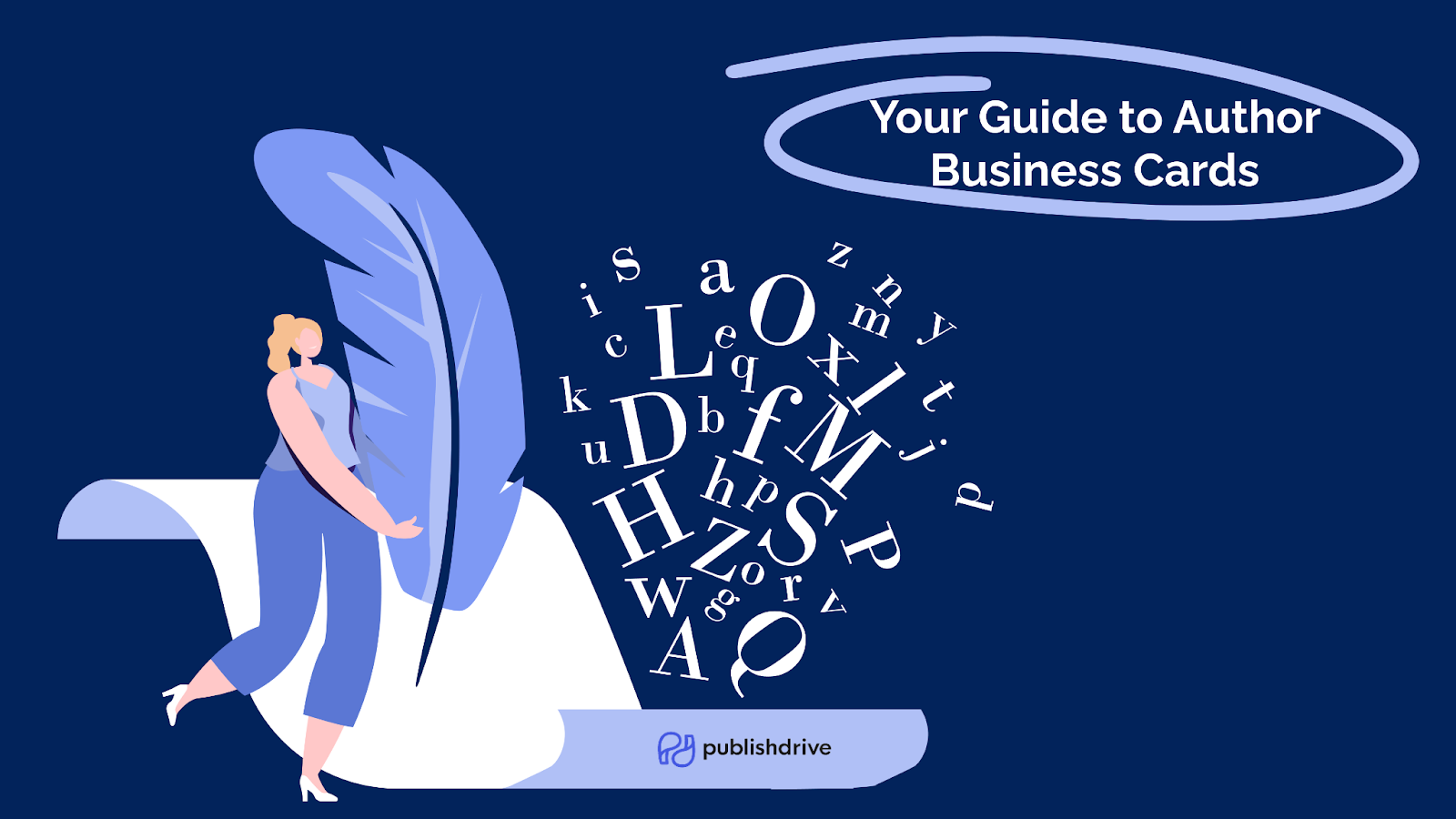 Author business cards in the digital age? Yes, writers create business cards to simplify communication with their publishers and readers. 
Think about a conference or book-related event where you wish to connect with someone and ensure a way of contacting you in the future. Business cards are an excellent option.
Plus, author business cards can be a key ingredient when building an appealing author brand.
Creating an eye-catching author business card may raise a few questions. Are they efficient? Will they reflect one's style? 
This comprehensible guide goes over all the tips to know for creating the right author business card. 
Let's get started.
Summary:
Why Do Writers Need Author Business Cards?
How to Create an Author Business Card?
Best Business Card Printing Marketplaces
Design Your Author Business Card for Free
A. Why Do Writers Need Author Business Cards?
With the ever-growing competition in the writing world, attracting the attention of potential readers can be challenging. Promotion through social media has been a successful way to express yourself.
Nevertheless, when a massive selection of books is in front of the reading community, you want to seize every opportunity to leave a mark on people's memory.
This is where an author's business cards come into play. They should reflect your personality, creativity, and your brand.
Consider author business cards as physical advertisements for your books and yourself as an author. 
Actively using these printed marketing materials (because, ultimately, this is what they are) help you achieve the most crucial goal of promoting yourself as a writer, i.e., simplifying book distribution and building professional relationships. This is important stuff for your writing career.
More often than not, cards become relevant at various conferences as a way to get noticed by your target audience and well-known retailers and publishers.
Creating an effective author business card design may be a bit demanding since writers should create something that reflects them. 
Let's see what you should include in it.
B. How to Create an Author Business Card?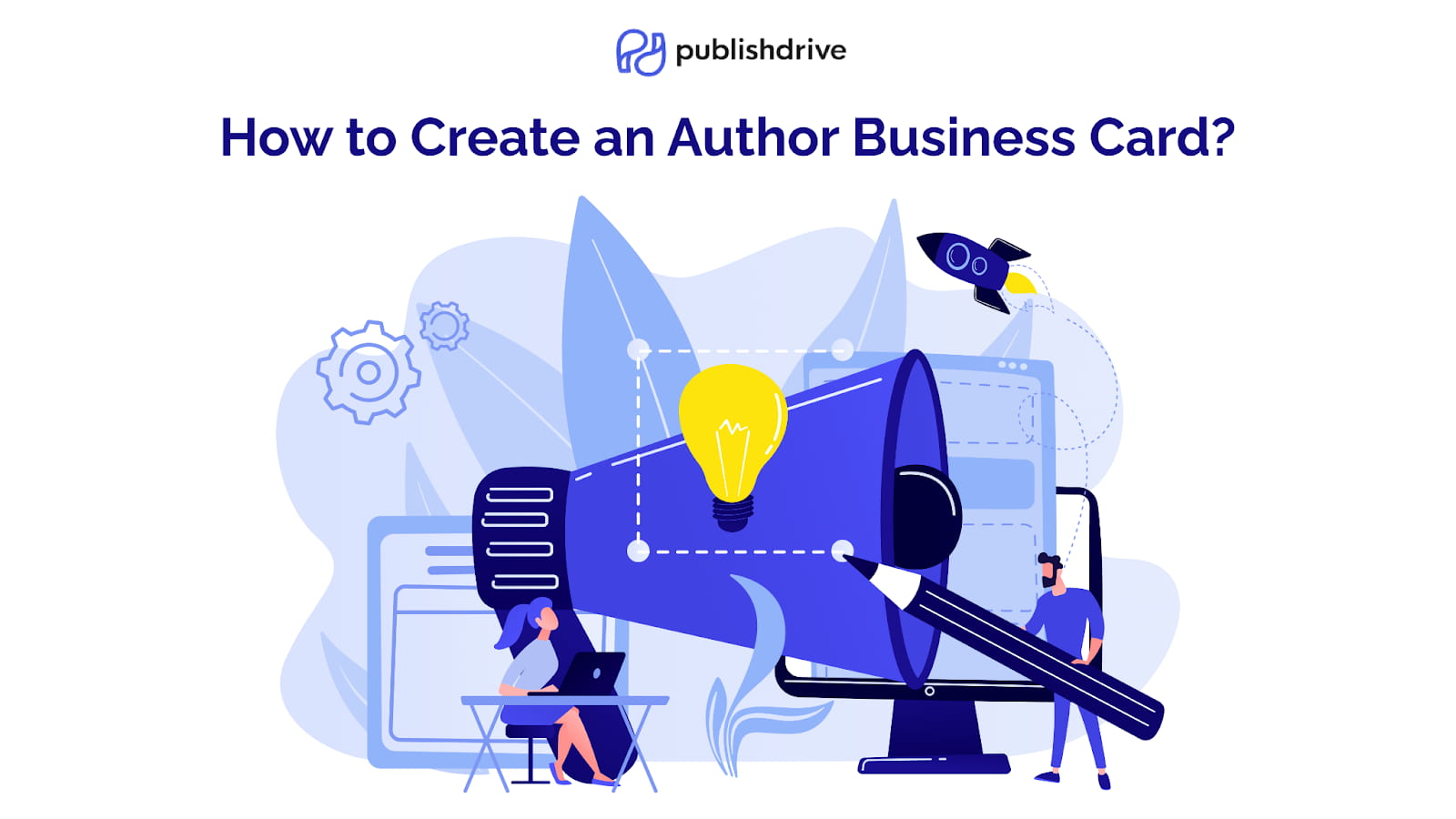 There are a few basic things to know when designing author cards that help, not harm.
1. Pick a design that suits you
Authors can go for a minimalist or traditional designs that match their author brand. When you make your design, your name (or pen name) and email, should be in your brand colors and fonts.
If you're not sure how to choose, you can't go wrong with something classic. We go over the tricks to know in creating a solid card as a strategic item for your self-publishing promotion. 
1.1. New tech
New technologies can make our lives easier and sometimes even more exciting. This goes for business cards too. 
Here's an example.
Including a QR code on your card can make all the difference with printed products. A QR code gets users to your site in a matter of seconds.
All you need is the appropriate QR code generator and follow the instructions to set it up. Don't forget to list your official website or one of your most active social media author pages.
1.2. Magnets
Magnets have not lost their relevance; many still adore them as a way to decorate their fridge doors. Why not have readers display your info where they can see it? 
1.3. Bookmark design 
You can turn your writer's business card into a bookmark. After all, this is probably the best way a reader can use your printed material. 
Another great feature of a bookmark-styled author card is that it gives you enough space to create an excellent design and include more information about yourself.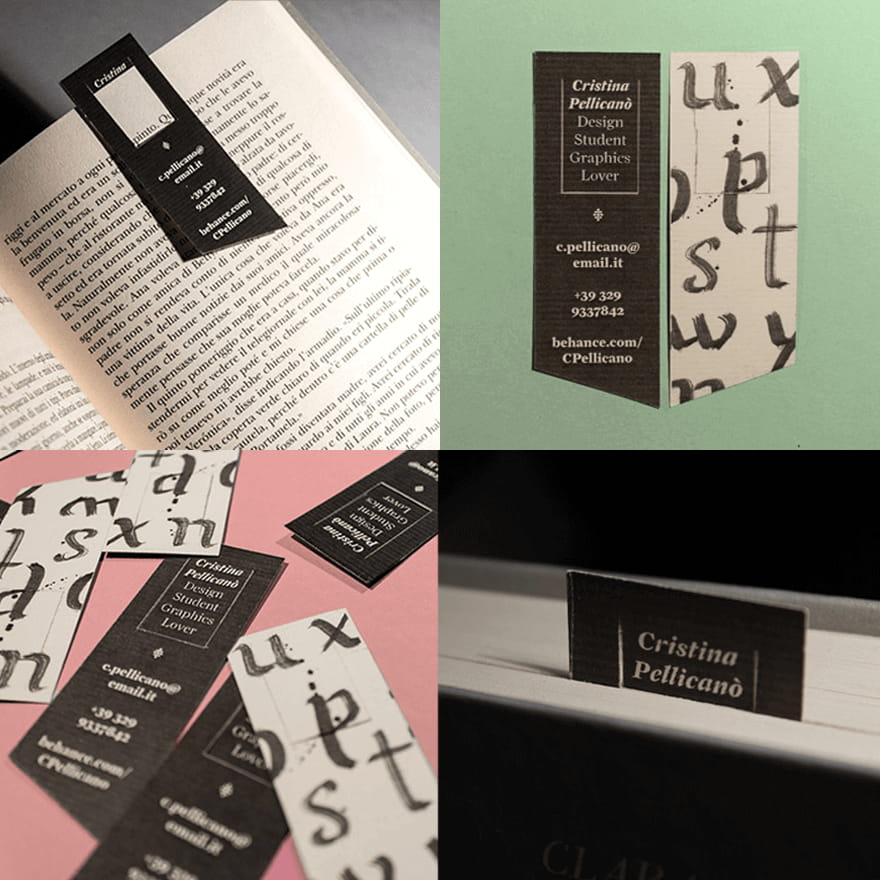 1.4. Non-traditional shapes
Rectangular shapes are a classic for business cards, but even here. Go ahead and experiment. You can create an author card in the form of a book, square, or whatever shape you find relevant to your industry. 
However, this can be a bit risky as non-standard-shaped cards may not fit into wallets. Do consider the size of these cards.
2. Add your information
What to put on your author business cards? This can be a hard nut to crack, since a business card requires a thorough selection of information to include.
2.1. Name and title
This seems simple enough. Let's clarify some aspects.
First, decide which name to put down on the author business card. Do you write under your real name? Or do you have a pen name by which your readers recognize you?
If your audience and potential readers may not know your real name, and you already have a recognizable pseudonym, put the recognizable name on your author's business card. 
Most writers who write under pseudonyms create two types of business cards. The first one is under their alias, and it's for their readers and the writing community. The second one has their real name, used for business and legal purposes.
Why not do two? Be ready for any circumstances, whether meeting with fans or business partners.
2.2. Contact information
The purpose of any business card is to provide the necessary information to anyone who wishes to contact you. But you need to know what exactly to put on the card.
So, let's focus on four types of data to include on your author business cards:
Phone number. To avoid pushy fans and unpleasant situations, get a contact number only for business purposes. Protect your boundaries and don't provide your personal number.
Email address. Like the phone number situation, don't use your personal email and rather create a business email address.
Your author website. This is where the reader can get all the information about yourself and get to know about you and your books better. A professional website helps boost your credibility, too.
Icons that indicate you're present on social networks and your handles. Most people have a profile on one or more social networks. Social media is a fantastic way to stay connected with your audience. For example, you can create a separate Facebook author page

and mention it on the card.

Tagline. This one is optional, but if you have enough space to add it, it can help your brand identity as an author. 
What information not to add
There is no concrete list of items of what not to place. But we recommend sticking to this time-tested advice: keep it simple. A business card should be equally relevant today as in five or ten years. It's not so much about the design; it's about the content.
You want your card to stand the test of time.
Try not to pile too much information on a business card. Strive for eye-pleasing balance. When choosing a design for your author card, think about the white space principle: leave enough room between the card's elements. Keep things clear and visible.
3. Choose the right fonts
A business card is not a book. Still, its fonts are no less important. The style of a few lines can tell people about you as a writer and appeal to your potential readers. 
Using a standard horror font would be wrong if you're a children's book writer. Your font should be relevant to you as an author.
Think about how you want your cards to look, and the design process will be much easier. Keep in mind to choose the right typography that makes the text as legible and easy to read as possible.
Focus on three categories:
3.1. Size
Most often, writers use a font size of 8 pts, to maintain readability. Though, all your text doesn't have to be the same size. We recommend having the essential elements such as your name in larger sizes. And remember to leave space around each business card component. You don't have to fill the entire room.
3.2. Font type
Each font brings personality to a business card, making it unique. When creating an author's card, it is vital to choose a font that matches your brand style and reflects your personality.
Try choosing a font among these five font categories:
These are timeless and elegant fonts, but you have to pick the right one since serifs can be hard to read in smaller sizes. The presence of serifs adds elegance and sophistication to the text, which is perfect for a romance writer.
These are a forever versatile and legible category of fonts, no matter where you use them. A sans-serif font speaks of rigor and objectivity, typical in science fiction works.
These give a feeling of familiarity since they look like handwritten letters. However, these could be harder to read in smaller sizes. The script font has creativity and expressiveness, quite a match for those who write humorous and funny content.
These keep everything clean with a typewriter text kind of vibe. A monospaced font goes excellent with science and history genres.
These are great for making a statement, perfect for titles and names on the author cards.
When picking your font(s), don't neglect their commercial descriptions. You can find information about how legible specific fonts look in large or small sizes. And this is because some fonts that look amazing in small sizes become less attractive in large sizes, and vice versa.
3.3. Color
If you have an author's brand, you probably have several colors that you use on the website, logo, and social media posts. You don't want to lose your branding, so use the same colors to design your business card. To keep your text readable and visible, choose a different color for the background, not a similar one. Experiment for your most desired results
Look into the fonts specific to the literary genre you are working in. The range of options is extensive enough for you to find something suitable.
Here is an example of an author business card that kept it witchy.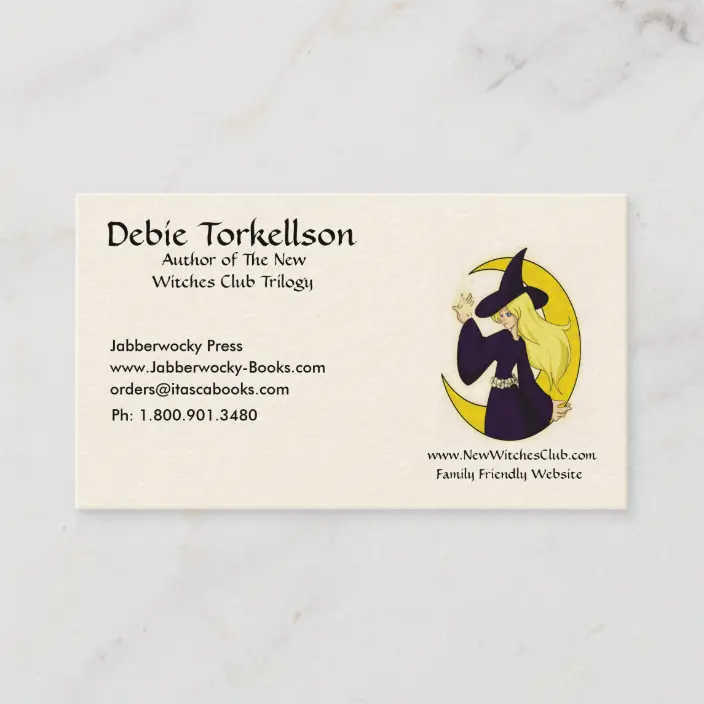 4. Choose the right picture for your author's business card
Let's say you've got all the necessary information and texts ready, and now you want to add a picture. A task that seems easy at first glance may give you a headache.
And even if the picture itself is not bad and fits into the general concept, it may not create the right impression.
Let's see what you can do.
To avoid potential problems, use these tips to choose the right picture for your business card. 
Create a stylistic match for your books

. The most important aspect here is to use a picture that showcases your activity as a writer. For example, an illustration of a cartoon character might be very appropriate if you're writing for younger readers.

The image size plays a significant role.

After finding your desired image, you must correctly scale it. Here's the catch: you can't scale all the pictures because they may lose their quality. So pay attention to that when you're in the searching phase. Otherwise, you may have to deal with blurry and low-quality material. Choose sizes where the picture is visible but do not take up most of the business card. 20-25% of the total area is optimal.

Using a book cover has its pitfalls.

Taking pride in your published books is excellent, but in the context of a business card, the cover takes up too much space and may distract your readers from the main idea. 
You may wonder what kind of pictures you can use. 
Well, some writers place their headshots on business cards. If you choose this option, you should use only professional, high-quality photos that look nice and sharp on the card.
Here are some other options:
Stock images from specialized sites.

Photos that illustrate your writing genre.

Your author logo.

Attractive icons or abstract images.
Let's look at some author business card samples: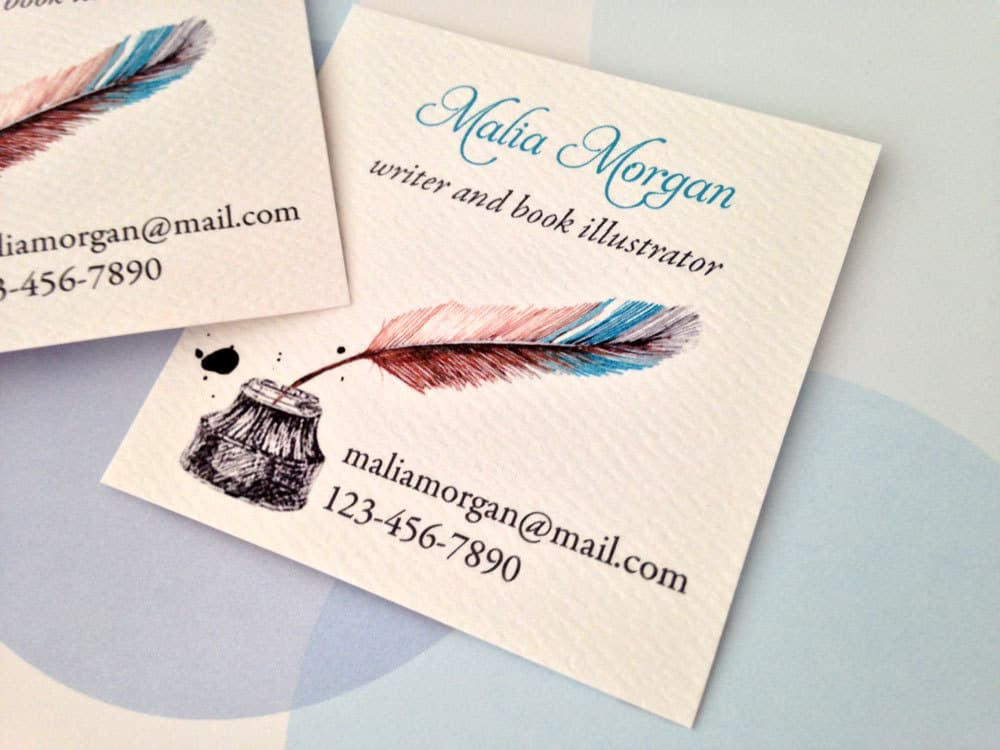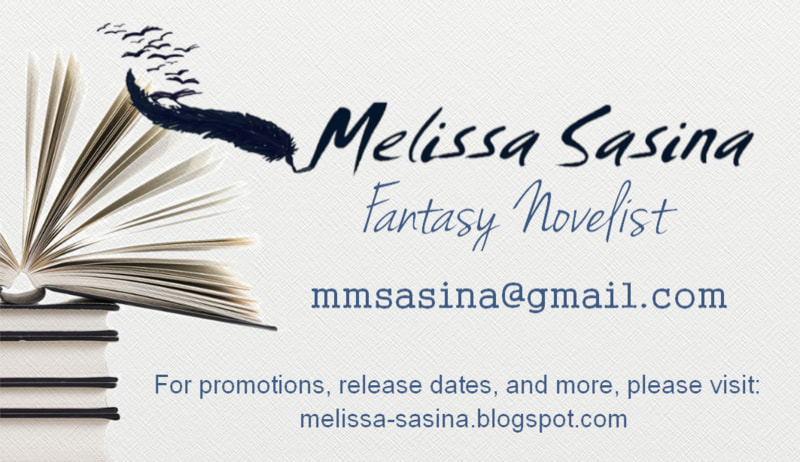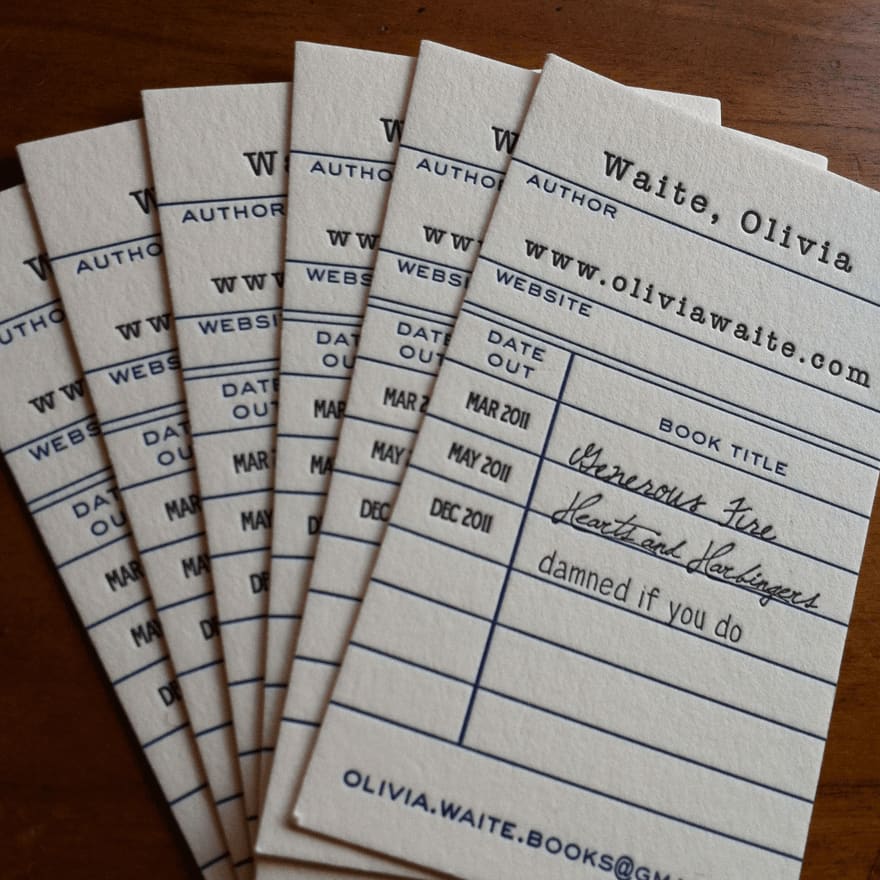 C. Best Business Card Printing Marketplaces
Now that you know how an author business card should look, it's time to talk about printing places. Here are the five best printing services to know.
This service provides its customers with the most affordable prices and discounts. This is one of the best options when you need to create printed self-publishing promotions at the initial stage of your author's development.
PsPrint products will please with text legibility, high image quality, and a good assortment of tools for the design process.
If the price of developing cards doesn't really matter to you and the main focus is obtaining a luxurious end product, Moo business cards are what you need. The company has established itself as a manufacturer of premium quality goods on the verge of luxury. For example, you can find various gloss and foil options for a more attractive exterior finish.
The balance of price and quality is often essential to writers. This company offers you both. With Elite Flyers, you can print business cards that have small details and fonts. They offer access to Pixabay for stock images and individual setting options. Most top-end cards will surprise you with their availability. 
This company provides high-quality and professional execution of its products. Vistaprint business card services also shine when it comes to affordability. Even under a tight budget, you can print economy business cards. Besides, it will be a practical solution for mass distribution.
Jukebox Print has built a reputation for producing business cards of unparalleled quality that are sharp, readable, and color-accurate. The company offers an easy-to-use authoring tool and a wide range of settings to create authentic custom business cards. 
D. Design Your Author Business Card for Free
To simplify the task and find the right inspiration, writers often use free author business card templates. Among the available options, Canva business cards are one of the most preferred picks among authors..
Canva gives users access to a gallery of illustrations, vectors, and more. You can really personalize designs in the easiest ways. Thanks to a vast selection of ready-made layouts, you can find compelling examples, regardless of the genre you write in. Then, you can customize the selected template using the online editor to fit your idea.
The undoubted advantage of this service is the easy-to-use editor, which ensures a high speed of work.
Once you've finished creating your business card, you can download it as an image or PDF file. Also, Canva Print provides a business card printing service, which you can take advantage of to get your cards printed in no time.
Conclusion
The professional development of a writer and any author book promotion can easily involve business cards. 
Positioning your author's brand can help promote your services to the readers' community. With an original and thoughtful business card, win over and meet your future readers and collaborators.