Book Marketing
Goodreads Giveaways: How to Get Started & Why Should Authors Host Book Giveaways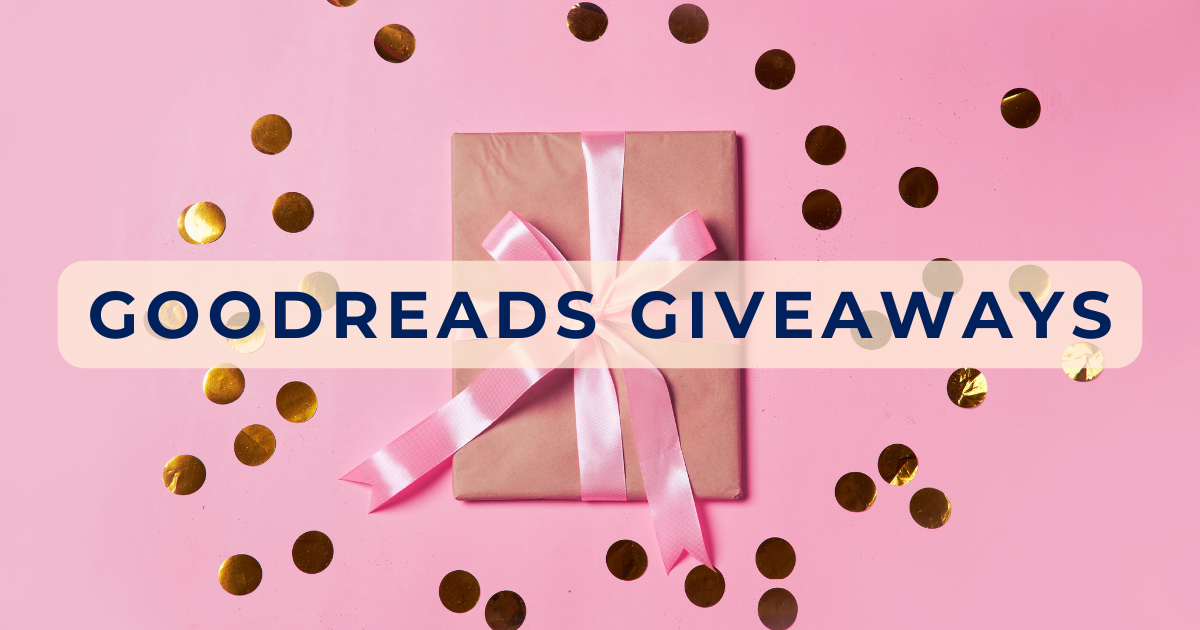 You have always been an author, even before you published a book. Everyone around you has always congratulated (loved! simply loved!) your writing. 
Then you finally wrote that book, and the question was there: should you go with traditional publishing or self-publishing? 
Finally, after putting up with your writing routine, a significant amount of concern, and choosing the best way to publish, your book is no longer just a manuscript. 
It feels great, but you start to understand that a new chapter in your book saga is about to commence. And that is book promotion.
If you feel you have the right book but not the right audience, you shouldn't let your book's potential go unnoticed. 
There are quite a few marketing tactics to promote your titles. In this article, I go over Goodreads giveaways.
What is Goodreads? 
As an author, you probably know what the deal with Goodreads is.
When you register on this platform, you can do it as a reader, which allows you to review and rate books.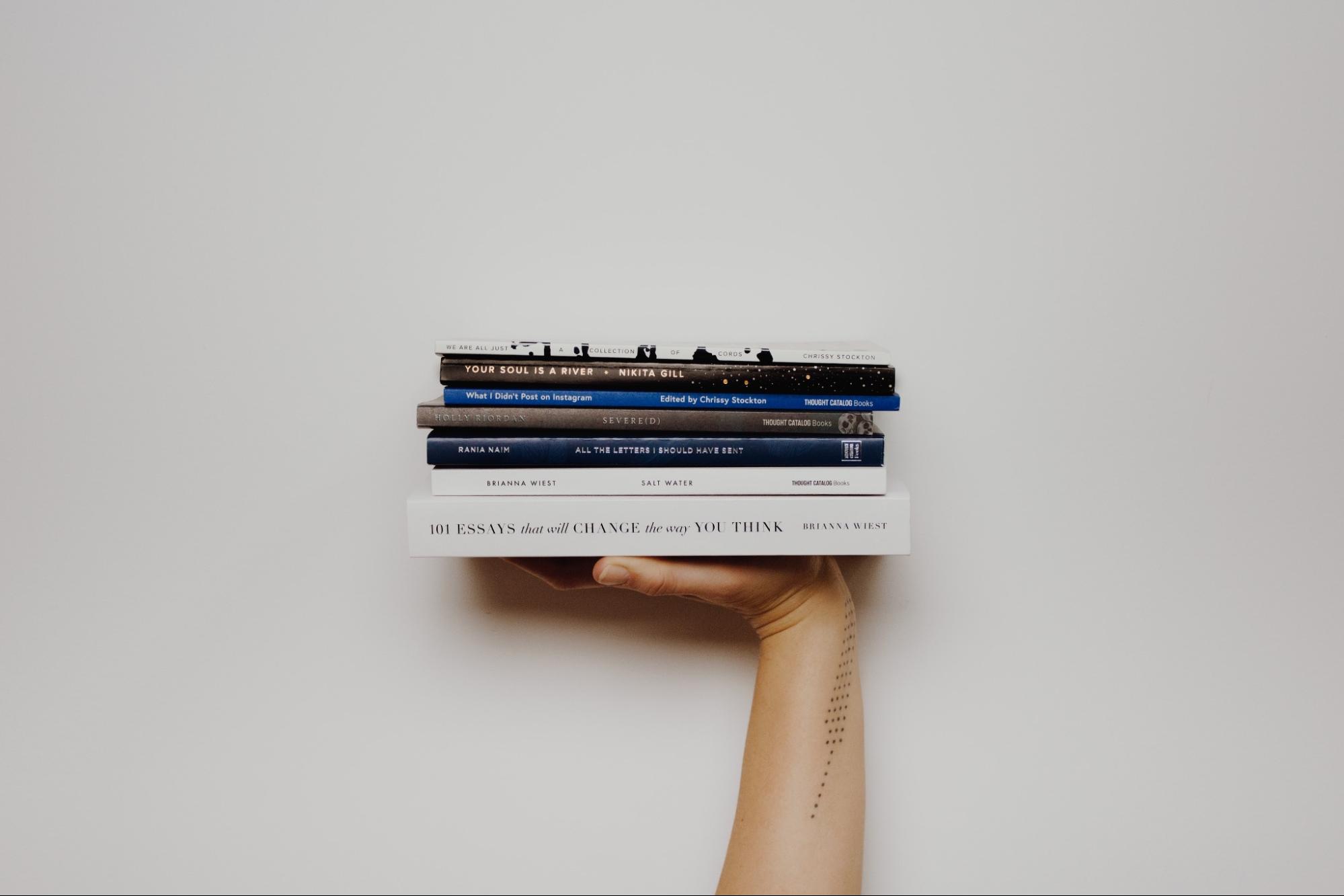 As an author, however, you have more perks using Goodreads: you can join the Goodreads Author Program. 
For this, you need to have a published book (or a soon-to-be-published book) uploaded to their database. Then, claim your profile, get verified, and have your page displayed with an official Goodreads Author badge. 
We'll see the detailed steps in a minute.
Ways to Promote Your Book on Goodreads
There are two main ways to promote your book on this platform.
Organic
Add information about yourself.

Answer readers' questions using

Ask The Author

.

Write reviews and recommendations.
Paid content
Run ads.

Connect your blog to the platform.

Host giveaways. 
How to Get Started with Goodreads Giveaways
To put things into the proper perspective, please consider a Goodreads book giveaway as an audience builder, not mainly as a way to drive sales. When you shift to this perspective, your communication and drive are set on a more tangible result and more in the platform's spirit.
If you are looking for the right audience for your book, the right readers, and the right community, you have come to the right place. Goodreads is a social network for readers. Taking advantage of its powers is a skill writers should want to master more. 
To get started:
1. Create your author profile
In easy words, add your book on Goodreads, unless already featured, and claim authorship. 
If you are looking for the step-by-step guidelines, browse them quickly below:
Create an account on Goodreads

Find your book(s) listed

Click the author's name (your name) on the book page and claim authorship

Wait for the confirmation email that update you to Author

Start customizing your personal page
2. Decide which book format is best for your giveaway
In very pragmatic terms, to start a giveaway, authors (you) decide to offer a certain number of copies of their book to an interested audience. Readers claim the book based on their interests, and winners are randomly selected at the end of a designated period. 
Take some time to ponder over the book format. Weighting pros and cons is expected since additional costs may be involved.
Printed books
A book is a thing closer to the heart. Being able to collect, hold, and shelve it is an experience. 
Deciding to go with a printed book giveaway has its perks. You make an impression; you can offer something that will be valued. You can make it a complete celebration if you carefully craft a message for the winners.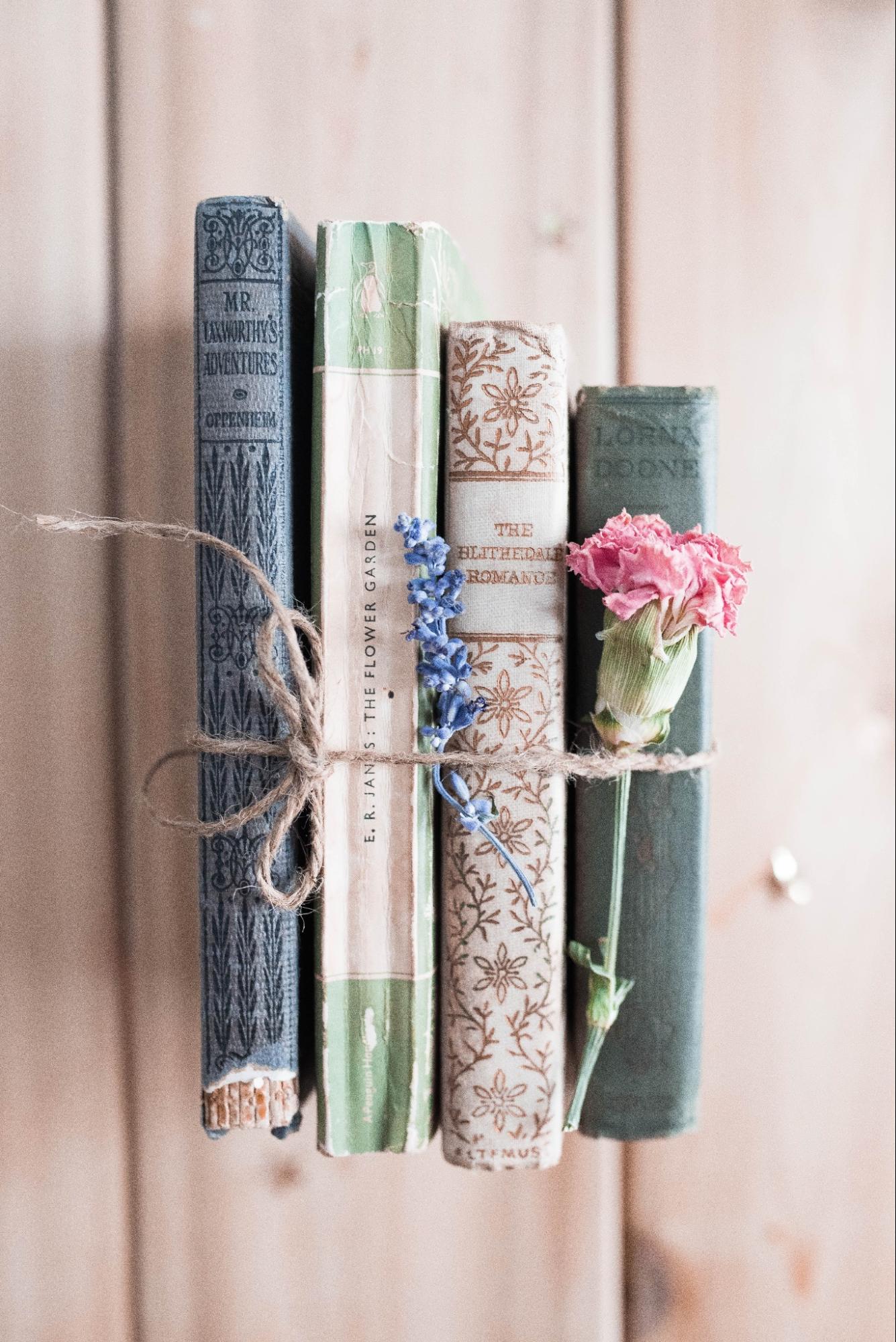 A signed copy is a thing to treasure. It can create bonds where there are none, and it may consolidate connections where interest arises. 
Note that this option comes with higher costs; thus, authors give fewer copies away, usually 10. You need to take into consideration the costs of printing and shipping. Sometimes authors consider limiting entries so as not to be shipping overseas. 
As for the copies themselves, you can order them through your Kindle Direct Publishing (KDP) account and have them sent directly to the winners or back to you. One thing to consider is having the books in advance and not keeping those curious eyes waiting. 
Ebooks/ Kindle Giveaways
When considering this option, start thinking of bigger numbers. For instance, think closer to 100 copies with no additional printing or delivery costs, which translates to more considerable exposure and a significantly higher number of entrants. 
Once winners are chosen, they get the book right away, and Amazon sends them directly to their Kindle devices, which means no extra work for you.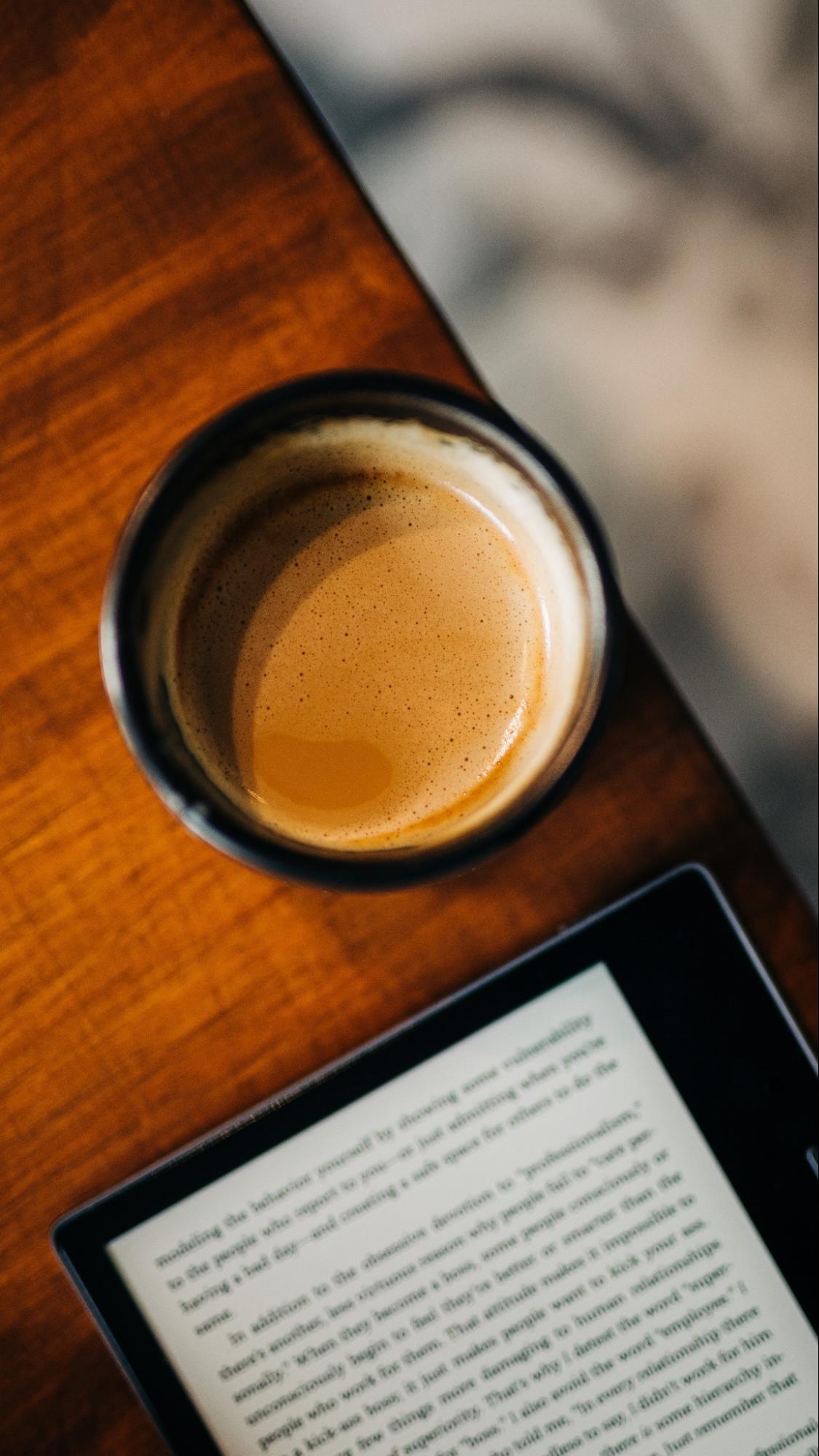 Indeed, you cannot personalize the book giveaway with handwritten notes or merch like bookmarks, but there's no waiting time; your reader can dive directly into it. And once the hype is created, there is no better time to discover the text than now. 
You may have had an ideal reader in mind when writing your book. Now try thinking again as a reader. Everybody loves giveaways, but readers are not always inclined to enter those they do not actually feel they have the slightest chance of winning. The number of copies may be a significant trigger of participation. 
Keep in mind all book formats come with bright sides or down points. 
Ultimately, whichever type of giveaway you opt for, hold on to that initial thought that drove you to start a Goodreads giveaway. A clear desire to meet your audience, the intention to better connect and understand each other, and your need to let them know your book is available. 
2. Choose a package offer
You can use Goodreads for free, but if you want to host book giveaways, you'll have to pay a fee.
You can choose between two Packages:
Standard ($119)

Premium ($599)
To keep the value for money in one place, here are your benefits:
Standard Package
Every time you host a giveaway, your friends are notified; thus more and more people learn about your book.

Everyone who wants to enter the giveaway has to add the book to the

Want-to-Read

shelf. This means more visibility for your book even after the Giveaway is over.

Goodreads sends emails to each follower who has your book on the

Want-to-Read

list, letting them know you have started a giveaway.

The winners are emailed two months after the giveaway and invited to submit a review. Positive reviews are very useful in attracting new readers.
Premium Package, which comes with two extra benefits:
Premium spot in the Giveaways section.

A personalized email to all those who didn't win a book.
You can always start small and see how giveaways work for you.
3. Pick a timeframe
In terms of giveaway timeframe, a giveaway can last between a week and a month. Anything closer to three weeks offers enough time to promote and raise genuine interest while not allowing your pool of readers to forget about entering in the first place. 
Why Goodreads Giveaways?
There are a few possible scenarios:
You have added your book on Goodreads, but you are unsure about book giveaways. You're scared that a five-minute review could annihilate on a whim a thorough work of months or years. 

You have researched years on end a topic important to you and some other couple of kindred spirits. You dislike the idea of promoting your book on Goodreads, so you didn't even add it there. 

You have fun writing and are dying to see what others think of you. You want a community, and you want to engage with your fans. There is nothing terrible in a negative review, readers are allowed to have opinions, and there is room to learn in such circumstances. Promoting your book on Goodreads seems like an excellent idea. 
Whichever snippet of yourself you found listed above, please note a Goodreads giveaway may be an excellent booster for your book. 
Here's why.
1. Get reviews
Whether it's an advance reading copy or the finished book, you can gift your book in a Goodreads giveaway and get reviews. 
If you're doing it in advance (while it's an ARC), you'll secure reviews even before the publishing date. This is going to be extremely helpful for your future readers. 
Reviews never give away the complete story but experimented readers are hint spreaders. An insight into the atmosphere, an approximate map of plot and style, and an unexpected turn in nonfictional writing might be selling points for so many available titles.
Readers take notice or are attracted to stir, prompting them to add this new title to their shelves. You know there is a lot of hassle to get those advance readers' copies going to the right hands. 
Giveaways and reviews can work hand in hand tremendously. Picking up the exact time to do Goodread giveaways may help boost the sales for your book and increase your readers base.
2. Create anticipation
You can run a book giveaway just around the publication date. This helps you promote your book, increasing its visibility and exposure. 
Not to mention the feeling of anticipation and excitement people will experience when knowing they could get a new book for free.
3. Increase your book's visibility
Giveaways on Goodreads is a hot section. Readers make sure not to miss it; that is exactly where your book is listed.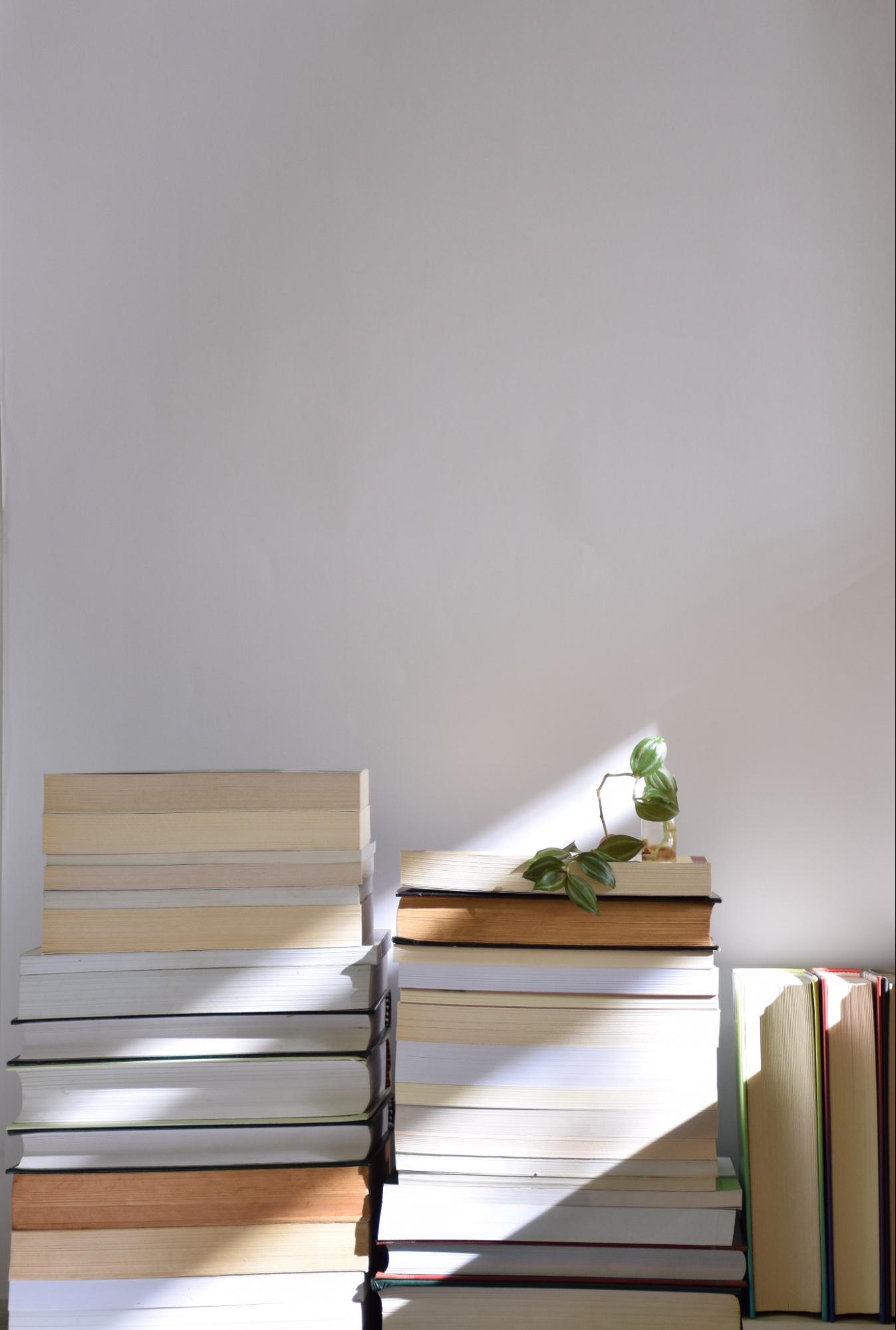 Additionally, your giveaway is displayed on your book page, which is the page where you will be consolidating your book's audience. This is designed to help your book get more and more claims and ultimately reach an increasing crowd. Remember which is your right crowd; you should be aiming your communication at them. Do not chase mere numbers. 
All of your followers and all those listing it as a Want-to-Read will be automatically notified about your Goodreads book giveaway.
Your book giveaway is automatically shared with those who have listed your book as eminently interesting. Your community is potentially growing with each such announcement, and with more people come more reviews.
The more reviews, the more informative it is for interested parties. Winners in the giveaway are not required to review your book, yet your chances of getting them to write increase with each book giveaway. 
Goodreads handles the Giveaway follow-up, and around 60 days after your Giveaway ends, the winners are reminded to rate and review your book. This is a new opportunity for others to discover your book and decide to read it.  
4. Promote your book 
A giveaway is a perfect way to promote your book on Goodreads. There will be people that win a free book or ebook, and even if the number of those books is limited, the exposure a Goodreads giveaway brings your book will be greater.
Ultimately, that's what book giveaways do.
Tips for Running a Successful Goodreads Giveaway
1. Spread the word
Goodreads giveaways are to be promoted over and over again, through your channels, on blogs, and in newsletters. Each time you mention it, you can share new insights about the book.
But don't overshare. 
Consider book trailers. Pictures work too. You may even insert some personal stories of you writing the book, snippets of research, and events occurring in your writing that have a more personal meaning. It is not wrong to be personal. Writing is a process that engages all of yourself.
You can turn everything into an exciting social media post that makes people curious and sends them to your Goodreads giveaway. 
2. Craft your message 
Your giveaway description appears on the main giveaways page on Goodreads: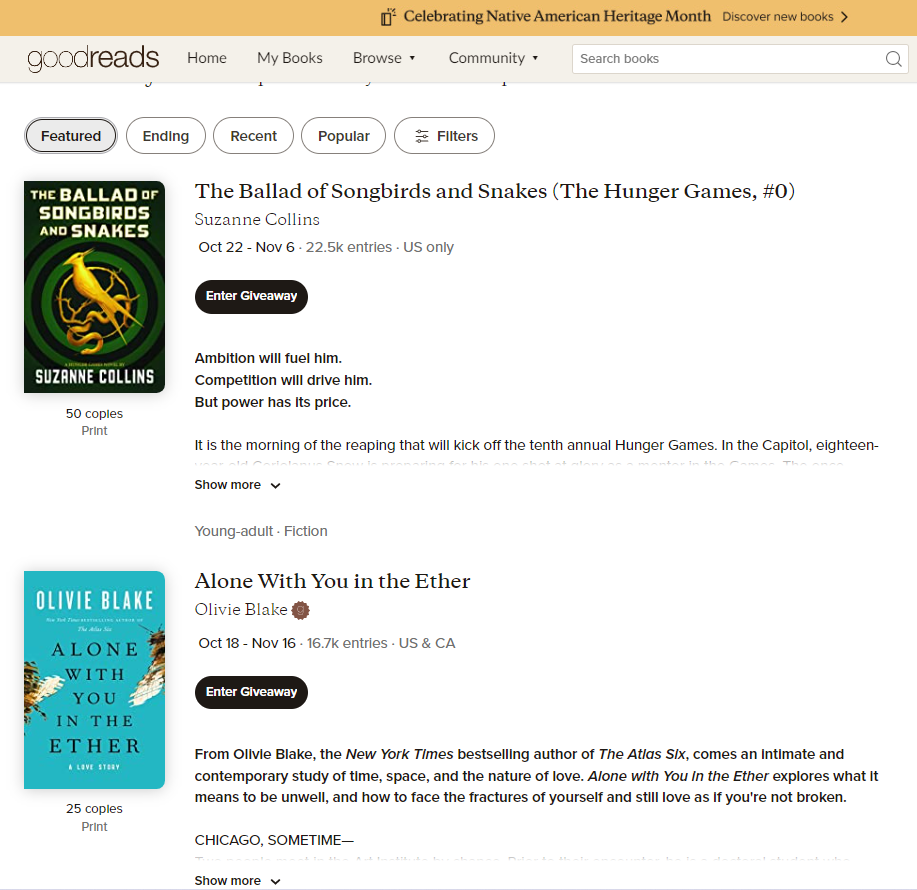 And on the giveaway page for that individual book.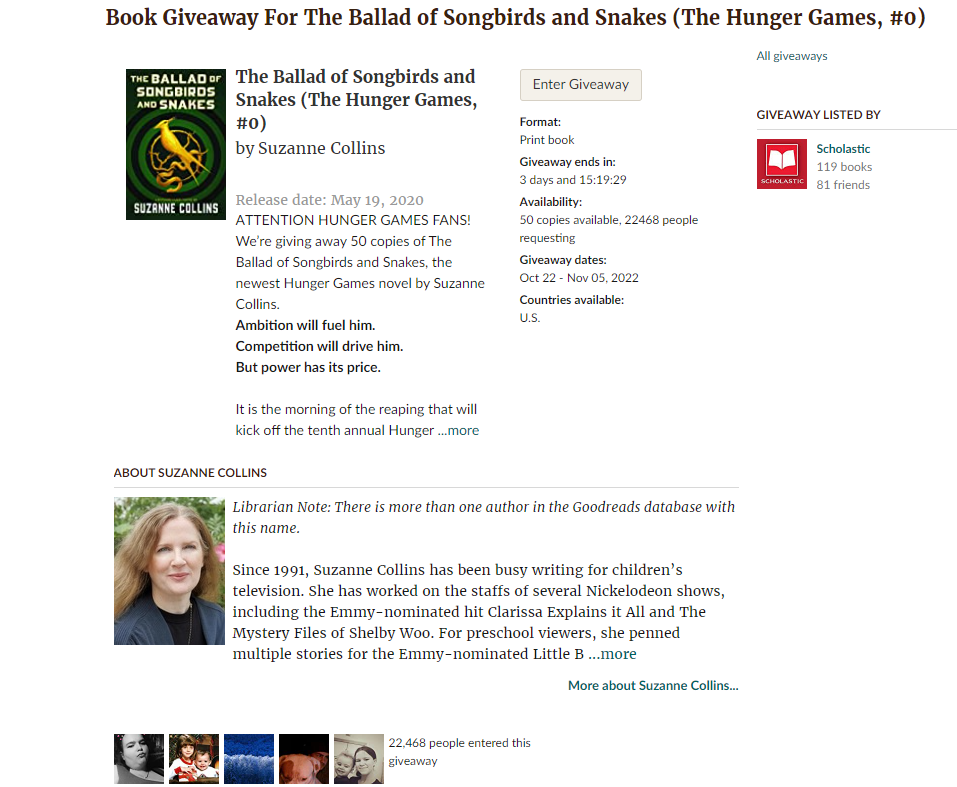 Be sure to craft a message that explains the giveaway together with a book description. 
The Goodreads giveaway page states: "We've found that users are much more likely to enter giveaways when the description is focused on the book and giveaway itself, rather than filled with flashy images, text, and links to other sites. We highly recommend that you include a brief description of the book, too, so you can stimulate interest in as many readers as possible. One tip is to look at how readers describe the book for ideas."
Do not get concerned over the brief description presented in the Goodreads book giveaway section, but rather look into maximizing the impact. Focus on your readers and how you have seen them interact with your book. 
You are a writer, you master words for a living, you have this gift of enchanting people, and surely you have followed your community's interests. 
Write something they will want to dive into, irresistible to curious eyes, and witty for your committed fans. Study your existing reviews and get inspired by your community. Their description can be the best guide in preparing your own giveaway text and thoroughly choosing your book's genre. 
A page like this carries some of your information as the author and features more details about the book. Please take advantage of that unique link and share it as much as possible. The more you share it, the more others will know of it. 
It is recommended that you do not just mention this solely at the start or the end of the campaign. Continue keeping that anticipation high. Build some hype! By the time you win the book, it should feel like a prize in itself; those not winning the book should feel ideally compelled to hit the library for a copy. FOMOing your books is a great pumping start for increased audience interest. And increased sales.
3. Pick the right book genre
Remember to be thorough in placing your book in the right genre. You do not want to mislead your crowd by accident. You can edit your book giveaway, though sometimes it may require additional approval from Goodreads. 
4. Create your Goodreads community
Always keep in mind when considering adding a book to Goodreads that it is a free tool and a great asset for self-publishing authors. 
Before running a giveaway on Goodreads, you should start interacting with like-minded people to build a following.
Create your own tribe within a community of readers. Always communicate with them, reply to reviews and write yourself reviews of other books. 
Having your book on the Want to read list is a great tool, an agent of inspiration between bookworms that have been sharing ideas and recommendations.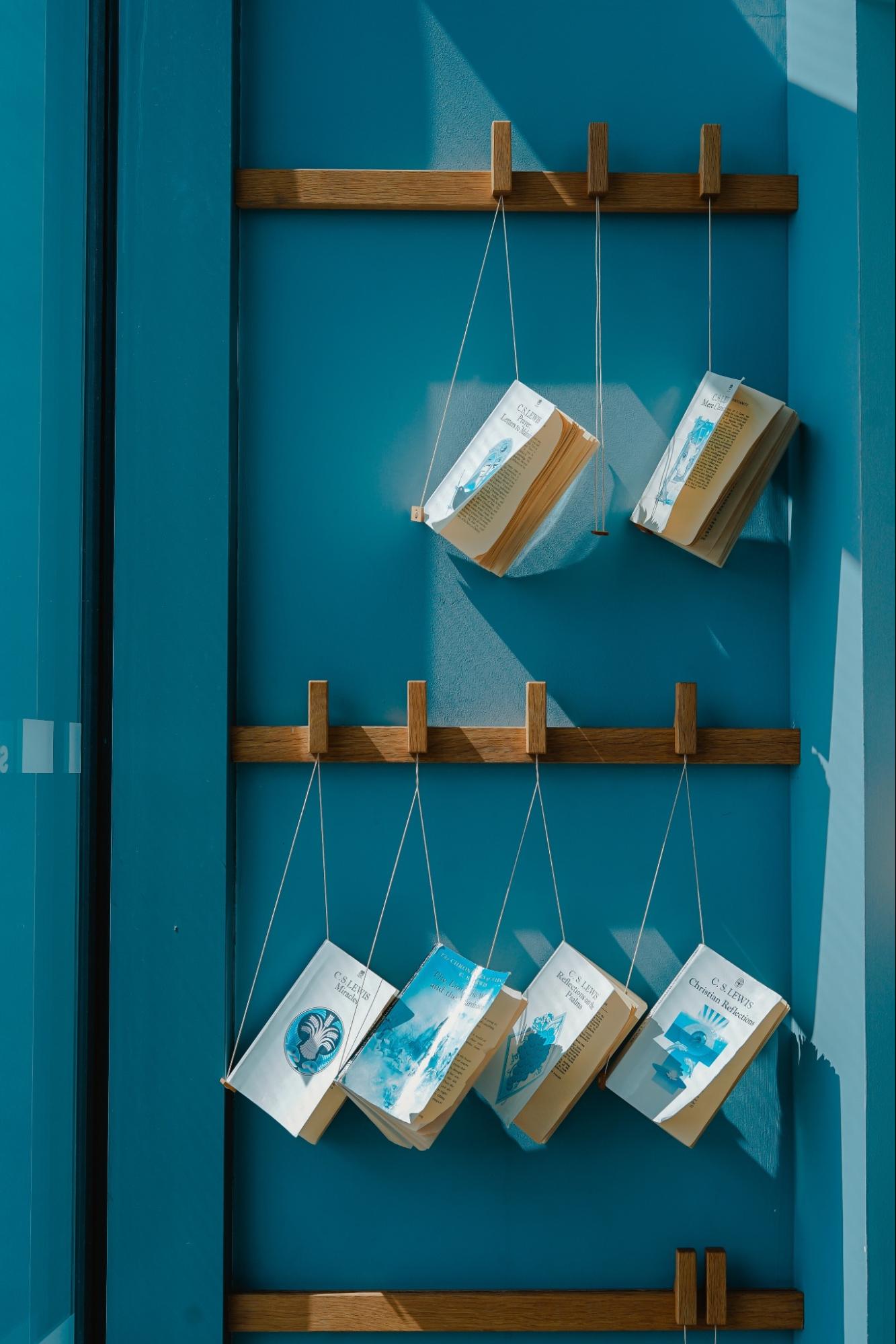 5. Invest in ads
All those interested in a book giveaway automatically list the book to their Want to read list. 
You can increase the number of people interested in your book with ads.
For self-publishing authors, who expect to spend long hours online promoting their publication, such insights offer a considerable advantage as they are not directed aimlessly but to better-targeted audiences. 
Final Thoughts
You are an author. Your book is no longer a manuscript, and your interest is in stirring conversation about it. You are not alone. There is a pool of information and curious eyes there for it. You just need to tap into the conversation. 
Let us imagine this. 
You want to offer 100 copies of your book. Around 1000 people enlisted in the giveaway, and they each had around 100 connections. With each one entering your Goodreads giveaway, so many more hear about it, and day by day, the ripples of your writing spread. 
Each day, new people issue requests, and some days reviews pop up. And with each review, the chance to engage in genuine conversations with bookworms. 
This is a community that will further constitute the pool for a new giveaway in the future once you have finished a new title. You are an author, and so many people want to read your book. Help them find you.