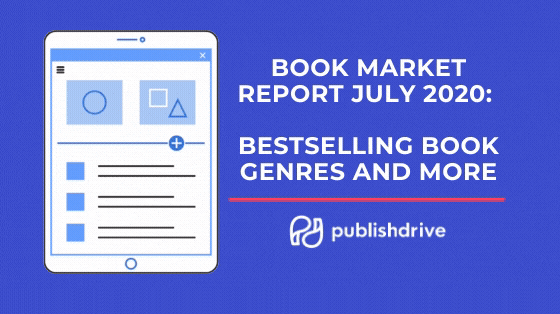 We are paying close attention to the book market this year. Although there can be lots to worry about these days, we want you to know that digital books are in demand. Especially for those in traditional publishing, transitioning to digital formats has never been better.
We've been reporting the trends and data on our blog since March 2020, where indies selling digital books via PublishDrive saw growth by at least 20%. In April 2020, we reported another 23% growth. In May 2020, sales increased by 60% in one year. In June 2020, sales increased by 66% in one year. Demand is high right now.
---
CLICK TO GRAB FREE WHITE PAPER ON GLOBAL BOOK TRENDS IN 2020
---
In July 2020's report below, we give an overview of international digital book sales plus bestselling book genres, book categories, and more. We'll continue to update this study every 20th of the month. We hope you make the best-informed decisions in your book publishing endeavors.
By the way! To learn more about what's happening in independent publishing, check out the free Publisher Nation podcast on YouTube organized by our friends at Digital Book World and Score Publishing. (You can also listen to it via Apple or Stitcher.)
It's free to publish and promote in thousands of stores globally for 14 days. 👇
Digital book sales continued to rise
In 2020, people are seeking more at-home entertainment, prioritizing digital means to get them. Movie-streaming services, video games, and of course, books are seeing significant booms. Since the outbreak, PublishDrive's digital book sales grew by 20% in March and 23% in April. With the world opening back up, the rates have slightly flattened in May and June.
In July 2020, there has been a 41% increase via PublishDrive compared to July 2019. Compared to June 2020, there was a 20% increase in one month. Usually, after the Christmas holiday season, the summer season during July and August is the strongest when it comes to book sales. Our current data shows the upkeep of this trend.
The growing book sales we're seeing are beneficial for PublishDrive users who keep 100% royalties. Since we don't take any commission, indies get the same royalties as selling directly to stores. All this growth is 100% theirs.
As the pandemic continues to affect us worldwide, we plan on keeping a close eye on book trends for the rest of this year. Based on our mid-month report, numbers are still looking strong for August.
Non-fiction, fantasy, science-fiction, & thriller genres did great
In July, summer book trends were obvious. Romance genres became even more popular than before, with a 47% growth rate compared to the previous month. Other popular genres under fiction included Mystery (27%), Action & Adventure (10%), Literary (6%), Thriller (4%), and Fantasy books (13%).
Non-fiction titles maintained solid growth, especially Religion (45%), Family & Relationships (4%), Education (2%), and Music (2%). Compared to July 2019, the largest growth overall came from Fantasy (174%), Literary (29%), Music (412%), Religion (121%), Sci-Fi (60%), Self-Help (68%), Social Science (135%), Thriller (115%), Family & Relationships (235%), Business (58%), Health & Fitness (82%), and History (67%).
We also looked at PublishDrive's bestseller lists of popular book genres and countries with the highest growth rates. We saw an impressive 500% boost in African American books in Google Play Books. Amazon also saw a whopping 500% boost in Fairy Tales and 181% boost in Erotica. See our chart below for more details: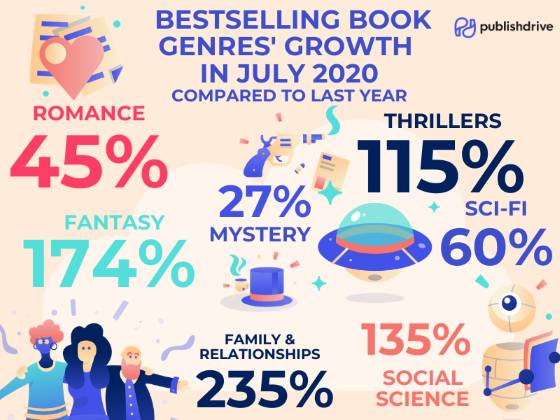 Exponential international growth all the way
We've reported steady growth in the US market, and in July, it's been stable. Meanwhile, international markets grew exponentially. The US captured 23% of PublishDrive's overall sales, while 77% came from global markets. That's a 45% growth compared to the previous month.
Other English-speaking countries grew steadily from June to July 2020. They were Australia (11%), Canada (4%), and New Zealand (9%). The UK stayed steady with 0.3% growth, just like the US. See bestselling countries in one year: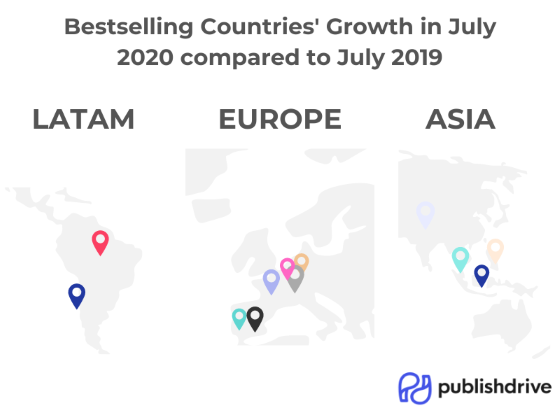 The US and the UK were top-performing countries based on sales value, showing growth month by month. Other countries also stood out, especially in Latin America like Chile, Brazil, or in Europe like Germany, Portugal, Switzerland, Spain, France, and the Netherlands. In Asia, we saw significant growth in India, Indonesia, Singapore, and the Philippines.
All in all, English-language content is in demand around the globe. For a more detailed analysis from country to country, download our free country market report below.
---
Click Here to Download Your Free Country Report
---
Digital book sales are winning
Book royalties come from different sources. In PublishDrive, we categorize these sources as:
Retail: Major outlets that reach global readers with the usual one copy purchase business model. E.g. Amazon, Apple Books, Barnes & Noble, Google Play Books, and Kobo.
Subscription services: Applications or stores that provide unlimited access to books for a monthly subscription fee. E.g. Scribd, Bookmate, and Dreame.
Digital library providers: Book borrowing for not just individuals, but institutions like public libraries, schools, universities, or corporate libraries. E.g. OverDrive, Bibliotheca, Mackin, and Odilo.
Regional stores: Outlets that cover a specific region that serves the local community. E.g. Tolion, Chinese stores, Hungarian outlets, and German network.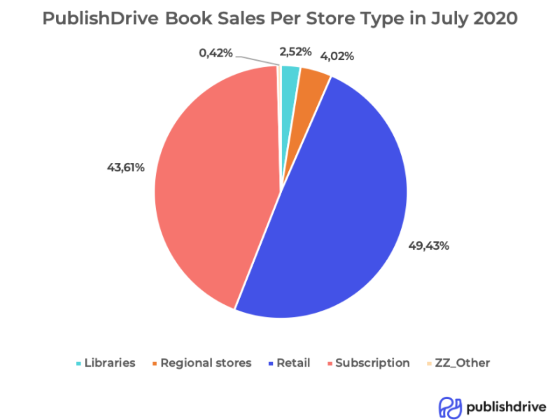 With book sales, many think of selling only on Amazon. Although Amazon is pretty amazing, there's an entire mass of readers you can find with other stores and business models. In July, growth from subscription services like Scribd and Dreame was responsible for 43.61% of sales. Retailers (Amazon included) lead with 49.43%. The rest came from libraries (2.52%) and regional stores (4.02%).
Reader experience has shifted in the last couple of years. Since March 2020, more people are using subscription services. We've also seen trends in growth ratios by different business models: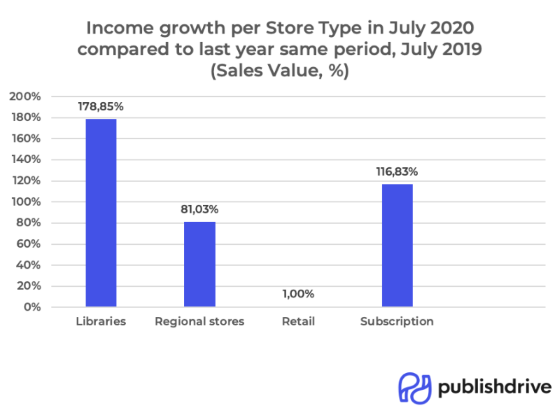 Library sales more than doubled (178% growth) in July 2020 compared to July 2019. Much of this growth came from Australia, Canada, Chile, Norway, Peru, Poland, South Africa, Sweden, Thailand, UK, and the US.
Subscription models increased by 117% in one year, and by 25% compared to last month. Countries experiencing the shift included Belgium, Chile, Czech Republic, Hong Kong, Israel, New Zealand, Slovenia, Sweden, and the US.
Retailers grew by 1% in July compared to June this year. When looking at July 2019 to July 2020, there was a 15% growth. The best-performing countries for retail were Belgium, Colombia, Hong Kong, Malaysia, Russia, South Korea, Spain, Sweden, and the UK. Regional stores grew by 81% in one year, and by 14% compared to last month.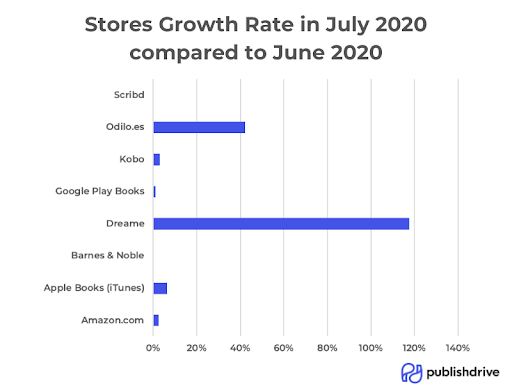 So how's the book market doing? Very well when it comes to digital.
It's a golden time to sell more digital books amid the ongoing pandemic. If you're not selling online yet, we highly encourage you to do so. And come back to PublishDrive's blog every month to get updates on what's happening in the book market.
Also, don't forget to listen to Publisher Nation's free podcast organized by Digital Book World on YouTube, Apple, or Stitcher. Learn about the current state of the indie publishing industry with representatives from Amazon, IPG, and Kobo.
If you'd like to go more in-depth country to country, download our free country market report below including country reports for: the United States, the United Kingdom, Australia, Canada, France, Germany, Spain, Italy, South Africa, Brazil, Mexico, and India.
---
Click Here to Download Your Free Country Report
---
Lastly, are you signed up with PublishDrive yet? It's free to start an account and distribute digital books globally and efficiently during this lucrative time: