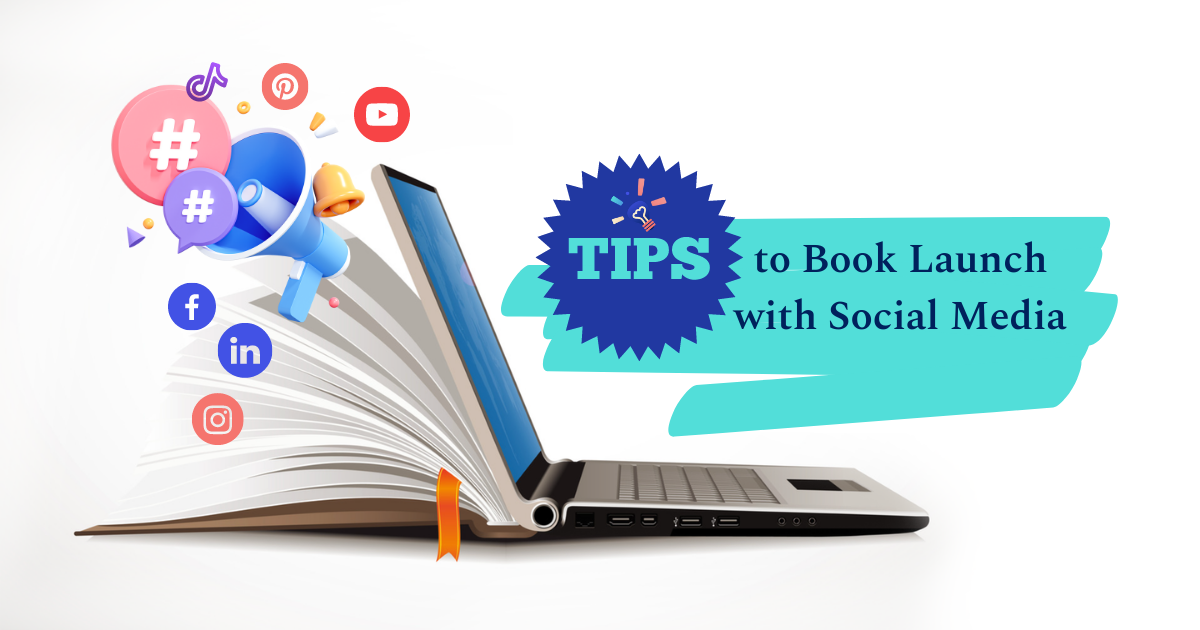 When you're ready to publish your book, don't miss out on creating a big splash around your release. Back in the day, we'd hold an event at the local library or bookstore. Although in-person activities are still viable today, you can run a virtual book launch campaign instead to reach a wider audience around the globe. To do so effectively, harnessing social media is key. I go over eight tips on how to launch a book on social media below.
What Is a Book Launch?
A book launch or release is the day your book officially goes up for sale; it's a day to celebrate. Additionally, it's a marketing opportunity you can use only once to build buzz, cultivate branding, and even create a fanbase or following. You want to make the most of it!
P.S. Readers have drastically shifted to digital, whether through audiobooks, online libraries, or subscription reading platforms. By meeting readers online, indie authors could boost their sales by 200% on the online self-publishing platform PublishDrive. It's a swell time to learn how to launch a book online.
How to Launch a Book on Social Media: 8 Tips
1. Craft Your Virtual Book Launch Campaign
First things first: make a plan. A virtual book launch campaign encompasses all the digital activities you run before, the day of, and after your book release. Your launch plan should strategically align with your overall marketing plan.
To develop your virtual book launch campaign, start off by identifying these main elements:
Timeline:

how long do you have until the day of your release? Is your date flexible? Have you thought about a pre-order period? (Read more on setting up a pre-order below.)

Budget:

how much money can you invest in your book launch campaign?

Goals:

what are your objectives? To make it into Amazon's bestseller category? To gather as many reviews as you can?

Tactics:

what are the actual digital marketing tactics you want to implement that best support your goals, budget, and timeline?
If this is your first time publishing a book, your book launch campaign is essentially the same as your first promotion plan. If you haven't come up with one, check out this guide on how to create a book marketing plan + book marketing timeline:
2. Create/Freshen Up Your Social Media Accounts
Once you've crafted your main blueprint, it's time to create or freshen up your social media accounts.
When self-publishing, selling books happens primarily online. In this e-commerce landscape, positive online reviews and discussions help drive book sales. When it comes to online discussions, social media platforms are where we'll find them. That's why you need at least one social media account for not only your book launch but your entire author career.
Here are some of the best social media platforms to consider:
Facebook

is the largest social media platform in the world, with nearly 3 billion monthly users. Facebook ads for authors are popular for promoting books.

Twitter

uses short posts known as tweets, effective for more personal branding styles.

Instagram

is a photo and video sharing platform, great for visual communication.

TikTok

is the newest social platform that has made a global impact. Its BookTok community has generated fantastic results for some indies.

LinkedIn

is a career networking platform that can work well if you're publishing content for business peers.
Don't forget to set up your author pages on author-specific platforms:
Goodreads

is the largest site for book lovers and book recommendations.

Amazon's author page

(if you sell on Amazon) serves as an important space for people to learn more about you.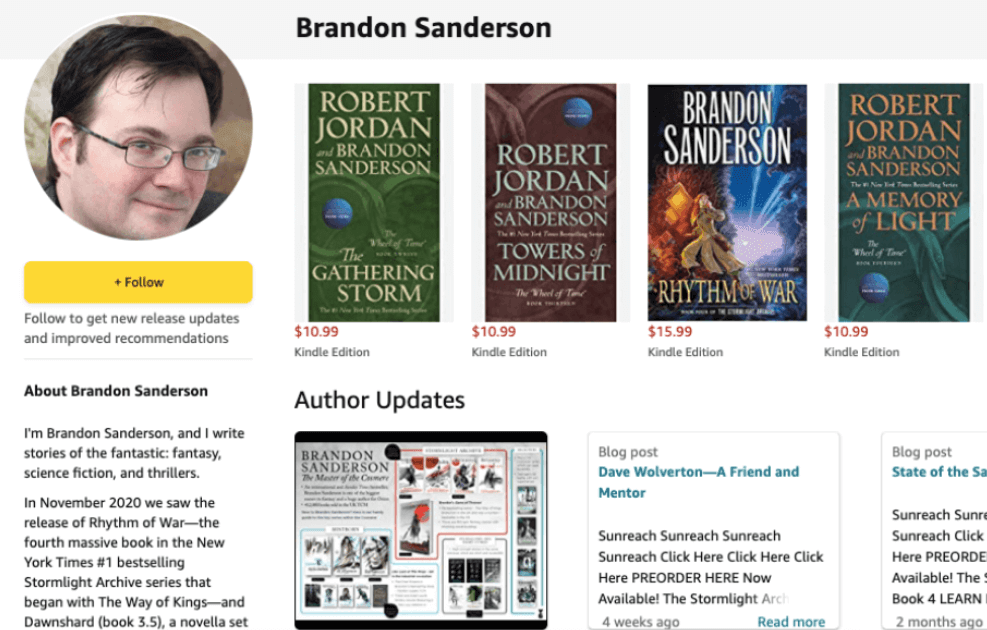 Here's one idea: use Facebook to update your followers on a weekly to monthly basis. Then, harness TikTok or Instagram's reel function to foster your author brand via video content on a more frequent basis.
You can, of course, use any of these platforms in any way that feels best for you. Just make sure to read up on the ones you're unfamiliar with. Better yet, create a free account and start exploring these spaces in no time.
Tip: search for book-related keywords or hashtags like #books, #authors, or #yourbookgenre. Hashtags are words or phrases preceded by the # symbol used on social networks to categorize topics and interests.
Whether you're newly creating or freshening up your social accounts, you will need to get and stay active online. If you've been maintaining a social media presence, right on! If not, start by updating your profile pictures and descriptions. Start posting regularly, too, which leads me to the next point –
3. Post Engaging Content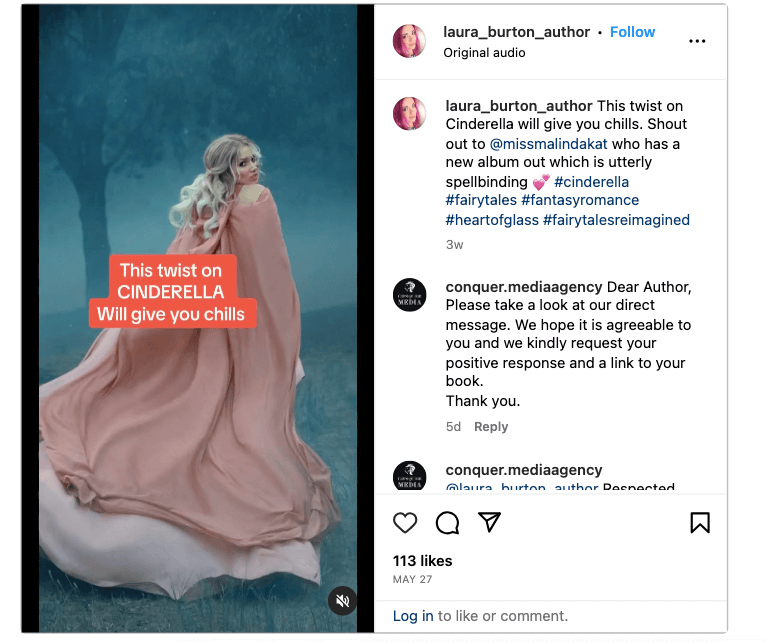 In your social media strategy for book launch, no matter who your target audience is, content is everything. And, for your content to be effective, it needs to be engaging.
Author Laura Burton found her social success by getting personal: "Post a picture that does NOT feature your book cover. Instead, post about YOU and how you're feeling…let people connect to you…I post regular "Writing Updates" on my social media. I have noticed that my updates – which vary from in-depth analyses of my sales and reviews to ranting about writer's block – can be extremely popular with my followers. So much more popular than my "Check out my book!" posts."
Don't be shy. Try sharing about the challenges you've faced with your publishing process. Are there any achievements you're proud of? What do you wish for readers to gain from your story? Go ahead and write a lengthy message for your first book launch post.
More tips:
Engage by asking. If you're in the middle of finalizing your book cover and title, ask people for their opinions. Offer samples and ask for book reviews. Run a giveaway event by asking your audience to tag friends and family.
Engage by giving. Comment on posts and help others with your knowledge and experience. Re-share posts by published authors or blog posts by book bloggers. These organic efforts can lead to new connections and friendly swaps for reviews, book promotions, and more.
Engage by using different types of content. Let's say you want to showcase quotes for your book launch social media posts. Go beyond typical photo graphics and instead use memes, gifs, and videos. Try narrating your quote over a short video clip with music. Get creative.
4. Set Your Book for Pre-Order
How to announce book releases on social media as strategically as possible? Make use of the exposure by announcing your pre-order period at the same time.
Pre-orders shoot up your book's sales count on the first day of release. This increases the chances of getting your book ranked higher in store search engines and landing in bestseller charts. You can use a month to a year (or more) of your pre-order period to build hype, gain credibility, and collect those orders until the day of your book launch.
After setting your pre-order period, plan your social media activities around that. Make your pre-order link visible and easy to find. Share in your social posts. Pin one of those posts to appear at the top of your social pages. With Instagram, add the link to your profile's bio section. Change your profile pictures to branded ones about your upcoming book, then add the link in the captions.
You can set up a pre-order with PublishDrive for up to one year on major retailers like Amazon. And you don't need to finalize your book cover or content until the day before your release. Cool, isn't it?!
5. Create a Plan and Automate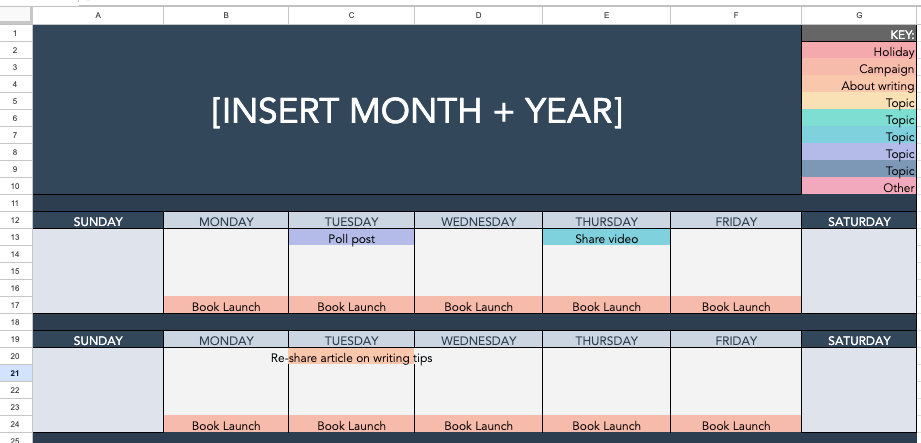 Within your book launch social media campaign, compile your content ideas into a single document. Then, get organized by sticking to a schedule. You can use a calendar like this Excel template (download for free by clicking "file"). Plan posts on a weekly or bi-weekly basis. You need only a couple of hours to draft a handful of posts for the upcoming week.
To save time, automate your process by scheduling posts in advance. There are tools like Hootsuite to manage your Facebook and Twitter posts. Here's a nice list of tools. Dedicate just 20 minutes a day for activities like sharing posts or responding to direct messages.
6. Have a Set of Creatives Ready
The most engaging content on social media uses visual elements. I suggest having every single one of your posts linked with some kind of creative (whether a photo or meme). You want your visuals to look professional and grab the attention of your audience.
To make your book launch special, create a set of on-brand graphics for announcing your new book. Think of yourself as a professional business with a new product – I mean, you are! Presentation is everything. Prepare branded templates to use across social platforms and throughout your launch period.
You can hire a graphic designer on Upwork or Fiver to design a set of templates for you. Or use Canva, a free tool that's amazing for design work with no design skills needed. Here's an example I put together on Canva: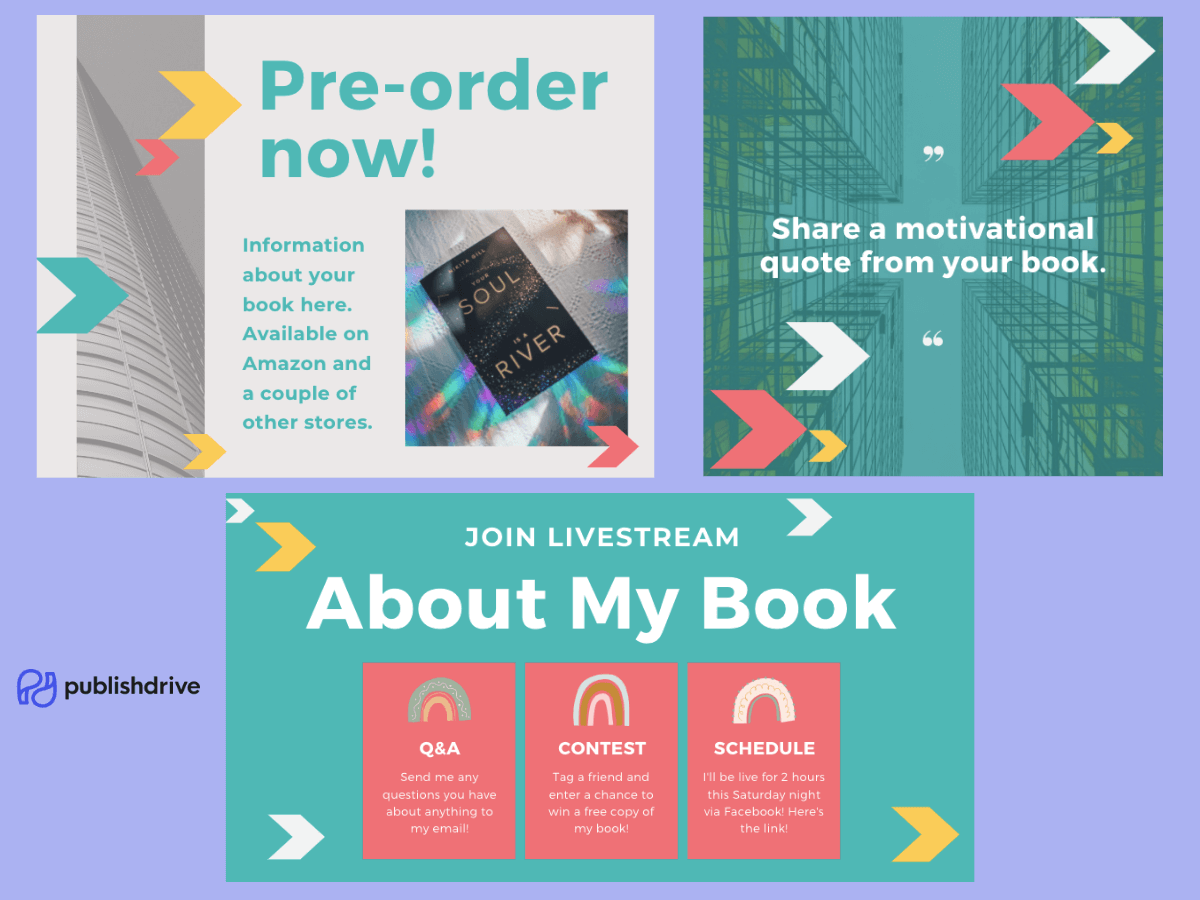 7. Join Online Groups
There are several social networking sites you can join to make new connections and promote your book launch by word of mouth. Check this list of Reddit groups (do read post guidelines). Check this list of LinkedIn groups. And check this list of Facebook groups to promote your book. Feel free to join PublishDrive's group to get in touch with other indies.
Go through the lists shared above, google for more, and compile the ones to join in an Excel sheet. Use your Excel sheet to record where and when you posted about your book. This not only helps you stay organized but ensures you don't spam a group. Set up a rule like posting twice about your book per month per group. Gather a group of authors willing to swap likes and comments, which helps boost credibility and relevance in newsfeeds.
8. Organize a Virtual Book Launch Party
Celebrating your book release with a digital party is an awesome way to engage with readers. However, if you'd still like to hold a physical book launch, here's a simple flowchart to help with your decision: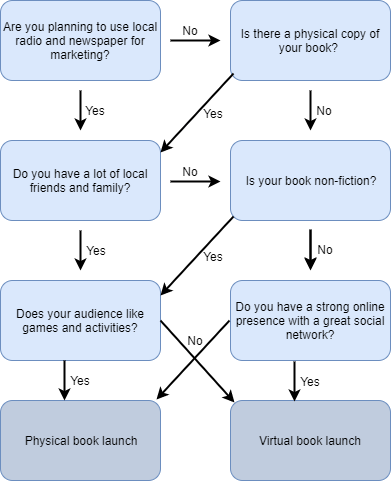 If going local is the move, here are some book launch party ideas for your in-person event:
Research different venues in advance

, such as libraries, coworking spaces, schools, and cafes. Do these spaces offer catering services? Or can you bring your own snacks? Is there free internet access? (You want attendees to download or buy your book straight away.)

Plan and promote your event

at least a month in advance. This gives you enough time to send out launch party invitations, among other preparations.

Send out beautifully designed invitations

and print physical copies of your book in advance to display, give out, and sell during your event. Check out PublishDrive's print-on-demand services to order print copies of your book.

Give out freebies

, such as physical or even digital copies of your book. Use these gifts throughout your program, like in icebreaker games or raffles.

Consider crowdfunding or finding a sponsor

to help fund your event.
Unlike an in-person event, you can conduct a rather cost-free event from the comforts of your home. Let's go through how to prepare your best virtual launch party ideas –
Decide on expenses
Since you'll be saving on renting a venue or providing refreshments, instead, invest in items like giveaway prizes. Consider these expenses:
Physical copies of your book to deliver as giveaways. Electronic copies work, too.
Freebie items like branded pens, stickers, etc.
Designed promo materials like invitations or flyers. You can hire a professional or do it yourself with free tools like Canva.
Decorations for your backdrop when live. Go to Dollar Tree for some cheap streamers.
Equipment for your live event, like a high-quality camera.
Speaking of equipment –
Prepare your equipment
When streaming a digital event, a good internet connection is a must. Opt for plugging your computer directly into the Wi-Fi router. If you own a Mac, you'll need an adaptor. In case of Wi-Fi issues during the event, have your phone as a backup to hotspot your internet.
Test your equipment in advance. Is your video camera, microphone, or lighting suitable? If not, invest in something better. Check this guide on streaming equipment. With lighting, natural light is recommended, but test it out with your setting –
Prepare your setting
Your setting is your backdrop, where you can decorate with party streamers and balloons or keep it simple with a single banner. Here's an example: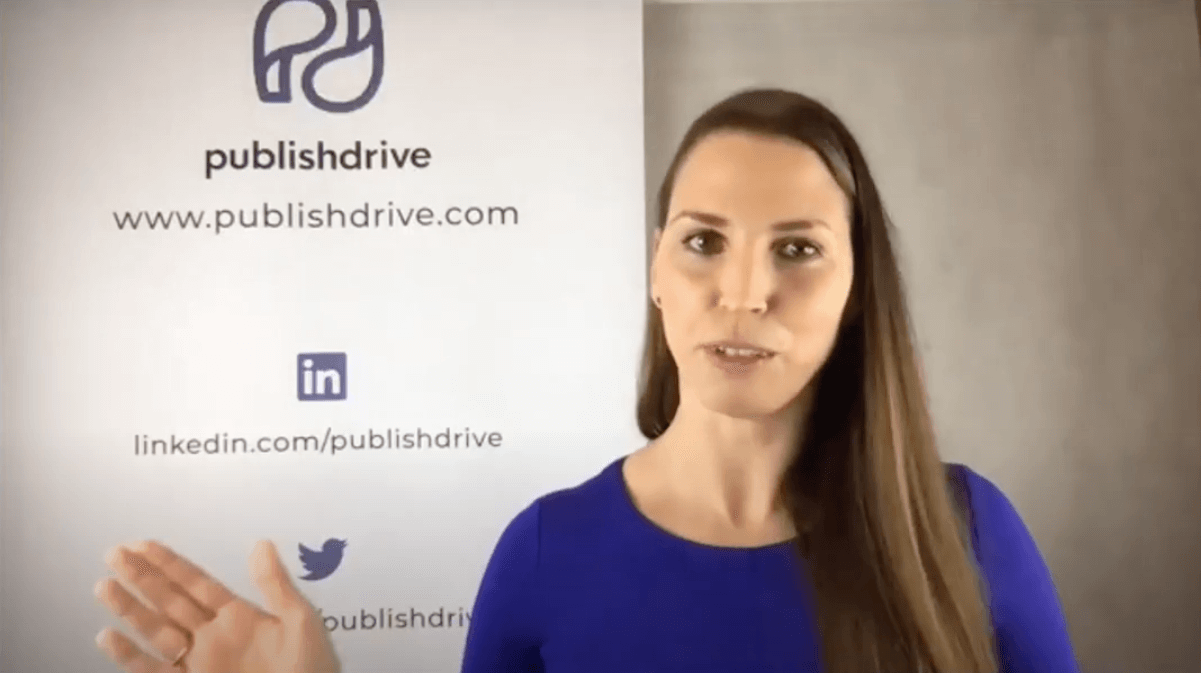 Prepare your equipment
There are plenty of free platforms to hold your event, such as Facebook Live, Instagram Live, Reddit Live, Zoom, and Google Hangouts. Browse on wiki for how to stream on these different platforms. If you have a large following on more than one platform, there are ways to multi-stream.
To choose one platform, check the demographics of your social media audience to see which platform has the most active users. This is also a great way to find the best day and time to hold your event. When you've decided, schedule your live and keep the link handy for promotions.
Plan itinerary
This is the fun part where you can be as creative as you want! If it helps, choose a theme. Maybe your launch is near the winter holidays, and you want to get festive. Build a rough outline. Here are some virtual launch event ideas:
Book reading: read your favorite chapter or a book page that ends with a cliffhanger.
Book signing: you can do this electronically.
Guest segments: invite an influencer, someone who has already read your book and can talk about it, or anyone else.
Contest: don't forget about raffle prizes.
Poll/feedback session: ask your audience to help you finalize your book cover, title, etc.
Q&A
Send out digital invites
When it comes to launch party invitation ideas, if you have a theme for your launch, your creatives like e-card invites and social graphics should reflect that. The point is to present yourself professionally by being consistent with your creatives.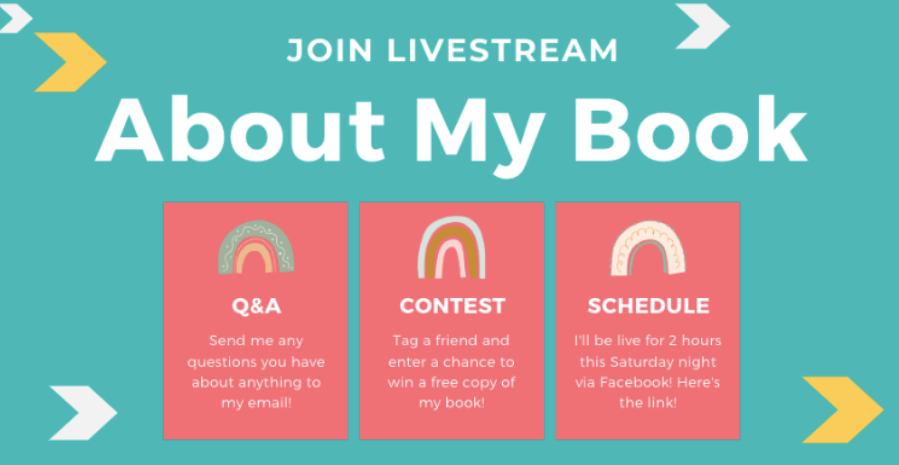 Promote!
Use a sign-up link to share via social media. Add it in your bio or under your email signature. Make sure the info for your event is easy to find. Reach out to local community bookstores, reading clubs, and more. Join online book promotion groups to spread the word. Be persistent, but not annoying. Create a Facebook event and set it to public – invite all your friends. Promote the heck out of your event!
Here's one idea. Run a contest via social media where people can enter by using a unique hashtag. Ask participants to tag a friend who might enjoy your book. Share that you'll enter participants into a raffle during your event for a chance to win a free autographed book or Kindle device.
Find a helper
If possible, find a helper who can help you rehearse and give feedback. During your event, a helper can moderate the live chat, answer any questions, collect email addresses, or periodically share your pre-order link. During your event, ask friends and family for pre-planned questions to get things rolling.
Follow-up with a thank you
Don't forget to say thank you by writing a post on social media or emailing participants. Use this opportunity to share the rest of your social accounts, ask people to subscribe to your newsletter, or whatever else. Share that you'll announce more contests in the future. Give a reason to stay connected.
Beyond these publishing party ideas, be proud and enjoy yourself. You've already achieved the most important part: completing your book!
You can also tell PublishDrive about your book launch online. (Check out PublishDrive's book promotion services.) The team is regularly sharing about indies and their achievements on social media. And don't forget to set up a pre-order with PublishDrive. It's free to get started and publish worldwide –
Let's make your virtual book launch a success…
Now that you have your book launch ideas, select the best publishing platform to help you distribute in thousands of stores like Amazon, promote globally, and more!