Abacus
How to Move Your Sales Reports To PublishDrive's Abacus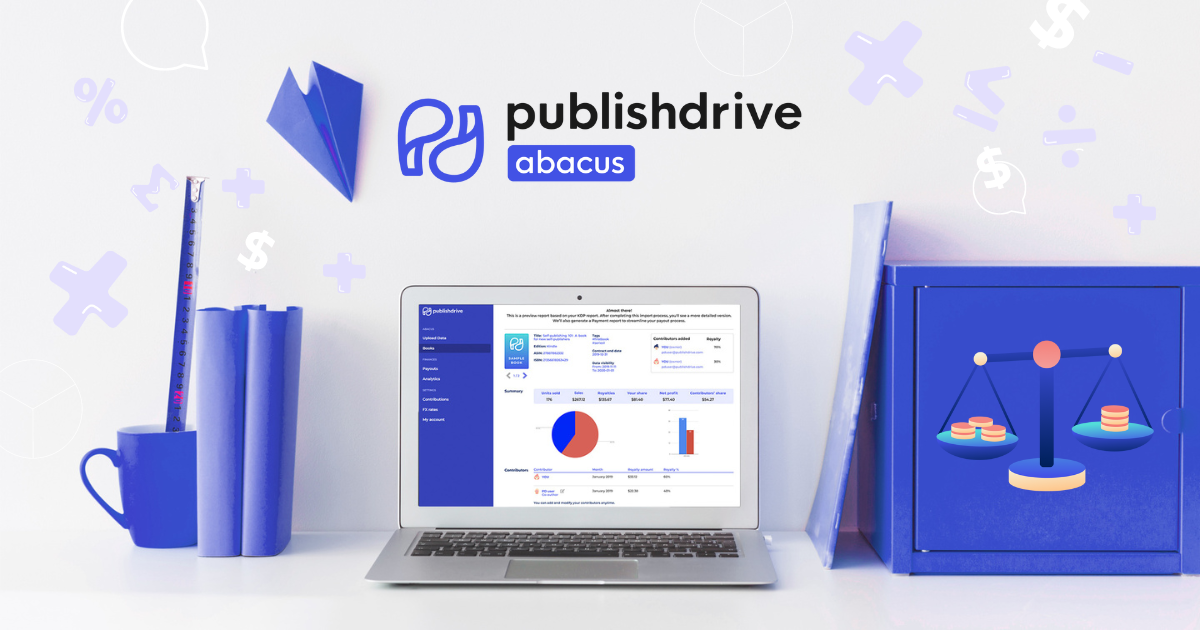 PublishDrive's royalty management and splitting service, Abacus, has been saving hours for those who work with co-authors or publishing teams.
And we're not just saying this. Quite a few authors tested the feature, saying it's a game-changer.

"Before PD Abacus, we'd spend approximately 20-25 hours per month calculating, checking, and distributing royalty information to authors. We anticipate cutting that time to between 2-4 hours per month with PD Abacus." – Michael Anderle
Read more about how Abacus was the tool Michael Anderle and others needed to manage their author business.
What Is Abacus?
Abacus is a product tailored to meet the needs of self-published authors and independent publishers who need to track book sales and the division of royalties among various contributors. 
Abacus is a standalone royalties calculator that doesn't require distribution through PublishDrive. 
Request a quote to find out more.
Here's how Abacus can facilitate collaboration between authors:
It allows adding multiple team members for each title and can compute co-author royalties for different formats, including

print-on-demand

, ebooks, and

audiobooks

.

Helps authors import data from their Amazon KDP account, including Kindle Unlimited, to calculate royalties.

It calculates and divides royalties earned from other major retailers like Apple, Google Play Books, Kobo, and Barnes & Noble.

It calculates imported data from Kobo Writing Life and D2D sales reports for convenient royalty splitting.

It calculates imported data from IngramSpark.

It calculates royalties from sales made directly from your store or during author signing events.

It can generate detailed sales reports, giving contributors visibility only to their portion of the royalties.

Within Abacus, you can monitor the payment status of co-authors or other contributors in the

Payments

section.

It has a built-in message board that ensures seamless communication between team members. Simply go to

My Shared Titles

or

Titles Shared With Me

, select the title, click

See Report

, and scroll to the bottom of the page.

The feature allows for editing contributor details after the initial data import.

It allows adding termination dates to your team contracts, offering greater flexibility in managing collaboration agreements.
Import Your Sales Reports 
Based on the authors' feedback, we expanded Abacus to accept more royalty formats from various self-publishing platforms. 
First, we'll see how to download data from Kobo Writing Life and Draft2Digital. Then we'll go over sales reports from IngramSpark.
1. Import Kobo Writing Life and D2D sales reports 
In addition to Amazon sales reports, you can easily import your KWL and D2D sales reports for convenient royalty splitting. Just drag and drop your reports into Abacus, assign royalty percentages, and complete the import process. 
Here is step-by-step guide: 
Download files from Kobo Writing Life
Please use the detailed invoice data emailed to you monthly from Kobo Writing Life. 
Sales reports are uploaded at the end of each month, displaying the previous month's sales. You can access your sales reports on your dashboard by navigating to the My Account drop-down menu, where the reports will be available.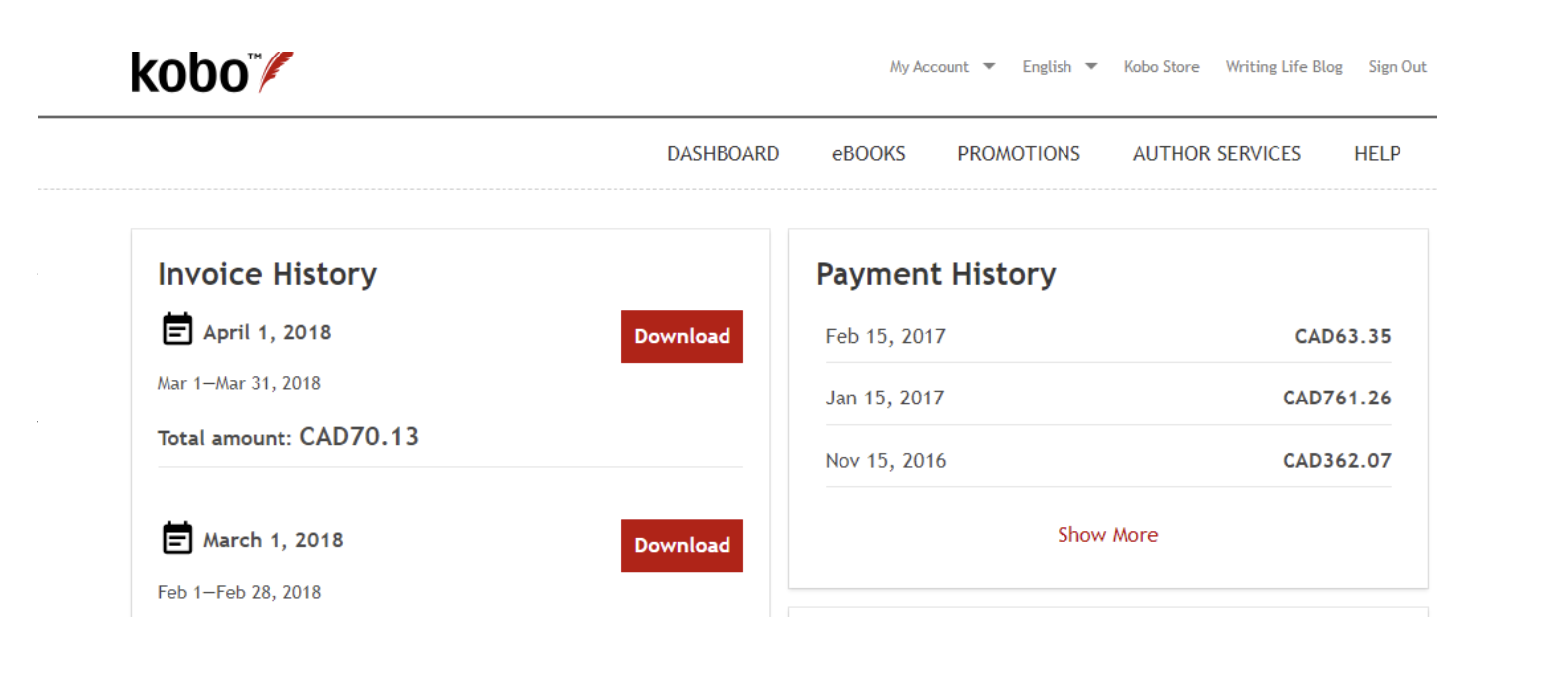 Download Draft2Digital sales reports
Export your sales data from D2D:
Sign in to your account on D2D 

Go to

My Reports

 

Choose eBook

Raw Sales Data

 

For the reporting period, choose the period (month) you wish to import to Abacus

Download your results in CSV format
Important notes:
D2D report may contain verified and not verified sales info (column

Verified

). Abacus excludes all non-verified sales from royalty reporting!

You need to download your report month-by-month to be imported to

Abacus.
Import data to PublishDrive Abacus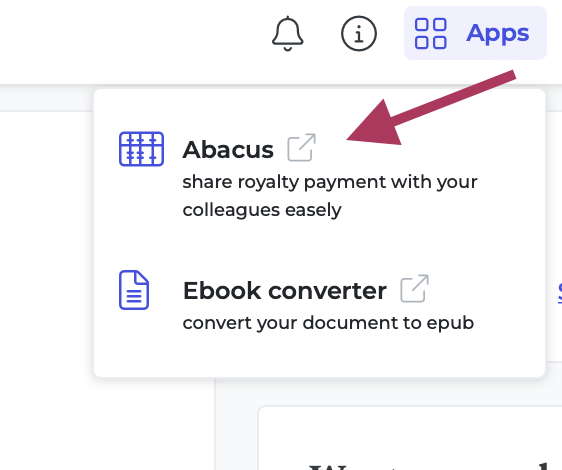 Go to

Upload Data

and drop your downloaded CSV file to Abacus.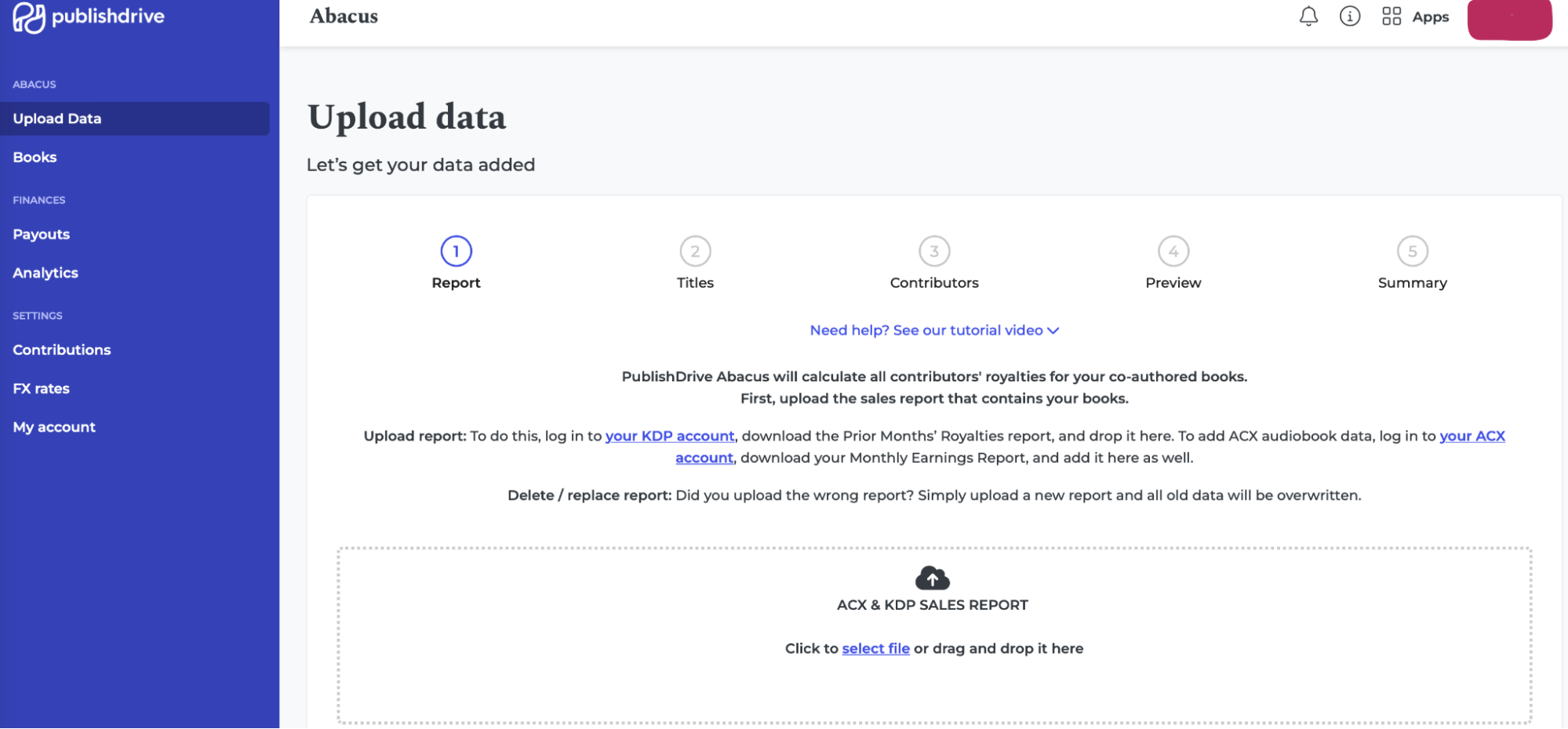 Select the titles you wish to import to Abacus
Provide your contributors' data
Review the data
Finish Import
2. Import IngramSpark Print Royalty Reports
You can easily import your sales data to Abacus even if you publish POD (print-on-demand) books through IngramSpark.
The process differs slightly from importing royalty reports from other retailers simply because IngramSpark's print sales can't be exported in one report. As a result, you'll need to import multiple files. 
Here is how to import your files into Abacus:
1. Sign in to your IngramSpark account.
2. View your reports by navigating to Menu > Reports
3. Choose Print Sales.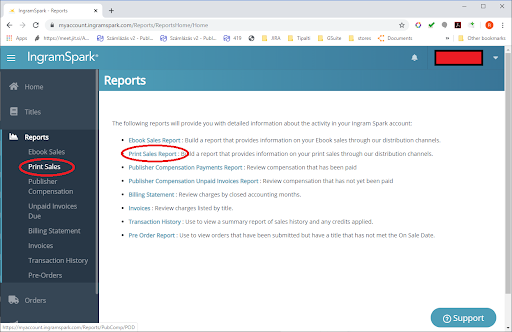 4. Clear the date range filters (both "from" and "to") with the "X" sign.
Important: if you can not see the "X," try with another browser; Mozilla Firefox is recommended.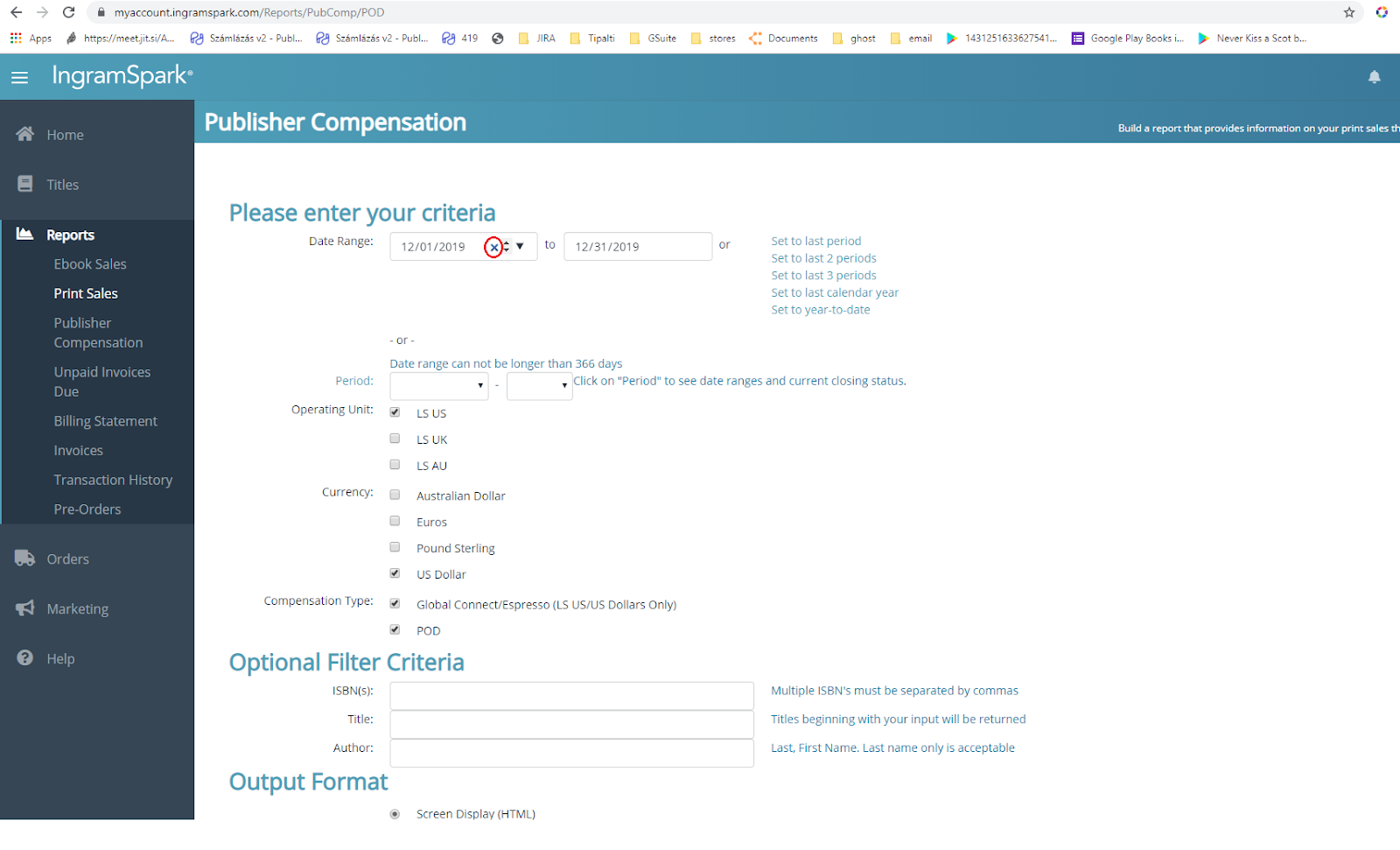 5. Using the period filter, choose the month and year for the reports you wish to import to Abacus.
6. Tick all boxes under Operating Unit, Currency, and Compensation Type you wish to export and import to Abacus.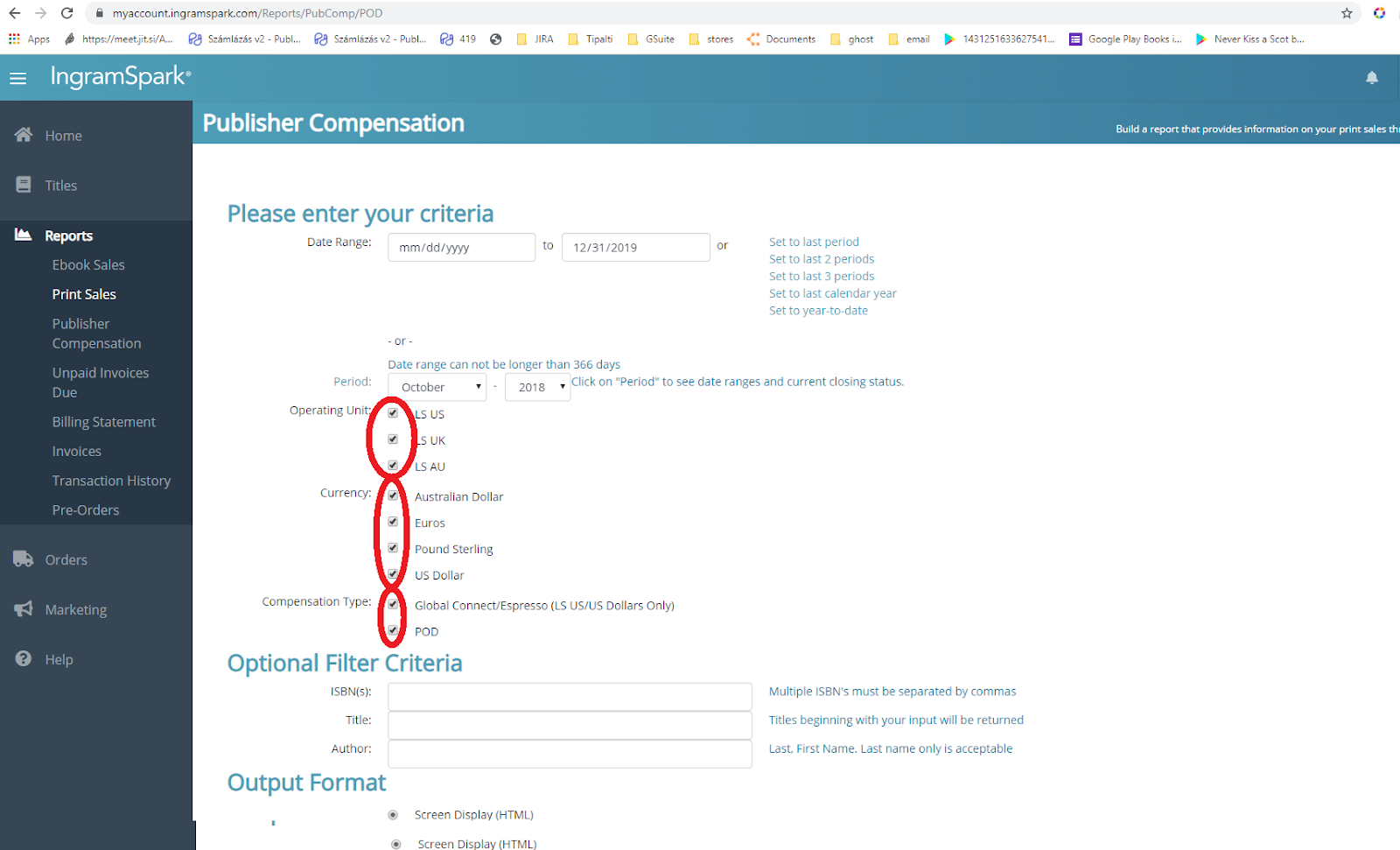 7. For output format, choose Email Delivery as file attachment(s) and tick both Adobe PDF and Tab Delimited (Excel).
8. Fill out the Email Address and Re-type Email Address fields.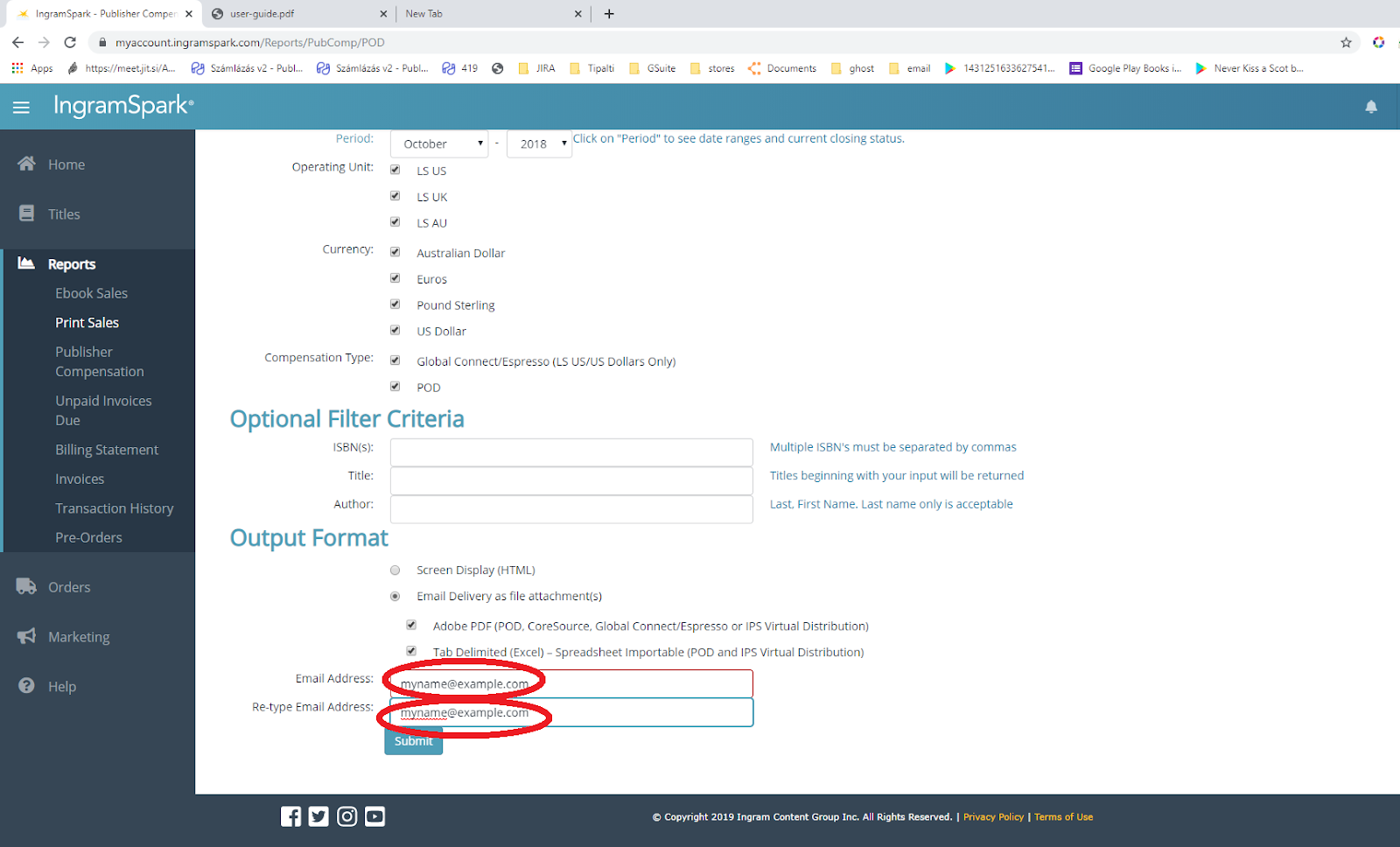 9. You will receive several emails from Sales_Comp_Dept.US@lightningsource.com.
The number of emails depends on the operation units, currencies, and compensation in the period you selected. Download all XLS files from all the emails you receive (it may take a few minutes to receive the emails).
10. Log in to your PublishDrive account. Navigate to Abacus.
11. Click the Upload Data button at the top of the page.

12. Repeat these steps for every XLS file received from IngramSpark:
Drop the XLS IngramSpark file into the

Drag-and-Drop

area

Select the titles you wish to include in Abacus

Provide your contributors' data

Review the data

Finish the import
Take Advantage of Abacus Finances

Abacus makes everything easier for authors when it comes to handling finances. Here's what you can find in the app once you upload your data.
Payouts
Manage the payments to your co-authors or the sums you have to receive. Go to the Payouts section from the Abacus app, and see the upcoming payments.
Analytics
Numbers speak, and they have a great deal to tell authors who want to learn more about profit margins for each of their titles. 
You can filter your selection by title and by month. 
You can also monitor the success of each of your partnerships by selecting the contributors' names.
Make the most of your data by having a complete overview of the revenue each contributor has received.
You can even monitor payments made to each contributor by month or in total so you do not miss out on payment deadlines while continuing to expand your backlist. 
Why Abacus?
There you have it. If you want to handle all your sales reports easily, you can upload all of them to Abacus and save a lot of time. Because you do not need to dig for age-old records, they are always just a click away.