Publishing-Industry
How to Publish and Distribute a Book in India and Go Beyond Traditional Publishing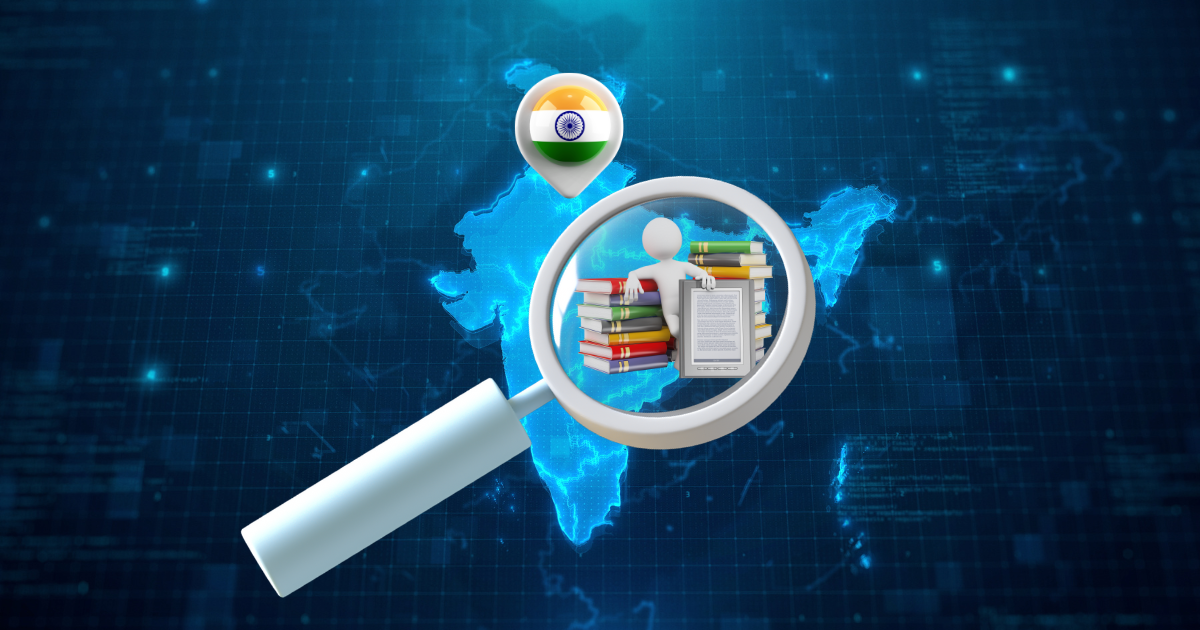 Indian authors can now share their stories without the help of literary agents, thanks to self-publishing options available nationwide. The self-publishing market offers writers complete control over their work.
This article goes over the book publishing process in India, different publishing services and how self-publishing in India changes the face of the nation's publishing industry.
Why Publish A Book In India?
With its culturally rich backdrop, India offers an unmatched stage for authors, especially those considering self-publishing. 
Here are reasons to publish a book in India:
1. Diverse readership
India's vast culture ensures a great audience, giving self-published authors many potential readers.
2. Growth in literacy
Rising literacy rates raised the demand for books in English and regional languages, with 45% of trade books sold in regional dialects. This indicates a golden opportunity for self-publishers to tap into regional niches.
3. Economic development
Valued at 500 billion Indian rupees in 2019, the publishing sector is projected to hit 800 billion Indian rupees by 2024. The industry employs over 1.2 million individuals, indicating a growing market potential for newcomers.
4. Cultural preservation
Through self-publishing, authors can share personal or local stories that preserve Indian culture, values, and excellence.
5. Digital evolution & free publishing
While print books remain dominant, the surge in digital adoption isn't far behind, accounting for 10% of the market. The industry leverages ebooks in regional languages, giving self-publishers cost-effective and wide-reaching platforms.
6. Regulatory support
The five percent GST on books presents an optimized cost structure, especially beneficial for self-publishing authors working within tight budgets.
7. Pandemic shift
The rise of ebooks during COVID-19 offers a silver lining for self-publishing authors as online platforms have become increasingly vital.
8. Innovation in publishing
The Indian market has quickly embraced innovative outreach modes and business structures like open-access resources, online retail, and bundle packages—many of which are tailored to self-published authors.
9. National education policy
This policy presents an avenue for self-publishers in the educational segment. Authors can cater to a massive, ever-growing demographic by aligning with its directives.
Self-Publish and Go Wide with PublishDrive
PublishDrive is an aggregator that assists authors in their self-publishing journey. Authors can publish, distribute their books globally, and use built-in marketing tools to help their books gain traction. 
Additionally, PublishDrive offers a royalty management system to make royalty management manageable.
Authors can publish their ebooks and sell them internationally on all major platforms, such as Amazon, Kobo, Apple Books, Google Play Books, and many others, including hard-to-access markets like China. 
To reach all these markets simultaneously, authors must create an account, upload their ebook files, provide the necessary information, and choose the distribution stores.
How To Get Your Manuscript Ready and Publish It
Clarifying the initial idea and sticking to a writing routine is essential to avoid writer's block and meet deadlines. Still, when it comes to getting your writing in publishing shape, you should make sure you leave nothing unpolished. 
Here is a step-by-step checklist to guide your journey from notes to prep manuscript: 
1. Proofread and edit
Begin with a thorough self-edit. Address plot inconsistencies, character development, and pacing. Then, hire a professional editor or check once again to refine grammar, punctuation, and style.
2. Format your book
Ensure your manuscript meets the formatting guidelines of your chosen publishing platform. This includes setting appropriate margins, font, line spacing, and chapter breaks.
3. Design a captivating cover
Your cover is the first impression readers will get of your book. Consider hiring a professional designer or using tools like Canva.
4. Write a compelling blurb
Craft a concise, engaging back cover description of your book. The blurb should entice readers and give them a glimpse of what to expect.
5. Decide on distribution channels
After you have all the necessary information and complete the book metadata during the publishing process, enable all the stores to which you want to distribute your book. 
PublishDrive distribution network includes reputable publishing companies. Distribute ebook, audiobook and print-on-demand to 20+ channels, 400+ stores and thousands of digital libraries worldwide.

6. Market your book
Draft a marketing plan. Consider tools like social media, author websites, book reviews, and promotional events.
7. Track sales
Use the Sales Analytics from PublishDrive to understand the market and your ebooks' performance.
You now have the ability to filter various aspects of your data. You can filter it by:
date 

sales type (either free or paid) 

specific books or series

countries

stores

formats, allowing you to analyze both sales and preorders. 
Examine your earnings by filtering them by stores or series and displaying the daily, weekly, or monthly results. See your bestselling titles and series and the countries you are achieving sales. This will help you connect with your ideal audience.
Expand Your Reach Using Multiple Book Formats
Self-publishing authors should consider expanding their ebook offerings with audiobooks and print-on-demand books. 
The publishing market witnessed a growing appetite for audiobooks, catering to busy urbanites and those who prefer auditory learning. With over 25 million audiobook users in India, major audiobook platforms are investing heavily in the region, especially in original and local-language content. 
While the conventional reading market in India is set to expand, audiobooks represent an untapped segment, addressing a deep-rooted oral storytelling tradition.
Meanwhile, print-on-demand services ensure that readers who love the tactile experience of a book aren't left out.
Expanding into these formats allows you to tap into varied audience preferences and open up additional revenue streams.  
India's rapid population growth, exceeding 1.3 billion, presents a vast consumer base for the print-on-demand (POD) sector. With the diverse demographics and unique consumer tastes, POD businesses have ample opportunities to cater to varied segments. 
Repro India
To meet this tendency, PublishDrive has partnered with Repro, thus growing the partner network and bringing more opportunities to PublishDrive authors. We offer multiple print-on-demand, ebook, and audiobook stores for authors and publishers to meet their desired audiences.
Incorporating physical book distribution, print-on-demand, offset printing, and digital offerings, Repro collaborates with publishers, retailers, bookstores, libraries, and educational institutions, locally and globally, offering innovative solutions to the challenges of modern publishing.
Repro handles a direct, controllable distribution to India to the following online stores:
Note: Repro is an Ingram partner, so they also offer print-on-demand services to other countries through Ingram.
How to distribute your book to Repro India?
If you're already distributing through PublishDrive
In this case, you don't have to do anything else. We will automatically send your book to Repro India. If you don't want to distribute to this store, switch off the channel under your account.
If you're not on PublishDrive
Sign up for a PublishDrive account (free to use for 14 days) and go through the book upload process. When you reach the distribution section in your publishing process, switch on the Repro India store.
Now, let's see other options you have for publishing in India.
11 Self-publishing Companies In India
Self-publishing is a dynamic approach to publishing, where authors take the reins to publish books without the help of traditional publishing houses. 
Through various self-publishing platforms, writers can select tailored publishing packages, working with dedicated teams to bring their vision to life. This process ensures that the author has control over the book's content, design, distribution, and marketing.
Here are some of the best places to self-publish: 
1. Evincepub Publishing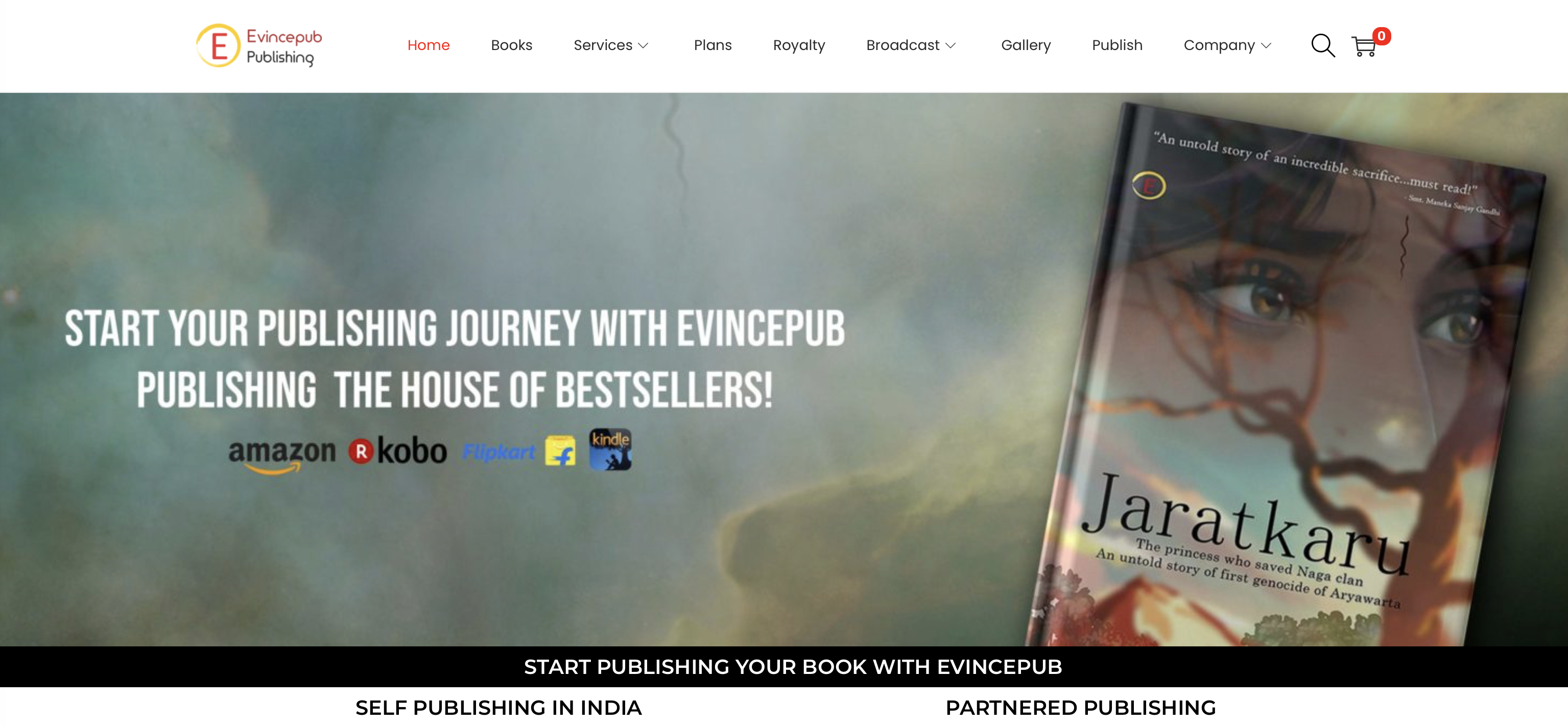 Evincepub Publishing has streamlined the process for authors seeking to publish a book in India. Through their self-publishing approach, they help authors get their books to a global audience. 
Authors can access their services and connect with a knowledgeable publishing consultant to discuss the steps involved in publishing.
They recently opened an additional traditional publishing route. Submission guidelines are available on the publishing house's website. 
2. Lapsus Creations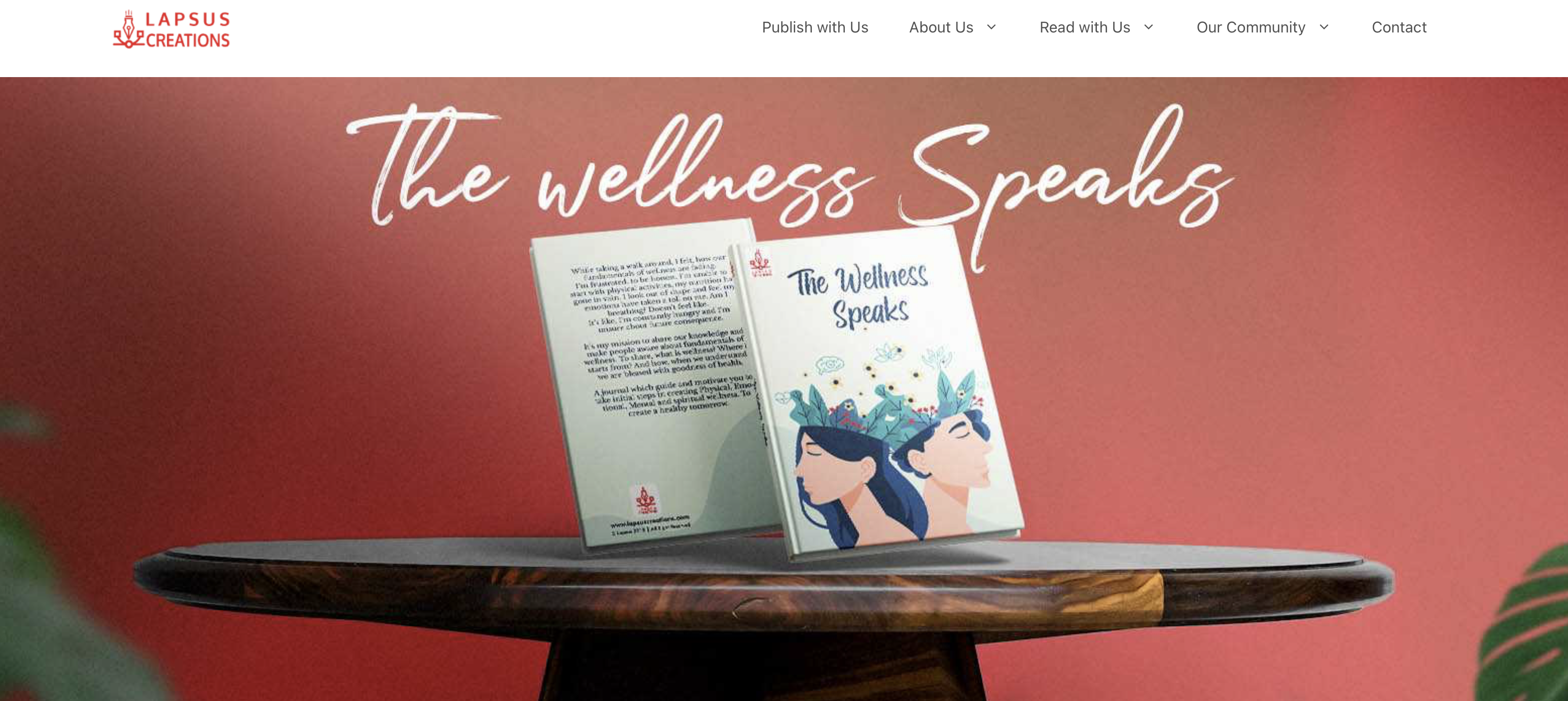 Lapsus Creations is India's first guided self-publishing house managed by authors. 
Lapsus Creations' vision is to guarantee a seamless book publishing experience. Whether an author chooses to self-publish or finds their work selected for traditional publishing, Lapsus Creations helps them from the start.
3. Clever Fox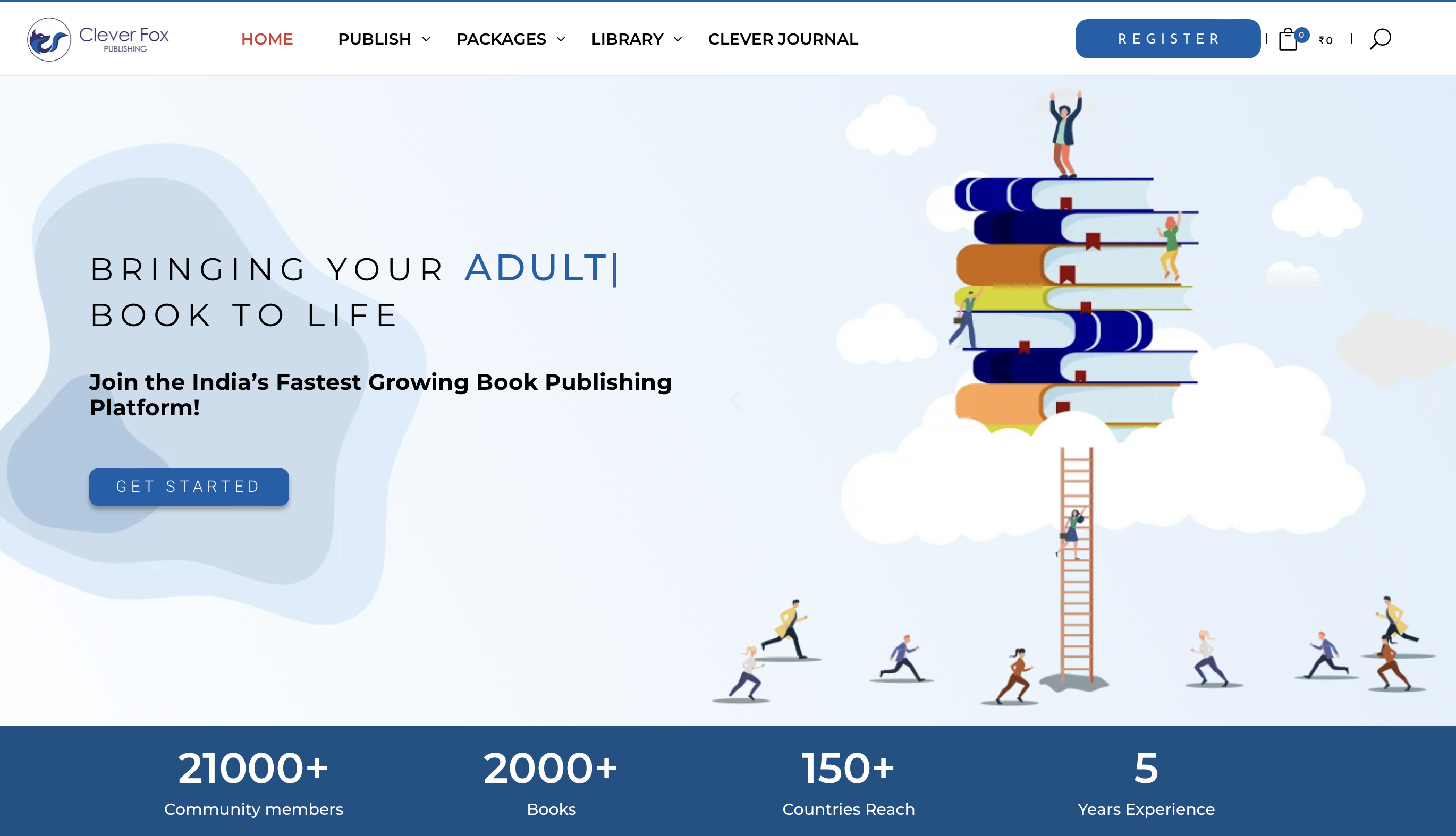 Clever Fox Publishing is a self-publishing company in India that handles partnered and traditional publishing, aside from guided self-publishing.  
With a mission to make self-publishing a book in India accessible and efficient, Clever Fox offers authors comprehensive solutions tailored to their unique needs. 
Their commitment to empowering authors with the necessary tools, insights, and expertise has cemented their reputation as a trusted guide for many in the self-publishing journey within the country. 
They feature a 48h self-publishing formula, taking 48 hours to announce if a book is accepted or rejected for publication.
4. Orange Publishers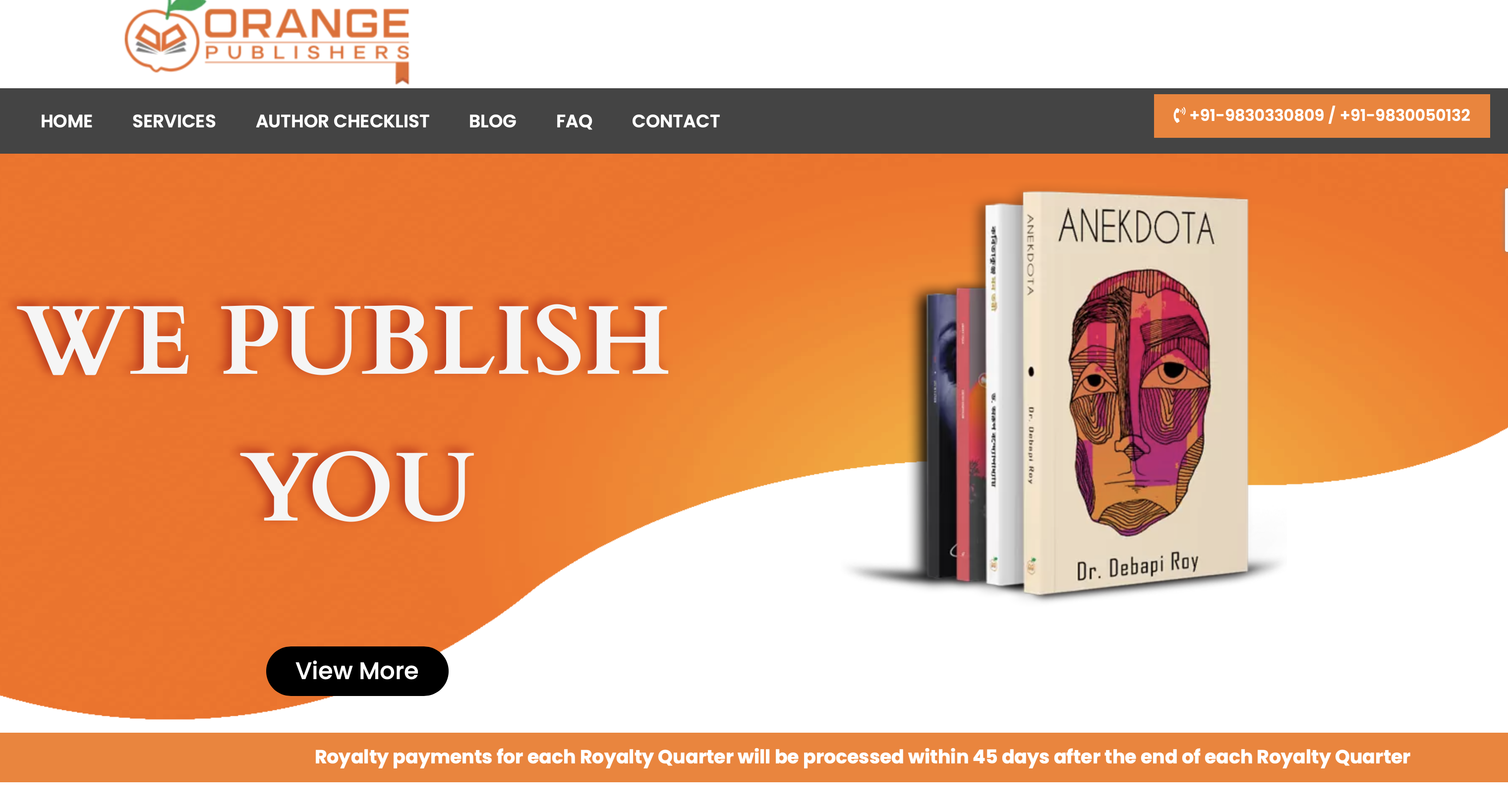 Orange Publishers is a recognized name in self-publishing in India. With experience in the publishing and printing sector, they assist authors in their publishing journey.
As one of the seasoned self-publishing houses in India, Orange Publishers helps in creating ebooks and distributes them to reputable ebook platforms. Their dedicated team, including skilled graphic designers, guarantees the ebooks are appealing and well-received.
5. White Falcon Publishing

White Falcon Publishing has established itself in the realm of self-publishing in India. They offer a unique print-on-demand self-publishing platform, ensuring authors' works remain available. 
To help authors self-publish books in India and beyond, they collaborate with an extensive network of print-on-demand providers and book distributors, ensuring global reach and distribution.
6. Blue Hill Publications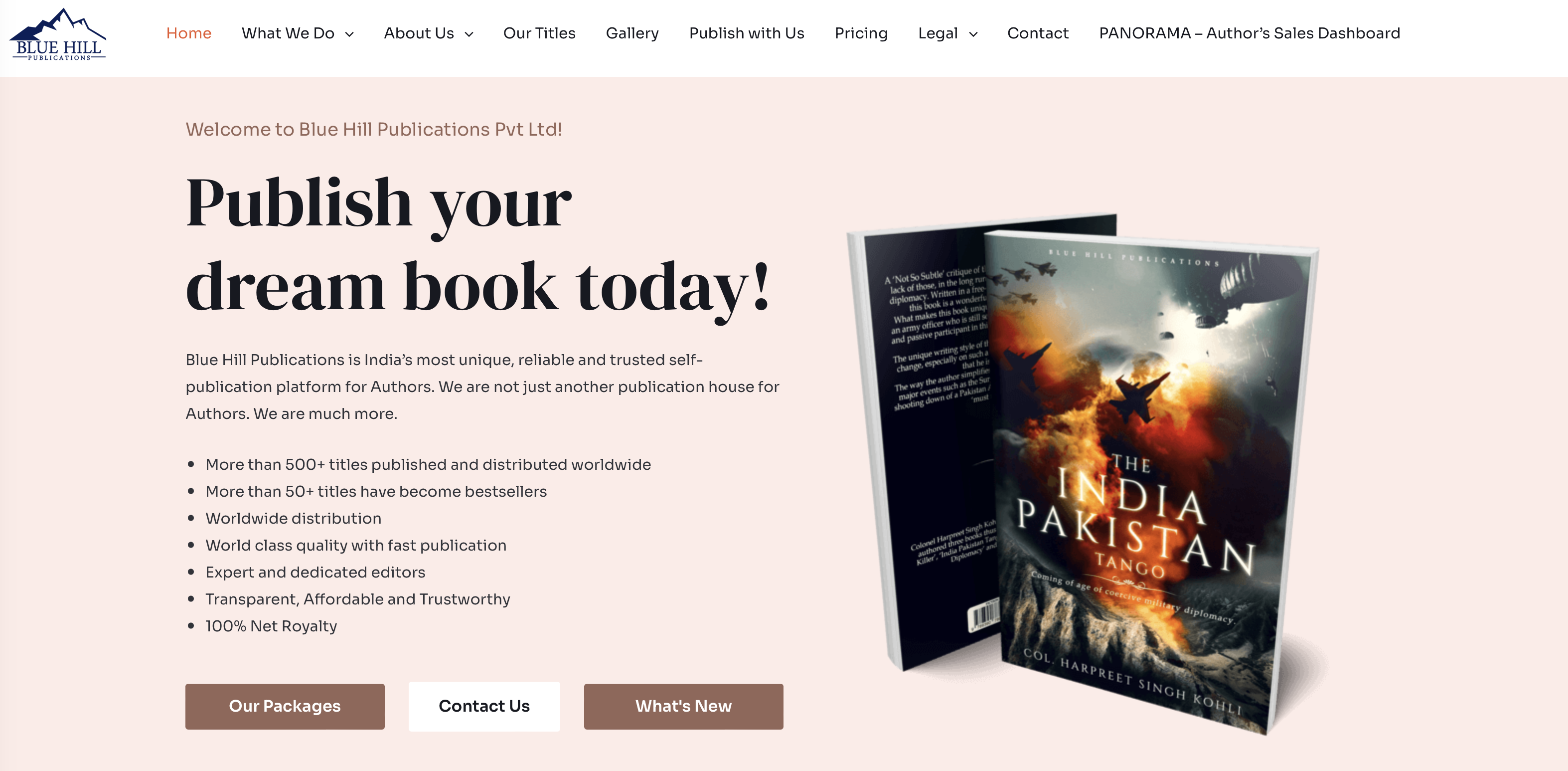 Blue Hill Publications stands out among the self-publishing companies in India. They've published and distributed over 500 titles globally, with over 50 achieving bestseller status.
7. Book Rivers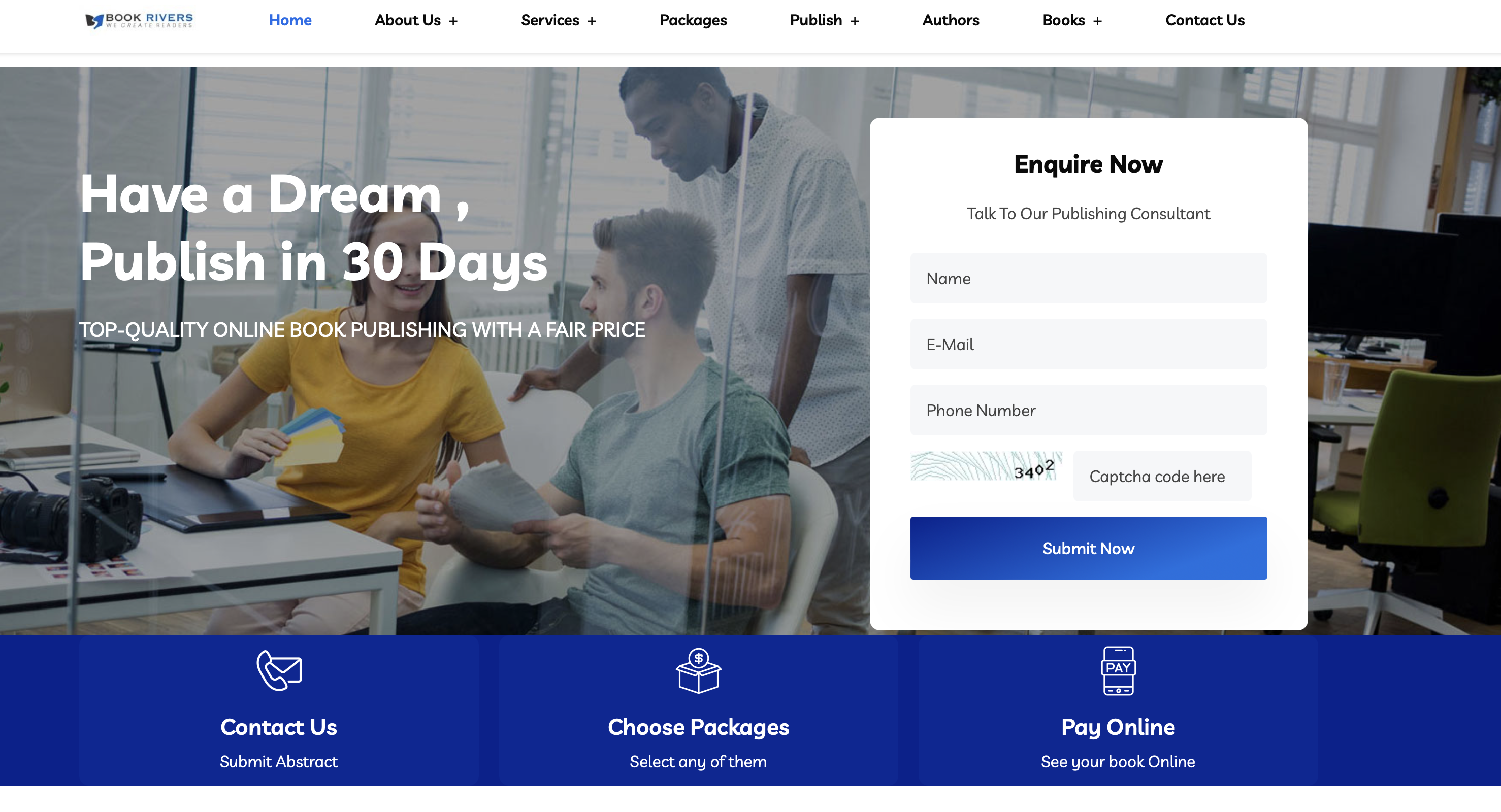 Book Rivers, established in July 2018, has rapidly positioned itself as a leading global publisher. Their mission is to offer quality publishing services at competitive prices. This approach has garnered them a widespread customer base spanning the globe. 
Recognizing the challenges authors faced with traditional publishing, Book Rivers adopted innovative methods to streamline the publication process. As a committed self-publishing platform in India, they offer services that sets them apart from other similar entities.
8. 24by7 Publishing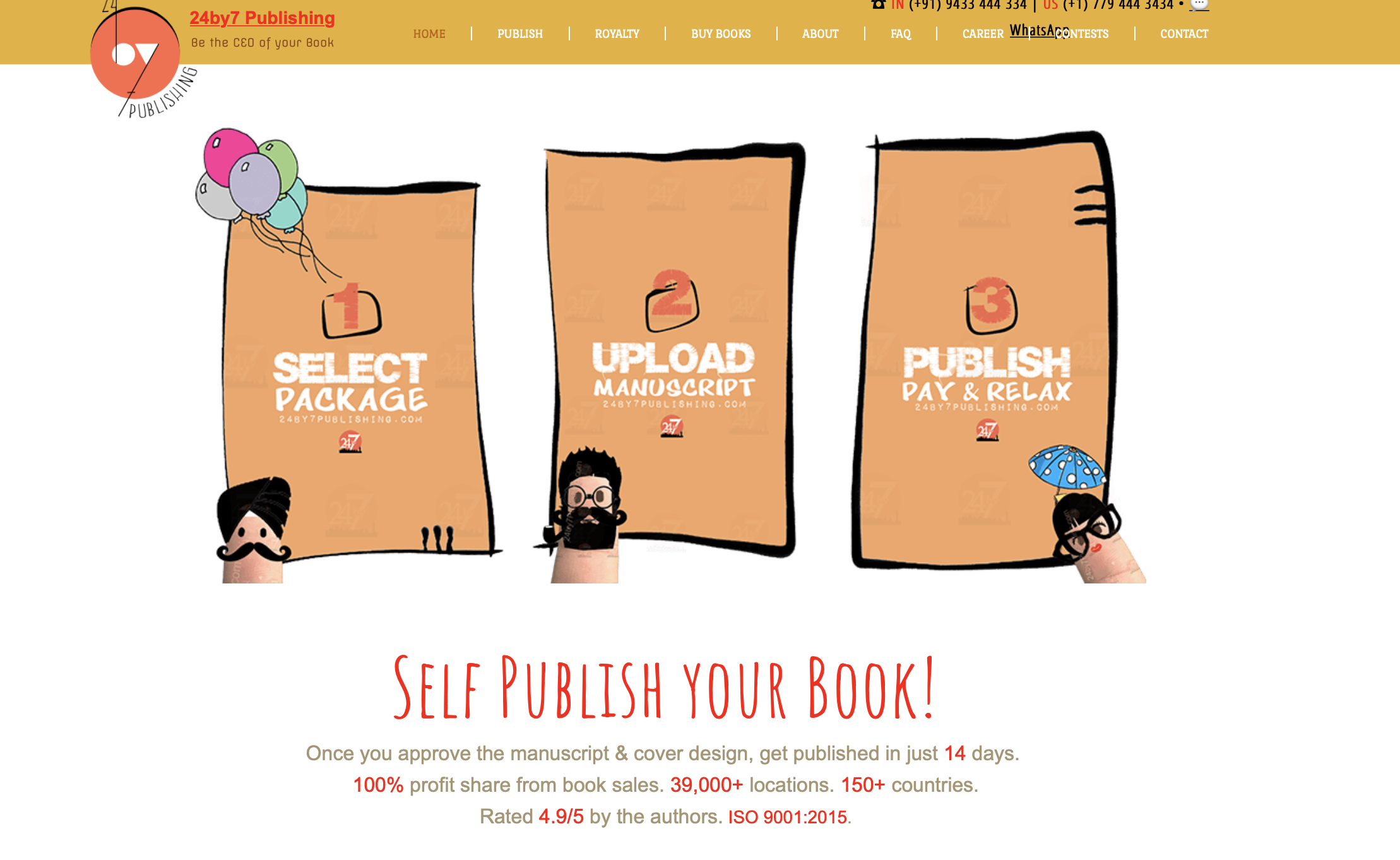 24by7 Publishing has quickly become one of India's most rapidly growing publishers. They pride themselves on offering an array of budget-friendly packages. 
Committed to supporting emerging authors, 24by7 Publishing ensures a clear publication process. While their expertise lies in self-publishing, their offer a spectrum of other publishing services.
9. Notion Press

Notion Press is a publishing platform that recognizes the profound impact of words. Dedicated to nurturing aspiring writers, the company's mission is to transform unique ideas into tangible books that resonate with readers. They continually seek ways to refine and modernize the publishing journey.
Established on January 1, 2012, Notion Press began as a high-quality publishing service for Indian authors. Now, it extends its publishing, printing, and distribution solutions to authors and publishers worldwide. 
Notion Press stands among India's self-publishing companies. It offers solutions for global book publishing and distribution challenges.
10. Manojvm Publishing House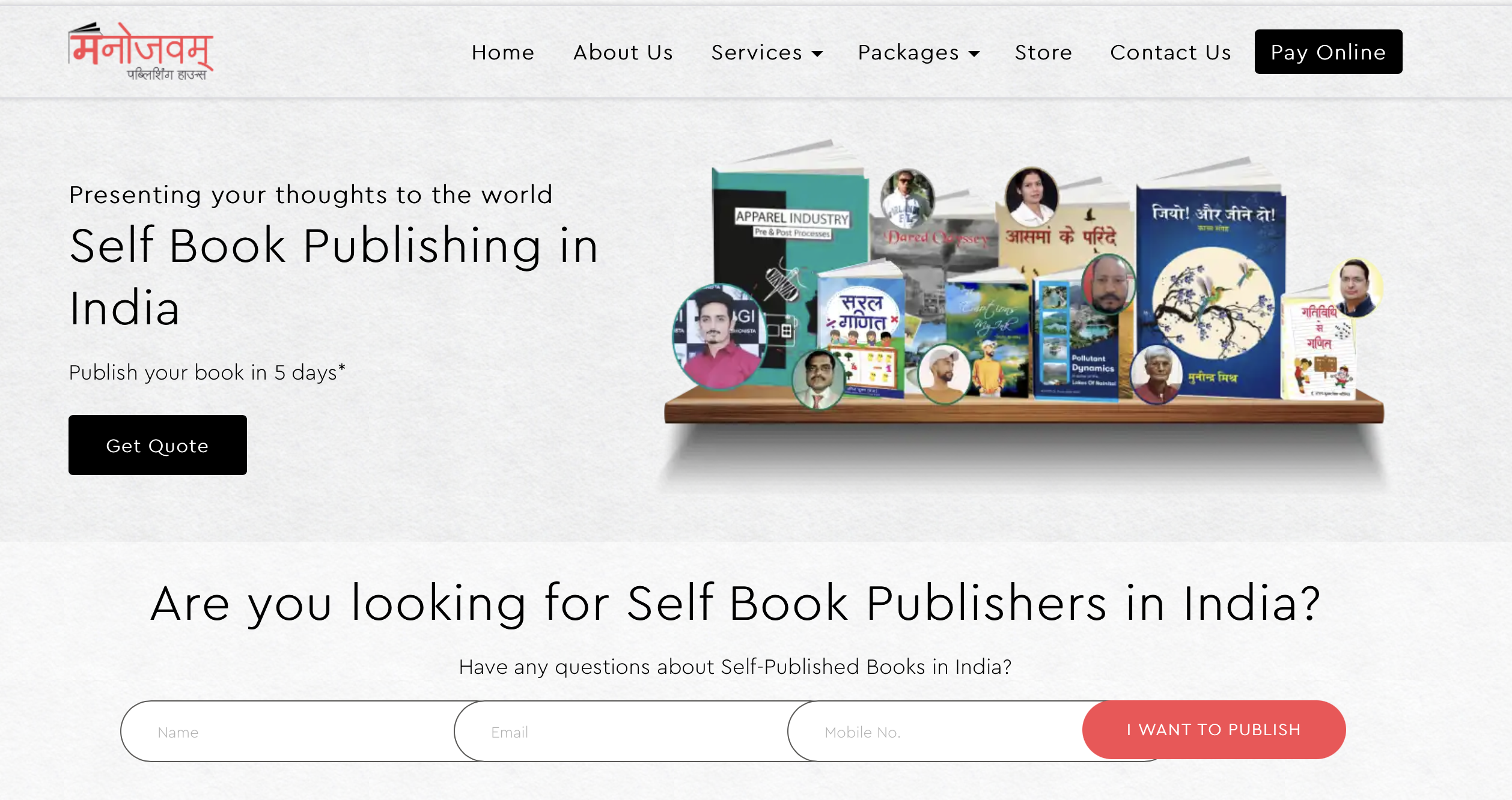 Manojvm Publishing House, based in New Delhi, began publishing in 2020. They are well-versed in offset and digital printing and online ebook publishing. 
Recognized as one of India's prominent self-publishing companies, Manojvm Publishing House offers various cost-effective services. They excel in cover design, publication, promotion, and global sales of printed books and ebooks. 
11. Power Publishers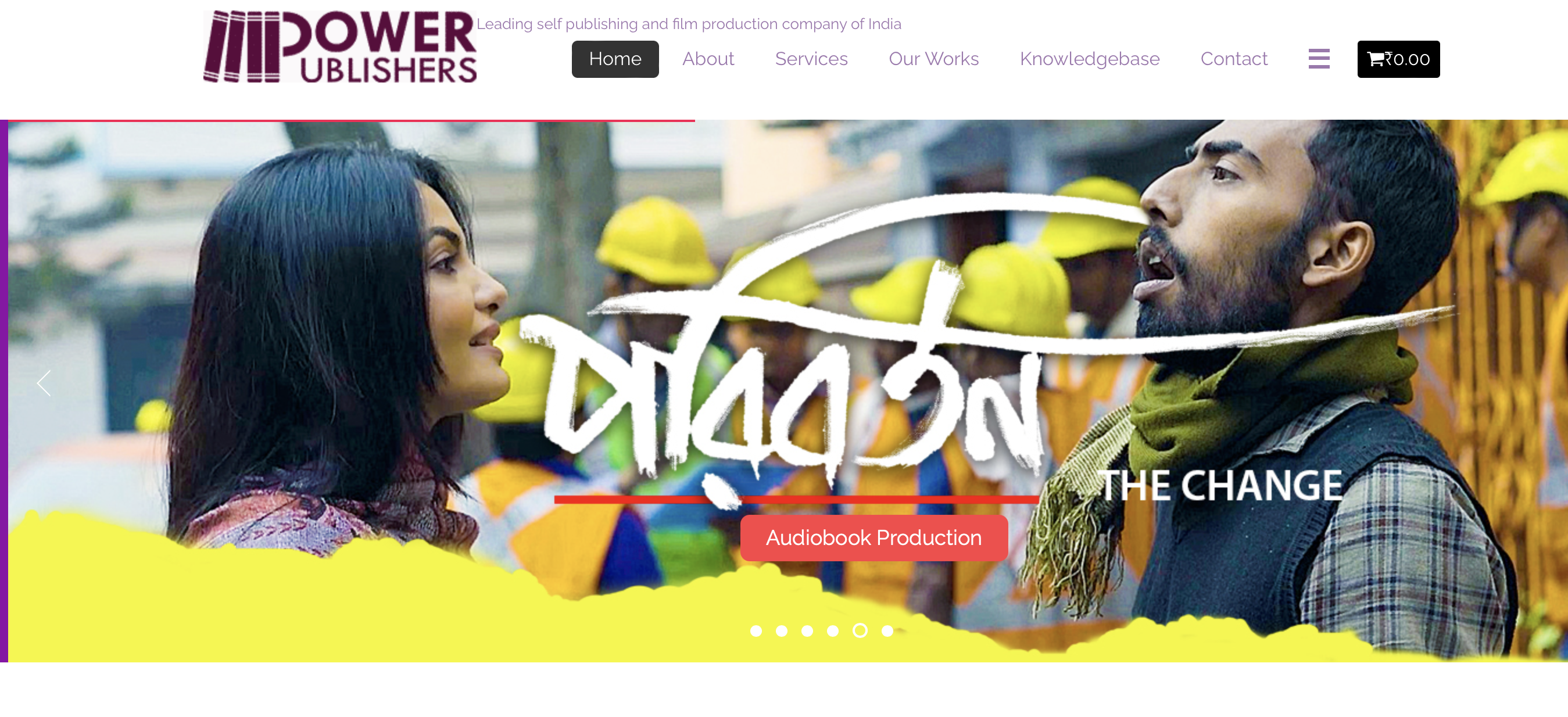 Power Publishers & Motion Pictures, an enterprise with 15 years of industry experience, has a notable portfolio consisting of publishing books, crafting audiobooks, film production, and creating e-learning videos. Their expertise also extends to top-tier writing and art services. 
Boasting a catalog of over 1800 published books and 3000+ writing and illustration endeavors, they have the distinction of pioneering audiobooks in various Indian languages. 
For those in search of audiobook production, book publishing in India, e-learning video creation, or film services tailored for businesses, Power Publishers is well-equipped to deliver outstanding results. 
7 Traditional Publishers In India To Consider
The debate between traditional publishing vs. self-publishing has been a hot topic in the literary world for years. Understanding the landscape is crucial for authors wondering how to publish a book in India.
While self-publishing offers complete creative control, better royalties, and immediacy, traditional publishing houses provide expertise and easier market reach for authors. With its rich literary tradition, there is much to discover about publishing companies in India. 
By choosing traditional publishing, you'll have to face many gatekeepers. But if you're interested in traditional publishing in India, here's a short list of publishing houses. If you want a more detailed list, find it here.
1. Jaico Publishing House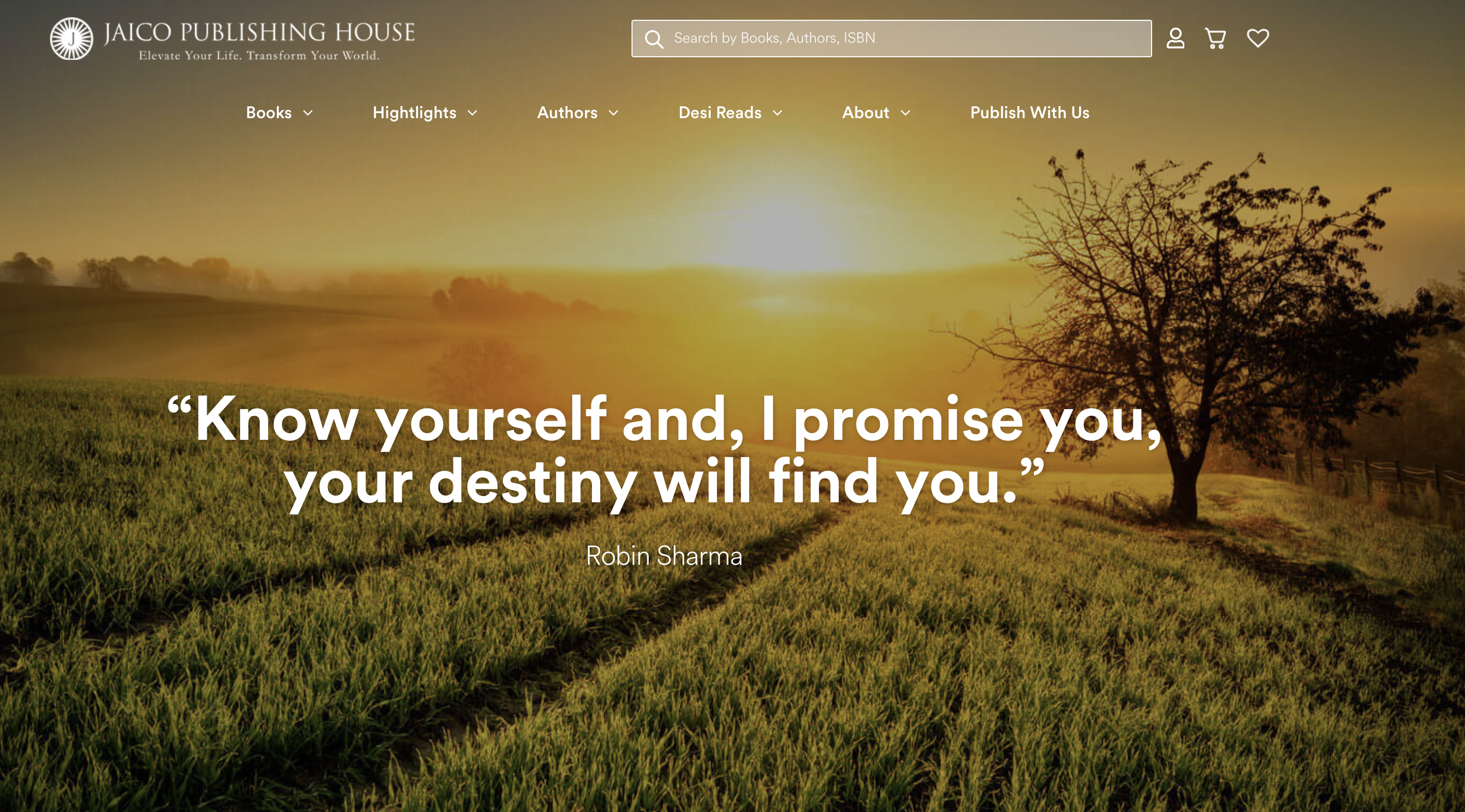 Jaico is India's first publisher of paperback books in English. Genres like self-help, religion, philosophy, mind/body/spirit, and business anchor their non-fiction collection. Additionally, they present a diverse range of titles covering current affairs, history, biography, art and architecture, travel, and popular science. 
Jaico's fiction catalog introduces an array of emerging voices, emphasizing mythological and historical fiction, fantasy, crime, and thrillers.
Submissions are welcome; follow their guidelines here.
2. Aleph Books Company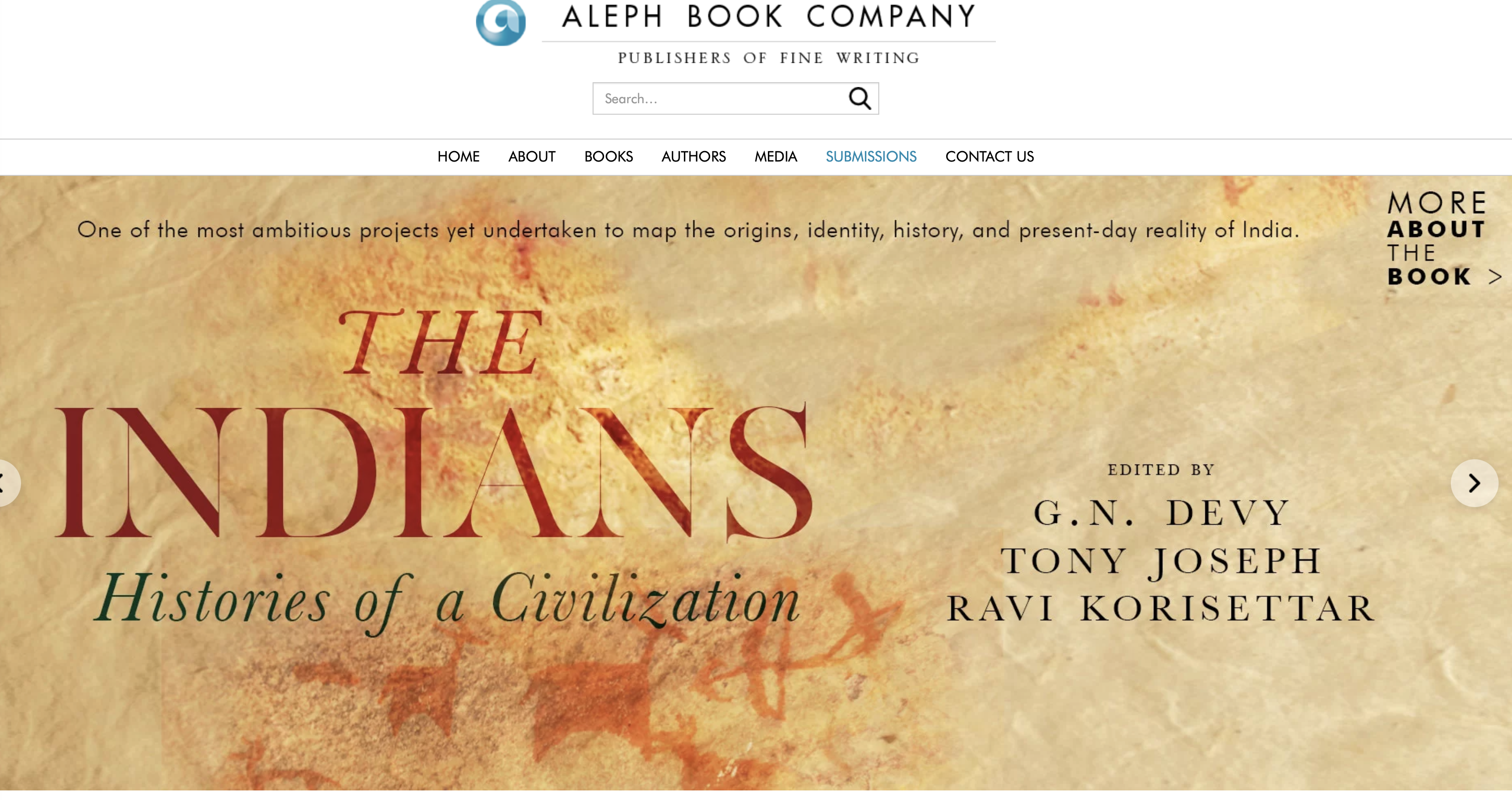 Aleph Book Company, a prestigious publishing house based in New Delhi, was established in May 2011 by David Davidar in collaboration with R. K. Mehra and Kapish Mehra from Rupa Publications India.
Aleph releases works of exceptional literary merit in the literature of India and other South Asian nations. Their authors have either clinched or been nominated for national, regional, and global accolades. 
Each year, the company rolls out around fifty titles of many different genres. Furthermore, Aleph embraces uniquely narrated non-fiction that doesn't fit neatly into established categories.
3. Rupa Publications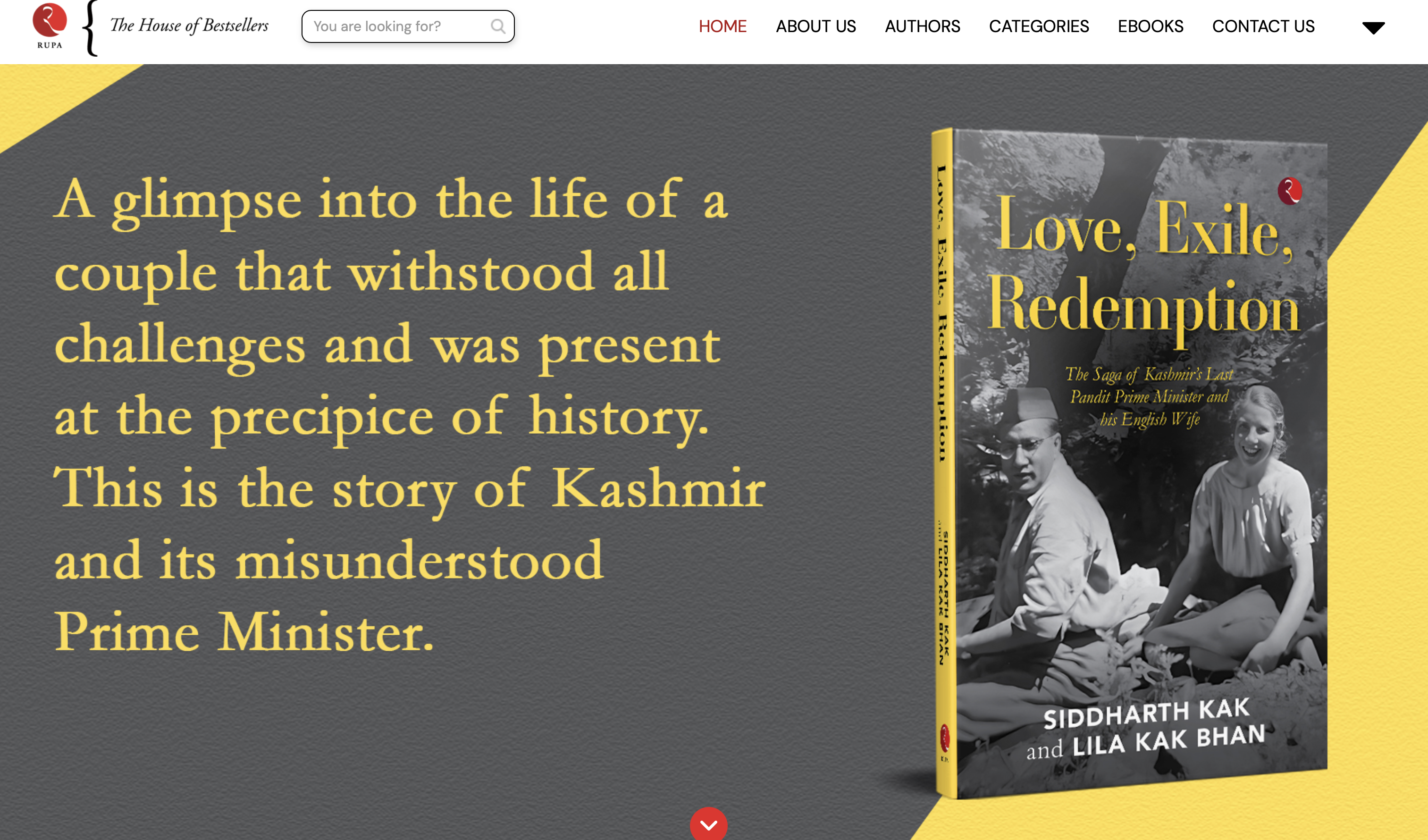 Rupa Publications, founded in 1936, is one of India's oldest and most revered publishing houses. 
Renowned for its vast catalog, the publishing house has been instrumental in shaping the literary landscape of India. 
Over the years, Rupa has given a platform to numerous acclaimed authors, emerging as a prominent name in the Indian literary scene. Their dedication to quality content, innovative outreach, and a deep understanding of the Indian readership has solidified their status as a pivotal player in the world of books.
Submissions are open. 
4. Roli Books

Established in 1978, Roli Books has carved a distinctive niche in the Indian publishing landscape. Roli Books has consistently delivered a diverse range of books that reflect the rich tapestry of Indian culture and history. 
This publishing house has a reputation for producing visually stunning and content-rich books. Their commitment to showcasing traditional and contemporary voices and an impeccable eye for design has positioned Roli Books as a trendsetter in the industry. 
5. Zubaan Books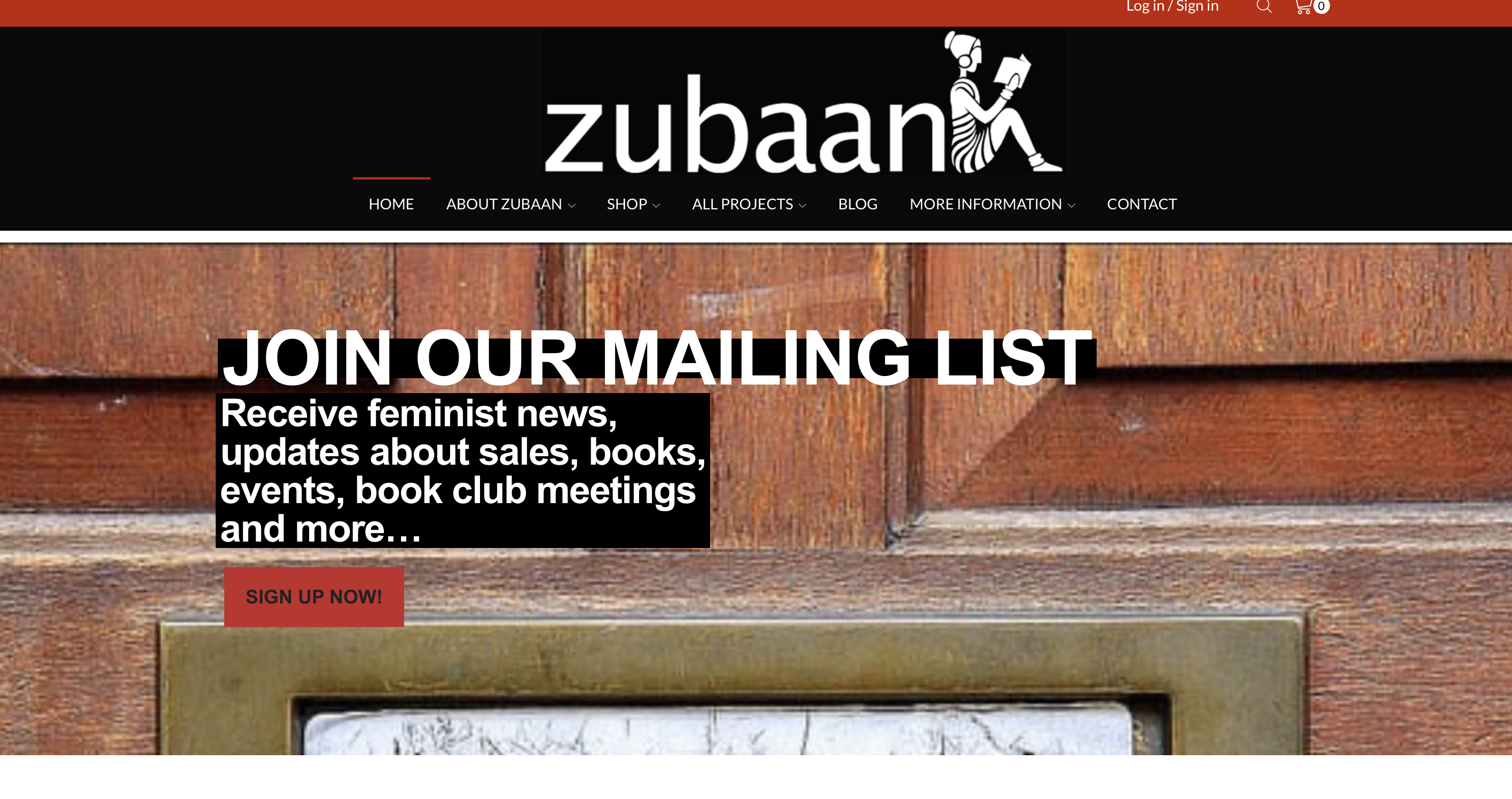 In 1984, Urvashi Butalia and Ritu Menon founded Kali for Women, India's pioneering feminist publishing house. 
After almost two decades of setting benchmarks in the feminist literary space, the co-founders of Kali chose to establish their distinct imprints. In 2004, Urvashi created Zubaan.
Submissions are open. 
6. Bee Books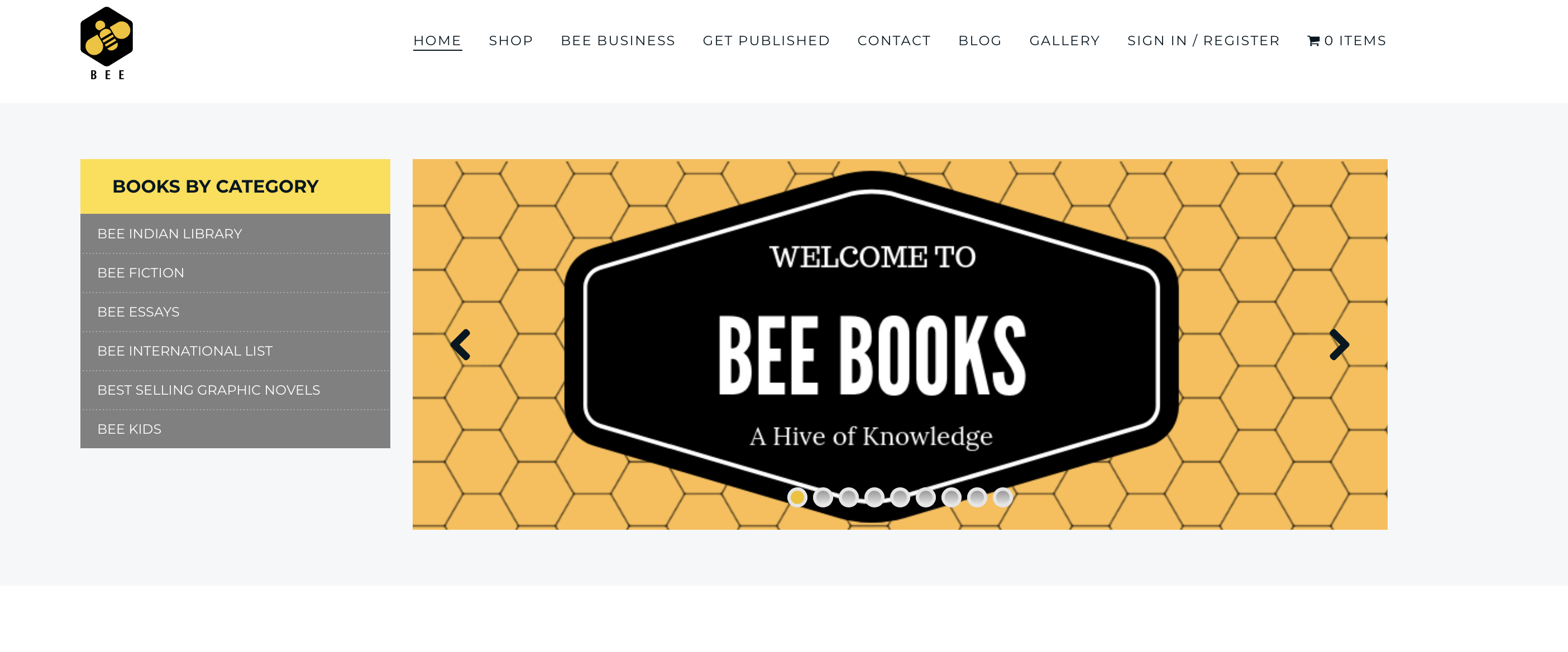 A hybrid publisher based in Kolkata with a regional presence in Delhi, Bee Books is a traditional publisher offering self-publishing and vanity press services. 
Bee Books constantly looks for fresh voices, whether fiction, non-fiction, or coffee table books. 
7. Manjul Publishing House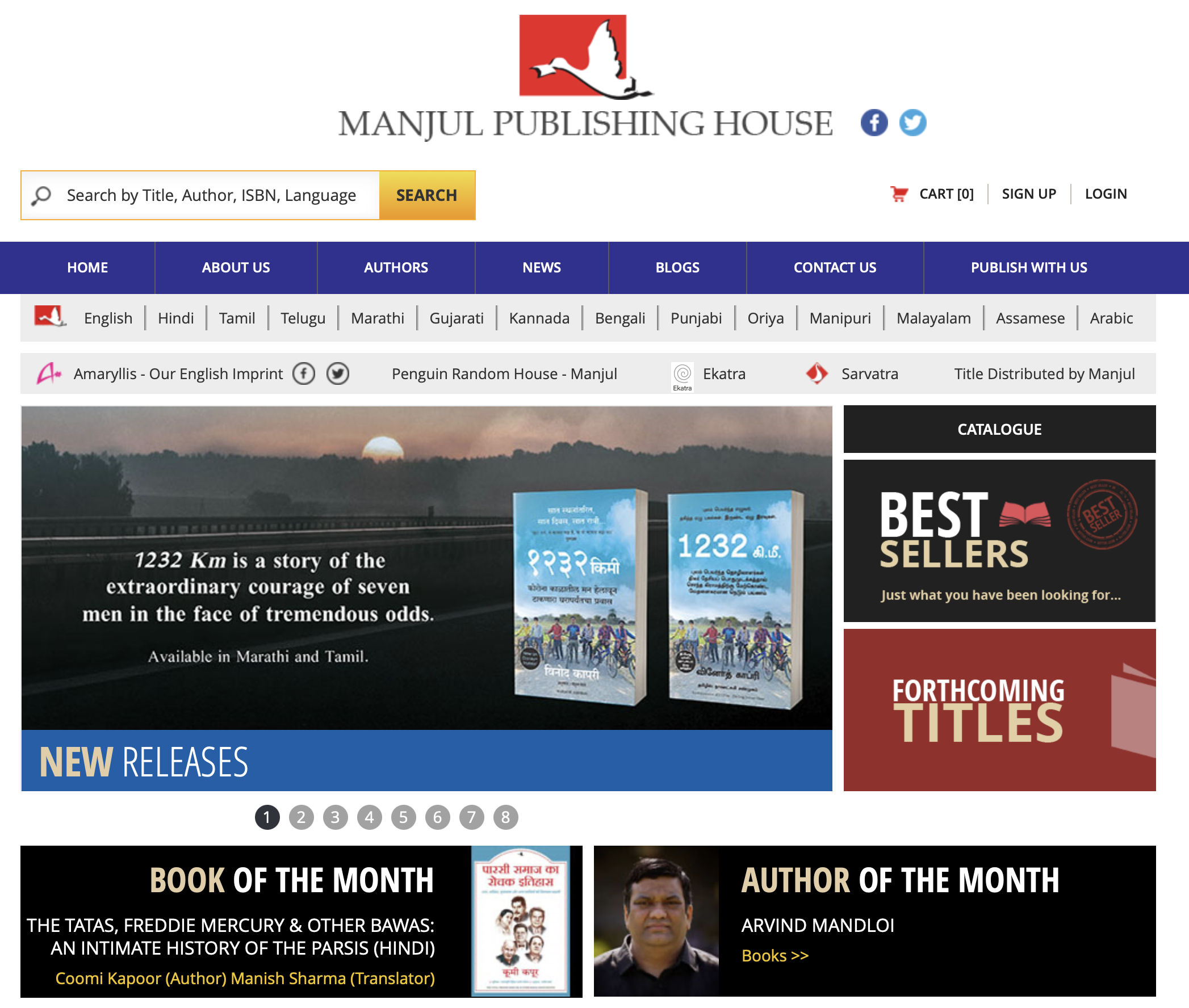 Established in 1999, Manjul Publishing House is an indie book publisher in Bhopal, central India.
Manjul specializes in high-quality Indian language translations of globally best-selling titles. These span various genres, from self-help, mind-body-spirit, health, and spirituality to personal finance. It is regarded as India's premier translation publisher. 
Make The Most Of The Indian Market
The self-publishing market in India is transforming significantly. With the emergence of free self-publishing sites and platforms like Amazon, self-publishing in India never looked better.
Authors now have unprecedented access to tools and platforms that empower them to bring stories to a global audience. These platforms democratize the publishing process and open up many opportunities for Indian authors to monetize and gain recognition for their work. 
As the landscape continues to evolve, it's clear that the future of publishing in India is bright and brimming with potential. You should be part of it.