PublishDrive's Abacus: The Perfect Alternative to DashBook (Now That They Are Closing)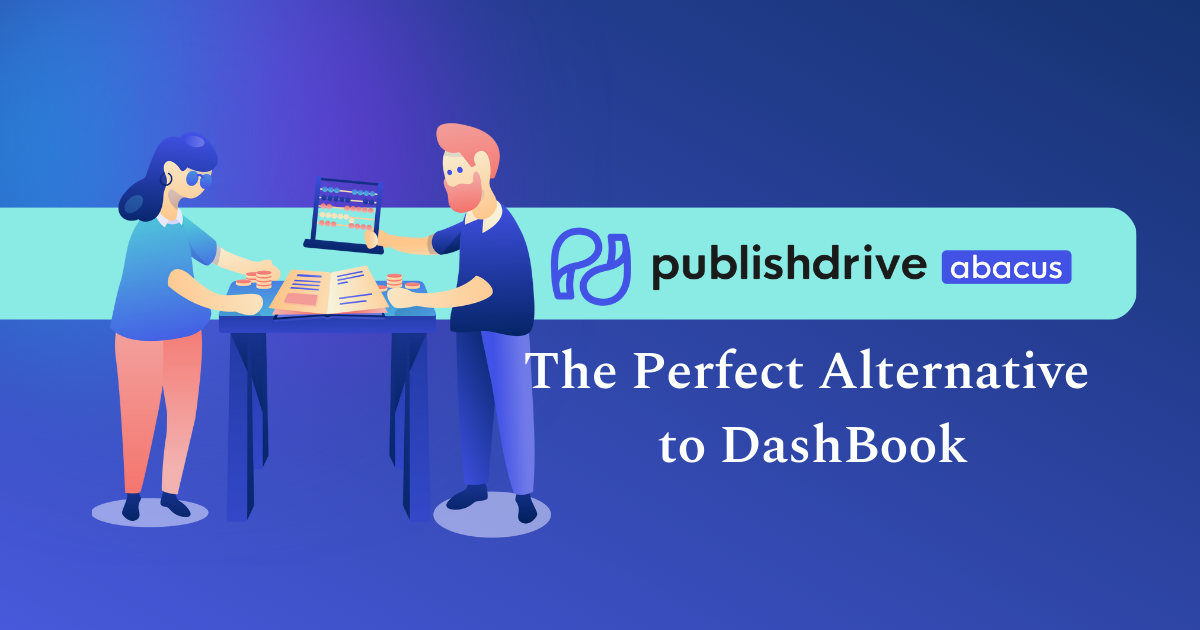 On the 1st of March, DashBook made this announcement:
"3/1/2023 - It is with great regret that we must let you know that DashBook will be halting new sales. It has been our pleasure to provide a royalty accounting system and service that we feel has been top-notch, at a bargain price, for decades. Unfortunately, we cannot sustain operations.
The DashBook program will continue to function for our existing customers, but new sales have been halted. Support will be winding down over the next few weeks.
The database resides in an open format, which any database consultant will be able to use, should you wish to transfer the information to a different system or desire a report customization."
Collaborating with others (whether a co-author, translator, etc.) can be a challenge for published authors, especially regarding book royalties. And now, with DashBook halting new sales, you may think you'll have to go back to Excel sheets for all those formulas to split author royalties that you can never remember.
What Is the Alternative to DashBook?
Whether you have used or not DashBooks before for royalty calculations, there's a much better way for data-sharing and splitting royalties than Excel sheets.
We're talking about PublishDrive's Abacus, a cloud-based royalty management tool that boosts productivity and allows indie publishers and authors to work transparently.
What Is Abacus?
Abacus is a royalty split feature designed for any self-published author or independent publisher that needs to track book sales and split royalties among authors and contributors.
Here's what Abacus can do to support author collaboration:
Add as many team members as you want per title and calculate co-author royalties for print-on-demand, ebooks, and audiobooks. 

Export data from your

KDP account

and calculate royalties from publishing on Amazon KDP (including Kindle Unlimited).

Calculate and

split royalties

you earned from other big retailers, such as Apple, Google Play Books, Kobo, and Barnes & Noble.

Calculate

royalties from book sales

from your own store or book sales at author signings.

Generate detailed sales reports for your team.

Note

: contributors can see only their share of royalties.

Track the payment status of your co-authors or contributors by checking the

Payments

section.

Keep everyone in the loop by using the built-in message board. Go to

My Shared Titles

or

Titles Shared With Me

> select the title you want to talk about > click

See Report

, then scroll to the bottom of the page.

Edit contributors' details after the initial import process.

Add end dates to your team contracts.
⚡ Abacus is a standalone royalties calculator that doesn't require distribution through PublishDrive.  Request a quote to find out more.
How to Split Royalties with Abacus
Let's see how to use Abacus for distributing funds.
1. Import files
To begin, access your PublishDrive account and navigate to the dashboard where you can find PD Abacus. From there, go to the Upload data section and use the drag-and-drop function to import your Prior Months' Royalties Report.
Once the import based on sales is ready, select the titles and months you want to include in the royalty report.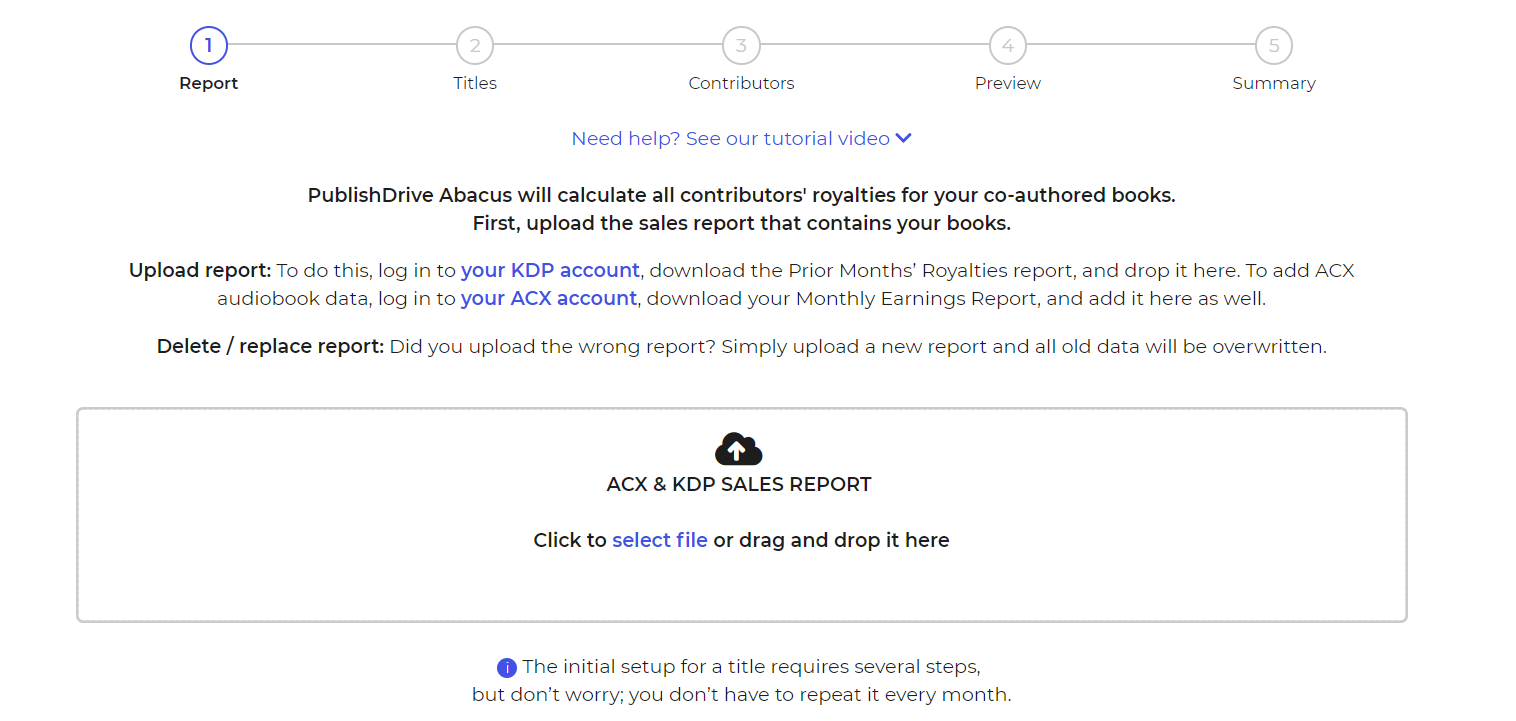 Note: Abacus will separate your books according to their ASIN or ISBN, and it will also identify any print-on-demand titles.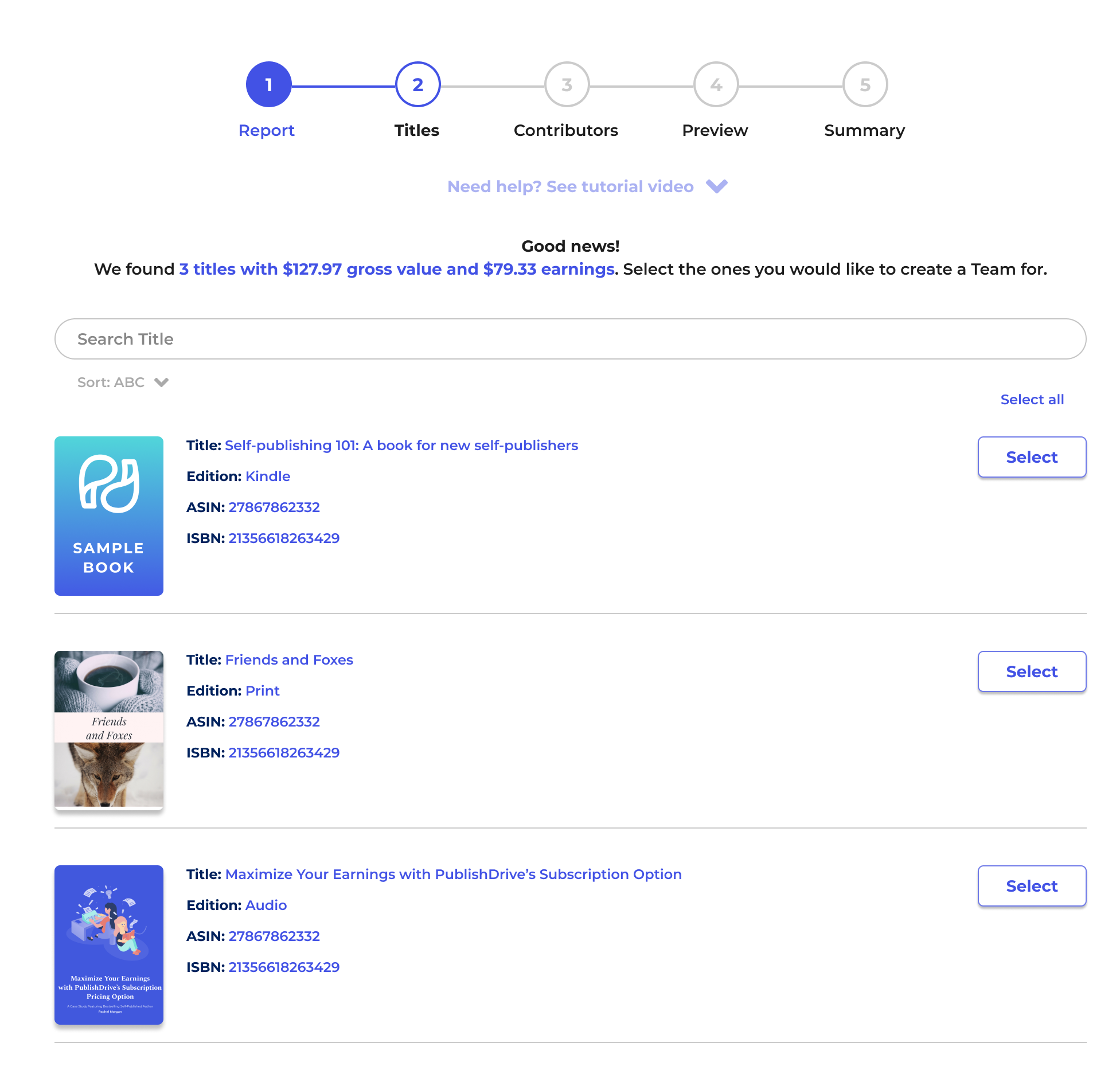 2. Add contributors 
Next, you can assign contributors to the title to help you calculate royalty payments. 
To add a new contributor, click the drop-down field that says Assign contributor to this title. Then, add their name, royalty percentage, email address, and role (author, editor, or illustrator).
Note: Adding contributors during this step will not notify your contributors or invite them to the platform. Adding contributors enables Abacus to calculate publishing royalties.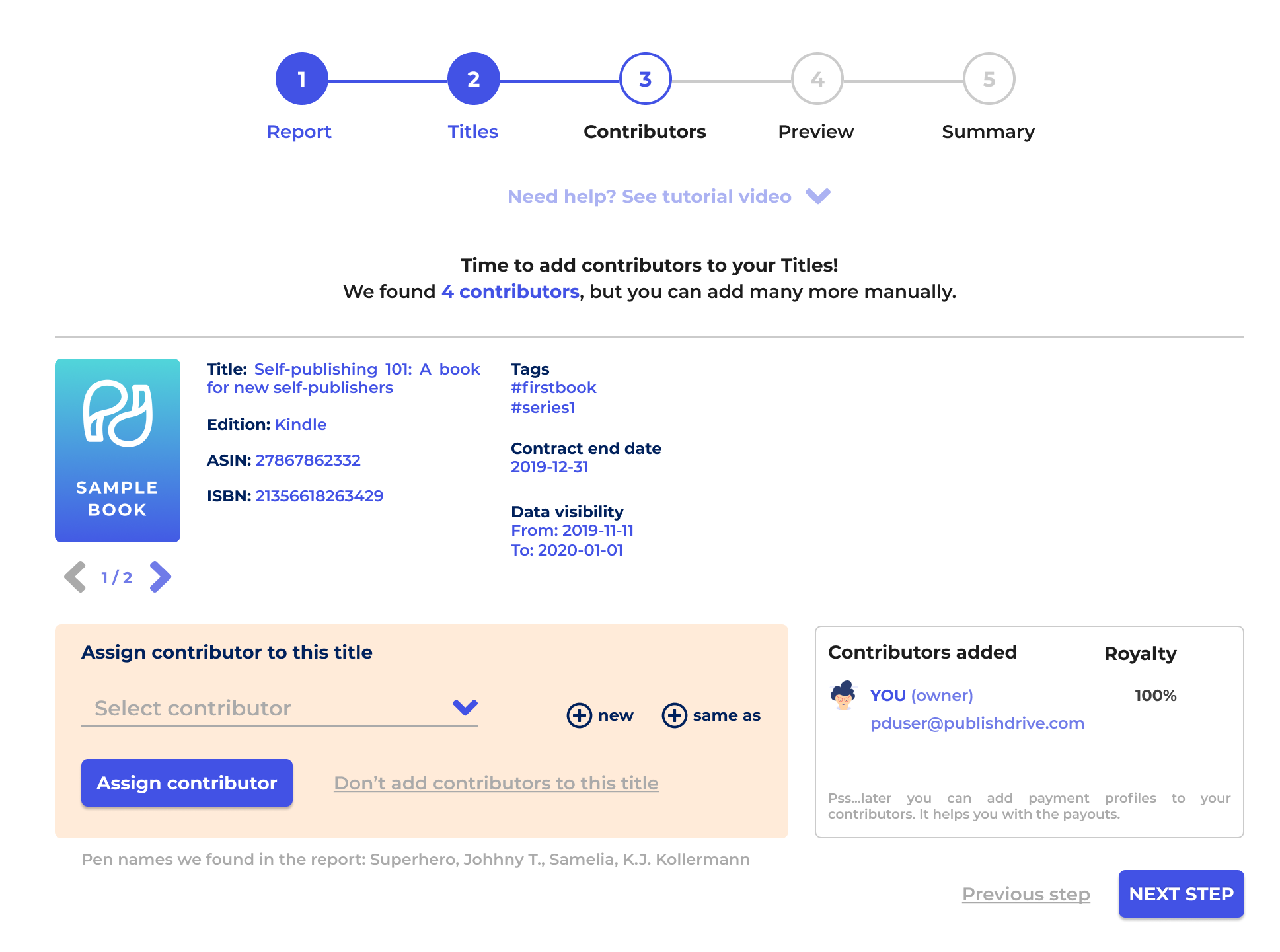 3. Preview import details 
After uploading the file, you can preview your author royalty report before proceeding to the import summary.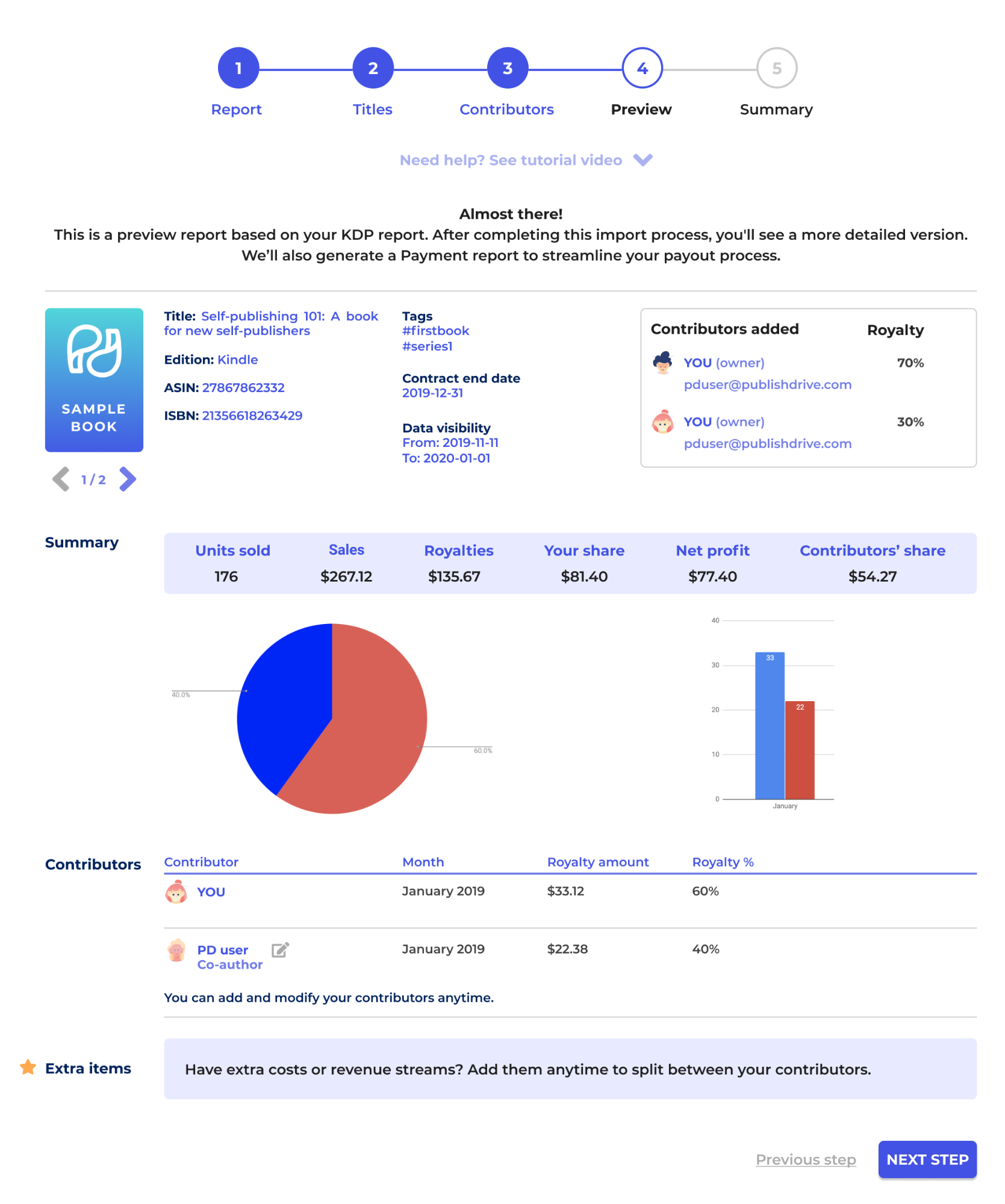 4. Review the import summary
Here you will get a summary of the imported information on the books sold during a certain period. If everything looks OK, click Finish. If you need to make some edits to your royalty report, click Previous Step. Once the import process is complete, you can invite contributors and view payment-splitting reports.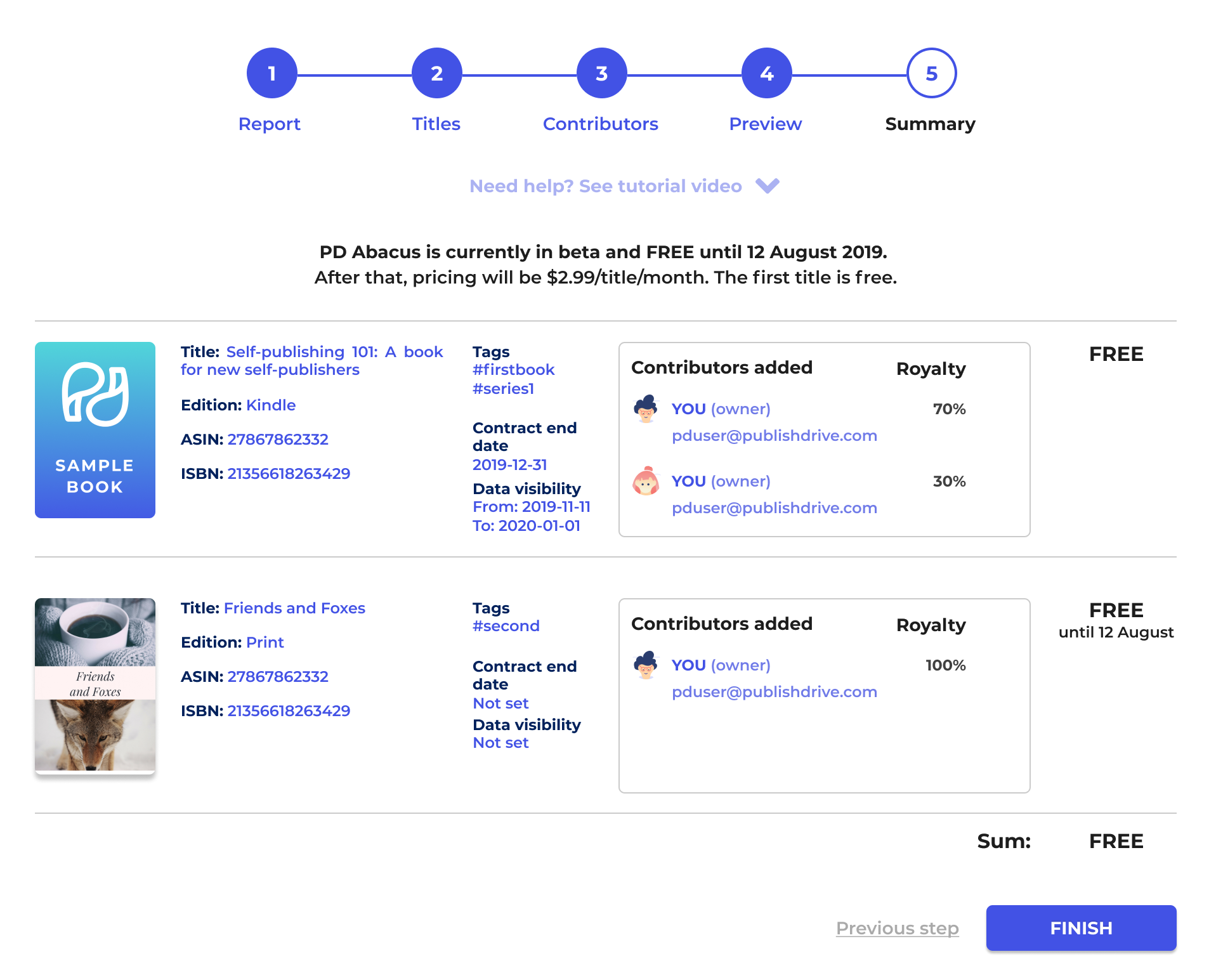 Conclusion
You can use PublishDrive's Abacus as an alternative to DashBook and split royalties among title contributors, whether we talk about audiobook, print-on-demand, or ebook royalties.