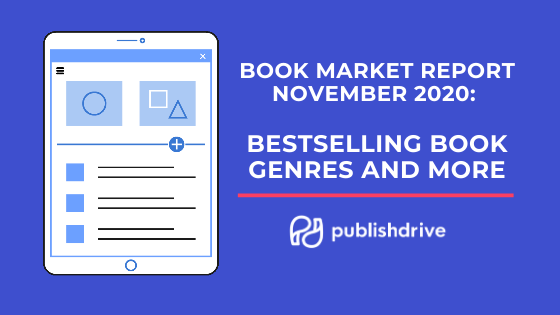 Digital has dominated in 2020. In the United States, book establishments have decreased due to the pandemic. However, digital substitutes like ebooks have peaked. In China (the largest market in the world), online bookstores returned to normalcy by the end of Q1 while physical bookstores dropped.
---
CLICK TO FOR FREE WHITE PAPER ON GLOBAL BOOK TRENDS IN 2020
---
For folks in traditional publishing, transitioning to digital formats has never been better. If you're already self-publishing, you're at the right place. People want your books. We go over what you need to know about recent trends below.
Self-publishing delivered great digital book sales
We've seen significant growth rates in digital book sales since March 2020. The rates haven't slowed down. In November 2020 compared to 2019, we recorded a 52% increase in sales via PublishDrive.
We give an overview of international sales plus bestselling genres, categories, markets, and more below. We'll continue to update this study every 20th of the month, so tune in. We hope you find our insights helpful in making the best-informed decisions in your publishing process.
---
If you've kept up with our monthly reports, please give us QUICK FEEDBACK. 🙏
---
Book pricing differs per genre
Many authors and publishers ask us about how to price their books. We looked at our data in November to see the average pricing per category:
It's no surprise that nonfiction books landed among the most expensive books. With fiction genres, historical, sci-fi, and romance were the top three categories priced at around $7.
This breaks the myth about self-published books being priced at $2.99 or below. Instead, we see a trend in pricing books higher especially in nonfiction, science fiction, and romance.
Digital book sales ruled
Along with more people seeking books for entertainment, the shift to digital accelerated as schools and educational institutions adapted to remote learning in 2020.
Since March 2020, PublishDrive's digital book sales grew by 20%. In April, by 23%. In August, we achieved our highest 69% increase in a one-year time period. 70% of the sales were from global markets. And most recently in November, we recorded a 52% increase.
This upward trend is beneficial for PublishDrive indies who keep 100% royalties. Since we don't take any commission, indies get the same royalties as selling directly to stores.
(Start a free 14-day trial with PublishDrive to sell easily across global markets and stores. 👇)
Fantasy, science-fiction, & thriller genres performed well
In November, both fiction and nonfiction books performed well. Under fiction, light novel (Ranobe), comics, and especially manga had the biggest growth (above 3,000%!) Under nonfiction, education and music performed best.
Bestselling fiction categories grew significantly, genres including erotica, fantasy, action & adventure, historical fiction, science fiction, and romance. Nonfiction categories also grew significantly, like health & fitness, business & economics, self-help, history, computers, and body, mind & spirit.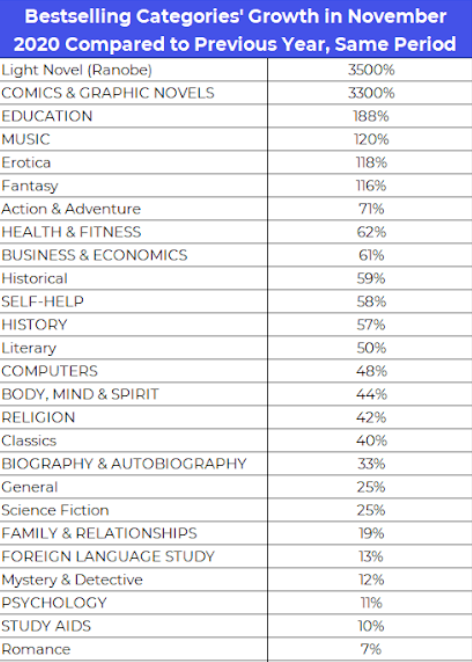 We also saw impressive numbers with subcategories. Under erotica, subcategory fantasy & horror saw growth by 6,000%. Contemporary fantasy increased by 738% and dark fantasy by 264%. Under romance, action & adventure increased by 58%. Under health, yoga-related book titles saw a 3,443% boost. Under business, e-commerce increased by 15%.
Growth came from international markets
Overall, the US book market has maintained stability in 2020. However, in November, there was a jump in US sales which captured 30% of PublishDrive's book sales. Meanwhile, international markets are responsible for about 70%. Take a look at our bestselling countries in November:
In English-speaking markets, the UK saw growth by 57%, the US by 30%, Canada by 17%, Australia by 5%, and New Zealand by 1% compared to 2019. In South-East Asia, Singapore stood out by nearly 500%. In Europe, Bulgaria jumped by 600%! Other countries like Austria, Belgium, France, Italy, Norway, Poland, Romania, Spain, and Sweden performed well.
Online stores funneled the most sales
Book royalties come from different sources today. For published authors enrolled in KDP Select having to sell only to Amazon, they miss out on 60% of the market. In PublishDrive, we generate sales from four main store types:
Retail: Major outlets reaching global readers. E.g. Amazon, Apple Books, Barnes & Noble, Google Play Books, and Kobo.
Subscription services: Applications or stores that provide unlimited access to books for a monthly subscription fee. E.g. Scribd, Bookmate, and Dreame.
Digital library providers: Book borrowing for not just individuals, but institutions like  public libraries, schools, universities, or corporate libraries. E.g. OverDrive, Bibliotheca, Mackin, and Odilo.
Regional stores: Outlets that cover specific regions serving local communities. E.g. Tolino and Chinese stores.
As reader experience shifted especially this year, people are using online platforms like subscription services and digital libraries:
In one year, Regional stores grew by 161%. Library sales more than tripled by 259% – mostly in Australia, Canada, Colombia, Norway, Portugal, Singapore, Spain, Sweden, the UK, and the US.
Subscription models grew by 47% across markets: Bulgaria, Canada, France, Germany, India, Mexico, Romania, Serbia, Singapore, South Africa, Spain, Sweden, the UK, and the US.
Online retailers grew by 27% across markets: Austria, Belgium, Canada, France, Germany, Italy, Japan, Mexico, Netherlands, Poland, Romania, Spain, the UK, and the US.
Among hundreds of book channels we help distribute in, we had the most growth from these stores:
Now is the time to sell digital books
Amid the ongoing pandemic, it's a rather golden time to sell digital books. More people have been seeking at-home entertainment and education like books. And digital formats, platforms, and solutions are preferred. We don't see this trend slowing down even post-COVID-19.
As we close the year, we hope you keep your chin when it comes to the publishing world. People want your books! Be sure to check back in 2021 as we continue reporting on global book trends.
---
CLICK TO FOR FREE WHITE PAPER ON GLOBAL BOOK TRENDS IN 2020
---
Are you signed up with PublishDrive, the only publishing platform you need? Start a free 14-day trial to sell and promote in no time: