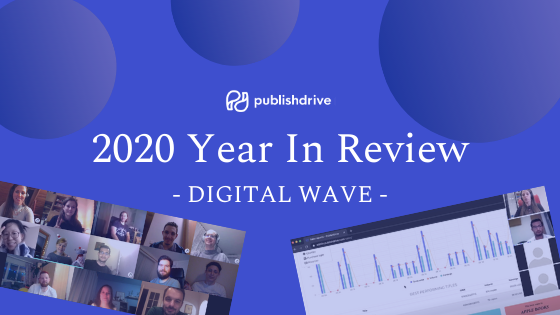 In 2020, digital dominated the publishing world. From launching audio and print distribution to seeing boosts in digital book sales worldwide, here is an overview of everything we encountered here at PublishDrive.
Publishing Industry In 2020
The number of book establishments in the US has decreased due to the impact of the pandemic. However, digital substitutes like ebooks have filled the vacuum. Along with more people seeking books for entertainment, the shift to digital accelerated as schools and educational institutions adapted to remote learning.
In China, the largest market in the world, online bookstores saw a positive 3% bump in sales while physical bookstores dropped by nearly 50%. Online could recover by the end of the first quarter, where sales were actually higher between March and April compared to the same period in 2019.
---
CLICK FOR FREE REPORT ON GLOBAL BOOK TRENDS IN 2020
---
As traditional retail struggled in 2020, digital became crucial. "Online booksellers can offer prices and selection that physical retailers simply can't match." And with the kind of publishing tools and solutions available, digital publishing became an easier transition for indie authors.
PublishDrive's Book Stats
We paid close attention to global book trends and sales performance with over 20K PublishDrive authors. In March 2020, digital book sales hiked by 20%; in April, by 23%. In August, we recorded our highest increase of 69% in a one-year period. As we enter 2021, the growth hasn't slowed down.
Much of this growth is from around the globe, across stores, and predominantly digital spaces. 77% of digital book sales came from international markets. We've seen spikes with book channels like Bibliotheca by 240% and Google Play Audio by 110%. Digital libraries and subscription platforms more than doubled. Digital formats like audio are peaking.
Our good friends at Written Word Media shared similar experiences. Since the pandemic, WWM has seen better sales and engagement with online readers.
---
Real quick: if you've been keeping up with our monthly book reports, will you give us your feedback? It takes only a few minutes! GIVE FEEDBACK. 🙏
---
It's been a strong year for PublishDrive where we had 3x more authors join the platform. 55% of our book publishers came from English-speaking countries:
60% of our sales came from fiction titles, popular genres being Romance, Erotica, Literary, Fantasy, Mystery, Science Fiction, and Thriller. 40% came from non-fiction, popular genres being History, Religion, Business, Foreign Language Study, Biographies, Self-help, Health & Fitness, Study Aids, and Body, Mind & Spirit.
To name a few standouts, we saw a 270% bump in Music, a 103% bump in Family & Relationships, a 93% bump in Historical Fiction, and a 70% bump in Fantasy. With subcategories, we recorded crazy numbers like a 4,989% spike in Anthologies under Sci-Fi and a 2,728% spike in Vampires under Romance.
Here's an interesting find on running price promotions. In Q3 2020, we analyzed 800 price promos for online retail stores. These promos generated 10x more growth, on average. They also achieved an additional 2% increase for non-promoted books. These promos ran for an average of 1.5 weeks before generating sales, and the most successful ones were discounted books originally priced around $9.99. We leveraged price promos by building an easy-to-use tool (see below).
PublishDrive's Product Releases
Our amazing team delivered over 300 product releases in 2020. These included new features and smaller improvements, like faster sales data and communication with stores. Our biggest launch involved welcoming audiobook and print-on-demand, becoming the only self-publishing platform with audio, print, and ebook distribution for thousands of stores. Other product developments included:
Book correction service - Our best pros from the industry will review and optimize a manuscript for conversion in two business days.
Price promotions - Authors can run discounted or free book promotions, along with powerful paid placements to reach millions of readers with Written Word Media. (On average, generating 10x more growth!)
Book import update - Upload or edit ebooks and metadata with one upload to save hours of time.
Abacus import with 6 new stores - Easily import sales reports and automatically fix currency conversions for royalty management with co-authors or teams.
API integration - For advance publishing.
We also held webinars with the indie community to talk about PublishDrive's digital tools, publishing tactics, and other industry-related topics. Check out our back-to-back sessions on increasing book sales: 1, 2, 3.
Looking Ahead To 2021
As we enter 2021, our goals at PublishDrive haven't changed. We will continue working on ways to make publishing easier for indies. Since 2015, we knew that meant going digital and global. Yes, the pandemic has been quite a shock. But fortunately, online books are in demand everywhere. We don't see this digital wave slowing down soon, even post-COVID-19.
In 2021, you can expect more book marketing opportunities for ebook, audio, and POD formats. We'll boost our support with the creation process of these different formats. The end goal is to help you run a more profitable publishing business.
Finally, we're so proud of the indie community! Here's a happy new year's wish and smiling faces from our social-distancing team:
As always, happy publishing. 💜
PublishDrive is the only ebook publishing platform you need to sell in thousands of stores worldwide. The team helped publish over 100K books in channels like Amazon and Google, and markets like China. Join us. ↓