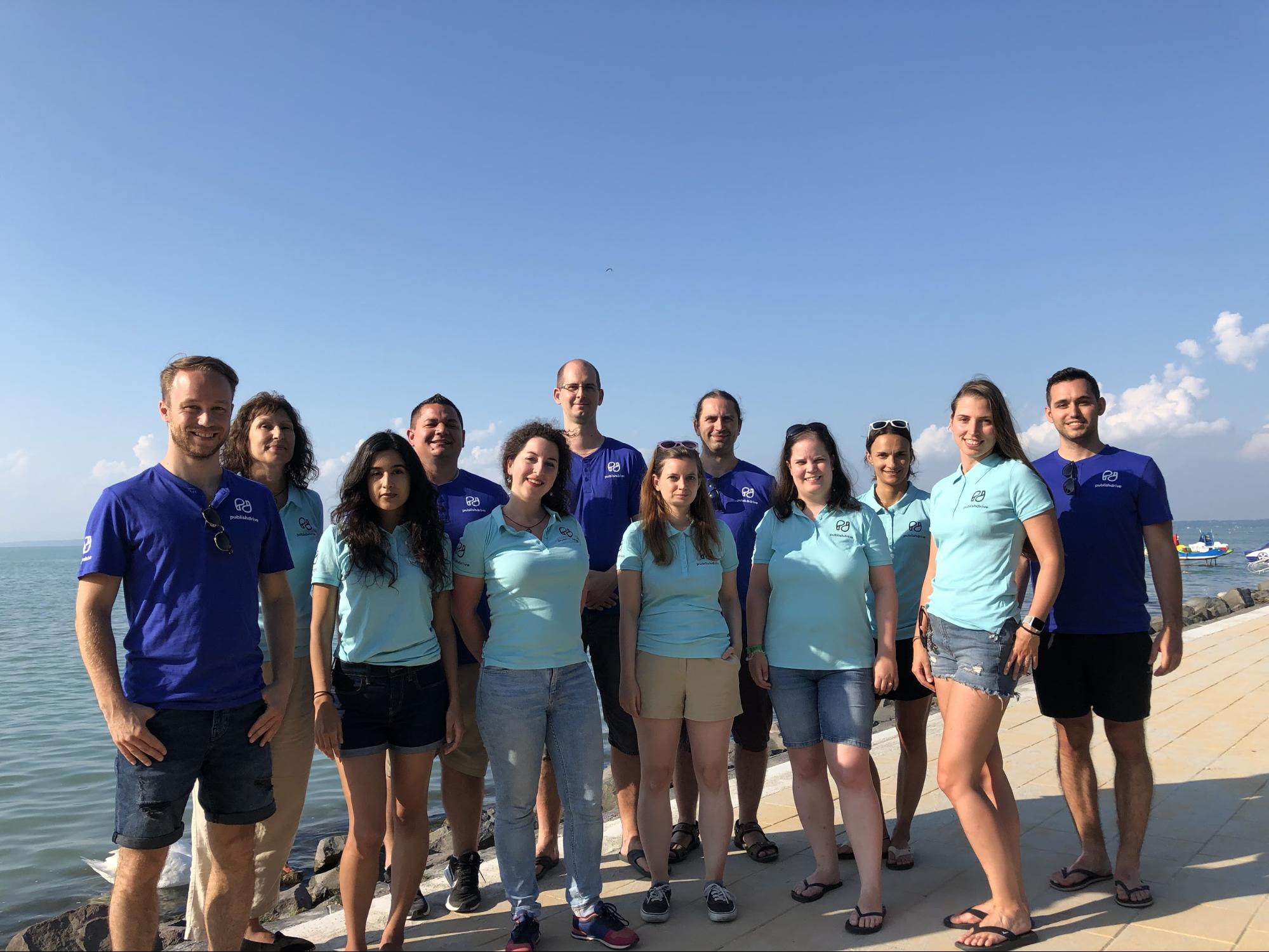 The self-publishing market in 2019 showed that there has never been a better time to become a writer. As CEO of PublishDrive, the self-publishing platform for indie success, I reviewed what happened in 2019 and how we developed on the business and product side. If you are interested in getting to know more about the most significant milestones of PublishDrive and get insights into some of the industry data, read this blog post further.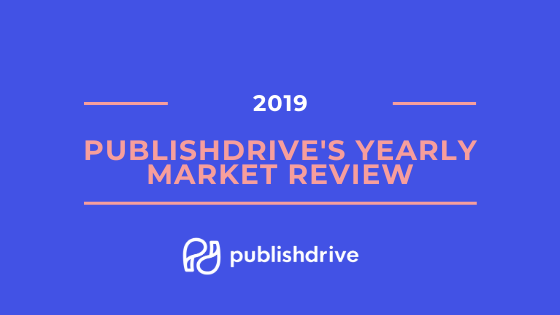 PublishDrive's Market Review
1. What is PublishDrive?
PublishDrive is a self-publishing platform for the indie author's success. PublishDrive is a software as a service company for publishers providing several services from ebook conversion, distribution and marketing with promotions, analytics with PublishDrive Distribution and also, royalty splitting with PublishDrive Abacus. PublishDrive is the most author-friendly and transparent platform among self-publishing companies with all the tools an indie author needs.
History of PublishDrive
PublishDrive Inc. is an American company based in California founded at the end of 2017. The founders are Kinga Jentetics, Robert Csizmar, and Adam Rendes from Budapest, Hungary starting from 2015. The American company began to manage its operations from the US company from 2018 March. It is run by Kinga Jentetics, Forbes 30 under 30, and she was a finalist as the Publishing Entrepreneur of the Year by Digital Book World 2018.
The company started to help Kinga how to self-publish a book. When she made her master thesis available through Kindle Direct Publishing (KDP), she sold many copies worldwide. Amazon self-publishing was a limited option for non-American authors at that time, so the founders started to work on how to get a book published easier and more accessible globally.
Mission of PublishDrive
PublishDrive's mission is to make publishing inclusive and transparent besides sharing the global values of the culture. It was the day of my life when we could all go to a company offsite week with our diverse team, partly from Budapest, Hungary, and also from the US.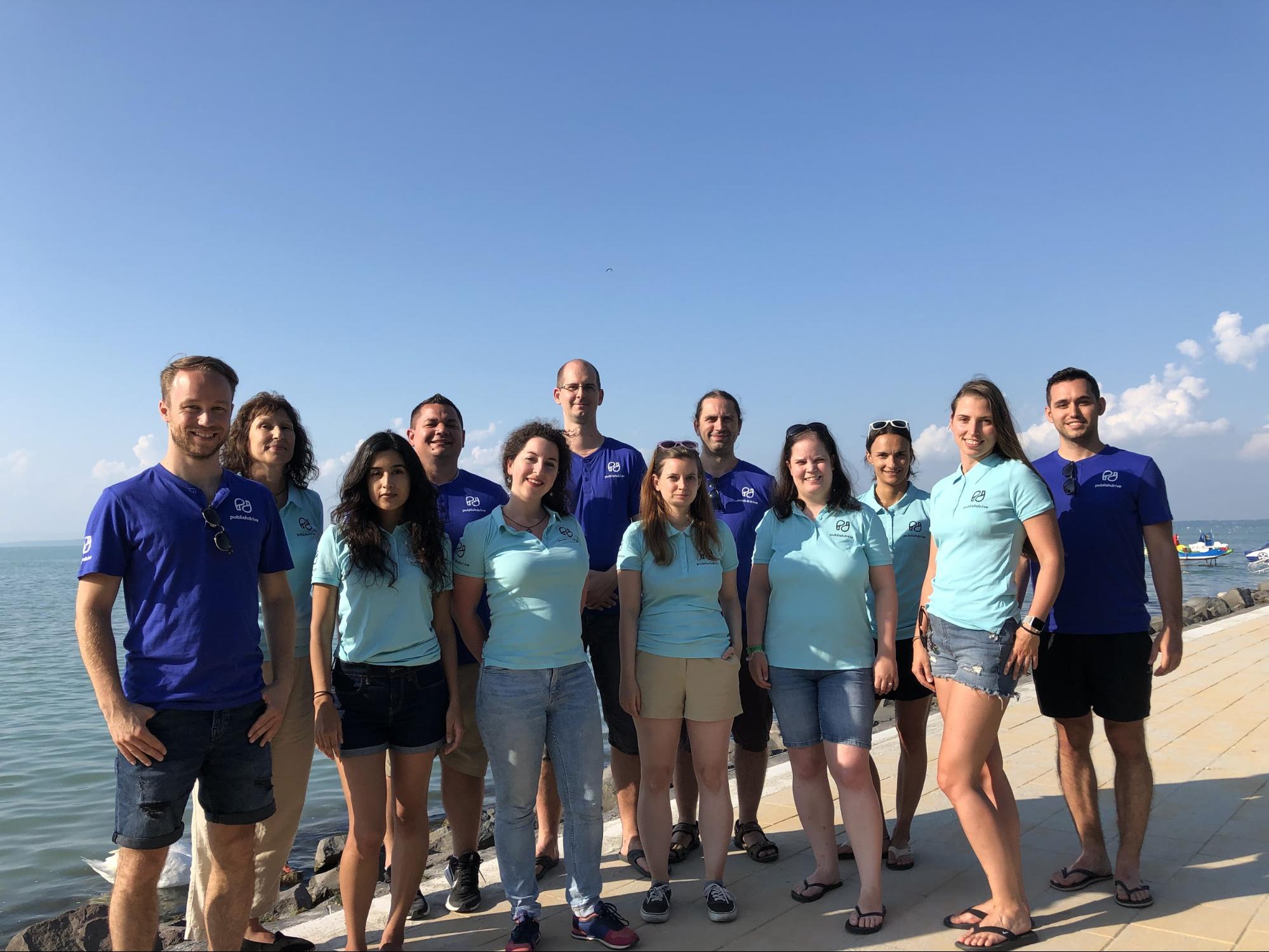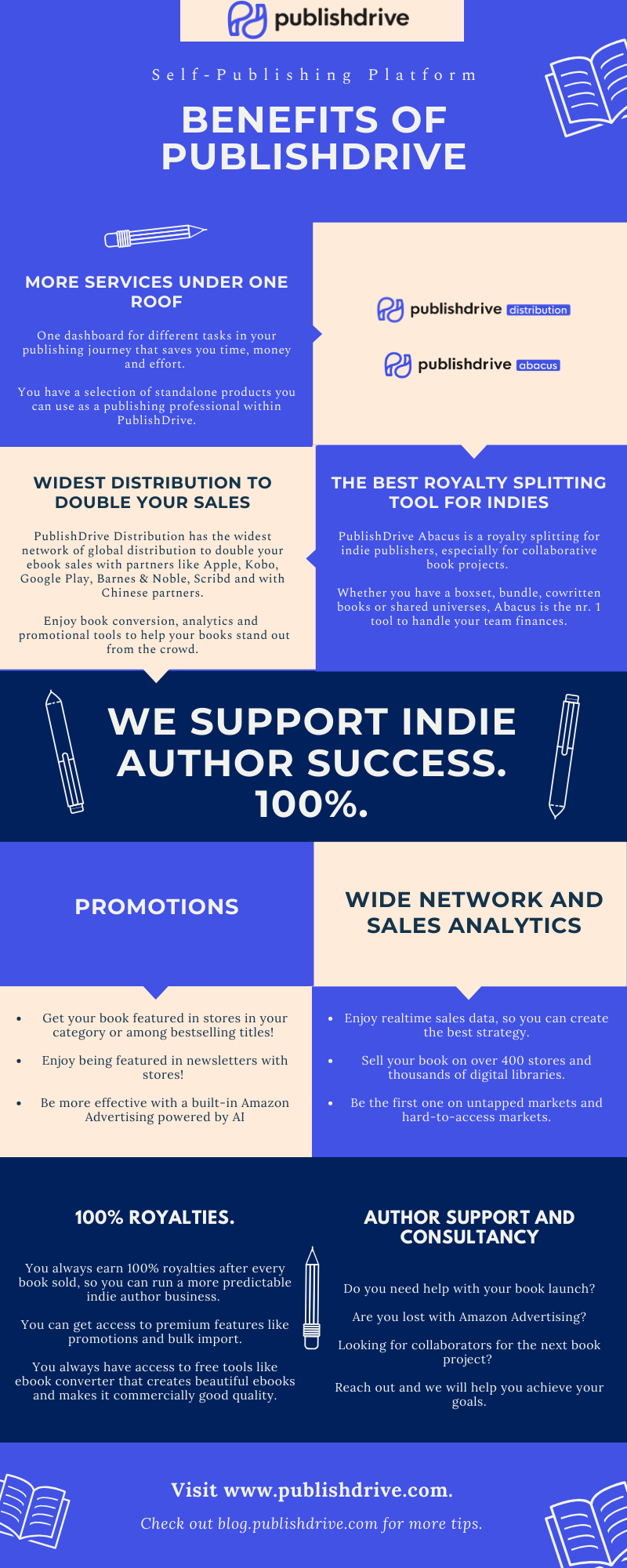 2. PublishDrive's Business Review 2019
In 2019 most of the big retailers reinvested in their publishing business to compete with Amazon Publishing. I'm looking forward to seeing some developments from Microsoft Publisher in the future also! :)
a. Growth in sales
Publishers' payouts more than doubled since last year with PublishDrive, which is massive growth on the market. Also, we helped thousands of new writers become published authors in 2019. Let's see what the main characteristics of the bestselling books are. (only English language titles are included)
i. Bestselling categories
PublishDrive's catalog has mostly fiction writers with 70% of the titles. The number 1 bestselling main category is romance in the self-publishing market, also in our case. Especially the Billionaires and Western romance books were killing it within the Romance genre this year in PublishDrive.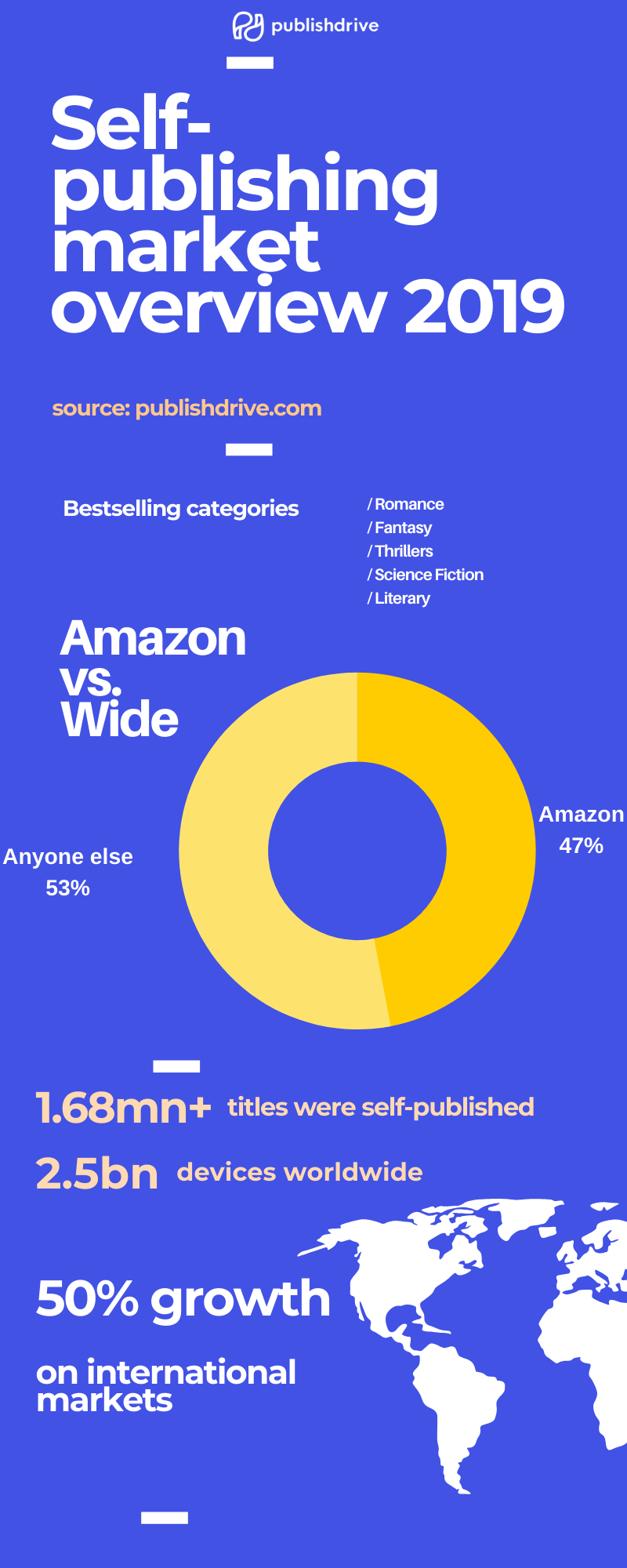 Since the success of 50 Shades of Grey, we all know that romance has a lot of colors, so I looked at the different categories and picked Paranormal as my interest. Look below what I've found! We could face a bestselling trend in shifters this year. So everyone who was into werewolves this year might have resulted in some cash in the bank!

The second bestselling main category in Fiction was Fantasy with an over 50% growth, then Thrillers / Crime on the third place with PublishDrive. We faced an over 10x increase in the Science Fiction genre on PublishDrive. All this data confirmed my personal goals for next year: to write a fantasy romance book in 2020! :)
ii. Bestselling markets
The author's purpose is, in most cases, to share their stories to the broadest audience, then to make some profit on their writing. Amazon Publishing can get you the job done with reaching out to Amazon readers, but also, PublishDrive's statistics show, that you might miss out on more than half of the market with this strategy.
The most exciting improvement was that you could sell more than 43% outside of the US market with your English language titles. This statistics is a confirmation of PublishDrive's vision: to make publishing global and accessible to everyone. Who would want to miss out on more than 43% of their sales?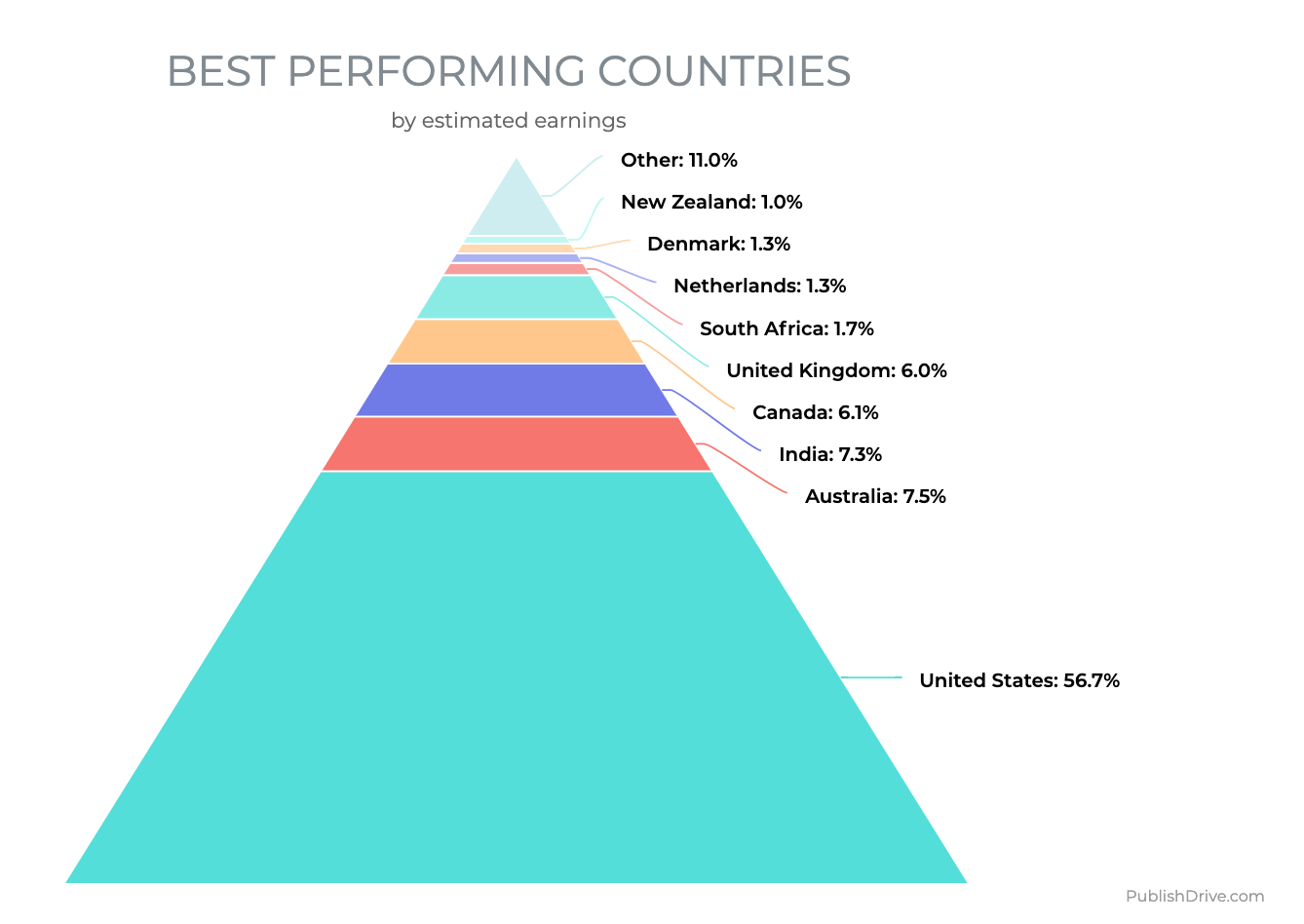 Also, we analyzed whether the prices of bestselling books changed since last year. We still can see that most of the unit sales come from books priced for $2.99, but there is a strong second place for books priced for $3.99. It shows an overall price increase in the market that is a natural consequence of having better quality products on the market.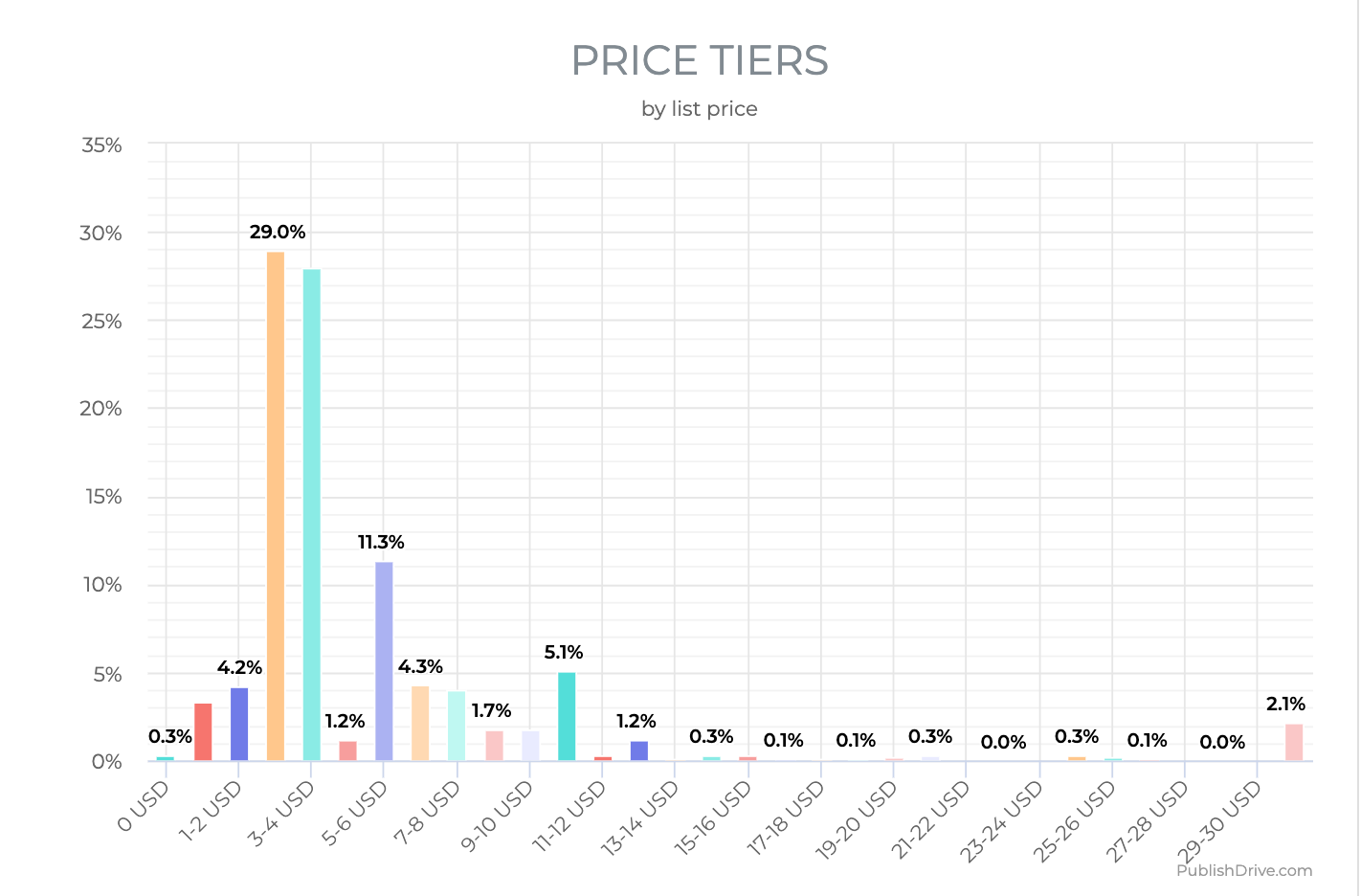 b. New retailers/partnerships
PublishDrive has the widest network of retailers among self-publishing companies. As diversity is our core value, we partnered with more retailers in 2019 to sell more books.
PublishDrive ended up with a new partnership with Google as a service provider to help authors manage titles, promotions, and analytics. The process of selling on Google Play Books is far from optimal, and most of the ebook aggregator companies discontinued working with Google Books except PublishDrive. With Google Books, we managed to streamline most of the operations to help ten thousands of authors reach more than 2.5 billion Android users worldwide.
PublishDrive also kicked off Chinese partnerships as a start to reaching out to new Asian markets like Singapore. PublishDrive also ventured in beta programs with print book services, and we even stepped foot in the audiobook market with selected clients in closed beta.
c. Conferences
The PublishDrive team attended over 20 conferences in 2019, mostly in the US and Europe.
I was lucky to attend many writing conferences like the Bram Stoker Awards or the SFWA Nebula Awards as well - I felt I am attending the Oscar's of book publishing! Still, my favorite con was the 20books Vegas organized by the 20bookto50K FB group.
These conferences allowed me to meet many of my favorite writers and also to get inspiration for book writing. That's how I met Jackie Kennedy at Nebula in Los Angeles. I was blown by Jeffe's story about how to overcome writer's block and writer's burnout.
Other team members visited the Romance Writers of America or San Diego Writers Conference, or other shows happening in Chicago or San Francisco, just to mention a few. I can't wait for the next year!
3. PublishDrive's new features in 2019
Writing a book is a lonely process in most of the cases, but publishing should not be. That's why PublishDrive expanded this year with new features to offer more help for writers to run their author business.
a. Ebook production
The new year has started with a long-awaited feature update: PublishDrive's ebook converter launch. It is a huge help for many first time authors, but also for publishing pros, who would like to optimize and streamline their business with free, scalable solutions. We believe that everyone needs to spend time with what they do best: the author writes, the converter converts! :)
b. Higher book review standards
We followed the lead of Amazon and Apple, introducing higher quality requirements when it comes to book review. We added an automated book review system supported with NLP (natural language processing) to automatically flag content and pictures. Also, we have a book review team that validates partners and escalates further issues if the automated system finds some suspicious actions.
When it comes to wide distribution, you will find that many libraries are strict about publishing erotica, so we developed our system to categorize adult content automatically. Our algorithm looks at the cover design and other illustrations in the book to avoid publishing adult content to k12 schools. That would be a bummer! Also, we take copyrights and spamming seriously again following the lead of Amazon, so PLR books without exclusive copyright license or public domain books with unique content are not allowed to be published in PublishDrive.
c. Promotions with stores
Promotions with stores are getting more critical than ever as you have more books to stand out from. Check out all the options you can get wide and with PublishDrive to get featured within the bestselling categories of stores or in newsletters.
You can price your book for free to be eligible for some of the promotions. For instance, PublishDrive had over 100 successful featured positions in the last few weeks, so we made it happen to feature authors on the Apple Books US storefront or with Kobo price promotions.
As one of the essential tactics, you can also upload some sample chapters with relevant marketing material for your title.
d. Collaborations
Collaborations are one of the significant ten trends in the publishing industry, especially when it comes to indie publishing.
You can either co-write a book with other collaborators or share the same universe with other writers. Still, also I've seen many collaboration book project with anthologies and even box sets or bundles.
You might think that co-writing will help you streamline the writing process. It might be true in many cases, but in other cases, it can put you through hell.
You have to think about collaboration as an investment in your marketing and reader base-building efforts as you will be able to reach out to more readers with the help of another author's brand. Also, as a potential benefit, if you find the right partner, you can adapt to each other's work methods so production will be way faster.  
Learning from the biggest indie publishers, what might be their problems with collaborations and how we could help solve them faster, PublishDrive released two separate features and products for supporting collaborations on the book publishing market.
In March 2019, we released Team Royalties, which helped authors to automatically pay out royalties, manage taxation, and share royalty reports with the collaboration team tied to the PublishDrive Distribution product.
Based on the success of Team Royalties, we decided to release a standalone royalty splitting tool to allow Kindle Unlimited authors to use PublishDrive. That's how PublishDrive Abacus was born. Since it's release in August 2019, we work with hundreds of authors and indie publishers who can streamline their accounting and financial processes with Abacus. Most of the indies, like Michael Anderle love its transparency: they can also boost their team productivity by promptly sharing data.
4. PublishDrive's future in 2020
PublishDrive has big plans for 2020: to provide better services for authors to achieve indie success by selling more books and saving more time with their operations.
We have plans to expand on our current distribution services with new product lines for our beta programs in print and audio.
Our main goal for 2020 to help provide better marketing and promotional tools for books and also better analytics to understand what the next step for your strategy should be. 2020 will enable indie publishers to have access to better technology than any traditional publishing company would ever have.
5. Closing thoughts
2019 was a year with a lot of developments both on the market and on the product side, resulting in more books sold and more royalties paid out for publishers. PublishDrive also provided better solutions for effective book marketing, promotions, distribution, and analytics. Also, PublishDrive solved the accounting nightmare of collaborations to help indie book projects be more transparent and productive.
2020 will be exciting, with a lot of developments already lined up to help indies run a more profitable business.