Guess what? Indies achieved 200% more book sales in 2022 by selling everywhere they can with the online self-publishing platform PublishDrive. And 56% of their sales came from international markets. If you're looking to maximize your reach, you have to go global. Let's go over why and how to self-publish internationally below – using the fastest and easiest route an indie publisher's got!
First, Why Self-Publish Internationally (The Numbers)
Is selling in other countries really worth it? The numbers say yes. The data I'm about to show you comes from tens of thousands of indies that published more than 150K books, including ebooks, audiobooks, and print-on-demand titles.
As I mentioned, these indies made 200% more book sales in 2022. That's on top of a 200% boost they saw in the year prior. The world has felt rocky, especially since the start of the pandemic. Yet as digital became the norm, the demand for digital books peaked like never before:
And the demand is global. These indies publish wide, meaning beyond Amazon. They distribute in numerous stores and countries. In fact, 56% of sales came from international markets in 2022, which is 10% growth from 2021: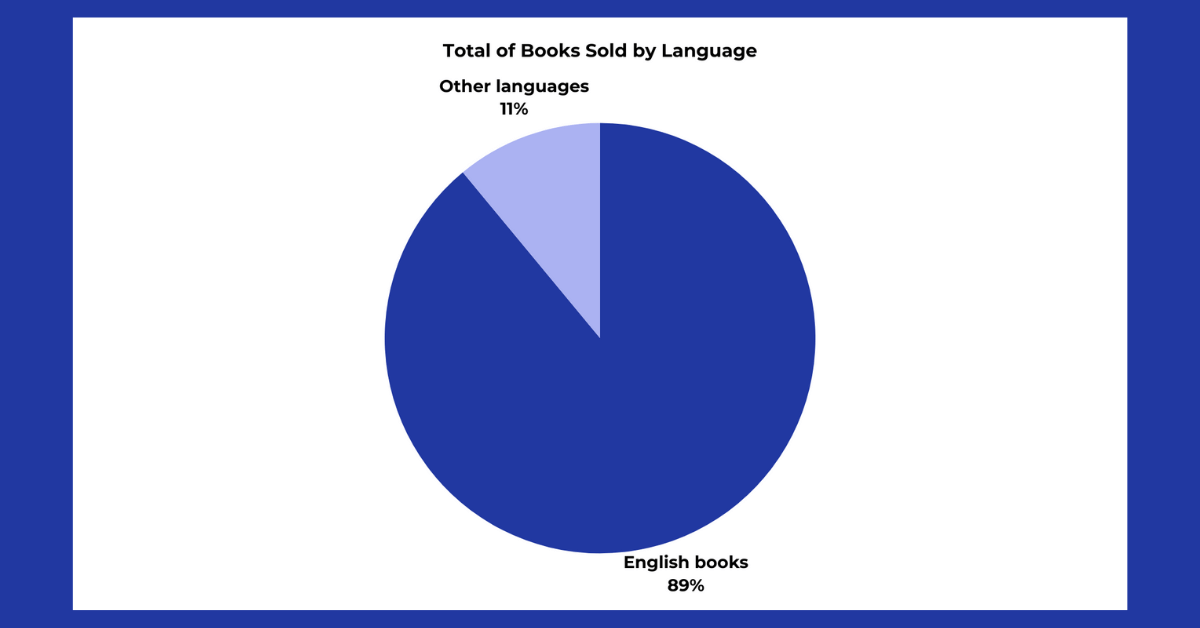 International readers want your content! From these countries in particular (see the growth):
Check out the bestselling retailers and platforms below. Most of them have an international reach, such as Storytel, which gives authors the opportunity to sell in 25 countries:
Despite negative trends we see across markets due to events like the pandemic and war, for the book market, digital book sales are booming around the globe.
So that's the rundown on why you ought to publish internationally. But you may wonder –
Do I Need to Translate My Book to Go Global?
The translation process takes time, money, and effort. For indies, in particular, acquiring the funds is a big constraint. Well, good news: there's no requirement for translations as the global demand for English-language content is at its highest.
(If you do have the funds and are interested in targeting certain countries known for performing well with translated content, check out these insights: Lauren Smith's case study & Jean Joachim's interview)

Many PublishDrive indies who publish internationally list their books as they are. China is an awesome example to look at:
China's landscape is influenced by economic and urban growth, resulting in a more educated middle class eager for international books.
China's market share of international books has rapidly increased since 2020.
Indies selling books in China made 201% more sales in 2020 via PublishDrive.
So, how to self-publish books in China and beyond?
How to Self-Publish Internationally (Fast & Easy)
There are several ways to self-publish internationally. You can license foreign and translation rights to international book distributors. You can pitch your book to global book wholesalers or international publishers you find on the web. These efforts involve reading up on international rights, marketing, pricing, and more.
But the purpose of this write-up is to show you the fastest and easiest route. Here it is: go with an international self-publishing platform that takes care of the logistics for you.
Better yet, choose a platform that reaches the most channels across the most countries. That means you DON'T want to call it a day after simply publishing to Amazon and the 13 countries it has storefronts in. Rather, you should maximize and diversify your reach. Remember all those bestselling countries and bookstores above? Don't miss out on those.
Apple Books reaches more than 50 countries. So does Google Play Books. Then there are up-and-coming channels like Dreame in Southeast Asia, which was PublishDrive's #1 store for the most growth in 2020 (a whopping 92,441% increase in royalties for indies!). Or Spain's Bibliotheca, a digital library that generated 250% more sales for indies in 2022.
Learn about today's top distribution companies. Then consider PublishDrive, the platform that reaches all the industry giants like Amazon, Apple, and Google. Plus, they reach all the rest, like Dreame, Bibliotheca, and more. Going global with PublishDrive takes just three steps:
3 Steps to Publish Internationally With PublishDrive
Step 1: Sign up to the PublishDrive platform (start with the 14-day free trial) and upload your content files for ebook, audiobook, and/or print-on-demand.
Step 2: Wait as PublishDrive quality checks your files, metadata, categories, and more.
Step 3: Select the stores you'd like to distribute to and click submit. Publishing takes a few days, and in some cases, up to a week. Take a look at all the stores and countries you can reach with PublishDrive.

That's it! After publishing, you also get the tools to:
Easily track your store links and sales performance
Collect and manage your royalty payments
Promote your book with in-store featuring, review copies, and more
The Key? Maximize & Diversify
The point of selling internationally is to reach as many readers as possible. You can do this by publishing wide:
Publish internationally in as many countries as possible
Publish in different book channels – make sure you're not forgetting to get your book selling to libraries, in niche spaces, through subscription models, etc.
Publish in different formats, like ebooks, audiobooks, and print.
You got this!
Self-Publish Internationally in No Time
Now you know how to self-publish in Europe, Asia, Australia, and beyond. What next? Start your global book distribution with PublishDrive: