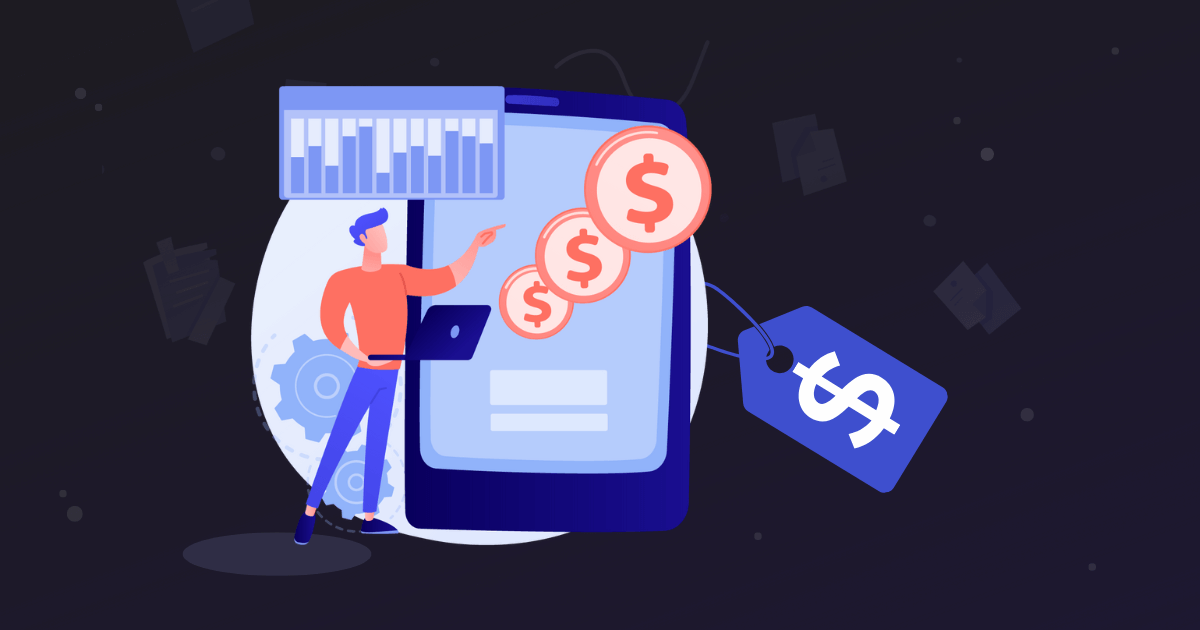 You're on the road of self-publishing, ready to upload your ebook files to your chosen retailer(s). But how to set your ebook pricing? If you charge too much, people won't buy. If you charge too little, people may question the value of your work. How do you determine the average ebook price? To help out, below are six tips on how to price your ebook.
Quick note: You can change your ebook cost at any time. Like many DIY things, such as self-publishing, experimentation is a given. You may eventually revisit your ebook price by halving it, doubling it, or deciding to make it free, and there are varying reasons to make these types of changes.
How to Price an Ebook: 8 Tips When Deciding on Your Ebook Pricing
There's no perfect answer to how to price your ebook. But there are ebook price factors to consider in making an informed decision. Let's go through them –
1. Consider Royalty Percentages
When it comes to stores, you can decide to sell your book exclusively on Amazon, go direct from your own website, or publish wide and sell in more than one retail store beyond just Amazon. 
You don't have to calculate the royalty percentage if you sell directly through your website. However, if you choose a retailer (or more), you need to know the store keeps a portion of your earned royalties.
Book royalties are what you're paid through as a published author. Your royalty rate is the percentage you'd get for every copy sold based on the ebook price listed under your store(s). Royalty percentages (and conditions) vary across stores and countries. 
Here's a general overview of average ebook prices and their royalty percentages to get an idea of how much money an author makes per book:
| Ebook price | Amazon | Barnes & Noble | Apple Books | Other retailers |
| --- | --- | --- | --- | --- |
| $0.99-$2.98 | 35% | 40% | 70% | 40%-55% |
| $2.99-$9.99 | 70% | 65% | 70% | 40%-55% |
| $10-$199.99 | 35% | 40% | 70% | 40%-55% |
How can you easily sell ebooks on Amazon? PublishDrive is a flat-fee subscription-based aggregator that distributes your book to numerous stores like Amazon–and beyond. Set your Kindle book pricing and never pay an additional royalty percentage for a distribution charge.
2. Create a sales plan and set the best ebook price
As you can see above, pricing your ebook between $2.99 and $9.99 may be your best bet in maximizing your royalty percentage of 70% at Amazon.
However, you may wish to sacrifice your royalties and price your book below $2.99 for reasons such as a book price promotion, or to use a "loss leader" strategy in the hopes of getting your work out there to as many readers as possible. 
Or maybe, as a newbie author, you feel that people won't buy a higher-priced ebook. Here are a couple of interesting insights on this very topic: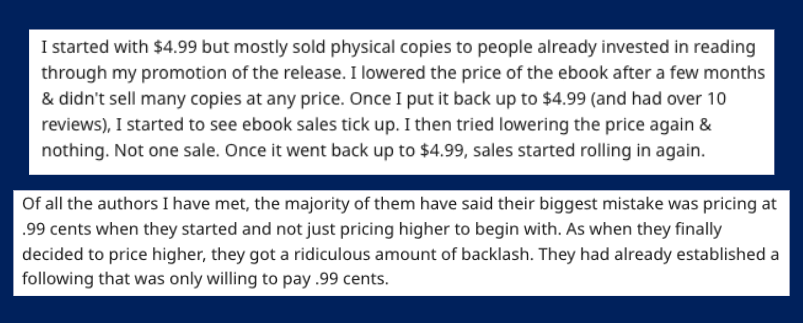 To avoid such a risk, you can use one of your ebooks as a lead magnet and give it as a gift to your blog subscribers. In this way, you get email addresses and build an audience for your newsletter.
You can also use this ebook and sell it for $0.99 as a marketing tactic and convince your readers your writing is worth buying your expensive books later.
3. Research ebook prices in your genre
How much do ebooks cost? Beyond considering your take-home royalties, you want to conduct some research on your market competition. Get on Google or Amazon and search for existing ebooks in your genre. 
How much are ebooks in general? What are the lowest and highest ebook prices? What's the average ebook price? Imagine your ebook alongside your competitors' offerings. It wouldn't make sense to charge way higher than the average, especially if there are no significant differences between them, such as length, topic, research, etc. You don't want to sell yourself short either by going below the average.
Since we brought this up, let's see what could influence your ebook pricing.
4. Remember length
When looking at other ebook prices in your genre, keep in mind the length of these ebooks. If your ebook is 150 pages long, don't compare it to those that are 30 pages long. Also, readers generally expect cost to be tied to the length of the book–shorter books are typically cheaper, and longer books can command a higher sales price.
So, if you sell your book on Amazon, for example, you need to pay attention to not just the average price but the average length of the book as well. Also, remember how much Amazon charges for selling your ebook. You still need to earn royalties.
5. Consider your target audience
Selling your product on Amazon or other big retailers means addressing lots of people that don't know you. This means you can't really sell an ebook at a high price, especially if there's a huge difference between your ebook price and another similar book.
That's why you should try to stay within the average ebook price, especially if you are a newer author.
However, if this is not your first ebook, and you've already built a following, you can charge more. They already like you and probably have read your previous titles, so they won't mind paying more for quality writing.
6. Pay attention to quality
When it comes to quality, ask yourself what outcome these ebooks guarantee. Is your book teaching your readers a new skill, for example? Does your research offer a new perspective on the same thing people previously talked about? Such information is more valuable to readers and more difficult to find someplace else, giving you an idea of how to price your ebook.
Try to group your ebook with those that share your outcome. If we're looking at YA romance, it's pretty easy to find other works similar to yours. 
If we're looking at nonfiction self-help or business books, what's the tangible value the reader can expect?
7. Measure demand
This one is mostly for nonfiction authors. By measuring demand, I mean, what industry and audience does your ebook target? And how many ebooks are already addressing the topics your work goes over? If you're in a highly technical field where knowledge is harder to acquire, you could charge higher. The same goes for if your ebook targets professors who have the budget to spend.
8. Play with price promotions
I mentioned how you could change your ebook pricing at any point in time. So why not play around with that by running price promotions? This can help you experiment with different price points (such as lowering your initial ebook cost) as well as get started with sales campaigns.
Let's say your ebook is priced at $4.99. You can run a two-week price promotion where your book is discounted to $1.99 or even free. See how many new sales roll in. If you feel it's better to lower your ebook pricing for an extended period of time, you can do that. You can also choose to run regular price promotions on a monthly or quarterly basis.
Here's the thing about price promotions. The research from PublishDrive showed that indies who ran price promotions made 10x more sales. These work.
Conclusion
Now that you've looked at all the aspects of pricing your book, it's time to get your words in the hands of readers! What do you think is the most important aspect when it comes to setting the retail price for a book?
Now You Know About Pricing Books…
Know that you can run price promotions across multiple bookstores with the online self-publishing platform PublishDrive. Selling ebooks on Amazon and beyond has never been easier.