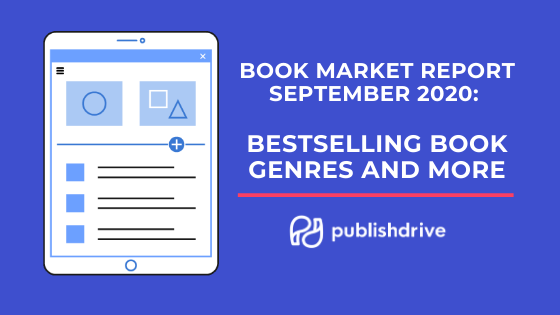 We are paying close attention to the book market this year. Although there can be lots to worry about, we want you to know that digital books are in demand. Especially for those in traditional publishing, transitioning to digital formats has never been better. If you're already self-publishing, you're at the right place.
Keep Up With The Latest Trends & Publish Your Best
Just enter your details and we'll email you our free insights.
Digital book sales are growing in the self-publishing market, in most book genres.
We've been paying close attention to the book market and sharing the trends on our blog since March 2020. From then, we recorded how indies selling digital books via PublishDrive saw sales growth by at least 20%. In April 2020, it was another 23% growth. In August 2020, we reported a 69% increase in a one-year time period -- 70% of those sales from global markets. In September 2020, we're still seeing positive books market growth.
In September 2020, compared to last year in September 2019, there was a 59% increase in sales via PublishDrive. Compared to the previous month in August 2020, there was a 4.5% increase.
In September 2020's report below, we give an overview of international digital book sales plus bestselling book genres, book categories, markets, and more. We'll continue to update this study every 20th of the month, so make sure to tune in. Our aim is to help you make the best-informed decisions wherever you are in the publishing process.
By the way! We recently held an open webinar about how to increase book sales with PublishDrive. Here's the recap.
Also, you can start a free 14-day trial with PublishDrive to easily distribute across global markets and stores. It's the only self-publishing platform you need. 👇
Price promotions delivered strong results
We analyzed 800 book promotions for online retail stores in September. We discovered that the most successful results came from discounted books originally priced at around $9.99. These price promotion strategies ran for an average of 1.5 weeks before generating an increase in sales. Some of them are still running in October. On average, we've seen 10x more growth with effective price promotion strategies. They also achieved an extra 2% growth to overall sales for non-promoted books.
Running a price promotion campaign is a strong sales tactic. With PublishDrive's price promo tool, publishing authors can set them up wherever their titles are being sold. We also got exclusive partnerships like with Written Word Media. They let indies run various price promos to outside networks with hundred-thousands of readers (see more).
Digital book sales continued to grow
In 2020, people are seeking more at-home entertainment, prioritizing digital means to get them. Movie-streaming services, video games, and of course, books are seeing significant booms.
Since COVID-19, PublishDrive's digital book sales grew by 20% in March and 23% in April. With the world opening back up, the rates flattened slightly in May and June. In July, there was a monthly bump of 20%. In August, we reported our highest 69% increase in sales in one year's time.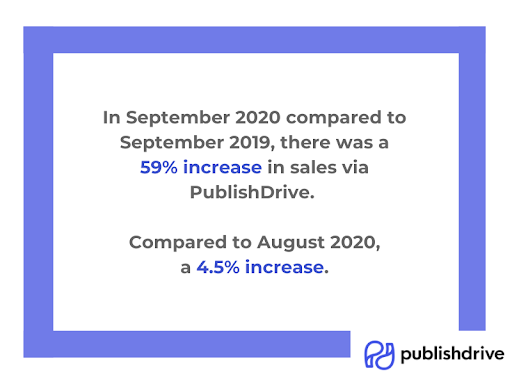 In September 2020 compared to September 2019, there was a 59% increase in sales via PublishDrive. Compared to August 2020, a 4.5% increase. After the Christmas holiday season, summer during July and August is the strongest for book sales. Then we usually see a stagnation during the autumn season. Our current data shows that instead of stagnation, digital book sales continue to grow.
The growing book sales we're seeing are beneficial for PublishDrive users who keep 100% royalties. Since we don't take any commission, indies get the same royalties as selling directly to stores. All this growth is 100% theirs.
Nonfiction & fiction like fantasy, science-fiction, & thriller genres did great
In September, both fiction and nonfiction books performed well. Bestselling fiction genres included Action & Adventure, Crime, Fantasy, Historical, Literary, Mystery & Detective, Romance, Science Fiction, and Thriller.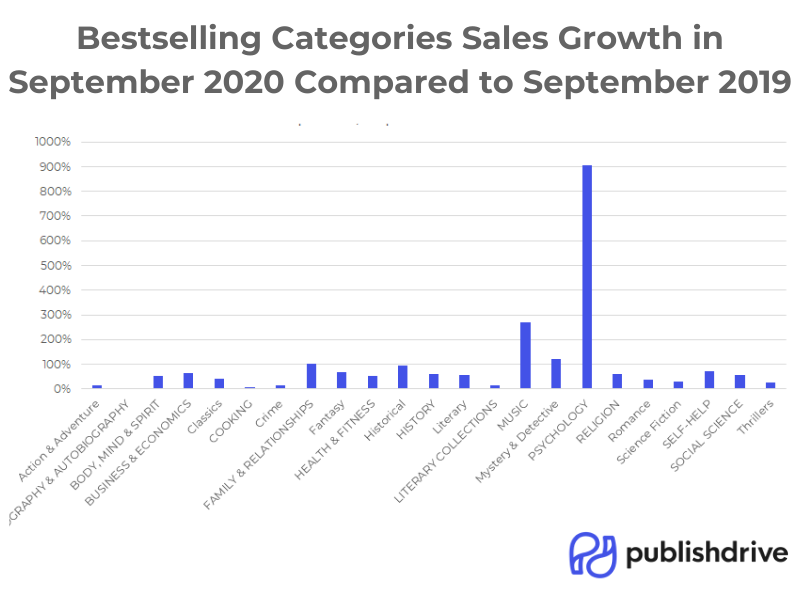 We also reviewed data from all of Q1 to Q3 in 2020.
When diving deeper into subcategories, we see so many interesting topics across genres with positive growth rates this year. We got impressive numbers like a 4,989% hike in subcategory Anthologies under Sci Fi. Regarding Science Fiction, we've seen a growing number of authors on PublishDrive Abacus collaborating on Sci Fi (and Fantasy) book series, anthologies, and more.
There were also crossovers between genres like the 511% increase in Historical subcategories under the Romance genres. For example, Historical American saw a whopping 2,653% boost under Romance.
Nonfiction subcategories also climbed. Corporate Finance under Business increased by 1,921%. Body Cleansing & Detoxification increased by 1,125% under Health & Fitness. It was new to see a subcategory like Musical Instruments grow by 235%. (Are you all picking up instruments during quarantine?!) See our chart for more:
Growth came from international markets
The United States market has been stable, capturing around 23% of PublishDrive's overall sales. Meanwhile, international markets captured 77%, continuing to rise since March 2020 (especially compared to 2019). Take a look at our bestselling countries in Q3 of 2020:
The US (23%) and the UK (9%) have been top-performing countries based on sales value, showing consistent growth each month. Other English-speaking countries grew steadily in Q3 like Canada (4%) and Australia (3%).
In South-East Asia, the Philippines and Indonesia stood out. In Latin America, Chile, and Mexico. In Europe, Germany (sales rose by 4x!), Denmark, Norway, Portugal, Romania, and Switzerland performed well.
Digital stores funneled the most sales
Book royalties come from different sources. For authors enrolled in KDP Select having to sell only to Amazon, they might miss out on 60% of the market. In PublishDrive, we're generating sales from more store types:
Retail: Major outlets reaching global readers. E.g. Amazon, Apple Books, Barnes & Noble, Google Play Books, and Kobo.
Subscription services: Applications or stores that provide unlimited access to books for a monthly subscription fee. E.g. Scribd, Bookmate, and Dreame.
Digital library providers: Book borrowing for not just individuals, but institutions like public libraries, schools, universities, or corporate libraries. E.g. OverDrive, Bibliotheca, Mackin, and Odilo.
Regional stores: Outlets that cover specific regions serving local communities. E.g. Tolino and Chinese stores.
As reader experience shifts especially In 2020, more people are using online modes like subscription services and digital libraries:
In one year, Regional stores grew by 131% in one year and library sales more than doubled  by 105% growth. Compared to the previous month, libraries generated 30% more sales. Libraries like Gardners grew by 45%, Mackin by 145% growth, and Bibliotheca by 3% growth. Much of the growth came from Australia, Canada, Denmark, Iceland, Mongolia, Norway, Portugal, South Africa, Sweden, the UK, and the US.
Subscription models increased by 92% in one year. Countries that experienced this boost included Argentina, Brazil, Chile, Denmark, France, India, Indonesia, Mexico, Peru, Romania, Singapore, Spain, and the US. Singapore had a spectacular growth of 15,995%, with its mobile app called Dreame focusing mostly on fiction books.
Retailers increased by 60% in one year, and by 17% compared to the previous month. Interestingly, PublishDrive sold 90% more print copies than in the previous month. The platform started distributing print books (and audio) in Q2 of this year. So we may have got those results by the third quarter.
Online retailers like Apple Books increased its sales by 36% and Kobo by 18% compared to the previous month. The best-performing countries for retail were Germany (with over 1,243% growth since last year!), Australia, Belgium, Canada, France, Japan, Netherlands, Portugal, Romania, Slovakia, South Africa, Spain, Switzerland, and the UK.
See our top-performing stores:
So how's the book market doing? Very well when it comes to digital.
Amid the ongoing pandemic, it's a golden time for digital publishing and various types of books. If you're not selling online, we encourage you to do so. And come back to PublishDrive's blog to get updates on what's happening in the book market every month.
Keep Up With The Latest Trends & Publish Your Best
Just enter your details and we'll email you our free insights.
Also, check out our product release updates for Q3 of 2020 here. We're working hard to help you publish faster and smarter.
Lastly, are you signed up with PublishDrive yet? Start your free 14-day trial to publish and promote books globally during this lucrative time, super easily. We're trusted by book publishers and authors around the globe: