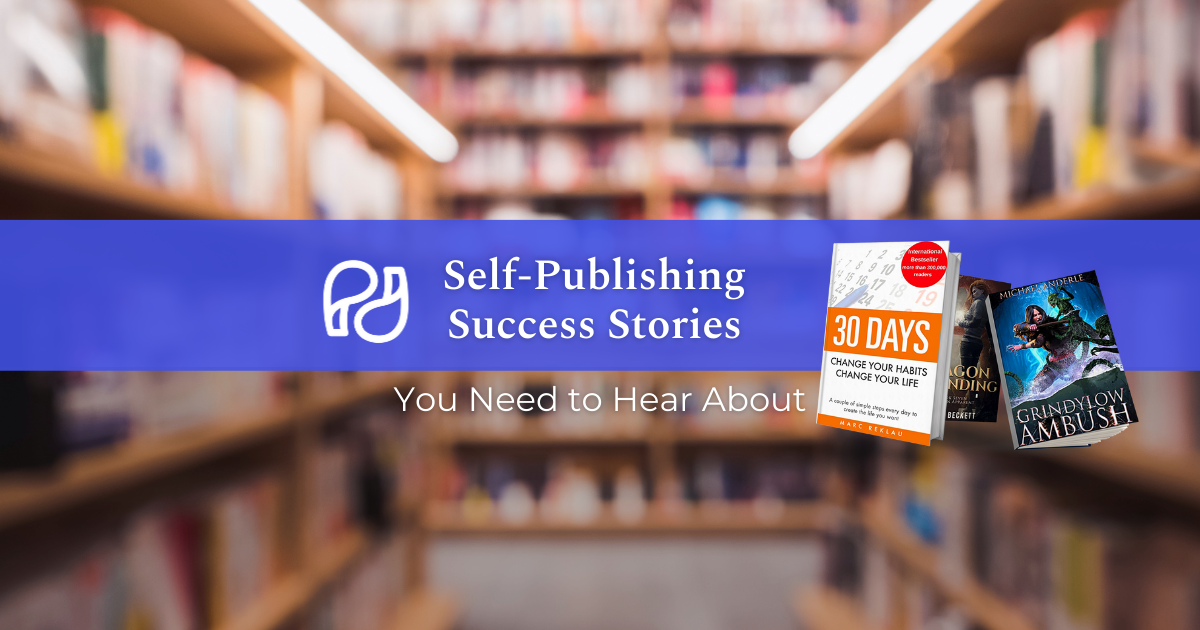 It goes without saying that the publishing market is evolving with the help of self-publishing. For a long while, authors have had the opportunity to choose between traditional publishing and vanity press, but self-publishing was truly a game-changer. 
Self-publishing has become a vital part of the publishing industry and has proven to give many writers a jump start in their careers. There are quite a few successful self-published authors out there who actually can make a living off doing that.
Indie authors achieve a much greater earning potential with self-publishing, finding niche audiences with their books. 
This article shares PublishDrive's own self-publishing success stories as well as popular writers who've truly made it.
In this article, you'll find:
Popular Self-Published Authors
The self-publishing revolution
In traditional publishing, authors submit their manuscripts to book publishers or literary agencies, who select and invest in the works they believe will be successful. However, self-publishing has revolutionized the industry by granting self-published writers unprecedented freedom and control over their work. 
Once they decided to self-publish, authors discovered they could retain creative authority, choose their own timelines, and have a say in every aspect of the publishing process, including how to promote their books. This empowerment has led to many self-publishing success stories, as authors leveraged their entrepreneurial spirit to promote their books and build their personal brands. Self-publishing has opened doors for writers to share their stories and ideas with the world on their own terms, revolutionizing the publishing landscape.
First rejected, then successful self-published writers
Actually, many famous authors got rather successful after traditional publishers turned them down. 
Michael J. Sullivan

's story was just like this. He wrote for ten years in various genres, but no publisher was interested in publishing his books. A few years later, he wrote a fantasy series and self-published it, achieving significant success.

Amanda Hocking

is worth knowing: She wrote 17 novels while working full-time. She self-published them all as ebooks selling more than a million copies.

Ashwin Sanghi

, the author of bestselling novels such as

The Rozabal Line,

has also turned to self-publishing after being rejected by dozens of publishers. Unwilling to give up on his dream, he chose self-publishing, eventually finding success as a best-seller.
They all have one thing in common: confidence in their work and the idea that indie publishing is the future.
Let's see a few other successful self-published authors.
6 Famous self-published authors
Here are some of the most successful self-published authors. We've handpicked a list of self-published authors showcasing their incredible accomplishments. These talented writers have defied the odds and made a lasting impact on the literary scene. 
Get ready to be inspired by the remarkable achievements of these famous authors who self-published.
1. Beatrix Potter
Beatrix Potter faced gender discrimination as a female author in the early 1900s. Despite facing rejection from traditional publishers for her book, The Tale of Peter Rabbit, Potter refused to let her story fade into obscurity. 
Taking matters into her own hands, she self-published 250 copies. To her delight, within a year, a company that had initially turned her down recognized her potential and offered her a publishing deal. 
The book exceeded all expectations, selling over 20,000 copies in its first year alone. The success of Peter Rabbit continued to soar, with an estimated 45,000,000 copies sold to date. Currently, Penguin Random House holds publication rights for the Peter Rabbit series. 
2. Mark Twain
In 1884, despite Mark Twain's existing fame and traditional publishing contract, he grew tired of the challenges associated with working through book publishing companies. He wanted a change, so he established his own publishing company, eliminating the need for intermediaries. 
Through his imprint, Twain released two immensely successful books, namely the Personal Memoirs of Ulysses S. Grant and the widely renowned work, The Adventures of Huckleberry Finn. 
Moving on to the contemporary classics, here are some top self-published authors who still move hearts and minds today:
Before Margaret Atwood became widely known for her acclaimed novel, The Handmaid's Tale, and the subsequent television adaptation, she embarked on a self-publishing journey. 
Atwood self-published an exceptional collection of poems titled Double Persephone. Although it didn't achieve the same level of recognition as her later works, this poetry book marked an earlier triumph for Atwood as an author, showcasing her talent and paving the way for her future successes.
Long before The Martian captivated audiences with its big-screen adaptation starring Matt Damon, Andy Weir faced uncertainty about the traditional publishing route for his novel. 
Undeterred by the prospect of rejection, Weir took matters into his own hands. He began sharing snippets of his fiction on a blog, quickly amassing a devoted following that affirmed the value of his work. Encouraged by this positive response, Weir decided to self-publish The Martian, which promptly soared to become a #1 bestseller on Amazon. 
The remarkable success of his self-published book attracted significant attention, leading to a lucrative publishing and film rights deal. To this day, The Martian boasts an estimated 3 million copies sold worldwide, while the film adaptation achieved a staggering box office gross of $630 million. 
E L James, the author behind the erotic romance series Fifty Shades of Grey, began her writing journey in a rather unexpected manner. Starting as a fan fiction piece inspired by the Twilight series, James transformed the characters and narrative to create her own story. 
She self-published the trilogy's first installment and experienced remarkable success within just one year. She self-published the first book in 2011 as an ebook and print-on-demand paperback through an independent publisher. 
This incredible achievement caught the attention of traditional publishers, leading to a major publishing deal that catapulted James into the literary spotlight. 
The subsequent trajectory of Fifty Shades of Grey is nothing short of extraordinary, with over 100 million copies sold worldwide and a place in history as one of the fastest-selling paperbacks, making her one of the richest self-published authors.
Stephen King, an author beloved by millions of readers worldwide, ventured into the realm of self-publishing back in 1960 with his short story collection People, Places and Things.  King founded Triad and Gaslight Books, becoming, like Mark Twain, one of the authors with their own publishing company. 
Unlike Mark Twain, Stephen King aimed to bring his work to the public. The decision to self-publish stemmed from his desire to ensure maximum exposure for his book, reaching as many readers as possible. This bold move exemplifies King's entrepreneurial spirit and determination to share his storytelling prowess with the world. 
Why self-publishing?
The stats tell us everything we need to know: 40% of all ebook revenue goes to indie authors. Statistics reveal that approximately 30-34% of all ebooks sold are self-published, highlighting the growing preference for independent authors. 
Each year, an impressive number of around 300 million self-published books find a readership, contributing to the thriving self-publishing industry. 
In terms of financial success, self-published books generate an estimated worth of $1.25 billion annually. Moreover, self-publishing offers an avenue for increased gender representation, with 67% of top-rated self-published books authored by women, surpassing the 39% observed in traditionally published books.
7 Tips from Self-Published Authors Who Made It Big

In the following, we collected three writers who have become not only successful but also got quite wealthy after turning to self-publishing. 
Here are some of their best tips:
1. Keep writing despite difficult current circumstances
Amanda Hocking is a writer of paranormal fiction who started her writing career as an unknown author and has now become a bestseller after deciding to self-publish on Amazon Kindle.
But the road to success wasn't easy: she had a day job caring for disabled people to make ends meet and a night job as a writer. By 2010 she had 17 unpublished novels, all of which had been rejected by book agents and publishers. At that time, she was out of money and frustrated for spending years trying to interest traditional publishers in her work.
A few days after publishing her vampire novel, My Blood Approves, on Amazon's website, she started selling nine copies daily. A few weeks later, she published three further books in the series. Sales went up to more than $4,000, followed by $6,000 in pure profit, so she could finally quit her job.
2. Find the best hook to attract a readership
As a self-published author, Amanda Hocking set the prices of her books.. She decided to sell the first book of the series for 0.99 cents to attract readers. Readers were able to get a taste of the style and story for almost nothing. If the book is free (or almost), readers feel more encouraged to try new authors. She then increased the price to $2,99 for each sequel.
It may not seem much, but without the actual price of printing, she could keep a much bigger royalty share. That's 30% for the 99-cent books, and 70% for the $2,99 editions versus the 10-15% publishing houses would pay her. 
During her career, she decided to sign a publishing deal with two publishers in the US and the UK, which proves that traditional and self-publishing can live in harmony. Times turned, replacing the concerns over a query letter with an invitation to join the publishing house authorship.
E L James promoted her book on FanFiction.net by publishing episodic pieces based on the Twilight series. At the time, she had already established a following of fans by offering her writing for free on websites. Readers wanted to read more, so she wrote more. Remember, you need to build a reader base.
3. Write the best possible version of your book
Rob Dirks self-published his first science fiction novel, Where the Hell is Tesla?. He sold 10,000 copies in the first twelve months after being rejected by publishers. He states he owes his success to: 
the time spent doing his research

the hours spent writing

the professional help he received in turning his book into an exceptional product. 
4. Build your email list
Your main concern as an author should be to connect with readers and build up your audience with an email list. 
If you are going to self-publish a book, you need an author website where your readers can contact you. A website is also great for gathering email addresses and spreading the word about your work, and connecting with fans. 
To grow your email list, start blogging, posting, tweeting, and do not stop. Use a software like MailChimp to manage your email list and build campaigns.
5. Invest in a social media presence
Tailor your social media presence to what feels right to you. There is no need to overdo it, but if you feel the community is growing, keep close the most appropriate channels to meet your fanbase. From author Facebook pages to Bookstagram and TikTok, the floor is yours. 
If you have a graphic novel, use Facebook and Pinterest; if it is non-fiction, use Twitter. For example, John Scalzi (@scalzi) is a successful sci-fi writer with a huge Twitter fan base.
6. Understand book promotion services
If you decide to self-publish on Amazon, use everything they have. Put a keywords list on your book sales page on Amazon, and use key phrases in your book description. In one word: take advantage of simple features that can help your books get discovered. Go here to find more tips and tricks on how to get your book noticed on Amazon. If you are unsure if Amazon is the place for you or if you aim to publish wide, make sure you understand all benefits. 
Increase discoverability by using book reviews and exposure. Look up reviewers on Amazon and Goodreads and reach out to provide a review in exchange for a complimentary book copy. This is a strategy Rob Dirks recommends. Also, look into Goodreads giveaways.
Never cease to promote your book. Use paid advertising such as Facebook/Instagram ads, Google Ads, and Amazon ads. Run paid ebook promotions through book promotion sites that send out daily emails to subscribers, such as BookBub, BookGorilla, FussyLibrarian, BargainBooksy, Booksends, and Ereader News Today.
7. Create an audiobook
According to Rob Dirks, there are many options for getting narrators and producers to help you record an audiobook. The global audiobook market size was valued at USD 5,364.9 million in 2022 and is expected to expand at a CAGR of 26.3% from 2023 to 2030. With such remarkable growth, audiobooks have emerged as the fastest-growing book format worldwide, surpassing other formats by a significant margin. Don't miss out on audiobooks as a significant percentage of your sales.
Authors have different reasons to self-publish their books. Some turn to self-publishing after being rejected by traditional publishing houses; others decide to sidestep the judgment of traditional publishers and self-publish. Whatever you choose, it is good to remember that if traditional publishers accept your manuscript, they will dictate the terms.
When you self-publish and sell books, you decide everything related to your book and the publishing process. From editing, designing, and formatting to promoting and distributing, you're the boss.
Remember: all the hard work will be worth it when your self-published book is finished and you're officially a published author.
PublishDrive's Own Self-Publishing Success Story
Here are some of the features our authors find have helped them grow their business. And here are some of their inspiring stories.
Mark Reklau
"Because it's user friendly and saves a lot of time, and if you sell many books the flat rate is actually a better deal." (Mark Reklau)
Marc Reklau is the author of the international #1 bestselling and award-winning book 30 Days - Change Your Habits, Change Your Life, which has been translated into nine languages, has over 300 five-star reviews on Amazon, and over 170,000 readers. 
Previously exclusive on Amazon, Mark encountered an unexpected setback when his account was accidentally closed. However, he turned this challenge into an opportunity by revamping his business model and embracing a wider distribution strategy across multiple platforms. Leveraging the power of PublishDrive, Marc Reklauhas successfully expanded his reach to numerous stores that were previously inaccessible to him.
Within just 5 1/2 months with PublishDrive, he has experienced the ease of use and time-saving benefits it offers. By distributing his books to nearly all available stores, Marc has witnessed remarkable success when it comes to sales. 
PublishDrive has not only helped him achieve higher sales figures but has also earned his admiration for its author-centric approach. 
Marc appreciates the platform's flat fee structure, which eliminates the need to share additional royalties. Moreover, he values the comprehensive suite of features provided by PublishDrive, including bulk import, effective marketing strategies, global sales expansion, detailed sales insights, and automated reporting.
⚡Read the full case study here.
Lauren Smith
"I know when I submit my information to PublishDrive, they're in charge of getting it up where it needs to be." (Lauren Smith)
Attorney-turned-romance author, Lauren Smith, ventured into the world of publishing in 2014 with a small publisher. After experiencing industry setbacks, including foreclosures, Lauren became a full-time writer and decided to self-publish. When her previous aggregator, Pronoun, abruptly shut down, she discovered PublishDrive as a means to keep her books available on platforms like Google. 
With an expanding catalog of over 60 titles, she took advantage of the platform's wide distribution capabilities.
Quinn Loftis
"We can use PublishDrive, save a ton of money, and still reach the same audience and actually a bigger audience which is awesome too." (Quinn Loftis)
Quinn Loftis, a former nurse, unexpectedly delved into writing and self-published her debut book in 2011. Now, with an impressive repertoire of 36 novels, she has garnered numerous awards for her paranormal romance stories that captivate a wide range of readers. 
Collaborating with her partner, Bo Loftis, and managing a busy household, Quinn dedicates herself to writing full-time while Bo handles the business side of things, drawing on his finance and law background. 
As seasoned authors, they recognize the evolving landscape of self-publishing, where quick release times are essential to meet reader expectations. To streamline their publishing process, Quinn and Bo emphasize the importance of a well-planned schedule and efficient distribution. 
They value PublishDrive for its time-saving tech tools, comprehensive book distribution network, and affordable monthly flat fee structure, which sets it apart from other third-party distributors who typically take a 10% cut. Quinn and Bo fully use PublishDrive's network by optimizing their reach across multiple platforms, thus effectively navigating an increasingly competitive industry.
⚡Read full case study here.
Jean Joachim
Jean Joachim turned an accidental opportunity into an authorship milestone when she accepted the invitation of her friend and former publisher to get one of her books translated into Italian to hit the Italian market. 
With an initial doubt looming over her decision and the translation paid in full, Jean was surprised to sell 2000 copies and hit the Amazon 100 bestseller list. She subsequently looked into the Spanish, French, and German markets, becoming an internationally acclaimed author.
"You have to do the marketing in the language of that country. I have not done any fancy promotions and no price promotions, either. I'm enjoying selling my books at the regular price and not offering any for free – for a change – unlike the English-speaking markets. So far, Europeans have become enamored with my stories, and I don't need to do fancy things to get sales. Simply posting excerpts, review quotes, and the blurb has worked well. I am only advertising on Facebook. Also, only my first Italian translator and the second one are doing much marketing to promote my works." (Jean Joachim)
⚡Become inspired by Jean Joachim here.
J-Novel Club
"Clear royalty reports are necessary to calculate our fees to pay Japan for their rights. It's a crucial part of the business. As we continue to use PublishDrive more and more, those features will be very important." (Samuel Pinansky, President & Founder, J-Novel Club)
J-Novel Club is a digital publishing company specializing in the licensing, translation, and distribution of Japanese content, including manga and light novels, into English. Each month, they roll out approximately 20 volumes in digital and print forms, providing the newest releases to global readers through a membership model. 
From publishing four books in 2016, J-Novel Club dramatically expanded to 220 new releases in 2021. This swift growth required additional resources, improved operations, and reinforced support. Initially, they established direct partnerships with all major digital storefronts like Amazon, Apple, and Google, along with e-book platforms like Kobo and OverDrive.
The manual labor involved in uploading their massive catalog of 700 titles and standardizing metadata across various platforms was a considerable task. This is where PublishDrive stepped in. 
PublishDrive's Sales Analytics dashboard allows publishers like J-Novel Club to monitor real-time sales, generate visual data representations, and identify hidden trends. The Auto-Reporting feature regularly manages financial reporting, freeing publishers from the task of manual tracking.
These steps effectively contribute to scaling their business and reaching wider markets rather than selling directly via individual stores.
⚡Read more here.
Michael Anderle
"Before PD Abacus we'd spend approximately 20-25 hours per month calculating, checking, and distributing royalty information to authors. We anticipate cutting that time to between 2-4 hours per month with PD Abacus." (Michael Anderle)
In today's dynamic self-publishing environment, indie authors and publishers collaborate to maintain rapid release schedules and potent marketing strategies. However, the hassle lies in identifying a convenient, trustworthy solution for monthly royalty splitting and shared cost management. Scaling digital businesses in this fast-paced industry can be challenging without royalty management tools that match traditional publishing standards.
Bestselling author and CEO of LMBPN Publishing used to spend over 20 hours a month on this task. He highlighted two major issues: 
the time-consuming nature of the royalty process

the need for repeated checks due to the manual compilation of royalty payment information.
He found a solution in PublishDrive's Abacus, which allows authors and publishers to manage royalties effectively for collaborative publishing projects.
⚡Read more about this here.
J. Thorn
"I would spend about 3-4 hours calculating royalties and tracking financials. Once I had PD Abacus set up, the first report took me about 15 minutes." (J. Thorn)
Bestselling author and co-owner of Molten Universe Media, J. Thorn, had a similar situation. He had to dedicate half a day each month to royalty management, working in spreadsheets, which was not his preferred method.
Abacus helped him, too, offering a straightforward way to calculate royalties.
⚡Read more about this here.
Why PublishDrive?
PublishDrive is a book aggregator that offers multiple ebook publishing services to assist authors throughout their self-publishing journey. Authors can publish, distribute their books globally, and use the marketing tools provided by the platform to help their books gain traction. Additionally, PublishDrive offers a royalty management system to turn the pain of handling difficult calculations into an easy-to-understand and easy-to-manage business.
Authors can publish their ebooks and sell them internationally on all major platforms, such as Amazon, Kobo, Apple Books, Google Play Books, and many others, including hard-to-access markets like China. 
To reach all these markets simultaneously, all authors need to do is create an account, upload their ebook files, provide the necessary information, and choose the distribution stores. Then, publish away! Yes, that easy.