If you have been thinking about publishing your ebook on Google Play, this guide goes over everything you need to know. If you haven't yet, Google Play is a recommended and trusted choice worldwide for publishing.
Google Play is home to millions of books. For authors and publishers, it's a great way to expand global readership. And for authors who are wide (instead of exclusive with Amazon) - discoverability is key for success.
Here are just a few benefits of publishing ebooks on Google Play:
The Google Play Books app is preinstalled on over 2 billion Android devices, allowing new readers to discover your work.
You can reach billions of readers in over 50 countries worldwide.
Your books will be automatically discoverable in Google's search results through the Google Books program.
If you're wondering how to publish on Google Play in 2020, this article goes over everything you need to know.
The requirements for publishing on Google Play have changed over the years, so we'll bring you up to speed with our step-by-step guide.
---
Before we get started, make sure you are signed up for a PublishDrive account. You will need an account to publish your ebook on Google Play through PublishDrive.
---
Publish Books on Google Play: What to Know
If you're not interested in the technical details about recent changes to Google Play, feel free to skip ahead to the steps below or watch our video by PublishDrive's co-founder Kinga Jentetics.
Google Play used to allow direct sign-ups from indie authors, allowing authors to directly self-publish ebooks on Google's platform. Then, Google suddenly stopped allowing new accounts. However, they did open up sign-ups periodically over the years. As of 2020, Google Play is now open for new authors and publishers.
Whenever Google put an end to direct sign-ups, many indie authors and publishers switched over to self-publishing platforms and aggregators to access Google Play. (See the benefits of choosing an aggregator like PublishDrive here.)
In 2019, Google updated its policies which now requires them to have a direct relationship with the copyright holder (i.e., author or publisher). Since aggregators act as the middleman for authors, this update has affected the way aggregators handle ebook distribution.
In 2020, Google Play is now open for new authors and publishers. What does this mean for you?
Despite these changes, we're happy to report that distribution to Google Play through PublishDrive is fully up and running. For more facts you may not know about publishing on Google Play, see here.
Step One: Register a Google Play Books Partner Center account
To publish ebooks on Google Play, you'll need a publisher account: register here.
(Note: new accounts are also only available to authors and publishers within certain countries, see the full list here.)
Once you're logged in to PublishDrive, navigate to the Google Play Signup page to begin the process. Fill out the Google Play Books Signup Request Form linked within the platform (see below).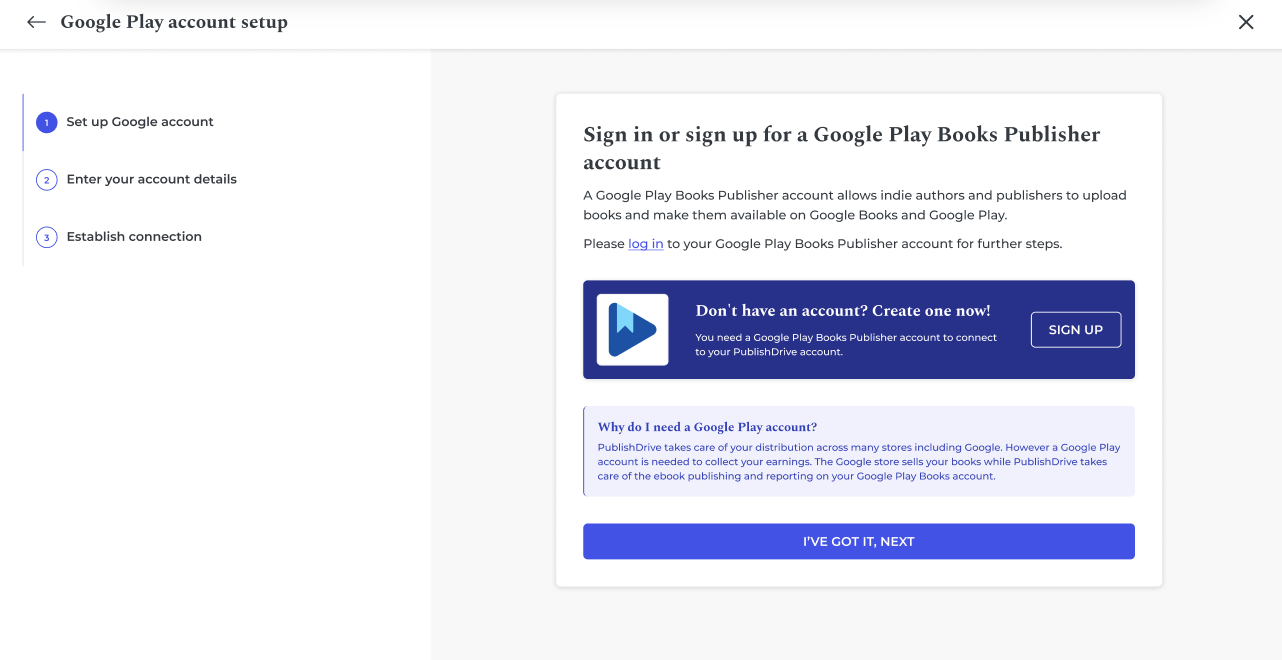 Step Two: Fill out PublishDrive's Internal Form
Once you've registered a publisher account in Google Play, return to the Google Play Signup page within PublishDrive. Next, fill out the provided form using the same information you used when registering your account (see below).
This will help us match your future Google Play Publisher account with your PublishDrive account, so be sure to fill out this form carefully.
Step Three: Assign PublishDrive as Service Provider of the Account
Once you have a Google Play Books Partner account, you'll need to assign PublishDrive as the service provider of the account. This satisfies Google's updated policies regarding their relationship with copyright holders, while entrusting PublishDrive to handle all operational tasks on your behalf.
To do so, just fill out this form. (Note: this form is also included on PublishDrive's Google Play Signup page, so you can complete the entire process within our platform. We also provide you with detailed instructions on how to fill out the form).
After your information is filled out correctly, your account is set and ready to be used! 😀
Google will notify us once you've entrusted PublishDrive to handle the account on your behalf. We'll handle distribution, payout, and all other operational tasks from this point.
FAQs About Publishing Ebooks on Google Play through PublishDrive
1. What if I already have a Google Play Publisher account?
If you already have a Google Play Publisher account, the process is quicker! With your Google Play account, you may jump ahead to use it with PublishDrive. Just complete step five mentioned in the section above.
2. If I do choose to publish ebooks on Google Play through PublishDrive, what will my royalty rates look like?
The royalty rate you would be earning ranges from 52-70%*.
Previously, Google only offered a 52% royalty rate. In 2019, they started offering a 70% royalty rate on certain book  sales transactions for authors who accepted their updated Terms of Service. (Accepting the updated Terms of Service is mandatory; otherwise, Google will close the account).
According to the updated Terms of Service, you may receive a 70% royalty rate (this is ultimately up to Google's discretion) on ebooks sold to users in Australia, Canada, or the United States based on the list price or fixed net price (as applicable) that falls within the following price settings:
AUD $3.99-$11.99 (tax-inclusive)
CAD $2.99-$9.99  (tax-exclusive)
USD $2.99-$9.99 (tax-exclusive)
*NOTE: Authors using the Royalty Share legacy pricing will earn 60% and 42%. But all users in monthly subscription plans for ebook distribution will earn the full royalty rates.
3. I am aware that Google can randomly and unexpectedly discount prices, does PublishDrive do anything about it?
We are also aware and have solutions to alleviate it. We want to make sure you get the highest royalties possible, so our algorithm will automatically adjust the digital list price (DLP) that you set. This offsets any random price discounting by Google.
NOTE: This does not apply to any ebooks that fall within the price ranges in question 2 above, because Google does not discount ebooks within those ranges.
Publish on Google Books Today!
We are excited to see and read ebooks from you in Google's global sales channels and reader apps.
To get started, sign up for a PublishDrive account today. You can keep 100% of your royalties, and you'll have access to author tools, like ebook promos, conversion for epub files, royalty splitting for co-authored books, quicker sales reports, and more. Ready to publish?